When Jessica Toh, co-founder and CEO of Huckleberry Labs, was pitching a venture capital investor recently – via Zoom video naturally – Toh glanced at her computer screen and worried something seemed off.
"The other person looked so still," she said. "I thought she was frozen."
Toh was forced to make a split second decision. Should she pause and see if something was wrong or keep going as if nothing was amiss? She opted to plow ahead with the presentation she had delivered hundreds of times for her app that helps monitor the sleep patterns of babies, but it was hard to concentrate when she thought she might be speaking to herself.
"What I didn't realize is how that was coming across in the way I was talking," she said. "It turned out the investor wasn't frozen but just was really still."
Toh did not receive the check. And, when she asked for feedback, was told she did not come across as passionate about what she was building. "That was a shock because everyone else can see how passionate I am," said Toh. "I realized when it's over Zoom it's so hard to have that personal engagement and things come across in a different way."
Toh's experience illustrates the pitfalls of fundraising in the COVID-19 era. After a decade of ever rising valuations put founders in the driver's seat, everything suddenly changed in March when investors literally locked their doors and retreated to triaging their existing portfolio.
U.S. venture capital investment fell by 46% from March to April, according to Pitchbook data. During the global financial crisis, fundraising fell by nearly 60% from 2008 to 2009. "Fasten your seatbelts," warned the National Venture Capital Association in a report last month. "It's going to be a bumpy ride."
The start of a once-in-a-100-year global pandemic certainly is not an ideal time to be raising money for your exciting new startup idea.

"If you don't need to fundraise, I wouldn't go out right now," said Franky Bernstein, founder and CEO of Markett, a word-of-mouth marketing company. "It's definitely hard out there."
But what if you have no other choice than to raise cash? dot.LA talked to a half dozen founders about their experience. Admittedly the sample size suffers from self-selection; most of those willing to share their stories have still managed to raise funds because their companies are not adversely affected by coronavirus, or in some cases have benefited from it. But it has not been easy, with lower valuations, mixed feelings about trying to proceed as normal during such un-normal times, and an increase in ghosting. More than one founder compared fundraising right now to online dating.
"It's not a great time to go out and meet people," said Bernstein. "I feel bad for single people and for people who have really good ideas right now."
Another L.A. founder, who did not want to be identified because she was afraid of alienating potential investors, says she started to raise an $800,000 seed round in February and by early March had secured commitments from a group of angel investors for half a million dollars. But by mid-March, she suddenly stopped getting replies to her emails and phone calls.
"Everyone just started ghosting," said the founder. "I was like 'oh my god, the angels are gone.'"
The founder realized investors who had committed to help build her business were now facing their own financial and personal problems, and the last thing they wanted to do was to write a $25,000 check for a risky startup.
"That was tough to take," said the founder. "They gave us a verbal commitment and they wouldn't even respond to my email. But you also don't know what they're going through. I thought it might be insensitive to follow up because you don't know what's going on. I thought maybe I should wait until next year and try this again."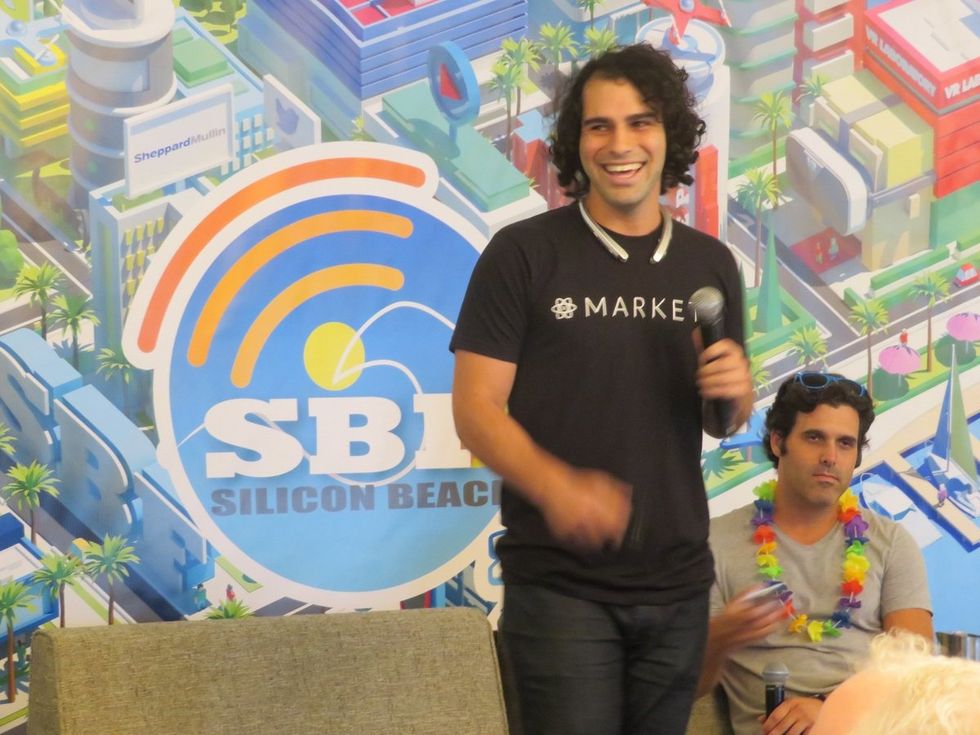 Markett's Franky Bernstein, in more social times.
Founders say that in retrospect they wish they would have started fundraising just a few months earlier when they no doubt would have received more favorable terms.

"We would have been able to raise significantly more money significantly faster if we would have started in December and closed in February," said Bernstein, who says he's still happy with his valuation and thankful to have a network of VC's he can draw upon. But adds: "The investors definitely have more sway now more than ever."
Even though both sides had already agreed to terms, Steven Dietz, founder and CEO of United Dwelling, said he decided to voluntarily lower the valuation of his company's $10 million series B round once the pandemic hit to avoid what he described as "ongoing awkward conversations" with investors."I think valuation has to adjust," Dietz said. "We took it down 10 percent and moved forward."

Dietz, Toh, and Bernstein had the fortune to start companies well-suited to the coronavirus era and they have been able to raise their rounds though it has taken longer than they expected.
"People are definitely still writing checks but things are moving much slower than they used to, from first meeting to check," said Bernstein. "But we're in a lucky position because I decided a couple years ago I want to run a profitable business."
Normally founders are not shy about touting their accomplishments – investors generally do not want to back a failing company –but in this environment no one wants to be seen as gloating.
"I would never want to capitalize on a global tragedy but I'm so grateful to be in the online learning sector." said Christine Outram, founder and CEO of the virtual tutoring app Everydae, which has seen an uptick in users during stay-at-home orders that helped her close a $1.2 million round.
The startup community is close-knit and competitive and now there is sensitivity about touting your latest fundraise or valuation at a time when many of your friends may have been recently laid off or are struggling.
"It's this weird thing because we got positively affected by this," said Ryan Chan, founder and CEO of Upkeep, which announced May 12th it has raised $36 million in Series B funding. Chan says the pandemic has only made UpKeep more appealing because it is a mobile platform that helps companies streamline maintenance and cleaning requests, which are crucial as workers return to the workplace.
"I feel weird talking about it because I know a lot of companies aren't doing well," said Chan.