statevolt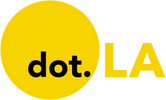 Get in the KNOW
on LA Startups & Tech
X
statevolt
Shutterstock
This is the web version of dot.LA's daily newsletter. Sign up to get the latest news on Southern California's tech, startup and venture capital scene.
If one more person utters the phrase "supply chain," I may simply wither away on the spot—but unfortunately, this is the world in which we live. We've built a very complex web of commerce in the 21st century (a lotta strands in old Duder's head), and it's not always obvious which strands are connected until one breaks. Nothing like a once-in-a-century pandemic and Europe's largest war since 1945 to really stress-test the system.

Especially against the backdrop of climate change, the challenges of the 2020s have laid bare the deficits in our trade infrastructure. One possible solution, usually used in reference to agriculture, is increasingly becoming a trend in the tech world: buying local.
Take the electric vehicle industry. Executives like Rivian CEO RJ Scaringe warn that EV makers will soon face a dire shortage of the lithium-ion batteries needed if electric cars are to become as ubiquitous as hoped. Even before Russia's invasion of Ukraine (which has one of the world's largest lithium reserves), lithium prices were skyrocketing due to growing demand for batteries. Now, nobody wants to deal with Russia, a major exporter of the mineral. Mining lithium is often a carbon- and water-intensive proposition, while shipping it from abroad adds even more to your carbon footprint (meaning your newly-appointed chief sustainability officer is going to have a conniption). This combination of economic, environmental and logistical headwinds has gotten so bad that Elon Musk wants Tesla to start mining its own lithium.
And Elon's not alone. Yesterday, I wrote about a new company, Statevolt, that wants to set up a battery gigafactory on the shores of the Salton Sea in the Imperial Valley. The idea is to partner with Controlled Thermal Resources, a lithium extraction and geothermal power company operating in the region, to secure its lithium from a single vendor just down the road.
Statevolt founder and CEO Lars Carlstrom says the plant constitutes the battery industry's first "hyperlocal" supply chain, and it's hard to overlook the benefits that the arrangement would give Statevolt. Shipping costs—both in dollars and in carbon emissions—would be dramatically reduced. Intermediaries and middlemen would be removed from the financial picture. Communication between the supplier and the manufacturer becomes simpler. The company is more insulated from natural disasters and geopolitical events. Just like choosing local produce reduces carbon emissions and supports a network of small businesses, so too does creating local supply chains for batteries, solar panels and other clean technologies.
To be clear, this isn't an anti-globalization manifesto. Humanity is an interconnected global species and the climate emergency will impact every inch of the planet; to solve the problem, we'll need to cooperate globally. But we may also have to unlearn a few of the habits that got us here in the first place. Outsourcing everything to the lowest bidder has been the global supply chain's modus operandi for the last 40 years. To solve our current challenges, we may need to try something different.— David Shultz

The founder and CEO of Italian battery manufacturer Italvolt announced plans today for a new $4 billion gigafactory in Southern California's Imperial Valley that should produce enough batteries to supply 650,000 electric vehicles annually.
Italvolt CEO Lars Carlstrom said he's formed a new company, Statevolt, that will build the 54-gigawatt-hours (GWh) facility with the help of Controlled Thermal Resources (CTR), a California-based lithium extraction company that will supply the factory's lithium and geothermal power. Statevolt is still "undertaking due diligence" on the exact location of the facility, which should be "one of the largest" battery factories in North America upon completion, it said.
"The development of lithium-ion batteries is crucial for the U.S. to meet its goals to transition to net zero [carbon emissions]," Carlstrom said in a statement. "Today, we face a significant shortage in the amount of lithium that is required to meet the demand for electric vehicles."
Carlstrom added that Statevolt's partnership with CTR is "pioneering a new, hyper-local business model," which said "will offer Statevolt a significant advantage in producing lithium-ion batteries at scale." CTR will supply the gigafactory's lithium from its nearby Hell's Kitchen Lithium and Power development, which is slated for completion in 2023.
That would give the battery maker an advantage at a time when lithium prices have climbed due to a global supply chain squeeze exacerbated by Russia's invasion of Ukraine, as well as growing demand for electric vehicles—and, in turn, lithium-ion batteries to power EVs.
Instead of traditional open-pit mining or evaporation ponds, CTR extracts lithium from geothermal brine—extremely hot, salty water located in abundance underneath the Imperial Valley's Salton Sea. The brine is pumped to the surface and then purified to extract lithium-containing salts. CTR says the process, when done correctly, could have "near-zero" carbon emissions.