Image courtesy of Death Row Records
Snoop Dogg wants to make Death Row Records the first major record label in the metaverse.

The legendary Long Beach-born rapper announced this week that Death Row "will be an NFT label," just days after acquiring the Los Angeles record label that launched his career and put West Coast hip-hop on the worldwide map. The announcement marks Snoop's latest foray into blockchain technology, which has been quickly embraced by many in the music industry.
"We will be putting out artists through the metaverse," Snoop said on social audio app Clubhouse. "Just like we broke the industry when we were the first independent to be major, I want to be the first major in the metaverse."
Snoop purchased the Death Row Records brand last week, for an undisclosed amount, from a music group controlled by investment giant Blackstone. The label, co-founded in 1991 by producer Andre "Dr. Dre" Young and executive Marion "Suge" Knight, helped Snoop become a mainstream star in the 1990s through albums like Dr. Dre's "The Chronic" and Snoop's solo debut "Doggystyle." Snoop (whose real name is Calvin Broadus Jr.) called the Death Row acquisition "an extremely meaningful moment for me."
On the same day that the Death Row deal was announced last week, Snoop released his new album "B.O.D.R. (Bacc on Death Row)" as a "stash box" of NFTs, or non-fungible tokens. Only 25,000 Snoop stash boxes, priced at $5,000 each, were available on the Gala Games blockchain platform. Each stash box included one of 17 NFTs devoted to each track from the album; fans that collected all 17 NFTs would be eligible for rewards like the chance to party at Snoop's L.A. mansion, according to Gala.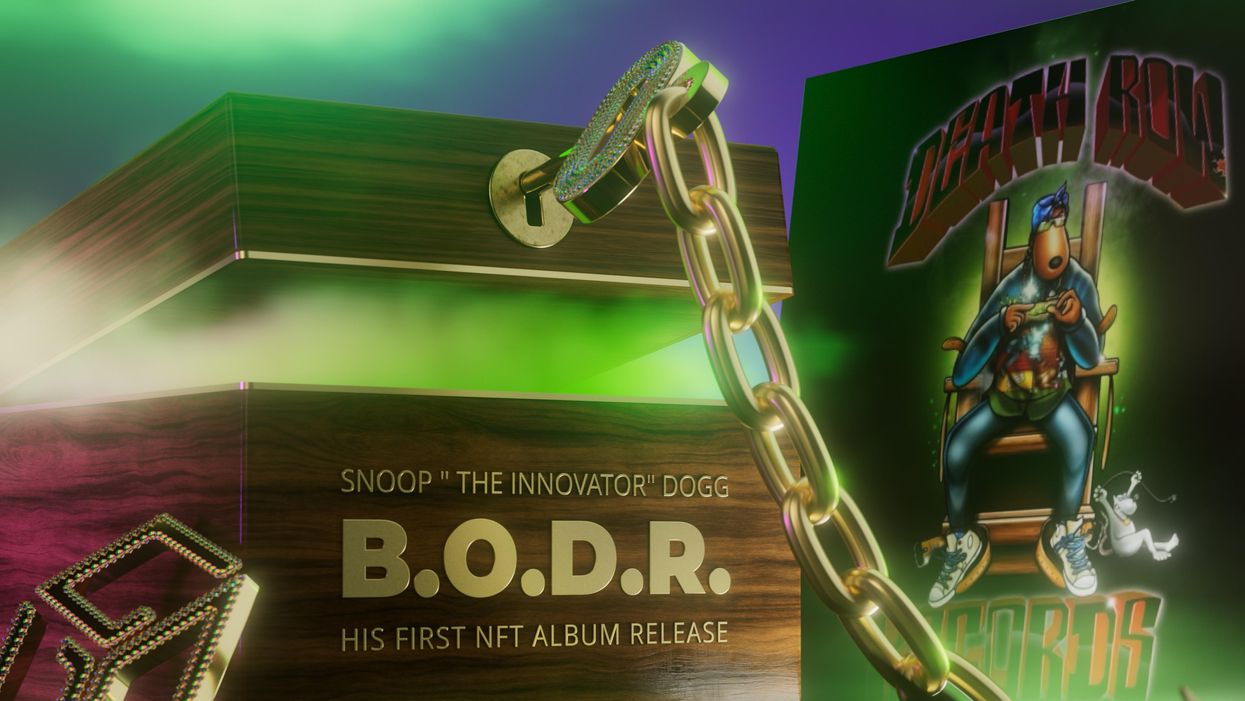 Image courtesy of Death Row Records
Musicians and celebrities have flocked to NFTs—digital assets that are verified by blockchain technology, giving their owners proof of authenticity and ownership. Some industry observers believe the crypto collectibles could become a big revenue stream for musicians at a time when tours are still hampered by the pandemic and the music business is adapting to the economics of streaming.
On Thursday, Universal Music Group unveiled a partnership with NFT platform Curio, which will be an official outlet for NFT projects from Universal's record labels and artists. The Santa Monica-based music conglomerate is "focused on developing new opportunities in this space that place our artists and labels at the forefront," Universal executive vice president of digital strategy Michael Nash said in a statement.
Even in an industry filled with crypto converts, Snoop has become one of Web3's biggest enthusiasts: He has reportedly amassed $17 million worth of NFT holdings.
"If anything is constant, it's that the music industry will always be changing," Snoop said in a statement earlier this month. "Blockchain tech has the power to change everything again and tip the table in favor of the artists and the fans."
Last week, Snoop Dogg was sued for the alleged sexual assault of a woman in 2013. The rapper's camp denied the claims.