Image by Maylin Tu
Yahya Dabbagh isn't your typical micromobility startup CEO.
For one, he takes a personal approach to customer service. When he feels a rider is trying to game the system by reporting a scooter broken, in order to earn a free unlock (valued at $1), Dabbagh sometimes will call them up.
"I'm like, 'Listen, man — I'm the boss. Listen to me: Don't report bad stuff — you're confusing me. Email me, tell me, 'I need [a] free unlock' — I'll give it to you," he said
For another, there's his timing.
"I don't know that winter is the best time of year to launch a new scooter company," said Harry Campbell, founder of influential industry blog, The Rideshare Guy. "When it's raining and [there's] less rides and less tourists and things like that in the Southern California area."
TukTuk, Dabbagh's company, is the latest arrival to the Los Angeles e-scooter wars, hitting the streets just as Lyft and Spin bow out.
TukTuk received a permit to operate in the city of L.A. in the spring. It recently opened a new headquarters and warehouse space in an old skate shop in Palms, a neighborhood just north of Culver City, for the launch. Scooters cost $1 to unlock and $0.45 per minute to ride. The company also offers discounts to students and unlimited free 30 minute rides for those who qualify for its low-income program. Currently, TukTuk's vehicles are only permitted to operate in the city of L.A.
It officially launched last month when it received its scooters from China. The company deploys the latest model of Segway Ninebot e-scooters, boasting features that include turn signals, front suspension and a removable battery. The company will also be deploying scooters from Freego, an e-scooter and e-bike manufacturer.
Founded in 2019, TukTuk initially did test runs in Simi Valley, Santa Clarita, Valencia and Istanbul. In Simi Valley, according to the Ventura County Star, TukTuk embraced a "launch first, ask questions later" strategy — as pioneered by Bird — and was promptly ordered off the streets.
Soon thereafter, the company was hit by a global pandemic, a development that decimated the transportation industry. L.A. is TukTuk's first official North American market launch, but Dabbagh isn't ruling out a return to Simi Valley.
"Give me Simi Valley — it's better than Santa Monica," he said (though he's also planning to apply to operate in Santa Monica when they reopen permit applications).
A serial entrepreneur, Dabbagh's background is in the transportation industry, running a limousine rental business with family for almost 25 years. TukTuk doesn't have investors — yet — Dabbagh is paying all of the capital costs himself. For 2,000 e-scooters, he estimates the total runs around $3 million.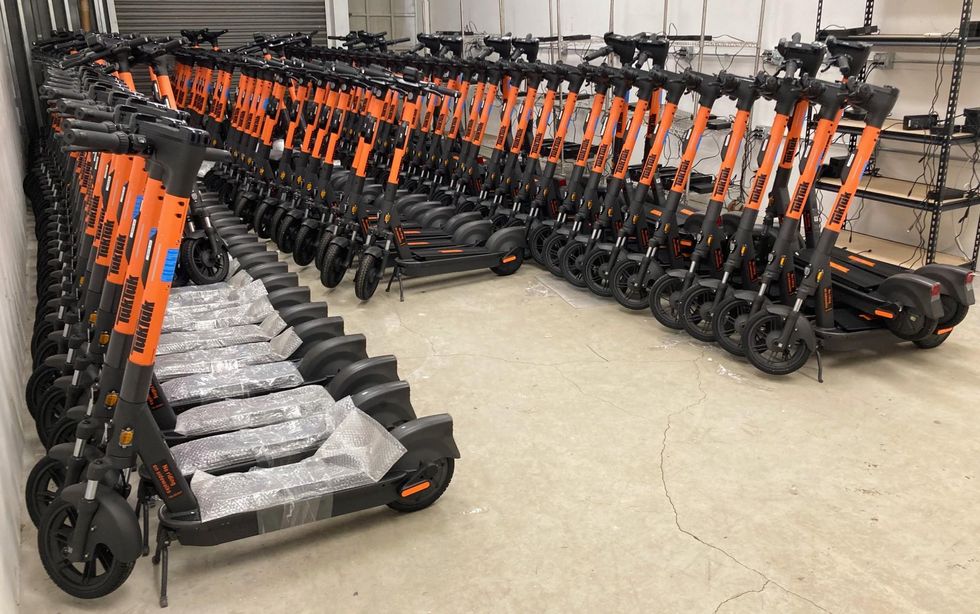 Photo by Maylin Tu
Building Brand Trust As a Competitive Advantage
TukTuk doesn't have the same brand recognition as some of the bigger players like Bird, Lime and Superpedestrian. But smaller companies can still be successful, says Vince Cifani, CEO of Joyride, a micromobility platform for entrepreneurs looking to start their own e-scooter or bike business.
"Bird and Lime might tell you they're a technology business, right? Their core competency is technology. But really, this is an operations business," he said.
Building brand trust without name recognition and venture capital backing might be as simple as providing a positive customer experience and speaking the "local voice" of the community.
"Who's providing better customer support? Is it the on-the-ground entrepreneur who lives and breathes in that city their entire life? Or is it going to be Bird or Lime who — at the whiff of not being profitable — might leave that city any moment."
Although entrepreneurs can thrive in smaller markets and in partnerships with hotels and schools, it's rare to see them in bigger cities such as L.A., particularly when there's so much competition. L.A. is an open-permit market, which means it doesn't restrict the number of companies that can operate in the city.
According to LADOT, there were an average of 13,000 vehicles per day on city streets during 2021 and 2022, although this number varies by weather, season and day of the week. Each operator is permitted to deploy up to 6,000 vehicles. With TukTuk, there are now a total of six operators.
The Rideshare Guy's Campbell noted that as the quality of vehicles has improved, riders are no longer looking for a superior product, but are more likely to choose a ride based on other factors, such as convenience .
"Really, I think the hurdle is just getting them to download the app," he said.
"There's tons of data that show the scooter that gets rented is the scooter that's closest to you," added Joyride's Cifani.
Humble Beginnings, Ambitious Plans
Born and raised in Syria, Dabbagh has lived in L.A. since 1992, making him the first homegrown Angeleno to launch an e-scooter company (Bird was founded in Santa Monica and Wheels in West Hollywood). As the company grows, he expects to hire locally.
"I am Los Angeles," he said.
Dabbagh might have a home court advantage, but the launch hasn't been without its hiccups. He said he was unaware that Culver City requires its own separate permitting process when he deployed vehicles there. The city soon asked him to remove his scooters.
Running a shared micromobility company isn't easy, Dabbagh told dot.LA. Ordering the scooters is one thing, getting them shipped is another. Then there's assembly, charging the batteries, troubleshooting the app, dealing with customers and staff and on and on.
But he has big plans for expanding his business in cities, counties and states like Las Vegas, South Carolina, North Carolina, Orange County, Ventura County and San Diego.
"I'm so proud of myself. I'm part of those multi-billion dollar company — I'm like them — I have the permit. They have it, but this is my money. Not anybody else's money."
Related Articles Around the Web