Gillian Gillett, program manager for the California Integrated Mobility Program at Caltrans, spread over a dozen cards on the floor of the conference room to make a point.

"Poor people wind up with a Pokémon deck in their wallet because we won't give them the one thing that they actually need — which is a debit card," she said.
In a workshop at the annual CoMotion L.A. tech and mobility conference, panelists discussed how to make paying for transit both more equitable and more intuitive.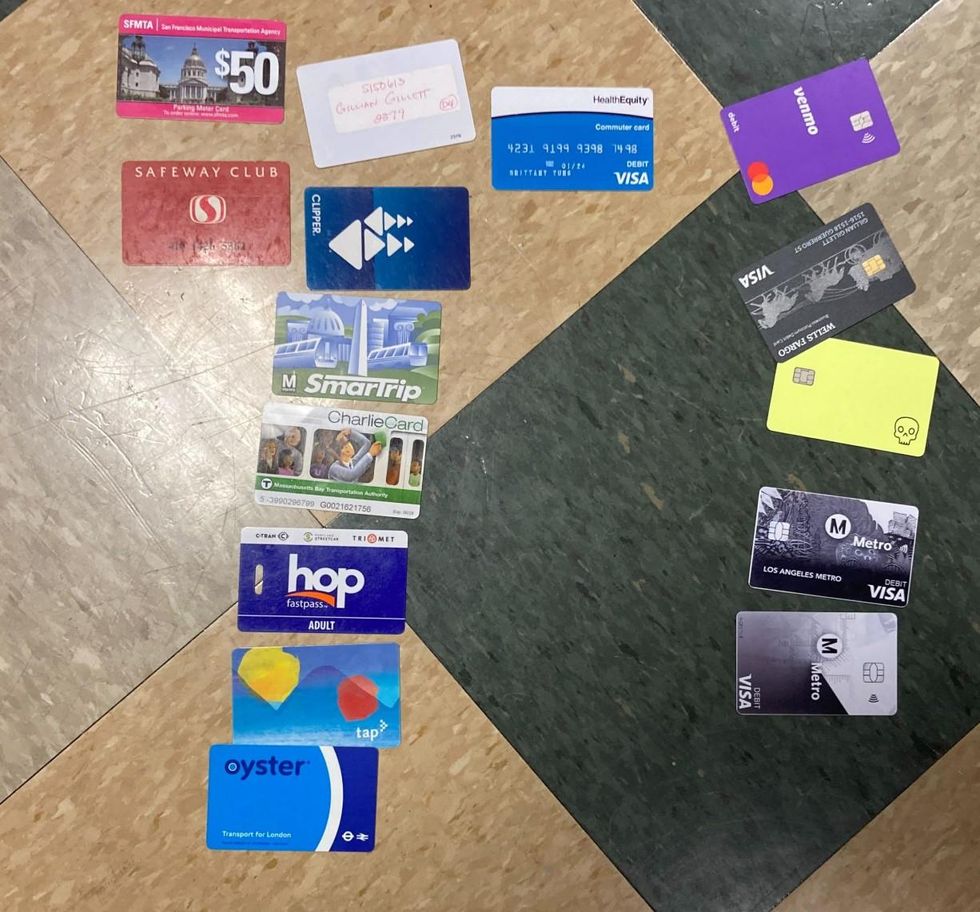 Various forms of 'closed system' payment cards for transit agencies in SoCal and beyond.
Photo by Maylin Tu
Currently, the majority of California transit agencies offer their own "closed loop" form of payment, like a TAP card. You can't pay for the bus or train directly with a credit or debit card when you board. You also can't pay with a TAP card in San Francisco or a Clipper card in L.A. because each transit agency operates its own payment system. Multiply that by about 797 separate transit agencies in California (including paratransit) and a lack of interoperability translates into a lack of equity.
"Trying to give people money as a government entity right now is incredibly hard," said Hunter Owens, benefits and delivery data manager at Caltrans. "The technology choices we made are screwed up."
In L.A. County, 26 agencies accept TAP as a form of payment — but achieving consensus on low-income and senior discounted fares across all 26 agencies has proven impossible.
Additionally., 38% of bus riders, the majority of whom are low-income and people of color, pay their bus fares with cash. But new financial products like Venmo and Cash App, make it much easier for riders to pay without opening a traditional bank account.

Caltrans, for instance, is working with Square's Cash App to bring unbanked and under-banked riders into the cashless future through a debit card they can use to pay for transit.
During its pilot with Monterey–Salinas Transit, 30% of new Cash App card customers in the region joined as part of the program. And by the end of August of last year, 93% of transactions were for food, not transportation.
"We literally use transit to bring them into the financial ecosystem," said Gillett.
It's expensive to be unbanked or under-banked — when American families received stimulus checks during the COVID-19 pandemic, an estimated $66.6 million went to check cashers, which take a portion of the funds. A family of five cashing a $3,900 check would have paid around $195 in fees.
The problem extends beyond equity. With so many different products, and so few options to pay for them, it becomes a basic question of access.
When people from around the world visit for the World Cup in 2026 or the Olympics in 2028 (which the city is touting as "car-free"), how will they figure out which pass to choose?
L.A. Metro alone has 750 fare products, ranging from the student GoPass to the regional EZ Pass. In addition, Metro is piloting a new program, the Sports and Entertainment Integrated Ticketing Program, that will bundle a transit pass with tickets to concerts or sporting events.
L.A. Metro's current payment system contract ends in two years, and the agency is looking at new possibilities, including the mobility wallet being tested as part of the universal basic mobility pilot in South L.A. Participants will be able to pay for a range of mobility options with their TAP card, including ride-share and scooter-share (though it will still be a closed loop system).
Transitioning Metro's payment system to an open loop system will require an extensive procurement process. Even if riders can pay for multiple forms of mobility with TAP, they will still need a TAP card to ride.
Ultimately, the future of paying for transit lies in an account-based system system, said Mark Lulic, senior industry consultant for Endava. When payment is tied to an individual account, that account can be integrated into multiple payment systems. Cities like New York and San Francisco have already started to implement an account-based system.
"When you start talking about that, that's an entirely different infrastructure issue. Now you're talking about telecommunications, not only telecommunications in physical locations, but also remotely on buses," he said.
Eli Lipmen, executive director for nonprofit Move LA, questioned the efficacy of spending money on payment systems when fares are projected to bring in just $107 million to offset a $8.8 billion annual budget.
Between the payment system of the future and the current reality of coordinating with 26 different agencies, Manish Chaudhari, executive officer for TAP, said this week's panel is just the first stop on a long ride.
"We cannot spin up a whole new system in one night and create something wonderful," he said.