Provided by Plug In
Last week, Plug In, a South LA accelerator program, announced the launch of its fourth cohort. The deadline to apply is March 24 and the program will begin in April and end mid-July.
While Plug In got its start by helping South LA's tech ecosystem, the company is not limiting the talent pool to local companies. Instead, Plug In is widening its reach by allowing startups from across the nation to participate. The 12-week program is focused on finding founders in the health care, digital media, edtech, climate and sustainability sectors.
"We're here to make sure that LA's black and brown communities are part of LA's innovation economy and that's how Plug In was born," founder Derek Smith said. "And that's really our laser focus with this accelerator program because we want to see the next wave of Google's come out of communities like South LA and communities similar to South LA in terms of their makeup."
Smith said even though they are expanding outside of Los Angeles, one criteria remains–that the founders must identify as Black and or LatinX. Applicants who are accepted will also have a chance to receive a $100,000 equity investment with low equity stake once the accelerator is done.
"We didn't really focus on check writing," he added. "It was really all about connecting the dots for founders, bringing together what was a fragmented ecosystem into a sort of aggregated ecosystem, to support diverse entrepreneurs and founders. Not until recently that I realized, if we're going to have a long term sort of play in this space, we need to be the first check they get for the founders that come through our doors."
Prior cohorts met in person and cohorts that took place during the pandemic met virtually. But the new cohort will be hybrid allowing for more startups to have the opportunity to participate and not be limited by their location. While the number of startups varies for each cohort, Smith said that they are looking to select anywhere between 10 and 12 founders into the program.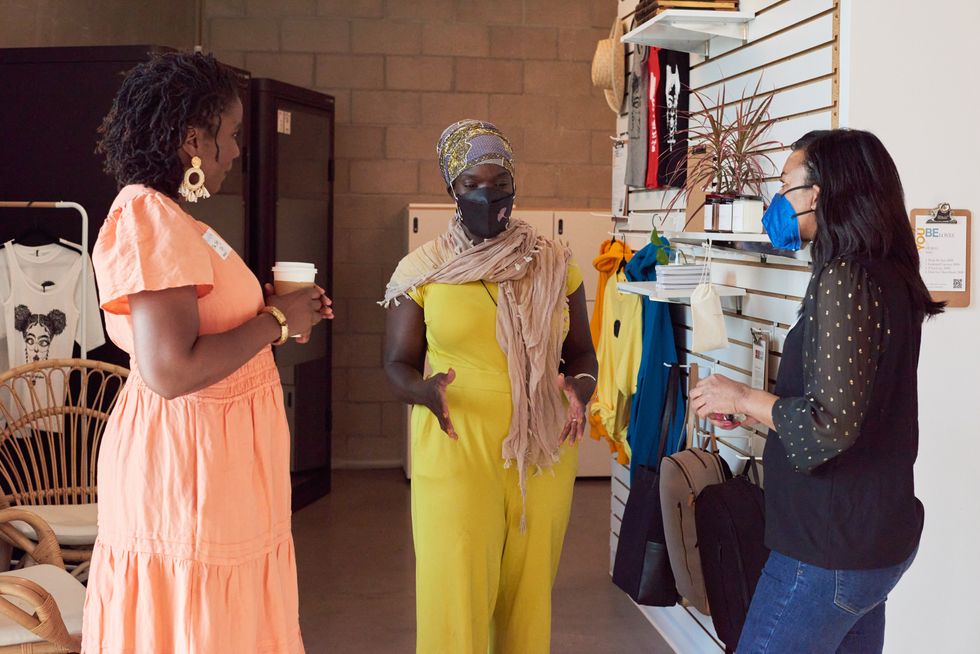 Founders at Demo Day Provided by Plug In
Smith said Plug In "is not a cookie cutter accelerator approach."
Which is to say, every company that walks into the program is at different stages in its life cycle. Some are further along in their fundraising journey while others have not raised a single cent.
"We customize the program around where founders are and where they're trying to go," Smith said. "We are a partner in helping them workshop and troubleshoot and test some of the opportunities and challenges that they're working through."
In addition to the resources that Plug In will provide, the founders will have an array of mentors to network with. Some of the industry leaders that will participate include Mirror Digital CEO Sheila Marmon, Gunderson Dettmer partner Cody Peterson, Boston Consulting Group director Patria Cabral, BOND EVP Darnell Brisco and ChowNow CBO Eric Jaffe.