plug in south la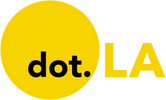 Get in the KNOW
on LA Startups & Tech
X
plug in south la
Courtesy of Plug In South LA
Diversity pledges are increasingly ubiquitous in tech, but venture capitalists—whose checks underpin the industry's runaway growth—still chronically overlook entrepreneurs in Black and brown communities.

The glaring fundraising disparity drove marketing strategist Derek Smith to found Plug In South LA, a startup accelerator based in South Los Angeles, in 2015. Focused on tech startups targeting health care, climate and sustainability, and advertising and media, Plug In is currently in the final stages of a search for a new cohort. Applications for its latest program, which will run from March through May, close on Feb. 3.
While the seven-year-old accelerator hails from South L.A., early-stage Black and brown founders based anywhere can apply to the program. Unlike some larger incubators, Plug In doesn't take equity or collect fees from its accelerator participants. It also doesn't fund companies directly—though that could change as soon as this year, according to Smith..
'How to Play in Startup-Land'
When Smith returned to his hometown in 2015 after a 15-year stint in New York, he began hosting lunch-and-learns to help founders around his neighborhood.
At the time, "L.A. was a really hot tech ecosystem," he said in an interview with dot.LA. "Ring, Bird, Snap—all these really cool things were happening" But in communities like South L.A., coworking spaces and other incubators for tech and startup talent were absent.
"The whole point of the work that we're doing is to correct some of the flaws in the market to prepare, educate and inform the talent that's there," Smith said. Plug In's goal, he added, is to help Black and brown founders "really understand how to play in startup-land and venture capital-land and all of these other sectors and spaces."
Those early meet-ups eventually snowballed into the 13-week program that Plug In offers today. Among its perks, Plug In promises to connect its spring cohort with partners and mentors at the likes of Disney, New York-based venture fund CourtsideVC and prolific VC industry law firm Gunderson Dettmer.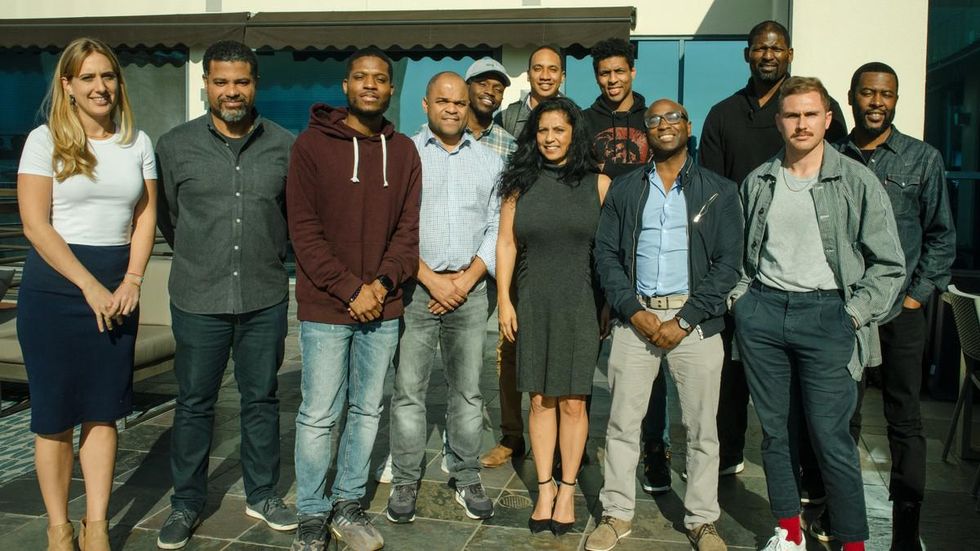 Plug In South LA founder Derek Smith (fourth from left) with a recent cohort of startup founders.Image courtesy of Plug In South LA
Devin Dixon, an Atlanta-based founder who joined the accelerator in search of product market fit, said Plug In helped him find his company's "true north star." During the program, Dixon's startup, BingeWave, evolved from a tool for film festivals and filmmakers into a metaverse app builder, he told dot.LA.
After the program, Dixon went on to join Launch House's accelerator, which he described as comparably less structured and more networking-oriented. By contrast, Plug In "focuses on how you become an actual business, versus just venture raising," he said.
"That is good for underrepresented founders," Dixon added, "simply because we typically struggle to raise capital."
Bridging the Funding Gap
For an industry bent on breakneck growth, progress toward racial equity in the insular world of startup fundraising is moving at a glacial pace. The vast majority of venture capital dollars still go to white male founders, while leadership roles at VC firms remain overwhelmingly occupied by men.
In the U.S., only 1.2% of VC dollars went to Black founders during the first half of 2021, per Crunchbase. Likewise, a separate full-year report from the data firm also found that Latinx founders secured just 1.2% of U.S. VC dollars raised in 2021.
Female-founded companies are similarly underrepresented, with a 2% cut of total venture dollars raised last year, according to Pitchbook data.
Well aware of these disparities, Smith says he is exploring raising an early-stage fund of his own to invest in underrepresented founders, potentially as soon as this year.
"We've talked about what our fund would look like and it's something that we are looking to pull the trigger on," he said, noting that he would look to invest "somewhere in the ballpark of $50,000 per startup."
Ultimately, he added, "the 20-year plan is to see the next Google come out of a place like South L.A.—founded by Black and brown co-founders."
After more than a decade working in the corporate world on the East Coast, Derek Smith returned home to a flourishing tech scene that largely excluded people like him.
"I realized that the incredible tech wave sweeping Los Angeles left behind communities from my neighborhoods growing up in South L.A." he said.
That inspired him to create the Urban Tech Connect (UTC) and Plug-In South LA. More than six years later, the Urban Tech Connect conference aimed at plugging African American, Latinx and other underrepresented communities into the greater tech ecosystem of founders, angel investors, venture capitalists, tech influencers and industry leaders is in its fourth year.
The event will run May 18 through May 20.
It came out of his other vision, Plug In South LA, a network of founders, funders and tech professionals in a part of L.A. that has been historically overlooked.
The conference aims to build that network, featuring panels led by investors discussing their latest projects, founders sharing how they made their ideas a reality, and top Black and Latino entrepreneurs advising on how to tap into knowledge and capital.
"I decided to prioritize creating a tech ecosystem for local young Black and Latinx people to gain awareness of all the potential pathways to create wealth, and be creators and owners, not just consumers," Smith said.
The pandemic has forced the conference to go virtual, but Smith believes this makes UTC all the more necessary.
"In a time when we're all exhausted staring at our computers all day, our workshops and learning sessions are opportunities to bring the community together," he said.
As part of the event, Los Angeles-based Snap Inc. will host a workshop on augmented reality and how to create your own lens.
Lidia Medina, 28-year-old investor at VamosVentures, said she's looking forward to hosting office hours titled "Uncovering New Opportunities in Venture Capital," where she hopes to provide investors and founders with guidance for how to break into the space.
"I'm really excited for UTC and the potential to make the space a little bit less fragmented," Medina said.
Suma Wealth CEO Beatriz Acevedo is one of the conference's keynote speakers. Her "master class" is titled "How I Raised a $1 Million Pre-Seed Round."
"I'm excited to see peers in la lucha," she said referring to the Spanish phrase often used to describe the grind; "I'm hoping to inspire other founders starting out and hoping to be inspired by founders more ahead in their journey."
Participants said the George Floyd protests last summer sparked a year of introspection on the lack of representation at the top of many of the country's most successful companies.
"We've made inroads towards ensuring that underrepresented people have a seat at the table," Smith said. "However, we still have a long way to go to make the American Dream a reality for those not privileged with the information or capital."
VamosVentures investor Lidia Medina agrees that there's been a greater effort towards funding diverse founders and tech companies.
"At VamosVentures, which is a fund aimed at supporting diverse Latinx entrepreneurs, we doubled the amount raised over the last three years in the first three months of 2021, raising $25 million," said Medina. "It's not a coincidence, but rather has to do with the current culture."
Each day offers either a workshop or office hours aimed at giving young entrepreneurs and tech professionals practical steps for getting ahead. Tickets range from $25 for general admission to $100 for full access to panels and all workshops, office hours and networking sessions. Attendees can also get a $50 ticket for access to just panels and office hours.
Here are the latest updates on news affecting Los Angeles' startup and tech communities. Sign up for our newsletter and follow dot.LA on Twitter for more.
Today:
Fidelity Seeking to Unload Bird Shares at a Loss
Warner Bros.' 2021 Films Will Be Released in Theaters, HBO Max Simultaneously
Plug-In South LA Opens New Accelerator Cohort for 2021