jeff bezos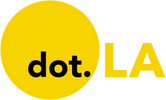 Get in the KNOW
on LA Startups & Tech
X
jeff bezos
Blue Origin via YouTube
VAN HORN, Texas — As of today, Jeff Bezos is not only the richest person on Earth. He's the richest person to fly to space as well.
The billionaire and three crewmates — including the world's oldest space traveler and the youngest — took an 11-minute ride on a reusable New Shepard rocket ship that was built by Blue Origin, the company created by Bezos in 2000.
"There's a very happy group of people in this capsule!" Bezos could be heard saying just after touchdown. "Best day ever!"
Today's flight marked the first time that people flew aboard New Shepard, which previously went through 15 uncrewed tests at Blue Origin's West Texas spaceport. The vehicle is designed to be flown autonomously, without a pilot at the controls.
Before the flight, Bezos said it was important for him to take a seat on the first crewed flight and demonstrate New Shepard's safety. "We know the vehicle is safe," he told CNN. "If it's not safe for me, then it's not safe for anyone."
In a historical flourish that's fitting for a man who paid to have the booster engines for NASA's Apollo moon missions retrieved from the bottom of the Atlantic, the milestone flight took place on the 52nd anniversary of the Apollo 11 moon landing. And speaking of flourishes, Jeff Bezos wore a cowboy hat and his lucky cowboy boots as he entered the capsule.
New Shepard's first crew also included an aviation pioneer who missed out on NASA's glory days: Wally Funk, a member of the "Mercury 13" group of women who were put through the same tests that the Mercury astronauts suffered through in the early 1960s but were never able to join the astronaut corps.
Funk, who's now 82, today displaced the late Mercury astronaut John Glenn from the most senior spot on the list of spacefliers. (Glenn was 77 when he flew on the shuttle Discovery in 1998 as a U.S. senator.)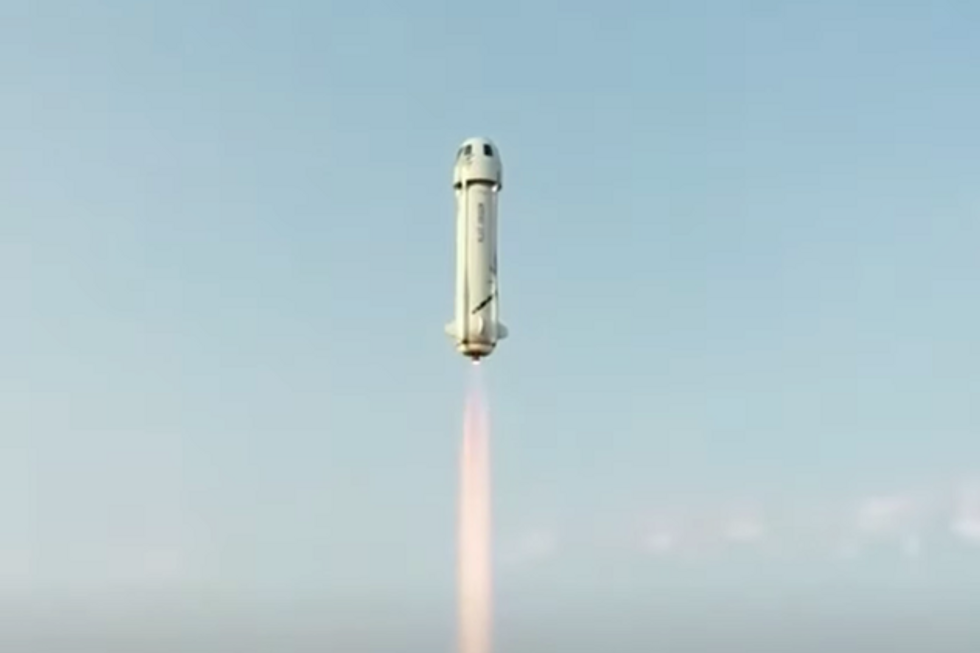 Blue Origin's New Shepard rocket ship rises from its Texas launch pad. (Blue Origin via YouTube
Another record-setter on the crew is Oliver Daemen, an 18-year-old Dutch student who is now the world's youngest person to fly to space. (The late Soviet cosmonaut Gherman Titov, who followed Yuri Gagarin into orbit in 1961 at the age of 25, previously held the record.)

Daemen, the son of a Dutch investment company's CEO, had been planning to go on Blue Origin's second crewed flight. He was switched to the first crew when the winner of a $28 million auction asked to go on a later flight, reportedly due to a scheduling conflict.
Bezos also brought along his brother, Mark Bezos, an investor and volunteer firefighter whom the billionaire described as his best friend. Just before launch, capsule communicator Sarah Knights read out a message from the Bezos brothers' sister, Christina Bezos, who reminded Mark about the "Star Trek" games they used to play (with Jeff filling the Captain Kirk role).
"Mark, be prepared to fire those torpedoes if ordered to do so," Christina said.
Today's 11-minute mission was essentially a repeat of New Shepard's uncrewed test missions, starting with the ascent of the hydrogen-fueled booster from Blue Origin's Launch Site One. Less than three minutes after liftoff, the crew capsule separated from the booster and continued rising past the target altitude of 100 kilometers (62 miles).
The difference this time around is that there were actually four people on board to gaze out the capsule's jumbo-size windows, unstrap themselves from their seats and float around the cabin in zero gravity. Previous missions used a sensor-laden test dummy nicknamed Mannequin Skywalker.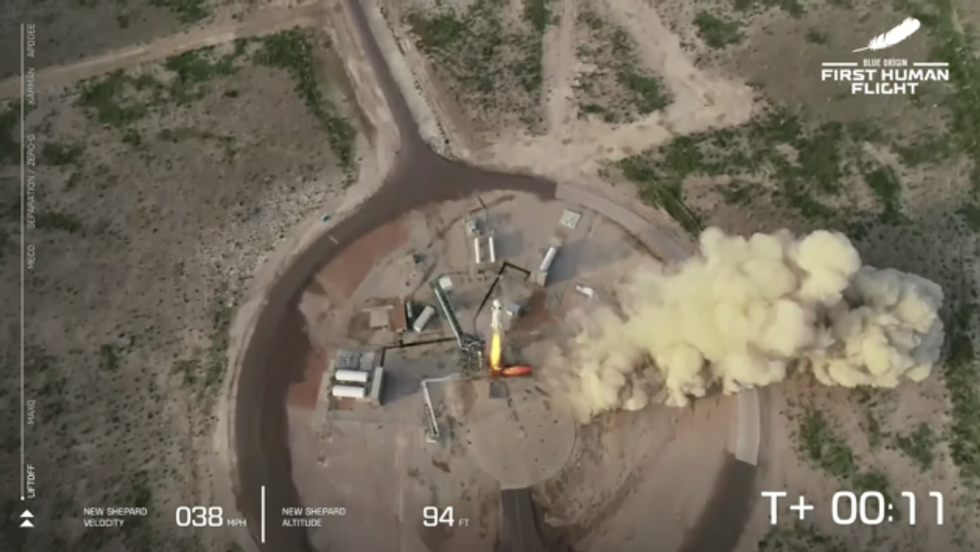 While the booster guided itself to an autonomous landing on a pad at Launch Site One, the capsule decelerated and drifted down to the Texas desert at the end of its parachutes. Retro rockets fired just before touchdown, cushioning the impact and kicking up a cloud of dust. Soon afterward, Blue Origin's recovery team picked up the newly minted spacefliers.

The successful flight stands as one of the greatest achievements to date for Blue Origin, the company that Bezos founded in 2000 with the ultimate goal of having "millions of people living and working in space." During a string of TV interviews on the eve of the flight, Bezos insisted that Blue Origin was building a "road to space" that future generations could follow for the benefit of humanity.
In addition to the New Shepard program (named in honor of the late NASA astronaut Alan Shepard), Blue Origin is also developing an orbital-class rocket called New Glenn, and has been working with industry partners on a lunar landing system for NASA. Those programs have suffered setbacks, however, principally having to do with government contracts that were lost to SpaceX and United Launch Alliance.
In the suborbital spaceflight market, Blue Origin's biggest competitor is Virgin Galactic, which is nearing the end of the flight test program for its SpaceShipTwo rocket plane, dubbed VSS Unity. Virgin Galactic founder Richard Branson climbed aboard Unity for its most recent test flight last week, scoring a victory in the billionaire space race. However, Blue Origin beat Virgin Galactic to the punch today when it flew Daemens, the first suborbital space customer to use his ticket to fly.
If all proceeds according to plan, Blue Origin will fly its next crewed suborbital space mission in the September-October time frame, while Virgin Galactic will start taking on commercial passengers next year.
Tidbits from New Shepard's first crewed flight:
Three of today's spacefarers used their last names as call signs, but because there were two Bezoses on board, Mark Bezos used the call sign "DEMO," which is an acronym created from the first names of his four children.
Blue Origin used Rivian electric trucks to carry crew members to the launch pad and pick them up after landing. It's no coincidence that Amazon, the other company founded by Bezos, has invested in Rivian and ordered 100,000 Rivian electric vans for Amazon's delivery fleet.
This story first appeared on GeekWire.
(Jeff Bezos via Instagram)
AN HORN, Texas — It's T-minus 1 day for Amazon founder Jeff Bezos' suborbital spaceflight, and he feels fine.
On Tuesday, the world's richest individual is due to take a ride on the New Shepard spaceship built by his Blue Origin space venture.
"People keep asking me if I am nervous," Bezos said today on "CBS This Morning,"during an interview that also included his three crewmates. "I am not really nervous. I am excited. I am curious. I want to know what we are going to learn."
All four soon-to-be spacefliers seemed in good spirits as the faced the camera in their flight suits.
"We've been training," Bezos said. "This vehicle is ready, this crew is ready, this team is amazing. We just feel really good about it."
In a video clip that Bezos posted to Instagram, the foursome could be seen checking out a mockup of the New Shepard capsule they're due to ride above the 100-kilometer (62-mile) space boundary at Blue Origin's Launch Site One near Van Horn.
Kevin Sprogue, who will serve as a launch-pad guide for the crew, conducted classroom sessions as well as practice sessions in the full-scale simulator, which is called the Tortoise in honor of Blue Origin's slow-and-steady spaceflight strategy.
"How are you guys doing?" Sprogue asked at one point.
"I literally have had goosebumps since I stepped in," Jeff Bezos' brother and crewmate, Mark Bezos, replied. "They haven't gone away."
The crew will be stepping into the actual space-ready capsule, known as the RSS First Step (with RSS standing for "Reusable Spaceshlp"), about 45 minutes before Tuesday's liftoff. Launch is scheduled for 8 a.m. CT (6 a.m. PT). Blue Origin's websiteis set to stream video coverage of the countdown and the roughly 11-minute, up-and-down flight starting at 6:30 a.m. CT (4:30 a.m. PT).

There's no pilot per se. The New Shepard capsule and its booster are designed to operate autonomously, and there's a rocket-powered escape system to push the capsule away from the booster if an emergency occurs during launch or ascent.
"Personally, I can't wait for liftoff," Mark Bezos said during the CBS interview. "Just the rumble of the engine and that acceleration — I can't wait to see what that's going to feel like. I'm really excited about that. And I'm not going to lie, I'm going to be pretty excited when I hear those parachutes open, too."
In between, the Bezos brothers and their crewmates — Dutch student Oliver Daemen and aviation pioneer Wally Funk, who are due to become the world's youngest and oldest spacefliers — will experience a few minutes of weightlessness at the top of the ride.
For a research project in the early 1960s, Funk went through the same training that the Mercury astronauts experienced. But the training couldn't provide a minutes-long dose of zero-G in the actual space environment. Now the 82-year-old says she's looking forward to being "able to do somersaults, and tumble and do anything that I've wanted to do."
Daemen said he hasn't been getting much sleep since joining the crew last week. The 18-year-old had been signed up for a later spaceflight, but is taking the place of a $28 million auction winner. Blue Origin said the high bidder had to defer the flight due to a scheduling conflict, and Daemen agreed to fill in.
He took his lead from Bezos on the excited vs. nervous question: "I think the excitement just overtakes the nervousness," Daemen told CBS.
This will be the first crewed flight for Blue Origin's New Shepard suborbital launch system, which has gone through 15 uncrewed tests over the past six years. Blue Origin is already signing up customers for follow-up flights, including two crewed missions scheduled for later this year. Ticket prices are being negotiated confidentially, but they're thought to be in the range of hundreds of thousands of dollars, or even millions of dollars.
At the same time, Virgin Galactic is in the final stages of its own flight test program, with an eye toward taking on commercial passengers for suborbital space trips starting next year. Virgin Galactic's billionaire founder, Richard Branson, took a high-profile ride last week.
Yet another milestone in private-sector spaceflight is scheduled for September, when billionaire Jared Isaacman and three crewmates are expected to ride a SpaceX Crew Dragon capsule into orbit for a free-flying mission that Isaacman is paying for.
Update for 9 a.m. PT July 19: Bezos and his crewmates made the rounds at all the morning TV news shows.
On CNN, for example, Bezos noted that some astronauts say seeing Earth from space changes them. "They see the thin limb of Earth's atmosphere, and realize how fragile the Earth is," he said. "They see it's just one planet. I don't know how it's going to change me, but I know it's going to, and I'm excited to find out how."
On NBC, Bezos downplayed the competition with Branson to be the first billionaire to fly his own company's rocket ship into space. "This isn't a competition, this is about building a road to space so that future generations can do incredible things in space," Bezos said.
Here's a roundup of the morning videos:
GeekWire Photo / Kevin Lisota
"To all you kids down there, I was once a child with a dream, looking up to the stars," Branson said before unbuckling. "Now, I'm an adult in a spaceship with lots of other wonderful adults, looking down to a beautiful, beautiful Earth. For the next generation of dreamers, if we can do this, just imagine what you can do."
Can Jeff Bezos top that? We'll soon find out. Amazon's founder is set to go even higher as a passenger July 20 on the first crewed flight for his space venture Blue Origin's New Shepard rocket.
On Tuesday, the Federal Aviation Administration issued its formal approval for New Shepard's launch, which will carry Bezos and three crewmates.
On this special episode of the GeekWire Podcast: the dawn of a new era in space tourism, what to watch when the Amazon founder blasts off next week, and what's next for commercial space exploration.
Joining us is longtime space journalist Alan Boyle, GeekWire contributing editor, who has covered Bezos' space ambitions for years.
Listen above, subscribe to GeekWire in any podcast app, and continue reading for edited highlights from Alan's commentary.
What this launch means for Bezos and Blue Origin: I think that there's a little bit of redemption here, because Blue Origin and Jeff Bezos have been working on this and other projects for a long time. And it's a little bit elusive to see the payoff from all that.
He's working on an orbital class rocket called New Glenn, which has been delayed. Blue Origin competed in a couple of high profile competitions for government contracts from NASA or the US Space Force, and they lost out on those.
So New Shepard is really going to be a signal success, and probably the highest success that Blue Origin has encountered in its more than 20 years of existence. If it works as Jeff Bezos hopes it will … then it is a sign that Blue Origin has actually achieved something having to do with human space flight, high-profile space flight. And if they can turn this into more successes, then Jeff Bezos' vision has a much better chance of coming to fruition.
The personal risk to Bezos: There is a risk of death. That's always the case when you have something that's as explosive as a rocket ship that you're dealing with. It was risky for Richard Branson also, even though that rocket plane has been tested. There are three people who lost their lives in the ground test, and one test pilot died in the course of testing SpaceShipTwo. So it is risky.
Blue Origin's New Shepard spacecraft has an escape system if something goes wrong. During the ascent of the rocket, there is a solid rocket motor that is supposed to light up, and push the passengers to safety, in case an emergency occurs. But it's still rocket science, and there are things that can go wrong. Especially with this flight, I think there's a lot more attention to it, because this is the first one to fly with people on it.
What this month means for space tourism: I think it's a turning point. For a long time, I had talked about the two-year rule in private commercial space flight, that the era when regular folks fly in space always seems to be two years away. But now it's less than two weeks away, perhaps. So I think that's a big deal. It's a big deal for the business of space flight.
Strangely enough, I am feeling like this is just becoming a business, and for people who are well-versed in science fiction and all that, and love Star Wars and Star Trek, maybe it loses a little bit of an appeal, because now, it's just a business, and the filthy lucre is entering into the picture.
I'm of two minds about that. I'm kind of sad that it's no longer science fiction, strangely enough. But I guess the day that we all had been thinking was coming some day down the road is really approaching its dates on the calendar.
This article originally appeared on GeekWire