Star Trek's William Shatner Finally Reaches The Final Frontier in Blue Origin Spaceship
09:38 AM | October 13, 2021
Reality caught up with science fiction today when Star Trek actor William Shatner, a.k.a. Captain James T. Kirk, briefly crossed into outer space aboard Blue Origin's New Shepard suborbital spaceship.
In the process, the 90-year-old Shatner took the title of oldest human in space, less than three months after 82-year-old aviation pioneer Wally Funk set that record on Blue Origin's first-ever crewed flight.
---
"How about that, guys?" Shatner could be heard saying during the descent. "That was unlike anything they described. … That was unlike anything you could ever feel."
Today's mission at Blue Origin's Launch Site One in West Texas was the 18th for the New Shepard breed of spaceships, including 16 uncrewed flights over the past six years. It marked a bright day for Jeff Bezos' Kent, Wash.-based space venture, coming amid a set of challenges and controversies.
The flight followed the pattern set by July's milestone mission, which carried Funk, Bezos, his brother Mark and Dutch student Oliver Daemen across the 100-kilometer (62-mile) space boundary known as the Karman Line.
Today, Shatner was joined by three other spacefliers: Chris Boshuizen, a venture capitalist who co-founded Planet Labs; Glen de Vries, a co-founder of Medidata Solutions who is now an executive at Dassault Systems; and Audrey Powers, Blue Origin's vice president of New Shepard mission and flight operations.
Boshuizen and de Vries paid an undisclosed fare for their trip, while Shatner and Powers flew on Blue Origin's behalf.
Before heading out to the launch pad, Blue Origin crew trainer Sarah Knights presented the quartet with commemorative coins. "Heads we go, tails we don't," Shatner joked.
While the booster flew itself to a touchdown on a landing pad not far from the launch pad, the four space travelers returned to their seats for a parachute-aided descent back to the Texas desert. The trip took 10 minutes and 17 seconds.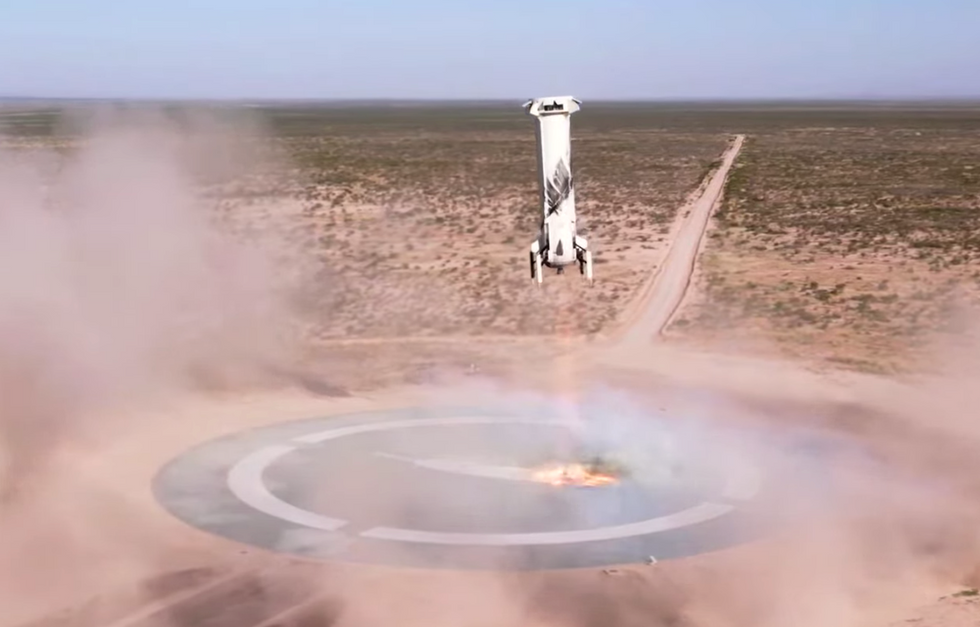 The crew capsule sits at its landing site.
After the landing, Bezos opened the hatch and ushered the crew out for a round of hugs from friends and family — and a spray of celebratory champagne.
"Everybody in the world needs to do this," Shatner told Bezos as he stood outside the capsule. "It was unbelievable. … To see the blue colors just whip by, and now you're staring into blackness. … There is Mother Earth and comfort, and there is space. Is there death? I don't know.
"What you've given me is the most profound experience I can imagine," said Shatner, seemingly overcome. "I'm so filled with emotion about what just happened. It's so extraordinary. I hope I never recover from this."
Bezos then gave each of the fliers a custom-made astronaut pin and a hug. Thousands of postcards were packed aboard the capsule for the Club for the Future, Blue Origin's nonprofit educational program, and they'll be returned to senders now that they've come back from space.
Shatner was the star of today's mission, thanks to his long-running status as a space-show celebrity. He was the starship captain in the original "Star Trek" series in 1966-1969, in an age before his three shipmates were born, and went on to roles in a string of Star Trek movies as well as non-spacey films and TV series.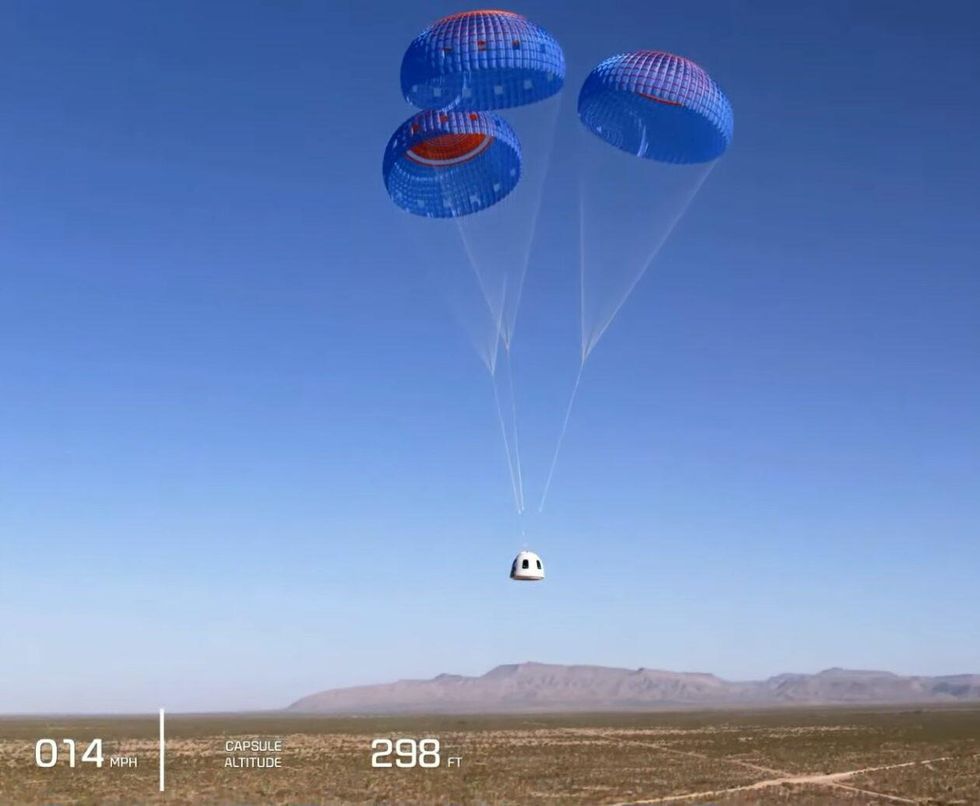 The New Shepard crew capsule descends to its touchdown.
He's also served as a pitchman for Priceline, and at times, Shatner sounded as if he was playing that role in an unofficial capacity for Bezos and his space vision. "Jeff Bezos' concept to make living and building in space, and to make pollution a thing of the past — what noble ambitions those are, and somebody has to start it," he said in a pre-launch video released by Blue Origin.
So far, New Shepard seems to be the most successful element of Blue Origin's multi-pronged space program. After July's first crewed mission, Bezos said that his 21-year-old space venture had racked up nearly $100 million in private sales for future suborbital spaceflights. The next crewed flight is expected to take place late this year, and there'll be uncrewed research missions as well.
Blue Origin has faced setbacks on other fronts, including delays in the development of its next-generation BE-4 rocket engine and its orbital-class New Glenn rocket. This spring, it lost out to SpaceX in a multibillion-dollar competition to build the first lunar lander to carry astronauts for NASA's Artemis moon program. A ruling on Blue Origin's legal challenge is expected next month.
The crew capsule sits at its landing site.
There have been signs of internal dissension as well: Last month, an essay attributed to 21 current and former Blue Origin employees accused the company of laxity when it comes to sexual harassment and flight safety.
According to the essay, most of the authors "would not fly on a Blue Origin vehicle" due to safety concerns. Perhaps in response to the essay, today's Blue Origin webcast made a point of emphasizing the safety of the New Shepard system.
"There are a lot of people at Blue that would be excited to fly on New Shepard, and I'm happy to count myself as one of them. It's a fantastic system. It's a very robust system," Andrew Lake, senior director of New Shepard safety and mission assurance, said in a pre-recorded interview.
"Well, I hope we get to go one day," replied Ariane Cornell, who doubles as a launch commentator as well as Blue Origin's director of astronaut and orbital sales.
This article originally appeared on GeekWire.
From Your Site Articles
Related Articles Around the Web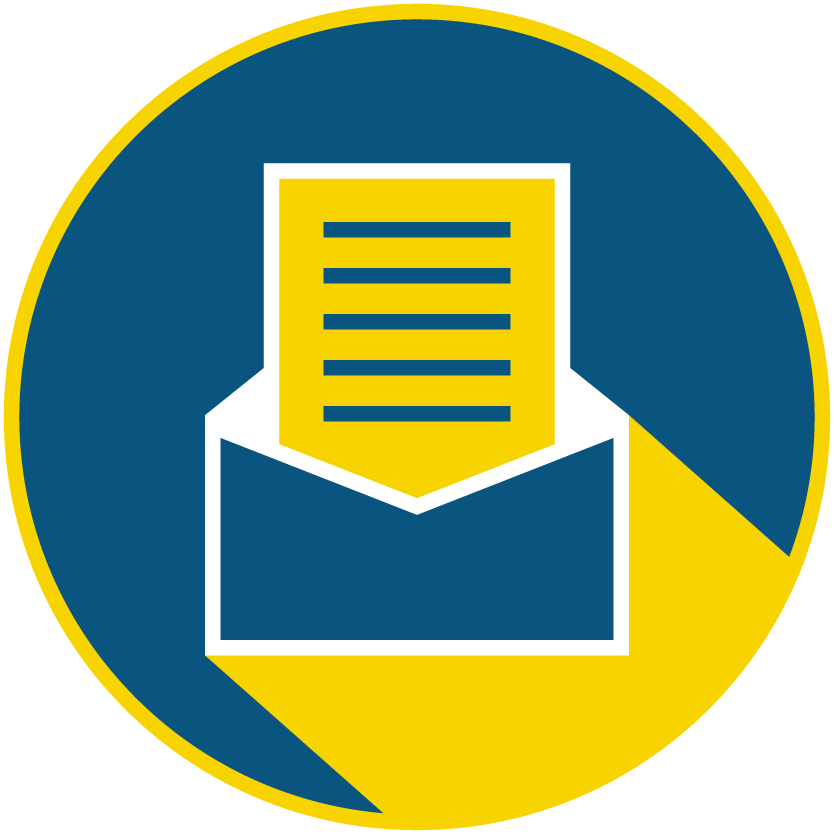 Subscribe to our newsletter to catch every headline.
07:28 AM | January 04, 2021
Despite — or in many cases because of — the raging pandemic, 2020 was a great year for many tech startups. It turned out to be an ideal time to be in the video game business, developing a streaming ecommerce platform for Gen Z, or helping restaurants with their online ordering.
But which companies in Southern California had the best year? That is highly subjective of course. But in an attempt to highlight who's hot, we asked dozens of the region's top VCs to weigh in.
We wanted to know what companies they wish they would have invested in if they could go back and do it all over again.
Startups were ranked by how many votes each received. In the case of a tie, companies were listed in order of capital raised. The list illustrates how rapidly things move in startup land. One of the hottest startups had not even started when 2020 began. A number doubled or even 16x'd their valuation in the span of a few short months.
To divvy things up, we delineated between companies that have raised Series A funding or later and younger pre-seed or seed startups.
Not surprisingly, many of the hottest companies have been big beneficiaries of the stay-at-home economy.
PopShop Live, a red-hot QVC for Gen Z headquartered out of a WeWork on San Vicente Boulevard, got the most votes. Interestingly, the streaming ecommerce platform barely made it onto the Series A list because it raised its Series A only last month. Top Sand Hill Road firms Andreessen Horowitz and Lightspeed Venture Partners reportedly competed ferociously for who would lead the round but lost out to Benchmark, which was an early investor in eBay and Uber. The round valued PopShop Live at $100 million, way up from the $6 million valuation it raised at only five months prior.
Scopely, now one of the most valuable tech companies in Los Angeles, was also a top vote getter.
The Culver City mobile gaming unicorn raised $340 million in Series E funding in October at a $3.3 billion valuation, which nearly doubled the company's $1.7 billion post-money valuation from March. It is no coincidence that that was the same month stay-at-home orders began as Scopely has benefited from bored consumers staying on their couch and playing ScrabbleGo or Marvel Strike Force.
The company's success is especially welcome news to seed investors Greycroft, The Chernin Group and TenOneTen ventures, who got in at a $40 million post valuation in 2012. Upfront Ventures, BAM Ventures and M13 joined the 2018 Series C at a $710 post-money valuation.
Softbank-backed Ordermark, which flew more under the radar, also topped the list. The company's online ordering platform became a necessity for restaurants forced to close their dining rooms during the pandemic and raised $120 million in Series C funding in October.
On the seed side, two very different startups stood out. There was Pipe, which enables companies with recurring revenues to tap into their deferred cash flows with an instant cash advance, and Clash App, Inc., a TikTok alternative launched by a former employee of the social network in August.
We will have the list of Southern California's top seed startups out tomorrow.
Lead art by Candice Navi.
Ben Bergman
Ben Bergman is the newsroom's senior finance reporter. Previously he was a senior business reporter and host at KPCC, a senior producer at Gimlet Media, a producer at NPR's Morning Edition, and produced two investigative documentaries for KCET. He has been a frequent on-air contributor to business coverage on NPR and Marketplace and has written for The New York Times and Columbia Journalism Review. Ben was a 2017-2018 Knight-Bagehot Fellow in Economic and Business Journalism at Columbia Business School. In his free time, he enjoys skiing, playing poker, and cheering on The Seattle Seahawks.
https://twitter.com/thebenbergman
ben@dot.la
04:00 AM | October 29, 2021
Pejman Nozad, a founding managing partner at Pear VC, joins this episode of LA Venture to discuss Pear VC's current initiatives, including its accelerator and fellowships. He's seen as one of the most successful angel investors in the area, and for good reason: he has made more than 300 investments in his lifetime.
"I'm a child of revolution and war and difficult times," said Nozad of his upbringing in Iran during the revolution.
Nozad went to college before dropping out. That's when his brother told him about his dream to go to America. After his brother was denied a visa multiple times, Nozad went himself to the embassy and got lucky; the woman in charge of the process liked him enough to approve him.
"When you're in [your] early twenties, you don't analyze much of the future. And then your risk-takers. I came to America in 1992 with $700 and I didn't speak any word of English," said Nozad.
Nozad went from working at a carwash, then a yogurt shop, to a (now famous) Persian rug store in Palo Alto. Many of his clients happened to be CEOs and venture capitalists; Nozad wanted to be part of that community.
"I was very lucky because I had access to people who normally nobody can see them, but I was hanging out with them at Sunday barbecues while selling carpets," said Nozad.
In his early days as an investor, Nozad bet on companies that included Dropbox and DoorDash. He said he took inspiration as a venture capitalist in lessons he learned from his time playing professional soccer in Iran.
"In soccer, you can score minute one, or you can score at minute 90. Both of them [are] one goal and you can win the game. So, when you go to fundraise, don't get disappointed if you hear a lot of nos, because the yes could be the last meeting after the whole two months," he said.
Want to hear more L.A. Venture? Listen on Apple Podcasts, Stitcher, Spotify or wherever you get your podcasts.
dot.LA Engagement Intern Joshua Letona contributed to this post.
From Your Site Articles
Related Articles Around the Web
Minnie Ingersoll
Minnie Ingersoll is a partner at TenOneTen and host of the LA Venture podcast. Prior to TenOneTen, Minnie was the COO and co-founder of $100M+ Shift.com, an online marketplace for used cars. Minnie started her career as an early product manager at Google. Minnie studied Computer Science at Stanford and has an MBA from HBS. She recently moved back to L.A. after 20+ years in the Bay Area and is excited to be a part of the growing tech ecosystem of Southern California. In her space time, Minnie surfs baby waves and raises baby people.