hydrogen energy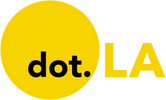 Get in the KNOW
on LA Startups & Tech
X
hydrogen energy
Courtesy of Kore Infrastructure
Hydrogen accounts for roughly 70% of all matter in the universe—and these days, it seems that hydrogen power startups account for about the same share of emerging green-tech companies in California. But while the space is replete with big dreams using hydrogen to power planes, cars, buildings and more, most companies are still years away from finishing a prototype—let alone building a plant or going to market.
Not so for Kore Infrastructure. The energy startup is already online at its plant in Downtown Los Angeles, where it's converting tons of waste into hydrogen, biogas, natural gas and carbon char every day.
The idea behind Kore's technology is similar to that of other companies also deploying the process known as pyrolysis: You take organic waste like deadwood and brush, heat them in a low oxygen environment at a very high temperature, and collect the gasses and carbon char left over. When all goes well, this avenue of hydrogen production can be carbon negative, meaning that CO2 is removed from the carbon cycle that usually sees it burned into the atmosphere.
When a pile of manure is left in a field, for instance, it naturally converts into methane and CO2—two greenhouse gasses that warm the planet. But if the manure is fed into a pyrolysis machine, about half of that carbon is converted into solid carbon, also called char. In this form, the carbon atoms can't be broken down by microbes and released as CO2. The element is then sequestered as a solid, and its potential to warm the atmosphere is eliminated.
Now, after 14 years of quietly developing and building its technology, Kore is coming out of stealth mode and ready to start selling its pyrolysis machines to practically anybody looking to process organic waste. The company's machines can handle a variety of inputs—from nut shells, agricultural tree prunings and biosolids to construction and demolition waste.
"The big differentiator with Kore is having steel on the ground, having something operational, having something to show," Kore founder and executive chairman Cornelius Shields told dot.LA. "If you're going to build these types of facilities, you have to go through a lot of pain."
Part of the reason that Kore suddenly seems to be at the forefront of the pyrolysis race is that it's had a considerable head start. The company has been quietly operating since 2008 and built its first full-scale pyrolysis machine in 2015. These machines are massive, occupying a real estate footprint of close to an acre; to the untrained eye, they look like an unholy amalgamation of pipes, tanks and valves. At maximum capacity, one of the machines can process 24 tons of feedstock per day to produce 1,000 kilograms of green hydrogen and six tons of solid carbon char.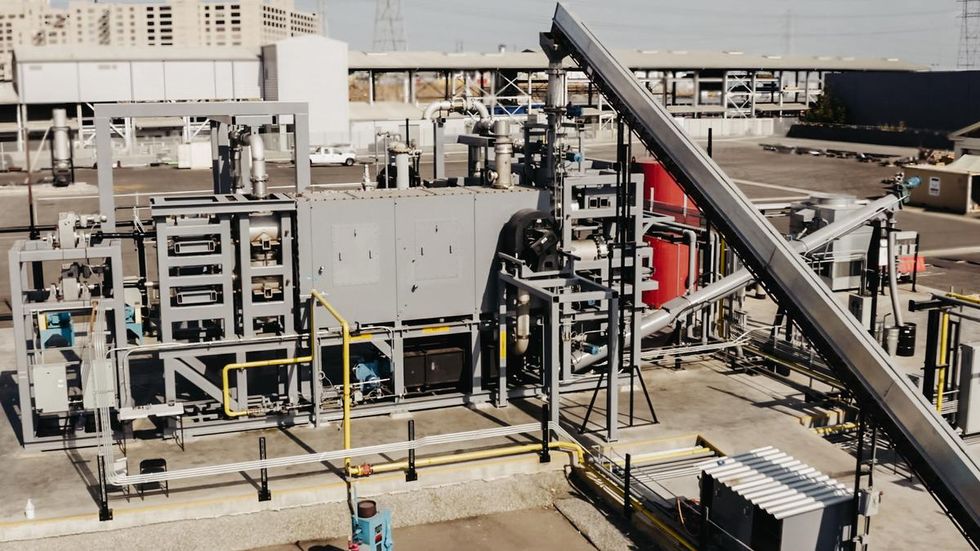 Kore Infrastructure's pyrolysis machines in Downtown L.A.Courtesy of Kore Infrastructure
Kore's technology eventually drew the interest of SoCalGas, which provided a $1.5 million grant in 2017 that allowed the startup to begin setting up operations in Downtown L.A. By August 2021, the company had completed permitting and construction of the plant and began running its pyrolysis machine as a proof of concept for commercial applications.
"We have been pretty quiet," Shields said. "As a founder, I just wanted to make sure that we were ready [and] that the technology was working before we came to market—that we knew we had real data, and it just wasn't a hope and a prayer."
While Kore is still coy on its exact business strategy going forward, Shields says it's fair to estimate that a pyrolysis machine will cost up to tens of millions of dollars to purchase. That's not a small chunk of change—but compared to the cost of building a full pyrolysis plant, which can cost $100 million or more, Kore thinks it may be able to entice buyers.
"We're selling modular systems to industry," according to Shields. "That kind of scaling is far faster because an industrial client can say, 'Okay, let's do two modules to start. Let's see how that goes, and then we can add other modules.'"
Pyrolysis' appeal is bolstered by financial incentives like the California's Low Carbon Fuel Standard (LCFS) tax credits and the federal 45Q tax credit, which award companies for saving and sequestering carbon emissions. Then there's the hydrogen itself, which currently costs about $10 per kilogram at the gas pump if you drive a hydrogen car. And even the char left over from the process is valuable: The solid carbon can be used in fertilizers and to strengthen concrete, but it can also be burned as a coal substitute. (Obviously, burning the char undoes all the hard work of sequestering the carbon in the first place—but for hard-to-decarbonize industries like steel and cement production, a carbon-neutral fuel source is a massive improvement over coal.)
"We can decarbonize transportation fuels in the state [and] decarbonize the supply chain for natural gas—and then use the same technology to make hydrogen as demand for that ramps up," Kore executive vice president Steve Wirtel told dot.LA. It's this sort of double-edged benefit that makes Kore's technology exciting for Wirtel: Pyrolysis converts carbon that would otherwise warm the planet into a coal substitute, and produces green hydrogen in the process.
Given those multiple revenue streams, pyrolysis is becoming an increasingly attractive waste disposal avenue, and Kore is hoping to have its first commercial machine sold and delivered to a customer by the end of this year. The company is also looking to raise an "institutional round of capital," Shields said, citing interest from private equity investors.
He added that Kore is already drawing international interest in its technology, but is planning to stay conservative for the time being and focus on scaling locally—part and parcel of the slow and deliberate pace that's served the company well to this point.
"There's so much opportunity in our backyard in California, that's where we're going to stay for now," Shields said.
From Your Site Articles
Related Articles Around the Web
This is the web version of dot.LA's daily newsletter. Sign up to get the latest news on Southern California's tech, startup and venture capital scene.
As Russia and Ukraine remain at war, the European Union is having an energy independence crisis. After China, the biggest importers of Russian oil are Germany and the Netherlands, while the likes of Poland, Slovakia, Finland and Lithuania get more than 50% of their total oil imports from Russia, according to the International Energy Agency.

Last week, the EU announced a plan to phase out Russian fossil fuels. In some ways, the strategy looks eerily similar to what's happening in California right now—especially when it comes to hydrogen, which is swiftly emerging as a clean energy option.
"We simply cannot rely so much on a supplier that explicitly threatens us," European Commission President Ursula von der Leyen said in a speech to the European Parliament. "In the long run, it is our switch to renewables and hydrogen that will make us truly independent."
The plan, called REPowerEU, outlines both short- and long-term solutions for achieving energy independence and states that "terminating [Europe's] dangerous overdependence on fossil fuels from Russia can be achieved well before 2030." The strategy focuses on using hydrogen as a way to decarbonize industry—specifically calling for a "hydrogen accelerator" to build out infrastructure and replace demand for Russian gas with up to 15 million tons of renewable H2. According to Hydrogen Europe—an organization of more than 300 companies invested in expanding the gas' role in the path towards carbon neutrality—the accelerator program should be focused on identifying existing pipelines that can be repurposed to carry hydrogen.
In California, the situation is both different and similar in various ways. The United States is mostly energy independent at this point and Russian oil imports are now officially banned, but the complexities of the global oil market often make it cheaper to export our oil and import oil from other countries. The U.S. basically does everything when it comes to oil: we produce it, we export it and we import it. It must be a real trip to be on an oil tanker out in the middle of the ocean, and pass another oil tanker going back to where you're coming from. (You'd think a phone call would save a whole lot of trouble.)
But global economics aside, the challenge of transitioning to a future devoid of fossil fuels remains urgent—and hydrogen, especially in California, has been rapidly picking up momentum. SoCalGas has unveiled Angeles Link, an ambitious project to deliver hydrogen through its existing natural gas pipeline architecture. The utility is also building a prototype home that runs on a hydrogen microgrid. A slew of waste-to-hydrogen companies are popping up, offering ways to remove carbon dioxide from the atmosphere and turn it into hydrogen. And companies like Universal Hydrogen are trying to decarbonize the most stubborn sectors of the economy through the gas.
Hydrogen-powered electricity may never become as cheap or efficient as that powered by solar or wind, but the gas has benefits that make it attractive to California and Europe alike—especially when matters are time-sensitive, such as the urgent need to cut funding to an adversary's war effort or a looming climate apocalypse.
For one, hydrogen is already storable and transportable, and with the proper infrastructure can serve as a piece of the intermittency puzzle—providing electricity to the grid when demand is high, and wind and solar sources may be lower than usual. Electrolyzers—the machines that produce hydrogen—can also run on accessible fuel stocks like nutshells, manure, dead trees and solid waste. Waste-to-hydrogen currently represents just a small fraction of the total hydrogen production globally, but converting such materials into hydrogen effectively removes carbon from the environmental cycle and, in some cases, creates a material called char that can be used as a substitute for coal. (Obviously, if you burn that material again, you're only breaking even on the carbon cycle—but for industries like steel and chemical manufacturing, breaking even would be a massive improvement.)
For better or worse, desperation often begets innovation. Suddenly, small pieces of the puzzle begin to look valuable. A few more tons of hydrogen here mean a few less barrels of Russian oil there. A few more electrolyzers means fewer houses that rely on natural gas when the grid is stressed. The total calculus of carbon neutrality is, as ever, built on a thousand tiny improvements. In Europe's case, it's just a shame that it required something like Russia's invasion of Ukraine to spur such initiatives into action. — David Shultz