At Super Bowl LVII, advertisers paid at least $7 million for 30–second ad spots, and even more if they didn't have a favorable relationship with Fox. But the pricey commercials didn't persuade everyone.
A recent report from advertising agency Kern and neuroscience marketing research outfit SalesBrain is attempting to answer that question using facial recognition and eye-tracking software.
The study began before the Super Bowl aired, as companies were rolling out their ads on social media. Christophe Morin, founder and CEO of SalesBrain and lead researcher for the study with Kern, said he worked with 60 test subjects ranging in age from 18-60. The participants were asked to turn their webcam on to allow SalesBrain to record their facial movements as they watched an ad. SalesBrain used its software to create a heat map-like image of where and when people were most attentive. They also solicited subjects' feedback on the ads, whether they liked them or not or felt compelled to buy.
The ads were given an A-F grade on how effective they were at hitting each of the six primal brain stimuli, then compiled into an average grade. Dexcom, a glucose monitoring company that roped in Nick Jonas for a spot, scored the best, with an A grade. Pringles, which put out a Super Bowl ad where celebrities got their hands stuck in their signature tall cans, scored the worst (a D). Not surprisingly, any ad that didn't also immediately and clearly convey a face didn't engage viewers.
Russell Kern, founder of the Kern Agency, said he and Morin worked "together to create and do research on what really is the pain that's implicit or explicit, and how might we state a claim in such a way that it stands head and shoulders above your competition." He added this information can help companies "in the creation of the product to help maximize the communication before it's even put together."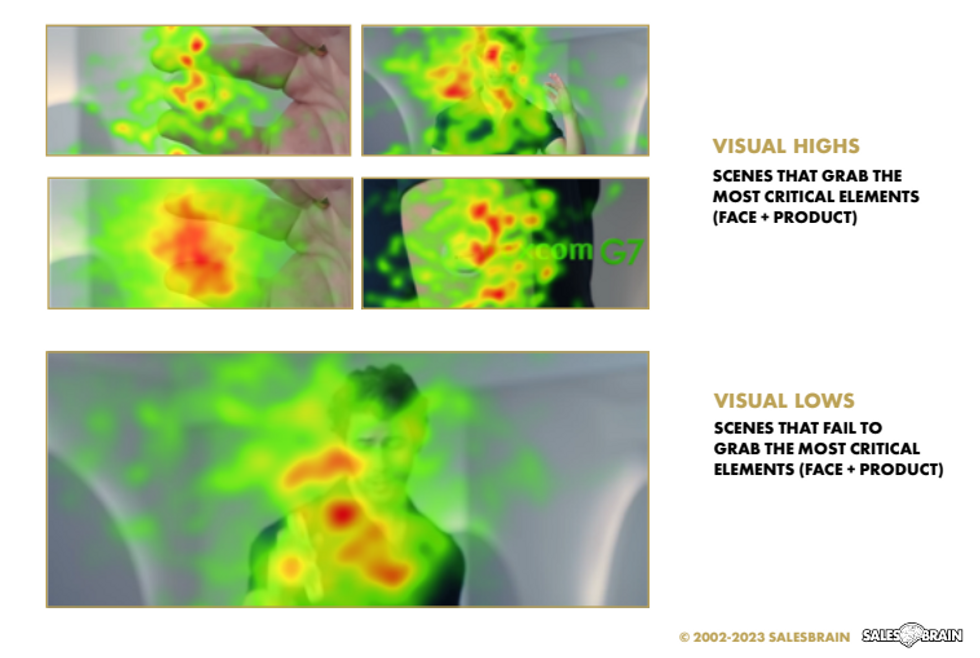 This heat map shows where people's eyes were drawn during a specific commercial. Photo: Kern/SalesBrain
The study identified six key types of stimuli that engage what Morin calls the "primal brain" – sometimes referred to as the "reptilian brain," or the part of our brain that's hardwired with survival instincts. This, according to Morin, is the center of the brain that dictates our desire to be safe, protect ourselves and our tribe, and move up in social status. Our rational brain, the part responsible for logical thinking, will get in the way of purchases if given enough time, he noted.
Some of these might seem obvious, but advertisers in Super Bowl LVII didn't seem to know so. "The brain is designed to say, 'is that going to keep me alive? Is that going to raise my status, or help me procreate? If you don't connect to those primitive drivers, your message is getting the off button," Russell Kern explained. Kern started his Woodland Hills-based advertising agency in 1991, but only recently embraced neuroscience as part of the process.
To that end, the study found that simply liking an ad isn't enough to make a person buy a particular product, and that people respond more favorably to ads that provoke feelings of needing security, safety or promise the potential to elevate their status in the pecking order.
We encounter so many stimuli in our daily lives and advertising is no exception – Morin told dot.LA he estimates the average person receives up to 30,000 ad messages per day, "and the volume of information keeps going up." Naturally, if we tried to process all that we couldn't do much else, Morin said.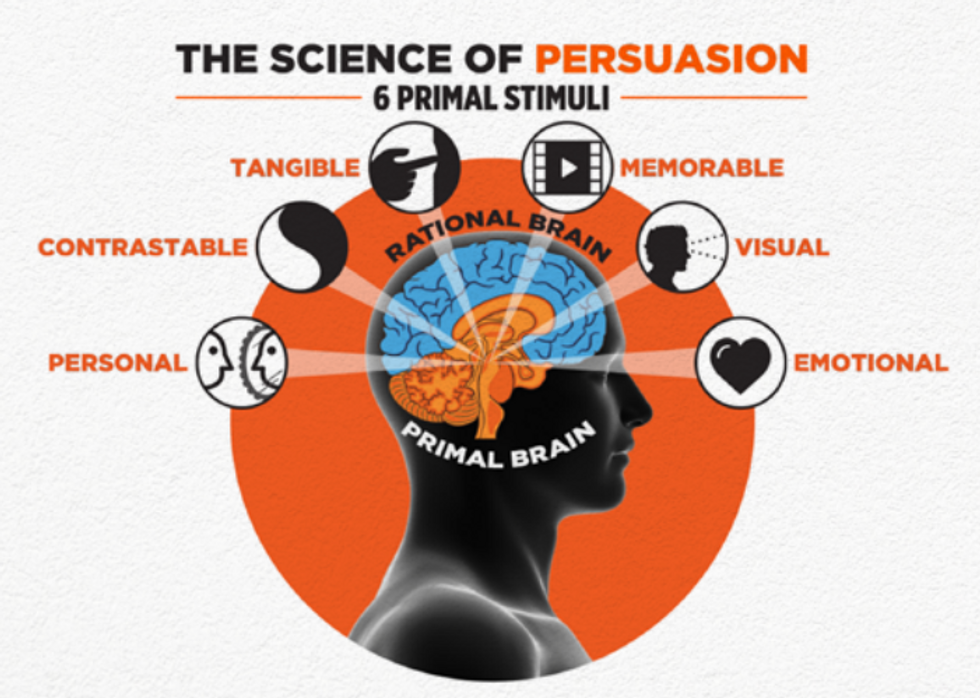 SalesBrain's six stimuli visualized. "All rights reserved Salesbrain 2002-2023" by permission from Salesbrain
"Our brain is facing a growing number of messages," Morin said. "Most of the messages that we receive, are dismissed, and what I call the splashing effect, or bouncing off our brains."
Neuromarketing, as it's called, is a thorny issue in the advertising industry.
That's partly because of the misconception that customers have about it. In 2019 the Harvard Business Review spoke with three experts about neuromarketing in 2019 and while they agreed that there's "no potential for a direct privacy violation for the average consumer: your thoughts are your own;" the mere idea that thought patterns are up for scrutiny creeps people out.
That said, Morin did say some firms are embracing the science, including Avon, a medical cannabis company in Canada and Facebook, which he said later started its own neuromarketing lab. The social giant also bought out neural interface startup CTRL-Labs in 2019 for as much as $1 billion.
"The issue is an industry that seeks for creativity," Kern theorized. He noted that some advertisers are hesitant to bring science into their creative process. Some, Kern said, think that "if we're just creative enough, the person will figure out what's happening. But the answer is now. The mind wants to preserve glucose, in case it needs it for fight or flight, and it only pays attention when it's about me."