creatoriq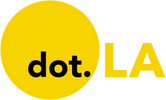 Get in the KNOW
on LA Startups & Tech
X
creatoriq
One of the largest influencer marketing companies, a Culver City-based startup that's helping Disney, AirBnB and Amazon build social media campaigns, is getting larger as demand for data on social media stars grows.

CreatorIQ, a marketing analytics company, is acquiring a similar company called Tribe Dynamics for roughly $70 million.
The cash and stock deal announced Sept. 21 comes less than a week after CreatorIQ raised $40 million to scale its operations and invest in fine-tuning the artificial intelligence systems it uses to get precise measurements of a brand's digital footprint.
Both companies use artificial intelligence to analyze market trends and gauge if marketing is working. As influencers become the default spokespeople for big-box brands, companies are shelling out to predict who's the best voice to sell specific products.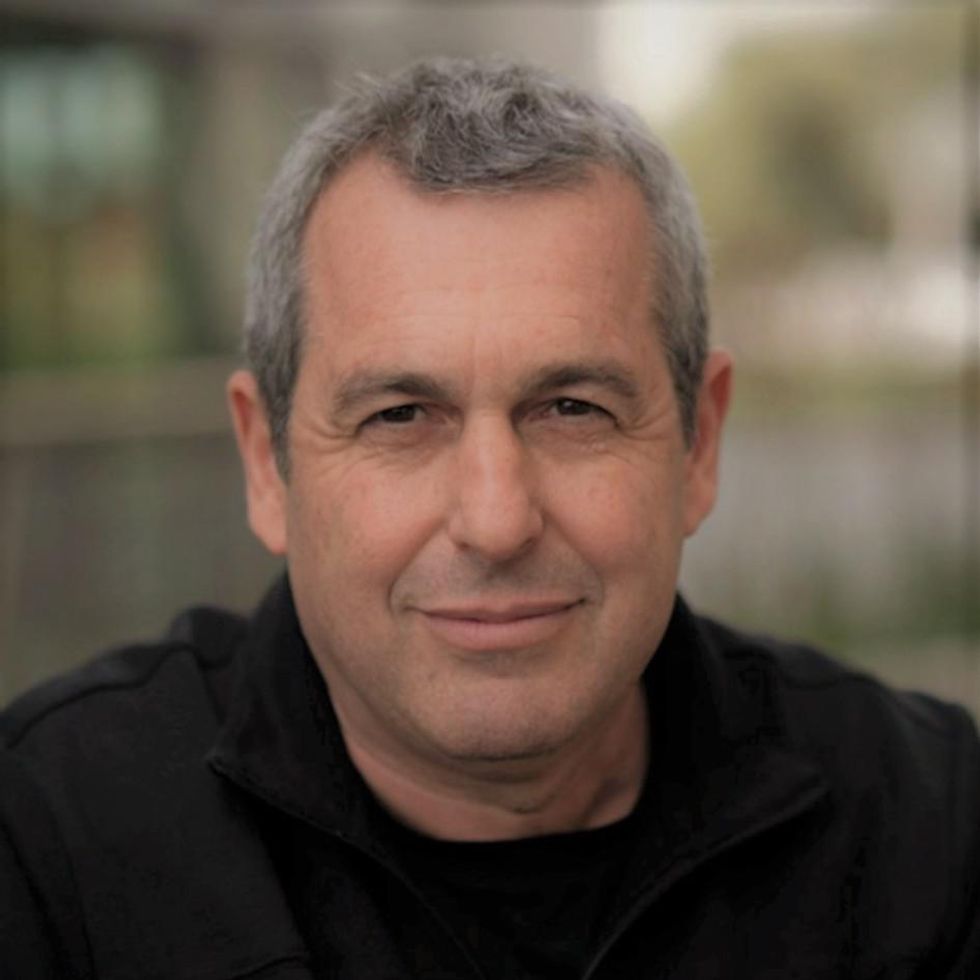 CreatorIQ CEO Igor Vaks
CreatorIQ CEO Igor Vaks said each company prioritizes measuring a different subset of influencer marketing campaigns, which is why combining them made sense.
San Francisco-based Tribe Dynamics tracks what co-founder Conor Begley calls "earned media," a term to describe advertising that the company doesn't pay for, like people flexing their Tesla on Instagram.
The car owner isn't paid by Tesla for the ad, but posting about it does usually benefit the brand anyway, and this sort of shadow advertising is a key metric in helping brands to truly determine how they're viewed online.
On the other hand, CreatorIQ focuses on paid interactions where brands enlist influencers to sell their products and prioritizes data on direct activations.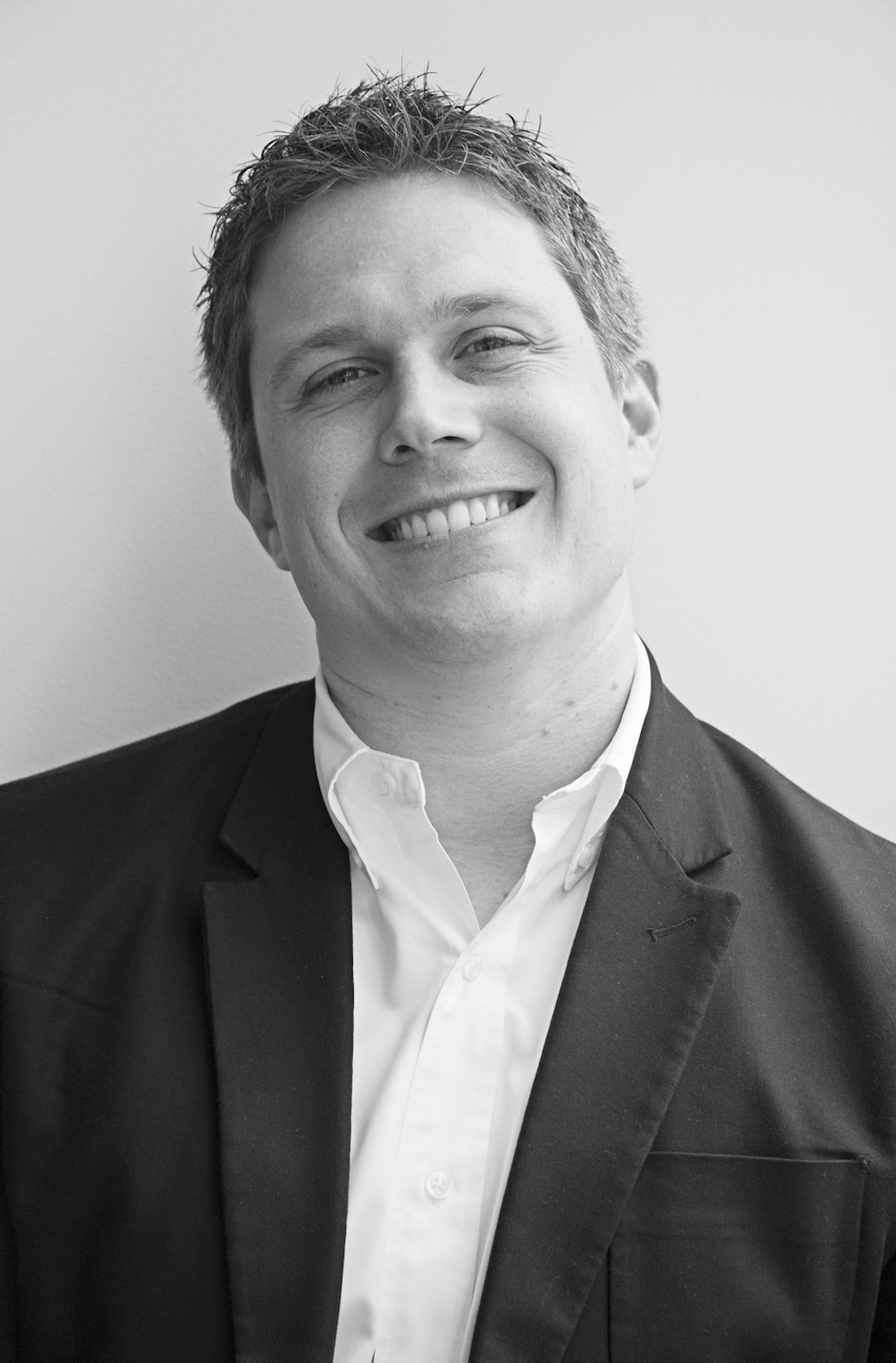 Conor Begley
"The companies are very complementary. Together, this will enable us to give brands and agencies a 360-degree look at both paid and earned influencer marketing programs," Vaks said in an email.
Begley said the company was looking to raise funding but instead opted to take the buyout, because it'll give Tribe Dynamics access to areas of marketing intelligence it wasn't previously tracking, as well as support to grow.
Tribe Dynamics tracks the metrics of fashion and beauty campaigns, but it doesn't have a hold on other industries like automotive, publishing, entertainment and gaming.
Tribe Dynamics will operate under its existing brand, as will CreatorIQ, but going forward the teams will share technology and staff as they continue working remotely. The two have about 500 customers combined, Vaks noted. CreatorIQ's database of influencers is about 23 million strong.
"Looking at CreatorIQ, and specifically its position in the market, I believe that right now, it is the biggest both by revenue and by headcount," Begley said. "That was, frankly, part of the motivation, because as these things start to scale up, you get significant advantages around being number one… additional access to capital (and) better access to partnerships."
Grand View Research estimates the global influencer marketing industry this year is valued at $7.68 billion, and noted it expects the market to grow roughly 30% by 2028.

Begley argued that figure seems low and pointed to valuations of influencer-created brands that Tribe Dynamics tracks – like Kylie Jenner's Kylie Cosmetics, which was valued at $1.2 billion two years ago. Anastasia Beverly Hills, another influencer-helmed brand that Tribe Dynamics analyzes, was valued at $2.5 billion in 2018.
"If you actually think about the amount of value that's getting created by the businesses that are being counted," the overall industry valuation should be more, Begley posited. "I think it's actually much, much bigger… If you start to bake in the brands that these people are creating, it gets really big really fast."
CreatorIQ has raised roughly $80 million since its launch in 2014, and its biggest clients include Unilever, Disney and Sephora, which it'll add to Tribe Dynamics' growing portfolio of luxury retailers like Gucci, Coach and Dior and fast fashion brands like FashionNova and Gymshark.
Vaks said the deal gives CreatorIQ access to even more data, which positions it to become a more well-rounded player in the influencer analytics space.
"We're also looking forward to bringing Tribe's capabilities to a wider cross-section of industries like gaming and entertainment," Vaks said. "Influencer marketing measurement is something that will benefit every category, not just beauty and fashion."
From Your Site Articles
Related Articles Around the Web
As TikTok and YouTubers become the go-to brand spokespeople, companies are looking to use data to figure out which influencers are worth their money and how to best convert their fans to consumers.

CreatorIQ, which raised on Tuesday $40 million to build out its brands and influencer software, uses artificial intelligence to determine how engaged social media stars are and with which audiences.
CreatorIQ chief executive Igor Vaks said the funding is a key part of building out an accurate analytics platform that can track an influencer's true impact. It's easy for social media analytics to be inflated by bot accounts or duplicate followers, and Vaks wants CreatorIQ to develop technology that will get as accurate of a read on someone's social footprint as possible.
"The advancement of measurement in the category - especially around sales and media effectiveness - is critical to the business goals of progressive brands," Vaks told dot.LA. "With this funding, we'll continue to evolve our attribution models, measurement capabilities, and social commerce features in order to both meet today's needs and drive tomorrow's evolution."
CreatorIQ competes with a number of firms on the West Coast that are in the influencer marketing data business, including Santa Monica-based Tagger and Grin, a similar firm based in San Francisco. Influencer marketing is quickly becoming more popular, and Statista reported that between 2019 and 2021 the market size nearly doubled -- by the end of this year the market share is expected to hit $13.8 billion.
The Culver City-based company has raised $80.8 million since its 2014 launch. CreatorIQ has roughly 300 clients, including big-box brands like Sephora, Salseforce, Disney and Unilever.
CreatorIQ's platform is currently used in 65 countries and it's compatible with global social media platforms like YouTube, TikTok, Weibo, Line and Instagram. The platform uses artificial intelligence to monitor engagement on posts in ad campaigns and keeps detailed data on influencers, including their follower count. This data is valuable: along with other factors, it helps the company's clients decide which spokespeople and audiences to target for marketing campaigns.
Following a 2019 funding raise worth $12 million, CreatorIQ promised to take steps to make its data more accurate and said it created that could separate duplicate followings and weed out fraudulent accounts following its influencers.
"We developed proprietary technology to determine the integrity of a creators' following that allows advertising partners to identify creators with authentic audiences, and get an accurate look at what percentage of that audience is truly engaged with them," Vaks explained.
Vaks said consumers are more likely to respond favorably to an ad if it comes from a person they view as a trusted source. Basically, it pays to have personality.
"It's about trust and affinity. Anyone, not just younger audiences, is more likely to engage with recommendations from a trusted source over a traditional ad," Vaks said. "That's why it's so important for brands to develop authentic, symbiotic relationships with creators and work together to reach a shared audience."
Social platforms like Facebook and its subsidiary Instagram as well as YouTube and Snapchat are beginning to open up their creator marketplaces to influencers who want to take full advantage of selling in-app. TikTok is getting in on the hustle too, and announced in August it would let marketing companies also integrate with its data beginning this month.
Unilever is both a client and a backer of CreatorIQ; it bought in during the startup's March 2019 Series B funding round worth $12 million and also contributed funding to this round. New investor Silver Lake Waterman joined this round, along with existing backers TVC Capital, Affinity Group and Kayne Partners Fund, a private equity division of Mid-Wilshire-based Kayne Anderson Capital Advisors.
"Influencer marketing is a key area of opportunity and differentiation that brands and agencies are eager to address with next generation analytics and automation," Silver Lake Waterman managing director Shawn O'Neill said in a statement Tuesday. "CreatorIQ's strength in data analysis and management is driving its leadership position and we are excited to partner with them to help drive their continued growth and market adoption."
From Your Site Articles
Related Articles Around the Web
Here are the latest updates on news affecting Los Angeles' startup and tech communities. Sign up for our newsletter and follow dot.LA on Twitter for more.
Today:
Peacock Launches 24-Hour 'Road to Tokyo' Olympics Stream
Could Twitter's QAnon Crackdown Be Followed by Others?
'The Interchange' Launches to Connect L.A. Startups to Potential Recruits
LA-Based CreatorIQ Marketing Platform Picks up $24M
Peacock Launches 24-Hour 'Road to Tokyo' Olympics Stream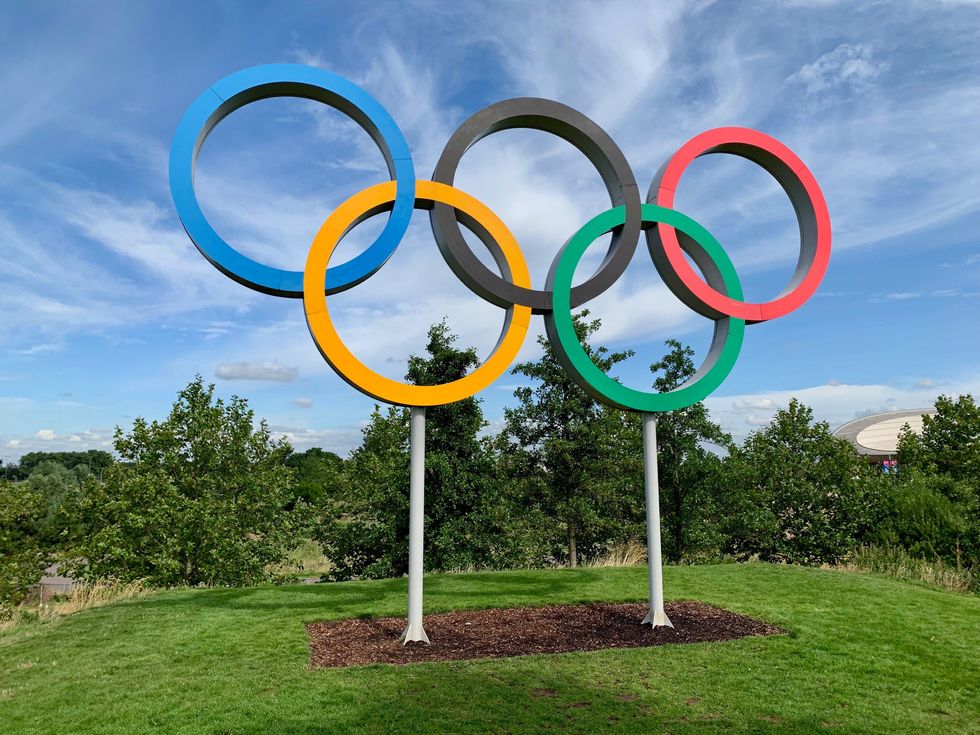 multicolored signagePhoto by
Kyle Dias
on
Unsplash
As NBCUniversal prepared for its entry into the streaming wars, it looked to the 2020 Summer Olympics as a valuable tool to build interest and win over viewers. Because the company owns the rights to broadcast the games, it planned to use them to give what would ultimately be called Peacock some wind beneath its wings.
The coronavirus pandemic took the air out of those plans, but with the Tokyo Olympics having moved to the summer of 2021, the streaming service has adjusted. Peacock has launched a new 24/7 stream devoted to the games, which the service announced in a statement on Wednesday.

With the new "Road to Tokyo" channel, Peacock viewers will have access to continuous content "dedicated to Olympic and Paralympic classic moments, documentaries and studio programming," the statement said. This "pop-up channel" is one of Peacock's so-called linear feeds, where users tune into the channel but don't choose what they watch. Other channels include feeds centered around Saturday Night Live, The Office and Keeping Up with the Kardashians.
Peacock also announced it will feature a collection of NBC Olympics documentaries on its app, and produce three exclusive new specials "to prepare fans for what could be the most meaningful Olympics ever."
The games are now scheduled to begin on June 23, 2021. Although their delay has hindered NBCU's ability to market Peacock, the company is still turning to them as a tool to attract subscribers and goose excitement for its prized assets.
Could Twitter's QAnon Crackdown Be Followed by Others?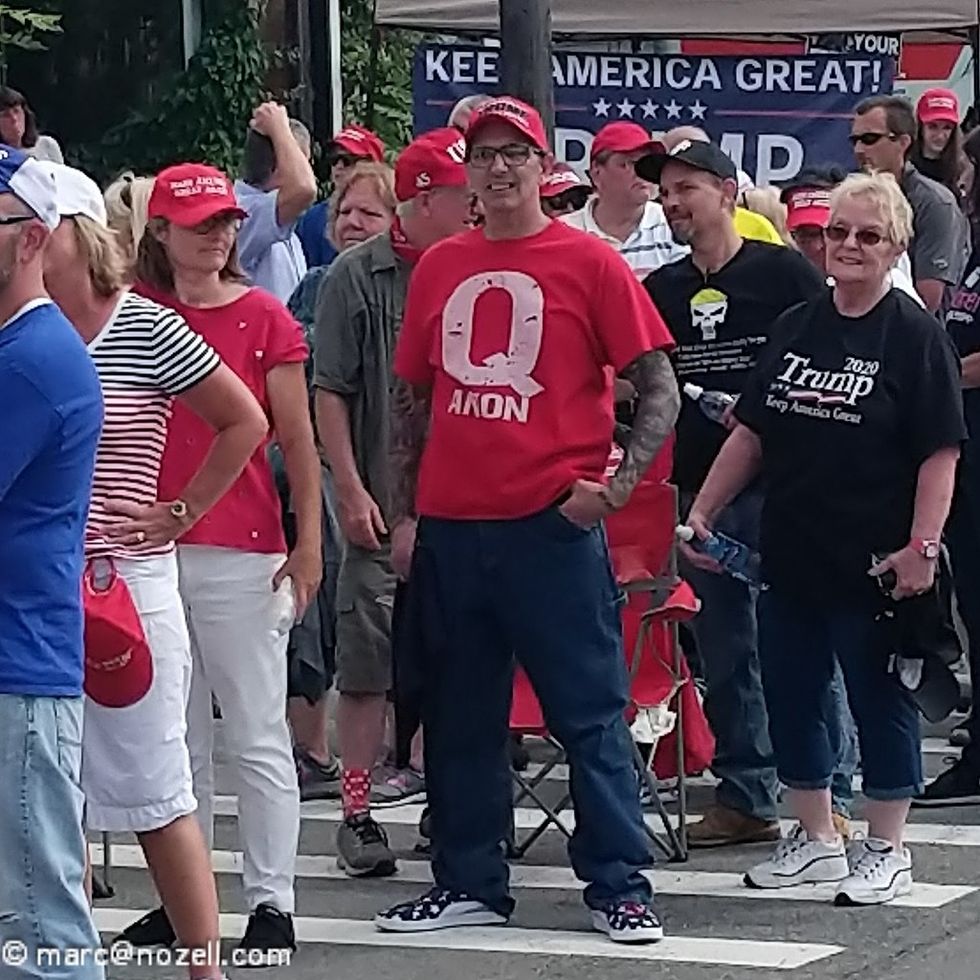 QAnon protesters
Twitter announced Tuesday evening that it began cracking down on accounts related to QAnon, the conspiracy theory that has gained traction across social media platforms. And there's a good chance other companies will follow suit, USC professor Nenad Medvidovic told dot.LA.
The company pledged to suspend accounts tweeting about "these topics that we know are engaged in violations of our multi-account policy, coordinating abuse around individual victims, or are attempting to evade a previous suspicion."
"What Twitter did is not entirely unilateral," Medvidovic, a computer science professor, told dot.LA. "There's actually a concerted effort in connection with other media platforms. The pressure definitely does build."
Twitter, Facebook, and Snapchat are independent companies that make their own decisions related to First Amendment issues, Medvidovic said. Still, it seems many of them are working off the same playbook when it comes to addressing and managing misinformation.
QAnon is a far-right conspiracy theory that revolves around unfounded claims of a "deep state" attack against President Trump. An individual going by the name "Q" first posted his theories back in 2017. The group has since falsely accused actors and politicians of running a child sex trafficking ring. Recently, attacks fell on celebrity Chrissy Teigen after she spoke out against Twitter critics who claimed the company was wrongfully censoring users.
Medviovic says that while QAnon is considered mostly a fringe movement, its messaging and actions are reaching the mainstream. Once it begins to incite violence, First Amendment protections are no longer guaranteed, Medviovic said.
Plus, Twitter is a private platform that can set its own rules and restrictions.
"I think the issue here is that it was bleeding into the real world and potentially encroaching on people's safety," Medviovic said. "I can definitely see something like QAnon being checked more consistently across the board."
Twitter says it no longer highlights QAnon posts in search and trending topics and will block URLs associated with the conspiracy theory from being shared on its site.
"As we work at scale to protect the public conversation in the face of evolving threats, we'll continue to lead with transparency and offer more context on our efforts," Twitter wrote.
'The Interchange' Launches to Connect L.A. Startups to Potential Recruits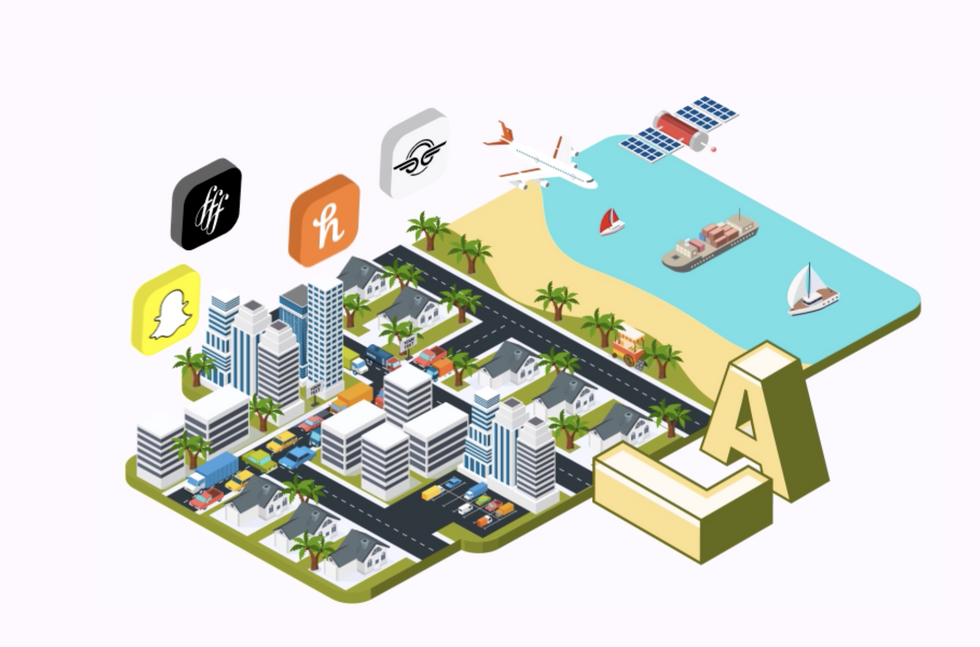 VC firm Crosscut announced Wednesday the launch of a new, free platform for L.A.-based jobseekers, built in partnership with PledgeLA and the Annenberg Foundation.
The listings of L.A. startup jobs is called the "Interchange." It aggregates startup jobs across the city in an effort to make early-stage tech opportunities more open and accessible.

PledgeLA is an initiative sponsored by the Annenberg Foundation and the mayor of Los Angeles to promote civic engagement and diversity within the tech community. Its 222 signatories span L.A.'s venture capital and tech community, all of whom have pledged to work toward improving equity and transparent reporting on their diversity efforts.
The Interchange uses the Monday.vc platform, which is now called Getro, to aggregate regional startup jobs rather than relying on companies to post opportunities on job boards or LinkedIn, said Calvin Selth, AnnenbergTech's program lead. The platform automatically scrapes each company's career page daily to make sure its listings are up to date.
One result from PledgeLA's 2nd annual survey found that underrepresented minorities were less likely to get their jobs through referrals. Interchange is an attempt to offer "a place to direct local underrepresented jobseekers to startup opportunities here in LA," Selth said. "We felt like this was a way to increase transparency about available roles while also helping startups that need build more diverse talent pipelines."

The platform focuses on startups that have fewer than 1,000 employees, is primarily a tech company, headquartered or has a technical team in L.A., makes more than $1 million in annual revenue or raises more than $1 million in venture capital, was founded after 2010 and is privately held, Selth said.
Crosscut head of platform, Nick Kim, said that early-stage tech startups are often cash constrained so post jobs on their own boards or use their networks to fill the top of hiring funnels.
"For marginalized or underrepresented people looking for high growth opportunities in tech, this means they might never see the best jobs before they're filled," Kim said. "Our goal is for all communities in LA, especially those who are not well represented in tech, to have access to the opportunities tech startups are hiring for. We hope that Interchange becomes a starting point for the promising talent that might have previously had less access to opportunity."

LA-Based CreatorIQ Marketing Platform Picks up $24M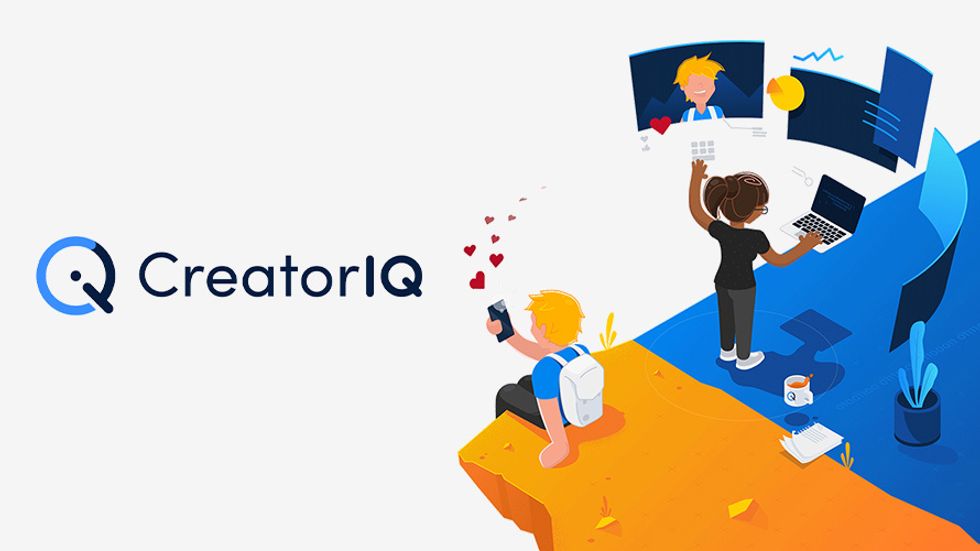 CreatorIQ is expanding their cloud after announcing today that they raised $24 million in a series C round.
The investment was led by Kayne Partners Fund with contributions from Kayne Anderson Capital Advisors, L.P., TVC Capital and Unilever Ventures.
The Los Angeles-based marketing software company was founded in 2014 and recently named a leader in the "Forrester New Wave: Influencer Marketing Solutions Report." It's now among Forrester's list of rapidly growing software programs.
CVS, Disney, H&M, Mattel, Salesforce, Sephora and Unilever are some of the many well-known companies that already use CreatorIQ's platform to collect and analyze their marketing data for discovery, workflow and privacy.
The $24 million raised will allow the company to enter new partnerships with Collectively, Digital Brand Architects, Everywhere Agency, ShopStyle Collective and Sway Group. The funds will also allow CreatorIQ to expand its current data offerings and further develop elements of their system's user experience, data science and paid media components.
"As Marketing leaders accelerate their transformation strategies to close their in-house gaps across their marketing capabilities, they are uniting best-in-class technologies with leading data providers," said Igor Vaks, CreatorIQ's founder and CEO in a press release.
The company will also soon introduce a new learning machine it said will use analytics to power visual insights and, in turn, increase brand safety, content prediction, and recommendations. Called One60, the program will allow CreatorIQ's companies to host their own technology and data in one place.