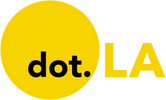 Get in the KNOW
on LA Startups & Tech
X
Kurt Schlosser, GeekWire
Kurt Schlosser covers the Geek Life beat for GeekWire. A longtime journalist, photographer and designer, he has worked previously for NBC News, msnbc.com and the Seattle P-I.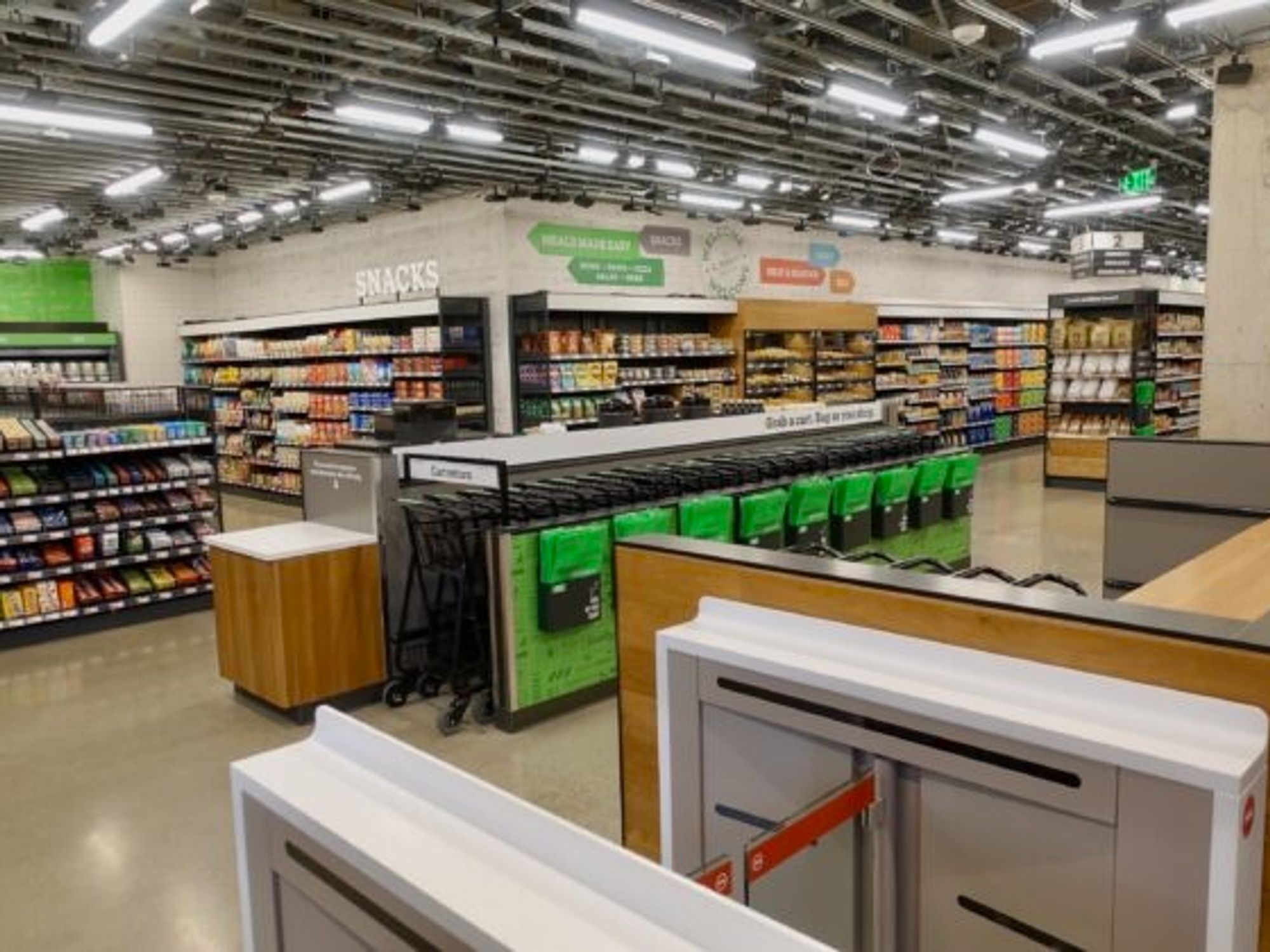 GeekWire Photo/ Kurt Schlosser
Amazon unveiled its supermarket of the future, a grocery store without cashiers or checkout lines considered a technological breakthrough in the $800 billion industry. Shoppers get to grab-and-go with a full cart of items that are scanned automatically and billed to their bank accounts.
But don't expect to see it anytime soon in Los Angeles.
---
The surveillance-style experience is a harbinger of things to come as futurists describe the 2.0 of an everyday task: Buying food at a market. There's only one problem. The prototype of a new way to pick up customer's meat, cheese, and dairy is only happening in just one location in Seattle, where Amazon is the city's biggest tech employer.
Amazon has no plans to install the cashless technology at its Whole Foods stores or put it in their conventional grocery set to open in a former 33,000 square foot Toys R' Us in Woodland Hills, according to Jeffries analyst Christopher Mandeville. Amazon would not confirm.
Meanwhile, union officials are gearing up for a fight.

"Amazon has two concepts for its grocery business: bad jobs and no jobs. There's nothing innovative about either one of them," said John Grant, president of the United Food and Commercial Workers International Union Local 770 in an emailed statement. The union represents 47,000 grocery store workers in Southern California. "This is about the richest person on earth seeking new ways to further enrich himself on the backs of workers, communities, and now technology. We will not stand for it."
He may not have to. West Hollywood outlawed cashless stores last year joining a growing list of cities including New York, San Francisco and New Jersey who also prohibit it, saying that it discriminates against low income residents with no bank account. Meanwhile, it's unclear whether consumers will embrace the format.
The Seattle location can be entered by scanning a smartphone app and strolling the aisles of the completely stocked store. The banks of cameras and sensors overhead track everything put into a shopping cart, with the help of artificial intelligence — rendering unnecessary the old-fashioned ritual of scanning and paying at a checkout stand. Items are charged to a shopper's Amazon account shortly after they walk through the exit.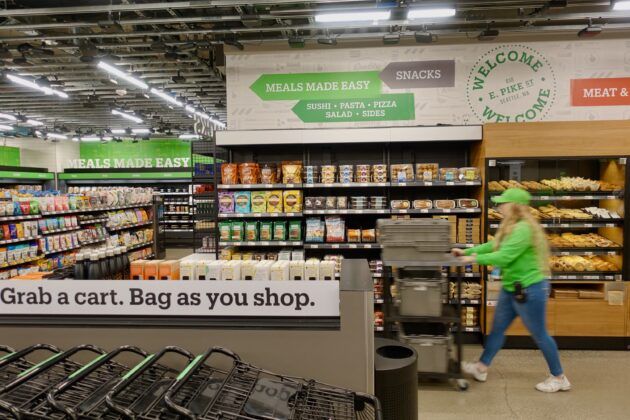 Amazon Go Grocery is big enough that it's offering shopping carts. GeekWire Photo / Kurt Schlosser
Apart from the larger size, the concept is very similar to the Amazon Go convenience stores that first opened to the public in Seattle in January 2018. Amazon Go has expanded to 25 locations across cities including San Francisco, Chicago and New York. That smaller concept, sized between 450 and 2,700 square feet, ushered in an era of grab-and-go shopping.

"What Amazon Go did for central business districts — like locating it very close to where people work so you can get breakfast, lunch, snacks — Amazon Go Grocery does the same thing, but closer to home," said Dilip Kumar, vice president of Physical Retail & Technology for Amazon. "It's a new format, it's not just a bigger Amazon Go. It's a much more expanded selection that caters to what people are looking for shopping for groceries."
What Amazon is looking for is yet another answer to traditional retail, where it's leveraging convenience and technology in the grocery industry. The tech giant scooped up Whole Foods in 2017 in a bid to take on the sizeable brick-and-mortar footprints of Walmart, Target, Kroger and others. Those companies have consistently responded to Amazon's digital pushes around online grocery ordering and delivery.
Mandeville said in a research note that it's unclear whether it will pencil out, but the new format provides Amazon an opportunity to expand their white label products. "Questions still remain over unit economics and shopper adoption. That said, this is another example that Amazon is forcing the issue - grocers must continue to invest, innovate."
Amazon posted $4.4 billion in revenue last quarter in its physical stores category, which includes Whole Foods and Amazon Go stores.
The Wall Street Journal reported last fall that Amazon had signed leases for more than a dozen locations in Los Angeles with plans to expand the chain. Kumar declined to say how many Amazon Go Grocery stores are coming, where the next one might be, or whether they will all be the same size. Plans for the larger grocery concept in Los Angeles and elsewhere are "something else" entirely, he said, but he likes what they built first in Seattle.

The continued push toward tech and automation has fueled the ongoing debate around human workers being replaced by machines. Amazon Go Grocery will staff just a handful of associates.
Last year under pressure from advocates, Amazon's Go store in New York began accepting cash.
"Consumers aren't demanding this," Grant said. "Its 'cashierless' convenience stores have underperformed comparable stores manned by people."

Hundreds of cameras in the ceiling overhead make up the key technological component of the just-walk-out concept, and they're put to the biggest test in the produce section, where a variety of individually priced fruits and vegetables are available.

"Most of the things at Amazon Go are packaged, or they're single items like a can of Coke," Kumar said. "But here, people are shopping for potatoes or they're shopping for onions — there's a lot more browsing and rummaging that tends to happen. That's what makes this problem a lot more complicated."
Matt Casey, a retail market analyst who works with supermarket grocery chains said he's not sure the grand experiment will work. "I gotta believe there's gonna be a ton of glitches in the beginning," he said. "But, they are the ones who call the shots, not the public. They create and people react to them, not the other way around. They have deep pockets that will allow them to try this."
Meanwhile, Walmart and Target are stepping up their grocery delivery service and other chains are investing in automation.
Amazon's goal is to generate accurate receipts, no matter how long you stand over the avocados or apples, shifting them around and picking them up before settling on three and then changing your mind to two.
The cameras are keeping track of those "interactions" with the product and know exactly what is being taken off shelves and put back. Allowing people to do this type of "considered shopping" plays into the Go Grocery concept of making sure that customers don't have to do anything unnatural when it comes to how they shop.
"They're used to seeing produce laid out in [a traditional] way," Kumar said, joking about how it's almost necessary, as a shopper, to get spritzed by the misters in the lettuce section.
Kumar called a robust produce section the hallmark of any good grocery store, and Amazon Go Grocery sources its organic produce from the same farms that supply Whole Foods. Its 365 organic label is on prominent display.
Up and down aisles throughout the store — there are 5,000 unique items — national brands are mixed with local favorites that Amazon believes its neighborhood customers would expect the store to stock.
There is no meat or seafood counter and no food preparation on the premises. Fish, chicken and beef products are brought in several times a week, individually wrapped. Signage near cases advises customers on the differences between cuts of meat or wild caught seafood vs. farmed fish. There is also an artisan cheese area where people can get the same sort of quick education via signage rather than from a human cheesemonger.
And it's another indication that Amazon Go Grocery goes beyond Amazon Go.
Back near the front of the store, the quicker grab-and-go nature of what Amazon likes about its Go concept is more readily on display. It's here where the fresh baked goods — donuts, bagels, fritters and more — and self-serve coffee and espresso stations are located. There's a sizable alcohol section — where you'll run into a human who has to check your ID. And around the corner is a large section called "Meals Made Easy" that caters to the what's-for-dinner shopper with entrées including pasta, salad, pizza, sushi and more.
What to grab at the end of the day was a big driver in Amazon's decision to extend Go into grocery, closer to where people live.
The entire footprint for the location, including space for back stock and more, is 10,400 square feet. But the store will not serve as a hub for grocery delivery, the company said.
And it won't replace Whole Foods or other methods that shoppers appreciate because Amazon said it has come to realize that customers want to shop in a variety of different ways for a variety of different needs.
"Some people want their food delivered, some people want to go shopping at Whole Foods, some people want to shop at a different kind of store," Kumar said. "The single biggest thing that people say is that they don't have enough time to do all the things that they need to do. One of the key things that we always index on is how we can provide the convenience that customers expect in places where they are."
A version of this story first appeared on GeekWire.
From Your Site Articles
Related Articles Around the Web
Kurt Schlosser, GeekWire
Kurt Schlosser covers the Geek Life beat for GeekWire. A longtime journalist, photographer and designer, he has worked previously for NBC News, msnbc.com and the Seattle P-I.
Rachel Uranga
Rachel Uranga is dot.LA's Managing Editor, News. She is a former Mexico-based market correspondent at Reuters and has worked for several Southern California news outlets, including the Los Angeles Business Journal and the Los Angeles Daily News. She has covered everything from IPOs to immigration. Uranga is a graduate of the Columbia School of Journalism and California State University Northridge. A Los Angeles native, she lives with her husband, son and their felines.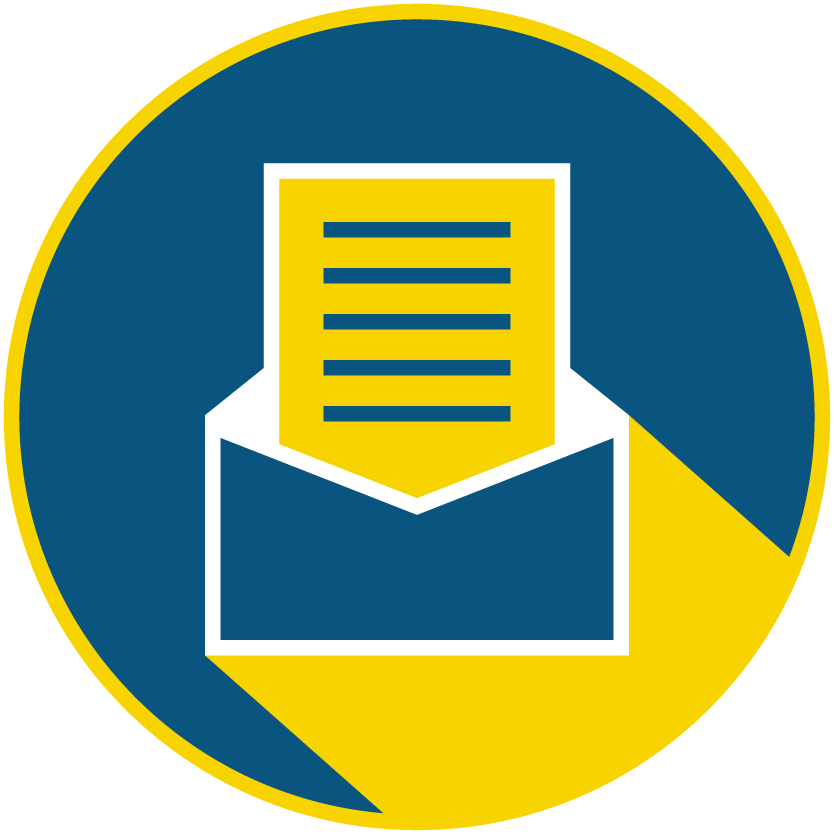 Subscribe to our newsletter to catch every headline.
Kristin Snyder
Kristin Snyder is an editorial intern for dot.la. She previously interned with Tiger Oak Media and led the arts section for UCLA's Daily Bruin.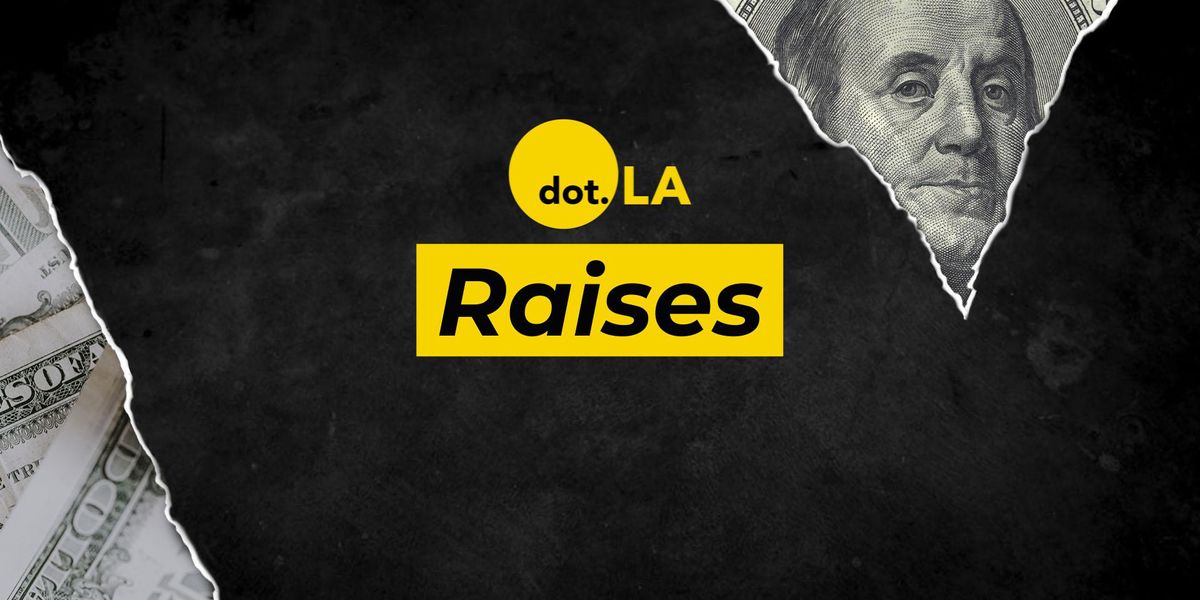 Image by Joshua Letona
This week in "Raises": A pair of Web3 platforms for gamers landed funding, as did a Manhattan Beach medical startup looking to bolster primary care via nurse practitioners. Meanwhile, a Santa Monica-based investment firm launched its seventh fund with more than $14 billion in dry powder.
Venture Capital
Improvado, a marketing data aggregation platform, raised $22 million in a Series A funding round led by Updata Partners.

Web3 gaming platform FreshCut raised $15 million in funding led by Galaxy Interactive, Animoca Brands and Republic Crypto.
Medical startup Greater Good Health raised $10 million in a funding round led by LRVHealth.
Joystick, a Web3 platform for gamers and creators, raised $8 million in seed funding.
Open source data protection company CipherMode Labs raised $6.7 million in seed funding led by Innovation Endeavors .
Mobile phone charging network ChargeFUZE raised $5 million in seed funding led by Beverly Pacific, TR Ventures, VA2, Jason Goldberg and Al Weiss.
Polygon, a startup aiming to better diagnose children with learning disabilities, raised $4.2 million in seed and pre-seed funding led by Spark Capital and Pear VC.
Pique, a virtual women's sexual health clinic, raised $4 million in a seed funding round led by Maveron.
Psudo, a sneaker startup that utilizes recycled water bottles and 3D sublimation printing to create its shoes, raised $3 million in a seed funding round led by SternAegis Ventures.

Funds
Santa Monica-based investment firm Clearlake Capital Group raised $14.1 billion for its seventh flagship fund.
Raises is dot.LA's weekly feature highlighting venture capital funding news across Southern California's tech and startup ecosystem. Please send fundraising news to Kristin Snyder (
kristinsnyder@dot.la
).
Kristin Snyder
Kristin Snyder is an editorial intern for dot.la. She previously interned with Tiger Oak Media and led the arts section for UCLA's Daily Bruin.
Kristin Snyder
Kristin Snyder is an editorial intern for dot.la. She previously interned with Tiger Oak Media and led the arts section for UCLA's Daily Bruin.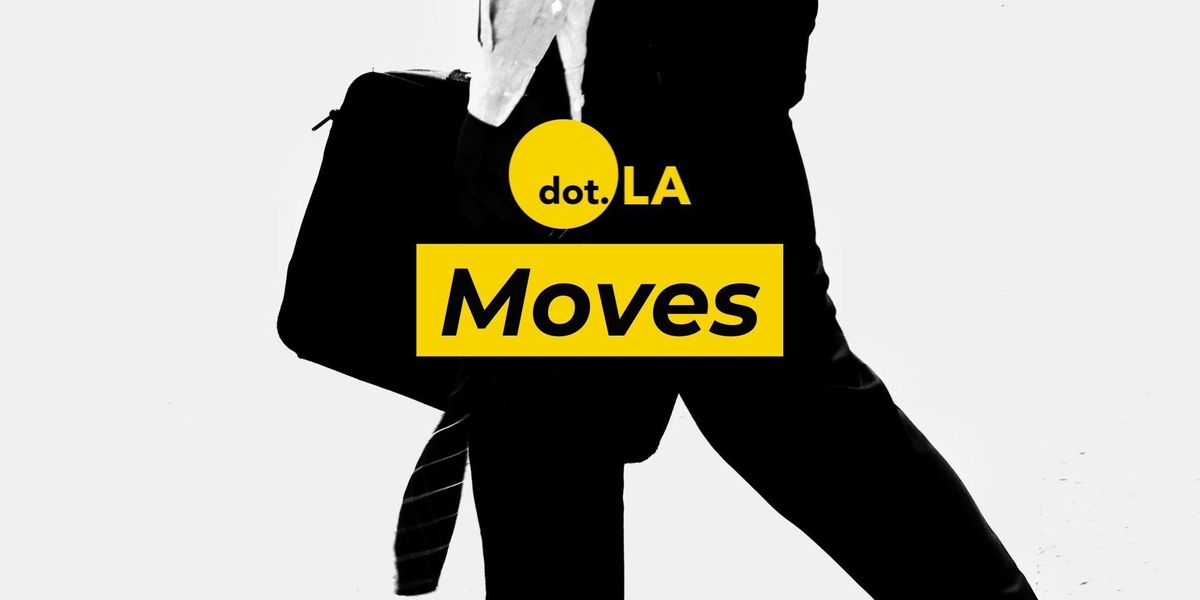 Photo by James Opas | Modified by Joshua Letona
"Moves", our roundup of job changes in L.A. tech, is presented by Interchange.LA, dot.LA's recruiting and career platform connecting Southern California's most exciting companies with top tech talent. Create a free Interchange.LA profile here—and if you're looking for ways to supercharge your recruiting efforts, find out more about Interchange.LA's white-glove recruiting service by emailing Sharmineh O'Farrill Lewis (sharmineh@dot.la). Please send job changes and personnel moves to moves@dot.la.
***
FaZe Clan brought on Zach Katz as the gaming and media company's new president and chief operating officer. Katz was previously the chief executive officer of the music tech investment fund Raised in Space Enterprises.
TikTok brand factory LINK Agency promoted Dustin Poteet to chief creative officer. Poteet was previously creative director at the firm.
Livestream shopping platform Talkshoplive hired Tradesy co-founder John Hall as its chief technology officer. Universal Music Group Nashville's former vice president of digital marketing, Tony Grotticelli, also joins the company as vice president of marketing.
Anjuli Millan will take over as head of original content at Snap after three years of overseeing production for the division.
Tech and media company Blavity hired Nikki Crump as general manager of agency. Crump joins the company from Burrell Communications Group.
O'Neil Digital Solutions, which provides customer communications and experience management for the health care industry, hired Eric Ramsey as national account sales executive. Ramsey joins from T/O Printing.

Investment firm Cresset Partners named Tammy Funasaki as managing director of business development. Funasaki previously served as head of investor relations for Breakwater Management.
From Your Site Articles
Related Articles Around the Web
Kristin Snyder
Kristin Snyder is an editorial intern for dot.la. She previously interned with Tiger Oak Media and led the arts section for UCLA's Daily Bruin.
Christian Hetrick
Christian Hetrick is dot.LA's Entertainment Tech Reporter. He was formerly a business reporter for the Philadelphia Inquirer and reported on New Jersey politics for the Observer and the Press of Atlantic City.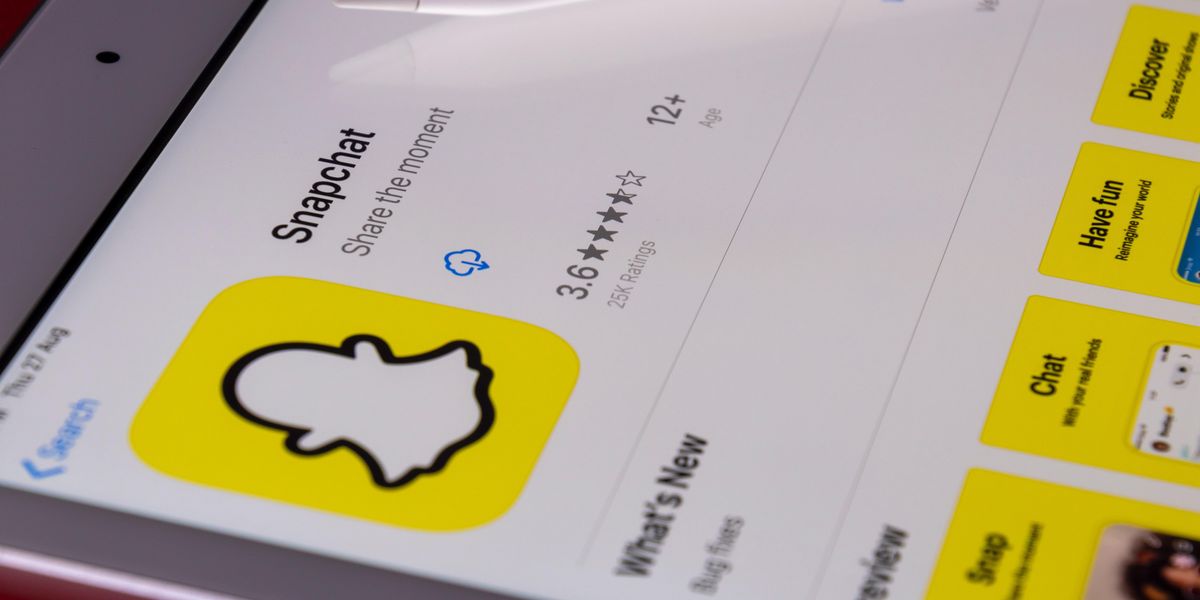 Snapchat is preparing to roll out enhanced parental controls that would allow parents to see who their teenagers are chatting with on the social media app, according to screenshots of the upcoming feature.
Snap's parental controls.
Courtesy of Watchful.
Snapchat is planning to introduce Family Center, which would allow parents to see who their children are friends with on the app and who they've messaged within the last seven days, according to screenshots provided by Watchful, a product intelligence company. Parents would also be able help their kids report abuse or harassment.
The parental controls are still subject to change before finally launching publicly, as the Family Center screenshots—which were first reported by TechCrunch—reflect features that are still under development.
Santa Monica-based Snap and other social media giants have faced mounting criticism for not doing more to protect their younger users—some of whom have been bullied, sold deadly drugs and sexually exploited on their platforms. State attorneys general have urged Snap and Culver City-based TikTok to strengthen their parental controls, with both companies' apps especially popular among teens.
A Snap spokesperson declined to comment on Friday. Previously, Snap representatives have told dot.LA that the company is developing tools that will provide parents with more insight into how their children are engaging on Snapchat and allow them to report troubling content.
Yet Snap's approach to parental controls could still give teens some privacy, as parents wouldn't be able to read the actual content of their kids' conversations, according to TechCrunch. (The Family Center screenshots seen by dot.LA do not detail whether parents can see those conversations).
In addition, teenage users would first have to accept an invitation from their parents to join the in-app Family Center before those parents can begin monitoring their social media activity, TechCrunch reported.

Christian Hetrick
Christian Hetrick is dot.LA's Entertainment Tech Reporter. He was formerly a business reporter for the Philadelphia Inquirer and reported on New Jersey politics for the Observer and the Press of Atlantic City.