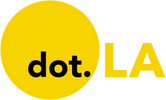 Get in the KNOW  
  on LA Startups & Tech  
X
The Lithium Race Takes Shape in the Salton Sea
David Shultz
David Shultz reports on clean technology and electric vehicles, among other industries, for dot.LA. His writing has appeared in The Atlantic, Outside, Nautilus and many other publications.
05:00 AM | November 01, 2022
Located roughly a hundred miles east of San Diego, the Salton Sea is California's largest landlocked body of water, for now.
Measuring 5 miles across and 35 miles long in its current form, the lake was created by diverting water from the Colorado River into the region for agricultural purposes. Once a vacation destination renowned for its wildlife and wetlands, a series of environmental mishaps and mismanagement have left the lake toxically salty, shrinking and often malodorous. Conditions have gotten so bad that Palm Springs Life Magazine called the region's transformation "the biggest environmental disaster in California history" in March of 2020.
---
But against this unlikely backdrop, new life—or at least new industry—is scrambling to set up shop in the region. The Salton Sea, it turns out, is rich with lithium, an element that has taken center stage in the world's transition to clean energy and its ever-growing demand for batteries. From smartphones to electric vehicles, there's a pretty good chance that the last battery you used had lithium ions inside. Prices for the metal reached an all time high in September, and futures are up more than 400% since the start of 2021. With Biden's new economic policy outlined in the Inflation Reduction Act, there are strong financial incentives to move battery production back to North America.
If that's going to happen the Salton Sea could very well become the lithium capital of North America, or to paraphrase Governor Gavin Newsom, the region could become the "Saudi Arabia of lithium," and the players are already starting to assemble.
Currently, there are three companies attempting to set up plants in the Salton Sea for direct lithium extraction: EnergySource Minerals, Controlled Thermal Resources and BHE Renewables, a branch of Berkshire Hathaway. All three companies have similar business strategies from a high level, all of which involve geothermal power plants. These plants, which are common in many parts of the world, draw hot, salty water from deep in the ground to create steam which drives a turbine to produce electricity. What makes the Salton Sea so special is that its geothermal brines just happen to contain lithium.
In a 2017 study, researchers from the U.S. DOE Office of Energy Efficiency and Renewable Energy analyzed more than 2,000 samples of geothermal fluid from U.S. sources and found that only 1% had significant lithium concentration. This rare confluence of geothermal activity and lithium presence provides an opportunity for companies to generate electricity and mine lithium simultaneously.
Beyond their marriage of geothermal energy and lithium extraction, the three companies begin to diverge.
According to former dot.LA engagement editor Luis Gomez — whose newsletter Lithium Valle, is essential reading on this topic — EnergySource seems to be out in front early.
"They claim to have the technology that's patented, they claim to have done the research, they claim to have the funding, and they claim they're ready to go and start production," says Gomez. "They are kind of considered the canary in the coal mine."
According to a report from the United States Department of Energy, EnergySource plans to eventually scale production up to over 20,000 metric tons of lithium hydroxide per year using its proprietary Integrated Lithium Adsorption Desorption technology.
Construction on the plant was slated to start earlier this year, but has been delayed. EnergySource has said publicly that lithium production might begin in the second quarter of 2024, but it's unclear whether this date will also be pushed back. The company has a long history of operating in the region, having run the John L. Featherstone geothermal plant since 2012. The new venture into lithium would leverage that same plant, but without more details about how their proprietary technology works, there's not much to do but wait and see.
One potential problem facing all three lithium extraction companies is that the Salton Sea geothermal brines are not the same as the brines in evaporation ponds similar to those in Argentina, Chile and Bolivia, where more than half of the world's lithium is produced. Specifically, the deep geothermal brines in the Salton Sea contain more silica and transition elements, which may complicate the chemistry of purifying the lithium. Still, many researchers are extremely bullish on the prospect of tapping into these reserves. Alex Grant, The Principal at Jade Cove, a research organization focusing on direct lithium extraction technologies, says that much of the skepticism surrounding the technology can be attributed to competing financial interests that are trying to squash the nascent tech's potential in favor of an established method.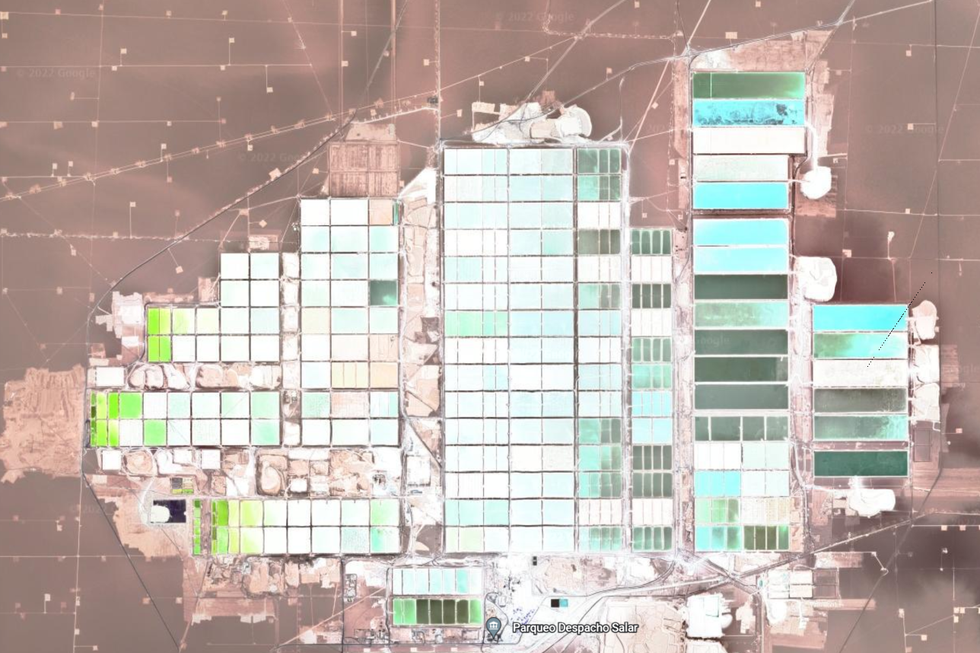 Lithium Mines in the Atacama Salt Flats, Chile from an altitude of 15km via Google Earth. The facility is about 10km wide.
Google Earth
For its part, BHE Renewables, operating as CalEnergy, runs a fleet of 10 geothermal plants in the Imperial Valley. The company had previously announced its intent to set up a direct lithium extraction demonstration plant sometime before the end of 2022 to assess the viability of lithium extraction. If that pilot program goes well, the company could build a commercial-scale facility as early as 2026 with a projected annual capacity of 90,000 metric tons of lithium.
Obviously, having the backing of Berkshire Hathaway comes with advantages and capital. Add into the equation another $15 million in DoE grant money obtained last winter, and BHE appears to be well positioned as a major player in the long term.
Finally, there's Controlled Thermal Resources. As the only company not already operating a geothermal business in the region, CTR is something of an outsider and dark horse. By 2024, the company hopes to build both a geothermal energy plant and a direct lithium extraction plant to operate in parallel, projecting a capacity to extract 300,000 metric tons of lithium carbonate equivalent annually by 2030. As dot.LA previously reported, Controlled Thermal Resources has partnered with Statevolt, a company that intends to build a $4 billion gigafactory nearby that will run on power from CTR's geothermal plant and make batteries from the lithium it extracts. It's a beautiful closed-loop business model. But again, all of this relies on the direct lithium extraction technology, and details are scant.

According to Gomez, despite the typically cut-throat nature of the energy industry, the relationship between the three upstarts in the Salton Sea is often surprisingly cooperative at the moment.
"They want the others to succeed because it kind of gives them the confidence that their technology is also eventually going to succeed," he says. "It gives confidence to investors."
Which is all to say, there may well be space for all three companies if the technology is as solid as they claim. If that's the case, the Salton Sea and its surrounding region may have yet another miraculous transformation up its sleeve.
David Shultz
David Shultz reports on clean technology and electric vehicles, among other industries, for dot.LA. His writing has appeared in The Atlantic, Outside, Nautilus and many other publications.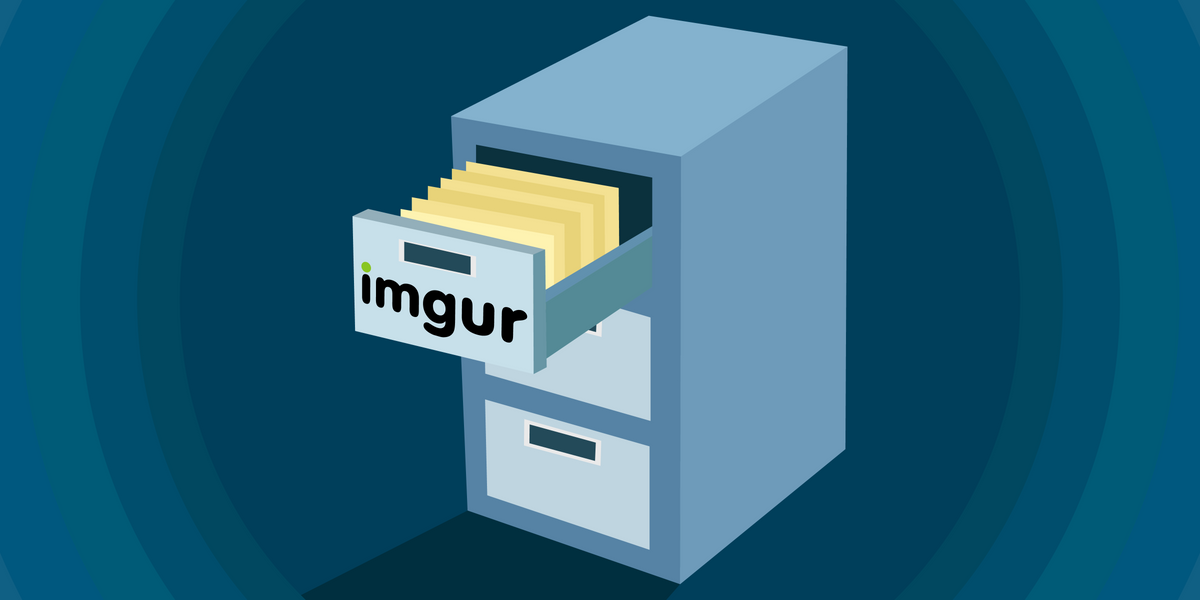 Evan Xie
Back in April, image hosting site Imgur – a popular option for users of Reddit and similar forums seeking to post memes or photos – announced a sweeping change to its Terms of Service. As of May 15, the site will no longer host "nudity, pornography, & sexually explicit content," and it also plans to purge "old, unused, and inactive content" that's not tied to an active user account. Though some of the terminology in Imgur's blog post – like "old" and "inactive" – leaves them lots of wiggle room to decide what gets to stay on the site, and they have even allowed a general exception for "artistic nudity," the overall message is clear: the site plans to rid itself of NSFW content.
No one would deny that Imgur is perfectly within its right to host or not host whatever content it pleases. But the fact remains that, as of May 15, a large chunk of content that has been available on the platform for the entire internet to view and enjoy will simply disappear. In this particular case, most people will likely not notice that anything has happened to old pornographic images from Imgur, many of them uploaded years ago by people who have long since moved on.
Still, the situation points to a much larger issue that has loomed over the internet for its entire life cycle, and seems to still have no immediate answer or solution. Will useful or worthwhile content that's on the internet always remain available? And if so, whose job is it to preserve and maintain this vast and unruly collection of information and data?
Over time, internet users come to rely on resources like Imgur, to think of them as something of a digital filing cabinet that you can always return to, open up, and find exactly what you need. But websites are not furniture; they're the public faces of living, active businesses and organizations, and like everything else, they are ephemeral.
Twitter, for example, launched in 2006 and now sits on a massive compendium of real-time data and information about basically every aspect of human life for the last 15 years or so. Despite its utility as a resource and research tool, we now get daily reminders that all of this information is privately owned by a relatively unpredictable man who could do with it whatever he pleases. The Library of Congress used to archive all tweets but gave up in 2017. Now they only hang on to tweets of significant national importance. WhyNow notes that, on just about any big Wikipedia page, jumping down to the footnotes and references leads to a bevy of broken links, either totally dead or pointing to something different than they did when the article was first written.
In the case of Imgur, the Something Awful community has actually jumped in to respond. Forums like Something Awful, which goes back over 2 decades at this point, have been down this road many times before, with services like Flickr, ImageShack, and others once filling the role now occupied by Imgur before they also changed their terms of service or went out of business. So once members of that storied and controversial internet forum heard the announcement about the Imgur purge, they snapped into action and organized a massive project – dubbed the Great Imgur Download Caper – to preserve the image hosting site's complete library.
This is something of a special case, though. Imgur's library contains almost entirely still images or brief video clips, which are easy for a big group of interested users to divvy up, download, and personally store. As well, Something Awful is a devoted community, made up of a self-selected group with a particular interest in shocking, sexy, or memeable images. It's only natural they'd want to preserve the Imgur collection for all times, even if other people are more than happy to see that particular archive go away. (The Verge notes that some on social media have cracked jokes about finally being free of their adolescent Imgur accounts.)
For internet sites and communities with a less passionate following, or with content that's more time-consuming or cumbersome to download and preserve, casual internet community organization may not be enough to save them from permanent deletion.
Most streaming video platforms don't provide users with any ability to fully download shows, let alone storing them permanently on a third-party device. While previous generations had physical media releases to fall back on, a lot of films and shows simply don't get DVD or Blu-Ray releases any more, particularly if they're widely available on streaming services. So when a streaming platform goes away, often its entire programming library disappears as well. That's what happened to NBCU's subscription-based comedy platform, Seeso, the K-pop focused livestreaming app V Live, and the streaming platform launched by Fullscreen Media.
I actually made one of those streaming shows for Fullscreen that disappeared from the internet forever save for the first episode which lives on as a YouTube clip.
To that end, mobile-exclusive streaming service Quibi also folded very quickly, but they worked out a deal to push a lot of their most popular content over to Roku Channel. Some of those Quibi shows have actually lived on in their new home; "Die Hart" and "The Most Dangerous Game" got renewed for second seasons.
The situation got some extra scrutiny earlier this year, when a federal judge ruled in favor of book publishers over the nonprofit Internet Archive, in what could ultimately prove a landmark decision. Four publishing houses – Hachette Book Group, HarperCollins, John Wiley & Sons, and Penguin Random House – sued the Internet Archive for "mass copyright infringement."
The Archive – whose stated goal is providing "universal access to all knowledge" – does not pay to license books from publishers, but practices what it calls "controlled digital lending." (Under this system, the owner of a book scans their physical copy and then lends out the scanned versions.) They argued that this counted as fair use, but U.S. District Court Judge John G. Koeltl of the Southern District of New York disagreed. The Internet Archive plans to appeal the ruling; in a statement, founder Brewster Kahle argued that "libraries are more than the customer service departments for corporate database products."
If the ruling stands, it could prove devastating to widespread efforts to preserve internet content. Preservationists rely on non-profits like the Internet Archive (which also runs the popular "Wayback Machine" website showcasing classic internet content) specifically because they aren't privately-owned companies. A paid subscription platform can't take over Imgur's content and claim it for its own; there are copyright issues and legal liabilities to worry about. So for now, this is primarily the domain of libraries, museums, and other community-based organizations. But if they're under threat of lawsuit for downloading and providing access to copywritten material, it could potentially stymie all their efforts.
Lon Harris
Lon Harris is a contributor to dot.LA. His work has also appeared on ScreenJunkies, RottenTomatoes and Inside Streaming.
09:20 PM | March 28, 2020
ZipRecruiter, one of the nation's largest websites connecting companies with jobseekers, has slashed nearly 40% of its own staff as the economy buckles in the fallout of the coronavirus crisis that's upended both Wall Street and Main Street.
The Santa Monica-based company cut 492 employees on Friday, with about 49 of them furloughed with only their healthcare benefits and the hope that the company will make good on its intention to bring them back, sources told dot.LA. The biggest hit was at ZipRecruiter's office in Tempe, from its sales team.
The move parallels what has become a global economic disaster as stock markets dive and companies freeze spending. Unemployment filings in America surged to a staggering record of 3.3 million last week. And economists predict productivity will be sharply down for the rest of the year, with Goldman Sachs forecasting an annualized 24% shrinkage of the U.S. economy from April through June.
"Our customer base looks like the U.S. economy by size, geography and industry," ZipRecruiter Chief Executive Ian Siegel told dot.LA. "The U.S. economy is hurting and we regretfully have to do what is necessary to make sure we are there for the great American comeback story to come."
ZipRecruiter -- whose own data is well followed by economists as a harbinger of hiring activity -- faces the same bleak reality that pushed the U.S. government to issue its largest ever financial stimulus package last week, topping $2 trillion. Since the start of this year the S&P 500 has fallen nearly 22%. National unemployment could reach 30% by the second quarter, said St. Louis Federal Reserve Bank President James Bullard. Meanwhile the coronavirus toll climbs, with over 2,000 deaths in the U.S. and more than 124,000 confirmed cases as of Saturday.
In addition to news updates, company executives have kept close watch of internal data to guide their reaction. Most alarming was the rapid decline in new business signups, which have plummeted below half the normal rate. Job postings have fallen, too, by 40% compared to "pre-COVID levels", particularly among non-essential businesses like retail, restaurants and automakers.
ZipRecruiter determined it needed to prepare for many months of economic lethargy. Sacked workers will receive one month's severance pay, three months of healthcare coverage, and a two-year extension to exercise their equity.
The layoffs are part of ZipRecruiter's broader cost-cutting measures, which also include reducing the marketing budget. Monthly expenses have been cut by $10 million. Siegel has taken a 50% salary reduction, as have his three co-founders, who are active employees and board members. Other executives are also taking pay cuts.
Company leadership does not think this crisis affects its long-term outlook. It still sees a winning opportunity in using artificial intelligence to connect job seekers and employers, if only once the coronavirus trauma begins to subside.

They surely hope that'll happen sooner than later.
The company's statement appears below in full.
The COVID-19 pandemic has dramatically altered almost every aspect of our lives. Among them has been a pronounced reduction in hiring activity over the past couple weeks as "safer at home" edicts have gone into effect across the country.

As a result of this decline in economic activity, ZipRecruiter came to the difficult decision to furlough or lay off 492 employees (39% of total headcount) on Friday. These actions are in no way a reflection of the incredible contributions these valued team members made to ZipRecruiter.
To help them through this difficult period we provided all impacted individuals with 1 month of severance pay, 3 months of company-paid COBRA healthcare insurance coverage, and a 2 year extension to exercise their equity.
In times like these, ZipRecruiter's mission of connecting people to their next great opportunity will be more important than ever. To fuel the coming recovery, the ZipRecruiter team stands ready.
----
Sam Blake is dot.LA's entertainment and media reporter. Email him at samblake@dot.LA and find him on Twitter @hisamblake. Are you a tech worker in the L.A. who has been affected by job losses due to the coronavirus? Let us know your story at editor@dot.la.

Sam Blake
Sam primarily covers entertainment and media for dot.LA. Previously he was Marjorie Deane Fellow at The Economist, where he wrote for the business and finance sections of the print edition. He has also worked at the XPRIZE Foundation, U.S. Government Accountability Office, KCRW, and MLB Advanced Media (now Disney Streaming Services). He holds an MBA from UCLA Anderson, an MPP from UCLA Luskin and a BA in History from University of Michigan. Email him at samblake@dot.LA and find him on Twitter @hisamblake
https://twitter.com/hisamblake
samblake@dot.la