How a Card Game About Combustible Cats Took Netflix By Storm
Christian Hetrick
Christian Hetrick is dot.LA's Entertainment Tech Reporter. He was formerly a business reporter for the Philadelphia Inquirer and reported on New Jersey politics for the Observer and the Press of Atlantic City.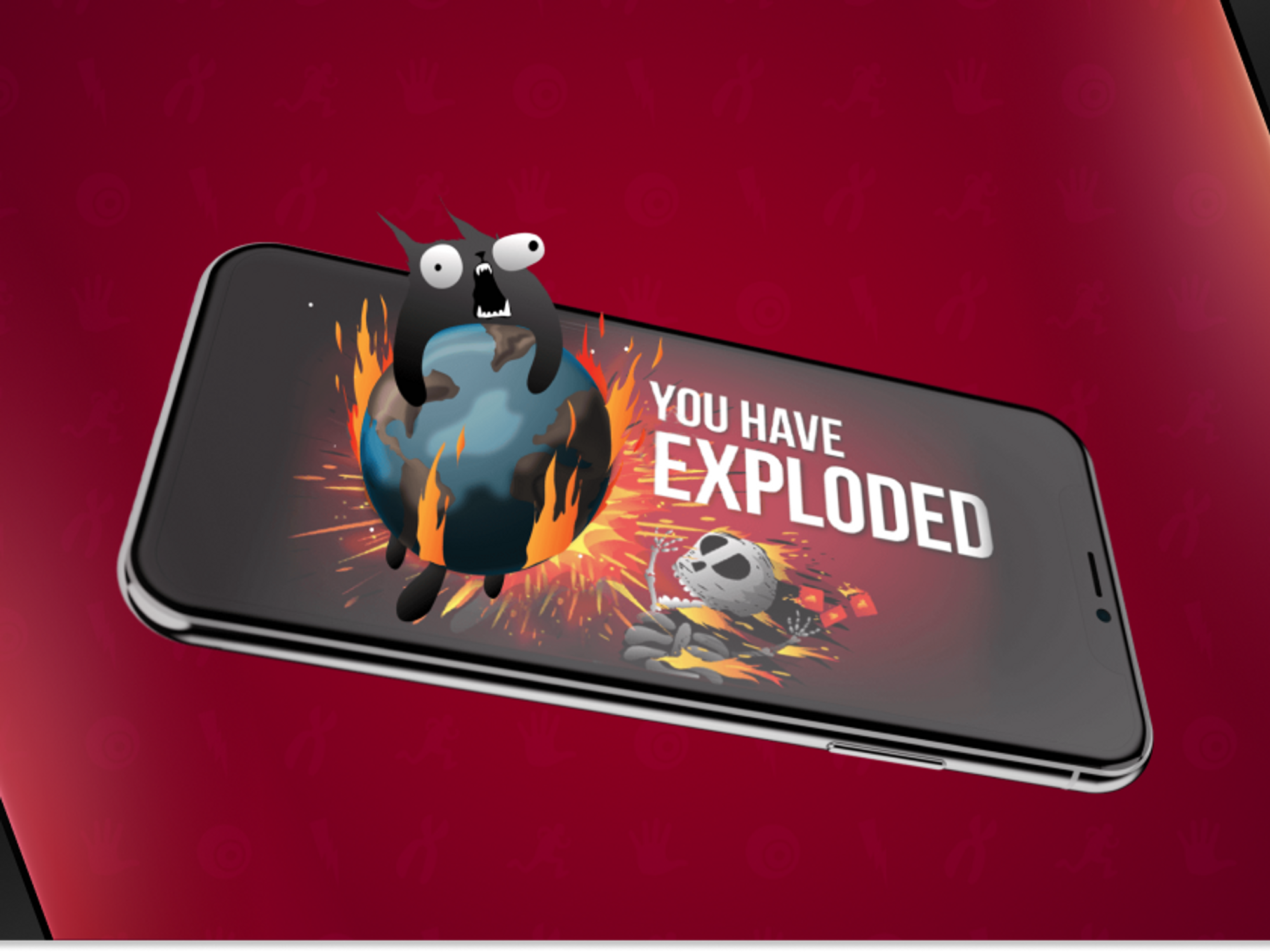 Image courtesy of Netflix
Netflix will launch a mobile game and TV show based on "Exploding Kittens," a popular card game created in Los Angeles.
The streaming giant, which has recently expanded into the realm of gaming, will release "Exploding Kittens - The Game'' on mobile devices in May and follow that with an "Exploding Kittens" adult animated comedy series in 2023, it announced Monday. It's the first time that Netflix will launch a mobile game and adapt it into a TV series.
---
Launched in 2015, Exploding Kittens claims to have sold more than 18 million tabletop games in over 50 countries. Its flagship game of the same name is a Russian-roulette-style competition, in which players try to avoid drawing "Exploding Kitten" cards that eliminate them. Players can "defuse" the cats with cards representing laser pointers and catnip sandwiches, according to the game's description.
Netflix has paid Exploding Kittens to license the rights to the card game's intellectual property, representatives from both companies told dot.LA. Neither firm disclosed financial terms.
"The co-development of a game and animated series breaks new ground for Netflix," Mike Moon, Netflix's head of adult animation, said in a statement. "We couldn't think of a better game to build a universe around than 'Exploding Kittens,' one of the most inventive, iconic and original games of this century."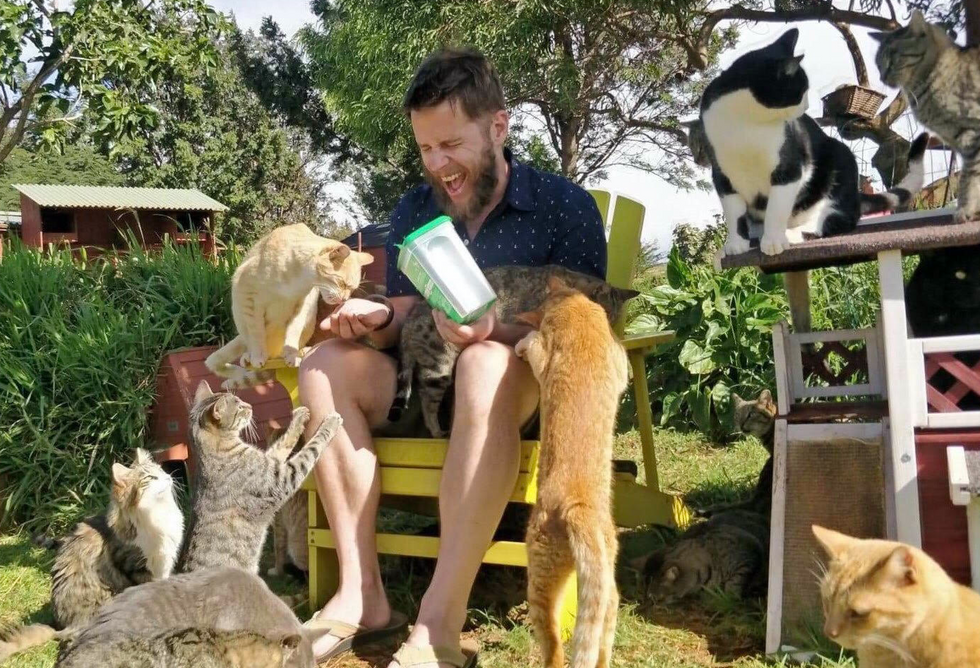 Exploding Kittens co-creator and chief creative officer Matthew Inman.Courtesy of Exploding Kittens
The show "Exploding Kittens" will see the eternal conflict between heaven and hell manifest itself on Earth when both God and the Devil are embodied as chunky house cats, according to Netflix. Starring Tom Ellis ("Rush," "Lucifer"), Lucy Liu ("Shazam," "Elementary") and Mark Proksch ("What We Do In The Shadows," "Better Call Saul"), it's currently in development with showrunners Shane Kosakowski and Matthew Inman, the latter being the co-creator and chief creative officer of Exploding Kittens, Inc.
Inman, the cartoonist behind The Oatmeal webcomic, created the card game alongside Exploding Kittens CEO Elan Lee, the former chief design officer for Xbox Entertainment Studios. Lee had previously developed a card game called "Bomb Squad" that eliminated players who drew bomb cards, he told dot.LA. Inman, who met Lee through a mutual friend, thought the game was great but needed a new name, believing that exploding munitions seemed too on-the-nose. Instead, players should be scared of something cute, fluffy and adorable like an exploding kitten, he suggested.
"At that moment, we formed a partnership and decided to start working together and have done so ever since," Lee said.
They eventually raised more than $8.7 million for the original Exploding Kittens game in what remains the most-backed Kickstarter campaign by number of donors ever. Since then, the firm has grown to over 80 full-time employees that have helped make 15 games along with 14 puzzles and expansion packs. The company will launch the seventh iteration of Exploding Kittens, "Zombie Kittens," next month.
Exploding Kittens' leap to Netflix can be traced to a $30 million investment in 2019 from TCG Capital, the L.A.-based investment firm run by ex-News Corp. executive Peter Chernin. Chernin convinced the game's creators to expand their IP and think about shows, movies and other ways to let people "live in these worlds instead of just play the games," Lee said. The company started shopping its IP a little over a year ago before striking a deal with Netflix, according to Inman.
"We were like, 'What do we do next?' We were all over Target, Walgreens, Walmart. We wanted to do something else," Inman said. "I'm a cartoonist, a writer, worked in animation and boards. This felt like a natural fit for me, to go back to what I think I'm good at."
Exploding Kittens co-creator and CEO Elan Lee.Courtesy of Exploding Kittens
Netflix has moved to expand beyond movies and shows as it faces more competition and slower subscriber growth. The company has bought three gaming studios since September—including Glendale-based Night School—and now has 17 mobile titles available to subscribers. The streaming service has also rolled out interactive programming—starting with the 2018 film "Black Mirror: Bandersnatch" and more recently with the trivia cartoon "Cat Burglar"—that blur the lines between TV and games. That comes as data indicates that younger consumers increasingly prefer gaming over more passive forms of media.
Netflix's "Exploding Kittens - The Game" will retain the gameplay of the tabletop version and be available to subscribers free of charge. The Netflix version adds exclusive cards that help players find Exploding Kittens or reverse the order of the cards in the deck. Future cards and game mechanics will be tied to the animated series.
Over the years, the founders said they have debated the best way to measure their success—from the Uber driver who knew about "Exploding Kittens" to the late Alex Trebek asking a question about the card game during an episode of "Jeopardy!"
"We debate this stuff because it's fun and interesting, and there's no right answer," Lee said. "Until a Netflix show came around. That is definitively a right answer."
Christian Hetrick
Christian Hetrick is dot.LA's Entertainment Tech Reporter. He was formerly a business reporter for the Philadelphia Inquirer and reported on New Jersey politics for the Observer and the Press of Atlantic City.