HopSkipDrive Wins Startup of the Year at dot.LA's Second Annual Startup Awards
Samson Amore
Samson Amore is a reporter for dot.LA. He previously covered technology and entertainment for TheWrap and reported on the SoCal startup scene for the Los Angeles Business Journal. Samson is also a proud member of the Transgender Journalists Association. Send tips or pitches to samsonamore@dot.la and find him on Twitter at @Samsonamore. Pronouns: he/him
01:48 PM | October 29, 2021
Downtown Los Angeles-based HopSkipDrive, a mobility startup that aims to be a kid-friendly Uber service for school-age students, won startup of the year at dot.LA's second annual startup awards.
---
Winners were announced at the dot.LA Summit. Judges voted for their picks for the most-deserving companies and individuals in six categories, including rising entrepreneur, top rising startup and entrepreneur of the year.

"It's such an honor to be included among all the impressive companies nominated for this award," Katrina Kardassakis, HopSkipDrive's vice president of business operations, said during her acceptance speech. "We are a youth transportation solution on a mission to create opportunity for all through mobility, and so we're focused on serving vulnerable populations, including kids in the foster care system, kids experiencing homelessness and kids with special needs or anyone who needs a little extra care to get where they need to go."
Kardassakis added that HopSkipDrive is currently focused on providing a potential solution to the ongoing shortage of bus drivers across the country, which is leading to backlogs in getting kids to and from school as the transportation industry struggles to retain workers and rebound from the coronavirus pandemic.
Finalists for the 2021 Startup of the Year Award included Universal Hydrogen, a company that's working to make planes that run on clean energy; Long Beach-based Rocket Lab, a reusable rocket manufacturer and small satellite launcher that looks to compete with SpaceX; ChowNow, a commission-free online ordering platform for restaurants and Crexi, a platform for streamlining commercial real estate transactions.
Check out the full list of nominees and winners for dot.LA's 2021 Startup Awards below.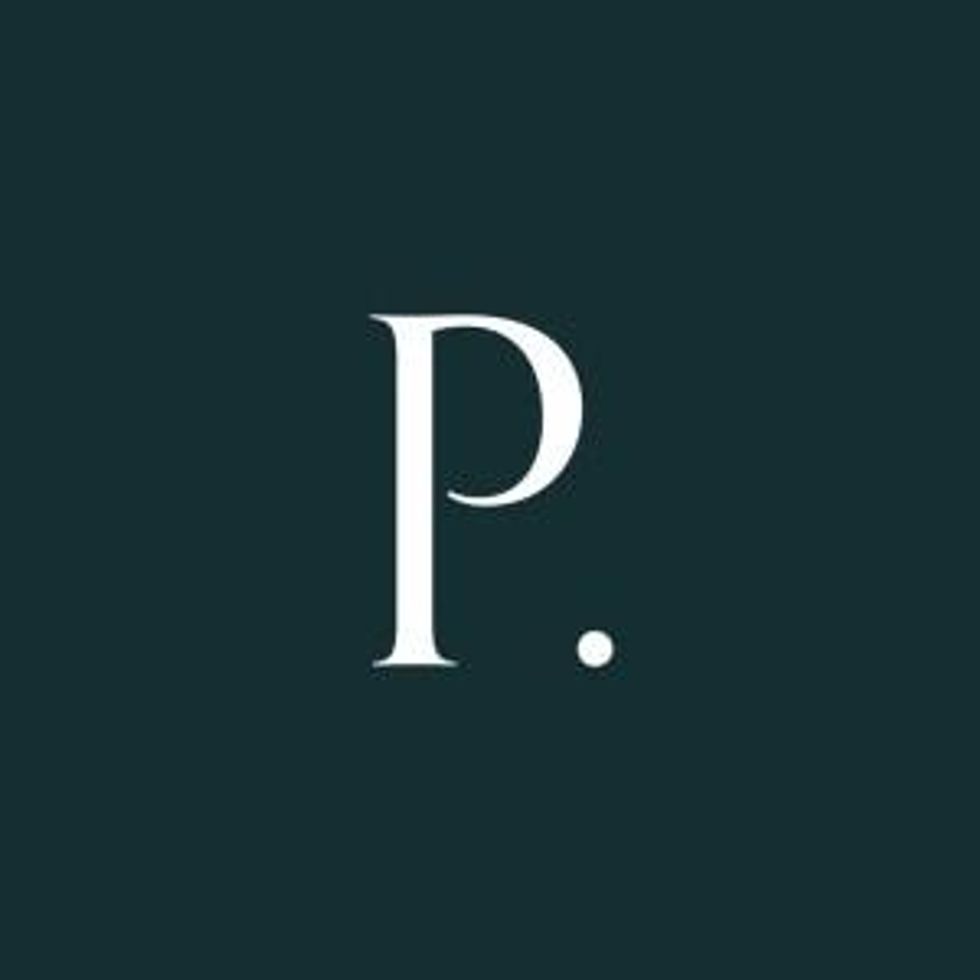 Pivot of the Year: Potion
This award celebrates a startup's ability to revamp by changing its business model and strategy in the face of adversity.
Finalists:
Triller
Behold
GiveSum
Potion — Winner
Struct Club
Social Justice Award: Grid110
This award recognizes a company or individual who has made the biggest impact on driving social justice to create a positive, significant and sustainable impact.
Finalists:
All Voices
Cheese
SoLa Impact
Hacker Fund
Grid110 — Winner
Rising Entrepreneur: Krista Berlincourt
This entrepreneur is new in the LA startup scene and has emerged as a forward thinking innovator and leader. Despite his/her age, the Entrepreneur of the year has a pioneering spirit and a promising future.
Finalists:
Clash App, Brandon McNerney
Lolly, Marc Baghadjian and Sacha Schermerhorn
Kona, Sid Pandiya
Kensho Health, Krista Berlincourt — Winner
Seed, Ara Katz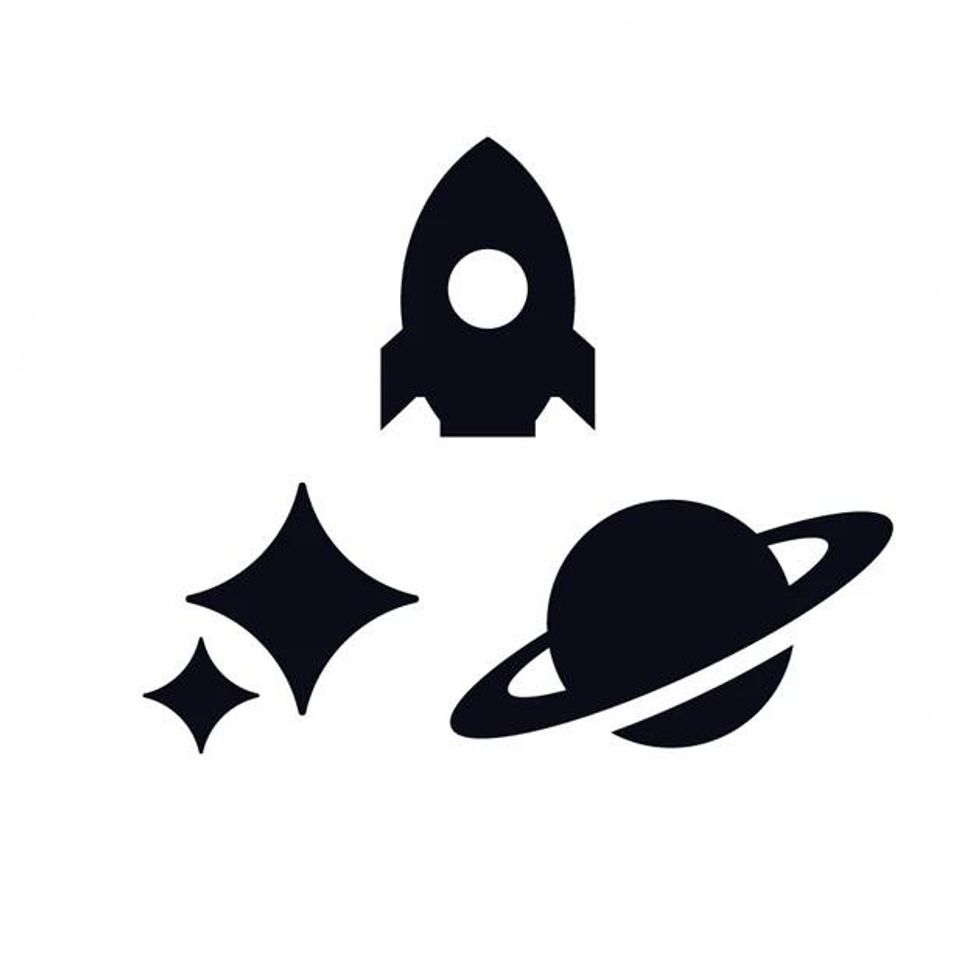 Rising Startup: Invisible Universe
Sponsored by TriNet
This startup is less than two years of age from incorporation and has shown major development based on market growth, innovation and impact of products and services. This newcomer has the greatest potential to disrupt its market and global tech community.
Finalists:
Elude
Returnmates
Dogdrop
Invisible Universe — Winner
Launch House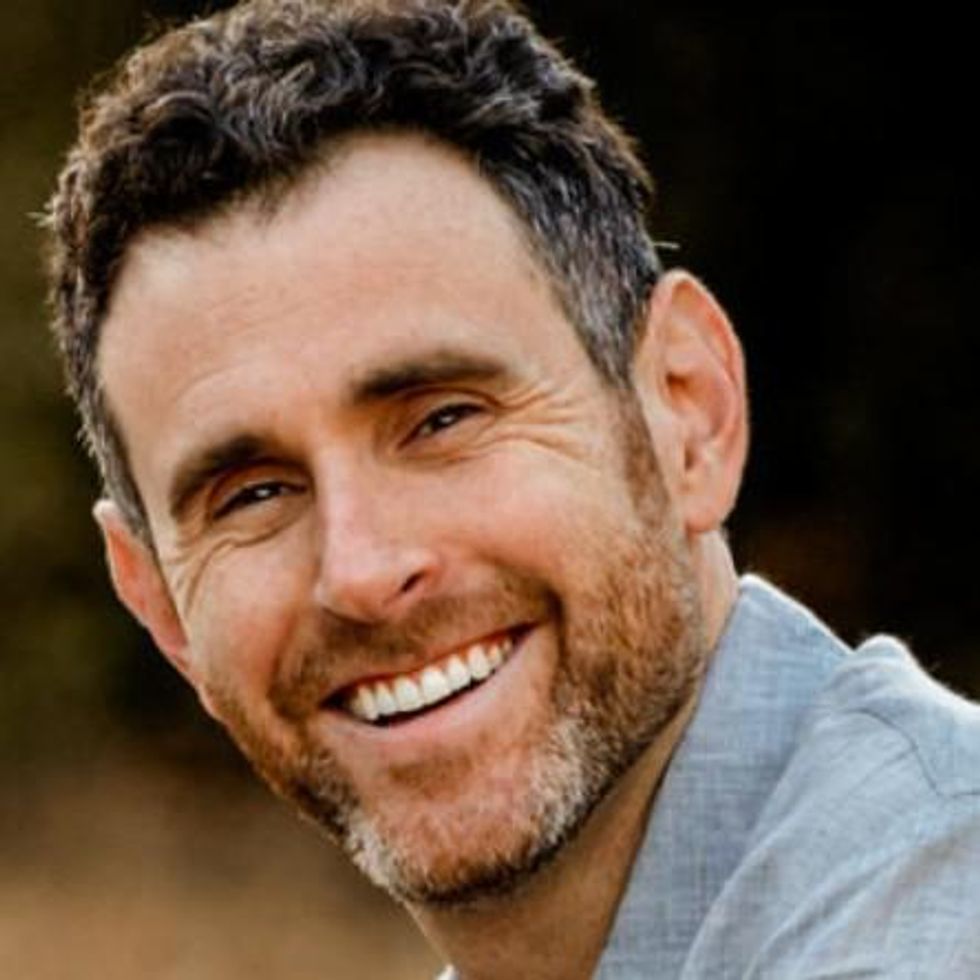 Entrepreneur of the Year: Alex Israel
This entrepreneur has a fearless spirit while their partners, teammates and clients are inspired by their vision on a daily basis. They have made notable achievements this past year in regards to funds raised, sales, impact of product and leadership in the tech ecosystem.
Finalists:
Heather Hasson and Trina Spear, FIGS
Cathy Zoi, EVgo
Alex Israel, Metropolis — Winner
Dakota Semler, Xos Truck
Jason Wilk, Dave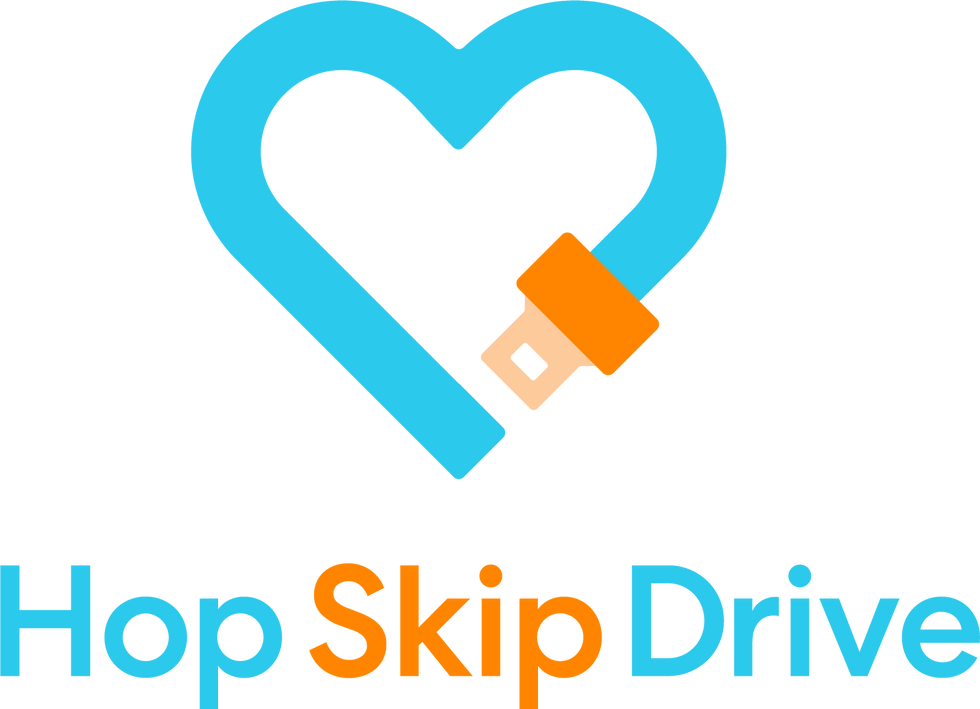 Startup of the Year: HopSkipDrive
This company has shown the greatest development over the past year based on innovation and impact with goods and services. This startup has the most promising potential for an exit and potential to reach unicorn status.
Finalists:
HopSkipDrive — Winner
Universal Hydrogen
Rocket Lab
ChowNow
Crexi
Related Articles Around the Web
Samson Amore
Samson Amore is a reporter for dot.LA. He previously covered technology and entertainment for TheWrap and reported on the SoCal startup scene for the Los Angeles Business Journal. Samson is also a proud member of the Transgender Journalists Association. Send tips or pitches to samsonamore@dot.la and find him on Twitter at @Samsonamore. Pronouns: he/him
https://twitter.com/samsonamore
samsonamore@dot.la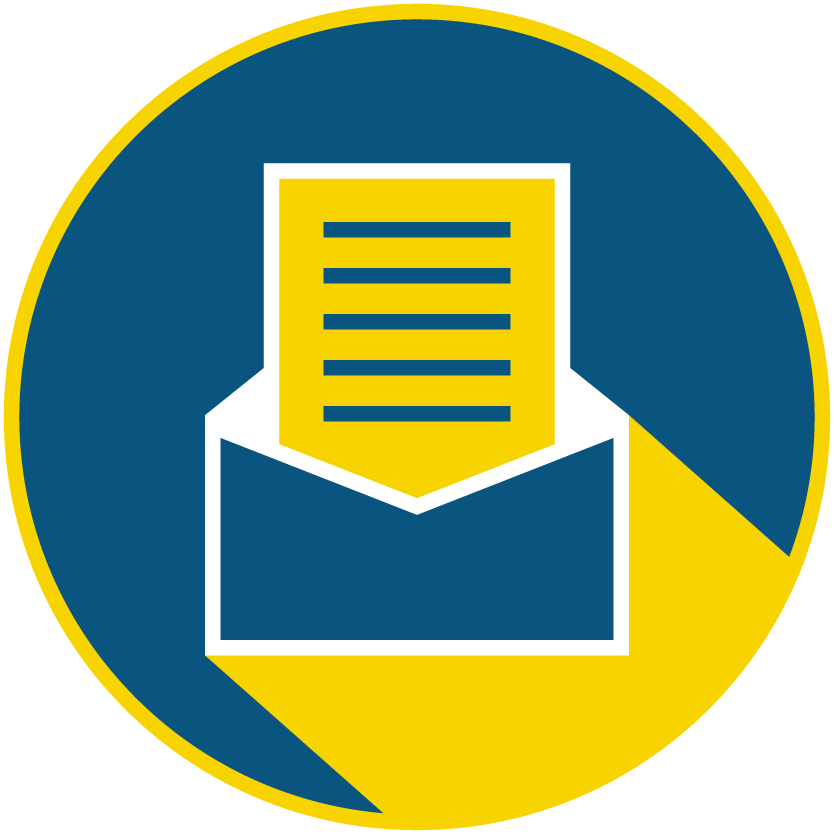 Subscribe to our newsletter to catch every headline.
03:39 PM | September 27, 2021
It started out as a way to relax after work.
On the episode of Behind Her Empire, JIGGY founder and CEO Kaylin Marcotte talks about how she turned her fascination with jigsaw puzzles into a thriving business.
Marcotte worked at the digital media company theSkimm, managing their brand ambassador program and grassroots marketing divisions, among other areas. The workload was overwhelming, she said. She looked for something meditative to relax her after work and stumbled onto jigsaw puzzles. Completing one helped reduce stress.

But the designs weren't great. Instead, she started experimenting with making puzzles of female artists' work, creating JIGGY in 2019.
"Given that they were real pieces of art, we decided to include puzzle glue so you could keep it when you were done and frame it or display it as an art print," said Marcotte.
Marcotte landed an appearance on ABC'S "Shark Tank," where she raised $500,000 from billionaire Mark Cuban. She grew the startup to $1.6 million in sales within its first nine months, making a point to pay her artists -- who get a share of the revenue of their puzzles -- on time.
"We work with our artists. It's baked into the business model that we do percentage of sales," she said.
Click the playhead above to hear the rest of the episode, in which Marcotte offers some lessons she learned building her company and how she navigated the pandemic.
dot.LA Audience Engagement Intern Joshua Letona contributed to this post.
From Your Site Articles
Related Articles Around the Web
Yasmin Nouri
Yasmin is the host of the "Behind Her Empire" podcast, focused on highlighting self-made women leaders and entrepreneurs and how they tackle their career, money, family and life.
Each episode covers their unique hero's journey and what it really takes to build an empire with key lessons learned along the way. The goal of the series is to empower you to see what's possible & inspire you to create financial freedom in your own life.
06:00 AM | January 11, 2022
When Darien Williams and Melanie Wolff opened Brella, their Montessori-inspired childcare center, in Playa Vista in 2019, they were inspired by the likes of WeWork and SoulCycle, which had multiple locations and easy-to-use apps for scheduling meetings and workout sessions. The pair found that parents juggling hectic day jobs with their children's preschool schedules were drawn to a tech-enabled, more flexible way to schedule childcare for their kids.
"The current system can be really punitive to [parents] because it forces them to pay for and schedule childcare that they don't always need, or to schedule childcare that doesn't actually support the workdays that they need to have," Wolff told dot.LA.
Months later, the coronavirus pandemic forced Brella to shut down. But rather than shuttering their company for good, the co-founders saw that the pandemic's new work-from-home paradigm only exacerbated the need for flexible childcare options. Brella reopened in June 2020, and today serves roughly 400 families whose kids, aged 3 months to 6 years, attend the Playa Vista facility for an average of four-to-five hours a day and twice per week.
On Tuesday, Brella announced a $5 million seed funding round that will allow the startup to open more facilities—it plans to expand to Hollywood and Pasadena by the end of this year—and improve its technology. The funding was led by Newport Beach-based Toba Capital and Brentwood-based Halogen Ventures, and takes Brella's total amount raised to date to $8 million.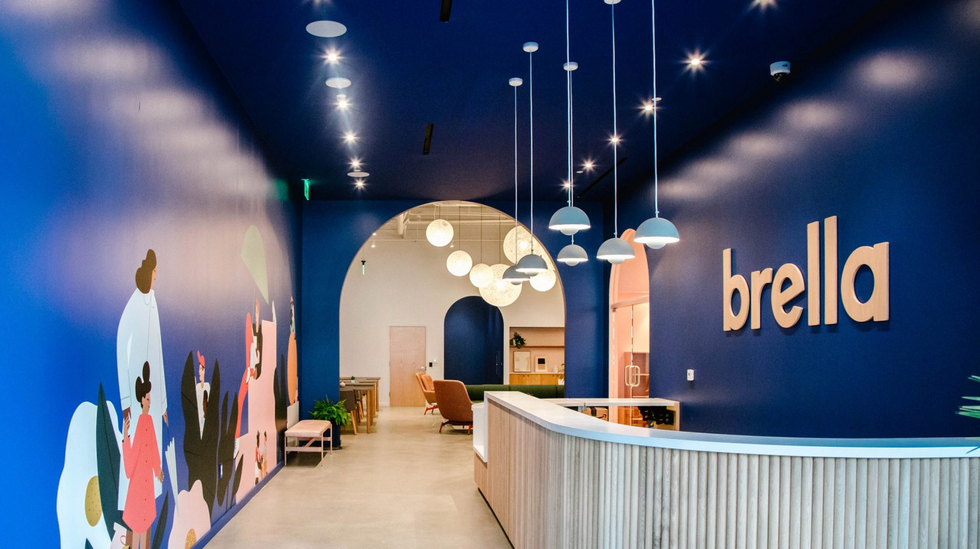 Brella's Playa Vista-based childcare center lobby.
"What we found is that even pre-pandemic, and now especially post-pandemic, families' work lives are really dynamic; they're not always working this 9-to-5, Monday-through-Friday kind of role," Wolff said. "Sometimes their childcare needs can vary day-to-day, week-to-week, and even month-to-month."
Brella is part of a growing industry of childcare startups leveraging technology to help families find childcare solutions. Its ranks include San Francisco-based Wonderschool, which helps families start their own preschools or daycares, and New York-based Otter, which allows parents to crowdsource babysitting resources from other parents.
Through Brella's app, parents can create a profile, upload necessary forms and documentation, and book times to drop their children off at the childcare center for a minimum of three hours. Brella offers different pricing packages depending on how far in advance parents want to schedule childcare and how often they need it.
As a licensed preschool, the curriculum that Brella teaches its pupils is inspired by progressive child development philosophies like Montessori, RIE and Reggio Emelia. The curriculum is adapted to how much time each child spends at the school; Brella's educators create "projects and learning opportunities that can engage a child that might be here for the very first time, or is coming three days a week this week and five days a week next week," Williams said.
From Your Site Articles
Related Articles Around the Web
Keerthi Vedantam
Keerthi Vedantam is a bioscience reporter at dot.LA. She cut her teeth covering everything from cloud computing to 5G in San Francisco and Seattle. Before she covered tech, Keerthi reported on tribal lands and congressional policy in Washington, D.C. Connect with her on Twitter, Clubhouse (@keerthivedantam) or Signal at 408-470-0776.