Owning a movie theater right now is no picnic. Deciding when and how to reopen as society confronts the next phase of the pandemic is complicated by patchy public health patterns, uncoordinated regulations and unpredictable customer behaviors.
AMC, the biggest theater owner in the U.S., plans to begin reopening on July 10th. Last week its chief executive Adam Aron told Variety that AMC would not require customers to wear masks, only to reverse course the next day following a public backlash. Regal and Cinemark, two other big cinema chains, also plan to be up and running by mid-July. All three companies, plus many smaller ones, have begun sharing their plans to provide moviegoers a safe environment to allay their health concerns and lure them back to the big screen.
Among those plans: encouraging customers to use cashless and contactless payments for tickets and concessions, which may prove to be a windfall for Santa Monica-based Atom Tickets.
"We designed Atom for convenience," co-founder and chairman Matt Bakal told dot.LA. "But it has benefits from a health perspective."
Reason for Optimism
Founded in 2014 to streamline the moviegoing experience, Atom Tickets has since raised over $100 million, including backing from Disney and Lionsgate. The company has also just announced a partnership with Snap that will embed Atom's ticket-buying functionality directly onto the social media platform; all the proceeds will go to Atom.
"Last year, about a third of tickets in the U.S. were bought digitally," Bakal says. That lagged well behind digital ticketing for sports and concerts, which he says typically fall in the range of 65% - 85%. "Our business could grow significantly as people shift from box offices to digital."
But will people show up?
A recent poll that Atom sent to its customers yielded a somewhat surprising answer.
"The hypothesis was that young people would be more eager to go back than older people because they feel more invincible...whereas older folks might be less excited," Bakal explains.
But of the 1,500 people who responded, demand was high regardless of age, with 77% of all respondents saying they plan to return within a few months.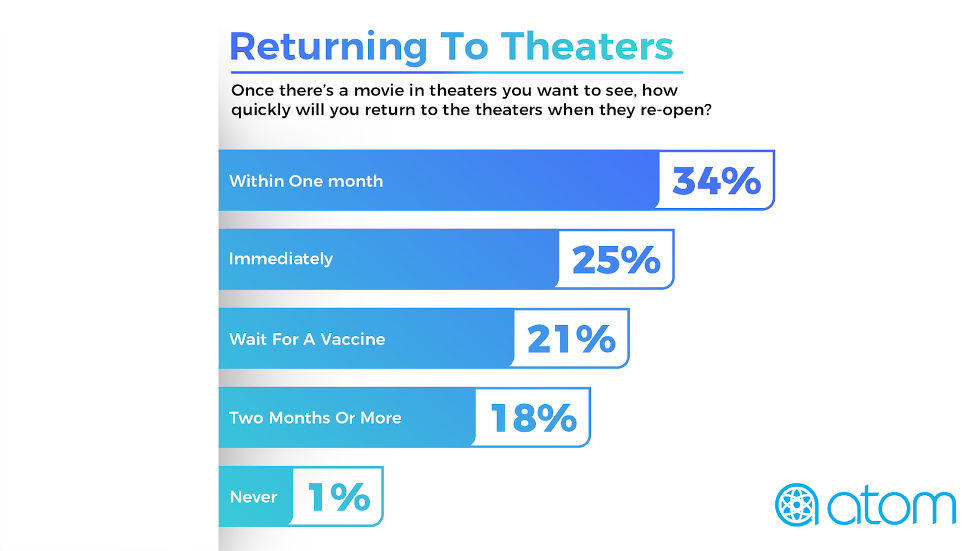 Data courtesy of Atom Tickets
The respondents also identified which safety measure was most important for them to feel comfortable enough to return to the theater. Spaced seating was most popular, with over 42% of the vote. Enhanced cleaning procedures came next at 21%, followed by staff and customers wearing masks at 14%.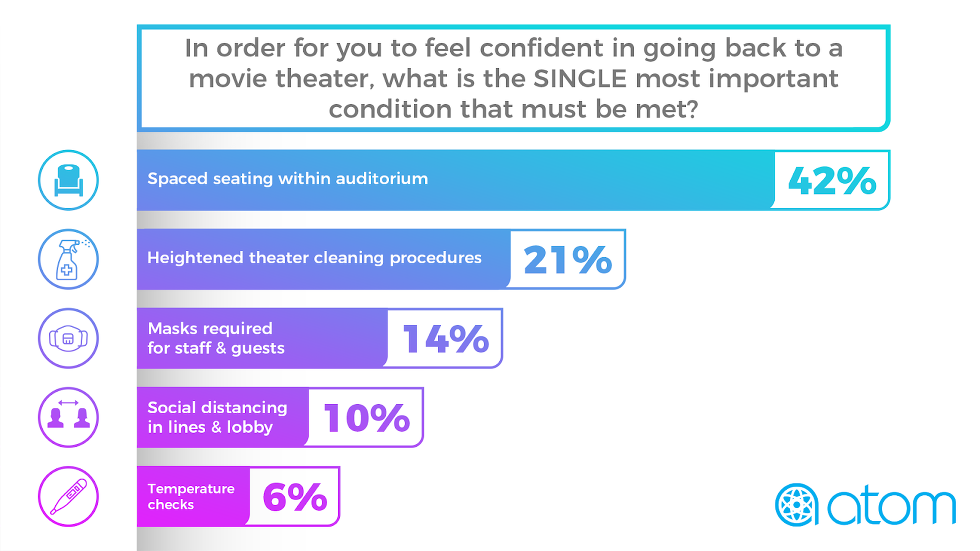 Data courtesy of Atom Tickets
Social distancing will limit the number of customers theaters can hold, but Bakal notes this concern may be overblown.

"To some extent movie theaters can be profitable around 25-30% capacity," he says.
But he acknowledges that high-demand bursts are essential to many theaters' bottom line, meaning that they generally need to fill up at primetime hours and around big openings of major films – like Disney's Mulan, which is set to open on July 24th (for now); or Tenet, directed by Christopher Nolan, which for several months had been slated as the first major post-lockdown release before being pushed back two weeks by Warner Bros. to July 31st.
Still, Bakal suggests that lifestyle changes brought on by the pandemic, such as an increase in remote working, may shift consumers away from past patterns of movie-watching.
"People looking for empty seats might say Wednesday or Monday is fine," he says.
Bakal says theaters may also shift their screening allocations by devoting more screens to popular films, for instance, in order to meet demand while limiting crowd sizes.
Atom currently provides ticketing services to over 2,000 theaters, around 350 of which also use it for concessions. Bakal says interest has grown among Atom's customers to add on the concessions service, and that prospective new customers have been calling.
The Snap Partnership
"We'd been talking to Snap for about three years about making something," Bakal says. "Then it got serious 12 months ago. They told us they have some interesting long-term platform growth opportunities... and (asked) would we be interested in developing something."
A Snap spokesperson told dot.LA that "working with Atom was a no brainer." She cited a 2018 study commissioned by Snap, which is also based in Santa Monica, that found its users buy half of all movie tickets sold in the U.S.
The partnership is part of Snap's new "Minis" program, which was introduced at the company's Partner Summit earlier this month. Minis are new utility features that integrate into Snap users' chat windows. Though not all of them will include a financial transaction, they expand the platform's foothold in ecommerce. The Information previously reported that Minis "echo WeChat", the Chinese chat-and-more platform whose parent company, Tencent, owns about 10% of Snap.
"We're looking for ways to bring engaging experiences to our app – specifically experiences that reinforce the product philosophy behind Snapchat, which is that it's for (you and) your real friends," a spokesman said. "This is really the first time that we're introducing more utility to Snapchat for real friends."

The Atom Mini, called "Movie Tickets by Atom", was one of several that Snap previewed at its recent summit. It allows friends on Snapchat to watch movie trailers together, chat about whether they'd like to see it, choose a theater, select a seat (and see their Bitmoji characters occupying the socially-distanced seating chart), and individually purchase tickets — all within the app.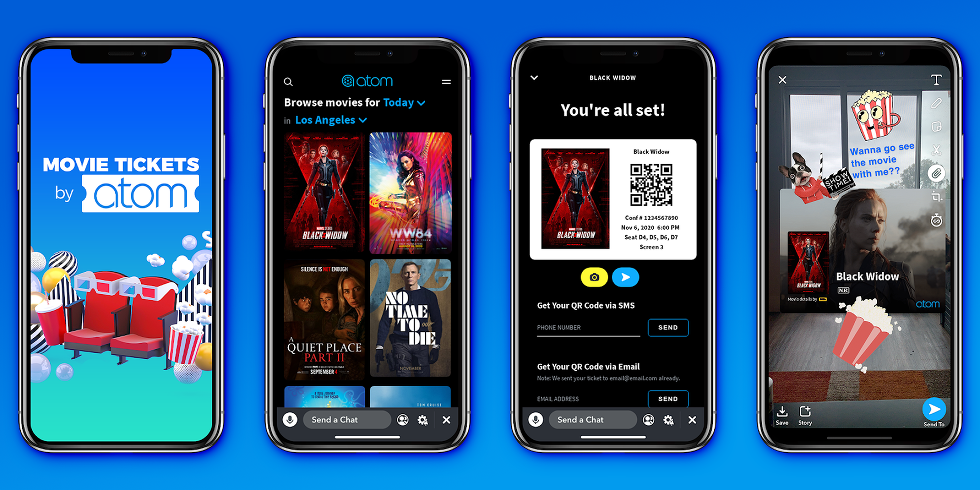 "By platformizing Snapchat, we're bringing it to the world. And we're bringing the world to Snapchat," the representative said.

She described the Atom Mini as the "most fully fledged" that the company will have in its first batch. It will likely launch sometime after Snap's next earnings report in mid-July, she said.
"It emphasizes the whole philosophy behind Minis, which is facilitating activities (and) experiences, online and offline with your real friends," she said.
"The most popular form of out-of-home entertainment is movies," Bakal says. "If you take sports and concerts and you double it you get movie attendance. When you look at that you say, 'Wow, all these people are on (Snap) already saying I want to go see the new Bond movie, I want to see Black Widow' -- so why not when they're having conversations there not even make them need to leave Snap...It became a very natural thing to do."