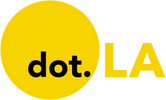 Get in the KNOW  
  on LA Startups & Tech  
X
Andria Moore
Google and Apple Are Opening New Offices In West LA
Amrita Khalid
Amrita Khalid is a tech journalist based in Los Angeles, and has written for Quartz, The Daily Dot, Engadget, Inc. Magazine and number of other publications. She got her start in Washington, D.C., covering Congress for CQ-Roll Call. You can send tips or pitches to amrita@dot.la or reach out to her on Twitter at @askhalid.
08:00 AM | November 21, 2022
Even though Los Angeles' office market faces an uncertain future due to the slowing economy, signs seem to suggest that West L.A. could weather the storm.
For starters, Apple and Google still plan to open new offices in the area — even as much of Big Tech is scaling back their physical footprints nationwide. Earlier this month, Apple's plans to build 536,000 square feet of office space and production space went before the Culver City Planning Commission. The Culver Crossings campus is expected to break ground in early 2023, with an anticipated move-in date of 2026.
---
"The West L.A. office market is very different from the rest of the county in that it has an abundance of very cool, architecturally distinct real estate that is very attractive to the creatives"," wrote CBRE's Vice Chairman Jeffrey Pion in an email. "While many of the tech companies are downsizing in other parts of the country, we are not yet certain how much of that anticipated downsizing will occur in this market but believe the long term outlook for West Los Angeles is very good."
In addition, a Google spokesperson confirmed to dot.LA that Google has leased the former Westside Pavilion shopping complex in West L.A. and plans to move in sometime in 2023. The company has yet to decide which job functions or divisions will be located in the new West L.A. campus. And Amazon signed a deal to rent a 200,000-square-foot space at the Water Garden this summer as part of a greater Southern California expansion, even as it halted plans to build other offices nationwide.
Nonetheless, the state of L.A.'s office space market remains uncertain as companies also scramble to cut costs due to the slowing economy. J.P. Morgan Asset Management this week put up its 1.4 million square foot Santa Monica office campus for sale — which includes tenants like Amazon and Sony Inc., reported the Commercial Observer.
Still, according to a third-quarter report from CBRE, West L.A.'s office vacancy rate is at 14.5% — roughly four points lower than the average in Greater Los Angeles. "[...] Several tech, media, and entertainment companies leased space this quarter, emphasizing the prevalence of entertainment and technology in Los Angeles and West L.A.," wrote the authors of the report.
This is all to say that after two years of remote work and hybrid offices, 2022 could be ushering in a vibe shift as more companies reverted to traditional in-office work environments. Nearly 50% of company leaders said they were planning to require workers to return to the office full-time in the next year, according to a Microsoft survey from March. While a sluggish economy has forced some companies to make cuts to their workforce and close offices — many also appear to be staying put or even expanding their corporate real estate portfolios.
The potential shift to in-office work could be further bolstered by the current economic downturn, according to Matthew E. Kahn, Provost Professor of Economics at USC. In an email to dot.LA, Kahn wrote, "During a tech recession, management has the upper-hand in determining the real pay of workers and ordering workers to work on-site — 5 days a week — is a type of pay cut."
Amrita Khalid
Amrita Khalid is a tech journalist based in Los Angeles, and has written for Quartz, The Daily Dot, Engadget, Inc. Magazine and number of other publications. She got her start in Washington, D.C., covering Congress for CQ-Roll Call. You can send tips or pitches to amrita@dot.la or reach out to her on Twitter at @askhalid.
https://twitter.com/askhalid
05:00 AM | March 08, 2023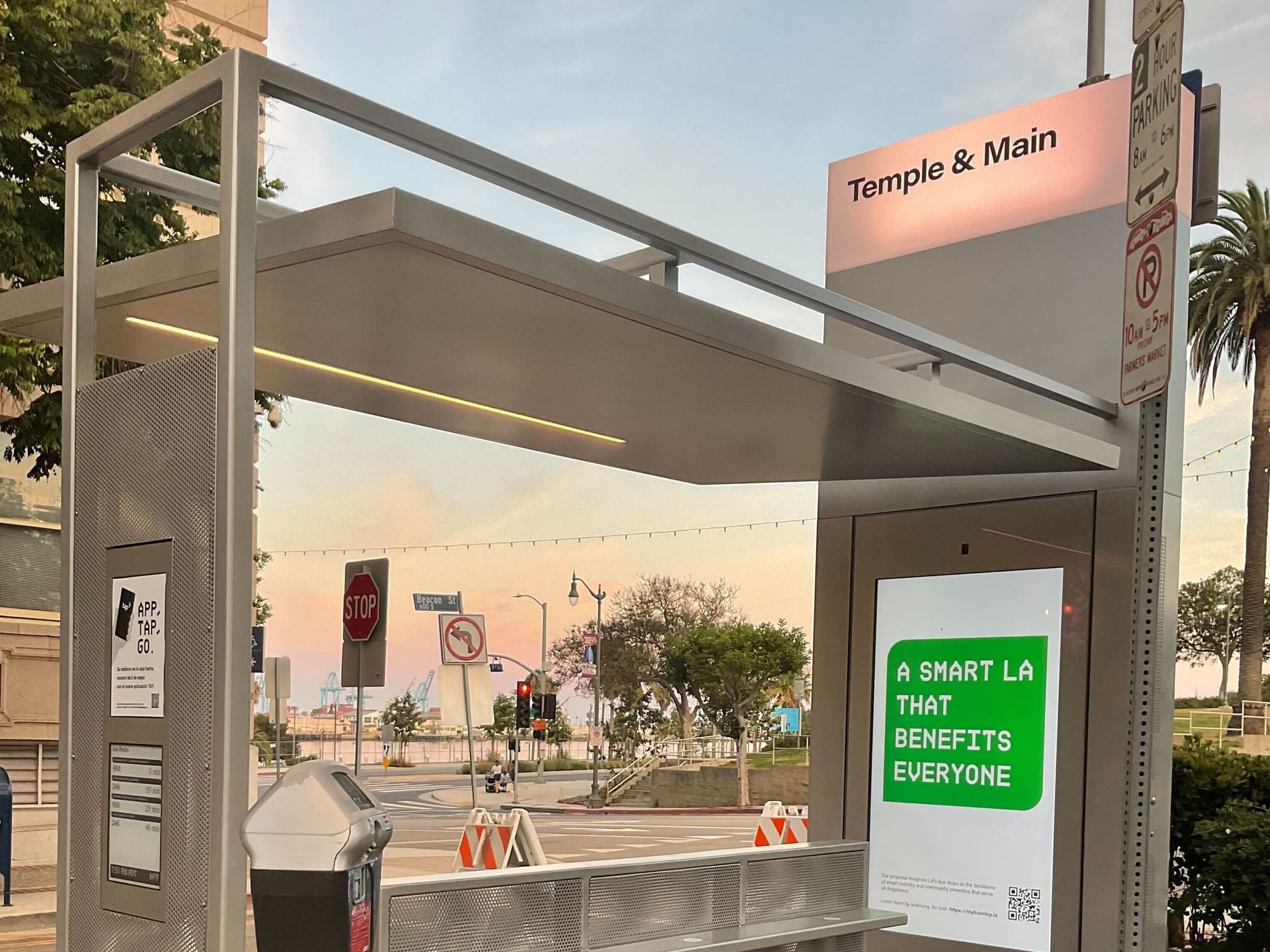 Christian Gutierrez
Last year, the city of Los Angeles approved a new bus shelter contract with Tranzito-Vector after a 20-year contract that shorted the city over 600 bus shelters and $70 million in advertising revenue. According to a 2012 audit by the city controller, the last contract failed because of a combination of NIMBYism and bureaucratic red tape.
Now, L.A. — the city that puts its cars and their drivers above all else— has an opportunity to prioritize bus riders, and by extension, promote racial and social equity. As the contract wends its way through city hall, delayed by bureaucracy once again, questions remain about whether the city can meet its goals.
Will L.A. bus riders finally get the bus stops (and shade) that they need?
New leadership may spell hope for bus riders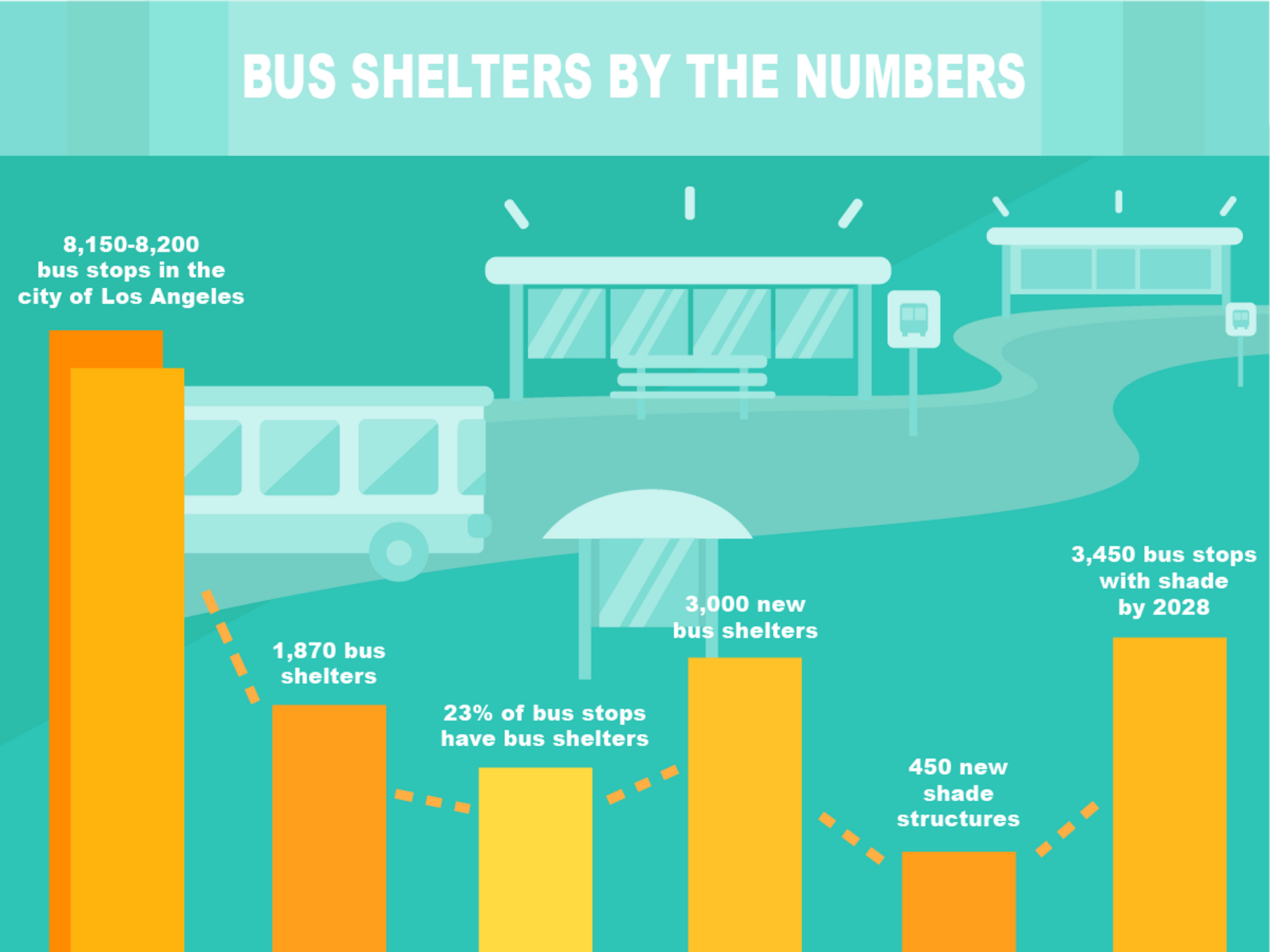 Evan Xie
Less than 25% of bus stops in Los Angeles provide shade for bus riders, leaving a group composed primarily of low-income people of color vulnerable to extreme heat.
In L.A., bus stops are managed not by L.A. Metro or by the L.A. Department of Transportation, but by StreetsLA (formerly the bureau of street services), the division within the Department of Public Works that oversees sidewalks, street trees and medians.
Since the new contract was approved in September, things have changed at city hall. The city elected its first Black woman mayor, Karen Bass, former council president Nury Martinez was ousted after she made racist comments and four districts elected new councilmembers.
In the current landscape, bus shelters may have gained traction. In his first city council meeting in December, new Councilmember Hugo Soto-Martinez drafted a motion instructing StreetsLA to study how to place shelters at every bus stop in the 13th district.
If only it were that easy.
The new contract, the Sidewalk and Transit Amenities Program (STAP) is projected to bring 3,000 new shelters and 450 shade structures to the city by 2028.
In the previous contract, L.A. did not foot the bill for the bus shelters — the capital costs and maintenance fell to the previous contractor in return for the right to place advertising in the public-right-of-way. But now, for a bigger share of the revenue — 60.5% versus 20% — the city is paying all capital expenses.
Currently, StreetsLA estimates that it will cost about $380 million total to implement STAP, up from the $237 million estimated in 2021. In five years (just in time for the 2028 Olympics), if things go according to plan, L.A. will have a total of 3,000 shelters versus the 1,870 it has today.
"At the end of the rollout period — which is going to extend into 2028, minimally — we hope that we're going to have shade structures at least 3,450 locations," said Lance Oishi, contract administrator for STAP.
It's an ambitious goal. And it's still unclear where the money will come from. In City Council's February 8 public works committee meeting, Oishi said that STAP currently has $114 million in funds in place, including a $30 million loan from the public works trust fund and $53 million as part of L.A. Metro's North San Fernando Valley BRT project.
The $30 million StreetsLA hopes to receive soon is enough to build 180 shelters and do site work for 240 additional shelters in the first year.
The first 180 shelters will replace existing shelters along transit corridors to drive ad revenue, while the 240 sites will be in locations without existing shelters. StreetsLA is using five criteria to determine prioritization of new shelter locations: transit ridership, heat exposure, equity-focused communities, job and school access and bus wait times.
It's a big investment for a bigger payday. The city estimates that it will earn up to $500 million over the course of the contract — with the addition of new digital advertising — with $90 million guaranteed from Tranzito-Vector.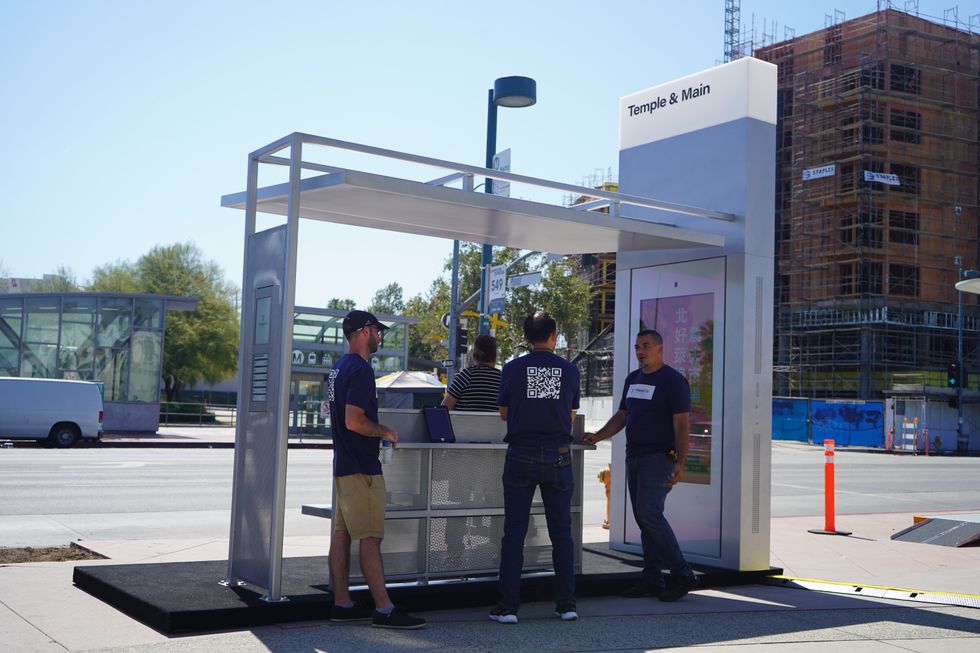 Christian Gutierrez
Where the curb meets red tape
While the new contract eliminates the bureaucratic red tape of the past — shelter locations go through a two-step versus 16-step approval process — new construction on L.A.'s crumbling sidewalks is its own challenge.
More than half of the cost of building bus shelters doesn't come from the cost of materials or construction but from preparing the site.
"We know that 95% of our bus stop sidewalks are not ADA compliant," said Oishi. "That means that we have to basically rip out the sidewalks, kind of re-engineer them so they meet ADA from a grading perspective."
For 450 bus stop locations that can't accommodate a shelter due to space requirements or a "perfect storm of tree wells, fire hydrants, streetlight poles [and] utility poles," StreetsLA hopes to install shade structures, added Oishi.
Plan to flail
Advocates say that bus shelters are merely one example of a larger problem in L.A. — the lack of a multi-year capital infrastructure plan laying out how the city will spend its transportation and public works funds. Currently, eleven different city agencies work in the public right-of-way, managing everything from bus stops to street trees to sidewalks to bike lanes.
"It's like doing a 500 piece puzzle when you don't even have the cover image," said Jessica Meaney, executive director of Investing in Place, a nonprofit advocating for greater policy and spending transparency in the public right-of-way.
Bus shelters are not paid for out of the city's general fund, which means StreetsLA must cobble together multiple sources of federal, state and city funding.
Perhaps bus shelters will be the vanguard in the fight for greater oversight in how L.A. spends its public works dollars. In the committee meeting, Councilmember Nithya Raman called for StreetsLA to create a public-facing dashboard showing how shelters are prioritized to meet equity goals.

Using Bus Shelter Revenue to Pay for Bus Shelters
With the new focus on equity, there is a proposal in committee for funding shelters using money generated from STAP advertising revenue. Currently, the money generated is split 50-50 between L.A.'s general fund and 15 council offices. Under a new initiative, RAISE (Reinvestment in Accessibility, Infrastructure and Streetscape Enhancements), council offices will continue to receive the same share of revenue as in the past ($200,000 annually), but any additional revenue will go back into funding bus shelters, staffing for STAP and other transit improvements.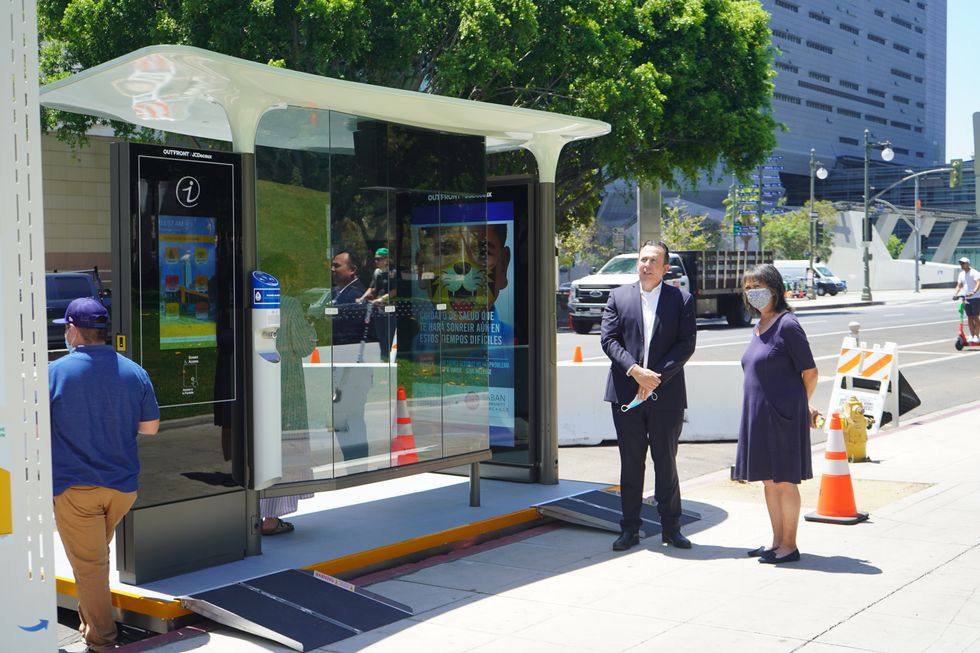 Christian Gutierrez
Bus shelters when?
Currently, StreetsLA and Tranzito-Vector are awaiting city approval of the $30 million public works trust fund loan to start fabrication of the shelters. To be approved, the City Administrative Officer (CAO) must first review an Executive Directive No. 3 (ED3) report (first instituted by Mayor Villaraigosa in 2005) submitted by StreetsLA, and then the report must be approved by Mayor Bass' office.
"The ED3 report is currently in our [o]ffice under review," said assistant city administrative officer Yolanda Chavez in an email. She added that the CAO's office will draft a recommendation report to send to the mayor within a few weeks. Mayor Bass can waive the report but so far has not done so.
Meanwhile, the projected rollout for new shelters has been pushed from late July, to August, to currently, late fall, according to StreetsLA.
"I can understand that the scale of doing bus shelters given the number of stops is really daunting," said Madeline Brozen, deputy director of the UCLA Lewis Center for Regional Policy Studies and co-author of a new study on the lack of shelters in L.A. County. "But bus shelters aren't just a 'nice to have,' this is really [about] protecting people's health and welfare and it's important to think about the public health benefits as they're figuring out how to address the disparity."
Maylin Tu
Maylin Tu is a freelance writer who lives in L.A. She writes about scooters, bikes and micro-mobility. Find her hovering by the cheese at your next local tech mixer.
03:49 PM | October 14, 2022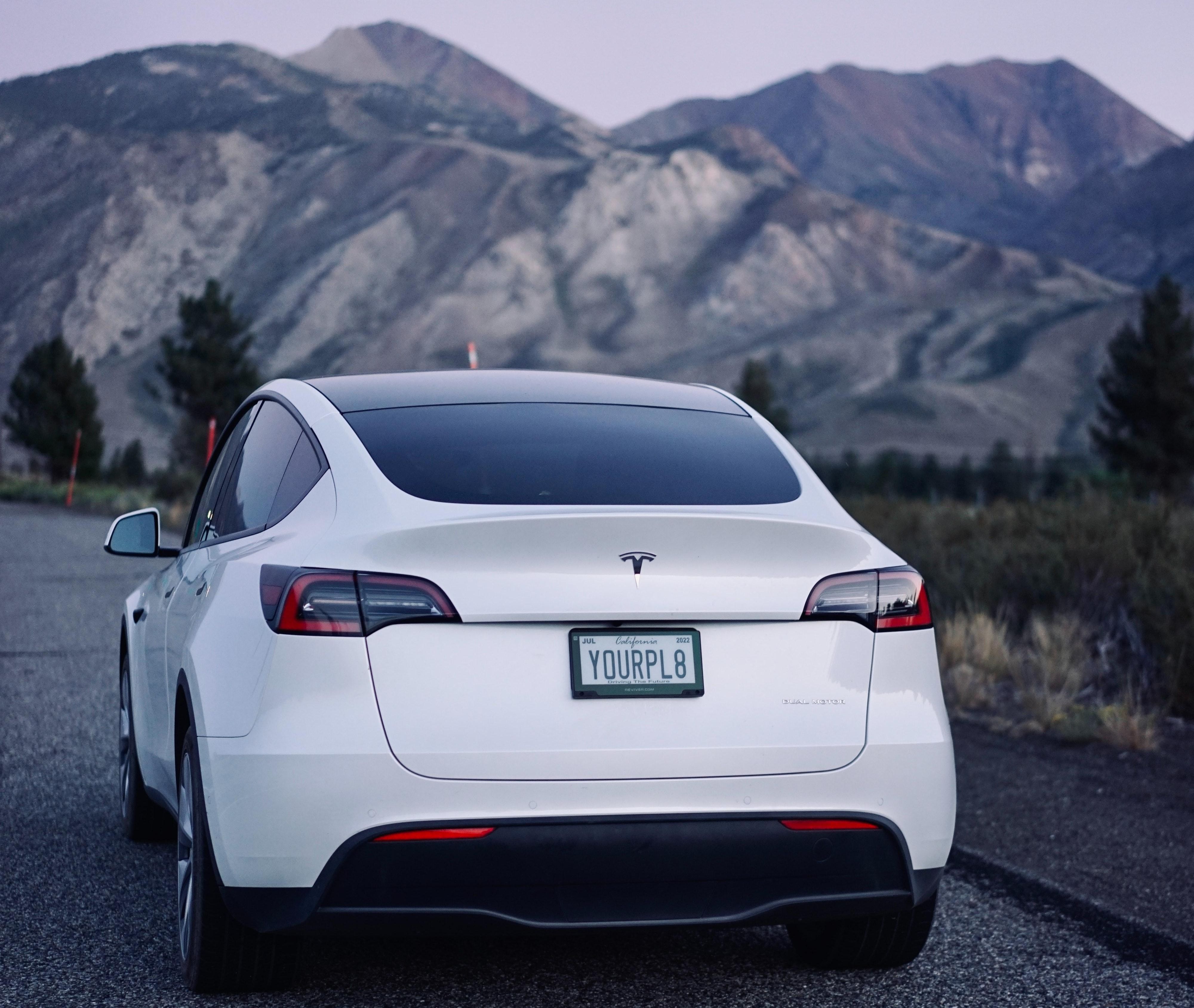 Thanks to a new bill passed on October 5, California drivers now have the choice to chuck their traditional metal license plates and replace them with digital ones.
The plates are referred to as "Rplate" and were developed by Sacramento-based Reviver. A news release on Reviver's website that accompanied the bill's passage states that there are "two device options enabling vehicle owners to connect their vehicle with a suite of services including in-app registration renewal, visual personalization, vehicle location services and security features such as easily reporting a vehicle as stolen."
Reviver Auto Current and Future CapabilitiesFrom Youtube
There are wired (connected to and powered by a vehicle's electrical system) and battery-powered options, and drivers can choose to pay for their plates monthly or annually. Four-year agreements for battery-powered plates begin at $19.95 a month or $215.40 yearly. Commercial vehicles will pay $275.40 each year for wired plates. A two-year agreement for wired plates costs $24.95 per month. Drivers can choose to install their plates, but on its website, Reviver offers professional installation for $150.

A pilot digital plate program was launched in 2018, and according to the Los Angeles Times, there were 175,000 participants. The new bill ensures all 27 million California drivers can elect to get a digital plate of their own.
California is the third state after Arizona and Michigan to offer digital plates to all drivers, while Texas currently only provides the digital option for commercial vehicles. In July 2022, Deseret News reported that Colorado might also offer the option. They have several advantages over the classic metal plates as well—as the L.A. Times notes, digital plates will streamline registration renewals and reduce time spent at the DMV. They also have light and dark modes, according to Reviver's website. Thanks to an accompanying app, they act as additional vehicle security, alerting drivers to unexpected vehicle movements and providing a method to report stolen vehicles.
As part of the new digital plate program, Reviver touts its products' connectivity, stating that in addition to Bluetooth capabilities, digital plates have "national 5G network connectivity and stability." But don't worry—the same plates purportedly protect owner privacy with cloud support and encrypted software updates.

5 Reasons to avoid the digital license plate | Ride TechFrom Youtube
After the Rplate pilot program was announced four years ago, some raised questions about just how good an idea digital plates might be. Reviver and others who support switching to digital emphasize personalization, efficient DMV operations and connectivity. However, a 2018 post published by Sophos's Naked Security blog pointed out that "the plates could be as susceptible to hacking as other wireless and IoT technologies," noting that everyday "objects – things like kettles, TVs, and baby monitors – are getting connected to the internet with elementary security flaws still in place."
To that end, a May 2018 syndicated New York Times news service article about digital plates quoted the Electronic Frontier Foundation (EFF), which warned that such a device could be a "'honeypot of data,' recording the drivers' trips to the grocery store, or to a protest, or to an abortion clinic."
For now, Rplates are another option in addition to old-fashioned metal, and many are likely to opt out due to cost alone. If you decide to go the digital route, however, it helps if you know what you could be getting yourself into.
Steve Huff
Steve Huff is an Editor and Reporter at dot.LA. Steve was previously managing editor for The Metaverse Post and before that deputy digital editor for Maxim magazine. He has written for Inside Hook, Observer and New York Mag. Steve is the author of two official tie-ins books for AMC's hit "Breaking Bad" prequel, "Better Call Saul." He's also a classically-trained tenor and has performed with opera companies and orchestras all over the Eastern U.S. He lives in the greater Boston metro area with his wife, educator Dr. Dana Huff.
steve@dot.la