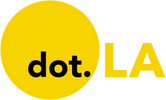 Get in the KNOW  
  on LA Startups & Tech  
X
Rachel Uranga
Rachel Uranga is dot.LA's Managing Editor, News. She is a former Mexico-based market correspondent at Reuters and has worked for several Southern California news outlets, including the Los Angeles Business Journal and the Los Angeles Daily News. She has covered everything from IPOs to immigration. Uranga is a graduate of the Columbia School of Journalism and California State University Northridge. A Los Angeles native, she lives with her husband, son and their felines.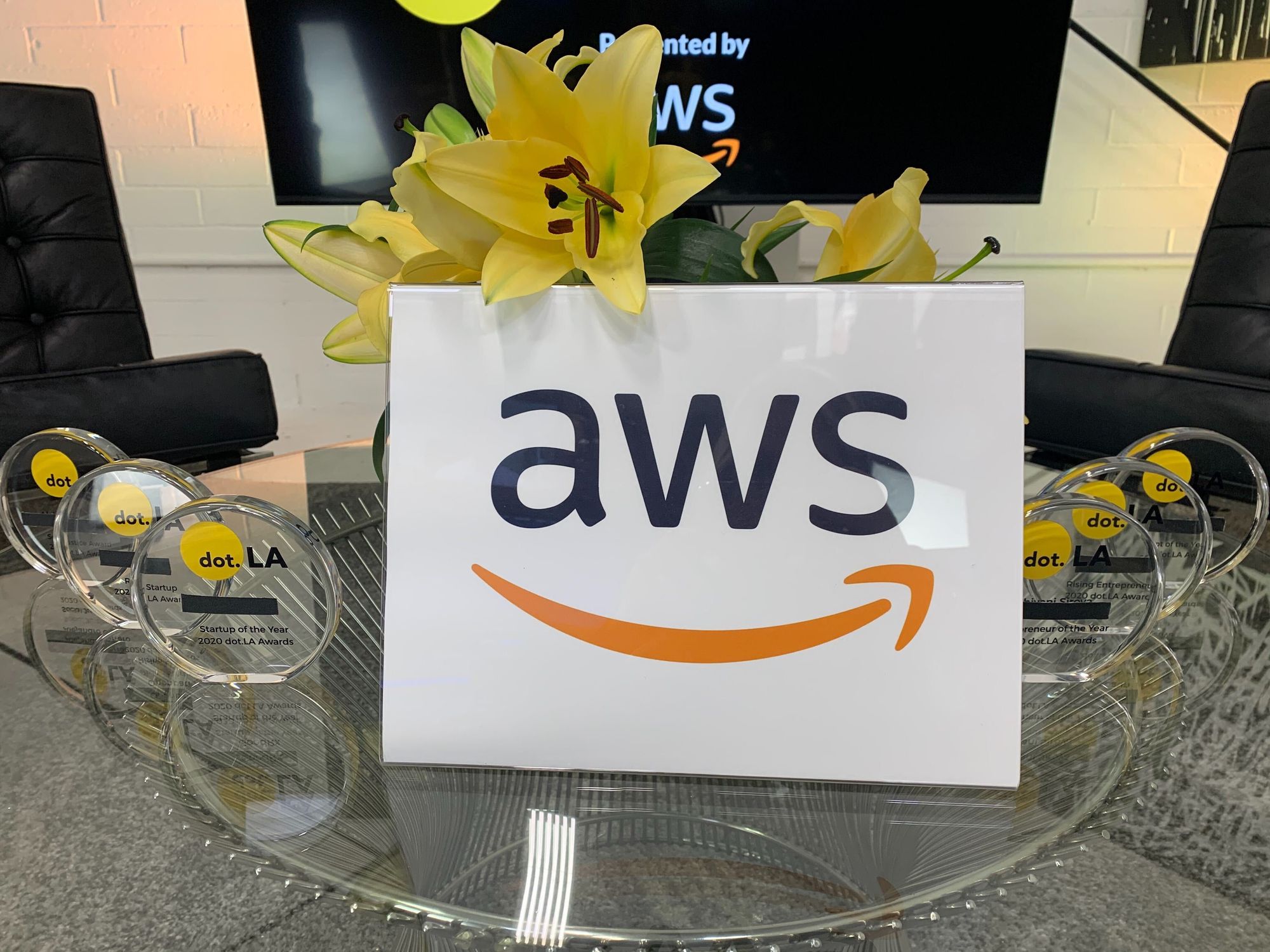 GoodRx earned dot.LA's top 2020 Startup award on Wednesday, beating out the popular sneaker reseller GOAT, the meditation application Headspace, mobile gamer Scopely and viral-video app TikTok.
"GoodRx started in Los Angeles, and will always be a Los Angeles-based company," said co-CEO Doug Hirsch. "We're so excited about the support we've received over the last decade from both entrepreneurs and investors and just incredible people that make up the ecosystem here in California and specifically in Los Angeles."
---
GoodRx was the first Los Angeles tech company to go public this year. It's mission to lower the prices of prescription drugs for Americans has made it one of the most-downloaded medical apps in the country.
"We're excited for the future and we appreciate the recognition," he said.
dot.LA wrapped up its inaugural Summit with the 2020 Startup Awards that honor the ingenuity and creativity propelling the startup scene in Southern California. More than 120 nominations were received from dot.LA's audience. The winners were chosen by a blue ribbon panel of judges, along with more than votes from the public.
Other winners included Entrepreneur of the Year, Tala CEO Shivani Siroya, Curative for Pivot of the Year, Blavity CEO Morgan DeBaun for Rising Entrepreneur, Openpath for Rising Startup and Social Justice Award went to Act One Ventures partner Alejandro Guerrero.
"We wanted to use this opportunity to shine a light on some of the most exciting, most driven and most world-changing people in companies in our world today," said dot.LA CEO Sam Adams.

Pivot of the Year: Curative Inc.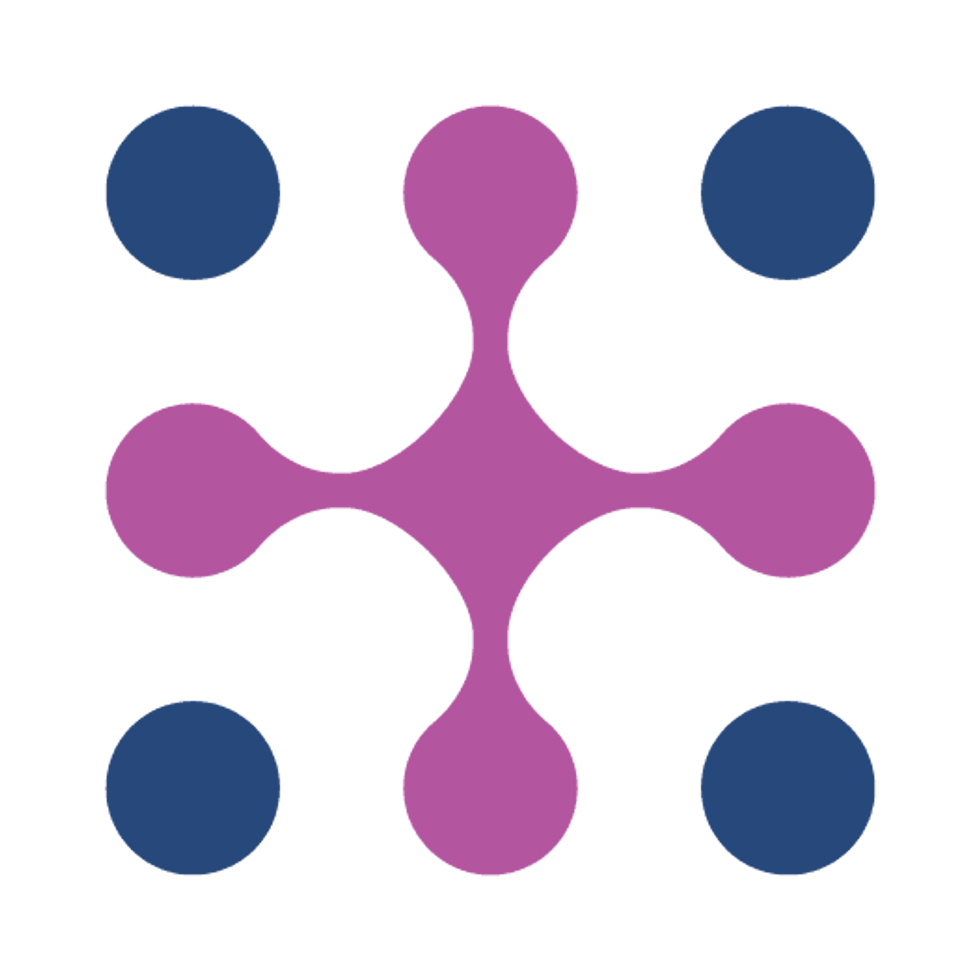 Curative was founded earlier this year by Fred Turner, an Oxford dropout. His company was then based in the Bay Area and tested for sepsis before it pivoted to provide COVID testing. As the pandemic emerged, he established a lab in San Dimas with the help of local venture capitalists that would eventually become Curative's home base. The company's saliva- based tests now account for about 10% of all testing nationally and Curative has an exclusive deal with the city of Los Angeles to provide testing.
"On behalf of our CEO Fred Turner and everyone who just want to thank you," said Curative spokesman Pasqualle Gianna. As you know, we pivoted from sepsis testing to COVID testing."
Finalists
Quantgene: The company typically offers AI-powered blood test systems for early cancer detection but now provides COVID testing and logistics for those going back to work.
Swoop: The startup focused on group transportation but developed software that limousine charter operators and their suppliers, could utilize during the pandemic as regular business dried up.
PRISM Bags: This company planned to launch their signature product, a woman's work bag but as the pandemic beared down created one suited that included mask pockets.
WELL Health Inc.: Funded and engineered the Rapid Release Program in March '20, which allowed health systems to manage urgent COVID-19 patient communications at scale.
Social Justice Award: Alejandro Guerrero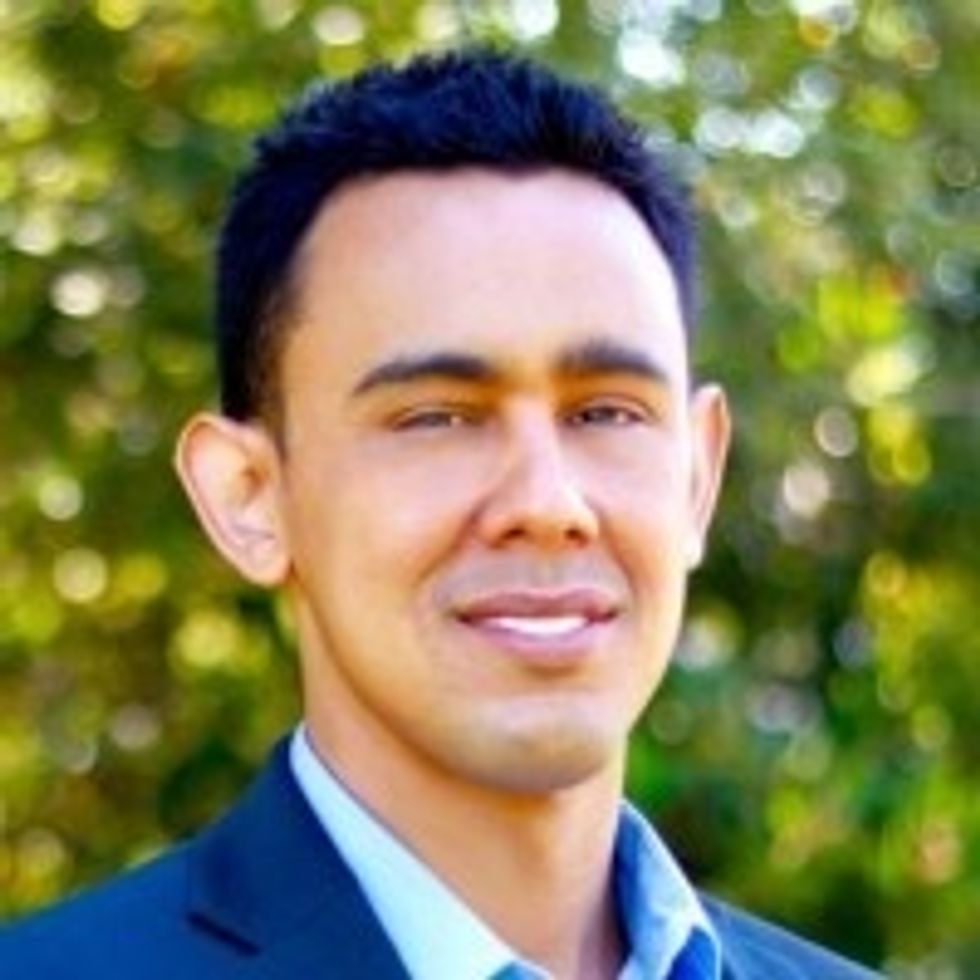 More than 20 VCs have signed onto to Act One Ventures partner Alejandro Guerrero's Diversity Rider Initiative.
The firms have pledged to add language in term sheets submitted to startups that they will make their "commercial best efforts to offer and make every attempt to include as a co-investor in the financing" at least one Black check writer or other underrepresented group."
Guerrero is the child of Mexican immigrants who said he often found he was the only person of color in the room when investment deals north of six figures were being made. He said he was inspired by the George Floyd protests and the push the industry to recognize long-standing inequities.

Finalists
Candace Walker, Co-Founder of Just US app: Created a hands-free voice control app that notifies your designated contacts when you've been stopped by police.
Derek Smith, Founder of Plug-In South LA: Created a tech startup community and accelerator program for entrepreneurs from under-represented backgrounds; produced the Urban Tech Connect conference.
Lolita Taub, Co-Founder and GP at The Community Fund: First-generation Latinx operator and investor that launched a $5 million early-stage fund to invest in community-driven companies.
Miki Reynolds, Executive Director, Grid110: Leads a no-equity, LA-based accelerator for underrepresented founders
Rising Entrepreneur: Morgan DeBaun
Morgan DeBaun is the founder and CEO of Blavity Inc., a leading news company and media brand for Black millennials and Gen Z. The outlet has been a leading voice for diversity. She launched Blavity in 2014; it now reaches over 30 million millennials a month.
Finalists
Cristina de la Peña, CEO & founder of Synapbox
Jessica Nouhavandi, co-CEO of Honeybee Health
Ksenia Yudina, CEO of UNest
Robert Luo, CEO & founder of Mi Terro
Rising Startup: Openpath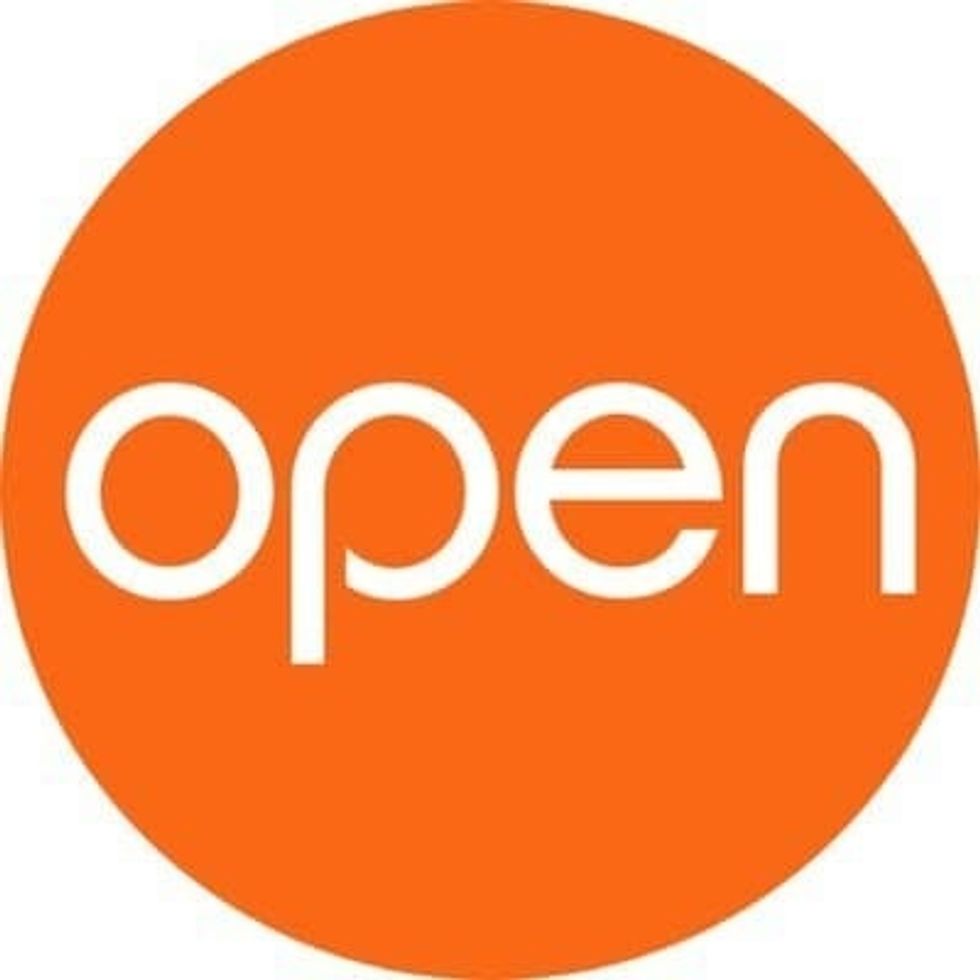 The property-tech firm provides s touchless-entry activated by one's mobile device to doors, gates, elevators and lobby check-ins.
James Segil and Alex Kazerani co-founded Openpath in 2016 along with Chief Technology Officer Rob Peters, Chief Security Officer Samy Kamkar, and Chief Revenue Officer Phil Goldsmith.

The company recently raised $35 million and has seen their value proposition become all the more useful in the post-pandemic era.
"I'm incredibly honored and humbled to be here amongst so many great entrepreneurs and great companies here in L.A.," Kazerani said. "On behalf of about 450,000 Openpath users and our entire team, we really want to thank dot.la"
Finalists
Pipe: A platform that offers non-dilutive financing to SaaS companies through an instant cash advance against the full annual value of software subscriptions.
PlayVS: Connects online games with official school administration and branding, elevating Esports from hobby to school-sponsored activity.
Outer: A direct to consumer outdoor furniture brand.
Wave: An entertainment technology company that turns performers into digital avatars and puts them on virtual stages.
Entrepreneur of the Year: Shivani Siroya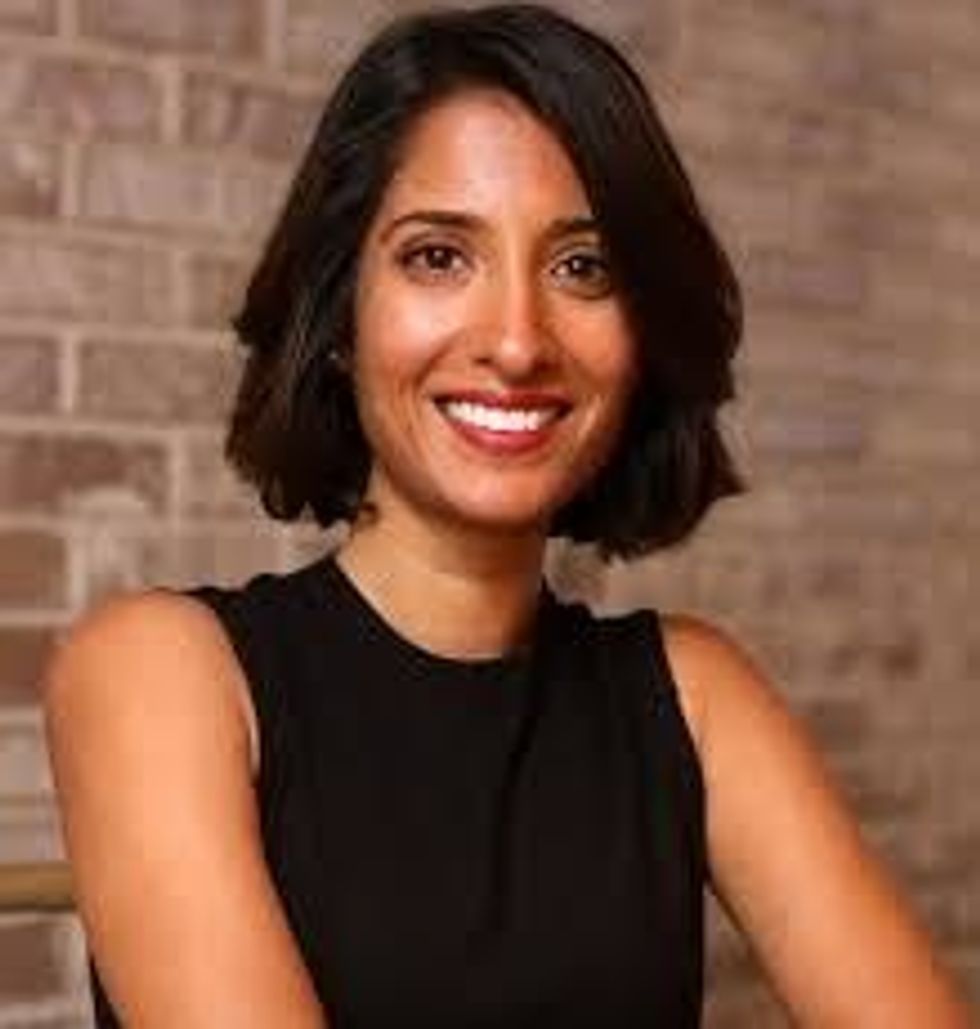 Shivani Siroya is the CEO and founder at Tala, a fintech company that offers microloans to people that often don't have a formal credit history. The company has extended $1 billion in microloans to 4 million customers in emerging markets and was last valued at $700 million. Siroya has been named one of Forbes' "40 under 40."
Finalists
Alex Canter, CEO and co-founder of software company Ordermark
Andrew Peterson, CEO and co-founder of Signal Sciences
Doug Hirsch and Trevor Bezdek, co-founders and co-CEOs of GoodRx
Imran Khan, fo-founder and CEO of Verishop
Startup of the Year: GoodRx

The prescription-discount app GoodRx became one of the first Los Angeles tech companies to go public this year.
Co-founded by former Facebook executive Doug Hirsch and Trevor Bezdek, the Santa Monica company makes money by collecting fees from pharmacy benefits managers.
GoodRx is the most downloaded medical app in the United States and boasts 70,000 pharmacies on its platform. It's also profitable. The company earned $54 million in profit for the first six months ending in June, up from $31 million over the same time last year.
The company expanded into telehealth with the purchase of Heydoctor in 2019.
Finalists
GOAT: Fast-growing global luxury shoe and apparel retailer.
Headspace: A meditation app that recently raised $100 million in debt and equity.
Scopely: A mobile video game company that acquired FoxNextGames from Disney in January.
TikTok: The video-sharing platform was the top grossing app on iOS App Store globally in Q2 2020.
Rachel Uranga
Rachel Uranga is dot.LA's Managing Editor, News. She is a former Mexico-based market correspondent at Reuters and has worked for several Southern California news outlets, including the Los Angeles Business Journal and the Los Angeles Daily News. She has covered everything from IPOs to immigration. Uranga is a graduate of the Columbia School of Journalism and California State University Northridge. A Los Angeles native, she lives with her husband, son and their felines.
https://twitter.com/racheluranga
rachel@dot.la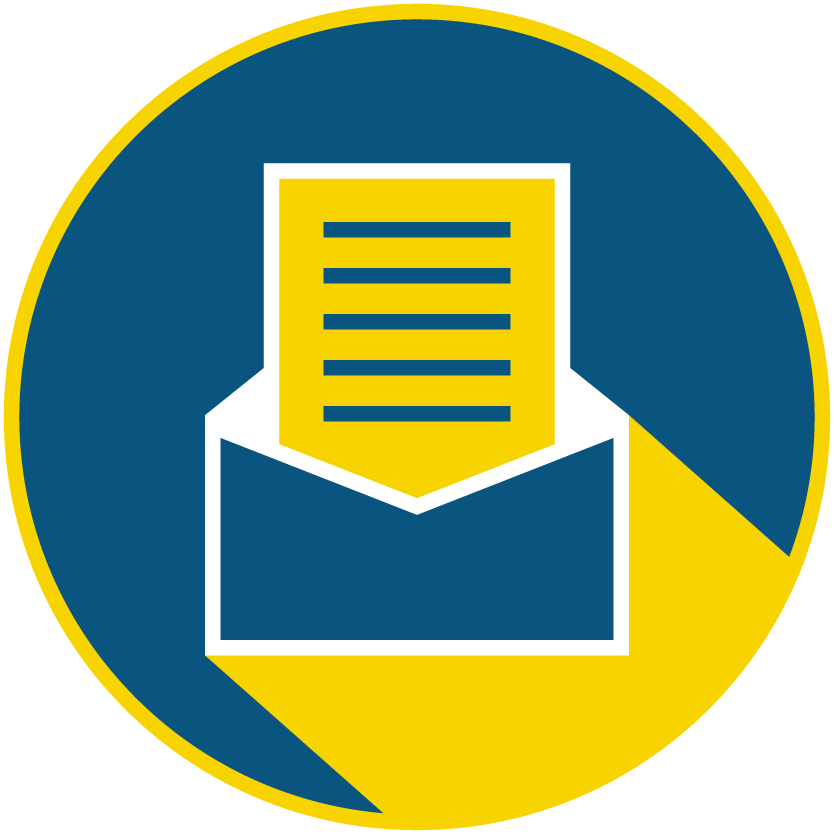 Subscribe to our newsletter to catch every headline.
Christian Hetrick
Christian Hetrick is dot.LA's Entertainment Tech Reporter. He was formerly a business reporter for the Philadelphia Inquirer and reported on New Jersey politics for the Observer and the Press of Atlantic City.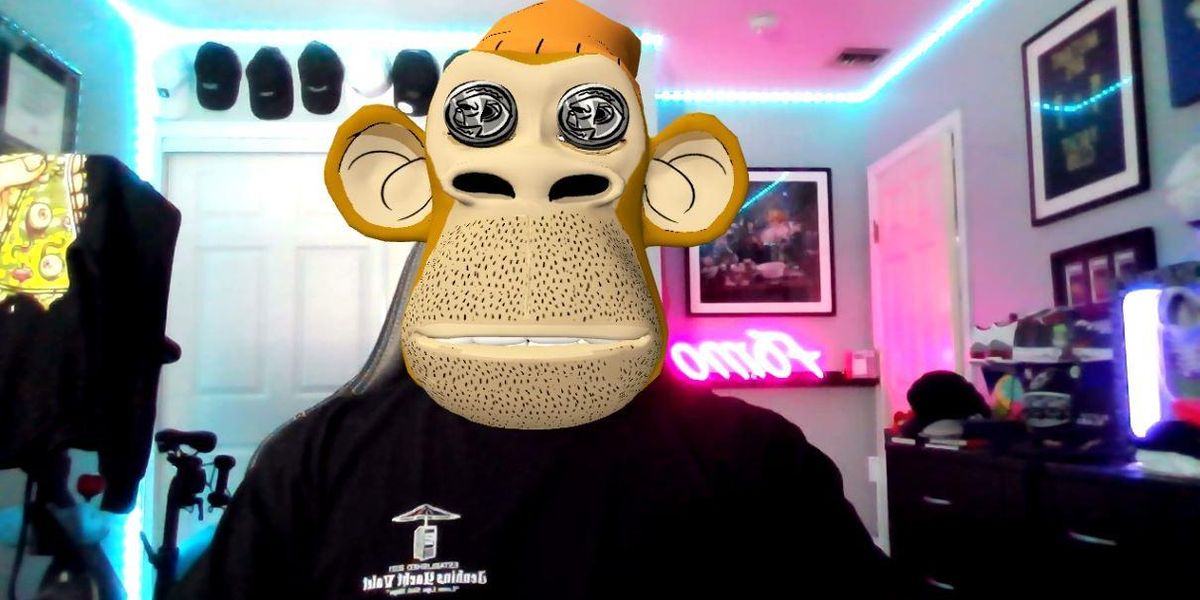 Photo courtesy of Gene Nubla
On a Zoom call last week, Gene Nubla was explaining the name and origin story he gave "Nicky Nickels," his Bored Ape NFT who will be a character in a forthcoming novel.
Nubla's Bored Ape Yacht Club #6717 wears a leather vest and orange beanie hat, but the cartoon ape's most distinctive feature is the silver coins covering his eyes. The 39-year-old Nubla, who works as associate vice president for a flower delivery service, imagined his Bored Ape as a member of a biker gang called the "Apes of Anarchy" who died during a botched cargo heist. Loved ones sometimes place silver dollars over the eyes of the dead during funerals, but Nicky's family used plain old nickels, Nubla told dot.LA. That somehow barred the ape from properly entering the afterlife, rendering him undead.
It may not be the best ghost story to come out of Los Angeles, but Nicky will soon haunt the pages of a book written by bestselling author Neil Strauss, who has penned autobiographies for the likes of Marilyn Manson and Jenna Jameson. Nubla has licensed Nicky to an NFT storytelling project called Jenkins the Valet, which is backed by Creative Artists Agency and will see Strauss cobble together stories from various Bored Ape holders.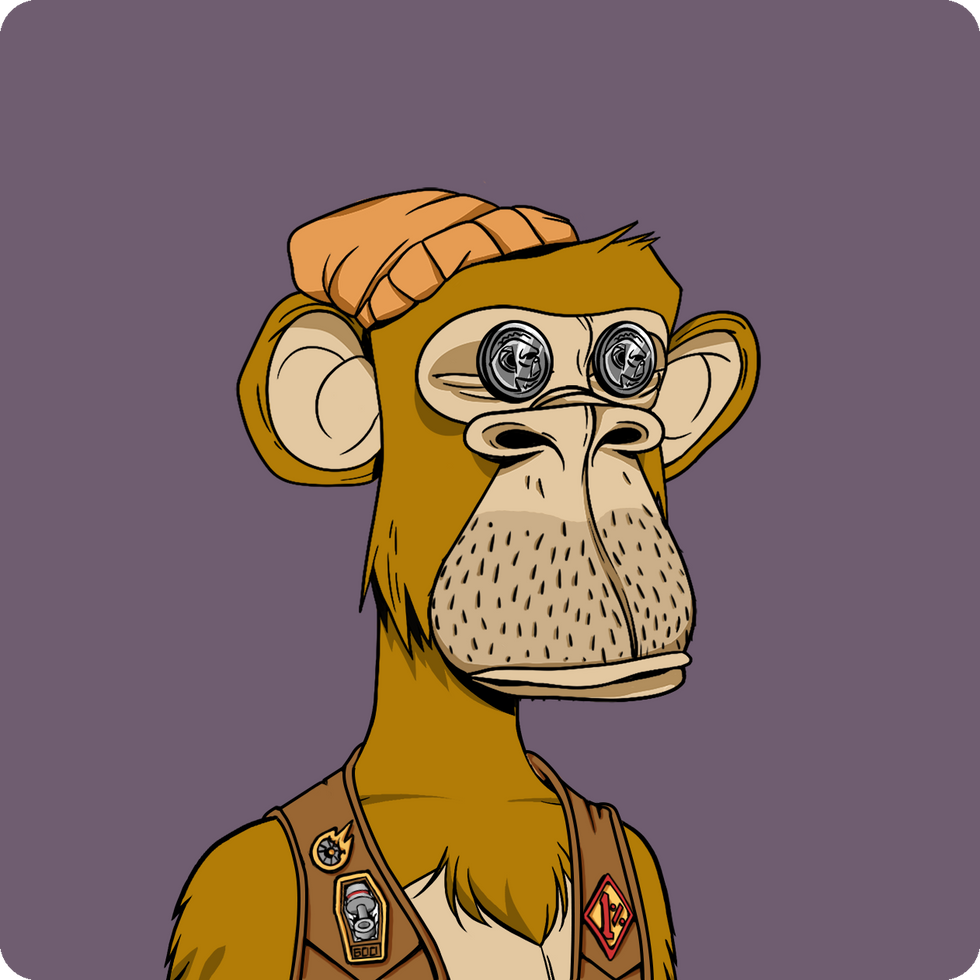 Nubla's Bored Ape Yacht Club #6717, which he affectionately named "Nicky Nickels."
Photo courtesy of Gene Nubla
"This goes into the philosophy of Web3—like, I can participate as an owner now," said Nubla. "I'm in the door now, versus on the outside looking in and just watching the movies [and] paying the ticket."
These days, there are scores of artists, startups and entertainment companies—as well as ordinary NFT holders—who are parlaying non-fungible tokens into commercialized intellectual property. Santa Monica-based Universal Music Group, one of the world's largest record labels, has created a "metaverse group" consisting of four Bored Apes who ostensibly make music, while crypto exchange Coinbase is using Bored Apes as characters for a film trilogy. Talent agencies like WME and United Talent Agency, meanwhile, have added Bored Apes and other NFT characters to their client rosters.
These creative works are possible because blockchain firms like Yuga Labs, the company behind Bored Ape Yacht Club, have attached broad commercialization rights to NFTs, which are unique digital assets verified using blockchain technology. Granting those rights could boost the value of NFT collections by making them more culturally relevant, according to experts, though it remains to be seen whether such projects can appeal to audiences beyond NFT adopters.

A lot of legal questions remain, too, as actor and producer Seth Green just learned the hard way. Green is developing a hybrid live-action/animated comedy called "White Horse Tavern," in which the creator's own Bored Ape—whom Green affectionately named "Fred"—comes to life as a friendly neighborhood bartender. The project was almost sabotaged last month when a scammer duped Green in an online phishing scheme—stealing four of his NFTs, including Fred. Since Bored Ape NFTs come with a license to commercialize the art, Green may have momentarily lost the rights to produce the show (Fred has since returned home safely). The drama turned Green into a poster child for how sketchy the world of NFTs can still be—the "Wild West" of digital assets, as some observers have put it.
Ready for Primetime?
Jeremy Goldman, a Los Angeles attorney who leads the blockchain group at law firm Frankfurt Kurnit Klein & Selz, credits companies like Yuga Labs for generating immense value for their NFT collections. The problem, as he sees it, are the collections' relatively brief terms and conditions that don't spell out what happens in certain situations, like when an NFT is stolen. That has the risk of killing projects and productions if investors or distributors are uncertain of the consequences.
"All of these NFT projects, including Bored Ape Yacht Club, are highly experimental and in some ways were never meant for primetime," Goldman told dot.LA. "A lot of questions about the license are sort of unanswered."
That hasn't stopped some entertainment tech firms from sticking NFT avatars in their stories. L.A.-based Invisible Universe is developing an animated parody called "The R3al Metaverse," which will include characters from five NFT collections. (Disclosure: dot.LA co-founder and executive chairman Spencer Rascoff is an investor in Invisible Universe).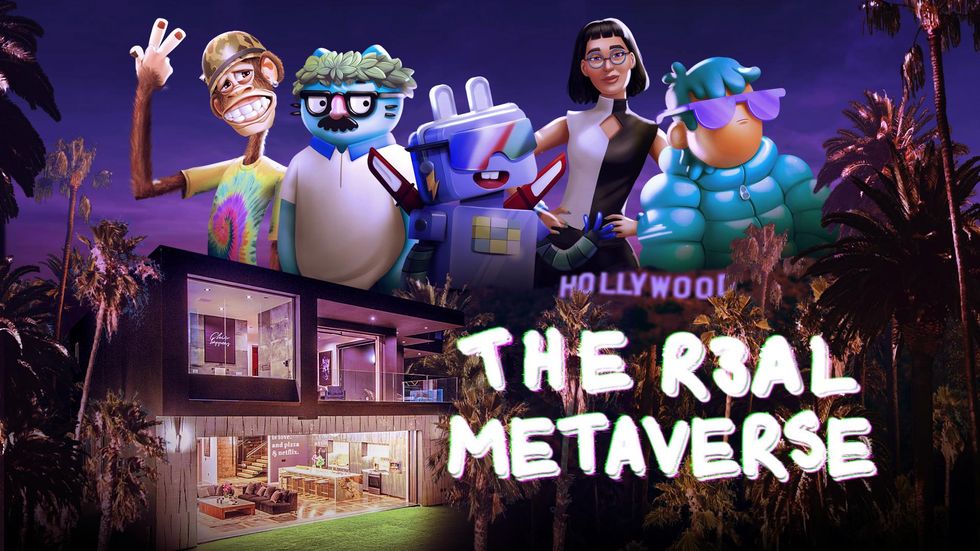 Promotional art for the "The R3al Metaverse."Photo courtesy of Invisible Universe
The startup bought three NFTs and secured licenses for two more that fit well with the story, CEO Tricia Biggio told dot.LA. Just to be sure, Invisible Universe approached the creators behind the NFT projects, as well. While those organizations had varying views on using the IP, they all saw the value of Invisible Universe's project, she noted.
"It was funny—some of them would be like, 'Well, you actually don't have to run it by us,'" Biggio said.
In "The R3al Metaverse," NFTs who live in the digital world come over to the real one after they're cast in a reality TV show and move in together. The parody pokes fun at the debate around the value of NFTs, as well: In one episode, the characters stare at a painting and are confused by its lack of "real-world application" besides being a wall decoration. ("Like zero utility," one observes, according to a storyboard of the scene.) Invisible Universe will release around 40 episodes of the program on social media platforms starting in late July, with each episode running between 45 and 90 seconds.
Who will watch a show about NFTs—which, for all of their recent hype, are still owned by just a tiny fraction of the population? Biggio said that the audience for "The R3al Metaverse" will primarily be holders of its featured NFT communities: Bored Ape Yacht Club, Cool Cats, Doodles, World of Women and Robotos, which collectively have roughly 50,000 tokens in circulation. That said, Biggio believes the show can build an audience outside the not-yet-mainstream NFT market and, in turn, boost the value of those collections.
"Because we aren't gating the content, we have a unique opportunity to onroad people into the Web3 space who enjoy the content, fall in love with the characters and want to be a part of the collaborative storytelling experience," Biggio said.
'A Unique Opportunity To Create Wealth'
At their most basic level, NFTs—like artwork at large—generate much of their value from their scarcity and cultural relevance. Yet companies like Yuga Labs have popularized the idea of giving NFT holders commercial rights as well, allowing Bored Ape holders to put their ape's face on a t-shirt or other merchandise and sell it. That not only makes the NFT itself more lucrative, but may well make the entire collection more valuable as Bored Apes are plastered on storefronts or featured in films.
"By giving broad IP rights—either making them public domain or granting commercial rights to holders—you're increasing the chances, potentially, that these items are going to get out there and go viral and become culturally relevant, and therefore sought after," said Goldman, the attorney.
Bill Starkov, a real estate developer who lives near Calabasas, "right by the Kardashians," in his words, is the founder of another primate-inspired NFT project, Apocalyptic Apes. (The collection's zombified primates look like scarier versions of Bored Apes.) Starkov said his team gave NFT holders the right to do "whatever you want" with the artwork—so long as they don't use the Apocalyptic Apes brand name. "We have to make sure they use it properly enough and it's used to promote our project and our brand in a good way," he explained.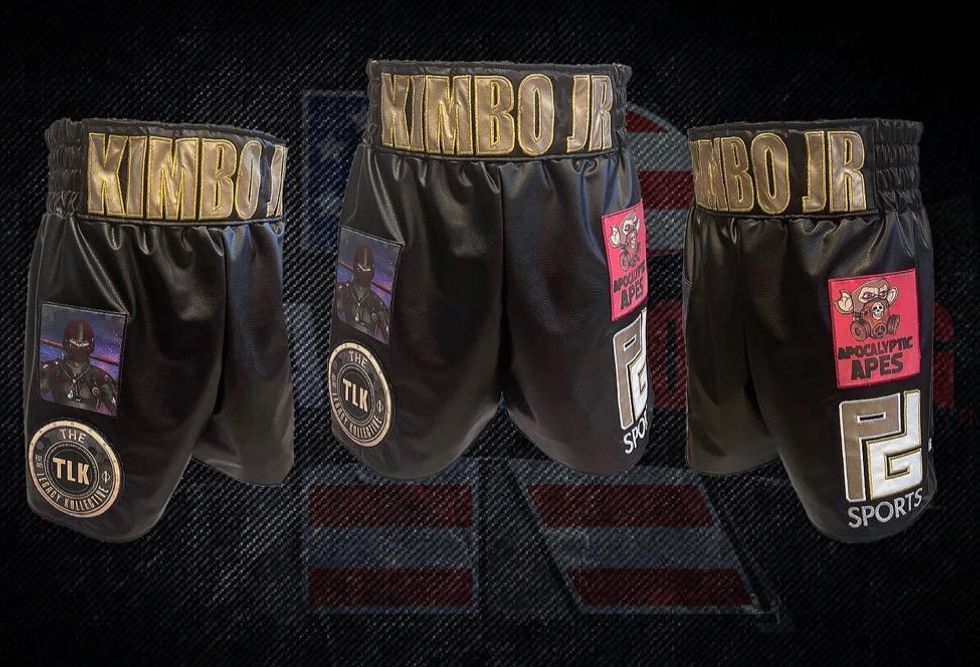 Apocalyptic Apes have been featured on the shorts of mixed martial arts fighters. Photo courtesy of Bill Starkov
Apocalyptic Ape holders have placed their simians on hot sauce bottles, exercise equipment and sunglasses, he noted, while on the entertainment side, a car-racing game, comic books and movies depicting the apes are all in the works, too. Starkov, who goes by Fity.Eth online, has also partnered with Nicky Diamonds, the owner of clothing company Diamond Supply, on licensing deals with Ape holders to create merchandise. Those deals are generating tens of thousands of dollars for ape holders who collaborated with Diamond, he said.
"One thing that people are sleeping on is the understanding of IP rights," Starkov said of some people in the NFT community. "They think it's a quick flip, but it's not. It's something long-term. It's something that's here to stay. It's a unique opportunity to create wealth."
Nubla is among the NFT holders who have taken advantage of those IP rights. Speaking through an augmented reality filter on his computer that made him look like Nicky Nickels, Nubla said he's earned some cash by allowing artists to make works based on his Bored Ape, including one artist who sells lapel pins bearing NFT art. A street painting of Nicky also adorns the side of a brick building in Brooklyn—part of a mural by the graffiti artist Masnah, who was paid for his work by NFT holders.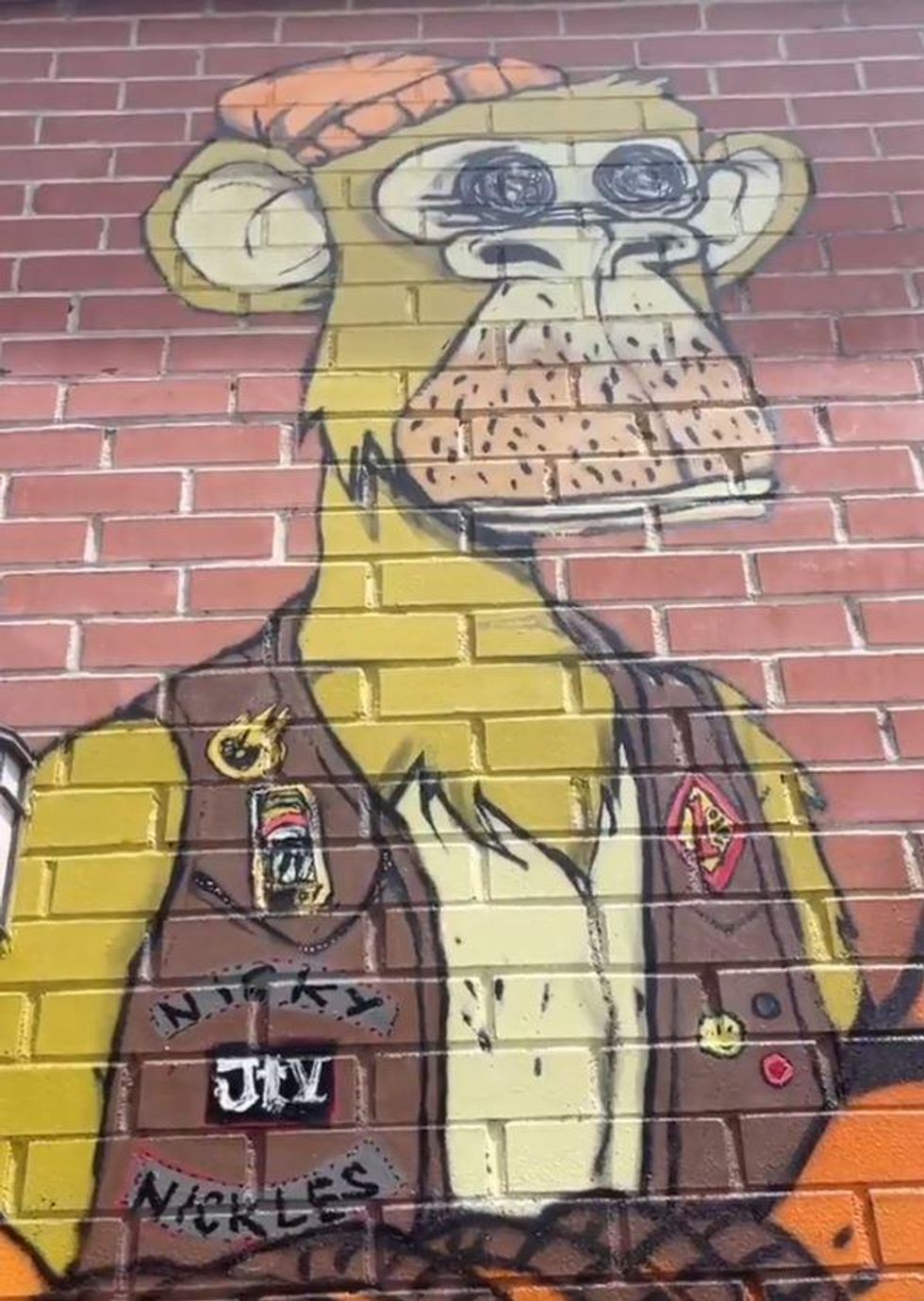 "Nicky Nickels" was featured in a Brooklyn street painting. Photo courtesy of Gene Nubla
When the Florida-based startup Tally Labs launched the Jenkins the Valet project last June, Nubla was one of the 69 lucky people to randomly mint a rare "Yacht" NFT. That allowed him to license his Bored Ape as a character in Strauss' novel and receive a share of the book's royalties. Nubla debated selling the Yacht NFT as its value reached six figures, but ultimately decided to keep it and build out Nicky's IP "just to see where it goes."
Nubla does see some risk in NFT collections decentralizing their IP; he noted that there isn't much stopping another Bored Ape holder from using their NFT to promote ideas or views that others may disagree with or find offensive. But like a lot of people involved in the space, he's enamored with the idea of Web3—a decentralized vision for the internet that runs on blockchain-powered applications.
"It'd be nice to be able to benefit off the royalties of anything that comes off this," Nubla said of the Strauss novel, which is coming out this summer. "But I'm doing it mainly just for the vibes."
Christian Hetrick
Christian Hetrick is dot.LA's Entertainment Tech Reporter. He was formerly a business reporter for the Philadelphia Inquirer and reported on New Jersey politics for the Observer and the Press of Atlantic City.
Keerthi Vedantam
Keerthi Vedantam is a bioscience reporter at dot.LA. She cut her teeth covering everything from cloud computing to 5G in San Francisco and Seattle. Before she covered tech, Keerthi reported on tribal lands and congressional policy in Washington, D.C. Connect with her on Twitter, Clubhouse (@keerthivedantam) or Signal at 408-470-0776.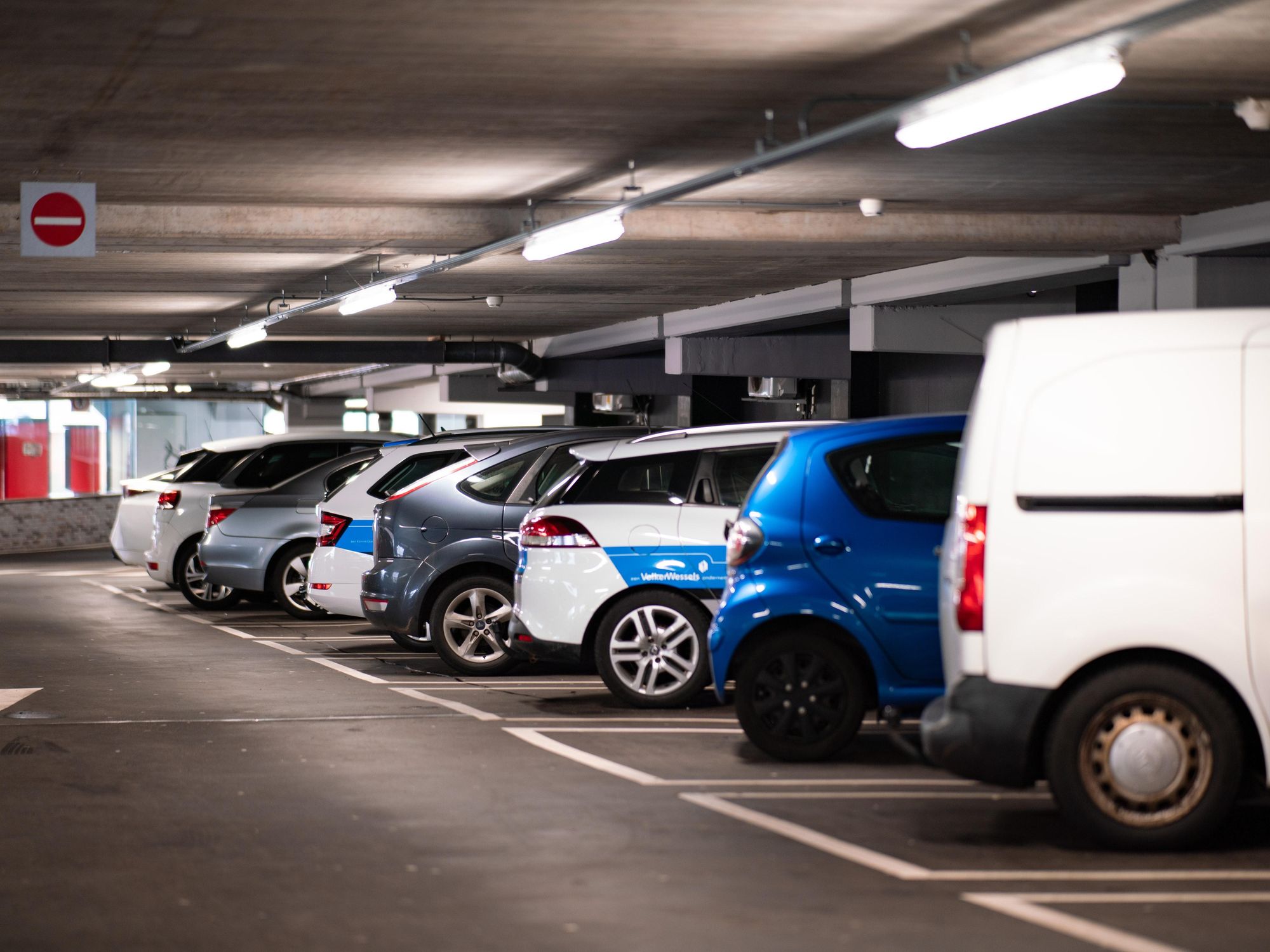 In Alex Israel's utopia, you may never have to take out your credit card again.
Israel is the co-founder and CEO of Metropolis Technologies, a Los Angeles-based fintech and "mobility commerce" platform that has just raised $167 million in Series B funding, it announced on Wednesday. The round was co-led by L.A.-based growth equity firm 3L Capital and mobility-focused Assembly Ventures, with participation from Dragoneer Investment Group, Eldridge Industries, Silver Lake Waterman and UP Partners.
Metropolis, which has now raised $226 million in total funding, aims to take the grab-and-go model of Amazon's physical retail locations and apply it to every parking garage, gas station, car wash and highway toll booth possible. Instead of paying for parking spaces at kiosks or having to deal with parking validation, the startup uses computer vision technology that connects users' license plate numbers to their credit cards and automatically charges them.
"When you or I make a transaction on the phone or we buy something online, it's a modern experience—it's something we're very used to," Israel told dot.LA. "When you get into the built environment, it gets convoluted and complex. We're simplifying and bringing all that seamless experience you expect in an online environment into real life."
Though it was founded at the tail-end of 2017, Metropolis really began to take off during the pandemic as business owners embraced contactless payments. The startup says it has grown its user base 28 times over, to 1.8 million users, since February 2021 and now operates in more than 600 parking lots in over 60 cities across the U.S.
Israel noted that partnerships with real estate landlords have helped fuel that growth. Metropolis has also teamed with ride-sharing giant Uber on a new venture called Uber Park, which provides users with a checkout-free parking experience at specific garages via their Uber app. The company charges a monthly software-as-a-service fee to asset owners who deploy its technology, as well as a service fee to customers who sign up.
Israel added that the data Metropolis collects on parking activity can be leveraged to help users find parking spaces faster—a potentially valuable service in a car-centric city like L.A., where the amount of real estate dedicated to parking is larger than Manhattan. The rest of the U.S., where there are four parking spaces for every car on the road, is no exception, and Metropolis plans to use its new funding to scale up in markets like Seattle, Dallas-Fort Worth and New York.
"We're creating a single sign-on for the built environment," Israel said.
From Your Site Articles
Related Articles Around the Web
Keerthi Vedantam
Keerthi Vedantam is a bioscience reporter at dot.LA. She cut her teeth covering everything from cloud computing to 5G in San Francisco and Seattle. Before she covered tech, Keerthi reported on tribal lands and congressional policy in Washington, D.C. Connect with her on Twitter, Clubhouse (@keerthivedantam) or Signal at 408-470-0776.
https://twitter.com/KeerthiVedantam
keerthi@dot.la
Samson Amore
Samson Amore is a reporter for dot.LA. He previously covered technology and entertainment for TheWrap and reported on the SoCal startup scene for the Los Angeles Business Journal. Send tips or pitches to samsonamore@dot.la and find him on Twitter at @Samsonamore. Pronouns: he/him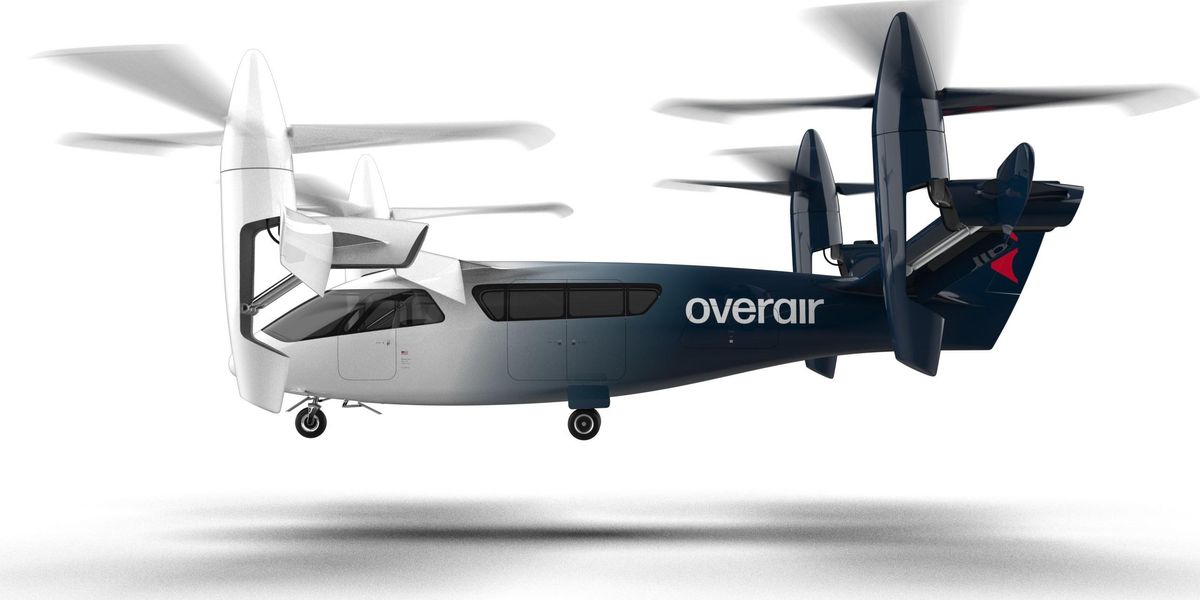 Image courtesy of Overair
Santa Ana-based aircraft startup Overair has raised $145 million to develop and fly its flagship vehicle, a prototype electric airplane called Butterfly, by the second half of next year.
The investment was led by South Korean conglomerate Hanwha Group, which holds a 30% stake in Overair and has now poured a total of $170 million into the startup, according to TechCrunch. The funds specifically came from two of the conglomerate's divisions, Hanwha Aerospace and Hanwha Systems, Overair said in a press release Tuesday.
Butterfly is part of a class of electric aircraft, known as eVTOL, that are capable of vertically taking off and landing and do not require a runway. Such aircraft require less space to operate and produce fewer or no carbon emissions, and have increasingly been floated for potential use as air taxis and for regional flights.
With the help of electric motors and battery packs provided by Hanwha, Overair said the six-seater Butterfly prototype should be ready to take flight by the second half of 2023. The startup was spun off in 2020 from Lake Forest-based, military-focused aerospace manufacturer Karem Aircraft.
"Our technology was meant to drop Navy SEALs into hot zones, and we're going to use it for urban air mobility (UAM) so that you and I can go to a Rams game from Orange County," Overair head of business development Josh Aronoff told TechCrunch.
Samson Amore
Samson Amore is a reporter for dot.LA. He previously covered technology and entertainment for TheWrap and reported on the SoCal startup scene for the Los Angeles Business Journal. Send tips or pitches to samsonamore@dot.la and find him on Twitter at @Samsonamore. Pronouns: he/him