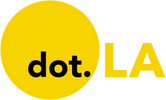 Get in the KNOW
on LA Startups & Tech
X
Sam Blake
Sam primarily covers entertainment and media for dot.LA. Previously he was Marjorie Deane Fellow at The Economist, where he wrote for the business and finance sections of the print edition. He has also worked at the XPRIZE Foundation, U.S. Government Accountability Office, KCRW, and MLB Advanced Media (now Disney Streaming Services). He holds an MBA from UCLA Anderson, an MPP from UCLA Luskin and a BA in History from University of Michigan. Email him at samblake@dot.LA and find him on Twitter @hisamblake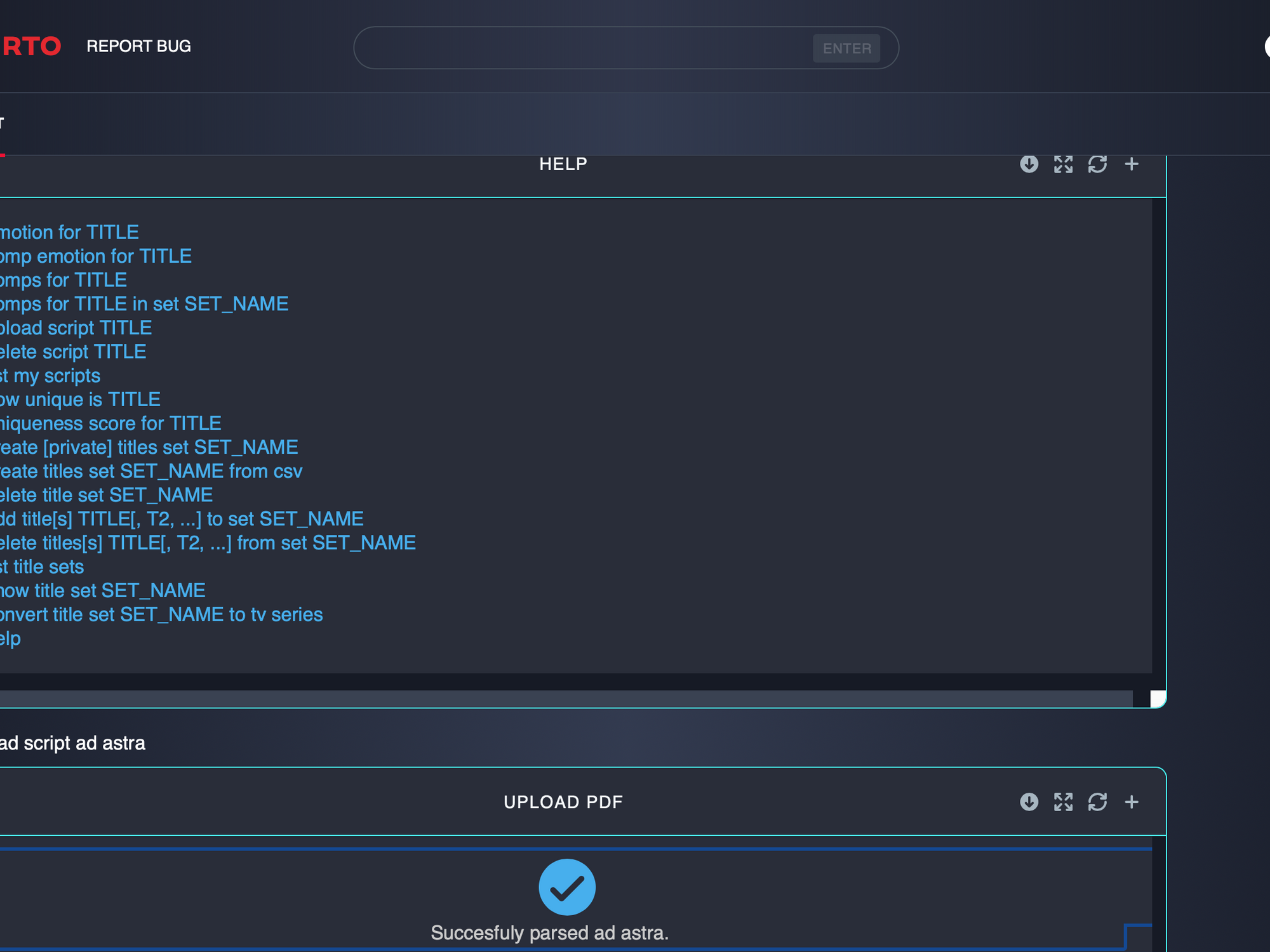 Having watched his reputation flourish upon a foundation of self-spun fabrications, then crumble into a heap of infamy that led him to change his name, Yves Bergquist knows a thing or two about stories.

As detailed in a November 2019 story in The Hollywood Reporter, Bergquist, who leads artificial intelligence (AI) projects at USC's Entertainment Technology Center (ETC), was formerly a national security analyst and ABC News consultant named Alexis Debat. Once his lies were exposed, he left Washington D.C. in 2007, shrouded in shame.
---
Now, Bergquist is set to go public with Corto, his previously stealth-mode startup that uses AI to help storytellers in the entertainment industry better understand their content, their operations, and their audiences. Since 2016, Corto has worked symbiotically with the ETC, a think tank founded in 1993 by Star Wars creator George Lucas to support cooperative technological advancement in Hollywood.
As the THR story conveyed, Bergquist seems genuinely contrite. He has embraced working extra hard to overcome his tarnished past and salvage his integrity.
"This is a very sensitive thing for me," he told dot.LA. "Twelve years later it's still haunting."
With the coronavirus indefinitely shutting down production and threatening to erode disposable incomes, Bergquist's comeback may be just in time to help Tinseltown recover from a looming downfall of its own.

Introducing Corto
Even in normal times, says Bergquist, Hollywood faces challenges. With front-loaded costs and lengthy investment timelines, it's an inherently risky industry. And Hollywood's customers have unique expertise in the products they consume.
"Cars and yogurt don't deal with car and yogurt experts," he said. "Media sells to customers who are extremely experienced and knowledgeable about the product of media."
Taking a page out of philosopher Yuval Noah Harari's book, Bergquist waxes poetic on the idea that religion, nationality, and modern economies all rely on collective buy-in to stories.
"They're the most important objects in human civilization," he said. "They're the reason we have a society."
Put that way, it's no wonder that people crave stories; and that many seek to profit from satisfying that craving. Indeed, as technology has progressed, the variety and volume of content platforms and stories at our fingertips has exploded.
Where Corto comes in, is to help storytellers–and story sellers–meet that demand and stand out against that competition.
The end goal, according to Bergquist: "Better understand what resonates with whom, and why."
Modern medicine offers a useful analogy. Previously, Bergquist explains, doctors made diagnoses with little information.
"Say you (were to) walk into my office. You seem to have a fever, your tongue is white. Those generally are associated with cold or bronchitis. So there's your diagnosis."
Compare that to modern healthcare, which empowers physicians to collect far more sophisticated and useful information. And soon enough, pundits forecast a new era of medicine, where tech-enabled lifestyle data merge with a patient's medical history, genetics, and more to provide the granular insights needed for personalized healthcare.
"It's the same thing for entertainment," said Bergquist.
So how does Corto aspire to bring about a new era of stories?
The What: Content Genomics
Essential to Corto is its database of stories that it has thoroughly analyzed using several AI techniques. Like a submarine, Corto probes the depths of a story at a level and speed that a human brain cannot, and extracts the extent to which the story contains certain features, including dozens of "emotional tonalities" like melancholy, power, and generosity. Soon, Bergquist says, Corto will be able to extract additional deep features, like those related to specific characters and the story's structure.
For now, Corto's value starts with what it can tell a user about a script that's not in its database.
Bergquist showed dot.LA how it works, using Ad Astra as an example. He expressed that the interface, while functional — and actively used by a "major studio" for the past several months — is in early form, and that the feature set is still just about "5% of the vision."
When a user uploads a script, Corto takes about five seconds to "parse" the document. Then, like a doctor receiving a patient's genetic readout, new doors suddenly open.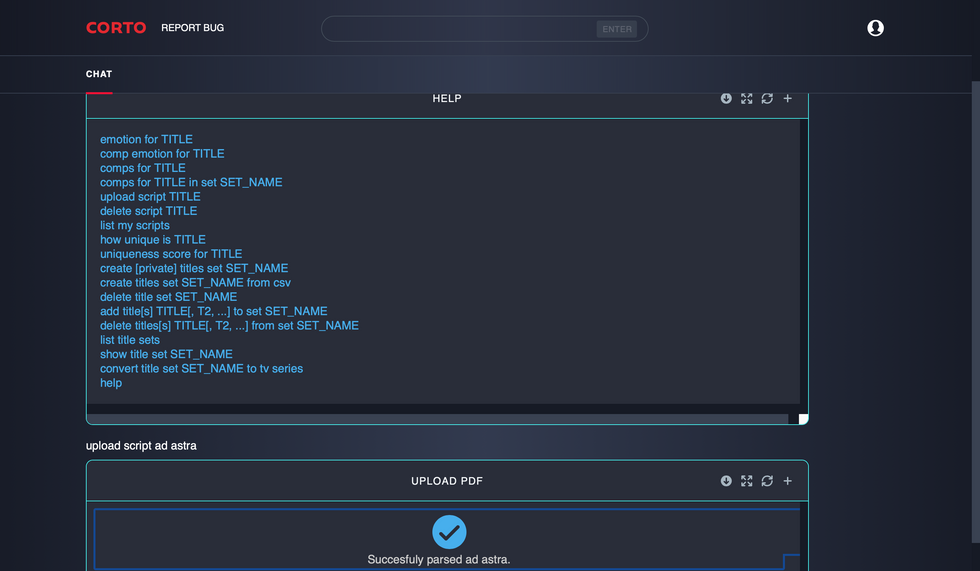 Corto has parsed the script, in this case Ad Astra
Typing "emotion for AD ASTRA" in the command bar brings up a table of dozens of those emotional tonalities, each with a score from 0-100. Anything in the 25-75 range is a weak signal, Bergquist explained, meaning that particular emotion is not especially prominent in the script. Scores below 25 suggest a notable absence of the given emotion, while those above 75 indicate a strong presence.


Corto emotional tonality output
The command "comps for AD ASTRA" yields a list of titles from the Corto database that are similar to the given title based on the deep features that Corto has unearthed. The lower a title's "distance" from another, the more similar they are. "Comp emotion" breaks down these comparisons across each of the dozens of emotional tonalities. Search results can be filtered, such as by type (movie, TV episode, etc.), release year, or country.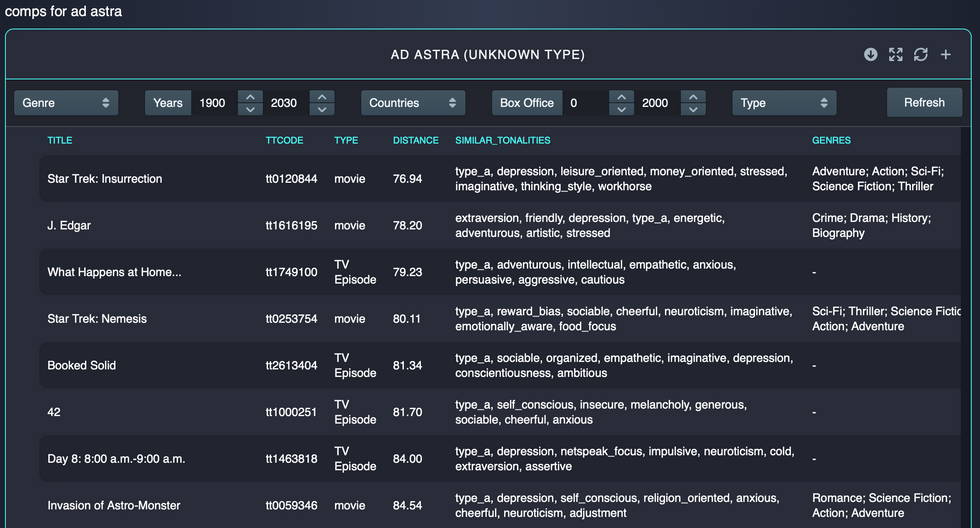 Comps for Ad Astra
Ad Astra comps across emotional tonalities
Importantly, these results can reveal unexpected similarities. The comparable titles that Corto yielded for a test user's spy procedural show, for instance, surprisingly included several Sci-Fi titles, said Bergquist.

"Suddenly," he said, "there's a whole new audience that they could potentially market this to."
In the future — later this year, according to Bergquist — Corto will add visual analysis to its text parsing. On top of exploring a script's depths, it will also be able to extract insights from video.
"We want to create a tool," Bergquist explained, "that essentially understands how specific human emotions or narrative structures are expressed visually and from a sensory perspective."
It would function similarly to what Corto currently does with scripts, except it would turn audiovisual footage, rather than text, into data and insights.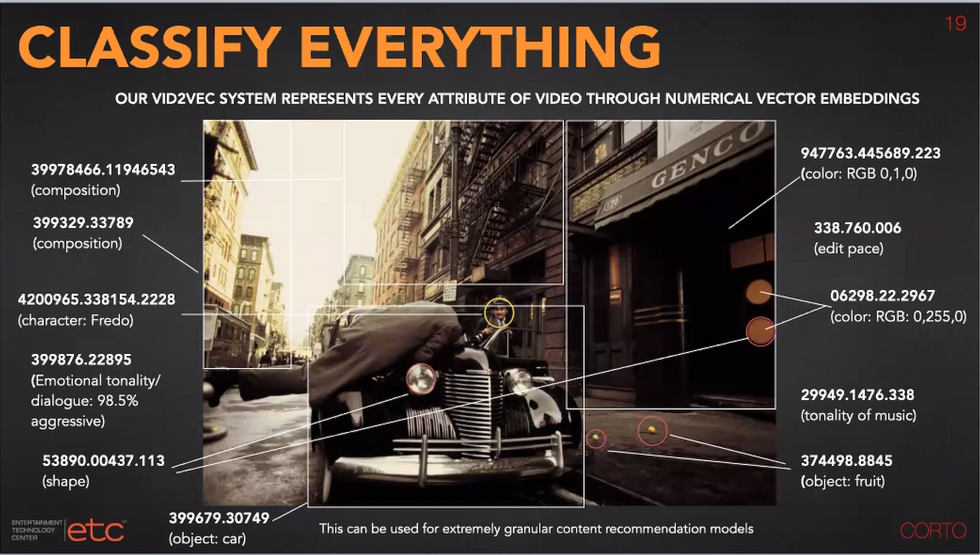 Parsing video footage
Encoding and labeling the various elements of video would also theoretically increase pre- and post-production efficiency. For example, explained Bergquist, a film editor could say, "'Show me all the times when a female character was smoking a cigarette in the rain' — things like that. You cannot search content like that currently."

And the content comparisons this would enable–based on attributes that do not exist in a script–would also help to improve recommendation algorithms, which Bergquist describes as the "big kahuna" for Corto's content analysis.
Whether the purpose is to identify just the right title for someone to watch next, or to successfully execute a finely targeted marketing campaign based on a title's comparables, one needs insight not just about the content, but also the audience.
The Who: Audience Genomics
"It's not just, 'okay, people liked Avengers, so they'll probably like this'," Bergquist said. "It's 'why did they like it? What did they like about it? Who liked which attributes?'"
To find these answers, Bergquist explained, Corto probes the wide world of social media.
By analyzing Tweets, Reddit posts and such that are related to a given title, and using analytical methods similar to those used for the content analysis, Corto "can derive positive or negative sentiment for a title based on attributes like the acting, the cast, the director, visual elements, emotional tonalities, the music, the plot and more."
Using a method called knowledge representation to pair this granular data with broader datasets like census data and voting behavior can provide a detailed picture of who these groups are, and where to find them.
"If you give us a script we'll give you all the zip codes where each narrative domain and/or character will resonate the most," Bergquist said.
What's more, Corto layers in network analysis, so that on top of knowing what resonates with whom, and where they are, it also shows how sentiment travels from one group to another. Particularly useful is the identification of "swayable" communities–those whom Corto believes are not yet fans of a given title, but could be converted. Armed with the knowledge of what titles and attributes have historically resonated with such a group, "these are the communities that you can target as a marketer."
"Since we have content analysis integrated directly with audience analysis," Bergquist summarizes, "we can run your script, get a list of comparables, then immediately give you deep insights on the size and type of audience for your script, directly based on millions of social media conversations across all the places where people talk about media."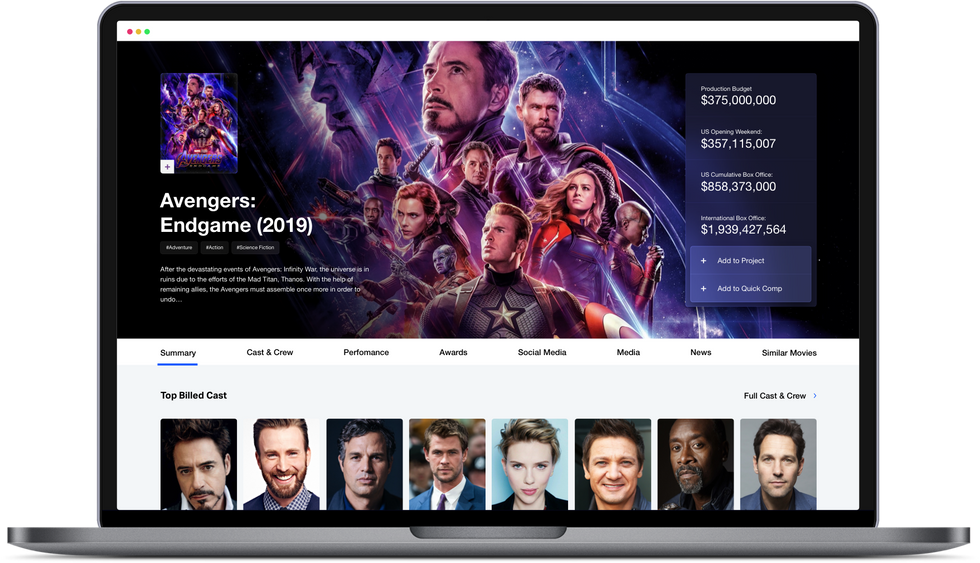 Helping Hollywood
Though Bergquist shared plenty with dot.LA, he showed a practiced guardedness when asked about specific customers and pricing.
"I would love to tell you everything," he said, "but I would get sued into oblivion if this stuff was identified. Working with Hollywood is like working for the CIA."
He did share, however, that two studios have currently licensed Corto, with a third set to sign up soon. He declined to provide pricing information.
Corto is not the only AI-for-storytelling game in town. Cinelytic, also L.A.-based, uses AI for film analytics and project management. The firm, founded in 2013, recently inked a deal with Warner Bros. And StoryFit, which is headquartered in Austin but does most of its business in Los Angeles, has found some success licensing its tools which, like Corto, include elements of natural language processing (NLP) and sentiment analysis to analyze scripts.
"Marketing is frequently our first stop when we're introduced to a studio, because they're used to using data," StoryFit Chief Executive Monica Landers told dot.LA. "But we're really a better fit during development."
This often entails helping creatives avoid what Landers calls "red flags."
"You may want a character to be intelligent," she explains as an example, "but our analysis will show that she's actually speaking less intelligently than other characters. Or we can surface that your script is too flat. Or that the balance of dialogue and action is off."
StoryFit does a variety of projects, ranging from focusing on one script to a broader landscape analysis. Landers says customers include large and mid-size studios, and networks.
"Annual subscriptions range for most studios from $5,000 - $40,000 a month," she said.
"We've taken a radically different approach," claimed Bergquist. "As a result, we're able to output much deeper insights from a much wider dataset."
AI Skepticism
"My feeling about using NLP on scripts, is there's just so many places that can go wrong," said Brian Dolan, who formerly managed NLP analytics as director of research at MySpace and with the CIA, and is now Chief Executive of LA-based AI venture accelerator Verdant.ai.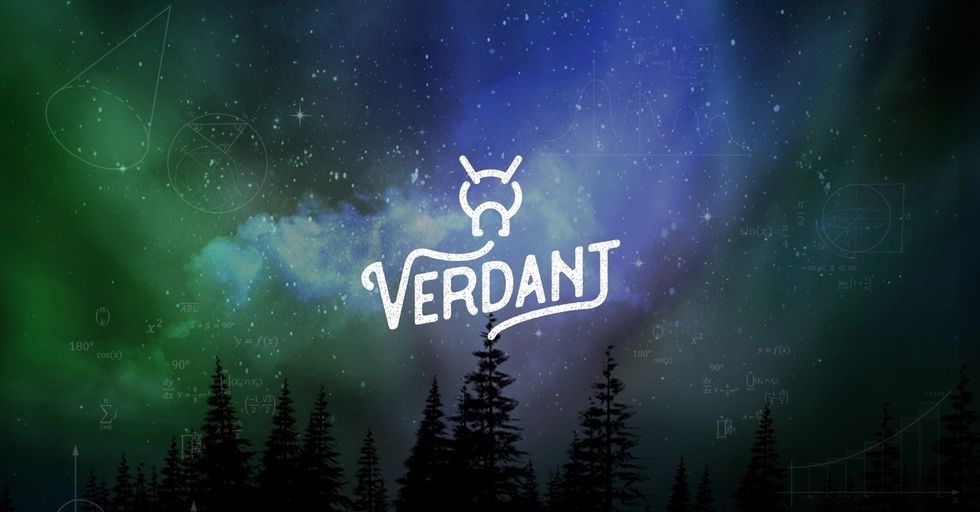 "I'm skeptical it'll hit two marks," he told dot.LA. "I don't think it'll get to the sophistication where it can (predict performance), and more importantly, I'm not sure it can reach a level of sophistication where it can be tested – how do we know where it's making a mistake?"

"That's on top of whether machines should (even) be trying to analyze content," Dolan continued. "Aren't we humans making stories for other humans? Who benefits? The finance department – not the audience."
"Look, this isn't a silver bullet," retorts Bergquist. "And it's going to be a long time until it is. What this is, is a set of powerful tools to give development and marketing executives a lot more context and data than was previously available."
"Tens of billions of dollars are being spent every year making and marketing media content," he wrote. "If we can optimize even 5% of that – and it's likely we could do even more, from what our initial tests tell us – that's an enormous amount of money."
Neither CEO denied that what they are aiming to do is hard. And they both recognize that appealing to the community that will ultimately use these tools is crucial. To that end, each emphasized that what they seek to do is not replace people and processes, but augment them. Bergquist points out that Corto has the advantage of having been developed with a high degree of Hollywood input through ETC members, which include most major studios.

In the future, Bergquist believes Corto can reach the sophistication that's needed to make predictions about a story's bottom line. For now, he is taking it slow.
"The last thing the AI field needs is more buzz."
Knowing full well what can happen when a story gets out of hand, Bergquist appears to be ratcheting up the caution in his personal comeback sequel.
"What bit me in the ass in my last career is I created a story that was false," he reflected.
Time will tell how his story this time around lands with his own target audience.
---
Sam Blake covers entertainment and media for dot.LA. Find him on Twitter @hisamblake and email him at samblake@dot.LA
From Your Site Articles
Related Articles Around the Web
Sam Blake
Sam primarily covers entertainment and media for dot.LA. Previously he was Marjorie Deane Fellow at The Economist, where he wrote for the business and finance sections of the print edition. He has also worked at the XPRIZE Foundation, U.S. Government Accountability Office, KCRW, and MLB Advanced Media (now Disney Streaming Services). He holds an MBA from UCLA Anderson, an MPP from UCLA Luskin and a BA in History from University of Michigan. Email him at samblake@dot.LA and find him on Twitter @hisamblake
https://twitter.com/hisamblake
samblake@dot.la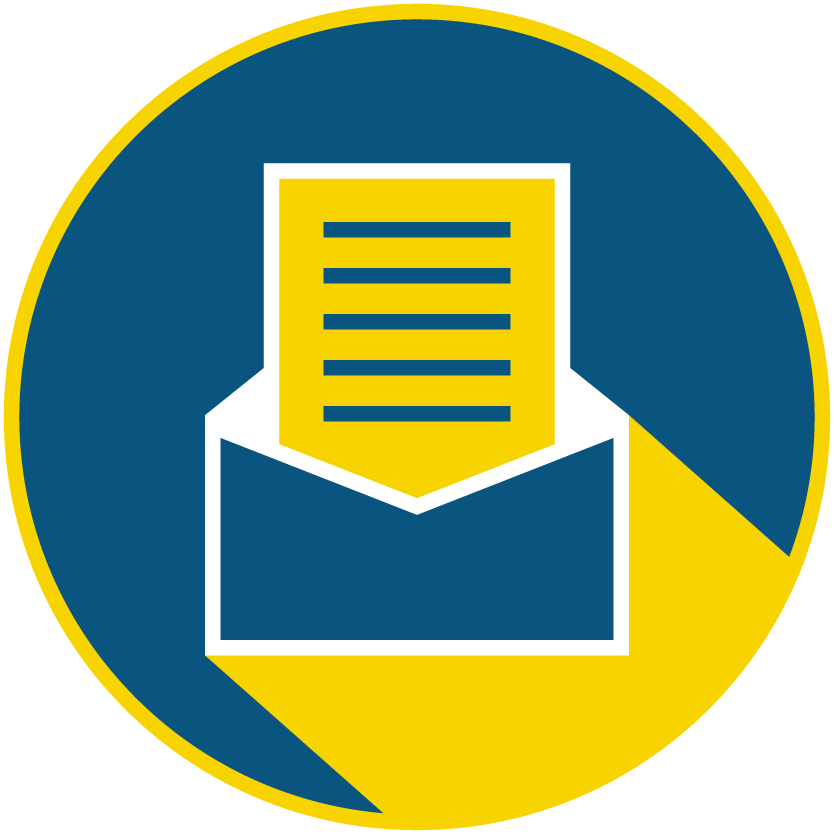 Subscribe to our newsletter to catch every headline.
David Shultz
David Shultz is a freelance writer who lives in Santa Barbara, California. His writing has appeared in The Atlantic, Outside and Nautilus, among other publications.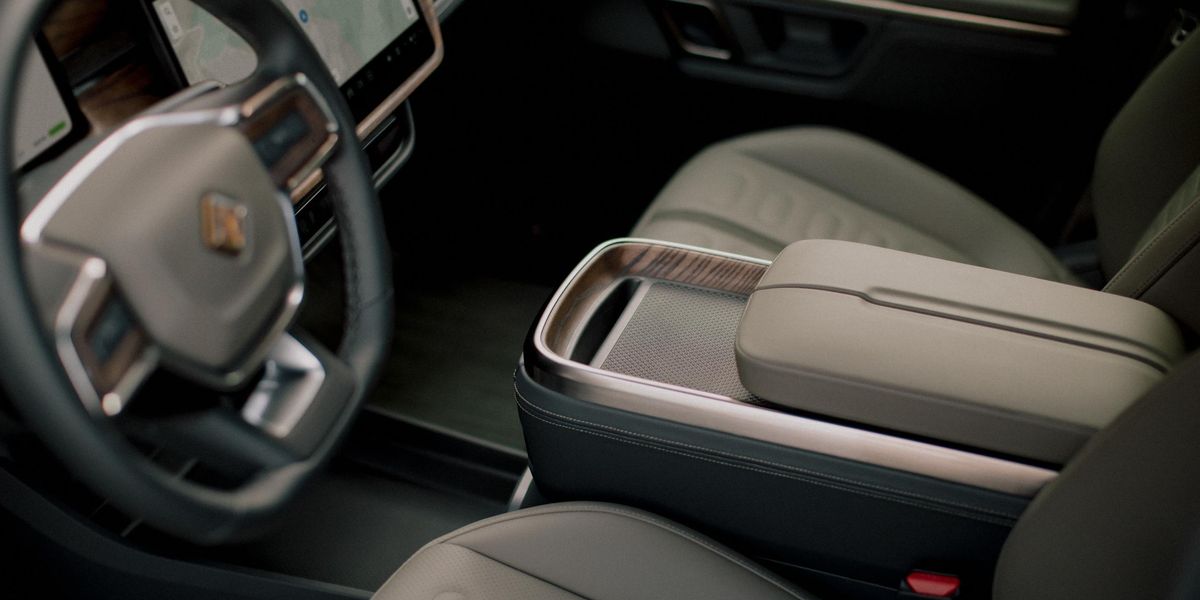 Courtesy of Rivian.
Rivian Automotive has issued a recall for 502 of its R1T electric trucks due to a potential problem with the front passenger airbag sensors. The recall affects vehicles built between Sept. 21, 2021 and April 12, 2022. The issue stems from a problem with the sensors in the seat, which are designed to detect whether a passenger is present and whether to deploy the airbag in the event of a crash.
According to a filing from the National Highway Traffic Safety Administration, Rivian's sensor in the R1T may fail to turn the airbag off when a child or child seat is present on the front passenger side. This could result in airbags deploying and harming the child in a crash. The Irvine-based EV company is reportedly handling the problem by swapping out the defective seats for new ones at service centers. The issue is fully covered under warranty, Rivian says, but until a seat can be swapped, the company recommends keeping children out of the front seat entirely.

Rivian has had a rocky road so far in 2022, with supply chain issues and a massive stock slide causing numerous headaches as the automaker tries to ramp up production. A vaguely positive earnings call last week and good news about a new factory in Georgia suggests that the company may be close to turning the corner. And while annoying, this recall shouldn't be a major problem for the automaker.
From Your Site Articles
Related Articles Around the Web
David Shultz
David Shultz is a freelance writer who lives in Santa Barbara, California. His writing has appeared in The Atlantic, Outside and Nautilus, among other publications.
Keerthi Vedantam
Keerthi Vedantam is a bioscience reporter at dot.LA. She cut her teeth covering everything from cloud computing to 5G in San Francisco and Seattle. Before she covered tech, Keerthi reported on tribal lands and congressional policy in Washington, D.C. Connect with her on Twitter, Clubhouse (@keerthivedantam) or Signal at 408-470-0776.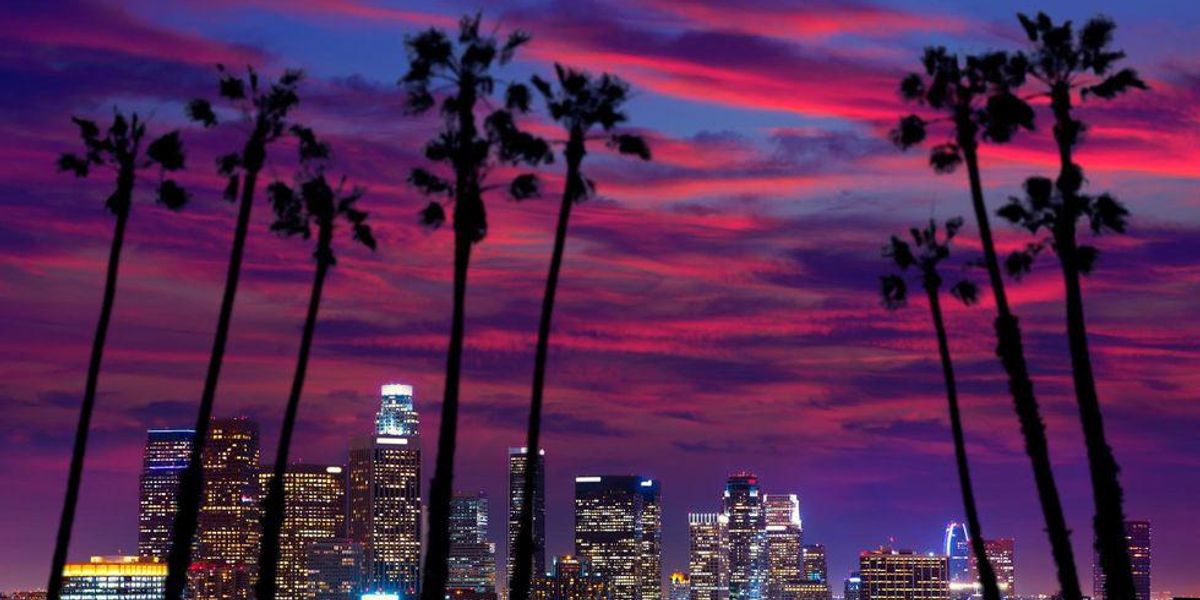 Shutterstock
It looks like venture deals are stagnating in Los Angeles.
That's according to dot.LA's most recent quarterly VC sentiment survey, in which we asked L.A.-based venture capitalists for their take on the current state of the market. This time, roughly 83% of respondents reported that the number of deals they made in L.A. either stayed the same or declined in the first quarter of 2022 (58% said they stayed the same compared to the fourth quarter of 2021, while 25% said they decreased).
That's not hugely surprising given the sluggish dynamics gripping the venture capital world at large these days, due to macroeconomic factors including the ongoing stock market correction, inflation and Russia's invasion of Ukraine. While startups and VC investors haven't been hit as hard as public companies, it looks like the ripple effects are beginning to bleed into the private capital markets.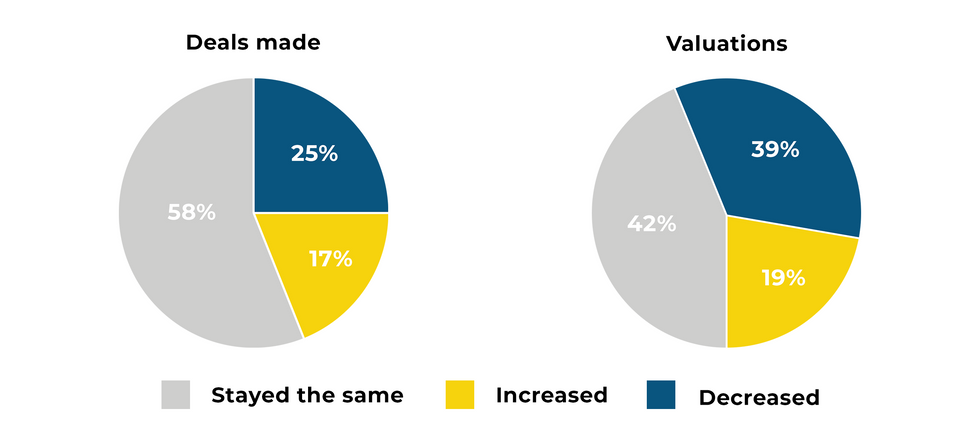 Image courtesy of Hagan Blount
In addition to slowing deal volumes, most investors said they're seeing startup valuations lose momentum, as well: Roughly 81% said valuations either stayed the same or decreased from the previous quarter, with nearly 39% noting a decline.
Should that sentiment continue moving forward, it could spell bad news for startups as far as raising the money they need for growth, investors said.
"If I was a startup right now, I would be making sure I have plenty of runway," said Krisztina 'Z' Holly, a venture partner at Good Growth Capital. "When it looks like there's some potential challenges ahead in the market, it's good to fill your war chest."
Among VC respondents, about 86% said they believed that valuations in the first quarter were too high—one potential reason why deals slowed down in the first quarter, according to TenOneTen Ventures partner Minnie Ingersoll. She noted that L.A.'s growing startup scene features more early-stage ventures, whose valuations haven't come down the way later-stage startup valuations have.
"I would say we are just more cautious about taking meetings where the valuations are at pre-correction levels," Ingersoll said. "We didn't take meetings because their valuations weren't in line with where we thought the market was."
While most respondents said the Russia-Ukraine war didn't have much impact on their investment strategies, some 22% said it did have an effect—with one VC noting they had to pass on a deal in Russia that they liked.
Is There a Flight Out of Los Angeles?
Los Angeles was heralded as the third-largest startup ecosystem in the U.S. at the beginning of the year, behind only San Francisco and New York. Yet nearly one-third (31%) of VC respondents said that at least one of their portfolio companies had left L.A. within the past year. It won't come as a huge surprise that the city of Austin, Texas has been one of the prime beneficiaries of this shift—with roughly half of those who reported that a portfolio company had left L.A. identifying Austin as the destination.

The tech industry's much-hyped "exodus" from California has been widely reported on, especially as more companies have embraced the work-from-home lifestyle and also opted to move their operations to lower-cost cities and states. Most notably, Elon Musk has recently moved two of his companies, electric automaker Tesla and tunnel infrastructure startup The Boring Company, from California to Texas (with both of those firms moving in and around Austin).
"In today's competitive market with lots of capital to invest, we think the next generation of successful VCs are going to be diverse in markets (not just Silicon Valley)... [and] have access to undiscovered founders from everywhere," said one survey respondent.
NFTs Aren't Popular With VCs—But Web 3 Is
"It's the future," according to one respondent. "Buckle up and get on board."
Are NFTs...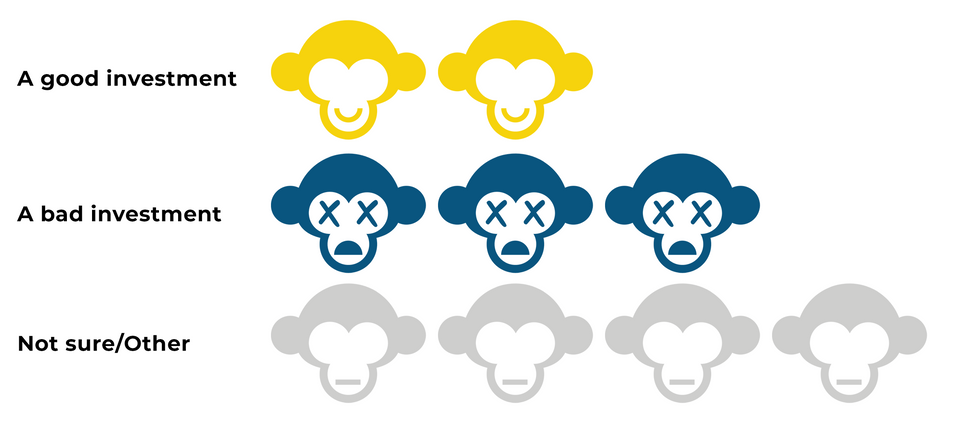 More than 71% of VC survey respondents said they were bullish on Web3—the new blockchain-enabled iteration of the internet, which promises decentralization and a whole range of applications involving cryptocurrencies, NFTs, DeFi and more. It's the same sentiment informing Santa Monica-based VC firm M13's new $400 million fund, which considers Web3 a core piece of its investment thesis.
In Q2 2022, do you expect your portfolio companies to: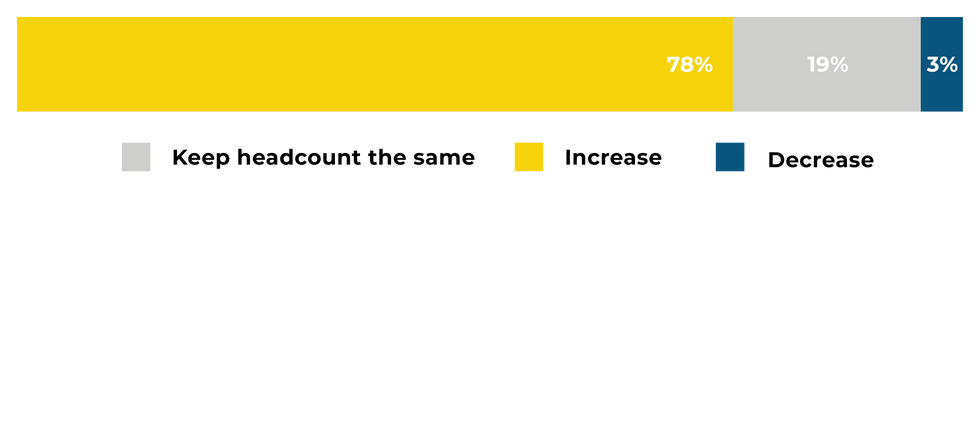 L.A. is home to an ever-growing cadre of Web3-focused startups operating across the realms of finance, entertainment and other industries. But while local investors are willing to pour money into blockchain-related ventures, one segment of the space continues to evoke skepticism: Only 18% of respondents would describe NFTs as "a good investment," while 33% thought they were "bad" investments and 39% said they were unsure.
As in our last survey several months ago, it appears that NFTs continue to divide opinion, with respondents expressing differing perspectives on their value and utility. One referred to them as "get rich quick schemes," but added that the art pieces and social communities that emerge from them may be valuable. Another said that "NFTs as a digital medium are a legitimate thing"—but noted the vast majority are "awful investments with no intrinsic value."

Graphics courtesy of Hagan Blount.
Keerthi Vedantam
Keerthi Vedantam is a bioscience reporter at dot.LA. She cut her teeth covering everything from cloud computing to 5G in San Francisco and Seattle. Before she covered tech, Keerthi reported on tribal lands and congressional policy in Washington, D.C. Connect with her on Twitter, Clubhouse (@keerthivedantam) or Signal at 408-470-0776.
Christian Hetrick
Christian Hetrick is dot.LA's Entertainment Tech Reporter. He was formerly a business reporter for the Philadelphia Inquirer and reported on New Jersey politics for the Observer and the Press of Atlantic City.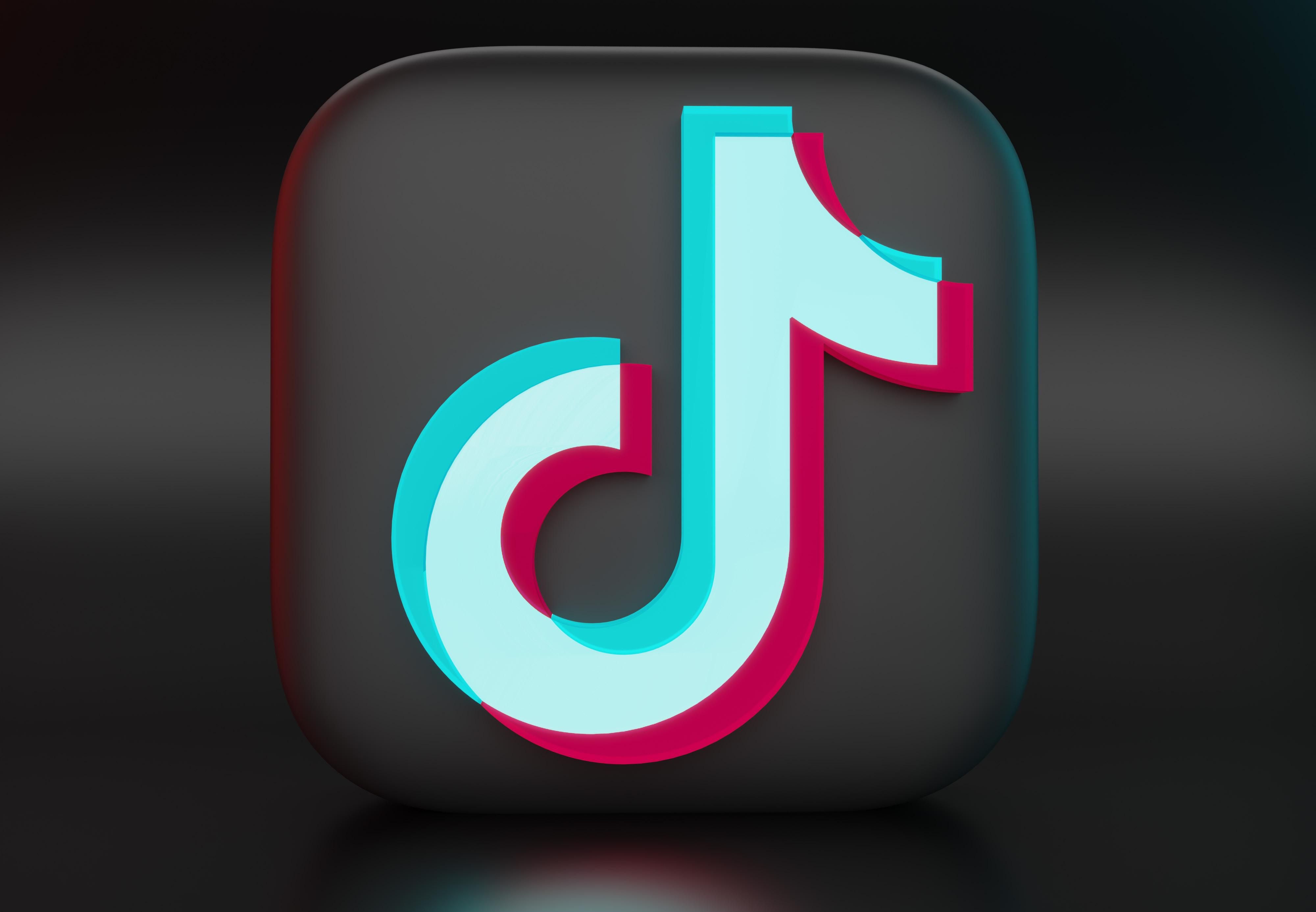 The mother of a 10-year-old girl who died after allegedly trying a dangerous online "challenge" has sued Culver City-based TikTok and its Chinese parent company ByteDance, claiming the social media app's algorithm showed her videos of people choking themselves until they pass out.
Nylah Anderson, an intelligent child who already spoke three languages, was "excruciatingly asphyxiated" and found unconscious in her bedroom on Dec. 7, according to a complaint filed Thursday in federal court in Pennsylvania. She spent five days in pediatric intensive care until succumbing to her injuries.
The lawsuit, filed by her mother Tawainna Anderson, claims TikTok's algorithm had previously shown Nylah videos depicting the "Blackout Challenge," in which people hold their breath or choke themselves with household items to achieve a euphoric feeling. That encouraged her to try it herself, the lawsuit alleged.
"The TikTok Defendants' algorithm determined that the deadly Blackout Challenge was well-tailored and likely to be of interest to 10-year-old Nylah Anderson, and she died as a result," the suit said.
In a previous statement about Nylah's death, a TikTok spokesperson noted the "disturbing" challenge predates TikTok, pointing to a 2008 warning from the Centers for Disease Control and Prevention about deadly choking games. The spokesperson claimed the challenge "has never been a TikTok trend." The app currently doesn't produce any search results for "Blackout Challenge" or a related hashtag.
"We remain vigilant in our commitment to user safety and would immediately remove related content if found," the TikTok statement said. "Our deepest sympathies go out to the family for their tragic loss."
At least four other children or teens have died after allegedly attempting the Blackout Challenge, according to the Anderson lawsuit. TikTok has grappled with dangerous challenges on its platform before, including one in which people tried to climb a stack of milk crates. That was considered so dangerous that TikTok banned the hashtag associated with it last year. In February, TikTok updated its content rules to combat the dangerous acts and other harmful content.
The Anderson lawsuit comes as lawmakers and state attorneys general scrutinize how TikTok and other social media can be bad for teens and younger users, including by damaging their mental health, causing negative feelings about their body image and making them addicted to the apps.
From Your Site Articles
Related Articles Around the Web
Christian Hetrick
Christian Hetrick is dot.LA's Entertainment Tech Reporter. He was formerly a business reporter for the Philadelphia Inquirer and reported on New Jersey politics for the Observer and the Press of Atlantic City.