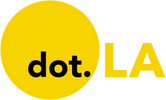 Get in the KNOW
on LA Startups & Tech
X
Column
As a co-founder of nine startups and an investor in dozens more, I have helped name many companies. (I am also a parent of three children and two dogs, all of which I have helped name as well – it's amazing how similar the process of naming a child is to naming a company.) Naming is hard and is a passionate subject among founders which prompts lots of debate.

When we named Pacaso, it took a couple of months. Pacaso was not the first name we chose – in fact, we hadn't even dreamed up the name when we went through our first round of finalists. Our first name was Niner Homes, a reference to the vitality of the Gold Rush era. We used Niner Homes in our early marketing materials as we built the first version of the beta product, but we ultimately decided to change it to Pacaso.
We got the inspiration for the name Pacaso from the artist Pablo Picasso, but put our own spin on it. Pacaso fills all of my naming criteria (see below), and it's been well-received by the many Pacaso stakeholders including our employees and Pacaso homeowners.
If you are at the stage where it's time to name your new venture, here are a few tips to keep in mind as you start to vet potential name options.
What Makes A Good Name?
A good name should be the following things:
* Memorable. Pick something that's easy to say and remember. A brand name doesn't have much value if no one can remember it.
* Spellable. Your name should be easy enough to type into the search bar correctly. If it's overly complex and includes tricky abbreviations or numbers, this could be a problem. (One of my startups was named 6tudio but was pronounced "Studio" - hard to spell, even harder to pronounce. They changed their name to Invisible Universe – much better.)
* Unique letters and sounds help: Try to create a name that's high in Scrabble points - X, Z, K, P, Y are all good letters.
* Ownable. This may be obvious, but make sure the name is available and trademarkable. At Hotwire, we almost launched with the name Rocket but switched it at the last minute because Rocket.com was not trademarkable.
You should also consider if the name is verb-able or noun-able. Many brands spend a fortune on marketing trying to become a household name, but a brand is really successful when its name becomes synonymous with the product or service it provides. For example, we probably all "Google" something on a daily basis - to Google has become a transitive verb. To Zillow means to look something up on Zillow. An Airbnb means a vacation rental property. And hopefully, someday a Pacaso will be widely known as a co-owned second home. My first startup, Hotwire, never quite got to household brand name status, but we always hoped that "to Hotwire" something would mean to buy a travel product online at a great price. Maybe someday.
Different Types of Names
To help get those gears turning, let's look at some examples of different types of names. There are a few different categories:
* Real-world, descriptive, and in-category like Whitepages, Bankrate, CreditCards.com, and Apartments.com. These names give you a really great idea of what the company and/or service is but their generic nature makes it unlikely that consumers will ever fall deeply in love with these brands.
* Real-world, not descriptive, and not in-category like Stripe, Plaid, Pipe, Bolt, and Gopuff. These names don't tell you much about what the company is providing.
* Made-up words like Yahoo, eBay, Bing, and Hulu. These names can create unique new worlds.
* Reference the category without an explanation like Instacart, Netflix, SpaceX, Boosted, LendingTree, and Coinbase. These names give you an idea of what type of product or service is being provided without an explanation.
* Reference with an explanation like Zillow ("zillions of pillows"), dotLA (like "dot-com" but for LA), Pacaso ("combine different things to make something luxurious and beautiful"), and Recon Food ("reconnect over a love of food").
These names give you an idea of what type of product or service is being provided when given an explanation. As you can probably tell, I prefer names in this last category because they are memorable, have brand equity, and don't constrain the business with specificity.
Prototype and Pivot
It's common that in the early stages of a startup, the product or features will change to serve early adopters. When the idea of your product or service morphs, your name might have to change too.
Your business name will be with you for a long time, so it's important to carefully consider your choice before you move ahead at full speed. A good name will reflect your business's identity and goals, help market yourself, and keep you out of legal trouble.
Once you have solidified a name, now it's time to pitch to investors. Check back here in a few weeks for my advice on how to do just that. In the meantime, take a look at some of my examples below to see what names made the final cut: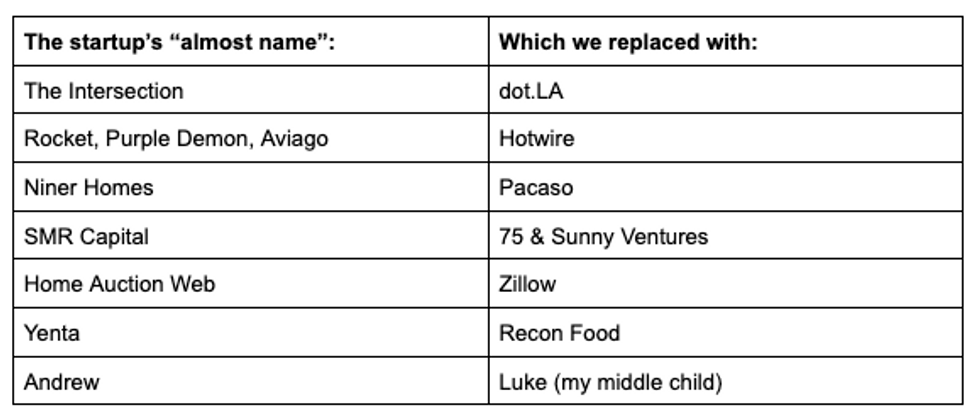 From Your Site Articles
Related Articles Around the Web
Every startup's goal is growth - and, when funded by venture capital, there is often an immense pressure to grow widely and as fast as possible.

Many startups that have established a strong foothold begin with narrow markets and then have to decide if and when the time is right to broaden their product and expand their market. So, how do you know when, and how, to make that move?
My recommendation is to start with evaluating your strategy and answering a series of questions that focus on what, why, when and how.
A Competitive Edge
Before jumping into expanding your Total Addressable Market ("TAM"), take the time to assess what companies may already exist in your potential broader markets. Are there any pre-existing businesses dominating the space where your company would likely broaden? Are you able to offer customers enough unmet needs to convince them to make a switch? Or is there already another tech-enabled competitor out there that will stifle your expansion and make broadening difficult?
A company that has demonstrated this type of innovative thinking time and time again is Uber. As the world's largest ride-sharing company, Uber was founded in 2009 and quickly grew to become one of the world's most valuable startups with a $78 billion valuation in 2020. What originally started as a solution to the unfulfilled needs of traditional taxis and car services quickly grew into a tech company with many business lines–now even offering a rewards credit card.
When expanding into the food delivery game, UberEats came a year and a half after Grubhub and DoorDash. But with an already massive network of drivers, a huge brand with tens of millions of app downloads, and world-class delivery logistics, it was a no-brainer. They essentially just switched from transporting humans to sandwiches–and succeeded knowing their tech and process were better than competitors.
Make it your top priority to provide genuine solutions to problems the competition may have overlooked before broadening, or at the least very, know your product is superior. Find ways to leverage the dominance of your core business in order to win new adjacent markets.
Operational Needs
Unsurprisingly, if you're intent on broadening your market and service, you'll need the cash to pursue it. Do you have enough money? Do you need to consider an additional raise? How will that affect valuation?
If you do have enough capital, and there is room in the competitive market lane, it may be time to scale. Additionally, does your broadening expand on your pre-existing tech stack, or are you essentially starting a new business? If you are expanding to a space where you need to significantly change or augment your tech stack–or to a space that is unfamiliar–you may need to again consider hiring the right people to help you.
If you don't have enough capital, focus on your core vertical.
Exit Opportunities
While your strategy will certainly evolve over the years, it's critical to identify potential exit paths and plan accordingly. What type of exit do you want? If an IPO is in the cards, expansion may make sense. However, don't overlook acquisition.
Funding expansion requires a lot of money, and continually raising more money–subsequently raising your valuation–could make you less attractive for acquisition by a single vertical incumbent. Is your core vertical attractive on its own to be acquired and tacked onto a pre-existing company's software or service?
Leaning into your niche vertical could equal an easier exit. For example, if Uber expected that its exit would be a sale to a competitor in the ride-sharing space, then expanding into other businesses would have made them less attractive for an acquisition. Entering new markets will likely force you to have to raise more money, increasing your company's valuation and diluting your equity as a founder (i.e. in a lower price acquisition, you make less money).
Have a Plan
As entrepreneurs, growth can be the one thing that challenges and drives us the most. So whether you're considering tapping into a new vertical or expanding on an existing one, it's important to assess the environment and reflect on your current strategy. The most important aspect of vertical expansion involves understanding the reasons behind it.
Protect the Core
Beware when expanding into new adjacencies not to neglect the core business which got you to where you are. Ideally the adjacent businesses help strengthen, not weaken, your core business. An obvious example is Amazon expanding beyond books into other categories of ecommerce, which grew its selection, its scale and its customer base, and therefore strengthened its core. But there are many counterexamples where expansion distracted rather than strengthened, including Amazon's launch of physical bookstores which it recently reversed and shut down.
Organizational Structure
When entering adjacent businesses, determining the appropriate org structure is critical. In a future post I will explore this important topic.
From Your Site Articles
Related Articles Around the Web
I've seen my fair share of funding rounds, both as a founder and investor. And at the risk of stating the obvious, it's clear most startups need funding to succeed.
Even the most brilliant businesses with amazing founder-idea fit will eventually hit a dead-end if they do not have (or run out of) money to support their venture. And the unfortunate reality is these dead-ends are much more common than successfully launching an IPO.
Luckily, there are paths in place for founders and new businesses to continue on their journey towards continued expansion and solvent success. And, unsurprisingly, when it comes to raising money for startups, I have a preference for venture capital.
Last month I offered advice on venture capital fundraising for your startup's seed round - the logical (but often intimidating) first step in seeking capital outside of friends and family, supporters or your personal bootstrapped wallet.
So let's assume your warm intro was well received, your pitch deck was a home run, the best term sheet has been secured and the first dollars from excited investors have begun to flow. The seed has been planted, and your business is sprouting. Now what?
Keep the Funding Flowing
The biggest piece of advice I give to the companies in my portfolio is: Raise more capital. Raise it now if you can. And raise as much as possible. Bill Gurley from Benchmark Capital was on my Board at Zillow for a decade and consistently gave us great advice on this topic – imagine Bill's baritone Texas drawl: "the time to eat the hors d'oeuvres is when they are being passed." As usual, Bill is right.
With competitive markets (as so many are) and firms eager to invest, the time is ripe to secure additional capital. Raise as much as you can in your seed round, or water the seed with a Series A round to ensure your company's ability to grow, compete and adapt if necessary.
I met with a founder the other day that recently emerged from an L.A. seed-stage startup accelerator with a solid $4M round. They told me they were not planning on raising again for at least another year. I immediately advised them to raise a Series A right away. The company is in a very competitive space, and if they did not raise the capital, their competitors would.
Another founder I spoke with had bootstrapped their way to a successful business venture and was already turning a profit through building software tools for small businesses. They had no intention of securing additional capital. Again, another highly competitive market. And again, I encouraged them to raise more money.
I also spoke with a founder this week who had initially raised an impressive $5M in their seed round for their incredibly innovative product. However, they did not seek funding for additional capital. Unfortunately, that company is now reaching the end of its cash after having to pivot twice. The founder regretfully admitted to me that they wish they had raised more in their seed round or went on to a Series A. With that additional funding, the business would have had the opportunity to pivot a third or fourth time, potentially saving the company.
These additional raises (fresh off the initial funding successes) allow founders and startups the continued ability to compete in their respective markets - and, more importantly, allow for faster growth. You'll be able to spend more on hiring the best team and invest more heavily in product, tech, sales and marketing. In competitive markets where the winner often takes most, this extra funding can help companies insulate themselves against competitors and get on the fast track to becoming an industry leader.
And if the sheer number of Series A rounds and average amounts raised in 2021 is any indication - then the time is indeed now to raise.
Lean into the Momentum
There's an interesting and continued phenomenon in venture capital investing right now - and it all comes down to momentum.
For example - I recently spoke with a company that had raised $100M at a $1B valuation. Only 6 months later, they raised an additional $300M at a $3B valuation.
The massive amounts of money and the rate at which it is being raised is amazing and unprecedented. And I predict it's only going to get bigger and more rapid. (I'll write in more detail about this in an upcoming article, but because VC returns have been so incredible over the last 20 years - institutional investors are now allocating more of their funds towards this type of investment. This trend is creating larger round sizes and higher valuations.)
Additionally, a comparison can be made between these late-stage funding environments and momentum trades. Venture capital is essentially a type of growth investing - and once the momentum starts building, the investors are not necessarily basing investment strictly on the analysis of the business's fundamentals - but rather the potential future returns.
The same momentum is seen in these later-stage funding rounds, where investors - motivated by the fear of missing out and the potential of high returns - continue to push the amounts raised and valuations higher and higher.
All this is to say, startups should only raise this additional capital if they have a solid plan with what to do with it. There are reasons when raising too much capital can have downsides, including reducing the likelihood of exit offers, normalizing inefficiencies within the company (if you are solely dependent on cash - you may spend too much too soon or less effectively), and the downfalls of a down round. You should not raise the money just for the sake of having a large valuation and lots of cash in the bank. Only raise the money if you have a clear allocation plan.
For founders with a plan who are pulling out all the stops to ensure success, don't shy away from the momentum and opportunity right now to raise more capital. A common expression in startups is "always be recruiting." I agree, and I'd add another good aphorism: "always be fundraising."
From Your Site Articles
Related Articles Around the Web