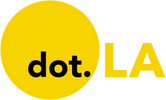 Get in the KNOW  
  on LA Startups & Tech  
X
Courtesy of Santeri Viinamäki
Remote Work Means More Demand for Privacy Tools — Bitwarden Is Answering the Call
Christian Hetrick
Christian Hetrick is dot.LA's Entertainment Tech Reporter. He was formerly a business reporter for the Philadelphia Inquirer and reported on New Jersey politics for the Observer and the Press of Atlantic City.
04:11 PM | September 06, 2022
Bitwarden, an open-source password manager, has raised $100 million as the rise of remote work and our increasingly online lives boosts demand for digital security tools.
Growth equity firm PSG led the funding round and was joined by Battery Ventures, an existing investor in Bitwarden. The raise is Bitwarden's first publicly-disclosed external funding since the Santa Barbara-based company launched in 2015.
---
Between work and personal needs, people must manage a growing number of online credentials. Too often, people reuse the same passwords across several accounts, putting consumers and businesses at risk of fraud and cyberattacks. Bitwarden offers free and paid tools to more safely store unique credentials, generate hard-to-guess passwords and transfer sensitive data to other people.
The 125-person company competes against incumbents like LastPass and 1Password in a market that's expected to nearly quintuple to more than $7 billion by 2030, according to Straits Research. Tech titans like Apple and Google also offer password management tools within their browsers and devices—with Apple recently announcing plans to eventually ditch passwords altogether.
Bitwarden aims to stand apart by offering free and cheaper plans than its rivals, with premium subscriptions starting at $10 per year for individuals and $5 per month per user for enterprises. The company also makes its software open-source, so people can examine the security of the platform themselves. Bitwarden pays for third-party audits and partners with a company to regularly scrutinize the code, all in an effort to showcase to customers that the software is sound, Chief Customer Officer Gary Orenstein told dot.LA.
"[Open-source] is the only way that you can provide 100% transparency, to get you to the maximum amount of trust in the relationship of customers using your software," Orenstein said. "If it's not open source, how do you know it's secure?"
The company plans to use the fresh funds to develop its tools, grow its global customer base and secure more with partnerships with tech resellers and other third-parties. In addition to password management, the firm has expanded into services like Bitwarden Send, which lets people send encrypted text and files that can self-delete. Bitwarden is also among the companies working to expand passwordless security options, such as using fingerprints or codes sent to devices instead of remembering a single password.
Orenstein said Bitwarden saw a boost in business when companies sent their employees home to work remotely during the pandemic. That trend, along with high-profile data breaches, has businesses and individuals seeking out security tools like Bitwarden's, Orenstein said.
"We've seen recognition from the business IT teams that we're dealing with people who are going to be in different places, connecting over different networks, and we need to enable them to provide the most appropriate security," Orenstein said.
Christian Hetrick
Christian Hetrick is dot.LA's Entertainment Tech Reporter. He was formerly a business reporter for the Philadelphia Inquirer and reported on New Jersey politics for the Observer and the Press of Atlantic City.
05:10 AM | March 20, 2023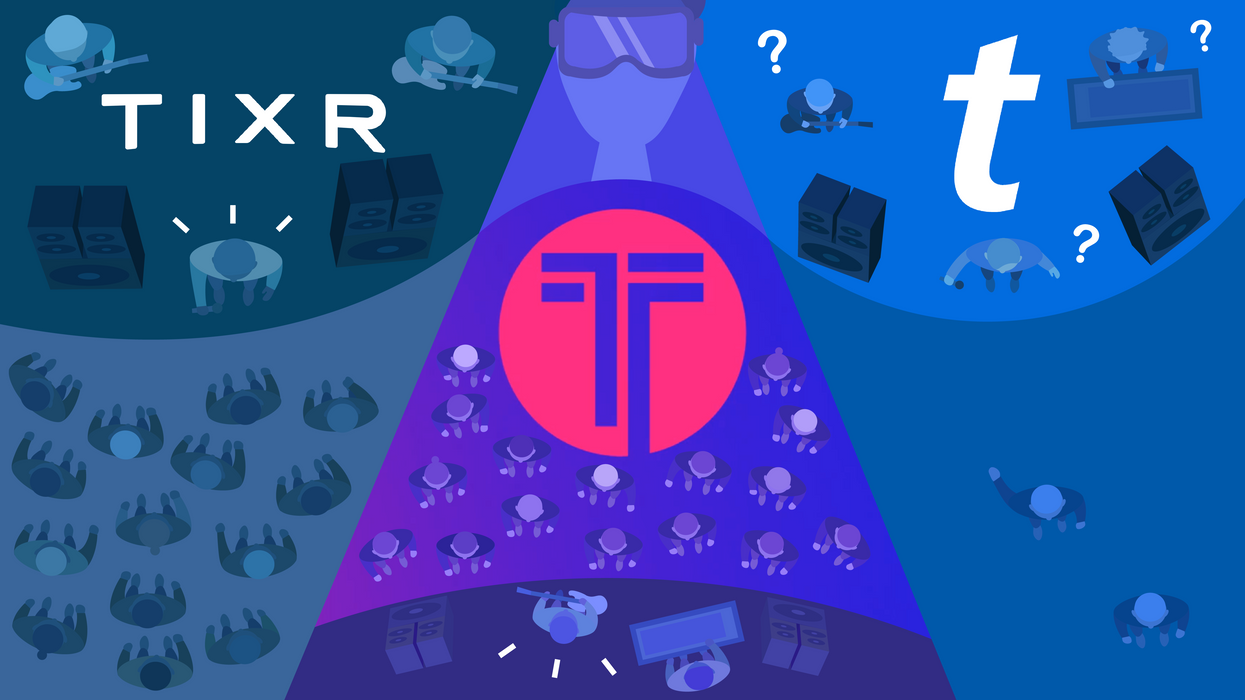 Evan Xie
When Taylor Swift announced her 'Eras' tour back in November, all hell broke loose.
Hundreds of thousands of dedicated Swifties — many of whom were verified for the presale — were disappointed when Ticketmaster failed to secure them tickets, or even allow them to peruse ticketing options.
But the Taylor Swift fiasco is just one of the latest in a long line of complaints against the ticketing behemoth. Ticketmaster has dominated the event and concert space since its merger with Live Nation in 2010 with very few challengers — until now.
Adam Jones, founder and CEO of Token, a fan-first commerce platform for events, said he has the platform and the tech ready to take it on. With Token, Jones is creating a system where there are no queues. In other words, fans know immediately which events are sold out and where.
"We come in very fortunate to have a modern, scalable tech stack that's not going to have all these outages or things being down," Jones said. "That's step one. The other thing is we're being aggressively transparent about what we're doing and how we're doing it. So with the Taylor Swift thing…you would know in real time if you actually have a chance of getting the tickets."
Here's how it works: Users register for Token's app and then purchase tickets to either an in-person event, or an event in the metaverse through Animal Concerts. The purchased ticket automatically shows up in the form of a mintable NFT, which can then be used toward merchandise purchases, other ticketed events or, Adams's hope for the future — external rewards like airline travel. The more active a user is on the site, the more valuable their NFT becomes.
Ticketmaster has dominated the music industry for so long because of its association with big name artists. To compete, Token is working on gaining access to their own slew of popular artists. They recently entered into a partnership with Animal Concerts, a live and non-live event experiences platform that houses artists like Alicia Keys, Snoop Dogg and Robin Thicke.
"You'll see they do all the metaverse side of the house," Jones said. "And we're going to be the [real-life] web3 sides of the house."
In addition, Token prides itself on working with the artists selling on their platform to set up the best system for their fanbase, devoid of hefty prices and additional fees — something Ticketmaster users have often complained about. Jones believes where Ticketmaster fails, Token thrives. The app incentivizes users to share more data about their interests, venues and artists by operating on a kind of points system in the form of mintable NFTs.
"We can actually take the dataset and say there's 100 million people in the globe that love Taylor Swift, so imagine she's going on tour and we ask [the user], 'Would you go to see her in Detroit?' And imagine this place has 30,000 seats, but 100,000 people clicked 'yes,'" he explained. "So you can actually inform the user before anything even happens, right? About what their options are and where to get it."
Tixr, a Santa-Monica based ticketing app, was founded on the idea that modern ticketing platforms were "living in the legacy of the past." They plan to attract users by offering them exclusive access to ticketed events that aren't in Ticketmaster's registry.
"It melts commerce that's beyond ticketing…to allow fans to experience and purchase things that don't necessarily have to do with tickets," said Tixr CEO and Founder Robert Davari. "So merchandise, and experiences, and hospitality and stuff like that are all elegantly melded into this one, content driven interface."
Tixr sells tickets to exclusive concerts like a Tyga performance at a night club in Arizona, general in-person festivals like ComplexCon, and partners with local vendors like The Acura Grand Prix of Long Beach to sell tickets to the races. Plus, Davari said it's equipped to handle high-demand, so customers aren't spending hours waiting in digital queues.
Like Token, Tixr has also found success with a rewards program — in the form of fan marketing.
"There's nothing more powerful in the core of any event, brand, any live entertainment, [than] the community behind it," Davari said. "So we build technology to empower those fans and to reward them for bringing their friends and spreading the word."
Basically, if a user gets a friend to purchase tickets to an event, then the original user gets rewarded in the form of discounts or upgrades.
Coupled with their platforms' ability to handle high-demand events, both Jones and Davari believe their platforms have what it takes to take on Ticketmaster. Expansion into the metaverse, they think, will also help even the playing field.
"So imagine you can't go to Taylor Swift," Jones said. "What if you could purchase an exclusive to actually go to that exact same show over the metaverse? An artist's whole world can expand past the stage itself."
With the way ticketing for events works now, obviously not everyone always gets the exact price, venue or date they want. There are "winners and losers." Jones's hope is that by expanding beyond in-person events, there can be more winners.
"If there's 100,000 people who want to go to one show and there's 37,000 seats, 70,000 are out," he said. "You can't fight that. But what we can do is start to give them other opportunities to do things in a different way and actually still participate."
Jones and Davari both teased that their platforms have some exciting developments in the works, but for now both Token and Tixr are set on making their own space within the industry.
"We simply want to advance this industry and make it more efficient and more pleasurable for fans to buy," Davari said. "That's it."
Andria Moore
Andria is the Social and Engagement Editor for dot.LA. She previously covered internet trends and pop culture for BuzzFeed, and has written for Insider, The Washington Post and the Motion Picture Association. She obtained her bachelor's in journalism from Auburn University and an M.S. in digital audience strategy from Arizona State University. In her free time, Andria can be found roaming LA's incredible food scene or lounging at the beach.
02:16 PM | March 02, 2023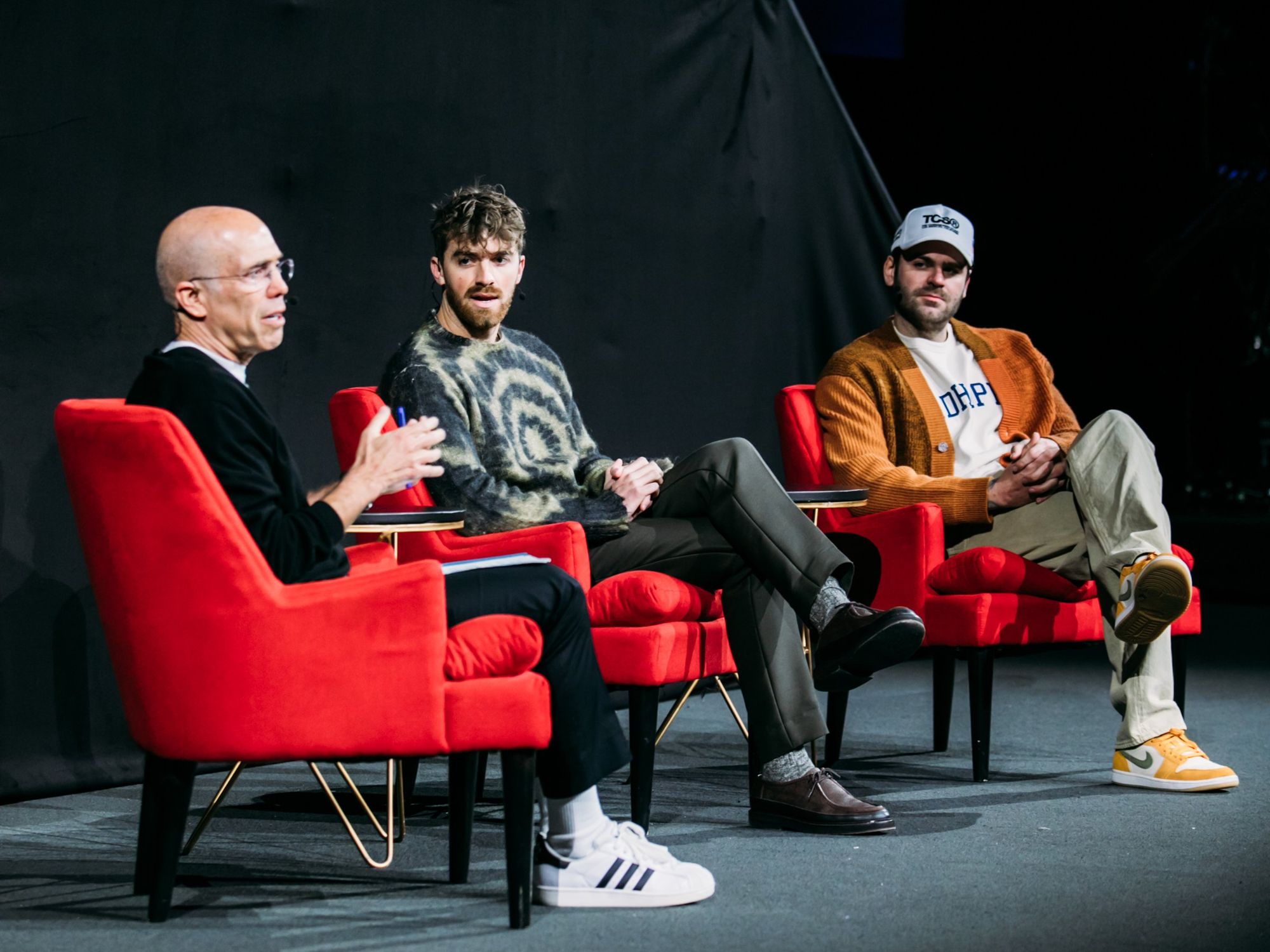 Clark Studio
On Thursday, Upfront Ventures hosted its 2023 Summit and music icons Alex Pall and Drew Taggart of The Chainsmokers hit the stage, not to perform, but instead to discuss their venture journey.
The duo launched MantisVC, a Marina Del Rey-based early stage tech venture fund in 2019.
Pall and Taggart shared the stage with WndrCo's managing partner Jeffrey Katzenberg to dive deeper into what their music career has taught them and how it translated over to their venture firm.
Here are some of the most important takeaways:
The duo believes hustle is more important than talent to achieve success.
"There's just so much content out there that's just happening all the time for no reason," Taggart said. "There's just so much to pay attention to and if you have to wake up every day, and think out what your angle is going to be, try stuff, have it not work. You have to accept defeat so frequently and still get up and do it."
Creating music was their foray into building communities.
"I think we have some real insight into how to build that community and tell that story because essentially, that's all we're trying to do," Pall said. "No matter what your business is, you're telling the story about something that you think is important that someone else needs and will enjoy."
Building connections and having conversations with pioneers in the space helped them launch MantisVC.
"Humility and being self aware are two of our strengths," Taggart said. "I think knowing what we don't know is a big part of how we've gotten to where we are, and with the support of people around us, and the relationships we built, we understood that we were going to have to go out and prove to the world that we were serious about this and we respected the people that have come before us and the people that are doing it right now."
VCs should offer all their founders support.
"When you're building something early on, you want that support, that hands-on feeling and the purpose of Mantis isn't necessarily right now to replace the incredible institutional investors that exist out there and have been around for a while," Pall continued.
"But we want to be the Robin to their Batman, and we think there's a way that we can kind of partner with everybody in the space and provide our founders that holistic support they need. It's inspiring to work alongside people that share that same energy and we're constantly working on ourselves and I feel like it takes a really special type of human being to be successful in this world. Level of grit and determination and something that's continually fueled us and we want to invest in people like that."
Feedback is necessary and essential to create successful products and businesses.
"Similar to products or services that you're building, it's important to get real life feedback out there and iterate on those things," Taggart said. "And there's really just no substitute for that."
Pall added, "I think for some reason in our culture, it's become an issue for people just to be straightforward and say no, about things and give honest feedback and, and move on. I think we can all learn a lot from just having more honest conversations with each other."
Never lose sight of your core audience and mission as a company.
"Never forget what your core product is and what people love about that and make sure that every piece of innovation is derivative of that," Taggart said. "I see a lot of friends of ours that have had really successful companies start to build ancillary projects that don't really feed their core audience that they're just making to compete with their competition. We do the same thing in songwriting, and you can never lose sight of what people love about you."
Decerry Donato
Decerry Donato is a reporter at dot.LA. Prior to that, she was an editorial fellow at the company. Decerry received her bachelor's degree in literary journalism from the University of California, Irvine. She continues to write stories to inform the community about issues or events that take place in the L.A. area. On the weekends, she can be found hiking in the Angeles National forest or sifting through racks at your local thrift store.