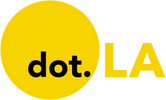 Get in the KNOW
on LA Startups & Tech
X
Sam Adams
Sam Adams
Sam Adams serves as chief executive of dot.LA. A former financial journalist for Bloomberg and Reuters, Adams moved to the business side of media as a strategy consultant at Activate, helping legacy companies develop new digital strategies. Adams holds a bachelor's degree from Harvard College and an MBA from the University of Southern California. A Santa Monica native, he can most often be found at Bay Cities deli with a Godmother sub or at McCabe's with a 12-string guitar. His favorite colors are Dodger blue and Lakers gold.
Too often Los Angeles can operate as a collection of silos disconnected geographically, industrially, culturally and beyond. Santa Monica with its breezy bungalows and Glendale with its blocks of office high rises can feel worlds apart, and the community arising in aerospace hubs in Long Beach and the South Bay don't get much opportunity to interact with those working on web3.
dot.LA exists in large part to connect those - pardon the pun - dots.
We do it everyday with our stories online, but we at dot.LA wanted to create a succinct visualization of what we meant.
We took on the task of identifying, taxonomizing and distilling into one image a representative collection of the thousands of startups that call greater Los Angeles home. Angeleno illustrator Semira Chadorchi translated that into the fun and vibrant map you see here. With that I'm pleased to publicly unveil the 2022 dot.LA Guide to Los Angeles, our best attempt to represent the L.A. tech and startup ecosystem.
Image by Semira Chadorchi
The first edition of the map was designed and printed to coincide with our launch in January 2020, with the intention of giving our paper copies to the guests at our many in-person events. Well, the pandemic delayed those hopes of in-person events and as a result we have a thick stack of first edition maps in our office. But as we ramped up for our first in-person dot.LA Summit at the Fairmont Miramar in October, we wanted to create a fresh start for the post-pandemic world and redesign the map.
So much has changed since last year's edition. A couple of companies dropped off (Quibi, we hardly knew you) and many more came on -- from Canoo to Beyond Meat -- new transformative companies are coming up seemingly on a daily basis. We even created a flipside that listed other companies we literally couldn't visually fit onto the map. Sadly there is no way to be comprehensive. If we were to include every institution that was changing the world in some way, the density of our graphical representation would outweigh the grains of sand on the beach. But we tried our best!
You'll find here a high-resolution version of the map, and we encourage you to use it for any non-commercial use you see fit. It makes a great screensaver or virtual Zoom background, and it looks lovely printed, framed, and hung in an office. And please, let us know who we missed and need to get on next year's edition
When co-founder Spencer Rascoff and I were developing the idea that became dot.LA three years ago, one of the key goals was to help crystallize exactly what it was we meant by the LA tech and startup ecosystem.
Many people have the general understanding that there is a ton of activity happening here, but don't know too much about the tech landscape in Southern California beyond behemoths like Snap or SpaceX. What did we mean, we get asked, when we talked about the L.A. tech and startup ecosystem? Was there really enough activity going on here to necessitate a media organization of its own?
That answer, it turned out, is an enthusiastic yes; and we have only begun to sketch it out.
From Your Site Articles
Related Articles Around the Web
We live in a golden age for Los Angeles tech companies and startups.

Transformative organizations are emerging and blossoming here. And there's a world-class talent pool in their backyard. From ecommerce to biotech to social media to aerospace and beyond, the future is being built in L.A.
Since our launch in January 2020, our goal at dot.LA has been to empower the L.A. startup ecosystem - by shining a light on great companies through our journalism, convening luminaries at our events (register for the upcoming dot.LA Summit here!) and hosting discussions via our pandemic-born online community wfh.LA.
An ecosystem as unique as ours deserves a dedicated, boutique platform to connect top talent with top startups. Matchmaking people to great companies isn't easy on overly broad platforms like Linkedin that's more akin to a traffic clogged freeway, where the sheer volume makes it tough for top candidates to stand out amid congestion. Our site is tailored to L.A. and its unique ecosystem that boasts some of the top, most diverse technical talent in the country.
We're here to change that; dot.LA is proud to introduce a solution to this gridlock: Interchange.LA.
With the re-launch of Interchange.LA, we are taking over stewardship of a project that has been a long time coming. The original incarnation of Interchange.LA was borne of a desire from stalwarts of the L.A. tech scene - Crosscut Ventures, AnnenbergTech, the Mayor's Office - to help fuel the community's growth. We are beyond thankful for the hard work put in by these organizations and others to help get this platform where it is today, and are excited to take it to the next level.
So what makes Interchange.LA unique?
LA DNA. In the year and a half since launch, dot.LA has established itself as the premier source for news and community for the Los Angeles tech ecosystem. Our journalists tell important stories that move the needle. Our events bring together the community and foster connection. We have boots on the ground in a way that no other recruiting platform does, and we'll use that to hone the product to be as useful as possible.
Equity focus. We also believe that Los Angeles has the potential to become the most inclusive and equitable startup hub in the country and in the world. Because L.A. is blossoming as an innovation hub later than first-generation locales like the Bay Area, we have the opportunity to learn from the mistakes of those places. Rather than a tech and startup community that exists insulated from the rest of the city, we want to promote the growth throughout the city in a way that benefits everyone.
Universal access. Our goal is to lower barriers to entry for tech on all sides, and creating an accessible platform for all is crucial to that mission. Our platform is free to candidates and will always offer a free option for companies.
Bespoke recruiting. For those high-growth companies that need top talent to keep fueling the rocketship, we are thrilled to be able to offer a white-glove option through which our team can build and execute tailored recruiting. If you're responsible for recruiting at a hot startup in L.A., please do yourself a favor and reach out to Interchange.LA's General Manager Sharmineh Lewis at sharmineh@dot.LA.
Interchange.LA is the premier avenue for connecting top talent with top startups in LA. It is an on-ramp for non-traditional candidates to join the vibrant L.A. startup community. It is an engine to help LA become the most diverse, equitable, and inclusive hub for innovation in the world.
It's the best time in the world to found or join a world-changing organization. At dot.LA we want to help you do it all.
Less than 24 hours before dot.LA launched a year ago today, I was coming back into cell service after a hike in Mandeville Canyon when I received a flurry of texts and push notifications: Kobe Bryant had died.

Like many who had grown up watching the Black Mamba tear through global basketball, the sudden loss of such an immortal figure shook me. Since moving from the floor to the rafters at Staples Center, Kobe had plunged into the startup world with his typical ferocity and excellence. He became an influential tech investor as a partner at Bryant Stibel.
Our nascent newsroom in short order produced a tribute to his legacy as an investor and an innovator that led our new site on its first day. It was a small contribution to the memory of someone who loomed so large in our city's imagination, but it was one I was proud of and one I think showcased what dot.LA could provide: drawing the connections between the rapidly growing local tech startup scene and institutions that have been here for decades.
And so began our launch into a year that brought our city and our world hardships and challenges like never before. It was a year that summoned so many of the better angels of community, ingenuity and trustworthy information that dot.LA strives to highlight.
Our first year forced us, like everyone else, to adapt to new and unforeseen restrictions: abandoning our new offices only six weeks after our launch, finding ways to cohere as a team through Zoom screens and trying to shine a light on and bring together L.A.'s tech and startup community while everyone was stuck at home.
We at dot.LA are proud of the work that we have done to chronicle a slice of this city and we hope in some ways, even help catalyze changes that will come in 2021 and beyond.
Over thousands of hours of phone calls, interviews and Zoom meetings our news organization has found new ways to cover the startup community. We have written about how tech has influenced everything from COVID to cannabis to cars.
We've published over 1,200 articles showcasing some of the most interesting people and companies in LA. We've hosted dozens of virtual events and community meetups to connect and inform our audience. We have created digital communities, podcasts, videos, maps and more that reach an incredible audience in the hundreds of thousands. In October, we convened our inaugural dot.LA Summit -- live from Venice Beach -- bringing together 650 top innovators from around the city and the world for two days and over 25 sessions that set a towering bar for our centerpiece events (hopefully in-person soon!) in years to come.
Year one of any startup is inevitably filled with a gauntlet of new challenges from unexpected places. That's a big part of the draw for those crazy enough to start something new. It's a lot like what I imagine having a newborn for the first time to be like: the sporadic sleep schedule, the tending to of many mini-crises and the pervasive anxiety about whether you are doing everything you can to let your new bundle thrive in the world.
Blessedly, I've been able to navigate these obstacles with my co-founder and dot.LA's executive chairman Spencer Rascoff, a seasoned and proven entrepreneur whose vision and guidance made everything seem so much less daunting.
When Spencer reached out to me through mutual friends in May 2019 about his idea to create a publication that would expose all the inspiring innovation happening in our shared hometown, I was thrilled by the prospect of creating a local tech journalism startup. Without him none of this would've been possible.
Our city was able to find ways to survive and thrive in this strange pandemic that has tested so many of us. Despite hardships, new companies are getting founded and funded, innovators and seekers are relocating to our sunny hub; heck, even the Dodgers and Lakers became champions once again.
We will continue to shine a light on those who are changing the way we live - so many of whom want to make the world a better place. We will continue to encourage L.A. as it grows into the most diverse startup hub in the world. We will introduce new channels and coverage to best serve our audience from our vantage point as a startup covering startups.
Thank you to those who have visited the site, who have followed us on social media and signed up for our newsletter. Thank you to those who have joined our events and our community, and who believe in Los Angeles as a place where world-changing companies are built.
From Your Site Articles
Related Articles Around the Web