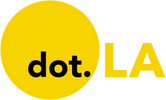 Get in the KNOW  
  on LA Startups & Tech  
X
Image by Shutterstock
New Lawsuit Takes a Unique Approach To Holding Social Media Companies Accountable
Christian Hetrick
Christian Hetrick is dot.LA's Entertainment Tech Reporter. He was formerly a business reporter for the Philadelphia Inquirer and reported on New Jersey politics for the Observer and the Press of Atlantic City.
02:36 PM | July 05, 2022
Social media companies are often accused of hosting harmful content, but it's very hard to successfully sue them. A federal law known as Section 230 largely protects the platforms from legal responsibility for hate speech, slander and misinformation created by its users.
But a new lawsuit blaming TikTok for the deaths of two children is taking a different approach. Rather than accuse the company of failing to moderate content, the complaint claims TikTok is a dangerous and defective product.
---
The suit, filed last week in Los Angeles County Superior Court, takes aim at the video sharing app's recommendation algorithm, alleging that it served up videos depicting the deadly "Blackout Challenge," in which people choke themselves to achieve a euphoric feeling. Two children—8-year-old Lalani Erika Walton and 9-year-old Arriani Jaileen Arroyo—died last year after allegedly trying the "blackout challenge," the suit said.
"We believe that there is a fundamental flaw in the design of the algorithm that directs these children to this horrific thing," Matthew Bergman, the lawyer for the children's families, told dot.LA. Bergman is the founding attorney for the Social Media Victims Law Center, a self-described legal resource for parents of children harmed by social media.
Section 230 has long been an obstacle for social media's opponents. "You can't sue Facebook. You have no recourse," U.S. Sen. Richard Blumenthal, a Democrat from Connecticut, said last year after Facebook whistleblower Frances Haugen detailed Instagram's toxic effect on young girls. The federal law's defenders contend that Section 230 is what allows websites like YouTube and Craigslist to host user-generated content. It would be infeasible for companies to block all the objectionable posts from their massive user bases, the argument goes.
The strategy of bypassing that debate altogether by focusing on apps' designs and features has gained steam lately. In May, an appellate panel ruled that Santa Monica-based Snap can't dodge a lawsuit alleging that a Snapchat speed filter—which superimposed users' speeds on top of photos and videos—played a role in a deadly car crash at 113 mph. The judges said Section 230 didn't apply to the case because the lawsuit did not seek to hold Snap liable as a publisher.
Similarly, California lawmakers are advancing a bill that would leave social media companies open to lawsuits alleging their apps have addicted children. Proponents of the bill take issue with product features such as likes, comments and push notifications that grab users' attention, with the ultimate goal of showing them ads.
"A product liability claim is separate and distinct from suing a company for posting third party content or publishing third party content, which we know has been unfruitful in many ways, for many years, as a vehicle to hold these companies accountable," Bergman said.
Representatives for Culver City-based TikTok did not return a request for comment. In a previous statement about another TikTok user's death, a company spokesperson noted the "disturbing" blackout challenge predates TikTok, pointing to a 2008 warning from the Centers for Disease Control and Prevention about deadly choking games. The spokesperson claimed the challenge "has never been a TikTok trend." The app currently doesn't produce any search results for "blackout challenge" or a related hashtag.
It's too early to tell whether product liability claims will be more successful against social media companies. "We're realistic here. This is a long fight," Bergman said. In the meantime, his suit against TikTok takes pains to note what it is not about: the users posting the dangerous challenge videos.
"Plaintiffs are not alleging that TikTok is liable for what third parties said or did [on the platform]," the suit said. "but for what TikTok did or did not do."
Christian Hetrick
Christian Hetrick is dot.LA's Entertainment Tech Reporter. He was formerly a business reporter for the Philadelphia Inquirer and reported on New Jersey politics for the Observer and the Press of Atlantic City.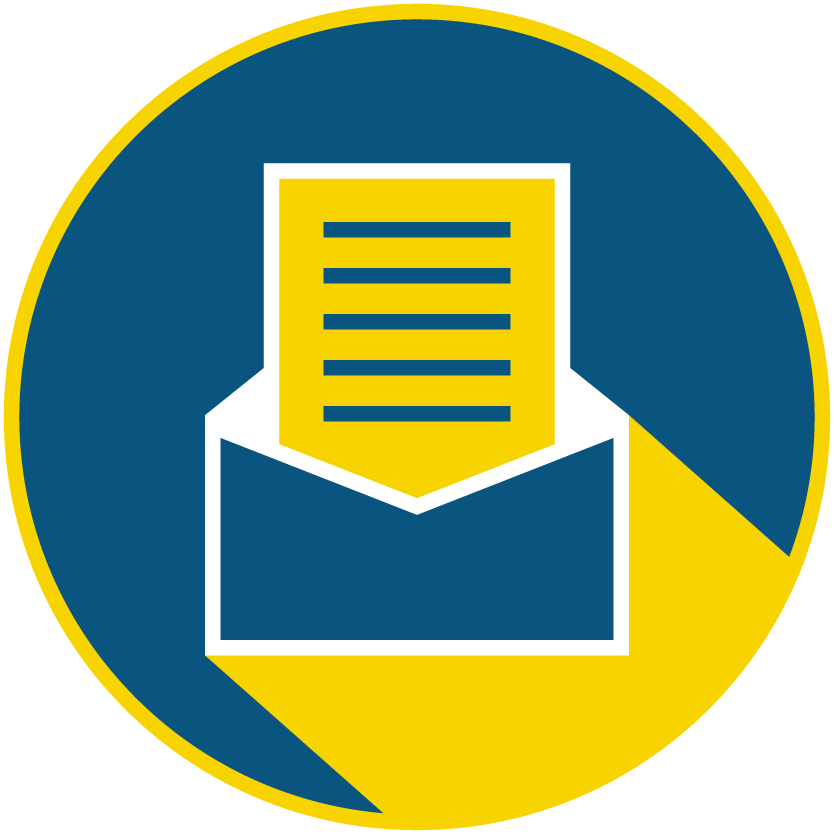 Subscribe to our newsletter to catch every headline.
08:00 AM | October 21, 2022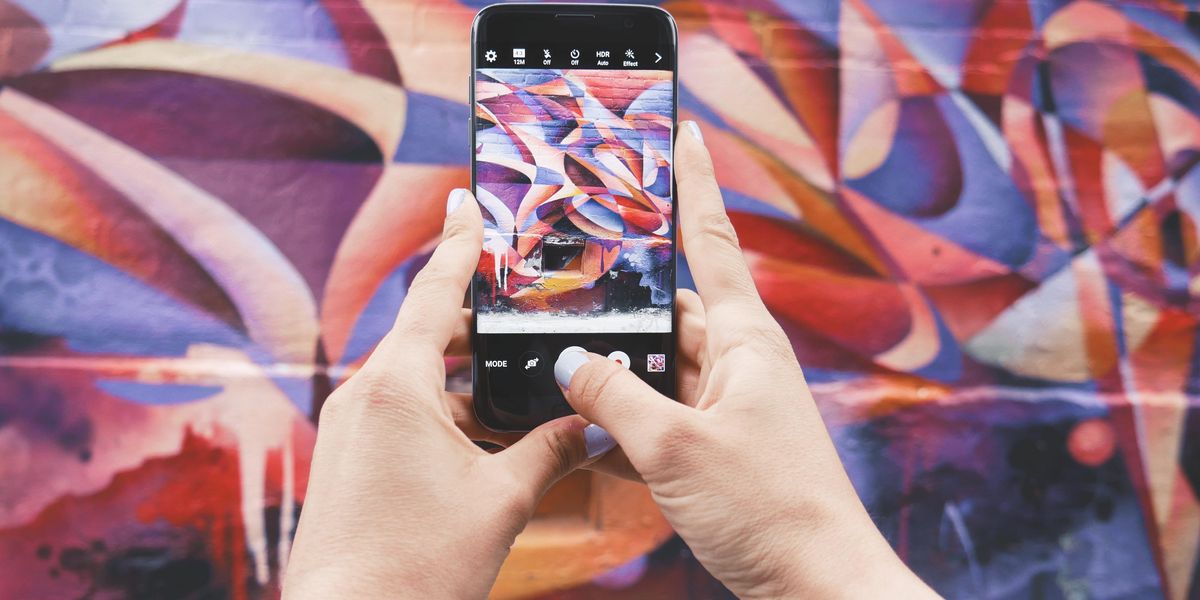 Anasofia Gomez spends her early mornings filming herself journaling, picking up coffee and getting ready for the day. By 9 a.m., she's ready to start her full-time job as a social media marketer.

The Los Angeles-based creator is just one of the 53% of non-professional creators in the United States who maintain a full-time job while also creating monetized content. Colloquially speaking, Gomez is considered a micro-influencer—creators with followers that range from 1,000 to 100,000.
Gomez treats her content creation as a second job: she starts her day at 6 a.m. just to film her content, which often features her outfits and local recommendations, and ends her days at 11 p.m. by posting her daily video. This level of dedication has earned Gomez almost 38,000 TikTok followers and partnerships with brands like perfume company Dossier and FitOn—a fitness app.
Jon Davids, the CEO of influencer marketing company Influicity, says brands often partner with micro-influencers to create a larger volume of content. Similar to their partnerships with normal influencers, companies will send micro-influencers free products in exchange for a promotional video. Depending on the influencer, some companies will pay over $200 per video.
The difference, of course, is that since companies can pay micro-influencers less, they'll get more content for their money. For example, he says a mega-influencer may charge $5,000 for one video, while companies can take that same budget and work with roughly 30 micro-influencers.
"You can get lots and lots and lots of content without paying massive amounts of money for it," Davids says. "And, frankly, the supply is just there."
But Gomez says the money is often inconsistent. A month-long deal can briefly boost her income, but that doesn't guarantee a partnership for the upcoming months. The inconsistency isn't without its benefits, however. Gomez says that since she doesn't rely on these partnerships for income, she can be more particular about what companies she works with.
Gomez has even turned her micro-influencing, work-life balance into content. Her series documenting her attempts to make the most of her time outside of work has taken off. Gomez's first video about her "promise to get off the couch and seize life" has over 10 thousand likes. As such, she's since maintained a series of videos focused on how she uses her time outside of work.
In fact, the "5 to 9" trend, which features people showing off their detailed routines before and after work, often with homemade meals and elaborate skincare routines, can get creators thousands of views. Other micro-influencers highlight content specifically about their careers: lawyers translate legal jargon, nurses discuss their work hours and teachers share their classroom management strategies. Which is to say, for many non-professional creators, quitting their full-time job would likely alter their content and potentially alienate their audience.
To that end, Davids says, these niche communities, such as influencers who make content about engineering or waste management, are often where micro-influencers thrive.
"The micro-influencers that we have today really didn't exist five or six years ago," Davids says. "People who had very, very small audiences on social weren't doing it to have any kind of professional presence—they were just kind of creating content for their friends and family."
Which is why, Davids adds, amateur content creators can actively engage their followers on a more personable level than many mega-influencers.
Nonetheless, Gomez has thought about pursuing content creation full-time. But, she finds that she enjoys the security her traditional job provides compared to the lack of financial consistency from her influencing endeavors.
"You just never know what the future is with social," Gomez says. "I think you really do have to be in a really good place [financially] to be able to say, 'I'm going to quit my job and just do content creation.'" Amen.
Kristin Snyder
Kristin Snyder is dot.LA's 2022/23 Editorial Fellow. She previously interned with Tiger Oak Media and led the arts section for UCLA's Daily Bruin.
11:02 AM | November 03, 2022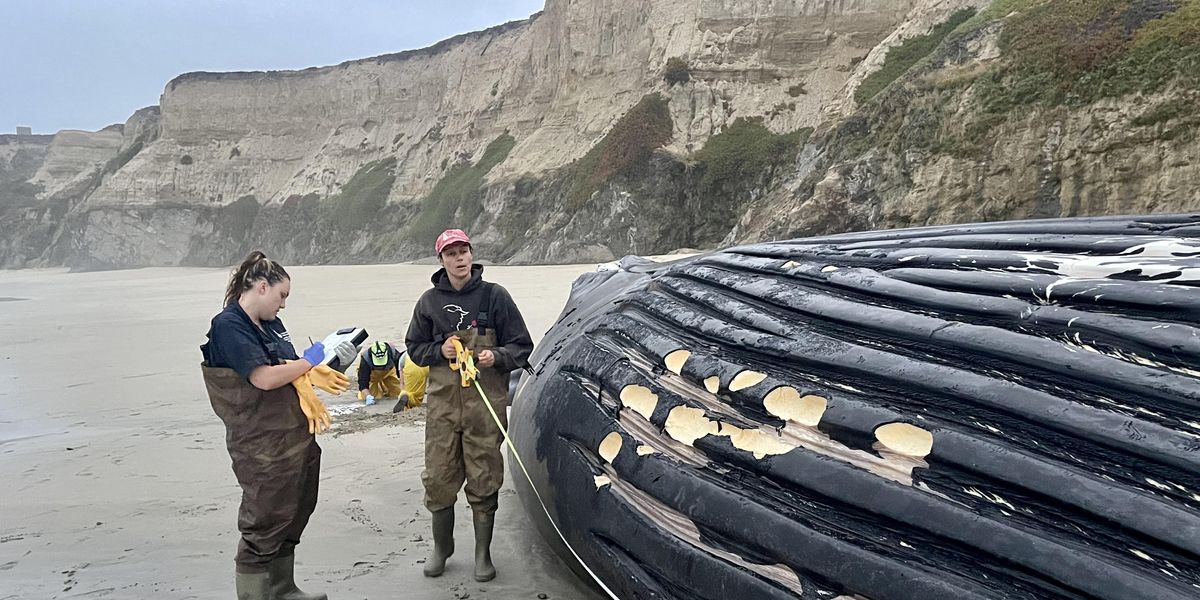 Padraig Duignan
It's difficult to calculate exactly how many whales are killed by collisions with ships every year because many strikes go unnoticed and unreported. But some estimates put the number as high as 20,000 per year. This spring, the SF Chronicle reported that as many as 83 endangered whales are killed by ships off the coast of California each year, citing projections from Petaluma organization Point Blue Conservation Science. As the shipping industry continues to grow and climate change forces whales into closer proximity to humans, the problem is only set to get worse.

Fortunately, there's a simple solution: Simply reducing the speed of the boat gives the whales enough time to respond and escape from threats. Which is why a new initiative, born out of the University of California Santa Barbara, is beginning to supply vessels with strategic information about when and where to brake for whales.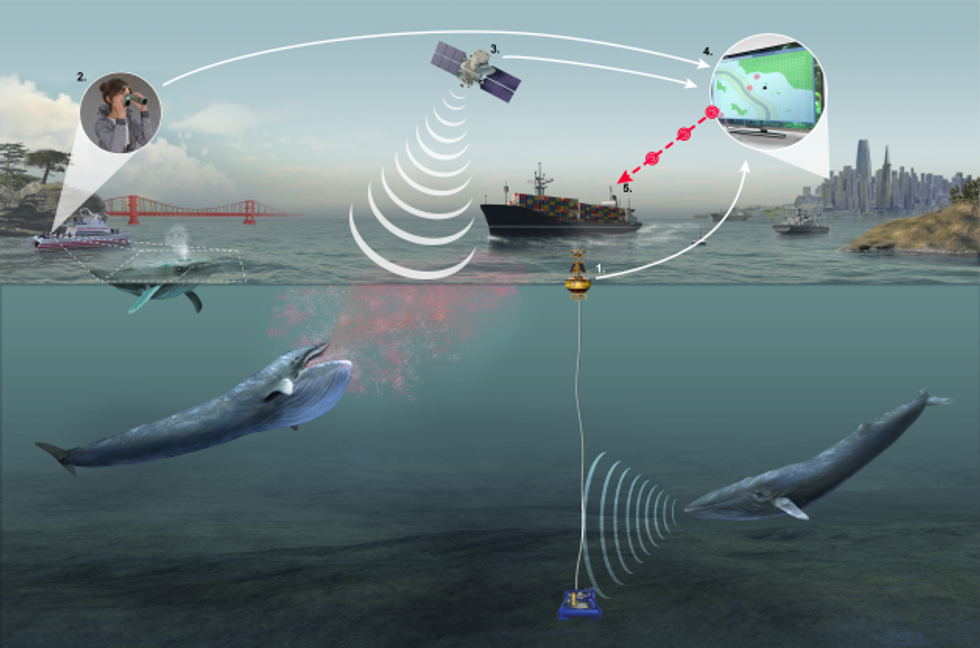 Known as Whale Safe, the project is an offshoot of Benioff Ocean Science Laboratory, which was created through a donation from SalesForce co-founder and co-CEO Marc Benioff and his wife Lynne. The concept behind the technology is relatively simple: An underwater microphone sits around 600 feet below the surface listening for whale vocalizations near the shipping lanes in the Santa Barbara Channel. That data is then combined with blue whale habitat maps and models as well as surface observations from whale watchers and scientists out on the water. All the inputs are then used to create a "whale presence rating" that's sent out to ships indicating how likely a whale strike is in a given location.
"The best way I can describe the whale presence rating is it's almost like a Smokey the Bear fire warning, but for whales," says Callie Steffen, the lead scientist at Whale Safe. "It's just a really easily digestible way to understand how much whale activity is happening in the Santa Barbara Channel on any given day."
For now, the slowdowns are voluntary, but the second part of Whale Safe's model is that it also collects data about which ships adhere to the warnings and issues public report cards for each company and the individual ships in their fleet.
The analytics are captured from each ship's automatic identification system (AIS), which is essentially a GPS unit that large ships use to navigate and avoid collisions, says Steffen. The AIS data is obtained through Global Fishing Watch, but WhaleSafe processes the data to pull out the bits relevant to the whale zones they're studying.
At first glance, it might seem like industry would hate this kind of oversight, but Steffen says there's a lot of demand for these data from various stakeholders. Retailers and consumers now have a way to prove their goods are being moved in a whale-safe way, and shipping companies like it because it lets them check up on their colleagues and competition.
So far, the project appears to be working. When Whale Safe first began in 2019, only 47% of ships heeded the recommendation, but in 2020 that number jumped to 54%. Today, Steffen says 62% of ships follow the technologies recommendations.
Buoyed by the success, Whale Safe has recently set up a second operation off the coast of San Francisco. The team is also looking for a way to expand its vessel analytics software to the rest of North America. Which means report cards could soon be coming to the East Coast as well—a massive boon for the highly endangered North Atlantic right whale population. All of the data will remain open-source and free to the public.
David Shultz
David Shultz reports on clean technology and electric vehicles, among other industries, for dot.LA. His writing has appeared in The Atlantic, Outside, Nautilus and many other publications.