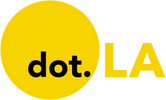 Get in the KNOW  
  on LA Startups & Tech  
X
Mother Blames TikTok For Daughter's Death in 'Blackout Challenge' Suit
Christian Hetrick
Christian Hetrick is dot.LA's Entertainment Tech Reporter. He was formerly a business reporter for the Philadelphia Inquirer and reported on New Jersey politics for the Observer and the Press of Atlantic City.
12:37 PM | May 13, 2022
The mother of a 10-year-old girl who died after allegedly trying a dangerous online "challenge" has sued Culver City-based TikTok and its Chinese parent company ByteDance, claiming the social media app's algorithm showed her videos of people choking themselves until they pass out.
Nylah Anderson, an intelligent child who already spoke three languages, was "excruciatingly asphyxiated" and found unconscious in her bedroom on Dec. 7, according to a complaint filed Thursday in federal court in Pennsylvania. She spent five days in pediatric intensive care until succumbing to her injuries.
---
The lawsuit, filed by her mother Tawainna Anderson, claims TikTok's algorithm had previously shown Nylah videos depicting the "Blackout Challenge," in which people hold their breath or choke themselves with household items to achieve a euphoric feeling. That encouraged her to try it herself, the lawsuit alleged.
"The TikTok Defendants' algorithm determined that the deadly Blackout Challenge was well-tailored and likely to be of interest to 10-year-old Nylah Anderson, and she died as a result," the suit said.
In a previous statement about Nylah's death, a TikTok spokesperson noted the "disturbing" challenge predates TikTok, pointing to a 2008 warning from the Centers for Disease Control and Prevention about deadly choking games. The spokesperson claimed the challenge "has never been a TikTok trend." The app currently doesn't produce any search results for "Blackout Challenge" or a related hashtag.
"We remain vigilant in our commitment to user safety and would immediately remove related content if found," the TikTok statement said. "Our deepest sympathies go out to the family for their tragic loss."
At least four other children or teens have died after allegedly attempting the Blackout Challenge, according to the Anderson lawsuit. TikTok has grappled with dangerous challenges on its platform before, including one in which people tried to climb a stack of milk crates. That was considered so dangerous that TikTok banned the hashtag associated with it last year. In February, TikTok updated its content rules to combat the dangerous acts and other harmful content.
The Anderson lawsuit comes as lawmakers and state attorneys general scrutinize how TikTok and other social media can be bad for teens and younger users, including by damaging their mental health, causing negative feelings about their body image and making them addicted to the apps.
Christian Hetrick
Christian Hetrick is dot.LA's Entertainment Tech Reporter. He was formerly a business reporter for the Philadelphia Inquirer and reported on New Jersey politics for the Observer and the Press of Atlantic City.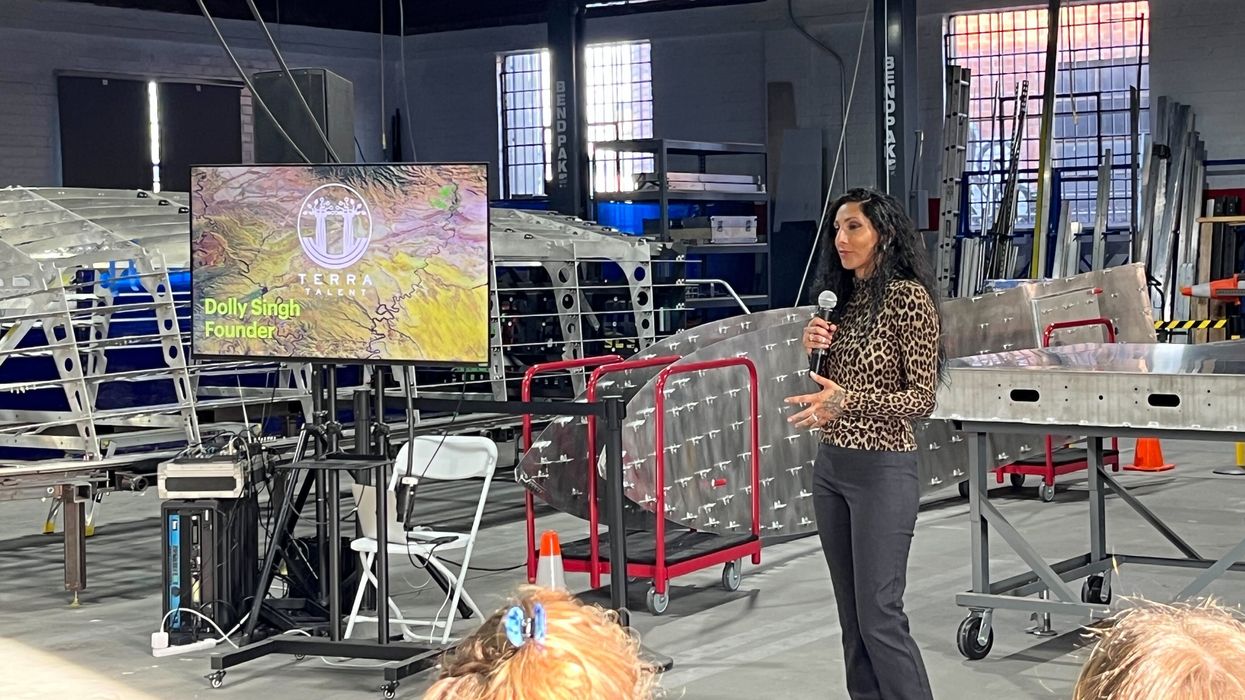 Samson Amore
At Lowercarbon Capital's LA Tech Week event Thursday, the synergy between the region's aerospace industry and greentech startups was clear.
The event sponsored by Lowercarbon, Climate Draft (and the defunct Silicon Valley Bank's Climate Technology & Sustainability team) brought together a handful of local startups in Hawthorne not far from LAX, and many of the companies shared DNA with arguably the region's most famous tech resident: SpaceX.
Here's a look at the greentech startups that pitched during the Tech Week event, and how they think what they're building could help solve the climate crisis.
Arbor: Based in El Segundo, this year-old startup is working to convert organic waste into energy and fresh water. At the same time, it also uses biomass carbon removal and storage to remove carbon from the atmosphere and sequester it in an attempt to avoid further damaging the earth's ozone layer. At the Tech Week event Thursday, Arbor CEO Brad Hartwig told a stunned crowd that Arbor aims to remove about five billion tons of organic waste from landfills and turn that into about 6 PWh, or a quarter of the global electricity need, each year. Hartwig is an alumni of SpaceX; he was a manufacturing engineer on the Crew Dragon engines from 2016-2018 and later a flight test engineer at Kitty Hawk.
Antora: Sunnyvale-based Antora Energy was founded in 2017, making it one of the oldest companies on the pitching block during the event. Backed by investors including the National Science Foundation and Los Angeles-based Overture VC, Antora has raised roughly $57 million to date, most recently a $50 million round last February. Chief operating officer Justin Briggs said Antora's goal is to modernize and popularize thermal energy storage using ultra-hot carbon. Massive heated carbon blocks can give off thermal energy, which Antora's proprietary batteries then absorb and store as energy. It's an ambitious goal, but one the world needs at scale to green its energy footprint. According to Briggs, "the biggest challenge is how can we turn back variable intermittent renewable electricity into something that's reliable and on demand, so we can use it to provide energy to everything we need."
Arc: Hosting the panel was Arc, an electric boating company that's gained surprising momentum, moving from design to delivering its first e-boats in just two years of existence. Founded in 2021, the company's already 70 employees strong and has already sold some of its first e-boats to customers willing to pay the luxury price tag, CTO Ryan Cook said Thursday. Cook said that to meet the power needs of a battery-powered speedboat, the Arc team designed the vehicle around the battery pack with the goal of it being competitive with gas boats when compared to range and cost of gas. But on the pricing side, it's not cheap. Arc's flagship vessel, the Arc One is expected to cost roughly $300,000. During the panel, Cook compared the boat to being "like an early Tesla Roadster." To date Arc Boats has raised just over $35 million, according to PitchBook, from investors including Kevin Durant, Will Smith and Sean "Diddy" Combs.
Clarity Technology: Carbon removal startup Clarity is based in LA and was founded by Yale graduate and CEO Glen Meyerowitz last year. Clarity is working to make "gigaton solutions for gigaton problems." Their aim? To remove up to 2,000 billion pounds of carbon from the atmosphere through direct air capture, a process which uses massive fans to move chemicals that capture CO2. But the challenge, Meyerowitz noted in his speech, is doing this at scale in a way that makes an actual dent in the planet's emissions while also efficiently using the electricity needed to do so. Meyerowitz spent nearly five years working as an engineer for SpaceX in Texas, and added he's looking to transfer those learnings into Clarity.
Parallel Systems: Based in Downtown LA's Arts District, this startup is building zero-emission rail vehicles that are capable of long-haul journeys otherwise done by a trucking company. The estimated $700 billion trucking industry, Parallel Systems CEO Matt Soule said, is ripe for an overhaul and could benefit from moving some of its goods off-road to electric railcars. According to Soule, Parallel's electric battery-powered rail vehicles use 25% of the energy a semi truck uses, and at a competitive cost. Funded in part by a February 2022 grant from the U.S. Department of Energy, Parallel Systems has raised about $57 million to date. Its most recent venture funding round was a $49 million Series A led by Santa Monica-based VC Anthos Capital. Local VCs including Riot Ventures and Santa Monica-based Embark Ventures are also backers of Parallel.
Terra Talent: Unlike the rest of the startups pitching at the Tech Week event, Terra Talent was focused on building teams rather than technology. Founder Dolly Singh worked at SpaceX, Oculus and Citadel as a headhunter, and now runs Terra, a talent and advisory firm that helps companies recruit top talent in the greentech space. But, she said, she's concerned that all the work these startups are doing won't matter unless we very quickly turn around the current trendlines. "Earth will shake us off like and she will do just fine in 10,000 years," she said. "It's our way of living, everything we love is actually here on earth… there's nothing I love on Mars," adding that she's hopeful the startups that pitched during the event will be instrumental in making sure the planet stays habitable for a little while longer.

Samson Amore
Samson Amore is a reporter for dot.LA. He holds a degree in journalism from Emerson College. Send tips or pitches to samsonamore@dot.la and find him on Twitter @Samsonamore.
https://twitter.com/samsonamore
samsonamore@dot.la
05:00 AM | November 01, 2022
Located roughly a hundred miles east of San Diego, the Salton Sea is California's largest landlocked body of water, for now.
Measuring 5 miles across and 35 miles long in its current form, the lake was created by diverting water from the Colorado River into the region for agricultural purposes. Once a vacation destination renowned for its wildlife and wetlands, a series of environmental mishaps and mismanagement have left the lake toxically salty, shrinking and often malodorous. Conditions have gotten so bad that Palm Springs Life Magazine called the region's transformation "the biggest environmental disaster in California history" in March of 2020.
But against this unlikely backdrop, new life—or at least new industry—is scrambling to set up shop in the region. The Salton Sea, it turns out, is rich with lithium, an element that has taken center stage in the world's transition to clean energy and its ever-growing demand for batteries. From smartphones to electric vehicles, there's a pretty good chance that the last battery you used had lithium ions inside. Prices for the metal reached an all time high in September, and futures are up more than 400% since the start of 2021. With Biden's new economic policy outlined in the Inflation Reduction Act, there are strong financial incentives to move battery production back to North America.
If that's going to happen the Salton Sea could very well become the lithium capital of North America, or to paraphrase Governor Gavin Newsom, the region could become the "Saudi Arabia of lithium," and the players are already starting to assemble.
Currently, there are three companies attempting to set up plants in the Salton Sea for direct lithium extraction: EnergySource Minerals, Controlled Thermal Resources and BHE Renewables, a branch of Berkshire Hathaway. All three companies have similar business strategies from a high level, all of which involve geothermal power plants. These plants, which are common in many parts of the world, draw hot, salty water from deep in the ground to create steam which drives a turbine to produce electricity. What makes the Salton Sea so special is that its geothermal brines just happen to contain lithium.
In a 2017 study, researchers from the U.S. DOE Office of Energy Efficiency and Renewable Energy analyzed more than 2,000 samples of geothermal fluid from U.S. sources and found that only 1% had significant lithium concentration. This rare confluence of geothermal activity and lithium presence provides an opportunity for companies to generate electricity and mine lithium simultaneously.
Beyond their marriage of geothermal energy and lithium extraction, the three companies begin to diverge.
According to former dot.LA engagement editor Luis Gomez — whose newsletter Lithium Valle, is essential reading on this topic — EnergySource seems to be out in front early.
"They claim to have the technology that's patented, they claim to have done the research, they claim to have the funding, and they claim they're ready to go and start production," says Gomez. "They are kind of considered the canary in the coal mine."
According to a report from the United States Department of Energy, EnergySource plans to eventually scale production up to over 20,000 metric tons of lithium hydroxide per year using its proprietary Integrated Lithium Adsorption Desorption technology.
Construction on the plant was slated to start earlier this year, but has been delayed. EnergySource has said publicly that lithium production might begin in the second quarter of 2024, but it's unclear whether this date will also be pushed back. The company has a long history of operating in the region, having run the John L. Featherstone geothermal plant since 2012. The new venture into lithium would leverage that same plant, but without more details about how their proprietary technology works, there's not much to do but wait and see.
One potential problem facing all three lithium extraction companies is that the Salton Sea geothermal brines are not the same as the brines in evaporation ponds similar to those in Argentina, Chile and Bolivia, where more than half of the world's lithium is produced. Specifically, the deep geothermal brines in the Salton Sea contain more silica and transition elements, which may complicate the chemistry of purifying the lithium. Still, many researchers are extremely bullish on the prospect of tapping into these reserves. Alex Grant, The Principal at Jade Cove, a research organization focusing on direct lithium extraction technologies, says that much of the skepticism surrounding the technology can be attributed to competing financial interests that are trying to squash the nascent tech's potential in favor of an established method.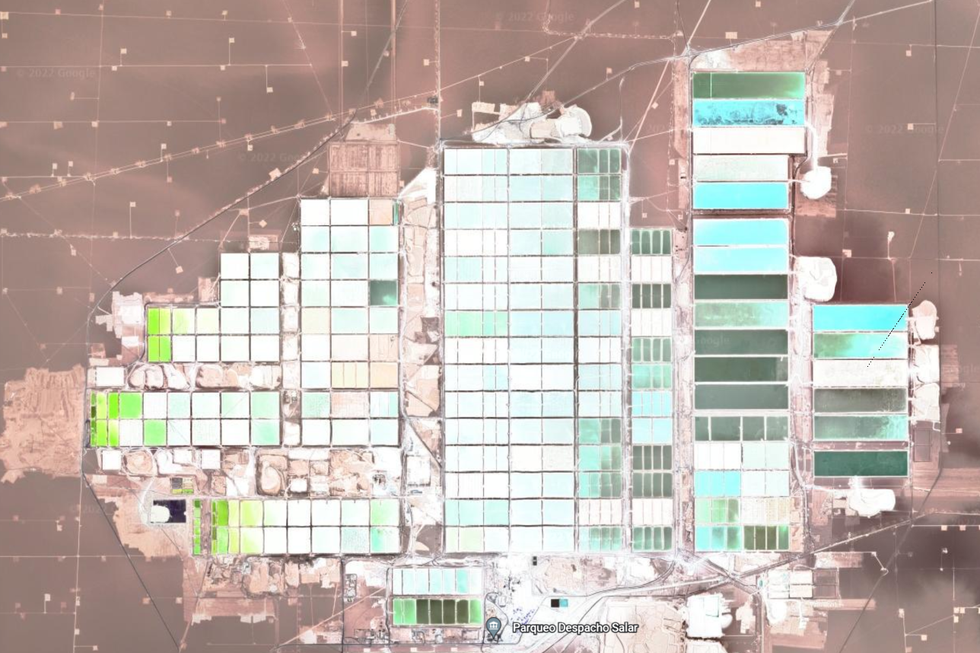 Lithium Mines in the Atacama Salt Flats, Chile from an altitude of 15km via Google Earth. The facility is about 10km wide.
Google Earth
For its part, BHE Renewables, operating as CalEnergy, runs a fleet of 10 geothermal plants in the Imperial Valley. The company had previously announced its intent to set up a direct lithium extraction demonstration plant sometime before the end of 2022 to assess the viability of lithium extraction. If that pilot program goes well, the company could build a commercial-scale facility as early as 2026 with a projected annual capacity of 90,000 metric tons of lithium.
Obviously, having the backing of Berkshire Hathaway comes with advantages and capital. Add into the equation another $15 million in DoE grant money obtained last winter, and BHE appears to be well positioned as a major player in the long term.
Finally, there's Controlled Thermal Resources. As the only company not already operating a geothermal business in the region, CTR is something of an outsider and dark horse. By 2024, the company hopes to build both a geothermal energy plant and a direct lithium extraction plant to operate in parallel, projecting a capacity to extract 300,000 metric tons of lithium carbonate equivalent annually by 2030. As dot.LA previously reported, Controlled Thermal Resources has partnered with Statevolt, a company that intends to build a $4 billion gigafactory nearby that will run on power from CTR's geothermal plant and make batteries from the lithium it extracts. It's a beautiful closed-loop business model. But again, all of this relies on the direct lithium extraction technology, and details are scant.

According to Gomez, despite the typically cut-throat nature of the energy industry, the relationship between the three upstarts in the Salton Sea is often surprisingly cooperative at the moment.
"They want the others to succeed because it kind of gives them the confidence that their technology is also eventually going to succeed," he says. "It gives confidence to investors."
Which is all to say, there may well be space for all three companies if the technology is as solid as they claim. If that's the case, the Salton Sea and its surrounding region may have yet another miraculous transformation up its sleeve.
David Shultz
David Shultz reports on clean technology and electric vehicles, among other industries, for dot.LA. His writing has appeared in The Atlantic, Outside, Nautilus and many other publications.