unemployment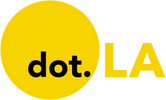 Get in the KNOW
on LA Startups & Tech
X
unemployment
Although Friday's U.S. jobs data show continued declines in unemployment, many economists, such as from ZipRecruiter and LinkedIn, are concerned at the data they're seeing.
One of them called the decline in employers' job postings on ZipRecruiter "an early tsunami warning" and a "pull-the-ripcord emergency moment."
Several factors suggest pessimism from businesses about the near future, including the recent dry-up of government stimulus alongside ongoing operating constraints due to the pandemic.
Friday's jobs report showed the U.S. unemployment figures continuing their decline to 8.4% in August, from a high of 14.7% in April.
Despite that welcome news, more recent data from L.A.-based ZipRecruiter contains unsettling signs for the future. After 10 weeks of rising activity from employers, job postings have reverted to a downward trend since mid-August.
"This is an early tsunami warning," ZipRecruiter labor economist Julia Pollak told dot.LA. "It could be the start of exactly the sort of systemic breakdown the government was trying to avoid in the beginning [of the pandemic]."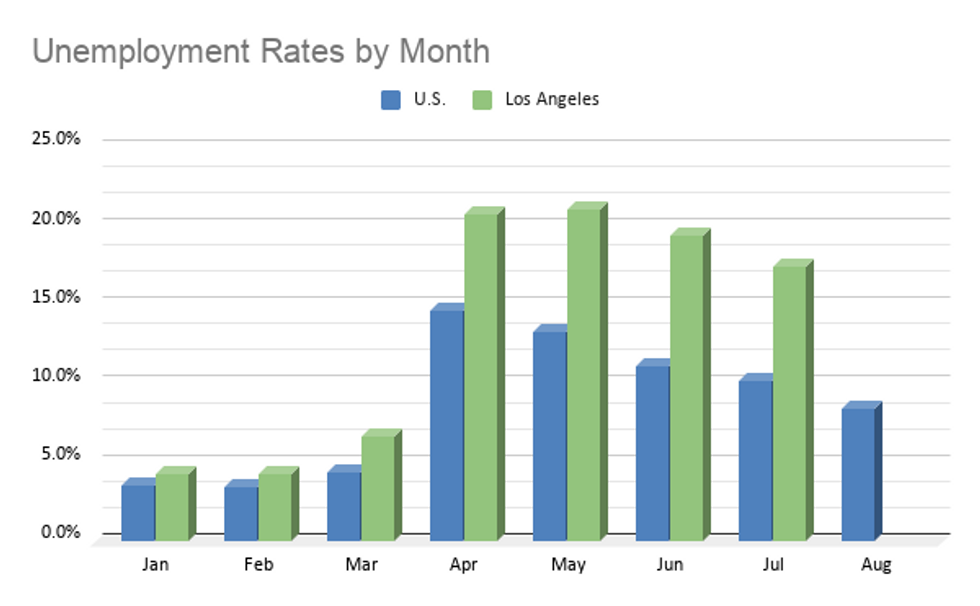 U.S. data provided by the U.S. Bureau of Labor Statistics. Local data provided by the California Employment Development Department and includes seasonally adjusted final data except for July, for which finalized data was not yet available. No local data was yet available for August.
Unemployment rates don't tell a full story about where the economy is headed, Pollak said. It's a reminder that she wants people in power to heed.

"I think Congress should see this as an emergency sign," she said, noting that job postings on ZipRecruiter tend to be an early indicator of job growth – or decline.
The job picture in California and Los Angeles is similar to that of the country at large, according to ZipRecruiter's data. Los Angeles has one of the highest rates of unemployment among large metro areas.

LinkedIn, another job board, found hiring was 16.2% lower this August than last year.
It's not surprising to Jerry Nickelsburg, an economist at the UCLA Anderson School of Management. He worries it will exacerbate inequality in Los Angeles, as industries being hit hardest tend to skew toward lower-income sectors, like logistics and tourism.
Nickelsburg said the federal unemployment data paints it a murky picture. The regulatory changes in recent months that led to a number of re-openings "mask what's going on underneath" at the economic level, he said. "We have less visibility than we normally have," Nickelsburg added. Assuming a continuation of the start-and-stop pace of opening up and the regulatory response, he foresees a "soft labor market in spite of the strong jobs report," noting that the job growth in today's data is fueled in part by temporary positions associated with the U.S. Census.

LinkedIn's principal economist Guy Berger also reported this week that hiring observed on LinkedIn (measured by the share of members adding a new employer to their profiles) fell from July to August. "Our takeaway is that this month's data shows that the virus has created a 'ceiling' on just how much the economy can return to normal," he said. "Given how much higher COVID transmission is here in the U.S. vs. aboard, the ceiling might be lower here."

"My real fear is what will happen in September," Pollak said. "I look at a downturn in job postings as a break-the-glass, pull-the-ripcord emergency moment."
Pollak said her alarm follows weeks of optimism. More companies had been signing up for ZipRecruiter's services. Every single industry and every single state had seen job postings increase in July and August, she said. But now, those trends have stopped, and a number of factors appear to be turning that summer of hope into a fall reckoning:
Ongoing Uncertainty: Without clarity on the pandemic and the government's policy to stop it, businesses remain inclined to do what they usually do in the face of uncertainty: sit and wait. Berger, the LinkedIn economist, said this is due at least in part to a "less centralized U.S. response" to the pandemic and that the uncertainty is holding businesses back from long-term investing and hiring.
Reduced Economic Activity: Anticipated closures of spectator sports, performing arts, colleges and ski resorts will hurt not just the businesses in those industries, but also adjacent ones like bars and restaurants. This expected dampening follows a quiet summer, which is normally the banner season for many such businesses. "Summer profit margins weren't large enough to sustain many businesses," Pollak said. Facing a future with fewer customers, "many will have to close in the fall."
Government Stimulus Is Drying Up: The $350 billion payment protection program loans designed to help employers pay their workers during the shutdowns ceased on August 8th. $600 weekly unemployment checks expired in July, causing a $60 billion reduction in unemployment payouts in August. "That is almost certainly reducing consumer spending right now," Pollak said, pointing to a survey ZipRecruiter conducted this summer that found over 40% of respondents would be unable to pay their rent if unemployment payments shrunk. Congressional talks on renewing a stimulus program have been gridlocked.
Schools Aren't Opening: Berger called virtual classes and delayed school re-openings "a severe challenge for households where all parents work." That's behind his topline takeaway that, in addition to a vaccine, his data point to a "need to get money back in the hands of Americans who need it and a childcare solution for the interim."
Consumer Confidence Is Down: Conference Board, a think tank, released data this week that consumer confidence has fallen two months in a row. "If confidence goes down, we can expect spending to go down," Pollak said – both among those who have no choice and those on the fence about, say, buying a house or a new car.
Pollak added that since neither the stock market nor housing values have crashed, her data point to widespread "concern about COVID, the future course of policy, and the ability for businesses to reopen and be sustainable given reduced sales and rules limiting their capacity."
Over the coming months she and others will be closely watching for the speed at which jobs are able to return to their pre-COVID baseline, and other indicators of a dynamic labor market. These include participation rates among prime-age workers and women, wage growth and long-term unemployment. But as long as the pandemic lingers, those indicators may be tepid.
"We can't fully bounce back until there is more certainty around the virus," Berger said.
Here are the latest headlines regarding how the novel coronavirus is impacting the Los Angeles startup and tech communities. Sign up for our newsletter and follow dot.LA on Twitter for the latest updates.
Today:
More than 900,000 L.A. County Residents Jobless as Local Unemployment Hits 20%
Why Smaller Venture Funds are in Danger as the COVID-19 Pandemic Churns on
More than 900,000 L.A. County Residents Jobless as Local Unemployment Hits 20%
c1.staticflickr.com
The unemployment rate in Los Angeles County hit near 20% last month, a staggering figure that put into question the ability of the region to bounce back from the pandemic-induced economic free fall.
More than 900,000 Los Angeles County residents didn't have a job in April as the prolonged stay-at-home order closed retail shops, stopped factory lines and halted Hollywood. The downturn is the largest on record in California.
"We are dealing with Depression Era unemployment," Gov. Gavin Newsom who is facing a $54 billion state deficit told PBS News Hour. "The numbers that come out publicly are lagging. And the reality is that we are north of 25% (unemployment) in California."
California is looking to stem the economic devastation as it pushes to reopen the economy. On Monday, Newsom is expected to outline plans to restart film and television production, although it's unclear if it will resume in Los Angeles. It comes as local stores have reopened for curbside pick-up and traffic along freeways has begun to pick up.
Statewide unemployment for April was 15.5%, according to employment data taken from a federal sample survey of households that provides a more complete picture of job loss by also including individuals that may not have filed unemployment claims. In the county, the seasonally adjusted unemployment rate stood at 19.6%.
According to the figures - seasonally adjusted - about 931,000 people in Los Angeles County were without a job in April, upending the state's previous low unemployment.
Not one industry reported job gains during the month. Among the hardest hit sectors were retail, restaurants, tourism and manufacturing, according to a second survey of 145,000 California businesses that gives a further breakdown of how the devastation has played out in each industry from tourism to retail to finance.
Leisure and hospitality, like restaurants and amusement parks, accounted for more than a quarter of the county-wide job losses with employment down 38 percent from the previous month.
Why Smaller Venture Funds are in Danger as the COVID-19 Pandemic Churns on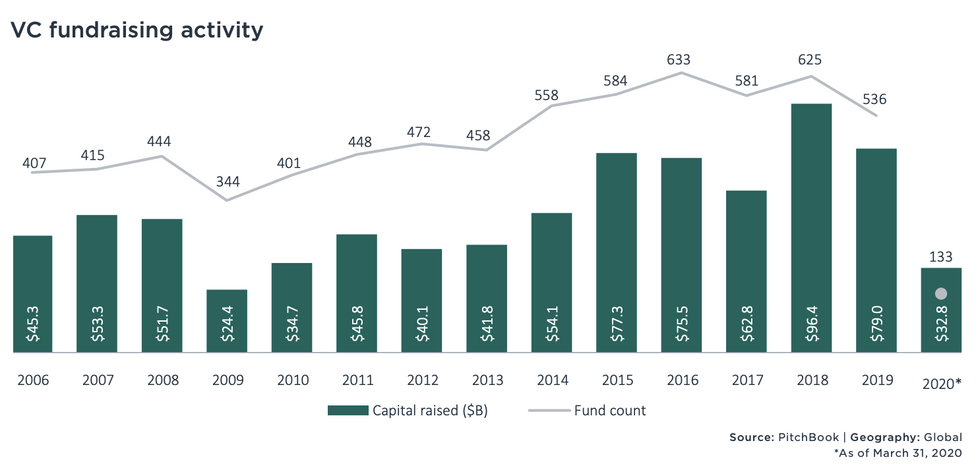 via Pitchbook
Big venture capital funds are continuing to close with success while smaller ones — of which there are many in Los Angeles — are having more difficulty, according to a new research report from Pitchbook.
"Across private market strategies, this will push the balance even further toward the mega-funds that have been garnering such a large proportion of LP commitment dollars," wrote senior analyst Hilary Wiek. "Funds that have had a first closing and begun investing may have a difficult time with further fundraising if future investors are expected to buy in at cost on investments that now need to be written down. LPs appear to be pondering their commitment pacing this year, with many choosing to slow the pace at least somewhat."

Pitchbook says many LPs are holding quarterly meetings this month with their investment committees to discuss future allocations. So far at least, few LPs have defaulted but they have slowed down in their commitments. -Ben Bergman
From Your Site Articles
Related Articles Around the Web
Here are the latest headlines regarding how the novel coronavirus is impacting the Los Angeles startup and tech communities. Sign up for our newsletter and follow dot.LA on Twitter for the latest updates.
Verizon data suggest pandemic behaviors are starting to reverse
California among three states reporting the highest level of unemployment claims
Verizon data suggest pandemic behaviors are starting to reverse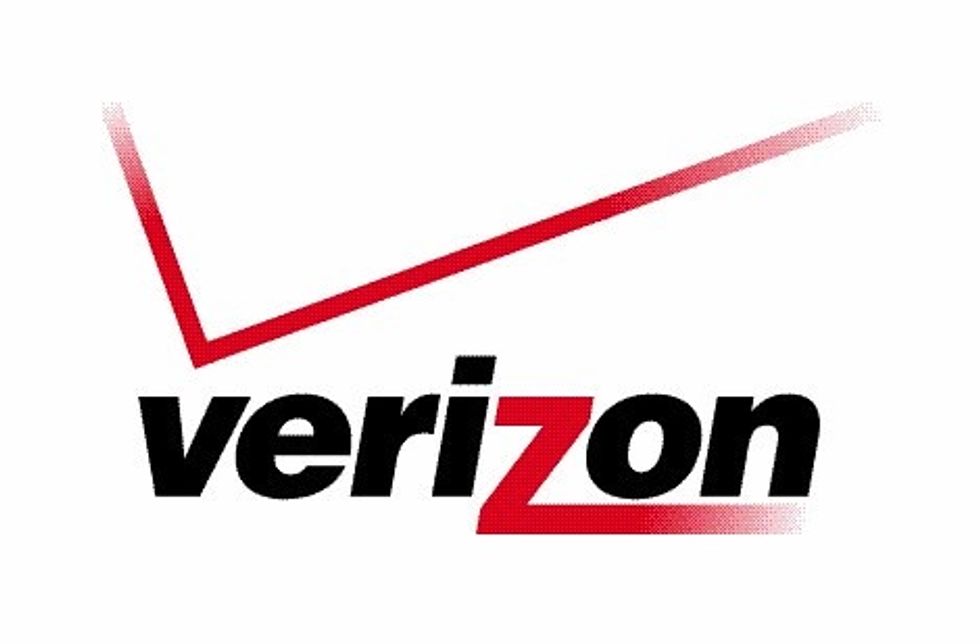 Data released yesterday by Verizon suggest that pandemic-induced behaviors are starting to reverse. The telecommunications giant's latest report shows that, in the week to May 6:
Video streaming fell 11%
Collaboration tools fell 5%
Gaming fell 4%
People also seem to be moving around more as stay-at-home mandates relax and the spring weather beckons. Movement from one cell site to another climbed 6.2% on the week -- "the biggest weekly gain since the COVID crisis began," Verizon reported. Such "handoffs" are still 18% lower than normal, however.
"The network performance numbers definitely indicate a break in routines people have formed over the last several weeks during the pandemic," said Verizon's Chief Technology Officer.
California among three states reporting the highest level of unemployment claims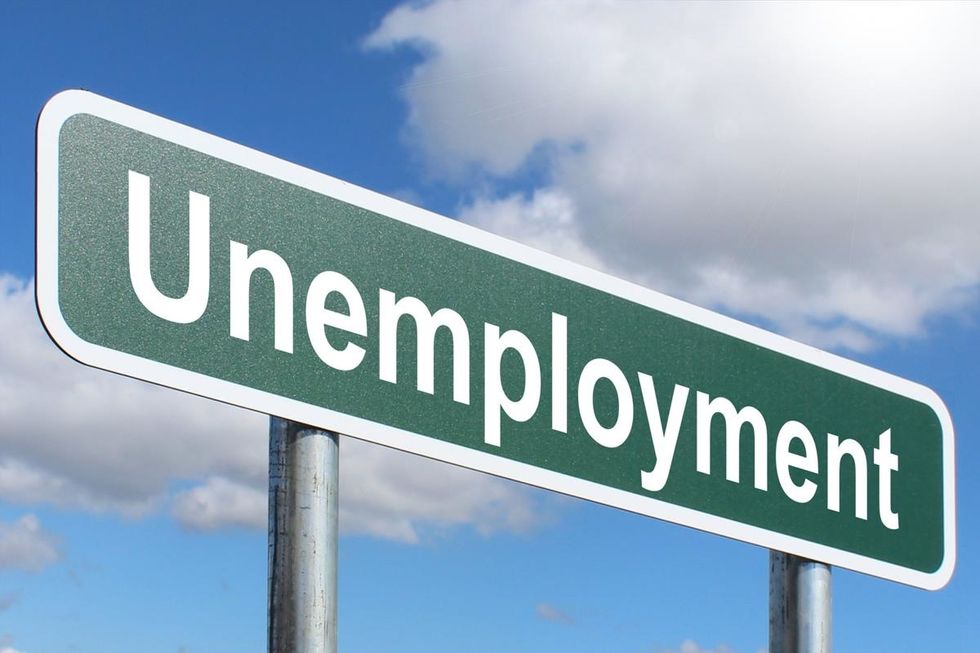 California, which borrowed cash from the federal government to help pay for unemployment claims, was one of three states reporting the highest levels of initial claims in the nation. About 318,000 California workers filed initial claims for unemployment during the week that ended May 2, which was down slightly from the 325,000 who filed jobless claims for the week that ended April 25, the U.S. Labor Department reported.
Overall, the U.S. said the number of Americans who filed for benefits topped three million for a seventh-straight week. That brought the seven-week total to about 33.5 million. California joined Texas and Georgia reporting the highest levels of unadjusted initial claims last week. Most states posted declines from the prior week. The economic downturn brought by the new coronavirus is expected to drive California into a $53.4 billion deficit over the next year with an unemployment rate projected well above its peak during the financial crisis in 2008., according to a memo released by Gov. Gavin Newsom's office Thursday.
"California began 2020 with a strong bill of financial health—a strong economy, historic reserves, and a structurally balanced budget," according to the report. "The rapid onset of the COVID-19 pandemic has had an immediate and severe impact on the global, national, and state economies... The May Revision economic forecast reflects that COVID-19 impacts will continue to cause economic losses in 2020."
From Your Site Articles
Related Articles Around the Web