tango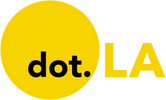 Get in the KNOW
on LA Startups & Tech
X
tango
Startup valuations are up just about everywhere, but no major city in the U.S has seen the estimated value of early-stage startups spike this year quite like they have in Los Angeles, where competition for deals is reaching a fever pitch.
For budding L.A. startups, pre-money valuations have been eye-popping in the first half of 2021, rising 116% from last year to a median of $65 million, according to a recent Pitchbook report. Nearly every startup hub in the U.S. saw increases in the same period, but the jump was most pronounced in L.A.
In the San Francisco Bay Area, for example, the median rose nearly 43% over the same period to $50 million.
"Especially within hubs, such as L.A., competition for deals has grown considerably in recent years, with the flood of new investors and more capital looking to invest in startups," said Pitchbook Senior VC Analyst Kyle Stanford, who authored the report. "Los Angeles has, on its own, seen strong fundraising numbers, bringing more local capital to the ecosystem, expanding opportunities for the area's companies."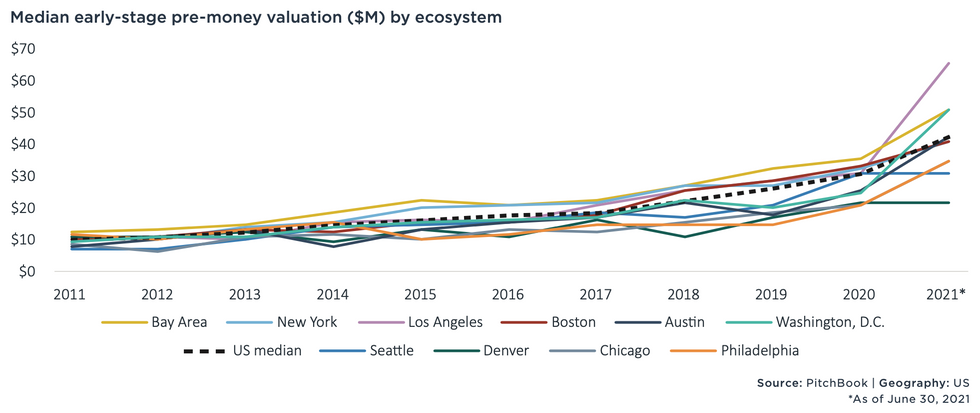 Median early-stage pre-money valuation ($M) by ecosystemPitchbook
Calculating valuations is more of an art than a science, since young companies aren't likely to have noteworthy revenues or profits. Instead, venture firms make funding deals based on an agreed valuation often determined by the credentials of a founding team, early progress (a.k.a. traction) and larger trends in the industry, including how much competition there is among investors to snap up shares. The approach has led to frequent criticism that venture dollars tend to be directed mostly to a small circle of individuals who have access to firms.
For entrepreneurs who are able to secure funds, a hot market can send deal sizes soaring.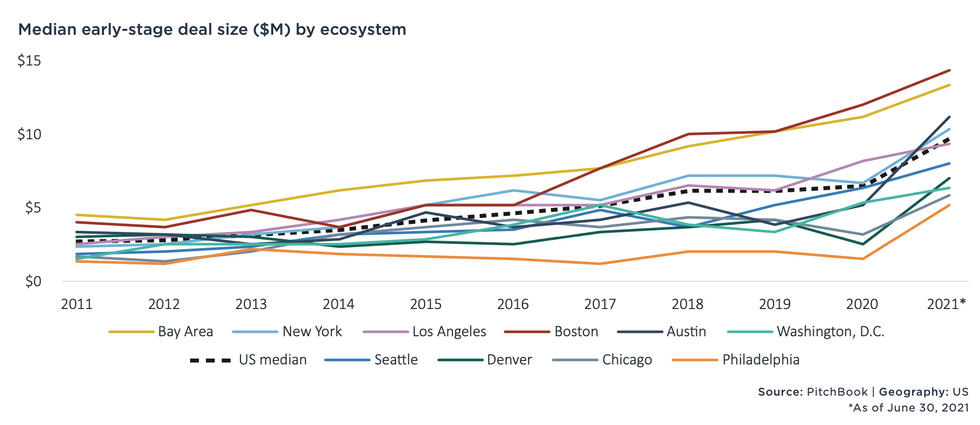 Median early-stage deal size ($M) by ecosystemPitchbook
Over the summer, booming competition translated to fatter rounds for startups operating in L.A. Tango, a workforce training startup, raised a $5.7 million seed round in August. A month earlier, employee benefits company JOON announced a $2.3 million seed. While Tango raised more than twice as much as JOON, both deals reflect how early-stage fundraises have swelled in the past decade. In 2010, the median seed deal in the U.S. clocked in at $500,000, according to Pitchbook. By the second quarter of 2021, the median reached $2.6 million.
Valuations are rising across the board as VCs and hedge funds compete for the hottest deals amid access to cheap cash. But such founder-friendly market conditions — which are observable in L.A. and other startup hubs — come with potential drawbacks for executives and employees alike, should a correction deflate lofty startup valuations before they're able to cash in their shares.
'Excesses' in the Market Today
The phenomenon described by Stanford is not limited to emerging businesses: Late-stage startup valuations rocketed in the first half of 2021, too. In L.A., the median pre-money valuation for these companies increased 138% to $175 million, according to the report. Pitchbook recorded the highest median late-stage valuation in the Bay Area at $275 million.
"Combined with its relative proximity to the Bay Area and its huge amount of venture capital, Los Angeles startups have capitalized on the excesses being seen within the market today," Stanford said. That trend is likely to continue, at least in the short term, the author of the Pitchbook report added. "Every indication is that valuations will remain high for the second half of this year and likely into or through 2022."
While now is a good time to raise funds, that could change. The "global startup funding frenzy" has spurred some fears of another tech bubble. "This feels a lot like 1999 to me," London-based Hoxton Ventures partner Hussein Kanji told CNBC earlier this year.
Generally, startups "should be aware that any correction may lead to down rounds in the future, and down rounds are very painful especially for common shareholders (founders, employees)," Stanford finance professor Ilya Strebulaev told dot.LA in an email. "For employees, an important question is the fair value of their stock options, which is not always easy to determine."
It is a frustrating but not uncommon issue in the workplace: an employee approaches a task, but they are unsure of how to complete it. Maybe they're a new hire who hasn't been shown how, or they haven't done the task in a while.

The problem's bigger than you might think. Workers spend nearly 20% of their work week seeking help in performing specific tasks, according to a report from McKinsey Global Institute. That's a huge concern for workplace productivity.
Tango, a Los Angeles-based startup, aims to offer a solution by making it easy to create how-to guides as a resource for employees. The company, which brands itself as a "workflow intelligence platform," raised a $5.7 million seed round this week. It had previously been bootstrapped by its founders.
Wing Venture Capital led the round, with General Catalyst, GSV Ventures, Outsiders Fund, Red Sea Ventures and a number of angel investors also participating.
Tango sees an opening as tech companies become more reliant on a growing number of software-as-a-service companies to improve their workflow.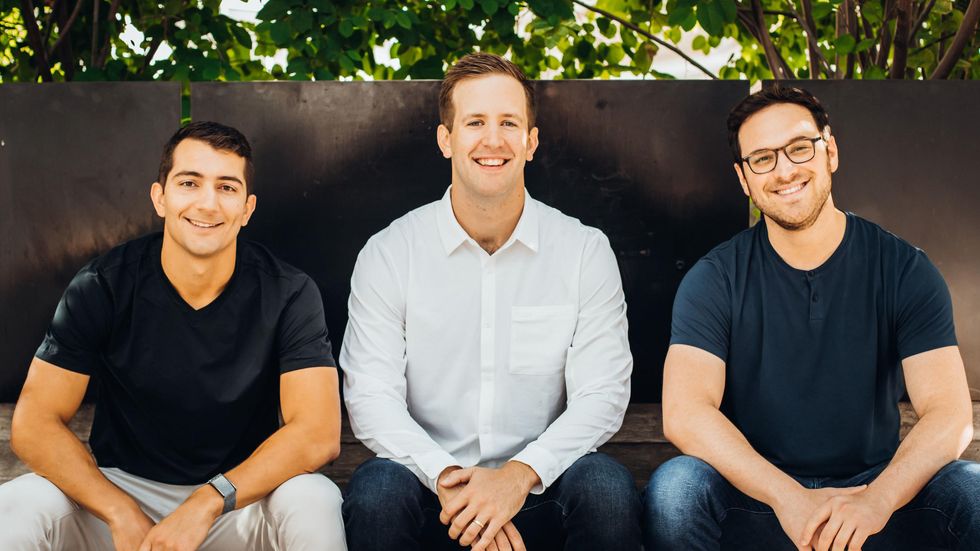 Tango co-founders, from left, Dan Giovacchini, Ken Babcock and Brian Shultz
Users can use Tango's browser extension to record their screens as they demonstrate how to complete a task. As the application records, it also automatically creates a how-to guide, complete with screenshots.

Once the recording is complete, Tango allows users to edit the guide if needed. The user is then left with a video and a guide that can then be exported as a PDF or converted into code for embedding on webpages and wikis, allowing companies flexibility in how employees can access the guides.
Because it's a browser extension, Tango currently only supports applications within browsers. However, it plans to develop a product that goes beyond the browser.
Tango's three co-founders, Ken Babcock, Dan Giovacchini and Brian Shultz, are all former Harvard Business School students who dropped out in March 2020 to start the company, which has grown from three to 13 employees since its founding.
The initial idea for Tango was fairly different; it had the working title of "Twitch for work" and revolved around the idea of watching a company's highest performers while they work. Babcock, who is the CEO, said the mission of the company that evolved from this idea is represented well by its name.
"A lot of our founding story is kind of rooted in this idea of mentorship," Babcock said. "I think what we liked about 'Tango' is, you say tango, people are always like, 'Oh, it takes two to tango!' It's a dance where someone is leading and someone is following."
Other companies have tried to make the creation of tutorials simpler, including Camtasia, which aids in the creation of video tutorials specifically. Documentation tools such as Bit.ai have been helping companies create tutorials for software for years. Still, Babcock said he doesn't feel that Tango has any direct competitors.
"We felt that a step-by-step how-to guide actually would have several advantages over video: cutting through the fluff, the ability to follow at your own pace, and from the creator's perspective, fewer re-dos and awkward pauses," said Babcock. "These capabilities really differentiate Tango from every other technology [available]."
Tango is not expected to officially launch until September, but a few companies have already been using its system as pilot customers, including real estate service Bungalow and recruiting platform Dover. Babcock said the departments that could benefit most from a product like Tango are customer success and sales enablement.
With the new round, Tango plans to hire, execute a product-led growth strategy and build upon their customer support functions. Also on the roadmap is expanding the product to offer more services; what those services will be is currently unclear, but Babcock said the company is far from its limit.
"The initial product is about saving people time and creating documentation," said Babcock. "Once you have organizations using Tango, creating workflows, sharing them internally, you unlock a really rich data set about how people are working, what those best practices are, who might need help. The future state of Tango, the way we think about it, is a coaching platform."
From Your Site Articles
Related Articles Around the Web