joon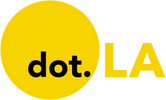 Get in the KNOW
on LA Startups & Tech
X
joon
Startup valuations are up just about everywhere, but no major city in the U.S has seen the estimated value of early-stage startups spike this year quite like they have in Los Angeles, where competition for deals is reaching a fever pitch.
For budding L.A. startups, pre-money valuations have been eye-popping in the first half of 2021, rising 116% from last year to a median of $65 million, according to a recent Pitchbook report. Nearly every startup hub in the U.S. saw increases in the same period, but the jump was most pronounced in L.A.
In the San Francisco Bay Area, for example, the median rose nearly 43% over the same period to $50 million.
"Especially within hubs, such as L.A., competition for deals has grown considerably in recent years, with the flood of new investors and more capital looking to invest in startups," said Pitchbook Senior VC Analyst Kyle Stanford, who authored the report. "Los Angeles has, on its own, seen strong fundraising numbers, bringing more local capital to the ecosystem, expanding opportunities for the area's companies."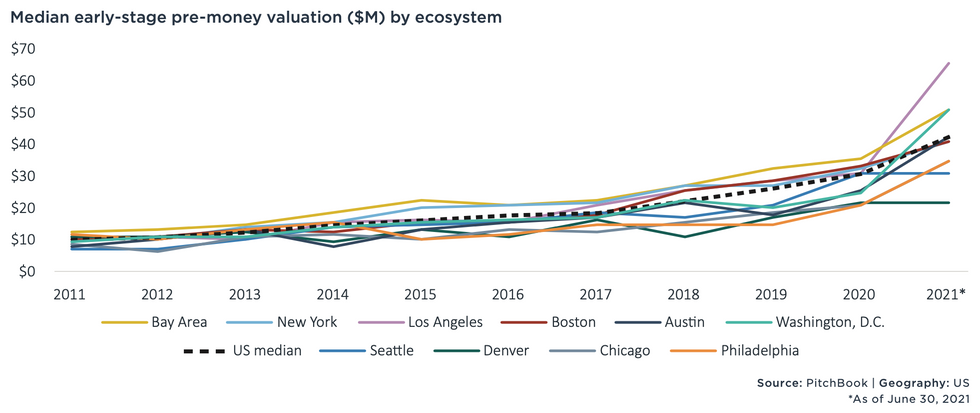 Median early-stage pre-money valuation ($M) by ecosystemPitchbook
Calculating valuations is more of an art than a science, since young companies aren't likely to have noteworthy revenues or profits. Instead, venture firms make funding deals based on an agreed valuation often determined by the credentials of a founding team, early progress (a.k.a. traction) and larger trends in the industry, including how much competition there is among investors to snap up shares. The approach has led to frequent criticism that venture dollars tend to be directed mostly to a small circle of individuals who have access to firms.
For entrepreneurs who are able to secure funds, a hot market can send deal sizes soaring.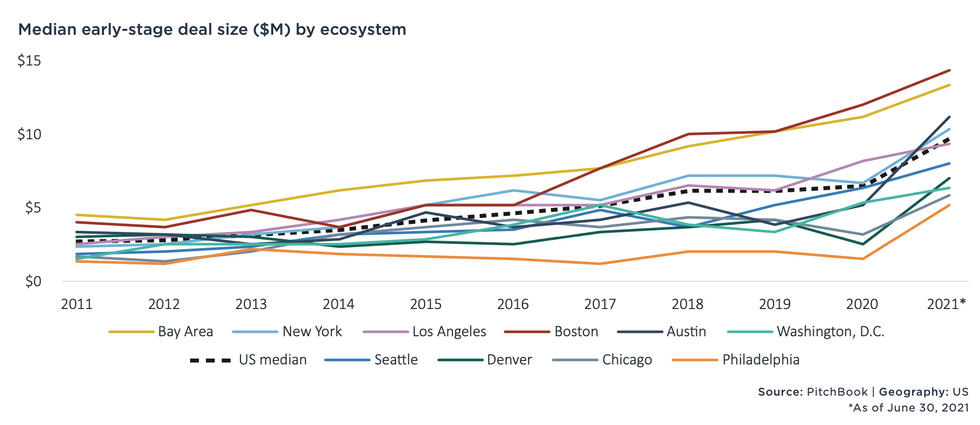 Median early-stage deal size ($M) by ecosystemPitchbook
Over the summer, booming competition translated to fatter rounds for startups operating in L.A. Tango, a workforce training startup, raised a $5.7 million seed round in August. A month earlier, employee benefits company JOON announced a $2.3 million seed. While Tango raised more than twice as much as JOON, both deals reflect how early-stage fundraises have swelled in the past decade. In 2010, the median seed deal in the U.S. clocked in at $500,000, according to Pitchbook. By the second quarter of 2021, the median reached $2.6 million.
Valuations are rising across the board as VCs and hedge funds compete for the hottest deals amid access to cheap cash. But such founder-friendly market conditions — which are observable in L.A. and other startup hubs — come with potential drawbacks for executives and employees alike, should a correction deflate lofty startup valuations before they're able to cash in their shares.
'Excesses' in the Market Today
The phenomenon described by Stanford is not limited to emerging businesses: Late-stage startup valuations rocketed in the first half of 2021, too. In L.A., the median pre-money valuation for these companies increased 138% to $175 million, according to the report. Pitchbook recorded the highest median late-stage valuation in the Bay Area at $275 million.
"Combined with its relative proximity to the Bay Area and its huge amount of venture capital, Los Angeles startups have capitalized on the excesses being seen within the market today," Stanford said. That trend is likely to continue, at least in the short term, the author of the Pitchbook report added. "Every indication is that valuations will remain high for the second half of this year and likely into or through 2022."
While now is a good time to raise funds, that could change. The "global startup funding frenzy" has spurred some fears of another tech bubble. "This feels a lot like 1999 to me," London-based Hoxton Ventures partner Hussein Kanji told CNBC earlier this year.
Generally, startups "should be aware that any correction may lead to down rounds in the future, and down rounds are very painful especially for common shareholders (founders, employees)," Stanford finance professor Ilya Strebulaev told dot.LA in an email. "For employees, an important question is the fair value of their stock options, which is not always easy to determine."
Jon Shooshani and Sebastian Elghanian got a bird's eye view of how quickly the pandemic changed tech workers' priorities.
The founders of JOON, an employee benefits software platform that automates the reimbursement process for workers, said they almost immediately began to see shifts in how people were using their benefits.
Employees were quickly redirecting their gym membership benefits towards wearables and home workout equipment, and companies were expanding benefits for a home office and childcare — things they normally didn't pay for.
"It really tells the tale of the hybrid workforce that we are seeing now and we will be seeing in the future," said Elghanian, JOON's CEO, adding, "companies are providing more flexibility as to where their employees can work. And from that, different programs need to fit different needs."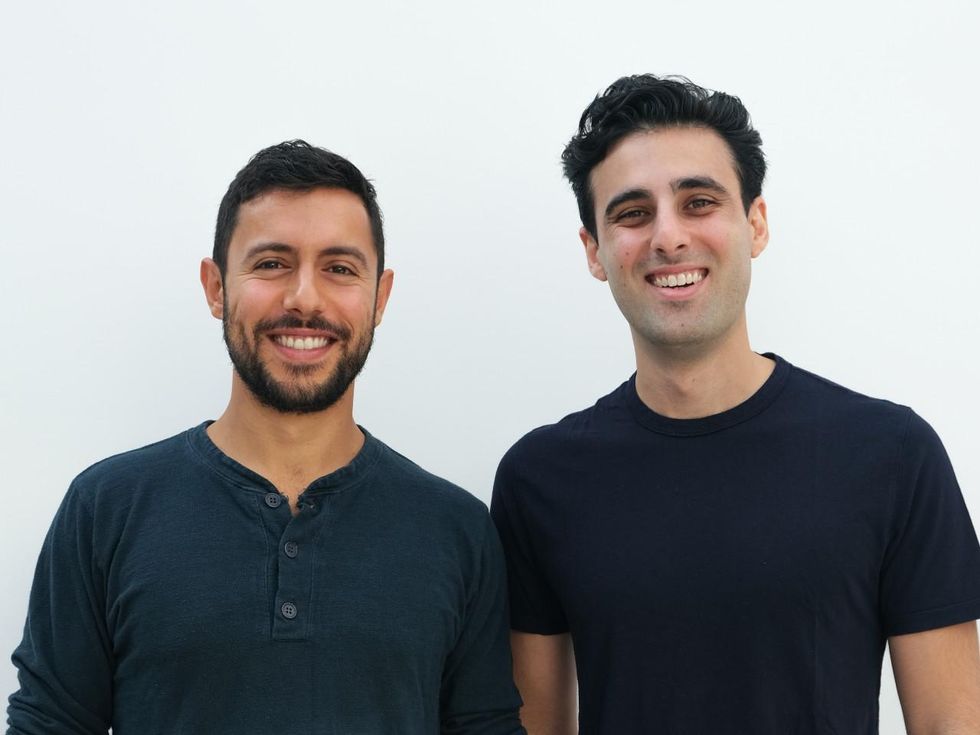 JOON co-founders Jon Shooshani (left) and Sebastian Elghanian.
The three-year-old company raised $2.3 million in seed led by L.A. venture capital firm Alpha Edison and contributions by a slew of angel investors, including Sweetgreen and Airtable executives.

Through JOON, employees can link their credit or debit cards to the platform, which automatically tracks employees' purchases. Employers can set a monthly allowance for verticals like family care, health and wellness and professional development, and the company leverages several data points, such as the name of the vendor, to pluck those dedicated purchases. The employer reimburses everyone at the end of the month.
"We're going to try to help you keep yourself accountable and we're going to take away the pain of paying," said Elghanian.
That kind of flexibility is likely to continue post-pandemic, as the workforce becomes more distributed and more people opt for working from home full-time. Different employees, based on geography and commute, will have different needs.
The pandemic kickstarted an overhaul of benefits programs. Some went unused as gyms shuttered and plane tickets were cancelled. A report by the International Foundation of Employee Benefit Plans found that more employers expanded mental health and childcare benefits and revised paid time off policies in the last year as COVID-19 forced people indoors. It found 48% of the multi-employee employers surveyed said they added tele-psychiatry services due to the pandemic.
JOON signed up around 60 companies and 10,000 of their employees since 2019, including meal service company Daily Harvest. It has also partnered with a slew of meal delivery brands, fitness apps, telehealth services and furniture companies to provide products at a discount to employees.
The two, best friends who grew up in Los Angeles, were inspired by challenges they faced managing employees and their benefits at a previous venture that fizzled out.
"It was a mess," said Shooshani, JOON's president, recalling how he and Elghanian struggled to provide their employees with perks that tech workers have come to expect.
The pair first tried to partner with a slew of gyms and other vendors, but the inflexible benefits went unused by many of their employees. After setting up a new program through Expensify, they found it created more administrative work for employees who wanted reimbursement.
"What we saw through our own experience was that barely any employees use it," Shooshani said. "So the engagement and utilization [was] super low."
The new funding will go towards expanding benefits categories to better accommodate employees' specific needs and tracking how well the program is working for employers, whether or not employees are actually using it.
The founders also have bigger plans to create personalized benefits options for employees by suggesting products such as meditation apps, wearables or meal kits they can use their allowance on.
"All of us want to work out, want to eat healthy, but there's things that get in the way," Shooshani said. "So we really believe in being a technology company that makes health and wellness more accessible, more affordable and nudging people in the direction of positive behavior."
Related Articles Around the Web