image courtesy of EVCS
Hot on the heels of a nearly $70 million Series A, Arcadia-based EV charging company EVCS announced yesterday a new subscription service designed to make vehicle charging simpler than it's ever been.
While a subscription service may not be the most glamorous development in the EV space at the moment, the model could be a boon to industries like delivery, rideshare as well as high-mileage commuters or anyone else seeking to simplify the calculus of operating a battery-powered vehicle.

EVCS, which stands for Electric Vehicle Charging Stations (again, not the most glamorous acronym), has been around since 2018. But only recently began a rapid expansion of their network that currently operates 670 chargers along the West Coast, including 240 fast chargers. If everything goes according to plan, that network should double by the end of next year with fast charging options growing to 700.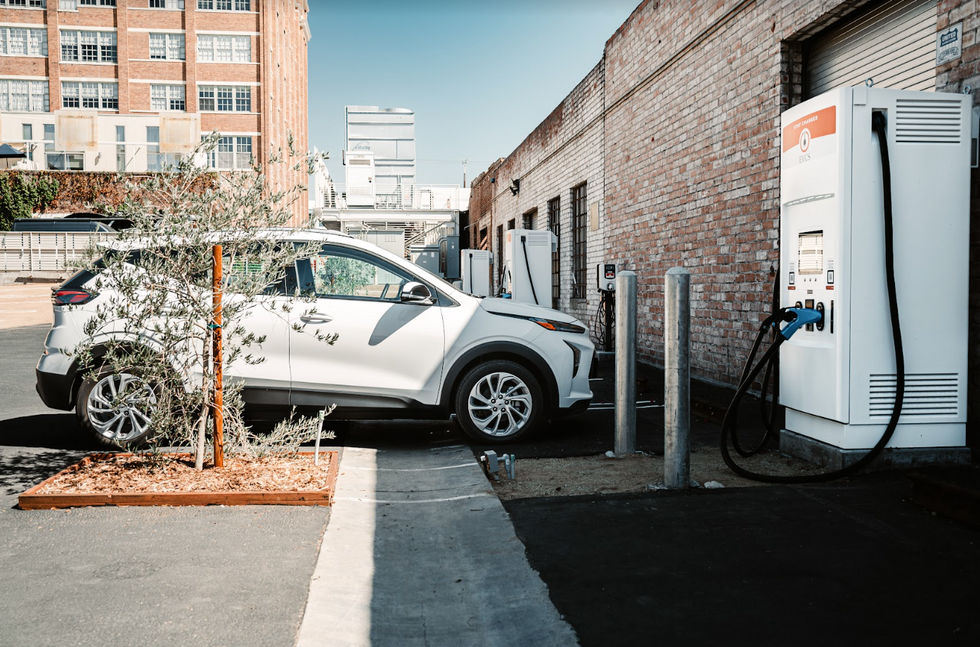 EVCS car plugged in charging image courtesy of EVCS
For low mileage drivers, the company will continue to offer its standard charging plan of $50 per month up to 200 kWh and then $.29 per kilowatt hour after that. For comparison, the Tesla Supercharger network averages around $.25 per kWh during off peak hours, but can spike up into the $.50 range when demand is at maximum.
The new unlimited subscription models come in two flavors. The first is a completely unlimited plan that lets drivers charge as much as they want at any time of day for $200 per month. The second, "Off-Peak" plan, costs $100 per month and lets drivers use the network any time between 10 p.m. to 6 a.m. The standard $.29 per kilowatt hour is applied to any additional daytime charging.
EVCS recommends the unlimited off-peak hours plan for users driving more than 1,418 miles/month and the unlimited anytime plan for users driving more than 2,730 miles/month. Before the pandemic, the United States Department of Transportation Federal Highway Administration calculated that the average U.S. driver was driving 1,189 miles per month. In 2020 that number dropped to 1,060 miles but is slowly ticking back up. Depending on how efficient your vehicle is, when you tend to charge and where you live, these exact price points may or may not make sense. But the more your drive, the more likely the subscription model will produce a financial benefit. For drivers logging more than 3,000 or 4,000 miles a month, the subscription presents an enormous opportunity both to save money and to simplify their finances or business model.
"Kilowatt rates tend to vary by location, they tend to vary by time of day, and there can be hidden fees, so it's pretty complex," says EVCS Chief Growth Officer Kirk Johnson. "For your Uber drivers, your Lyft drivers, your package delivery, and really allows them to predictably manage their monthly charging costs."
While the subscription model might be great for high mileage drivers, it may also cause issues with the grid if it really catches on. There's a reason that electricity rates vary by time of day, and it's tied to how abundant that energy is. During the day, when solar and wind power are at their peak, electricity is cheaper and cleaner. Overnight, we demand is lowest, the price falls again, but the electrons tend to come from coal rather than renewables. Demand and price are both highest in the evening, when people are home and the grid is under maximum load while renewables are tapering off. Allowing people to charge their vehicle for the same price at all of these times divorces the consumer cost of electricity from the demand. The result? With a fixed charging cost, grid operators lose some of their ability to incentivize people to charge their vehicles at a time that best aligns with grid performance or carbon cost of electricity.
The actual impact of this shift will depend on how many chargers EVCS ultimately adds to its network and how popular the subscription model becomes.
"We've had that question come up and we've thought a lot about [the question of] whether the grid can keep pace with EV adoption," he says.
But for now, EVCS is banking on the idea that getting more people into electric vehicles is a good thing for society. Even if charging doesn't always take place at an optimal time.
"Our main focus is lowering the barriers on adoption–making it as simple as we possibly can," says Johnson. "The plan is to become one of the leading charging networks on the West Coast."
This story has been updated to reflect EVCS' new recommendations for its unlimited charging subscription plan.