ev charging
ev charging
The fastest electric car charging stations can replenish a battery from empty in about an hour. As carmakers from Volvo to Tesla race to make charges speedier and more powerful, the next 10 years mean added pressure on charging stations, from the plugs in homes to the stands at supermarkets.
But it's a delicate dance for the companies responsible for those chargers. Overheating and degradation has plagued some models over the last decade, and even Tesla has reduced the charging speed on some of its cars based on battery health and how often fast charging was used.
"The majority can't take more than a 50 kW per hour charging, and the charge rate doesn't stay at that and declines even more as the battery heats up," said Ivo Steklac, chief operations and technology officer of EVgo, one of the predominant electric vehicle charging companies in the U.S. "In order to manage this intelligently, we didn't think it was wise to dedicate this level of charger to vehicles when the majority of them can't take it."
With EV technology evolving at such a rapid clip, EVgo is grappling to make sure its charging stations are outfitted to handle the newest and most powerful electric cars. The company has been pouring resources into figuring out not only where and how many chargers should be placed across the country, but also issues that users might face when pulling up to a station to get some juice for their car. In April it opened a 4,000 square-foot Innovation Lab in El Segundo.
Engineers there are trying to work out a number of hardware, software and logistics problems — some of which exist now, and some that might become apparent later, as batteries get bigger and vehicles can charge more quickly to eventually replace the lines at gas stations.
EVgo, which went public July 2 after an SPAC merger with Climate Change Crisis Real Impact I Acquisition Corp. now has more than 800 chargers dotted across the U.S. as the Biden administration tries to jumpstart an electric vehicle revolution. But the market share remains small as Americans groan about range and access to car chargers.
"We created this lab to do a number of tests, from electric to physical and mechanical," said Steklac. "EV manufacturers are placing their charging ports in all sorts of places on the cars so they can reduce the length of wiring for these very high-powered cables."
It follows, then, that one of EVgo's tests at the lab includes a cable reach analysis to figure out not only an acceptable length for a charging cable, but also a manageable weight for not only the average driver, but shorter people or those with disabilities. EVgo wants to banish problems like pulling up to a gas pump when the car's fuel door is on the opposite side.
EVgo's lab engineers are also busy considering EV charging times. When the company was first installing chargers a decade ago, a charging rate of 50 kilowatts per hour was considered more than sufficient for drivers. Today's Tesla's Superchargers have a 120 kWh rate, while Volkswagen-owned Electrify America is building stations with 350 kWh-capable chargers. But only a few EVs on sale now can handle that charge rate, so Steklac said its chargers have to allow for significant disparities between vehicles.
Similarly, EVgo is looking at how extensive fast charging affects the longevity of an EV's battery pack.
"The majority (of models) can't take more than a 50 kW per hour charging, and the charge rate doesn't stay at that and declines even more as the battery heats up," Steklac said. "In order to manage this intelligently, we didn't think it was wise to dedicate this level of charger to vehicles when the majority of them can't take it."
Steklac said designing the next generation of chargers to go with the next generation of electric vehicles is becoming important as the market becomes less of a niche. EVgo's CEO Cathy Zoi said during the company's Wall Street debut that the EV market in the United States is estimated to grow from just over 1% share of the passenger car segment in 2020 to more than 10% by 2030, just before state mandates like California's go into effect for new vehicle sales.
Even without the Biden administration's 500,000 EV charger pledge, Steklac believes there needs to be 50,000 stations just to support the existing market. And that doesn't even include commercial vehicles, ride sharing services like Uber and Lyft or buses and postal delivery vans that are high on the White House's list to electrify.
EVgo's automaker partnerships currently extend to General Motors and Nissan, both of which sell EVs in the U.S., and are about to introduce new, longer-range models. The charging company touts its network as the largest for fast chargers in the country, with 800 stations across 34 states.
In California, Steklac said electric car hotbeds Los Angeles, San Diego and the San Francisco Bay areas are well-served, but acknowledges there are gaps in the infrastructure. He said the innovation lab uses an algorithm and purchase data to determine where EV owners live to determine where to put new charging stations.
Shopping and entertainment centers are EVgo's target for fast charging hubs right now. Kroger and Whole Foods are among its grocery store partners, too.
"The average American goes to the grocery store twice a week and spends 30 to 45 minutes there," Steklac said. "We target those, we target pharmacies, fast casual restaurants where you spend an hour or less. These include malls and parking garages, particularly in urban areas."
Steklac said the company is also talking with regional transit agencies, as well as Amtrak where there are EVgo charging stations at Washington, D.C.'s Union Station, because he said the mentality is still to "partner with anyone and everyone" in this still-early EV era.
Because while automakers and analysts expect home stations to be the way most EV owners will charge their vehicles in the long term, Steklac said that won't be the solution for every household and won't allow for the electrification of vehicles as quickly as lawmakers want. That's why the teams at the Innovation Lab have plenty of work to do over the next decade.
"Public charging is there to augment if you have home charging, but it's there to be a reliable source if you don't," Steklac said.
Charging an electric car should soon get a bit easier in Southern California.

The region's largest power utility announced that it plans to install 38,000 electric vehicle chargers in the next five years as the state looks to ban most gas-powered car sales by 2035.
Southern California Edison (SCE), which provides electricity for most of Los Angeles County outside of the city of Los Angeles, announced Monday that it's putting down $436 million to build a network of chargers at businesses, schools, government agencies and apartment buildings.
Billed by SCE as the largest EV charging program run by a private utility company in the U.S., the company will offer qualifying customers installation and maintenance of the chargers. Customers must pay for the installation up front, but can apply for a rebate through the program.
Various companies are scrambling to identify areas that need more charging infrastructure to support the anticipated surge in electric vehicles over the next few years. Electric cars account for about 1% of cars on U.S. roads today, but environmental and government pressure means millions more are expected to be sold by the end of the decade.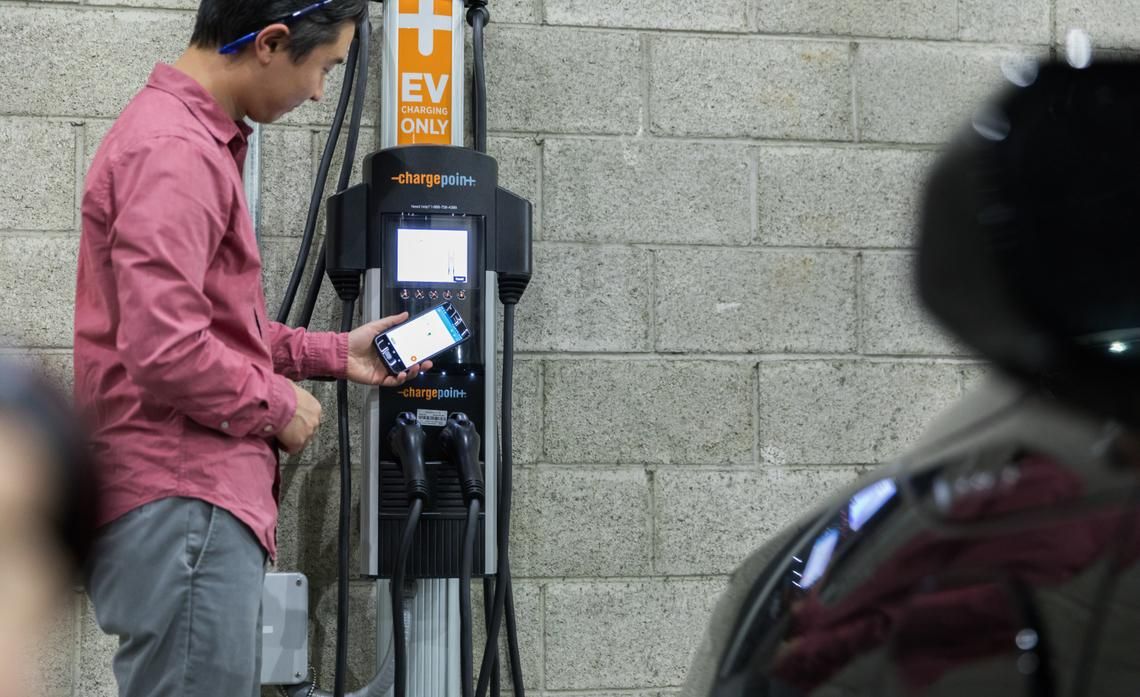 SCE's Charge Ready program will have an added emphasis on putting charging stations in multifamily dwellings, such as this Charge Ready pilot project at a condominium complex in the South Bay area.
Many automakers rolling out new EVs anticipate owners will charge their vehicles at home most of the time. But charging station companies and electricity providers predict there will be consistent demand for charging in areas such as parking structures, public lots and shopping malls — especially for people who live in multi-unit buildings without off-street parking or in developments that make installing home chargers difficult.

The Los Angeles Department of Water and Power, the city of Los Angeles' utility service, has installed chargers on street lamp posts near curbside parking, which goes with its incentives for low-income households to adopt EVs. Cities served by SCE, such as Santa Monica, have taken their own initiatives to install more public charging, and some automakers also offer customers discounts for Level 2 home chargers or prepaid cards for public stations operated by certain customers such as EVgo or ChargePoint.
SCE's program, called Charge Ready, builds on a pilot program started in the city of Lynwood four years ago with six chargers for government vehicles. It was later expanded with eight public charging stations at locations that include City Hall. Projects — including 200 public chargers at the Fairplex in Pomona and more than 100 throughout the city of Long Beach — were also funded through the SCE pilot program.
SCE also offers a $1,000 rebate for the purchase of a used EV.
From Your Site Articles
Related Articles Around the Web
One of the nation's largest EV charging firms, EVgo made its Wall Street debut on Friday but investors seemed underwhelmed. The stock closed slightly up, .67% higher.
El Segundo-based EVgo announced in January that it would join other EV companies going public via SPAC with a $2.6 billion valuation. It merged on July 1 with Climate Change Crisis Real Impact I Acquisition Corp.(CLII) to officially become EVgo Inc.
Trading on the Nasdaq under the "EVGO" ticker, shares opened at $15 and closed at $15.10.
The company has tied up several deals with businesses and major automakers amid a push to rapidly expand the United States charging network. EVgo is banking on forecasts of 100 million battery electric vehicles on US roads by 2040, up from a little more than a million in 2020.
"EVs are here, the time has come," said EVgo CEO Cathy Zoi ahead of the opening bell Friday. "The question is no longer if transportation will electrify, but how quickly. EVgo is here to do our part to ensure access to charging infrastructure is not an inhibitor of that market transformation but rather an enabler."
Zoi and the rest of EVgo's former leadership will continue in their posts with the newly merged company. David Nanus will serve as chair of the EVgo Inc. board.
It comes as the U.S. is racing toward electrification.
In California, Gov. Gavin Newsom signed a mandate for most new vehicles sold in the state to be electric by 2035. Since then, automakers such as General Motors, Ford, Volvo and Honda have announced all-electric goals in a similar timeframe.
And EV charging companies like EVGo are poised to benefit from the proposed $1.2 trillion federal infrastructure plan backed by President Joe Biden last week.
"EVgo's evolved from being a first mover in providing charging for the earliest generation of EVs, to today's market leader in deployment of metropolitan mass transit, in providing charging for fleets which share our vision for electrification, and in developing software that delivers delightful customized charging experiences for our customers," Zoi said.
Founded in 2010 and acquired by New York-based LS Power in 2019, EVgo is one of several charging companies trying to grow its U.S. presence and team up with various automakers with EVs on sale or soon to go on sale.
Those EV charging companies include L.A.-based rival EVConnect, Electrify America, and the publicly traded ChargePoint and Blink! All of these firms have also connected with car companies to support home charging or free and subsidized free public charging.
In April, EVgo was named as a partner for GM's Ultium Charge 360 grouping of charging companies which will support its current models like the Chevy Bolt EV and upcoming plug-in electrics from Cadillac and GMC. The move is seen as a way for GM to arrange a nationwide charging infrastructure for its customers without having to build and operate its own stations like the Tesla Supercharger network.
EVgo says it operates more than 800 DC fast chargers across the country, currently in 34 states and with more than 250,000 customers. It signed a deal last year with GM to add more than 2,700 fast-charging stations across the US, while an agreement with Nissan will add an additional 200. It also has existing deals with grocery chains such as Kroger and Whole Foods to install chargers at certain U.S. locations.
From Your Site Articles
Related Articles Around the Web