A New Study Breaks Down Just How Badly COVID-19 Hit Minority-Owned Businesses
Sam Blake
Sam primarily covers entertainment and media for dot.LA. Previously he was Marjorie Deane Fellow at The Economist, where he wrote for the business and finance sections of the print edition. He has also worked at the XPRIZE Foundation, U.S. Government Accountability Office, KCRW, and MLB Advanced Media (now Disney Streaming Services). He holds an MBA from UCLA Anderson, an MPP from UCLA Luskin and a BA in History from University of Michigan. Email him at samblake@dot.LA and find him on Twitter @hisamblake
Jun 09 2020
A new study quantifying the impact of COVID-19 on American small businesses confirms what many have suspected. Black small business owners have been ravaged by the pandemic. They were nearly twice as likely to have shut down in the last several months compared to the national average. Latinx, immigrant and female owners have also fared poorly.

---
The research, published this week in a working paper by the National Bureau of Economic Research, examines data from the U.S. Census Bureau and U.S. Bureau of Labor Statistics to compare small business ownership between February and April of this year, with the onset of the pandemic falling squarely in the middle of that timeframe. In doing so, Robert Fairlie, economics professor at U.C. Santa Cruz and the paper's author, reveals how the virus' effects have damaged small businesses in different communities.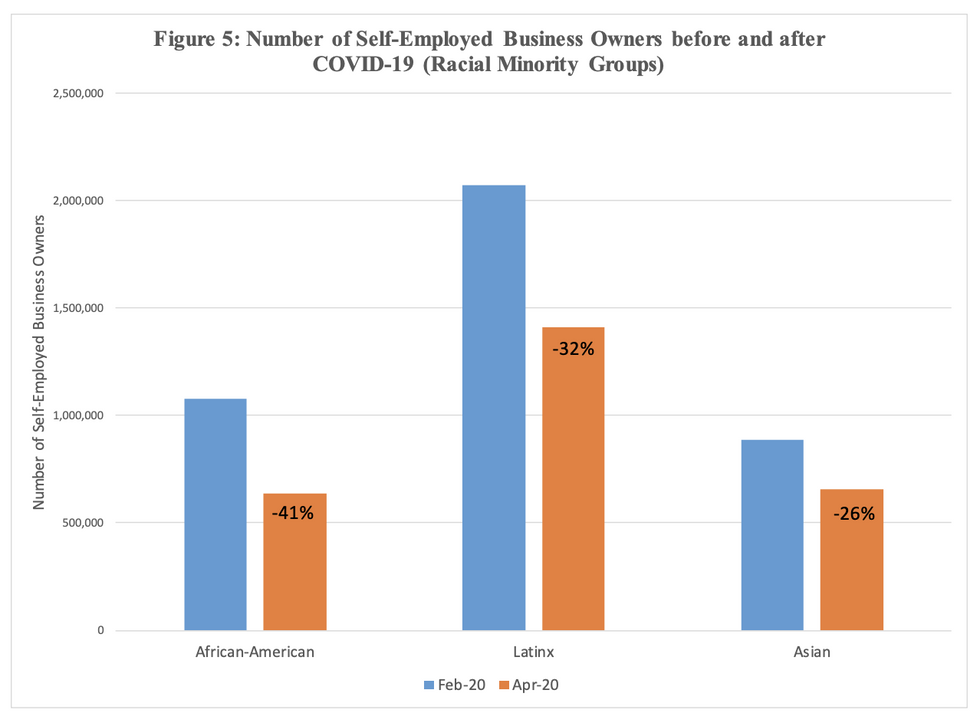 Data from the National Bureau of Economic Research
In the time period studied, the number of people who said the majority of their working week was devoted to their own business fell by 22%. Among black business owners, however, the decline was 41%. That number was 36% among immigrants; 32% among Latinx; and 26% among women.

The analysis does not break the data down by geography, but local experts see a direct connection to what's happened in the L.A. region.
Downtown L.A.-based Camino Financial, a financial services provider, recently published its own study on the current health of Latinx-owned businesses. It examined loan repayment data through May of this year, and found that Latinx businesses in California have had a 40% higher incidence of nonpayment compared to peer companies in Texas and Florida – two of the three other states besides California with the highest proportion of Latinx-owned businesses. The only other state seeing similar nonpayment rates is New York.
"There is a very strong correlation between the impact of COVID on businesses and the overall impact on the area itself," Camino Chief Executive Officer Sean Salas says. What's happened throughout the country is likely to be happening in L.A., he says. Perhaps more intensely, given that 40% of California's population is Latinx, and over 30% of the state's Latinx businesses are in Southern California.
L.A.'s black small business community was hit extremely hard, says Dr. Rhonda Thornton-Crawford, director of the USC Small Business Diversity Office. "Black business has been disproportionately distressed for far longer than the COVID-19 pandemic...We are again face-to-face with the reality of lack, loss, and limited opportunities."
Explaining the Inequity
"I've had perfect credit, I have a six-figure income, I have a degree from a great school. But institutions of all types would still see my name and discriminate," says Lilly Rocha, formally Liliana Patricia Rocha Castellar, Chief Executive Officer of the Los Angeles Latino Chamber of Commerce.
She's seen the pandemic hit her community hard.
"A lot of our smaller businesses...they're gone. They're done."
Latinx business owners have struggled to obtain emergency relief funds and leniency from landlords, among other hardships, Rocha says.
She and Salas both note that the initial implementation of the government-relief Paycheck Protection Program did a poor job of helping the businesses most in need. Some of the damage, however, has been mitigated since the program was expanded, they say.
But in explaining why minority-owned businesses have had less access to relief, Salas points to several factors that make these businesses vulnerable even in normal times.
First, Salas says that such businesses "over-index in operating informally structured companies as it relates to legal formation, cash flow management and other administrative-related tasks." This makes it harder for them to get financing at a level that aligns with their actual business needs, rather than based on what official records show. Undocumented-owned businesses are also more likely to be informal, cash-based companies due to owners' limited formal education and fear of deportation. (For what it's worth, Salas highlights his firm's estimate that, nationwide, approximately 800,000 undocumented-owned businesses generate around $100 billion in sales, "and get zero benefits in exchange.")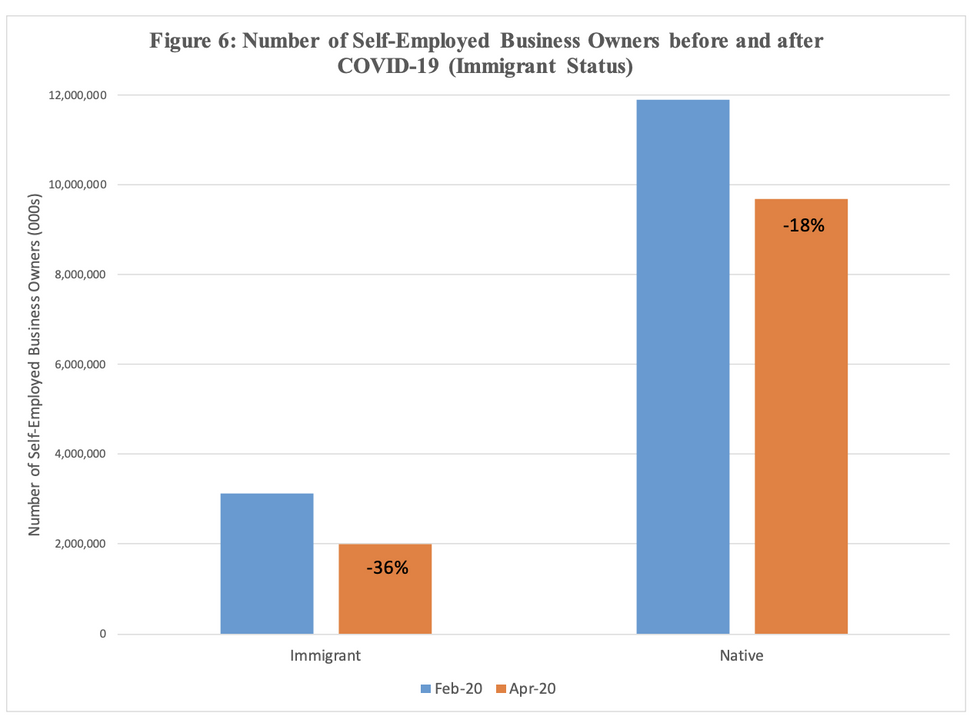 Data from the National Bureau of Economic Research
Minority and immigrant-owned businesses also tend to make less money and have been operating for less time on average, both of which, Salas says, exacerbate their vulnerability.

Jamarah Hayner, vice chair of the Greater L.A. African American Chamber of Commerce, adds that in the black community, "Historic problems like access to capital have been exacerbated... Most of our businesses are smaller and often family-owned, and we don't always have access to in-house or retained accountants and financial staffs, which make loan applications difficult to tackle. Further, we participate heavily in the restaurant, fitness and beauty industries, which were decimated during the shutdown. Lastly, black-owned businesses have found great success in the past decades in the manufacturing supply chain, so we've struggled as factories have shuttered."
What Comes Next?
"The next important question is whether the shutdowns of small businesses are temporary or longer term," Fairlie writes.
Salas sees the situation unfolding in three stages – relief, recovery, and reinvention – and notes that we're just entering the second stage.
"I think there's a silver lining in the reinvention to come," Salas says, pointing to four potential changes that could lay the groundwork for a more equitable future.
One is an accelerated adoption of financial technologies among Community Development Financial Institutions (CDFIs), which are meant to provide financial resources to distressed communities. In tandem, Salas says, the Community Reinvestment Act, a federal law meant to encourage lending to low-income neighborhoods, should be modernized. Its allocation of funding, for example, shouldn't be tied to banks' physical branch locations, which are increasingly closing down as the financial system digitizes.
Salas also points to the need for a realignment of incentives to drive investment from both banks and private investors.
"If we leave these businesses behind," he concludes, "over time it will come back and hurt us."
"Business leaders, businesses and communities must sit down and talk about a cohesive, concrete collective mapping of what is needed," Thornton adds. "The time is now."
Sam Blake
Sam primarily covers entertainment and media for dot.LA. Previously he was Marjorie Deane Fellow at The Economist, where he wrote for the business and finance sections of the print edition. He has also worked at the XPRIZE Foundation, U.S. Government Accountability Office, KCRW, and MLB Advanced Media (now Disney Streaming Services). He holds an MBA from UCLA Anderson, an MPP from UCLA Luskin and a BA in History from University of Michigan. Email him at samblake@dot.LA and find him on Twitter @hisamblake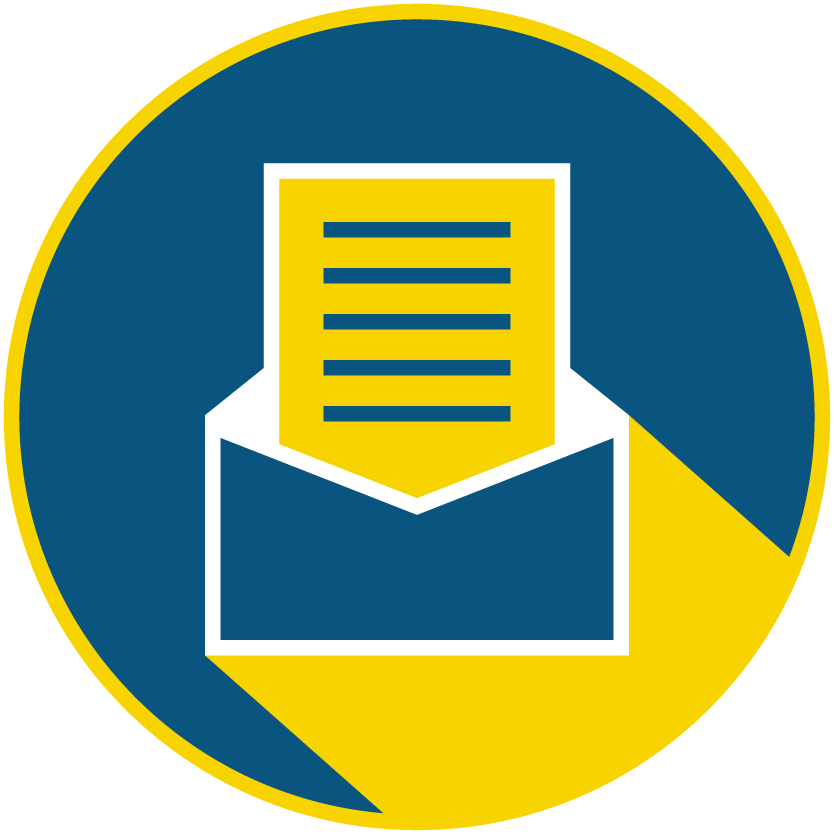 Subscribe to our newsletter to catch every headline.
On this week's episode of the L.A. Venture podcast, hear from Chang Xu, partner at Basis Set Ventures, a $140 million fund focused on AI and automation - technology that transforms the way people work.
Basis Set Ventures focuses on four pieces: infrastructure, collaboration, automation and autonomy. Chang spends a lot of time on infrastructure, and she breaks it down into four themes: raise the ceiling, lower the floor, open space and data privacy.

By raise the ceiling, Chang says there's "always going to be better and more secure and faster fundamental building blocks for infrastructure to the tune of database systems and streaming data and...infrastructure as code."
Lower the floor is about no code and low code, which, for example, could allow for not-trained people to build their own apps without relying on software developers. Chang predicts a proliferation of tools that she says will enable "people to create regardless of their technical abilities and their starting point."
When I heard "open source" I figured she meant "free." But, Chang says, open source "is almost table stakes for how infrastructure is discovered, bought and sold today."
Lastly, Chang says they see "data privacy as a really large tailwind and emerging space" because it is tackling the challenge of adhering to privacy regulations, but at the same time innovating fast, while taking advantage of the growing amounts of data companies are amassing.
Chang and her partners aren't just stuck on tech, they're also keenly interested in what makes a lasting and impactful founder. She says her firm's research has revealed that "successful founders are humble operators, agile visionaries and seasoned executives. And the less successful founders...are passionate outsiders, overconfident storytellers and stubborn individuals."
This interview goes deep into machine learning optimization (ML Ops), what Chang learned from her many years at Upfront, like how to craft a good narrative and practical advice for startups on how to form a board.
Not incidentally, Chang is L.A.-based, though the Basis Set operates out of San Francisco.
Chang Xu is a partner at Basis Set Ventures. Previously, she was a principal at Upfront Ventures, the oldest and largest SoCal-based early stage venture capital firm. Prior to joining Upfront, she was a founder and operator. She was the first product manager at the Minerva Project. She co-founded and was the COO of Onion Math, an edtech startup in China that has raised $90 million to date. She started her career at BCG where she advised clients across technology, retail, healthcare and private equity. She holds an MBA and AB in Applied Math and Computer Science, both from Harvard. (bio from Basis Set).
dot.LA Sr. Podcast Producer & Editor Laurel Moglen contributed to this post.
From Your Site Articles
Related Articles Around the Web
Minnie Ingersoll
Minnie Ingersoll is a partner at TenOneTen and host of the LA Venture podcast. Prior to TenOneTen, Minnie was the COO and co-founder of $100M+ Shift.com, an online marketplace for used cars. Minnie started her career as an early product manager at Google. Minnie studied Computer Science at Stanford and has an MBA from HBS. She recently moved back to L.A. after 20+ years in the Bay Area and is excited to be a part of the growing tech ecosystem of Southern California. In her space time, Minnie surfs baby waves and raises baby people.
NFTs (non-fungible tokens) are a novel form of ownership that could rejigger the financial landscape for creators. Even if the market for some of them proves frothy, this blockchain-based technology presents a unique way for artists to make money and engage their fans. With experimentation already underway, the gates are open for them to do what they do best: get creative.
The Opportunity
Several startup founders and musicians are looking to this incipient market not just as a means of selling digital collectibles, but as a unique way to offer fans exclusive, paid experiences.
"Any new avenue of potential profit is exciting in the music industry, considering the lack thereof from streaming and [the need to rely on] touring," said Brian Spencer, one half of the L.A.-based musical duo FINKEL.
There's nothing new about creators offering fans exclusive perks. What is new is that they can now be linked to an NFT that also functions as a "key" or "passport." Many artists are hoping this linkage can stoke demand for perks, thanks to the innate human attraction to ownership.
"There's a lot of psychological evidence that owning things matters a lot to people," said Valentin Haddad, a professor at UCLA Anderson School of Management who studies how and why people make financial decisions.
He pointed to the so-called "endowment effect," which, research has suggested, makes people value things more when they own them, simply because they own them. Since NFTs are a certificate of ownership, linking them to an experience – like a backstage pass, or a producer credit – should boost the value fans see in those experiences, Haddad said.
"I think the idea of tying some experiences, tying something more special, to the object [underlying the NFT] is going to increase," he said. "We're going to see lots of creativity."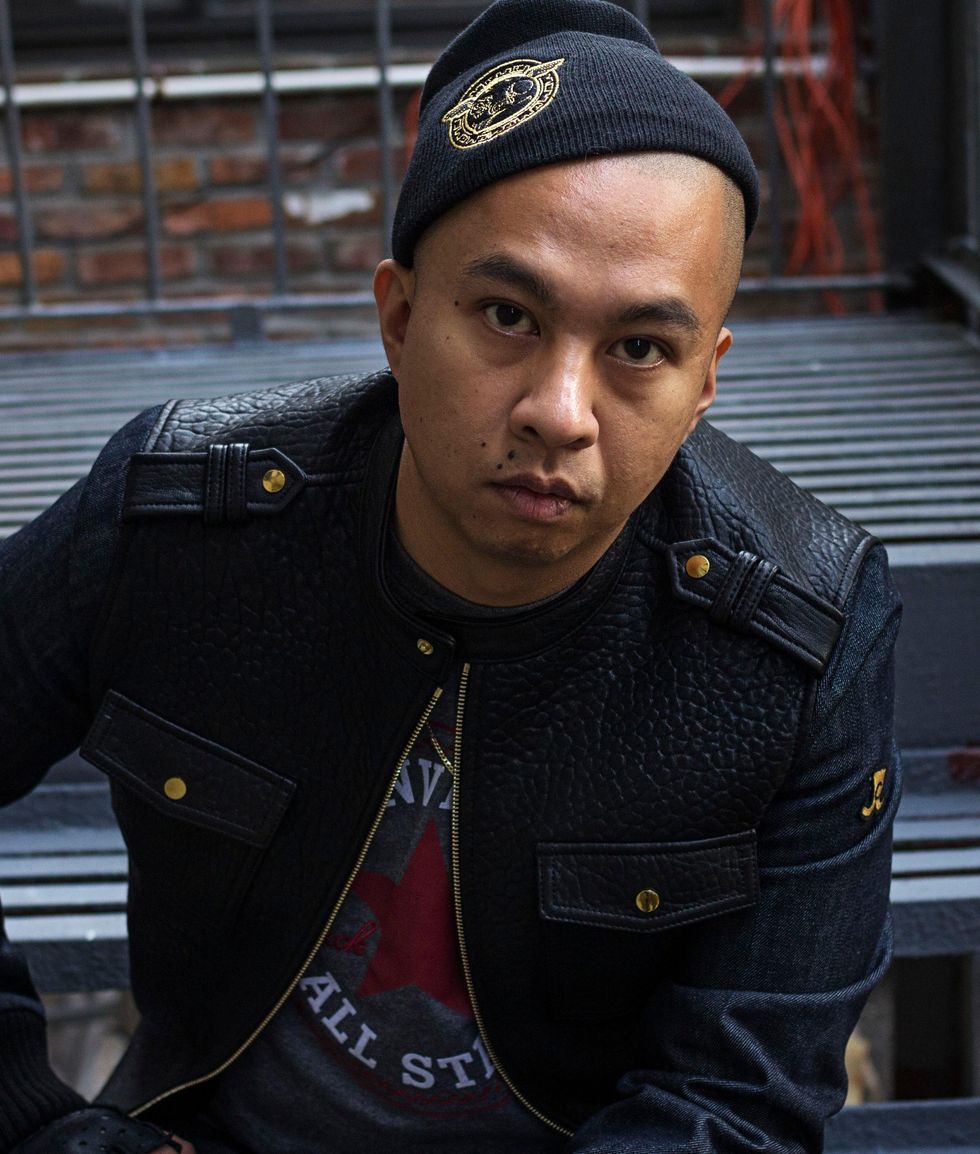 Illmind is auctioning 10 NFTs linked to audio files he created that owners can use royalty free.
Rikin Mantri's recently launched NFT-minting and -trading platform, Curio, has sold about $130,000 worth of tokens tied to graphic novel characters the company licensed, and it plans to expand soon into other IP, including music. Mantri sees the eye-popping prices capturing headlines as indicative of a bubble, but thinks NFTs have enduring potential.

"We think NFTs have a strong use case in building digital collectible collections and offering experiences around those collectibles," he said. "It's a completely new incremental revenue stream."
Kings of Leon, the Grammy-winning band, released their new album last month alongside a series of NFTs, six of which were high-end "golden ticket" versions that granted token owners lifetime front-row concert tickets. In February, 3LAU, a DJ, auctioned off a topshelf NFT that entitled one fan to creatively direct a new composition.
Rapper Post Malone is planning to sell an NFT linked to a private game of beer pong. Illmind, a Grammy-winning DJ, is auctioning 10 NFTs linked to audio files he created that owners can use royalty free. Electronic musician Aphex Twin recently turned an NFT into a digital scavenger hunt. And Logan Paul, a YouTuber, linked an NFT to the opportunity to watch him unbox rare Pokémon cards.
Other creators are taking a less experiential and more charitable approach to offering NFT products. Street-artist Shepard Fairey, best known for designing the Obama "Hope" poster, is working with East Hollywood-based Verisart to auction off a digital artwork as an NFT, and donating the proceeds to Amnesty International. Pussy Riot, a Russian feminist punk rock group led by activist Nadya Tolokonnikova, recently minted four NFTs tied to a video produced by young AR pioneer Asad Malik of La Cañada-based Jadu, some of the proceeds of which went to a shelter for domestic abuse survivors.
Meanwhile as the metaverse inches closer, the range of perks and experiences that can be tied to NFTs is growing. One sign of things to come is Decentraland, a virtual world with its own blockchain-enabled currency that has hosted digital parties that require NFT-ownership for entry.
Financial Stake
The same technology that enables these unlockable perks, whether digital or in-person, also allows artists to retain a financial stake in all future sales of the NFTs they issue. Stipulations like sending 10% of the price paid for an NFT to a specified bank account can be executed automatically: thus the term "smart contract."
Smart contracts are one element that distinguishes the Ethereum blockchain, on which most NFTs run, from the blockchain that underpins Bitcoin and many other cryptocurrencies.
They're also what could make NFTs helpful to smaller artists in particular. Since smart contracts can theoretically automate tasks like preventing fraud and scalping, they open up new opportunities.
"It's giving artists lots of access to ways to share experiences and share things that big artists could always do [but] small artists couldn't," Haddad said. "The benefits are likely to accrue to the top, but I think it will benefit everybody by creating a better way to exchange with your fans."
Artists' NFT Concerns
One downside to NFTs is the high volume of electricity they use, which can harm the environment. That's turning some artists away from them for now.
FINKEL is unlikely to pursue NFTs until the environmental concerns can be addressed, Spencer said.
One way of doing so could be a shift in how the blockchain works. Validating who owns what on a blockchain has largely relied so far on a method called "proof-of-work," which requires intensive computation that uses an immense amount of electricity. Some observers say an alternative method, called "proof-of-stake", would require less and could be less environmentally harmful. Although proof-of-stake has not been widely adopted, Ethereum has publicly stated it wants to transition to it, in part because of its environmental benefits.
Beyond environmental concerns, some artists bridle at NFT perks because of their inherent exclusivity and transactional nature.
Rebecca Arango, aka Oddnesse, thinks the tactic could perpetuate what she views as a deeper problem underlying the tenuous financial situation that many musicians find themselves in: fans have lost the human connection they once had with the artists behind the music they love.
"It's like the music just comes and goes and it'll always be there, and if one artist goes broke and gives up, there's always another one where that came from," she said.
But she concedes she may be fighting an uphill battle.
"I'm still going to advocate for the [intrinsic] value of the songwriting and the records," said Arango. "[But] if people are really into owning these digital tokens, I'll have to get with the program."
From Your Site Articles
Related Articles Around the Web
Sam Blake
Sam primarily covers entertainment and media for dot.LA. Previously he was Marjorie Deane Fellow at The Economist, where he wrote for the business and finance sections of the print edition. He has also worked at the XPRIZE Foundation, U.S. Government Accountability Office, KCRW, and MLB Advanced Media (now Disney Streaming Services). He holds an MBA from UCLA Anderson, an MPP from UCLA Luskin and a BA in History from University of Michigan. Email him at samblake@dot.LA and find him on Twitter @hisamblake