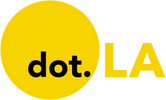 Get in the KNOW
on LA Startups & Tech
X
Sam Blake
Sam primarily covers entertainment and media for dot.LA. Previously he was Marjorie Deane Fellow at The Economist, where he wrote for the business and finance sections of the print edition. He has also worked at the XPRIZE Foundation, U.S. Government Accountability Office, KCRW, and MLB Advanced Media (now Disney Streaming Services). He holds an MBA from UCLA Anderson, an MPP from UCLA Luskin and a BA in History from University of Michigan. Email him at samblake@dot.LA and find him on Twitter @hisamblake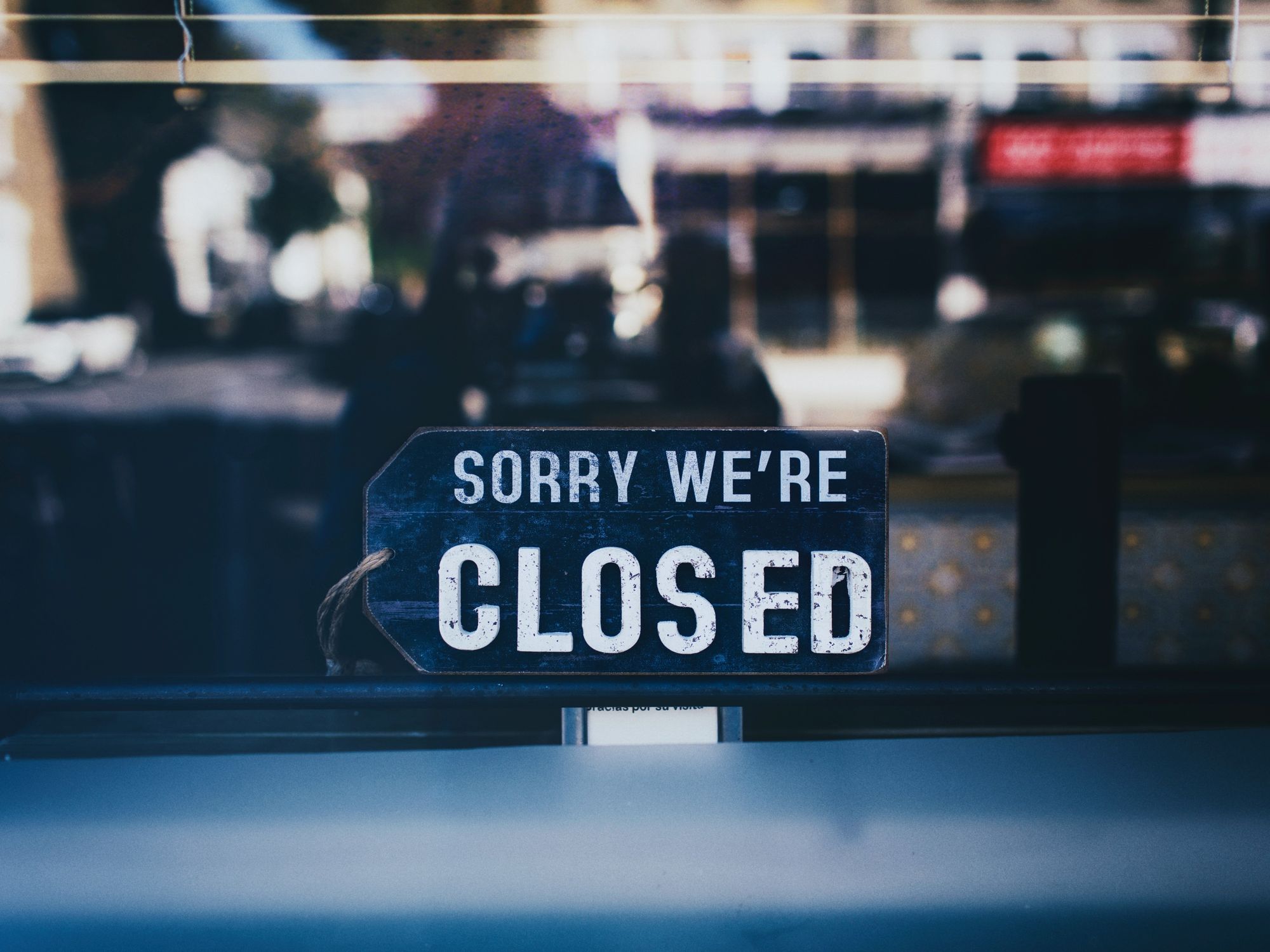 Photo by chris panas on Unsplash
A new study quantifying the impact of COVID-19 on American small businesses confirms what many have suspected. Black small business owners have been ravaged by the pandemic. They were nearly twice as likely to have shut down in the last several months compared to the national average. Latinx, immigrant and female owners have also fared poorly.

---
The research, published this week in a working paper by the National Bureau of Economic Research, examines data from the U.S. Census Bureau and U.S. Bureau of Labor Statistics to compare small business ownership between February and April of this year, with the onset of the pandemic falling squarely in the middle of that timeframe. In doing so, Robert Fairlie, economics professor at U.C. Santa Cruz and the paper's author, reveals how the virus' effects have damaged small businesses in different communities.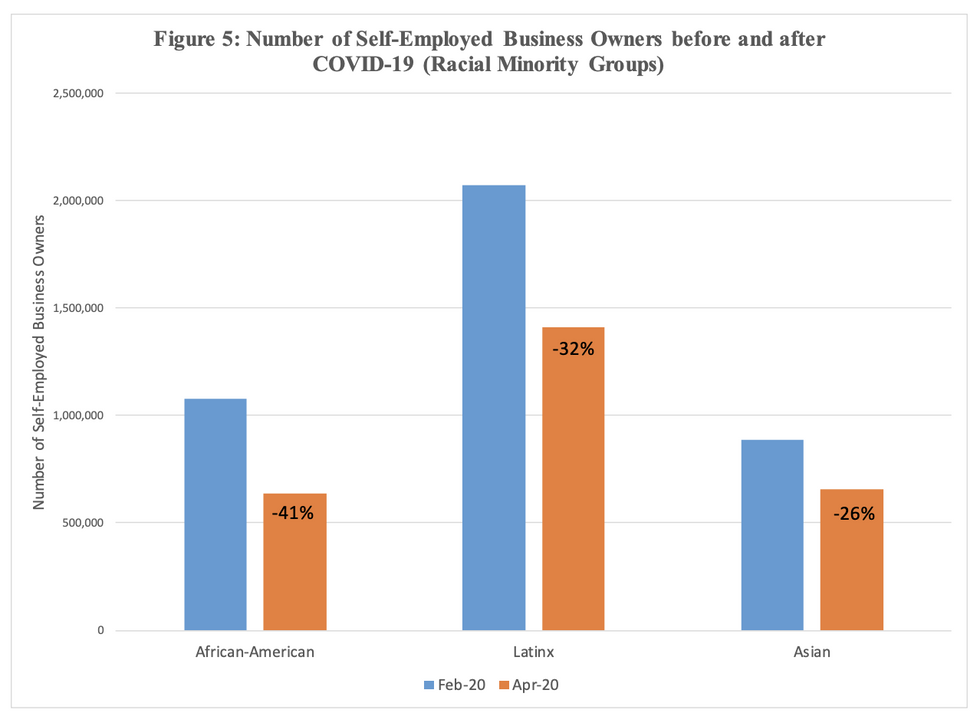 Data from the National Bureau of Economic Research
In the time period studied, the number of people who said the majority of their working week was devoted to their own business fell by 22%. Among black business owners, however, the decline was 41%. That number was 36% among immigrants; 32% among Latinx; and 26% among women.

The analysis does not break the data down by geography, but local experts see a direct connection to what's happened in the L.A. region.
Downtown L.A.-based Camino Financial, a financial services provider, recently published its own study on the current health of Latinx-owned businesses. It examined loan repayment data through May of this year, and found that Latinx businesses in California have had a 40% higher incidence of nonpayment compared to peer companies in Texas and Florida – two of the three other states besides California with the highest proportion of Latinx-owned businesses. The only other state seeing similar nonpayment rates is New York.
"There is a very strong correlation between the impact of COVID on businesses and the overall impact on the area itself," Camino Chief Executive Officer Sean Salas says. What's happened throughout the country is likely to be happening in L.A., he says. Perhaps more intensely, given that 40% of California's population is Latinx, and over 30% of the state's Latinx businesses are in Southern California.
L.A.'s black small business community was hit extremely hard, says Dr. Rhonda Thornton-Crawford, director of the USC Small Business Diversity Office. "Black business has been disproportionately distressed for far longer than the COVID-19 pandemic...We are again face-to-face with the reality of lack, loss, and limited opportunities."
Explaining the Inequity
"I've had perfect credit, I have a six-figure income, I have a degree from a great school. But institutions of all types would still see my name and discriminate," says Lilly Rocha, formally Liliana Patricia Rocha Castellar, Chief Executive Officer of the Los Angeles Latino Chamber of Commerce.
She's seen the pandemic hit her community hard.
"A lot of our smaller businesses...they're gone. They're done."
Latinx business owners have struggled to obtain emergency relief funds and leniency from landlords, among other hardships, Rocha says.
She and Salas both note that the initial implementation of the government-relief Paycheck Protection Program did a poor job of helping the businesses most in need. Some of the damage, however, has been mitigated since the program was expanded, they say.
But in explaining why minority-owned businesses have had less access to relief, Salas points to several factors that make these businesses vulnerable even in normal times.
First, Salas says that such businesses "over-index in operating informally structured companies as it relates to legal formation, cash flow management and other administrative-related tasks." This makes it harder for them to get financing at a level that aligns with their actual business needs, rather than based on what official records show. Undocumented-owned businesses are also more likely to be informal, cash-based companies due to owners' limited formal education and fear of deportation. (For what it's worth, Salas highlights his firm's estimate that, nationwide, approximately 800,000 undocumented-owned businesses generate around $100 billion in sales, "and get zero benefits in exchange.")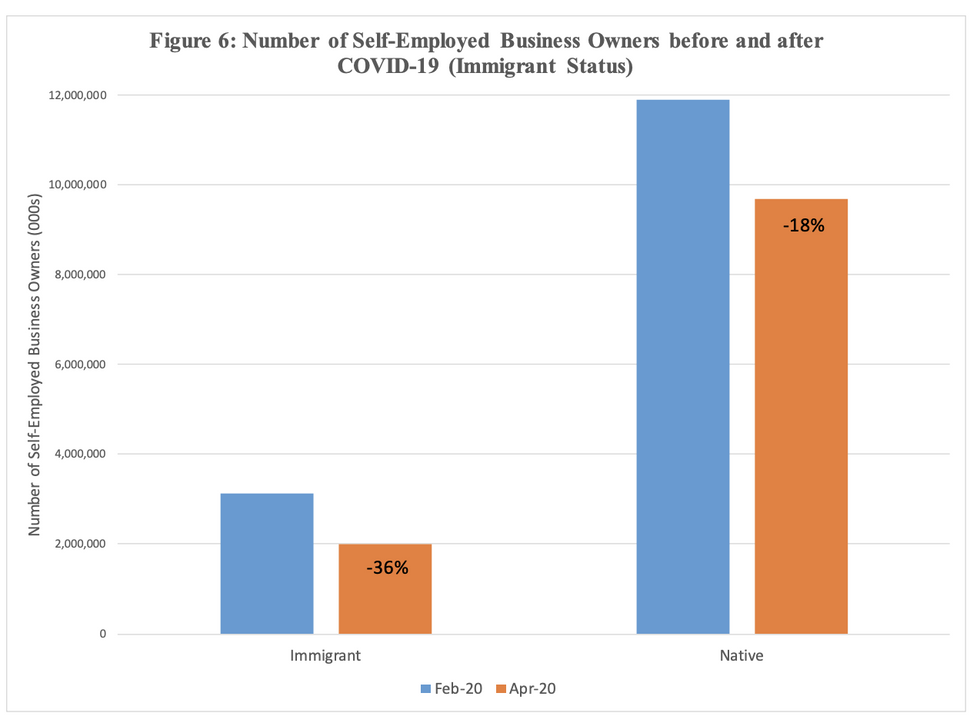 Data from the National Bureau of Economic Research
Minority and immigrant-owned businesses also tend to make less money and have been operating for less time on average, both of which, Salas says, exacerbate their vulnerability.

Jamarah Hayner, vice chair of the Greater L.A. African American Chamber of Commerce, adds that in the black community, "Historic problems like access to capital have been exacerbated... Most of our businesses are smaller and often family-owned, and we don't always have access to in-house or retained accountants and financial staffs, which make loan applications difficult to tackle. Further, we participate heavily in the restaurant, fitness and beauty industries, which were decimated during the shutdown. Lastly, black-owned businesses have found great success in the past decades in the manufacturing supply chain, so we've struggled as factories have shuttered."
What Comes Next?
"The next important question is whether the shutdowns of small businesses are temporary or longer term," Fairlie writes.
Salas sees the situation unfolding in three stages – relief, recovery, and reinvention – and notes that we're just entering the second stage.
"I think there's a silver lining in the reinvention to come," Salas says, pointing to four potential changes that could lay the groundwork for a more equitable future.
One is an accelerated adoption of financial technologies among Community Development Financial Institutions (CDFIs), which are meant to provide financial resources to distressed communities. In tandem, Salas says, the Community Reinvestment Act, a federal law meant to encourage lending to low-income neighborhoods, should be modernized. Its allocation of funding, for example, shouldn't be tied to banks' physical branch locations, which are increasingly closing down as the financial system digitizes.
Salas also points to the need for a realignment of incentives to drive investment from both banks and private investors.
"If we leave these businesses behind," he concludes, "over time it will come back and hurt us."
"Business leaders, businesses and communities must sit down and talk about a cohesive, concrete collective mapping of what is needed," Thornton adds. "The time is now."
Sam Blake
Sam primarily covers entertainment and media for dot.LA. Previously he was Marjorie Deane Fellow at The Economist, where he wrote for the business and finance sections of the print edition. He has also worked at the XPRIZE Foundation, U.S. Government Accountability Office, KCRW, and MLB Advanced Media (now Disney Streaming Services). He holds an MBA from UCLA Anderson, an MPP from UCLA Luskin and a BA in History from University of Michigan. Email him at samblake@dot.LA and find him on Twitter @hisamblake
https://twitter.com/hisamblake
samblake@dot.la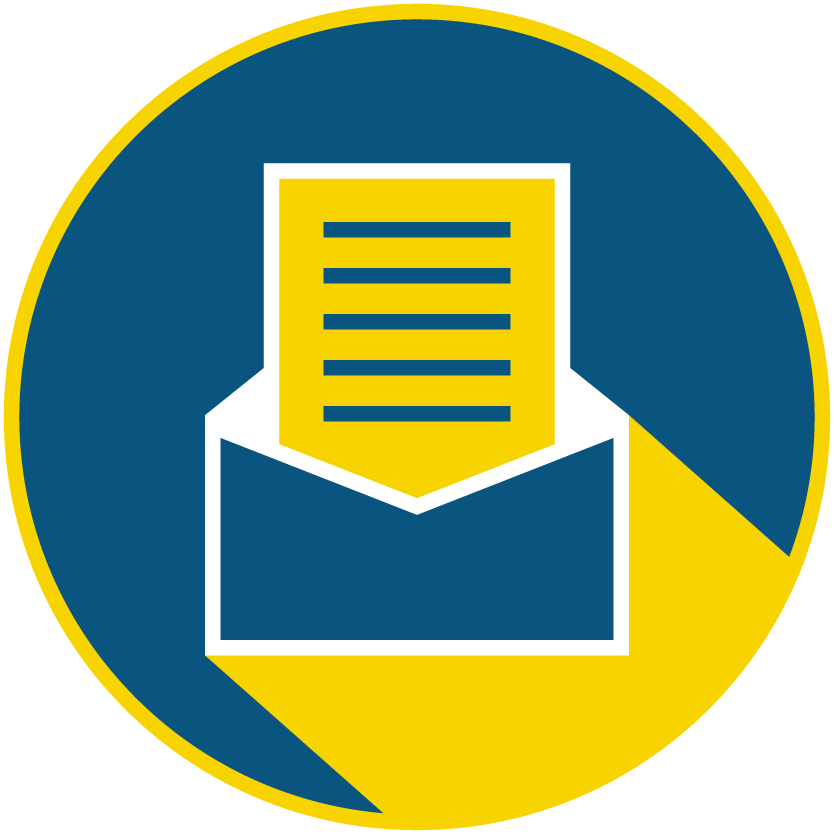 Subscribe to our newsletter to catch every headline.
Christian Hetrick
Christian Hetrick is dot.LA's Entertainment Tech Reporter. He was formerly a business reporter for the Philadelphia Inquirer and reported on New Jersey politics for the Observer and the Press of Atlantic City.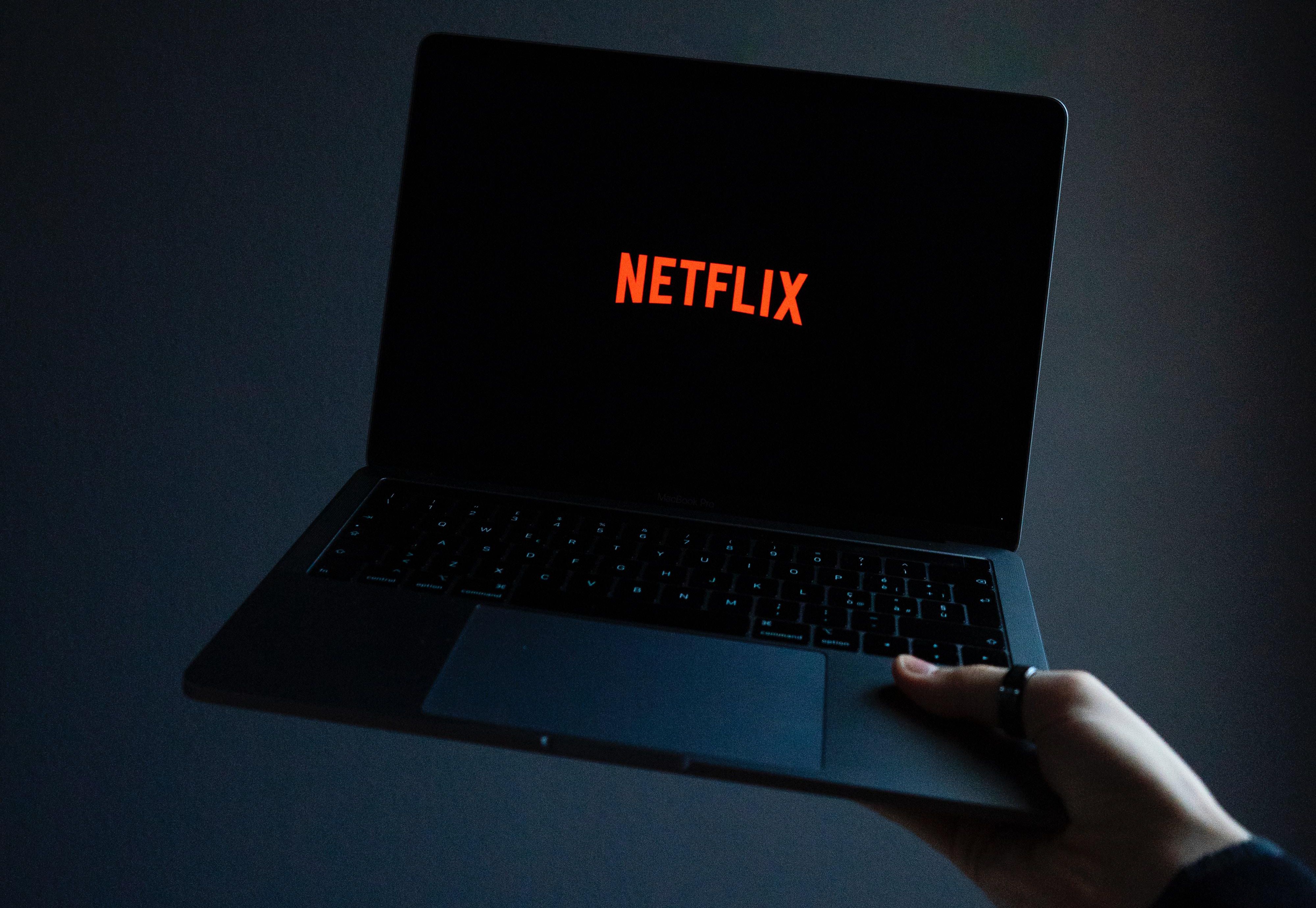 Netflix is laying off roughly 150 people after the streaming giant lost subscribers last quarter.
In a statement to dot.LA, a Netflix spokesperson said the company's slowing revenue growth means it must rein in its costs.
"So sadly, we are letting around 150 employees go today, mostly US-based," the spokesperson said. "These changes are primarily driven by business needs rather than individual performance, which makes them especially tough as none of us want to say goodbye to such great colleagues. We're working hard to support them through this very difficult transition."
The job cuts amount to 2 percent of the company's workforce, according to the Hollywood Reporter. The streaming giant is eliminating 70 roles in its animation division, and cutting contractor jobs in social media and publishing channels, THR reported, citing a company memo. Affected employees are expected to receive severance packages starting at four months.
The layoffs come just a few weeks after Netflix laid off about 25 people in its marketing division, including at its editorial website Tudum.
Netflix shares have cratered since the streaming platform reported that it lost 200,000 subscribers during the first quarter—the first time the company shed customers in more than a decade. The company also expects to lose 2 million more in the current second quarter. The streamer blamed increased competition, password sharing and the war in Ukraine, among other issues.
During the earnings call in April, Netflix CFO warned that over the next two years, "we're kind of operating to roughly that operating margin, which does mean that we're pulling back on some of our spend growth across both content and noncontent spend."
From Your Site Articles
Related Articles Around the Web
Christian Hetrick
Christian Hetrick is dot.LA's Entertainment Tech Reporter. He was formerly a business reporter for the Philadelphia Inquirer and reported on New Jersey politics for the Observer and the Press of Atlantic City.
Christian Hetrick
Christian Hetrick is dot.LA's Entertainment Tech Reporter. He was formerly a business reporter for the Philadelphia Inquirer and reported on New Jersey politics for the Observer and the Press of Atlantic City.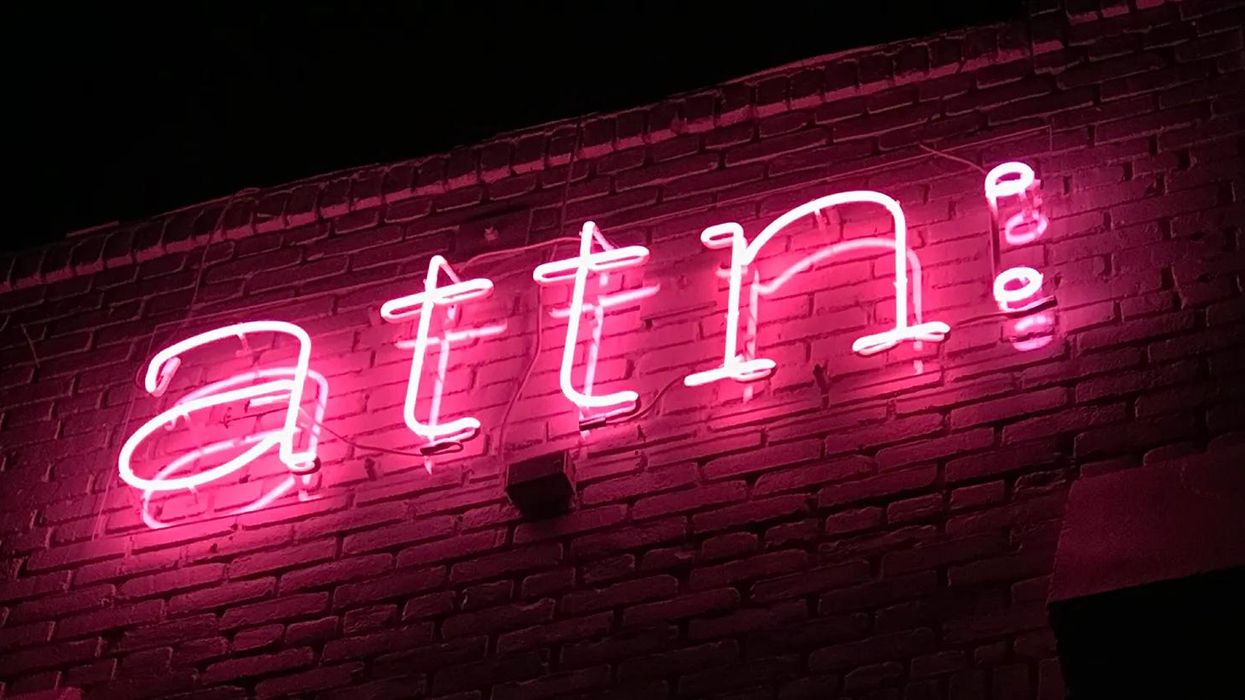 Photo provided by ATTN:
Candle Media, the firm run by ex-Disney execs Kevin Mayer and Tom Staggs, has bought social media creative company ATTN: for $100 million.
Los Angeles-based ATTN: (pronounced "attention") produces content geared toward Gen Z and Millennial viewers. The company has created original series for Facebook, TikTok, and Twitch, as well as TV networks like ABC and NBC, and streaming services like Hulu and Apple TV. Launched in 2014, ATTN:'s brand studio and creative agency has also worked with Amazon, Ford and Google, among others.
Financial terms of the deal were not disclosed, but a source familiar with the deal said Tuesday that Candle Media is paying $100 million in cash and stock for ATTN:. The transaction is expected to close within 30 days.
"ATTN: has a deep, digital-native understanding for how to cut through the noise and reach today's audiences through engaging content on social media," co-CEOs and co-chairmen Mayer and Staggs said in a statement.
Candle Media, backed by investment giant Blackrock, has scooped up three media companies since launching last year: kids' programming provider Moonbug Entertainment for $3 billion in November; a majority stake in Reese Witherspoon's Hello Sunshine for $900 million in August; and Faraway Road Productions for under $50 million in January. The company also took a minority stake in Will Smith and Jada Pinkett Smith's Westbrook in January
Candle Media aims to help ATTN: grow as it creates more original content and expands its brand services, including with its recently launched TikTok Studio. ATTN:'s co-founders, Matthew Segal and Jarrett Moreno, along with the company's senior management team, will continue to oversee day-to-day operations of the 140-person company.
"ATTN:'s mission has always been to use creative and clever storytelling to make important issues more digestible for mass audiences," Segal and Moreno said in a statement. "Partnering with Candle and their growing, talented team of creators will allow us to further this mission in a whole new way, accelerating our growth and reaching even more people with what we create."
Related Articles Around the Web
Christian Hetrick
Christian Hetrick is dot.LA's Entertainment Tech Reporter. He was formerly a business reporter for the Philadelphia Inquirer and reported on New Jersey politics for the Observer and the Press of Atlantic City.
Nick Kazden
Nick Kazden is a freelance writer who lives and writes in Los Angeles.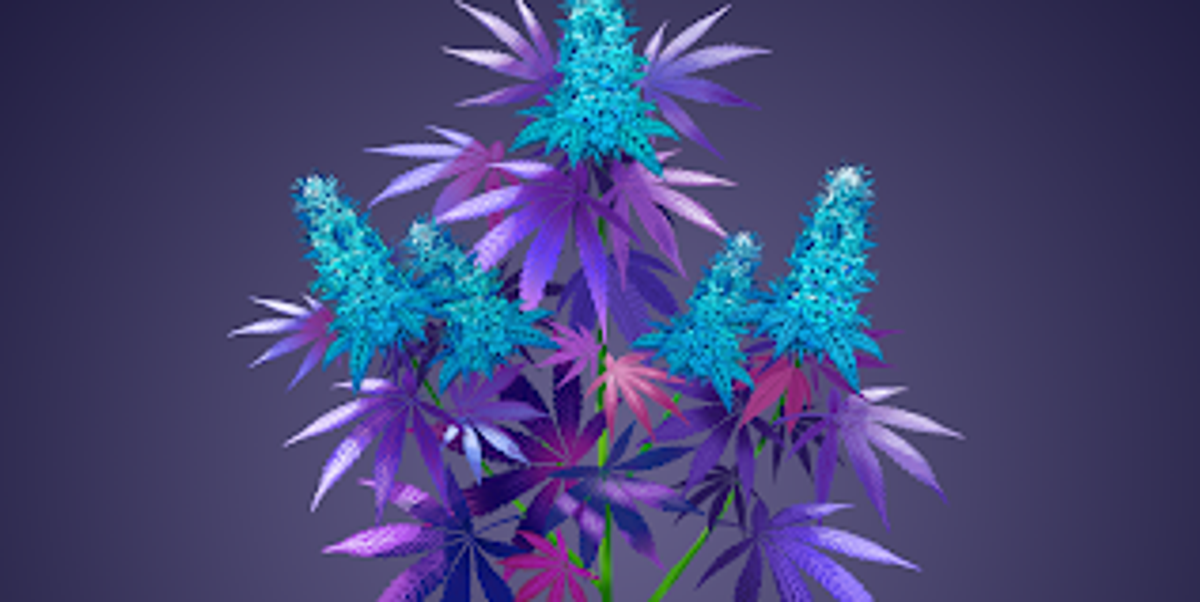 Image courtesy of Crypto Cannabis Club
While many cannabis firms are still figuring out how to incorporate the metaverse and Web3 applications like NFTs, Canoga Park's Saucey Farms & Extracts has become one of the first business to offer THC products in the metaverse as part of a dispensary in Cryptovoxels, a virtual platform build on the Ethereum blockchain. Local weed brand Califari, meanwhile, recently sold NFT artwork to support the cannabis-oriented criminal justice nonprofit The Last Prisoner Project. Then there's groups like the Crypto Cannabis Club (CCC), an organization centered around 10,000 "NFTokers" that gives holders discounts on cannabis products and has hosted weed-themed meetups in the Decentraland metaverse.
According to Crypto Cannabis Club CEO Ryan Hunter, about 20% of the community is based in California, with the organization's most active chapter located in Southern California. Hunter said that CCC uses different metaverses based on its needs; if the Club wants to host virtual 4/20 or 7/10 gatherings for all of its members, those would take place in Decentraland because it's "more of a wide-open space," while interactive gaming experience would be on The Sandbox platform, where noted weed entrepreneur Snoop Dogg has already staked a claim.
Hunter views the metaverse as a bridge between real-world cannabis enthusiasts and those who are passionate about virtual experiences.
"We're trying to intentionally create a community of folks that are part of the cannabis community in the real world, and want to be a part of the cannabis community as it expands into the metaverse [and] these virtual communities that are developing," he said.

In addition to cannabis ventures, artists are also exploring how the metaverse and Web3 can help them connect with new audiences. Reece Kinsbursky, art director of the The Artist Tree dispensary chain, told dot.LA that he has received interest from artists about showing their NFT artwork on the dispensary's walls; one even explored marketing a piece for sale via a QR code that would be displayed in the dispensary. (While The Artist Tree does not currently display NFT art at its stores, Kinsbursky didn't rule it out in the future.)
"It certainly has the capabilities to change a lot in how the ecommerce space functions," he said of the overlap between NFTs and cannabis. "But it's too soon to tell."
Cannabis aside, the metaverse is blossoming into a major focus for tech companies in Los Angeles. From social media companies like Snap to entertainment giants like Disney, there are no shortage of players leveraging virtual reality to grow their businesses and expand how they interact with audiences.
Likewise, Hunter and other cannabis entrepreneurs hope that engaging with metaverse platforms can expand their brand awareness and ecommerce presence. In addition to launching a direct-to-consumer offering—featuring collectible NFTs—in partnership with delivery company CampNova, CCC is building a dispensary in Cryptovoxels to display products from partner brands. In time, Hunter wants the virtual dispensary experience to mirror the real one, complete with a cultivation space where visitors can learn about the growing process.
As for cannabis consumers who may doubt the metaverse's potential, Hunter believes a little skepticism is healthy."I think there's every reason for them to be suspicious, and that's a great way to approach it," he said. "I'm not trying to convince anybody. We're trying to create a community that earns its place—and hopefully we'll find folks who are open-minded, and they'll tell friends who are less open-minded and convince them."
From Your Site Articles
Related Articles Around the Web
Nick Kazden
Nick Kazden is a freelance writer who lives and writes in Los Angeles.