Courtesy of Mercedes-Benz/Bosch
Sign up for dot.LA's daily newsletterfor the latest news on Southern California's tech, startup and venture capital scene.
Angelenos famously hate parking, but soon their cars may be able to park themselves thanks to a collaboration between Mercedes-Benz and German engineering firm Bosch.
At a demonstration in Downtown Los Angeles on Wednesday, Mercedes and Bosch gave the first U.S. test run showcasing the fruits of their collaboration: an electric Mercedes-Benz 2022 EQS 580 luxury sedan capable of navigating itself into a parking spot.
Painted in bright teal stripes, the sedan first let its driver out at a designated spot. Then, a tap of a Mercedes-Benz phone app locked the vehicle and sent it, at a gradual pace, to the first available parking space. Later, a ping from the app woke up the car—which turned itself on, pulled out of the parking spot and slowly made its way to the driver's pickup point.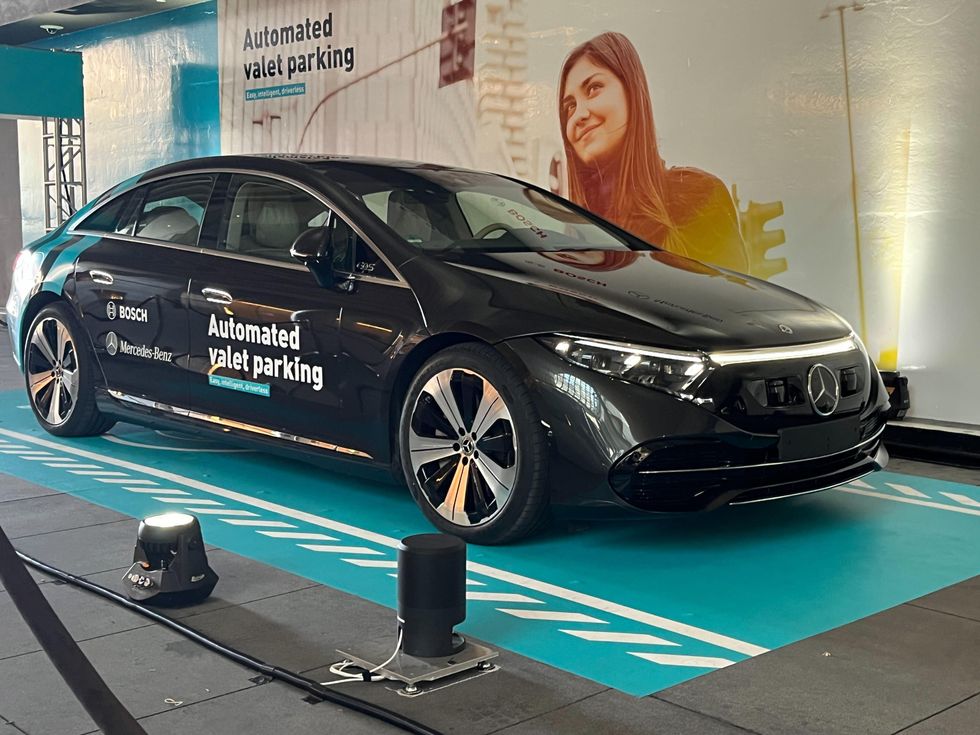 Painted in bright teal stripes, an electric Mercedes-Benz 2022 EQS 580 pulls into a parking spot with no driver.Courtesy of Mercedes-Benz/Bosch
A Bosch engineer stepped in front of the car several times as it was driving to demonstrate its safety features; if sensors detect a presence or any motion in front of the car, they'll tell it to stop a safe distance away. (For extra security, a person walked alongside the car with an emergency shut-off button.)
Kay Stepper, Bosch's senior vice president of automated driving for North America, noted that the self-parking technology relies on sensors and cameras built into its surrounding environment, which guide the car into its space. (The sensors are installed on the ground, while the cameras are mounted above.) He added that the technology could be applied to any type of car, so long as a manufacturer makes it compatible with its vehicle.
"The unique thing is really that we are not using any of the in-vehicle sensors—it's a purely infrastructure-based solution," Stepper told dot.LA.
The demo marked the first time that Mercedes and Bosch have tested the technology outside of Germany. In their home country, the driverless parking capability is already installed and ready to use at Stuttgart Airport pending final regulatory approval, according to Philipp Skogstad, Mercedes' president and CEO of North American research and development.

A handful of other auto industry names are also investing in automated valets, including the Volkswagen Group-owned CARIAD, which demonstrated its technology at an industry summit in Munich last. Yet another competitor is Maryland-based STEER. Other companies focused on autonomous technology from more of a road-driving perspective are Google's Waymo and, of course, Tesla.
Skogstad acknowledged the increasingly crowded playing field. "Automated driving is such a complex task requiring so many pieces to come together that nobody can do that alone," he said. "No matter how much money you have, you need partners."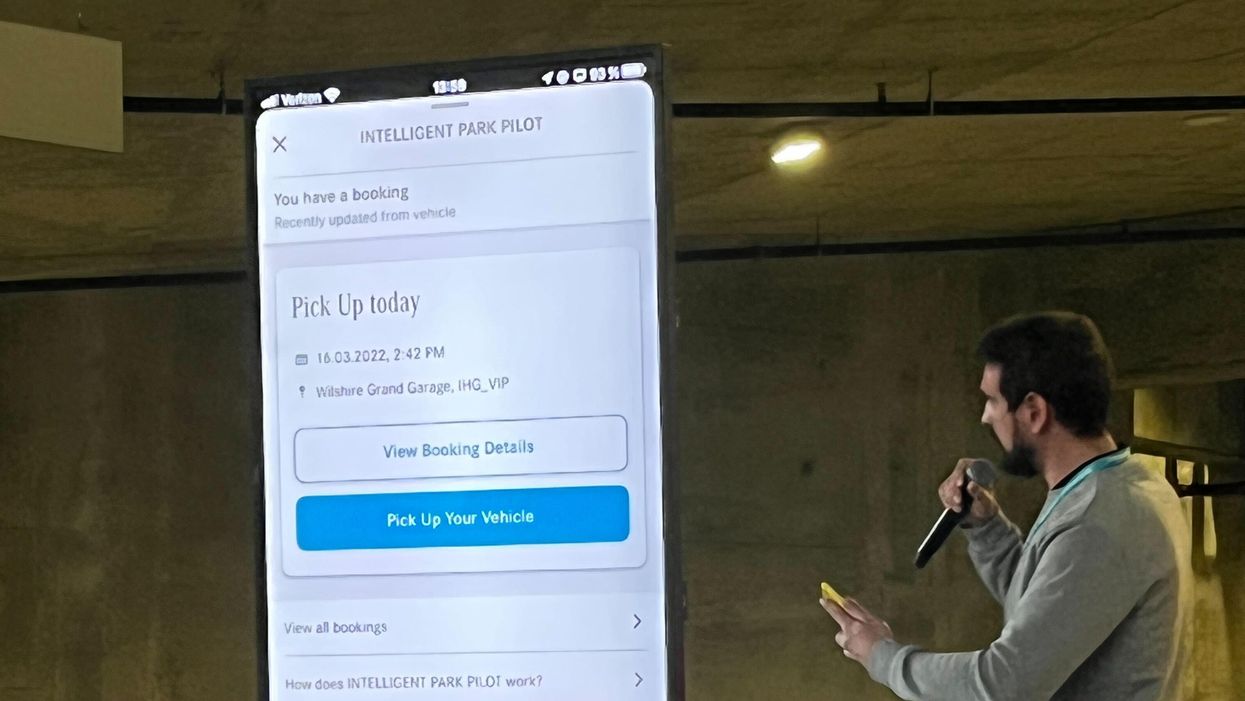 A Bosch engineer tests the self-parking car's pick-up options.Courtesy of Mercedes-Benz/Bosch
Stepper noted that Bosch is "intensely" focused on finding collaborators in the "smart infrastructure" space who can help it implement a driverless parking network. The next step, he added, is to convince local parking operators to invest in the technology. Without human error (consider that driver in your apartment building's garage who's always double-parked), he estimated that a fully-automated parking lot could fit up to 20% more cars.
And what about the valet workers—such as those on hand at the demo, who were kind enough to park cars for the event's attendees the old-fashioned way? A Bosch spokesperson noted that they wouldn't exactly be put out of business, as self-parking garages would still need humans to operate and maintain their technology and act as a safeguard.