mercedes benz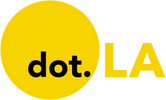 Get in the KNOW
on LA Startups & Tech
X
mercedes benz
Courtesy of Mercedes-Benz/Bosch
Sign up for dot.LA's daily newsletter for the latest news on Southern California's tech, startup and venture capital scene.
Angelenos famously hate parking, but soon their cars may be able to park themselves thanks to a collaboration between Mercedes-Benz and German engineering firm Bosch.
At a demonstration in Downtown Los Angeles on Wednesday, Mercedes and Bosch gave the first U.S. test run showcasing the fruits of their collaboration: an electric Mercedes-Benz 2022 EQS 580 luxury sedan capable of navigating itself into a parking spot.
Painted in bright teal stripes, the sedan first let its driver out at a designated spot. Then, a tap of a Mercedes-Benz phone app locked the vehicle and sent it, at a gradual pace, to the first available parking space. Later, a ping from the app woke up the car—which turned itself on, pulled out of the parking spot and slowly made its way to the driver's pickup point.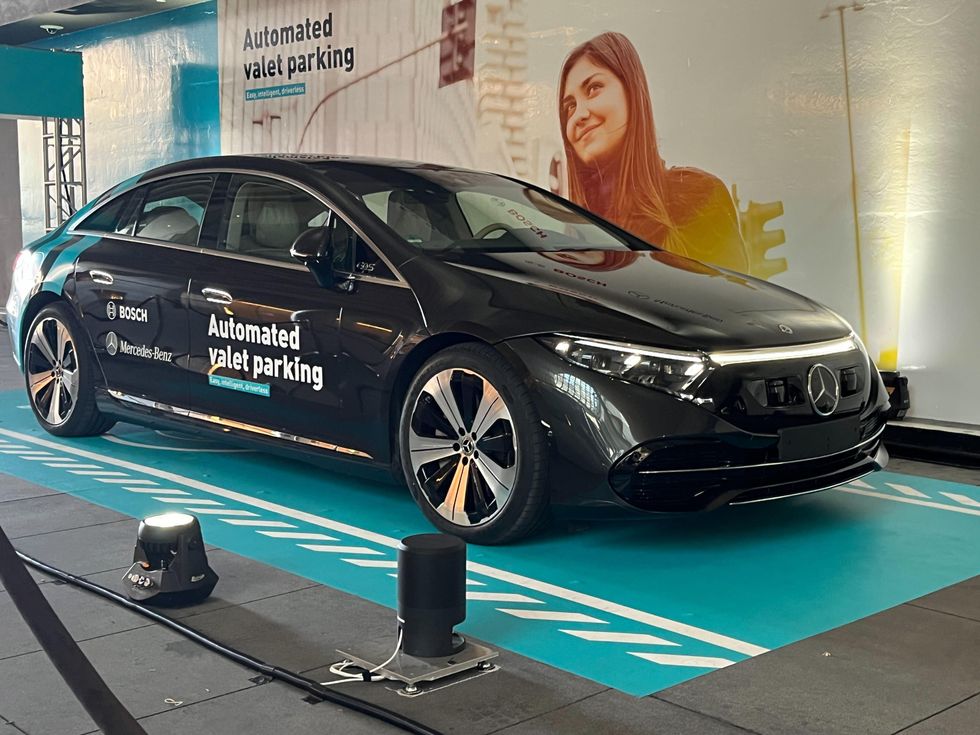 Painted in bright teal stripes, an electric Mercedes-Benz 2022 EQS 580 pulls into a parking spot with no driver. Courtesy of Mercedes-Benz/Bosch
A Bosch engineer stepped in front of the car several times as it was driving to demonstrate its safety features; if sensors detect a presence or any motion in front of the car, they'll tell it to stop a safe distance away. (For extra security, a person walked alongside the car with an emergency shut-off button.)
Kay Stepper, Bosch's senior vice president of automated driving for North America, noted that the self-parking technology relies on sensors and cameras built into its surrounding environment, which guide the car into its space. (The sensors are installed on the ground, while the cameras are mounted above.) He added that the technology could be applied to any type of car, so long as a manufacturer makes it compatible with its vehicle.
"The unique thing is really that we are not using any of the in-vehicle sensors—it's a purely infrastructure-based solution," Stepper told dot.LA.
The demo marked the first time that Mercedes and Bosch have tested the technology outside of Germany. In their home country, the driverless parking capability is already installed and ready to use at Stuttgart Airport pending final regulatory approval, according to Philipp Skogstad, Mercedes' president and CEO of North American research and development.

A handful of other auto industry names are also investing in automated valets, including the Volkswagen Group-owned CARIAD, which demonstrated its technology at an industry summit in Munich last. Yet another competitor is Maryland-based STEER. Other companies focused on autonomous technology from more of a road-driving perspective are Google's Waymo and, of course, Tesla.
Skogstad acknowledged the increasingly crowded playing field. "Automated driving is such a complex task requiring so many pieces to come together that nobody can do that alone," he said. "No matter how much money you have, you need partners."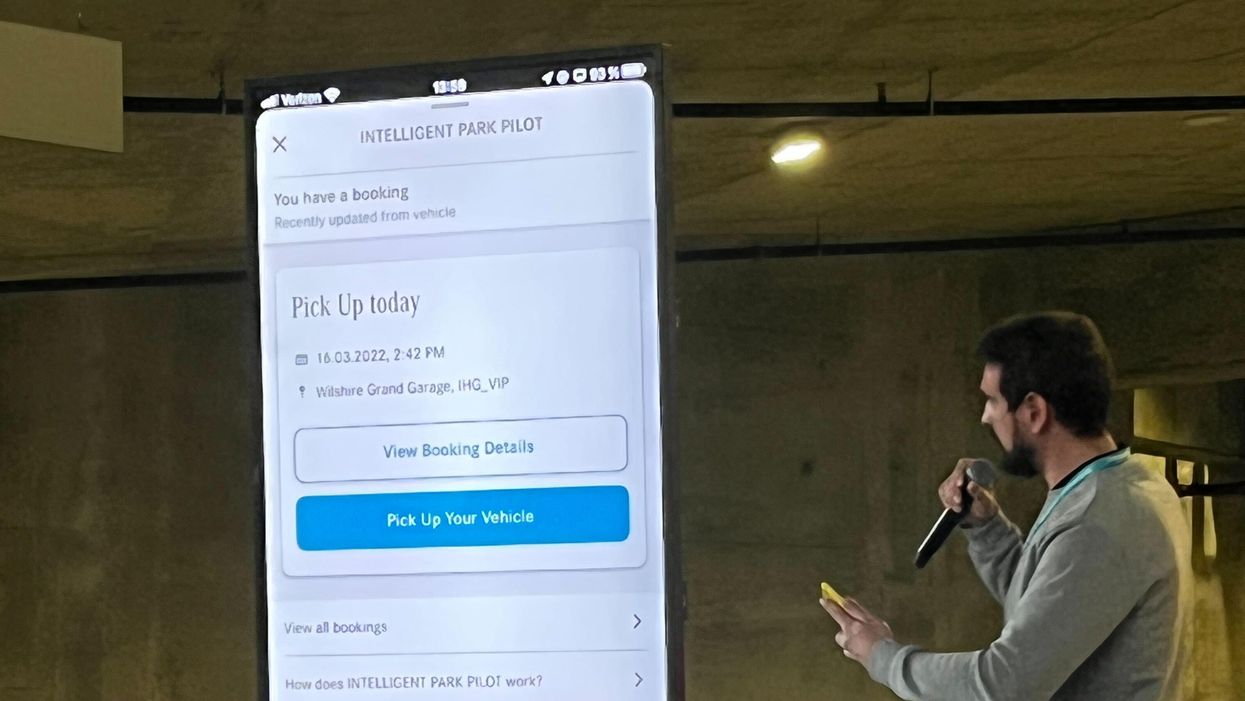 A Bosch engineer tests the self-parking car's pick-up options.Courtesy of Mercedes-Benz/Bosch
Stepper noted that Bosch is "intensely" focused on finding collaborators in the "smart infrastructure" space who can help it implement a driverless parking network. The next step, he added, is to convince local parking operators to invest in the technology. Without human error (consider that driver in your apartment building's garage who's always double-parked), he estimated that a fully-automated parking lot could fit up to 20% more cars.
And what about the valet workers—such as those on hand at the demo, who were kind enough to park cars for the event's attendees the old-fashioned way? A Bosch spokesperson noted that they wouldn't exactly be put out of business, as self-parking garages would still need humans to operate and maintain their technology and act as a safeguard.
From Your Site Articles
Related Articles Around the Web
Photo Courtesy of Canoo
One of the world's largest carmakers, Hyundai Motor Group, tapped Torrance-based startup Canoo to design the powertrain that will be used for their electric vehicles.
Terms of the deal were undisclosed but a similar one struck earlier this year between the Korean automaker and UK-based Arrival catapulted the startup to unicorn status. Arrival said it's now valued at 3 billion euros.
Under the arrangement, the electric car maker Canoo will develop a platform similar to the one it designed for its yet-to-be-manufactured vehicle for Hyundai and Kia cars.
The so-called "skateboard design "places the components of the electric powertrain on a flatbed with wheels underneath the car much like a trailer allowing for more room inside the vehicle. Hyundai said the design will also make their electric vehicles more cost competitive.
"We were highly impressed by the speed and efficiency in which Canoo developed their innovative EV architecture, making them the perfect engineering partner for us as we transition to become a frontrunner in the future mobility industry," said Albert Biermann, Head of Research & Development, Hyundai Motor Group in a statement announcing the deal. The company is developing the a Hyundai platform that is "autonomous ready and suitable for mass adoption," he said.
Unlike traditional engines made for specific cars or trucks the skateboard allows for different car bodies to be placed atop, making it interchangeable. But the agreement does not include manufacturing of the vehicle.
Carmakers are ramping up capital spending on electrification as more consumers warm up to the idea. BMW, Mercedes-Benz, Porsche and have announced EV models set to launch in early 2020s. Last year, Ford announced it would invest $11 billion in electric vehicles. And Hyundai has committed to spend $52 billion in future technologies through 2025, while Kia will invest $25 billion in electrification and future mobility technologies. Hyundai Motor Group wants a quarter of their car sales to come from their green fleet.
That's good news for electric vehicle startups, which often face an uphill battle because of the high cost of capital, said Asad Hussain, an analyst at Pitchbook. "You really do need corporate partners to finance your growth and expansion and if you can get an automaker on board, you can leverage the amount of capital and their technical expertise."
Canoo, founded in 2017, by two former BMW executives, opened up a waitlist last month for their eponymous prototype vehicle — a futuristic looking minivan — that it will offer to drivers as a subscription service. The service is set to launch during the second half of next year in Los Angeles.
"We have been working diligently to develop a bold new electric vehicles and partnering with a global leader like Hyundai is a validating moment for our young company," said Canoo chief executive Ulrich Kranz in a statement.