Here's What to Expect at LA Tech Week 2023
Samson Amore
Samson Amore is a reporter for dot.LA. He holds a degree in journalism from Emerson College. Send tips or pitches to samsonamore@dot.la and find him on Twitter @Samsonamore.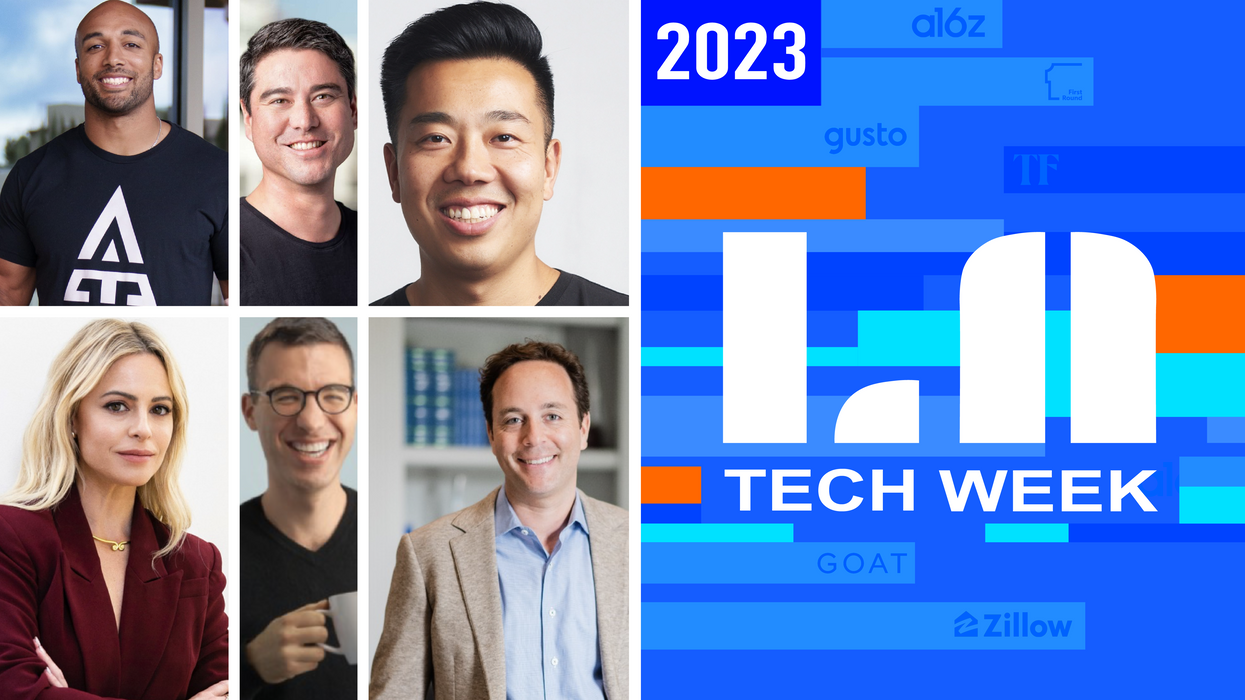 Evan Xie
This is the web version of dot.LA's daily newsletter. Sign up to get the latest news on Southern California's tech, startup and venture capital scene.
Los Angeles Tech Week returns for another year this June, and the packed slate of events ranges from lavish parties in Beverly Hills mansions to karaoke with venture capitalists.
---
This year, the festivities will be held from June 5-11. In addition to a16z, local investors including M13, Clocktower Technology Ventures, MaC Ventures, Science Inc. and Fika Ventures are all slated to attend or host their own networking or pitching events.
The weeklong event is bookended by other similar tech weeks in two prominent tech cities, San Francisco and New York. In total, there's more than 100 events scheduled throughout the week, and attendees have to register for each individual activity. Here's a selection of events that'll take place during LA Tech Week 2023.
Black and Brown VCs and Founders Brunch: BLCK VC and LatinxVC, two groups created to promote and advance work done by people of color in the venture investing community, will host a meetup with "brunch-inspired" food and drinks in West Hollywood. The event promises the opportunity to network with a wide variety of industry professionals, from space technology to consumer packaged goods. It'll take place Monday, June 5 from 11:30 a.m. to 2:30 p.m.
Proptech Meetup and Pacaso Open House: Spencer Rascoff, founder of Zillow and property broker startup Pacaso (and our very own dot.LA), will host a meetup with property technology founders and enthusiasts at a Pacaso home in Malibu, just off the PCH. The event will be held June 5 from 1-3 p.m. Register for the event address.
Techstars Aerospace and Defense Mixer: NASA's Pasadena-based Jet Propulsion Laboratory, the U.S. Space Force and Techstars are hosting a networking and happy hour event at Techstars' office in Culver City during tech week. The event will bring together both federal and startup players in the space tech space, and also include information for aerospace tech founders who might be interested in applying to be a part of Techstars' space accelerator program. This takes place Tuesday, June 6 from 2-6 p.m.
Investor Oasis by the Beach: Local venture capital outfit TenOneTen Ventures is partnering with neighboring Nomadic Ventures and San Francisco-based Marcy Venture Partners to host a beachside happy hour for local investors and founders at Venice Beach on Tuesday. The event will take place at sunset, from 5-8pm on June 6.
UCLA Anderson Elevating Voices: A Pitch Competition & Networking Opportunity: Among the handful of university-sponsored events at LA Tech Week this year is this pitch competition sponsored by UCLA's Anderson School of Management. The competition is open to any startups who have raised less than $500,000, don't have a graduate business degree or have sold less than $20,000 last year. The top winner will receive a cash prize and access to UCLA's incubator at the Price Center for Entrepreneurship & Innovation. Scheduled for 6-9 p.m. on June 6 at Sip & Sonder in Inglewood.
Female Founders: Planning. Pivoting. Profiting: This pithily-named event is sponsored by New York University's LA campus and will feature a panel of several female founders discussing how they've started and managed their businesses. It'll be moderated by NYU adjunct professor Shivani Honwad, Esq. and take place from 2-4 p.m. on June 6.
Supercharge LA: In partnership with Pledge LA, dot.LA will be hosting an evening of live music, food, drinks and guest speakers (including Los Angeles Chargers running back Austin Ekeler) on Wednesday, June 7 from 6-10 p.m. The event will take place at the 3rd St. Promenade at 1212 Santa Monica, and promises to bring together hundreds of entrepreneurs and investors, all eager to discuss the tech and startup ecosystem in LA. Register for our paid event here.
First Republic Bank Clubhouse: Got questions about First Republic Bank's recent collapse? This may (or may not) be the time to field them. First Republic is hosting a "casual" midday lunch networking event featuring beverages and bratwurst in Venice on Wednesday, June 7 from 1-4 p.m.
a16z & Stonks: Gaming & Entertainment Demo Day Hosted by Google: Google's Venice headquarters at 340 Main St. will host a demo day on Wednesday, where six startup founders in the gaming and entertainment industries will pitch their products to an audience of investors and press. Founders looking to be part of the pitch lineup can register here. The event will take place from 10 a.m. to 12 p.m. on June 7.
Aerospace Meets Climate Tech: A number of founders and investors in the aerospace and climate industries will converge in Hawthorne not far from SpaceX's headquarters to discuss innovation in the climate technology industry during tech week. It'll include electric speedboat company Arc Boats, LowerCarbon Capital, and former Chief Sustainability Officer of the City of LA Lauren Faber O'Connor, to name a few. The event will be held Thursday, June 8 from 5-8 p.m.
Gen AI Virtual Worlds Hackathon: This event actually takes place over multiple days; Beginning at 6 p.m. Friday, June 9 and running through June 11. The hackathon encourages developers to use artificial intelligence tools to create "immersive virtual worlds" corresponding to this year's theme of "heroes and villains," with the chance to win a combined $10,000 worth of prizes. It'll be held at Loyola Marymount University's Playa Vista campus all three days; Attendees can apply to register here.
Sports in LA: Investing, Founding and Growing: Join sponsor Athlete Strategies and its CEO Anthony Baldini for an event discussing LA's sports and technology ecosystem at the 3rd Street Promenade on Friday. The event is scheduled for 11 a.m. to 4 p.m. June 9.
Rooftop Angel City FC Watch Party and Innovator Panel, with Carta: One of the few tech week events scheduled over the weekend, San Francisco-based startup Carta is hosting a watch party for local women's pro soccer team Angel City FC at Venice's Neuhouse on Saturday. In attendance will be Angel City FC's vice president of strategy Kari Fleischauer and several other investors and founders. The event will be held from 2:30 to 6 p.m. on June 10.
Registration information and a full list of LA Tech Week events can be found here.
Samson Amore
Samson Amore is a reporter for dot.LA. He holds a degree in journalism from Emerson College. Send tips or pitches to samsonamore@dot.la and find him on Twitter @Samsonamore.
https://twitter.com/samsonamore
samsonamore@dot.la