cov1d 19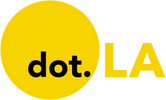 Get in the KNOW
on LA Startups & Tech
X
cov1d 19
Comparisons of the real-world spread of the COV-19 coronavirus with computer models indicate that the travel restrictions imposed by authorities in China and other nations have delayed the progress of the outbreak by a matter of days or weeks.
The models suggest that the best way to mitigate the epidemic isn't through travel restrictions, but through public health interventions and behavioral changes — such as frequent hand-washing and social distancing.
The open-access findings were published today by the journal Science, by a research team including scientists from the U.S., Italy and China. Elizabeth Halloran, a biostatistician who works at Seattle's Fred Hutchinson Cancer Research Center and the University of Washington, is a member of the team.
Researchers took advantage of a computer model known as GLEAM, which traces the dynamics for the global transmission of diseases based on a given set of parameters. The team tweaked those parameters in an effort to determine how COVID-19 might have spread under different conditions.
The results suggest the travel ban that Chinese authorities introduced on Jan. 23 in the city of Wuhan, the epicenter of the epidemic, slowed the virus' spread across China by three to five days.
By early February, airlines had begun restricting international flights to and from China. But computer modeling of the real-world spread of the virus suggests that "a large number" of individuals who were exposed to COVID-19 traveled internationally without being detected. Those individuals seeded fresh outbreaks elsewhere, the researchers said.
"This finding is consistent with the emergence of COVID-19 outbreaks in countries across the world, including Italy, Republic of South Korea and Iran in the second half of February," the team reported.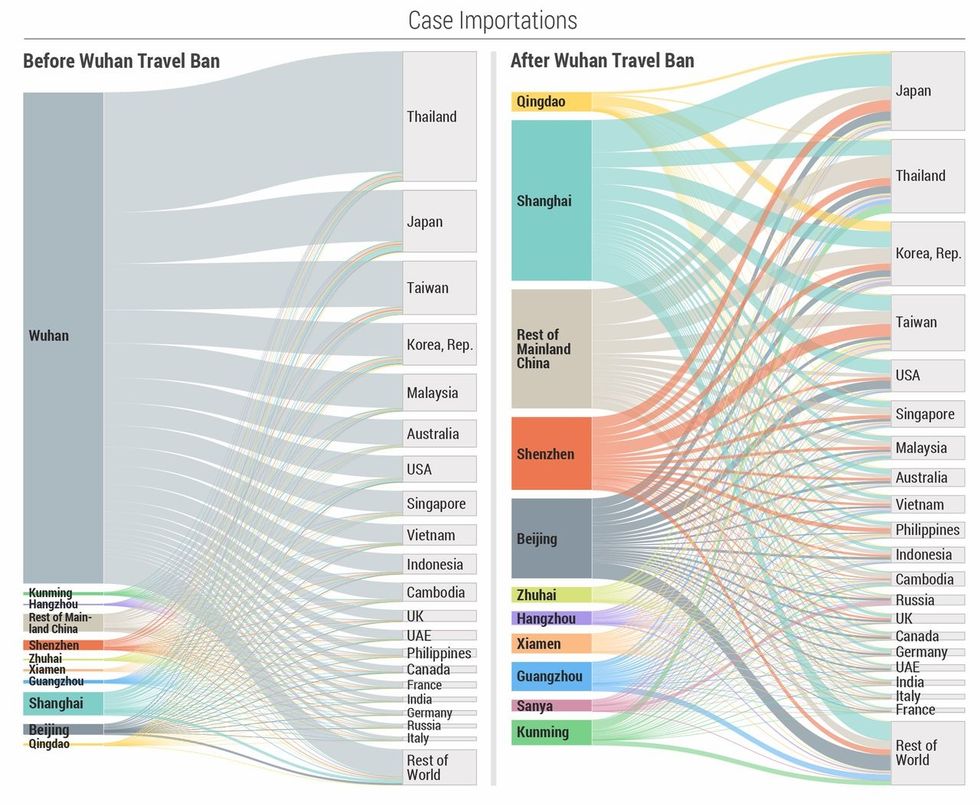 Contribution to the relative risk of importation of the top 10 Chinese cities (plus the rest of Mainland China) until 22 January and after Wuhan travel ban from 23 January to 1 March 2020. The listed countries correspond to the top 20 countries at risk of importation. Copyright © 2020, American Association for the Advancement of Science
The models suggest restrictions on flights to and from China slowed the virus' spread by two to three weeks.

Researchers cautioned that their findings were based on preliminary parameters relating to the incubation time for the virus, and prior knowledge about earlier coronavirus epidemics. Nevertheless, they said the computer models could help guide expectations for controlling the virus' spread.
"Moving forward we expect that travel restrictions to COVID-19 affected areas will have modest effects, and that transmission-reduction interventions will provide the greatest benefit to mitigate the epidemic," they said.
The study in Science is called "The Effect of Travel Restrictions on the Spread of the 2019 Novel Coronavirus (COVID-19) Outbreak." The University of Florida's Ira Longini and Northeastern's Alessandro Vespignani are corresponding authors. Co-authors include Halloran as well as Jessica Davis, Marco Ajelli, Corrado Gioannini, Maria Litvinova, Stefano Merler, Ana Pastore y Piontti, Kunpeng Mu, Luca Rossi, Kaiyuan Sun, Cecile Viboud, Xinyue Xiong and Hongji Yu.
This article was originally published on GeekWire. Love space and science? Sign up for GeekWire's Space & Science email newsletter for top headlines from GeekWire's aerospace and science editor.
The most prominent venture capitalist in Los Angeles is sounding the alarm bells over coronavirus, warning it is likely to be a "black swan" event.
"If this is a black swan, you must shore up cash now," said Mark Suster, managing partner at Upfront Ventures. "If it's not a black swan event the worst case scenario is you were overly conservative."
Suster first made the pronouncement in a deck for a presentation he was set to give next week at the SaaStr conference in the Bay Area, the largest annual gathering of software as a service companies. But ironically, organizers decided Thursday to postpone the event so Suster shared the slides on social media and expanded on his views in a telephone interview with dot.LA Friday.
"We've been telling our companies to cut their burn rates, pad their balance sheets and not to be precious about valuation," Suster told dot.LA. "Survival is way more important."
Suster thinks COVID-19 could end being the most significant event of his investing lifetime because of the high degree of uncertainty and its lasting impact of up to 18 months.
"I think this is going to be harder than 9/11," said Suster. "9/11 was a shock to the system, but it was a one time event and then it was done."
Suster emphasizes that no one knows how COVID-19 will turn out, and he does not want to sound alarmist. But if the uncertainty continues he expects investors to stop writing checks, just as they did after the DotCom Bust and the Great Recession. The problem is he has no idea how long investing will be halted.

"That could be one month, three months, or 18 months," he said. For now at least, Suster says Upfront is still trying to proceed as normally as possible.
"We just wired money to a company this morning," he said.
If there is any silver lining it is that investors could be more inclined to put money into venture capital as interest rates go even lower and that venture firms like Upfront are sitting on records amounts of cash they have to put to work.
"It's not like they're not going to turn around and say 'we've decided to send all this money back," Suster said. "They will deploy it. They may choose to go more slowly for a period of time."
At Upfront's Santa Monica office, employees are still coming into the office but the firm implemented a no-handshake policy last week and has gotten rid of communal cheese and meat trays. Suster and his team are still trying to meet with as many founders and investors as possible, but it's getting more difficult.
"The number of people now in other states canceling meetings and saying they've implemented a no in-person meeting policy has shocked me," he said.
Suster is not alone is calling coronavirus a black swan event. Sequoia Capital, one of Silicon's Valley's leading venture capital firms, told investors Thursday that companies should revise sales forecasts, stockpile cash, and cut costs, perhaps by laying off workers.
"This might be a time to evaluate critically whether you can do more with less and raise productivity," the firm wrote. "We suggest you question every assumption about your business."
The firm said some of its companies have already reported sharply falling growth rates between December and February and disruption in the supply chain means hardware, direct-to-consumer, and retailing companies may need to go elsewhere to be able to make their products.
"It will take considerable time — perhaps several quarters — before we can be confident that the virus has been contained," the firm wrote." It will take even longer for the global economy to recover its footing. Some of you may experience softening demand; some of you may face supply challenges."
Founders & business leaders: We sent this note to Sequoia founders/CEOs to provide guidance on how to ensure the health of their business while dealing with the consequences of the coronavirus. We hope it's helpful to you during these turbulent times. https://t.co/SRuqVGT8vD
— Sequoia (@sequoia) March 5, 2020
Photo by Rachel Uranga
The fast-moving coronavirus, which has been roiling markets for more than a week, is pushing the U.S. economy toward a recession, according to Marko Papic, partner and chief strategist at Clocktower Group, who spoke to a conference crowd on Thursday.
"Where I see this heading is in a recession," Papic told a crowd at the Montgomery Summit in Santa Monica. "The U.S. consumer is 15% of global GDP, that's a large chunk."
Just how long and deep it is could largely depend on the virus' trajectory and government response, he said. If the virus behaves in the the U.S. and other countries as it has in China, peaking and then quickly declining, then there will likely be a short-lived recession, Papic said.
He warned that the U.S. government could bring on inflation if responds with too much stimulus.
Papic spoke as part of a panel of health experts brought together at the last-minute by Jamie Montgomery, the founder and managing director of Los Angeles-based March Capital Partners. The idea: To address what was already on top of everyone's mind: Just how serious a threat is this virus?
Asked to rank the scale of the problem the virus poses from one to 10, panelist Christopher Mores, program director for the Global Health Epidemiology and Disease Control program, said "I'm a seven on this thing."

"It's kind of a blend between our outbreak response, and the concerns I have for our policy response," he said, "and damage to other systems in the economy."
On Wednesday — the day the Montgomery Summit was set to start — Los Angeles County officials declared a health emergency, confirming six new cases of coronavirus, and warning that schools and business may need to be closed if COV1D-19 continues to spread.
Montgomery said just days before the summit that he was wrestling with whether to cancel it as Facebook and other tech companies have done with their conferences.
Coronavirus was the talk of the conference, with a family doctor on standby, as folks elbow-bumped and pumped hand sanitizer between talks about raising capital and revenue projections.
From Your Site Articles
Related Articles Around the Web