audio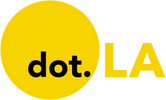 Get in the KNOW
on LA Startups & Tech
X
audio
Things are moving rapidly these days in startupland, particularly in the suddenly crowded red-hot audio space.

Just six months ago, Betty Labs pivoted for a third time – from sports gambling to live audio – and the third time proved to be the charm, as Spotify announced Tuesday it was buying the Los Angeles company for an undisclosed sum.
Betty Labs' Locker Room app is often likened to a sports version of Clubhouse, the much-hyped live audio app that has hosted conversations with the likes of Elon Musk and Bill Gates. But Betty Labs co-founder and CEO, Howard Akumiah, says he actually first saw the appeal of audio conversations after he realized users were more interested in talking to each other than wagering on games.

"The major thing we learned building products around sports betting is that the most important thing you can do for sports fans is facilitate communication between them," Akumiah told dot.LA in a wide-ranging interview before the sale was announced.
Still, he does not deny Clubhouse, which recently raised new funding led by Andreeson Horowitz at an eye-popping $1 billion valuation, has been helpful.

"We're building a product in a hot market," Akumiah said.
He admits people being cooped up inside all day unable to go to sports bars — much less games themselves — has also been beneficial, but he does not think Locker Room's appeal will diminish when life returns to normal.

"People want to talk regardless of whether it is pandemic or post pandemic," Akumiah said. "I think that will continue to be true."
Akumiah started Betty Labs in San Francisco in 2018, when he was still a product manager at Pinterest, as a way to make sports wagering more accessible to a wider audience, hence the name Betty Labs.
"Betty was a personified sportsbook," Akumiah said. "The idea was that you could text this number and Betty would text you back to make bets that were related to what was happening in the game that you were watching live."
Akumiah, who was the one texting people back, soon started getting more action than he could handle.
"I went from hacking this fun thing during the NBA playoffs to basically being an illegal bookie with 500 people on my book," Akumiah remembers. "So I quit my job, shut the product down and I raised a little bit of money to start exploring what was possible."
Akumiah moved to Los Angeles and began hiring.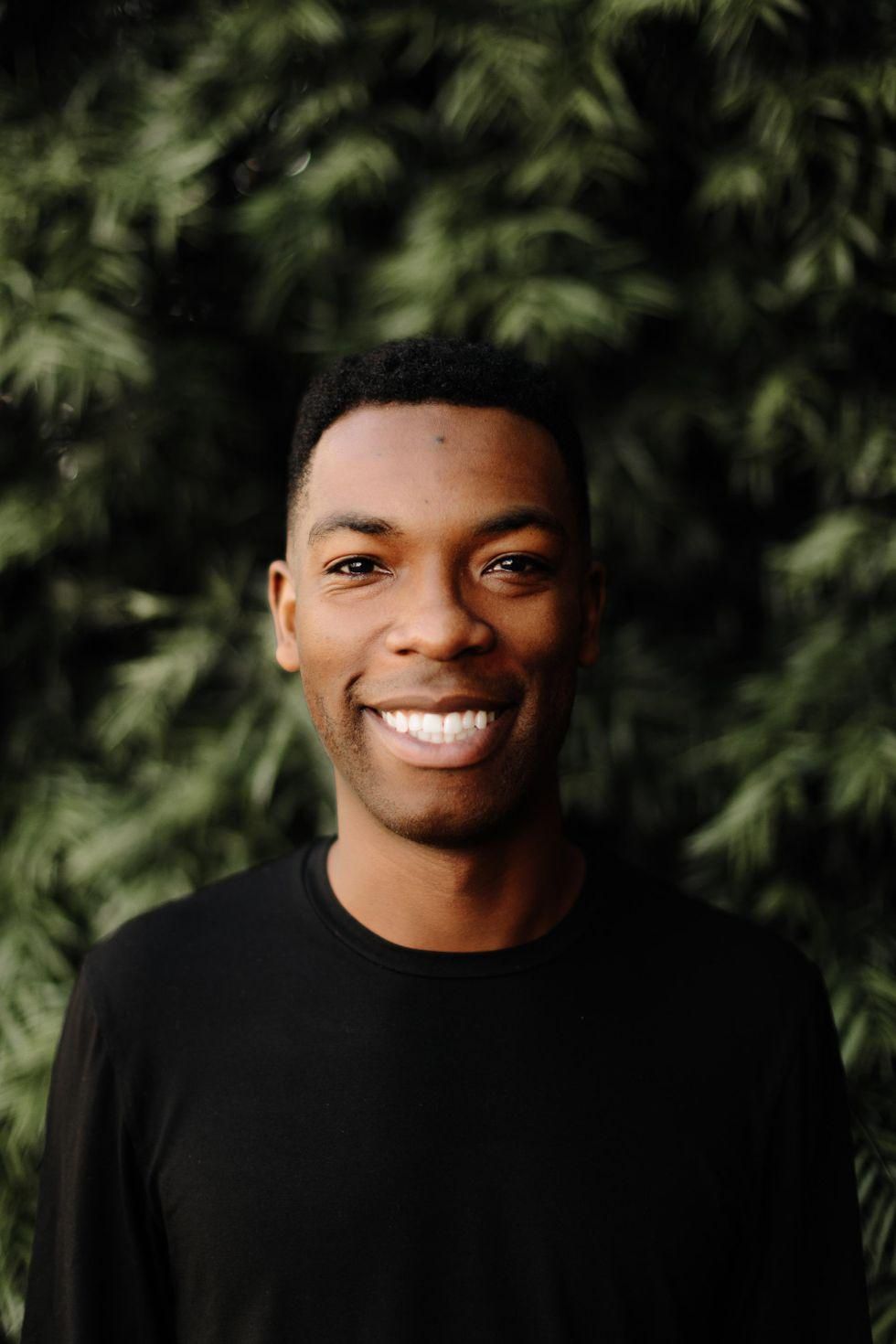 Betty Labs co-founder and CEO Howard Akumiah
"I moved to L.A. to get closer to the people who would ultimately use the products that we built," Akumiah said. "When I was talking to people about what I was wanting to build in San Francisco, I was met with a lot of confusion."
Betty Labs launched an app called Sideline in 2019, which offered live in-game predictions for sports betting. The predictions aspect did not take off but the social features did.
"People were coming to the Sideline app to talk to other fans about games that they were watching on television," Akumiah said. "If we wanted to take it to the next level, we needed to add audio because we needed to create a medium that is endemic to sports like sports talk radio and podcasting," Akumiah said.
The company raised a $9.3 million seed round last October, with backing from Precursor Ventures, Chapter One Ventures, Maveron, Amazon Alexa Fund, Lightspeed Venture Partners, MaC Venture Capital, and M13. NBA stars Kevin Durant, Andre Iguodala, Baron Davis also participated in the round.
The same month, Betty Labs released Locker Room so users could talk to each before, during or after games. And in this case, talking is what users really wanted to do, a throwback to a time before online chatting, texting or e-mailing.
"I think of the growth in audio not from the consumption side, but actually from the creation side," Akumiah said. "The average person is realizing that they don't have to prepare any materials. They don't have to convert their thoughts to type. They don't have to create a video. They can just begin speaking what's on their mind."
It's not just fans talking to each other. Andre Iguodala and Indiana Pacers center Myles Turner have hosted live Q&As. Mark Stein, the well-sourced New York Times NBA writer, signed a deal with Locker Room last month.
"Instead of doing a podcast, he's going to do regular rooms on Locker Room where answers people's questions about the league and shares his insights," Akumiah said.
Spotify's acquisition is not only a large shift for Betty Labs, but also for the Swedish audio giant. It's Spotify's first major foray into live audio. Interestingly, the company said it plans to soon expand Locker Room well beyond sports to offer conversations focused on music and cultural programming.
"Creators and fans have been asking for live formats on Spotify, and we're excited that soon, we'll make them available to hundreds of millions of listeners and millions of creators on our platform," Gustav Söderström, Spotify's Chief Research & Development Officer said in a statement.
Akumiah added this is an email Tuesday: "Joining Spotify unlocks the ability to grow quickly and deliver that same platform and experience to other communities of passionate fans, whether they want to talk about music, culture or sports."
Spotify is not alone trying to take on Clubhouse. Twitter recently launched a live audio feature, Spaces, and Facebook is reportedly at work on a similar function.
From Your Site Articles
Related Articles Around the Web
When you put on headphones or listen to loudspeakers today, you are likely tapping into the same underlying technology that was invented in the late 19th century to convert electrical energy into sound.
That's not to say that audio technology isn't slimmer and sleeker, but there hasn't been nearly as much innovation as in video. That's at least the view of GraphAudio, a four-year old startup whose product is based on Nobel Prize-winning technology, which it hopes will bring about the next frontier in audio.
"We want to bring an audiophile experience to the mass market," said chief executive Ramesh Ramchandani, "and become the 'Intel Inside' of audio."
The headphones market has nearly doubled over the past two years. In 2019, Apple's Airpods yielded more revenue alone than Twitter, Snapchat and Spotify combined.
The Beverly Hills-based company is hoping to penetrate that market and capture a sizable chunk with tech that enables a superbly crisp listening experience, made from a miraculously efficient and effective material, which can ultimately be offered to end-consumers at a competitive price.
For 30 years, Ramchandani has worked in tech, primarily in semiconductors, first as a design engineer and later as head of several startups with successful exits. Along the way, he helped GoogleX set up its artificial intelligence strategy.
Two years ago, GraphAudio cofounders Fred Goldring, an L.A.-based entrepreneur, and materials scientist Lonnie Wilson, who'd previously worked out of the California Nanosystems Institute at UCLA, recruited him to lead the company.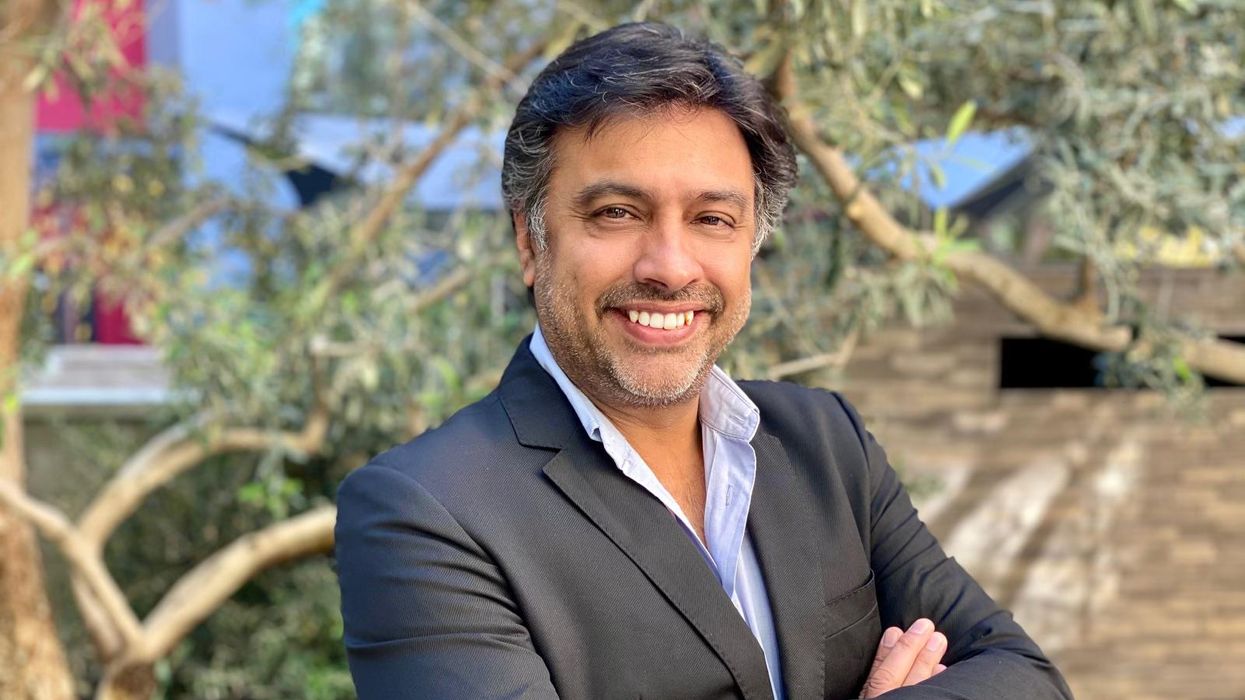 Ramesh Ramchandani is the CEO of GraphAudio, a four-year old startup whose product is based on Nobel Prize-winning technology.
What convinced Ramchandani to saddle up was the opportunity to mass-market a new technology that vastly improves sound and could be used in everything from smartphones to televisions.
The company has perpetual, exclusive licenses to several patents developed out of the Lawrence Berkeley National Laboratory for audio components made from graphene, and $4 million in seed funding from investors including will.i.am and Herbie Hancock.
But so far GraphAudio can produce only a few hundred units per month of its technology out of its lab in Austin. That's because its process to manufacture at scale, which uses a technique called chemical vapor deposition, requires a more robust facility, and the company has yet to sign on a big-name customer. It also needs to shrink its brick-sized prototype amplifier, which provides the extra voltage needed by its electrostatic speaker system, to the size of a microchip.
Ramchandani thinks the company can smoothly overcome these engineering challenges and enable its technology components to fit into the headphones, televisions and smartphones of the customers GraphAudio is targeting. And he's chasing that vision so that he can bring to a mass market what he sees as the gold standard of audio, at or below prices that consumers already pay. But what he really needs to do is sell his technology to the companies that make those products.
GraphAudio's Challenges Ahead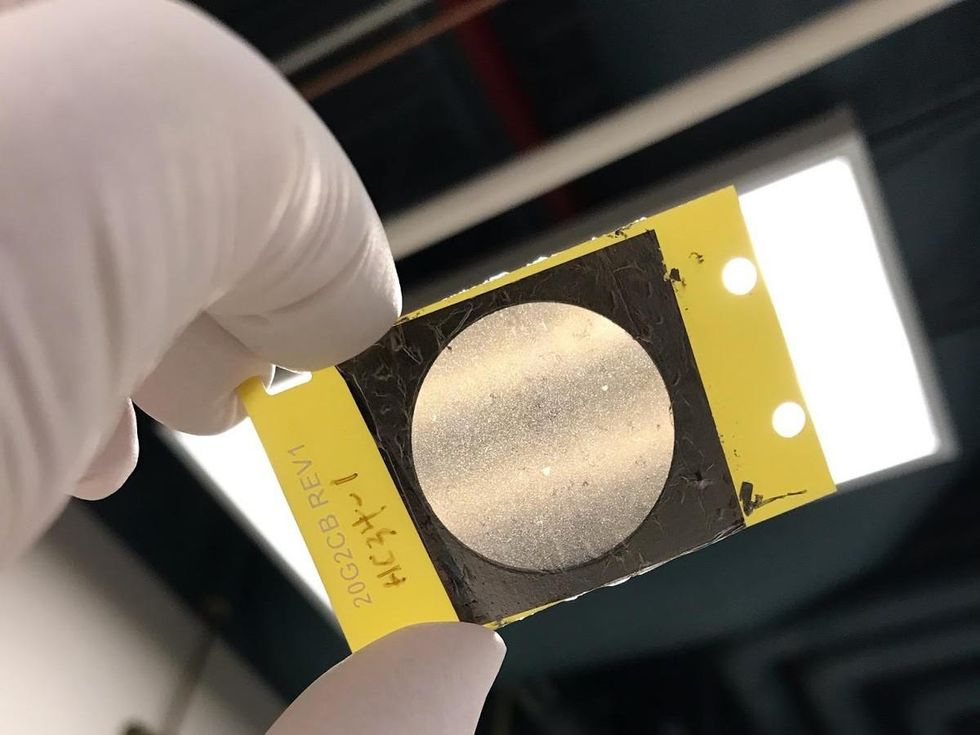 assets.rebelmouse.io
Ramchandani said he is in "active discussions" with at least two companies, though would not say which ones specifically, citing non-disclosure agreements. But he said the companies were equivalent in size and stature to players such as Sony, Sennheiser, Samsung or Bose.

Jim Rondinelli, an audio expert and chief operating officer of audio-tech company Immersion Networks, sees a compelling case for GraphAudio to make to its target customers.
For an ideal loudspeaker or headphone, he said, "there's no better material than graphene."
For example, whereas Apple's earbuds convert only about 8% of their power source into sound, GraphAudio's transducer converts 99%. That's according to Alex Zettl, a physicist whose work formed the basis of the company's technology and who now sits on its advisory board. Those efficiency gains have several knock-on effects, such as improving battery life and reducing the amount of heat that gets dissipated across devices, which can damage other components.
But companies like Apple that are already succeeding in the audio market may be disinclined to change what they are doing. Rondinelli said, for instance, that Apple may have "some resistance to change because they already carry a lot of power and negotiating leverage."
Other companies prefer to stick to technologies they develop. A representative from Sennheiser, a German audio hardware company, said it continuously evaluates new technologies to improve listener experience. "However, as an audio specialist with a 75-year heritage, we utilize proprietary transducers for the majority of our headphones."
Is Graphene the Next Big Thing in Audio?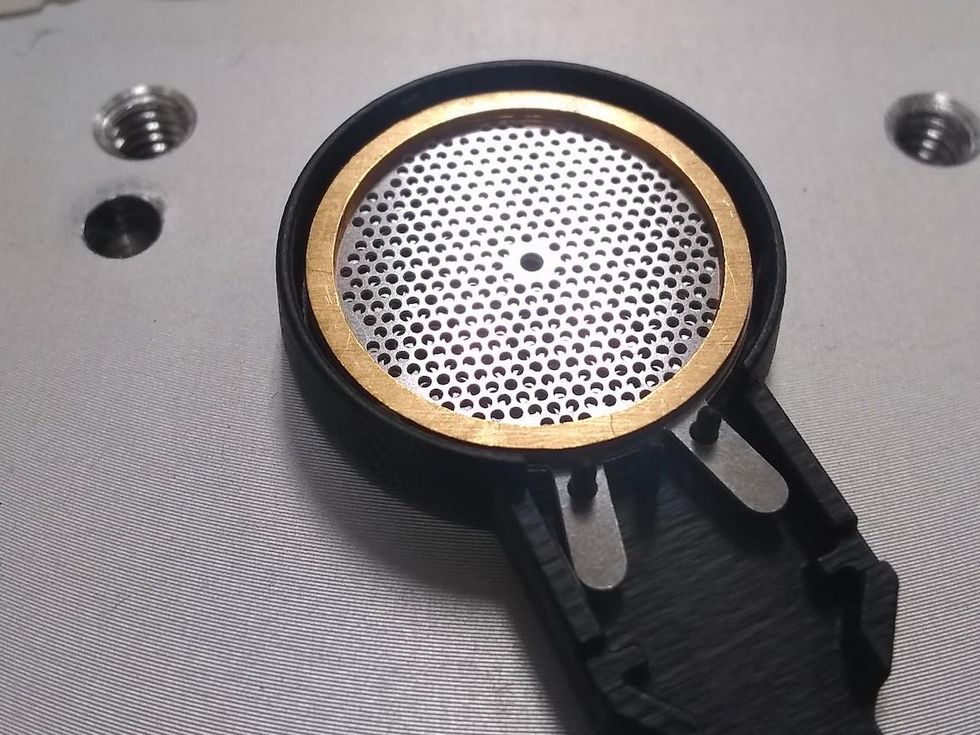 The key to delivering any sound to a listener's ear through speakers or headphones is a transducer: the basic technology that converts electrical energy into sound. It makes beats thump and voices soar.

In 2016, GraphAudio acquired an exclusive license from the University of California, Berkeley's Lawrence Berkeley National Laboratory to monetize patents that describe a transducer made out of graphene: an ultra-lightweight, stronger-than-diamonds carbon-based material that in its purest form is the only two-dimensional material on Earth.
Those patents were filed on the heels of a landmark paper written by UC-Berkeley physicists Zettl and Qin Zhou, which highlighted graphene's unique usefulness as a transducer for an electrostatic speaker.
Wilson, who would go on to co-found GraphAudio and is now its chief technology officer, had long been interested in graphene by the time that paper was published. The remarkable material had existed mainly as an intriguing theoretical concept until Andre Geim and Konstantin Novoselov won a Nobel Prize for their experimental work on graphene in 2010.
"I was looking for the next big thing and I really thought graphene, although it had been out there and they'd been trying to find a good application for it, was looking for a good home," Wilson said. "What really caught my eye was this graphene work that Zettl was working on up at Berkeley."
Competition for Graphene Speakers
GraphAudio's biggest competitor so far is Montreal-based ORA Graphene Audio. The company develops graphene-based speaker and headphone components, and has earned some revenue through joint-development partnerships with brands it describes as "well known."
ORA has sold headphones directly to consumers through a Kickstarter campaign, but ran into some production delays along the way. It is now only pursuing a B2B strategy, like GraphAudio.
The two companies' products are not identical. GraphAudio uses stacked layers of 100% pure graphene. By contrast, ORA's "graphene oxide" includes oxygen, in addition to what co-founder Ari Pinkas called a "magic formula" of materials that enable ORA to mold its components into a variety of shapes depending on its customers' needs.
That difference matters, Pinkas said, because at this point graphene oxide is easier to produce at high volumes. Novoselov, the Nobel Prize winner, has praised the company for offering "one of the first consumer products to feature a high-content graphene technology."
Another key difference between ORA and GraphAudio is that ORA does not rely on an electrostatic speaker design but rather the more common electrodynamic coil (see below section). Pinkas said this has helped his company forge partnerships with brands that are testing the product.
GraphAudio's transducer, however, can dual-function as a highly sensitive microphone – for which the company also holds a patent. That could help Ramchandani's sales pitch, as reducing the number of parts in a consumer device by combining a speaker and microphone would open up valuable real estate on those devices.
This microphone capability is key to GraphAudio's longer-term plans. Since it can detect frequencies beyond the normal range of human perception – it has registered ultrasonic wild bat calls, for instance – it holds potential for applications well beyond consumer audio. Wilson noted that autonomous cars could use it to communicate with each other, and that it could also be used for medical and military purposes, among others.
So, while Ramchandani, Wilson and team have a product with plenty of promise, there's still a long road ahead.
"We're on the 1-yard line in terms of our development cycle," Ramchandani said.
Still, he expects his company will advance down the field rather quickly, predicting that products with GraphAudio inside will be available to consumers by 2022. A big payout could await.
"We recognize we have challenges," Goldring said, "but we see ourselves disrupting audio in much the same way flatscreens revolutionized video."
If GraphAudio overcomes its hurdles, Rondinelli concurs. "It's easy to imagine a scenario where these guys are shipping hundreds of millions of devices," he said.
How an Electrostatic Speaker Works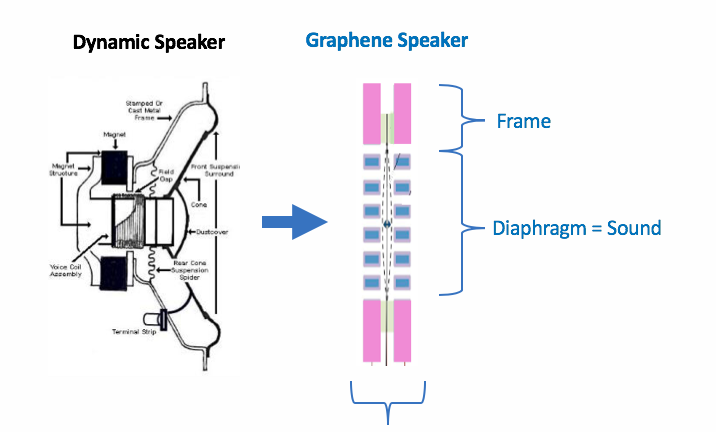 The more common dynamic speaker system compared to an electrostatic system, in this case with a graphene membrane
The most popular way to transduce electricity into sound has long been the dynamic coil speaker. It works by using a coil of wire and a magnetic current to nudge a magnet that physically pushes air through an open chamber, usually shaped like a cone; this creates vibrations that ultimately move the tiny hairs inside our ears, which our brains perceive as sound.

Electrostatic speakers work differently. Rather than using a transducer that relies on a magnetic field, coil and chamber to propel sound waves, they use an electric field to vibrate a round, flat and super-thin membrane which emits the pressure waves that we hear as sound.
Though still relatively rare, their development accelerated with World War II-era materials advances. Today the super-thin membrane is most commonly made from mylar, a type of plastic. MartinLogan sells electrostatic loudspeakers and Stax has a headphone version.
The speakers are typically more efficient at converting electrical energy into high-quality sound and tend to be more resistant to the deterioration that causes sound distortion.
But bass notes aren't traditionally as rich on electrostatic speakers, and they require relatively high levels of power. That usually means users must also buy an external amplifier, making them more expensive. GraphAudio believes that by replacing mylar with graphene, however, and pairing it with an amplifier that fits inside consumer hardware, it can overcome the shortcomings of electrostatics and make them ubiquitous, while improving battery life and even speeding up manufacturing.
---
Sam Blake primarily covers media and entertainment for dot.LA. Find him on Twitter @hisamblake and email him at samblake@dot.LA

Related Articles Around the Web
Over the past five years, West Hollywood-based Wondery transformed from Hernan Lopez's hunch about the future of audio to the sixth largest podcast publisher in the U.S., boasting over 8 million monthly listeners and 30 hit shows.
A former 21st Century Fox executive, Lopez started the podcast studio with the belief that in-depth, narrative audio stories were poised to bloom much like serialized television dramas had when he was in TV; he wanted to make "Breaking Bad" and "Mad Men" versions of podcasts.
Wondery has produced dozens of original series including "Dr. Death" and "Business Wars," and has 19 shows currently in development to become television series. Sony and Apple are reportedly interested in snapping up the producer as the media behemoths try to ramp up their presence in the growing podcast market.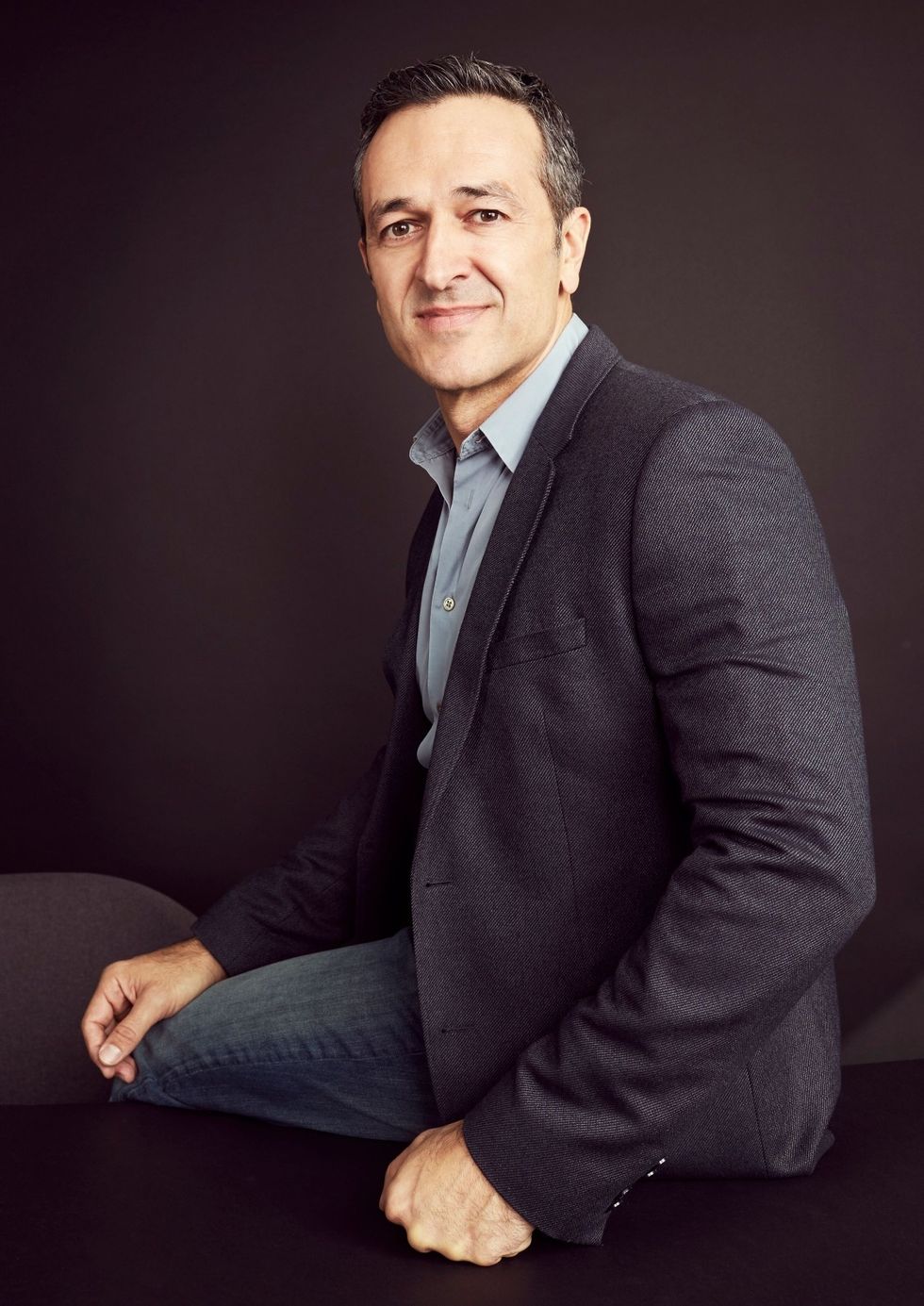 Hernan Lopez started Wondery with the belief that in-depth, narrative audio stories were poised to bloom.
Wondery does not publicly disclosed its financials, but Lopez has previously said the company is profitable. Some analysts reportedly peg its worth between $300 and $400 million. About three-quarters of Wondery's revenue comes from advertising, but Lopez said its revenue share from content licensing is growing (Wondery owns the intellectual property for all of its originals). It also launched a subscription service, Wondery Plus, in June.
While the company is enjoying its moment, Lopez is personally under fire. He's facing allegations for wire fraud and bribery stemming from his time at Fox, in relation to broadcasting rights for international soccer tournaments. He has denied any wrongdoing but the situation has cast a cloud over the company.
dot.LA spoke with the Wondery chief about the allegations, why he thinks the podcast industry needs to diversify its revenue streams, and how memories of the early days of Netflix are driving the surge of podcasting M&A.

Regarding the allegations against you of bribery and wire fraud – around which you've said you maintain your innocence and believe you will be exonerated by a jury – what's your understanding of how the prosecutors even came to the impression that these allegations occurred and that you were involved?

All I'll tell you is that they got it wrong. I know that they got it wrong and my lawyers know that they got it wrong. And, I'm very confident that when the facts come out they will see that they got it wrong, but I don't really want to comment beyond that.
How is this episode affecting the company and you personally?
As you would expect, it's something that you feel is unfair, because being unfairly accused of something, wrongly accused of something, it's just...not great. What can I say? But I just keep my chin up, and I'm going to work every day knowing, in my heart, that people that know my character and know me – that if you ask anybody they will tell you, anybody who knows me, knows that there's no way that that will be true. And it's not affecting the company.
What can you tell me about the swirling talks that Wondery might soon be acquired?

The only thing that we're saying publicly is that it shouldn't be surprising that companies are approaching us.
Hypothetically speaking, then, if you were further to explore being acquired, what kind of arrangement would be attractive to you?
All I can say is that we love being independent. I've had a lot of fun and I'm still having a lot of fun running this company and building it from the ground up. So for us, that independent spirit means a lot. Driving value and continuing to make the shows that our listeners care about is of utmost importance. And making sure that our employees are thriving and happy is hugely important; every single one of our employees has an option or is a stockholder and I just want to make sure that whatever we end up doing, it's the right outcome for them.
What's your vision on how you see the podcasting industry growing and improving its monetization?
The more diversified your revenue streams, and the more recurring, the better for the health of a business. So I think we're going to see more people realizing that revenue streams beyond advertising don't detract from advertising revenue because not only can you have multiple revenue streams, but they sometimes can even help your advertising business. Every time there's a television show on air about one of our podcasts, our listening goes up, and that in turn helps our advertising business and also helps our subscription business, because it's just more awareness of the story and more awareness of the Wondery brand.
How has the pandemic affected Wondery in terms of audience size and revenue?
We were hit in the second quarter on advertising revenue but that's way more than reversed now. On audience size, we're now higher than we were before the pandemic. I think that's true industry-wide, because what's happened is that a lot of people discovered how they could listen to podcasts at home, in moments of the day that they weren't previously listening.
Q3 was through-the-roof strong. For us, it was essentially double year- on- year. And Q4 is very strong as well. Our non-advertising revenue was significantly up versus last year in the second quarter and throughout this year; we finalized a number of licensing deals in the second quarter and that laid the foundation for recurring revenue over the following months.
What are your plans for Wondery's further growth?
The primary driver is continued audience growth, and better monetization from multiple revenue streams and Wondery Plus; a subscription business is a very strategically important part of our business because it not only brings revenue, but it also allows us to connect directly with our superfans.
We also want our share of international revenue to keep increasing over time. We've been doing limited local language translation, partially because the marketplaces outside of the U.S. are younger than the U.S. is, and we have wanted to concentrate first on monetizing our English-language audience, which is significant in Canada, Australia, and the U.K. But now we're ready to accelerate our local language strategy, starting next year, and even produce fully local stories in some places.
How does being headquartered in Los Angeles help Wondery?
Los Angeles is the capital of the entertainment world, especially when it comes to television, and a lot of what we do is borrowed from the television and film industries, both on the creative and editorial side as well as the marketing toolkit. So it's easier here to talk to somebody who knows what characters and stakes are, because everybody in Hollywood talks about characters and stakes.
What do you see as the driver behind the recent consolidation in podcasting, and to what extent do you think it will continue, whether Wondery's involved or not?
I'll give you an analogy. In 2010, when I was at Fox – and you could've said the same thing at Disney or Viacom or Comcast – we were all looking at Netflix and thinking, 'That's a cute little company.' It was worth $3 billion and I can guarantee you, all of us, at the time, thought it was hugely overvalued – that one day people are going to realize how silly they were that they were valuing Netflix at $3 billion.
In 2010, they were two years into streaming, broadband connections weren't as good and streaming libraries were not great and people barely had started using the iPad, so Netflix was still better known for the DVD business than it was known for the streaming business. $3 billion. Only 10 years later, how much is Netflix worth today? More than all of the other media companies. So, I think what's happened is that a lot of the companies that missed out on the potential to buy Netflix, and a lot of companies who are parallel, are looking at that and saying, 'Look, are we going to miss out on a massive consumer trend?' It's undeniable that there's an increase in consumption of audio in general, and in particular of podcasts, so companies want to be part of that consumer trend.
Do you see that affecting Wondery's competitiveness?
I don't, because there's something really powerful about being a neutral and independent platform with the ability to launch 30 number one hits, which is when creators want to make their show, they typically care about three things: a) how they're treated creatively; b) how many listeners are their shows going to be in front of; and c) the economics. It's hard to find the ideal combination of all three for any creator and Wondery's an ideal home for all three. There aren't many other companies that have taken a complex story idea to an end product as repeatedly as we have.
Editor's note: This interview has been edited for brevity and clarity.
From Your Site Articles
Related Articles Around the Web