Why Is Every Social Media Company Pivoting to TikTok?
Kristin Snyder
Kristin Snyder is dot.LA's 2022/23 Editorial Fellow. She previously interned with Tiger Oak Media and led the arts section for UCLA's Daily Bruin.
02:19 PM | July 26, 2022
TikTok's algorithm is dominating the social media landscape.
Instagram recently increased its push to re-create TikTok's success, with the company changing its platform to prioritize Reels. Facebook is also shifting its interface to prioritize algorithmic content over posts from friends—and as companies try to increase user engagement and ad revenue, some users long for distinctly different platforms. Both Kim Kardashian and Kylie Jenner shared a petition via Instagram stories urging the app to "stop trying to be tiktok." The petition, which has over 160,000 signatures, was launched by photographer Tati Bruening and requests a return to a focus on photos.
---
"We have TikTok for a reason, and let's face it, the only reels uploaded are recycled TikToks and content that the world has already seen," Bruening wrote in the petition. "What's innovative and unique about old stale content? Nothing!"
Instagram head Adam Mosseri took to Reels Tuesday morning to reassure users that the app will still support photos, even though "more and more of Instagram is going to become video over time," he said.
Evan Britton, founder of Santa Monica-based Famous Birthdays, told dot.LA that the pivot to video stems from advertising trends. It's harder for advertisers to place a video ad between photos than between videos. Switching mediums allows Instagram to make more revenue per user, Britton said. Some analysts believe Reels has the potential to surpass TikTok in ad revenue.
Britton also said Instagram's previous model of chronological, friend-based feeds would eventually lead to a lack of content to view, whereas algorithms provide an endless loop of content and increase engagement.
Though users are more comfortable controlling their feeds, Britton said drawing in viewers through the algorithm helps with post interaction. Gen Z, in particular, uses TikTok more than other social media platforms because of its interest-driven algorithm. He said pushback stems from the late-in-the-game shift from Instagram's original interface. Despite complaints, Britton believes there is no practical reason for Meta to abandon its commitment to video.
"When people open up Instagram and it is slowly morphing, more and more, into Tik Tok, people are going to stay longer," Britton said. "If people didn't love Instagram so much they wouldn't be concerned about it changing."
Major influencers like the Kardashian-Jenner clan probably want their preferred social media platforms to have distinct differences, as do the microinfluencers who have struggled to navigate the ever-changing algorithms. But, Kim, there's people that are dying—including social media companies that have to make a profit off of free content.
"It's going to [result in] higher revenue per user for watching videos, and there'll be more engagement in time in the app because there's an endless supply of content because it's based on interests versus who you follow," Britton said.
Kristin Snyder
Kristin Snyder is dot.LA's 2022/23 Editorial Fellow. She previously interned with Tiger Oak Media and led the arts section for UCLA's Daily Bruin.
https://twitter.com/ksnyder_db
05:00 AM | March 10, 2023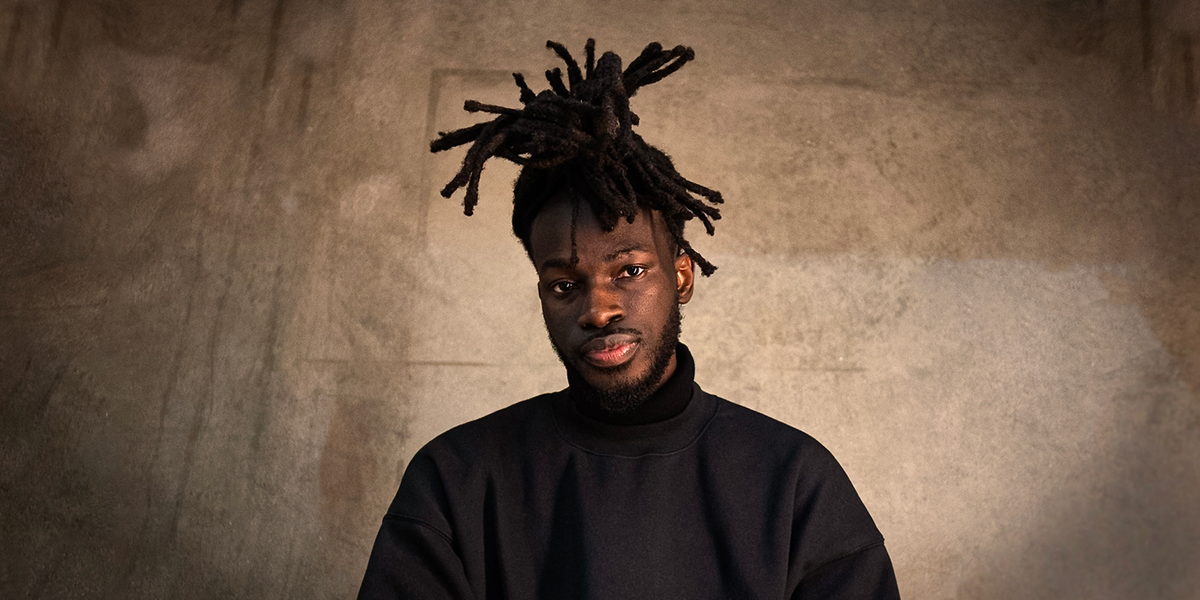 Courtesy of Spatial Labs
In January, web3 infrastructure and hardware company Spatial Labs landed $10 million in funding led by Blockchain Capital, making founder Iddris Sandu the youngest black entrepreneur to raise a double digit seed round. Marcy Venture Partners, the firm co-founded by Jay-Z also participated in this round.
"Moments like this give more founders and more VCs the confidence to back and be confident in sort of their general investment thesis around focusing on women of color, focusing on founders of color," Sandu expressed. "Moments like this is what makes it worth it and is really what's responsible for breaking down those barriers."
In 2020, Sandu founded Spatial Labs to do exactly that–build a company that is developing technologies that can make an impact globally.
Last year, the Marina Del Rey-based startup introduced its first product, a microchip called LNQ (pronounced link) to the world. Sandu also launched Gen One Hardwear , his clothing line where he embedded the LNQ microchip into each garment.
"What we've engineered is the nutritional facts of fashion," Sandu told dot.LA. "It allows anyone that's either purchasing, has purchased or even is interacting with that item to unlock the nutritional facts around that product."
The startup's microchip acts like a QR code and all you need to do to gain access to the information is tap the LNQ with your phone. Sandu said you will learn about "where it was made, what materials it was made from, where the materials were sourced, whether the item is sustainable or not, and even lets you know if that item is new, or if it was owned by a previous person."
In just a week and a half, Spatial Labs made $150,000 in sales and sold out of all its inventory.
"Now we've been licensing that chip technology to other brands to incorporate into their products," Sandu said.
Though Sandu was unable to share which brands Spatial Labs is currently working with, he said that the price point for each LNQ microchip costs $3 and it can vary depending on the amount the brand needs.
Even though the overall venture funding in the U.S. dropped in 2022 from $337 billion to $214 billion, Black founders were disproportionately hit by the decline.
"Being a founder of color, there is no bull market," Sandu told dot.LA. "It's always a bear market."
In 2022, Black web3 founders raised $60 million out of the $11.9 billion given to all U.S. web3 startups. While this number is significantly higher than the $16 million Black founders received in 2021, the total percentage of the money raised for founders of color remains the same, a staggering 1%.
It's a reality Sandu is familiar with. "You're expected to not have the opportunity to fail or not have the ability to figure things out," he said. "The first time that you launch something you have to almost push yourself to this level of pressure and be perfect."
But Sandu hopes his achievement will help motivate other Black founders and show them that raising capital is attainable.
"We (Spatial Labs) were able to raise during a market like this and that shows people that it's less about the story," Sandu said, "but it's more about the actual product and its global impact that it became so undeniable for them to invest."
Adding that, "they (Blockchain Capital) are the largest VCs in blockchain and they understood just how revolutionary this tech could represent."
In the last two decades, some of the most crucial moments in technology, Sandu said, "have come from strides within hardware." For instance, when Apple launched the iPhone and Mac or when Tesla developed their own vehicles on top of being a software company, they became the standard for other tech companies.
"Today in tech, a lot of diversity looks like affording people of color the opportunity to build these systems that weren't really designed for us to begin with," Sandu stated, "I always love the idea of being able to show the boundaries of where technology could go in respect to color or race, and the only way that I could do that was through creating hardware."
He said Spatial Labs' LNQ is "able to create a seamless way for people to interact with products in a completely unique way, offering more than just sort of like this ethical sustainability factor."
The microchip will allow brands the ability to add loyalty programs directly into their products. One example Sandu shared was, "let's say a brand like Fenty said Rihanna is going to be doing a surprise appearance, but your ticket to get in is this product (embedded with LNQ)."
He added, Spatial Labs' technology is "creating loyalty programs, and immersive storytelling experiences directly into your product."
Decerry Donato
Decerry Donato is a reporter at dot.LA. Prior to that, she was an editorial fellow at the company. Decerry received her bachelor's degree in literary journalism from the University of California, Irvine. She continues to write stories to inform the community about issues or events that take place in the L.A. area. On the weekends, she can be found hiking in the Angeles National forest or sifting through racks at your local thrift store.
05:00 AM | February 15, 2023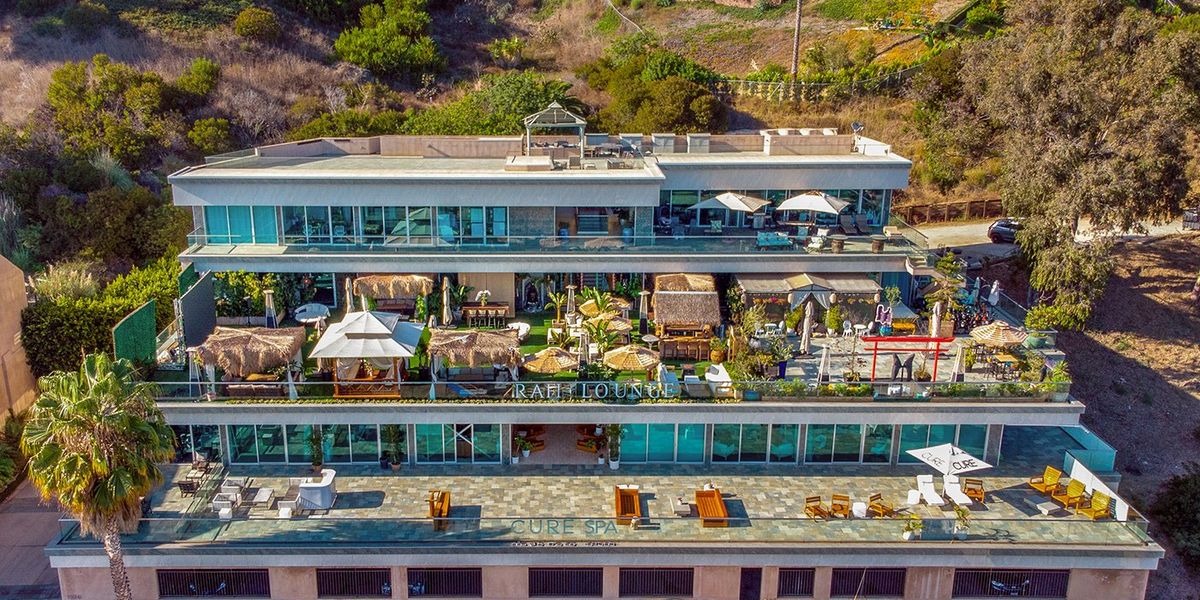 Photo: Rafi Lounge
Set in the foothills of Eastern Malibu across the street from Robert de Niro's Nobu, the Rafi Lounge, a NFT-powered wellness center and coworking space, somehow looks like both a beachfront country club and a swank monastery. On a clear day, you can see Catalina Island across the ocean. The sign above the entrance says, "Welcome, please allow us to reintroduce you to yourself."
Pushing through the braided rope entryway and passing a tranquil stone Buddha head waterfall, I arrived just after a yoga class former playboy model-turned "Dancing With the Stars" host Brooke Burke finished. The central open space that usually houses yoga mats or stationary bikes has been cleared off, and the giant projection screen behind the small stage is playing a tranquil plant video – an hour earlier, a larger-than-life Burke was on it helping clients "booty burn."
The building – which used to belong to a venture capital firm – has been totally transformed to look like nature's reclaimed it, dotted with lemon trees and cloaked in ornamental faux grass carpeting. Buddha statues are in every corner, some larger than five feet. On the way to one yoga room, there's a small shop selling pricey essential oils, Rafi Lounge merch, and CBD gummies. On the wall of the shop hang three breathtakingly detailed portraits of indigenous peoples made by the founder with charcoal. There's some construction ongoing, as they're converting former corner offices into hot yoga saunas and a spa.
On the day of my visit, the place is bustling with staff who are lugging boxes of Himalayan salt panels to install in the hot yoga room. Israeli-born Kung-Fu master and former monk Rafi Anteby, the founder of the eponymously named space, tells me that after our chat he plans to paint them all black to match the walls. No detail is too small to notice, something evident in his Mandala work.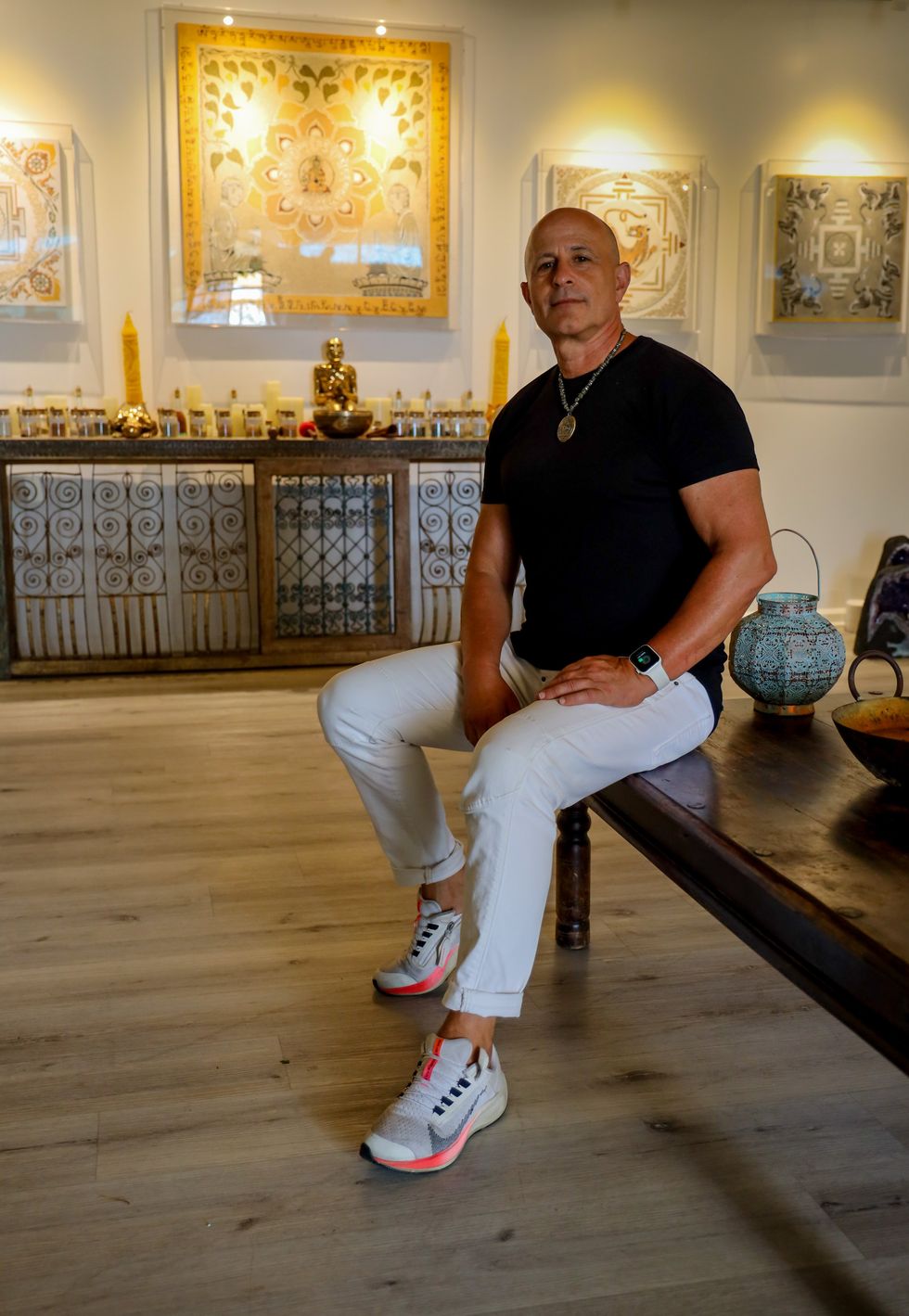 Rafi Lounge founder, Rafi Anteby, pictured here with his Mandala and sand collections. Photo: Rafi Lounge
The Rafi Lounge opened last year on November 10—the day before crypto exchange FTX went bankrupt. "Everyone said Rafi, go into a shutdown, don't do it," Anteby said. "I said I can't, because I pre-sold to members and I promised them [the launch is] what will happen."
Still, Anteby felt he couldn't renege on his promise to open the lounge to those who did buy in, so he forged ahead. So, what do NFTs have to do with a wellness center?
Each, according to Anteby, corresponds to a level of access. The least expensive, Unity, is the lowest tier and gives holders access to virtual classes. The second tier, Mindful, encompasses physical and virtual access to the Lounge. And the highest tier selling for $5,500, Awakened, are the ones Rafi is selling individually that act as an all-access pass to the Lounge and its benefits and events (including, Anteby said, "spiritual yacht parties"). Both Mindful and Awakened NFTs are lifetime memberships to Rafi Lounge, and include free access to annual retreats it hosts.
But facing the changing seasons of the crypto market and unwilling to sacrifice his brand by letting the Rafi Lounge tokens be resold to oblivion on public markets, Anteby took the drastic step to control his NFT inventory – buying up the remainder a mere day after the minting.
Anteby admitted he "lost a quarter of a million dollars" between creating and buying the NFTs back. But he said it was worth it: "I'm going to take each because I want to control who's coming to my lounge. I want to know that they will be my advocates as well."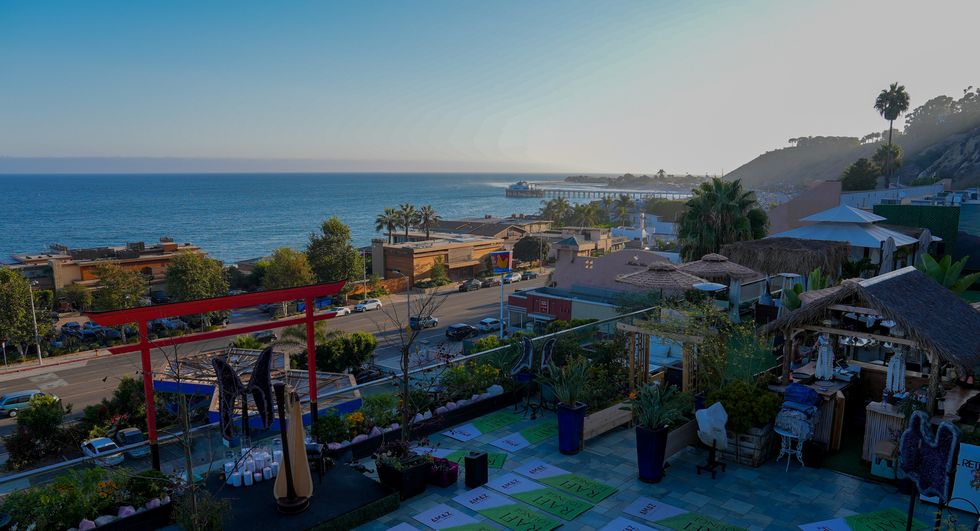 A view of the Rafi Lounge in the afternoon, before a yoga class. Photo: Rafi Lounge
Currently, there are 100 members, 55 of which are lifetime NFT holders. The 6,000 square-foot rooftop lounge is also open to the public. Which is to say, anyone can buy a 10-day pass for $250, pay the $40 fee for individual classes or come to public events. One of those people is Amie Yaniak who was diagnosed with stage four cancer last May that has since metastasized into her bones.
"I've never been anywhere like this. This was the first class I've done since the cancer, and it was just so cleansing," Yaniak says. While she's not a member, Yaniak told me she was interested in returning for more classes.

In addition to people like Yaniak, Anteby is also curating a more select crowd of well-to-do celebrities that can act as brand ambassadors for the lounge. He said he wants it to be a sort of more laid-back SoHo house, where top minds converge on the Pacific Ocean to make deals and network. Some of the names dropped during my tour of the property included Jamie Foxx (who Anteby calls a good friend), Chris Noth, Gladys Knight, and Equinox co-founder Lavinia Errico, whom I actually briefly met, since she's a member of the Lounge's advisory board.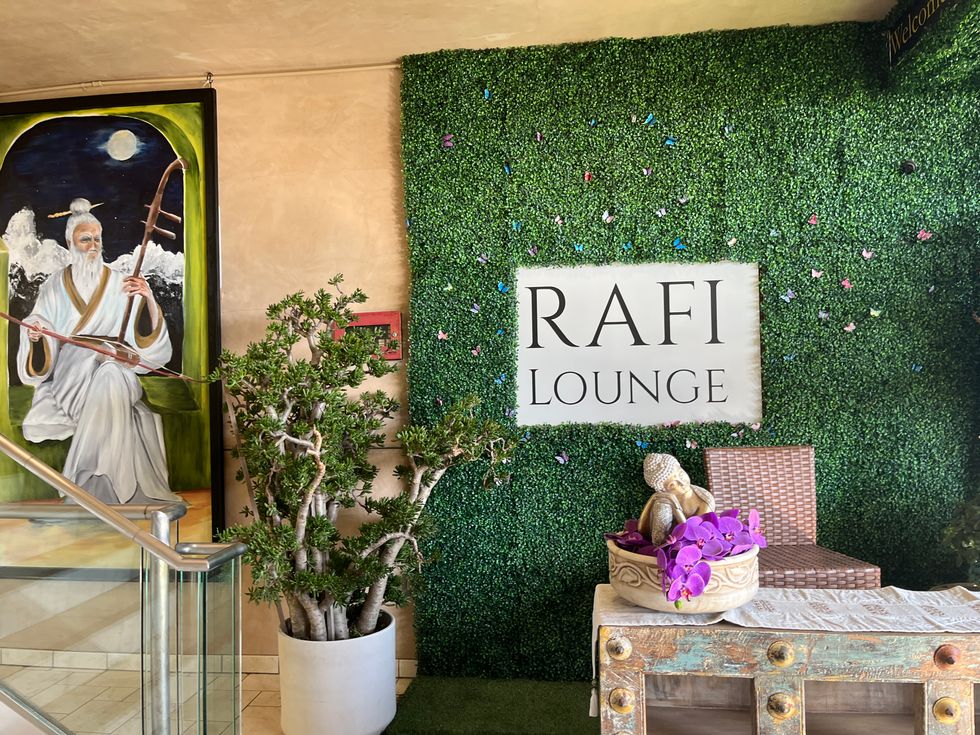 The lounge's entryway and check-in. Photo: Samson Amore
As Tame Impala wafts from the lounge's speakers, Anteby tells me stories of getting Taoist monks drunk at karaoke bars and studying medical qigong and tai chi in China. Anteby hung the intricate mandalas on the walls of a yoga room and he says they take around two years to complete as he carefully places individual grains of sand and uses tree sap to preserve their form. The mandalas are meant to be a contemplation of man's relationship with nature, which is partly why Anteby designed the NFT versions of them to resemble a sort of elemental fusion that combines water, fire and earth.
Owning an NFT also corresponds to owning a fraction of the Malibu Mandala Rafi made that hangs in the lounge.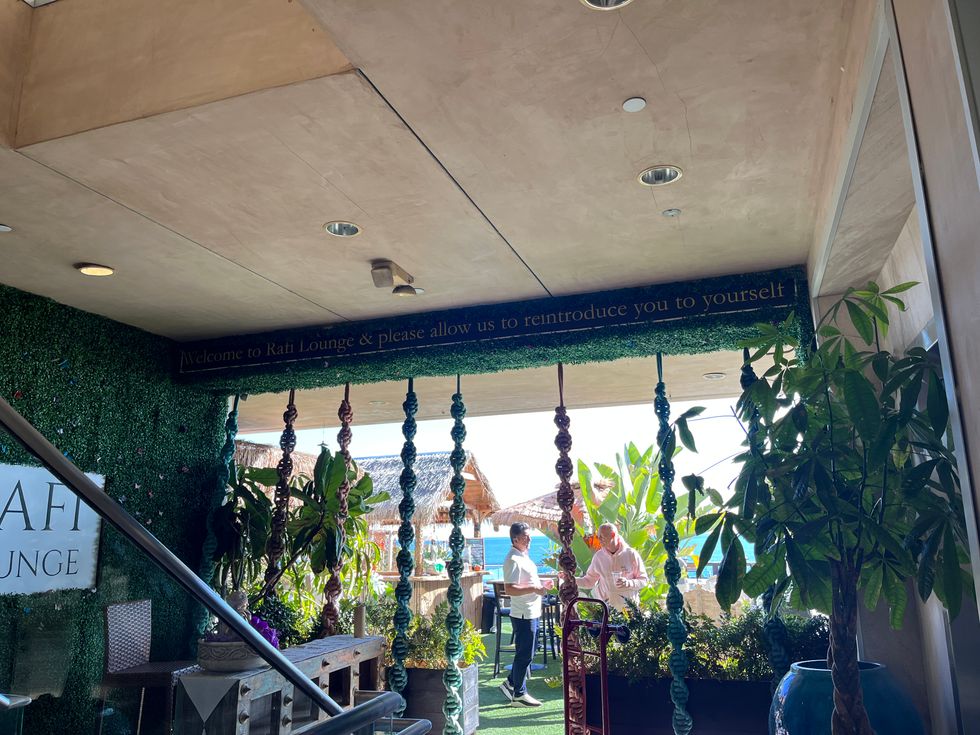 Anteby, right, speaks with a partner at his lounge in Malibu.Photo: Samson Amore
While Anteby admits the launch hasn't netted him any profits yet and said he's out around $1 million launching the place, he's determined to turn the Rafi Lounge into a franchise and has plans to open future locations in other cities big into tech and wellness like Miami, Scottsdale, Ariz., Newport Beach, and Austin.
Besides the obvious cases like Yaniak's, Anteby said he thinks the larger tech community needs a breather. "They all have digital burnout," he said. "It's more than just me helping you to breathe. You need to take care of yourself, and here people do that all the time."
Samson Amore
Samson Amore is a reporter for dot.LA. He holds a degree in journalism from Emerson College. Send tips or pitches to samsonamore@dot.la and find him on Twitter @Samsonamore.
https://twitter.com/samsonamore
samsonamore@dot.la