There are a bevy of nonprofits in L.A. offering services to help the local homeless population. But too often, the folks who most need those resources have trouble accessing them.

Our Community L.A., a Pacific Palisades-based nonprofit, has created an app to help. Called WIN, the app is specifically designed to meet the needs of homeless Angelenos looking for housing, meals, jobs and more.
Offering access to about 2,000 service providers in the area, WIN has quietly become a key tool for L.A.'s homeless population: Our Community estimates their app is used for approximately 400 searches per week (they don't measure users).
The idea for the WIN app actually grew out of an attempt to make a print directory available in L.A. libraries, which often serve as resource hubs for unhoused Angelenos, said Dr. Denise McCain-Tharnstrom, the founder and president of Our Community L.A.
"Very quickly we realized that while it was a great resource for folks who liked print and found it served them better, people who are homeless or resource insecure are not very likely to go in there and ask for a physical directory," she said.
That's because, according to McCain-Tharnstrom, a lot of people living on the streets or in precarious situations simply don't know the scope of the services at their disposal. "I had been on the funding side, and I had come to realize that it was great to have a social network of services. But if you're newly homeless or a youth you don't know about them, there was no one source where people could go to discover these resources," said McCain-Tharnstrom. "You could make a call to 211 and find a few places, but they wouldn't be able to give you the full resources you might need."
McCain-Tharnstrom realized she could create a digital directory for homeless and resource insecure Angelenos that would remove a bit of the stigma for those seeking help while also being more widely available.
"We looked into the research and discovered that over 95% of people who are homeless or resource insecure have mobile phones because of the Federal Lifeline Program, which provides subsidized free or sliding scale phones to folks below certain income levels, or domestic violence victims. You get a certain number of free minutes, texts, and calls per month." she said.
Designing an Accessible App
McCain-Tharnstrom and the Our Community L.A. team had two key priorities when they began designing the first iteration of the WIN app back in 2015: accessibility and privacy.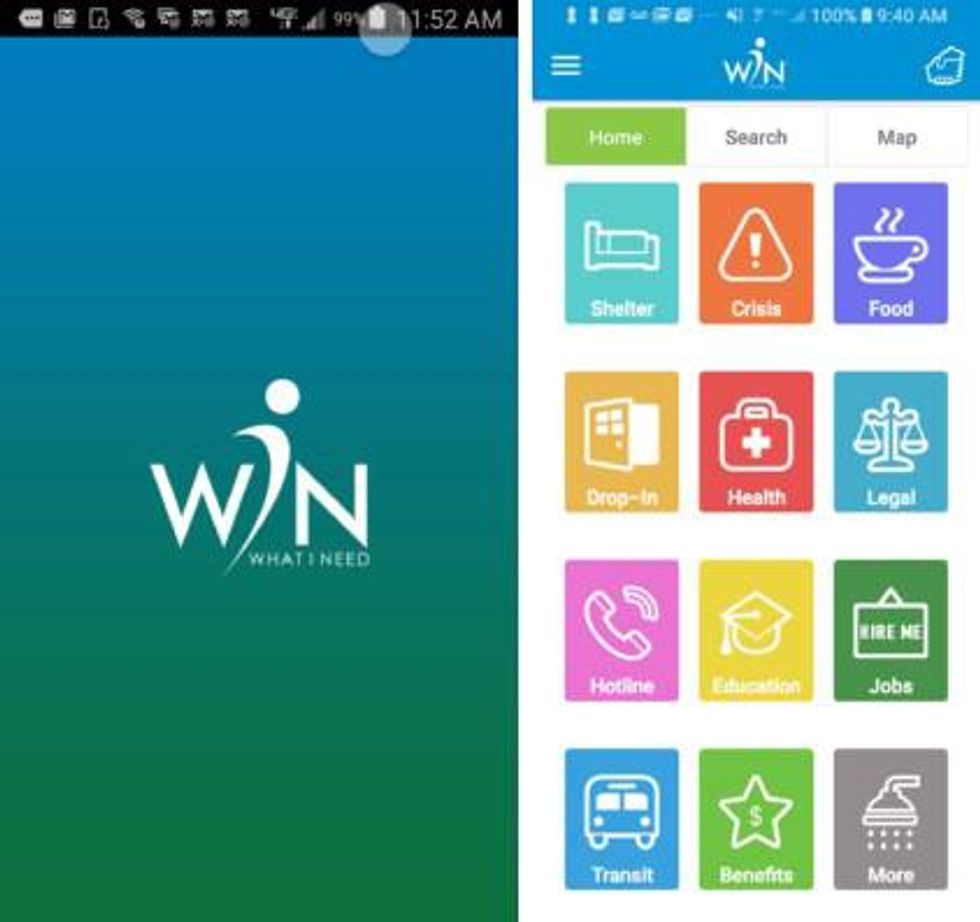 "We wanted to empower people to be able to find the resources they needed when they needed it, so they wouldn't have to wait for an outreach worker to find them," she said. "We did a lot of homework, did a lot of research about the use of phones among the homeless, and in 2015 launched the first version of the app."
More updates soon followed, with a youth-specific app launching later that year, resources for the general population in 2018, and senior-specific resources in 2020 (the latter designed to respond to a community that had been heavily impacted by COVID). The WIN team just launched their latest innovation—a bilingual version that allows users to view all content in Spanish.
McCain-Tharnstrom's work with focus groups helped inform the WIN design team's decision of what to include as the app expanded.
"Of course there was a demand for help finding food, shelter, crisis hotlines and drop in centers," she said, "But they wanted more. So the app has education, jobs, legal and transportation. We also have a category called "More," that can help answer specific questions we've developed in conversation with folks who have been homeless." That might mean locating public bathrooms and showers, childcare, financial literacy classes, even tattoo removal services (a major issue for anyone who was ever involved in gang activity).
"It's the best unkept secret in town for people who find themselves with a safety net crisis," said Janet Kelly, founder of the local youth-focused nonprofit Sanctuary of Hope. Kelly said they've had a number of people connect with them through the WIN app. "One of the great things about the WIN app is that it's a vetted resource," she added. "When a young person picks up the app, they can see that whoever they engage with is going to be a trusted resource."

Early on, the team made the decision that they wouldn't be collecting login data, to better help app users maintain their privacy. "Once you find out about the app, you can download it from the app store, or use it on the website," she said. "You don't sign in, we don't know who you are, we're just there to support you. Privacy is a core value."
Connecting to the Community
Before the pandemic, McCain-Tharnstrom said that people mostly discovered the WIN app through in-person contact. "Historically people found out about the WIN app from providers, word of mouth or through the Federal Homelessness Liaison in their schools," she said. "We put up posters in the library, go to events, and connect with college students through the L.A. Community Services College work group."
Once COVID struck, many of these traditional modes of discovery were cut off.
"When COVID happened, a lot of our traditional means shut down, so we had to be creative. We started using social media to get the word out," she said. "We thought WIN app usage would drop dramatically during the pandemic, and it did in April and May, and then it started to go up. We formed partnerships with some of the community fridges to have our flyers posted there, and we've started a direct outreach program in South L.A. to help the community there connect to the Spanish-language version of the app."
Although the WIN app never tracks the behavior of individual users, McCain-Tharnstrom said that keeping track of overall patterns can help the Our Community L.A. team see where needs aren't being met.
"When we look at the data from month to month, we can see patterns of what people are looking for changing," she said. "For example, bad weather leads to an increase in shelter services. Good weather leads to people looking more for educational and job resources."
"When you're talking about people in a safety net crisis, we see a high volume of youth engaging with the system in the winter months," said Kelly, the Sanctuary of Hope founder. "It's also the holidays, and most young people want to be connected to something that will help them stay grounded when they need it the most. When we do our assessments on intake, often young people will tell us they received our information from the WIN app."
Because of the many changes COVID has brought to the L.A. nonprofit space, McCain-Tharnstrom said that the WIN app team has been especially active in monitoring the information presented in the app to check for accuracy and relevance.
"We're a signature program of L.A. Works, so every single week there's a volunteer group that comes in and calls the agency services in our app to check that our information is up to date," she said. "We do additional outreach in house to keep the app up to date, and do focus groups to continue developing the contents of the app."
From the inception of the app to its current updated design, McCain-Tharnstrom said that WIN has remained firmly rooted in the needs and inspiration of the community it serves.
"Every innovation we've made has been inspired by the community," she said. We go out, and talk to people, and try to understand what they need. I'm always listening when I go out into the community to find out what people think will make the app better, and they're always right."