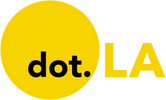 Get in the KNOW
on LA Startups & Tech
X
Emily Beyda
Emily Beyda
Emily Beyda is an L.A.-based novelist and the author of "The Body Double."
There are a bevy of nonprofits in L.A. offering services to help the local homeless population. But too often, the folks who most need those resources have trouble accessing them.

Our Community L.A., a Pacific Palisades-based nonprofit, has created an app to help. Called WIN, the app is specifically designed to meet the needs of homeless Angelenos looking for housing, meals, jobs and more.
Offering access to about 2,000 service providers in the area, WIN has quietly become a key tool for L.A.'s homeless population: Our Community estimates their app is used for approximately 400 searches per week (they don't measure users).
The idea for the WIN app actually grew out of an attempt to make a print directory available in L.A. libraries, which often serve as resource hubs for unhoused Angelenos, said Dr. Denise McCain-Tharnstrom, the founder and president of Our Community L.A.
"Very quickly we realized that while it was a great resource for folks who liked print and found it served them better, people who are homeless or resource insecure are not very likely to go in there and ask for a physical directory," she said.
That's because, according to McCain-Tharnstrom, a lot of people living on the streets or in precarious situations simply don't know the scope of the services at their disposal. "I had been on the funding side, and I had come to realize that it was great to have a social network of services. But if you're newly homeless or a youth you don't know about them, there was no one source where people could go to discover these resources," said McCain-Tharnstrom. "You could make a call to 211 and find a few places, but they wouldn't be able to give you the full resources you might need."
McCain-Tharnstrom realized she could create a digital directory for homeless and resource insecure Angelenos that would remove a bit of the stigma for those seeking help while also being more widely available.
"We looked into the research and discovered that over 95% of people who are homeless or resource insecure have mobile phones because of the Federal Lifeline Program, which provides subsidized free or sliding scale phones to folks below certain income levels, or domestic violence victims. You get a certain number of free minutes, texts, and calls per month." she said.
Designing an Accessible App
McCain-Tharnstrom and the Our Community L.A. team had two key priorities when they began designing the first iteration of the WIN app back in 2015: accessibility and privacy.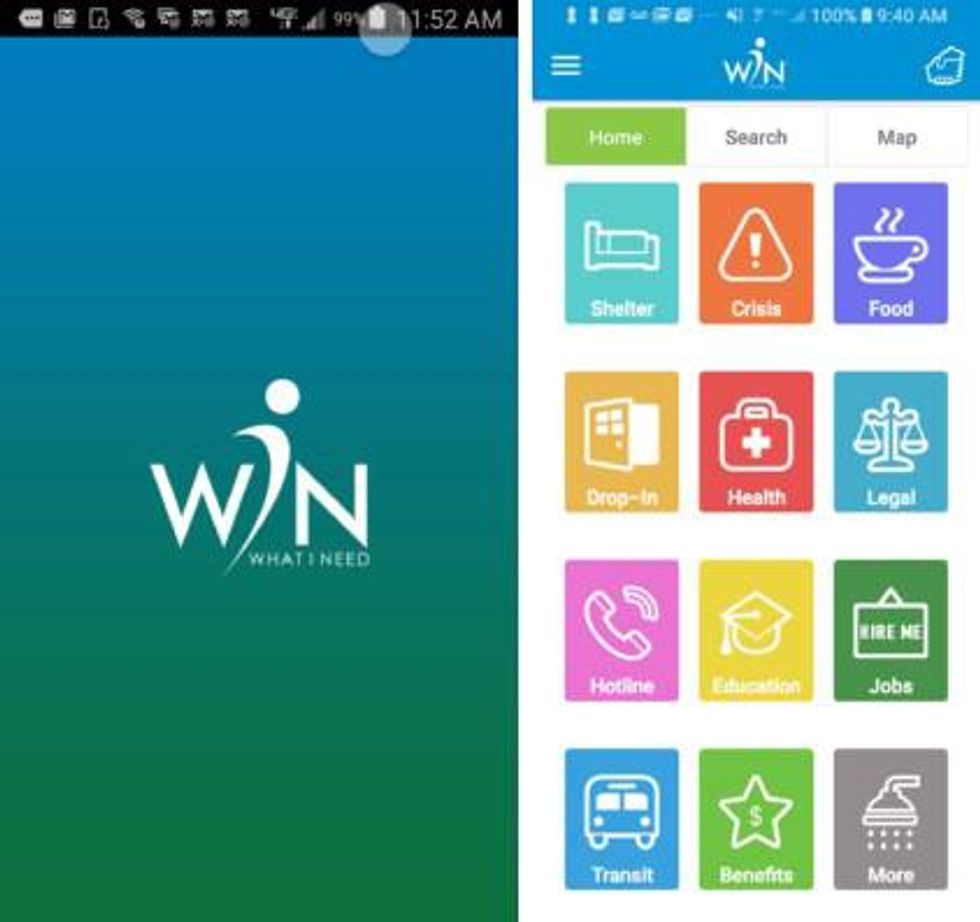 "We wanted to empower people to be able to find the resources they needed when they needed it, so they wouldn't have to wait for an outreach worker to find them," she said. "We did a lot of homework, did a lot of research about the use of phones among the homeless, and in 2015 launched the first version of the app."
More updates soon followed, with a youth-specific app launching later that year, resources for the general population in 2018, and senior-specific resources in 2020 (the latter designed to respond to a community that had been heavily impacted by COVID). The WIN team just launched their latest innovation—a bilingual version that allows users to view all content in Spanish.
McCain-Tharnstrom's work with focus groups helped inform the WIN design team's decision of what to include as the app expanded.
"Of course there was a demand for help finding food, shelter, crisis hotlines and drop in centers," she said, "But they wanted more. So the app has education, jobs, legal and transportation. We also have a category called "More," that can help answer specific questions we've developed in conversation with folks who have been homeless." That might mean locating public bathrooms and showers, childcare, financial literacy classes, even tattoo removal services (a major issue for anyone who was ever involved in gang activity).
"It's the best unkept secret in town for people who find themselves with a safety net crisis," said Janet Kelly, founder of the local youth-focused nonprofit Sanctuary of Hope. Kelly said they've had a number of people connect with them through the WIN app. "One of the great things about the WIN app is that it's a vetted resource," she added. "When a young person picks up the app, they can see that whoever they engage with is going to be a trusted resource."

Early on, the team made the decision that they wouldn't be collecting login data, to better help app users maintain their privacy. "Once you find out about the app, you can download it from the app store, or use it on the website," she said. "You don't sign in, we don't know who you are, we're just there to support you. Privacy is a core value."
Connecting to the Community
Before the pandemic, McCain-Tharnstrom said that people mostly discovered the WIN app through in-person contact. "Historically people found out about the WIN app from providers, word of mouth or through the Federal Homelessness Liaison in their schools," she said. "We put up posters in the library, go to events, and connect with college students through the L.A. Community Services College work group."
Once COVID struck, many of these traditional modes of discovery were cut off.
"When COVID happened, a lot of our traditional means shut down, so we had to be creative. We started using social media to get the word out," she said. "We thought WIN app usage would drop dramatically during the pandemic, and it did in April and May, and then it started to go up. We formed partnerships with some of the community fridges to have our flyers posted there, and we've started a direct outreach program in South L.A. to help the community there connect to the Spanish-language version of the app."
Although the WIN app never tracks the behavior of individual users, McCain-Tharnstrom said that keeping track of overall patterns can help the Our Community L.A. team see where needs aren't being met.
"When we look at the data from month to month, we can see patterns of what people are looking for changing," she said. "For example, bad weather leads to an increase in shelter services. Good weather leads to people looking more for educational and job resources."
"When you're talking about people in a safety net crisis, we see a high volume of youth engaging with the system in the winter months," said Kelly, the Sanctuary of Hope founder. "It's also the holidays, and most young people want to be connected to something that will help them stay grounded when they need it the most. When we do our assessments on intake, often young people will tell us they received our information from the WIN app."
Because of the many changes COVID has brought to the L.A. nonprofit space, McCain-Tharnstrom said that the WIN app team has been especially active in monitoring the information presented in the app to check for accuracy and relevance.
"We're a signature program of L.A. Works, so every single week there's a volunteer group that comes in and calls the agency services in our app to check that our information is up to date," she said. "We do additional outreach in house to keep the app up to date, and do focus groups to continue developing the contents of the app."
From the inception of the app to its current updated design, McCain-Tharnstrom said that WIN has remained firmly rooted in the needs and inspiration of the community it serves.
"Every innovation we've made has been inspired by the community," she said. We go out, and talk to people, and try to understand what they need. I'm always listening when I go out into the community to find out what people think will make the app better, and they're always right."
Los Angeles is home to the second-highest largest homeless population in the U.S. While new resources have been allocated to creating housing during the pandemic, it's not enough. Tent cities crowd freeway underpasses and sit alongside neighborhoods.

For Berok Khoshnevis, this crisis represents an opportunity. Khoshnevis is a professor of engineering at the University of Southern California and has had a lifelong interest in the potential of 3D printing. Since the 1980s, he has been working with 3D printed machinery, with a special emphasis on the creation of large structures.
Lately, Khoshnevis has been turning his attention to automated 3D printing construction technology, an application he believes could be used to meet Los Angeles' dire need for new housing solutions.
His vision is off to a promising start: In 2020, he was awarded a project by the L.A. County Development Authority to build four low-income housing units. Given the push for housing in California (and the rest of the U.S.), Khoshnevis' project could be a bellwether for a new phase of affordable housing.
Printing Buildings on Demand

Khoshnevis has invented a new method of 3D printing structures called Contour Crafting. While in certain aspects 3D printing of structures is limited, and only able to use certain materials, the speed at which it enables you to build new structures with reduced labor is impressive.
For Khoshnevis, one of the most promising aspects of 3D printed building technology is the ability it creates for users to print buildings whenever, and wherever, the need for new construction arises.
"The intention is to print on site, which is the main potential of this technology," he said. "You have to have a foundation, and then the machine will build the structure from the ground up."
With a single user machine, the user prints each layer of the structure in sequence, pausing in between each layer to allow the substrate to dry.
"We can add chemicals to make sure the materials can cure more quickly," said Khoshnevis, meaning that whatever concrete material the user chooses to base their structure on will dry much faster than is typical for conventional construction processes.
The way the machine operates varies considerably depending on the demand of the build site, as well as the type of machine used.
"There are different machine designs that require different levels of preparation," explained Khoshnevis. "For example, we created a system for the government that allows a single person to set up the machine on site in fifteen minutes. The machine can use any kind of structural material that can be turned into paste, any form of concrete."
New Housing in Record Time
According to Khoshnevis, this method can cut the time needed to build by as much as half. Conventional construction methods are able to complete the framing process, building walls and a roof, in about a month or two.
"Typically for a thousand square foot building you should be able to print it in one day," said Khoshnevis. "At that point, you can add other components, such as HVAC and electrical. Right now, 3D printing can only create the shell of a building, but I have patented processes for automated plumbing and electrical insulation, as well as automated reinforcement."
With faster new technologies and a streamlined permitting process, contour crafted buildings could help dramatically close Los Angeles' housing gap, providing housing to the approximately 41,290 unhoused people living in Los Angeles County alone.
The Economics of New Housing
Although housing advocates were just given a massive infusion of new funding from the county, building as many new units of housing as possible within budget is always of paramount concern. And according to Khoshnevis, contour crafting technologies can help save money as well as time.
"This technology can be used to speed up construction and make it cheaper, saving money on labor costs while reducing material waste," he said. "Part of the cost-saving is in the speed of construction, but there's also a reduction in the amount of workers you need to hire, and lowered material costs."
As Khoshnevis points out, the price of land is often the largest expense in the construction of new public housing. Contour crafting can help save money here too, enabling builders to erect new units on lots that aren't suitable for conventional, large scale construction.
Los Angeles still has tens of thousands of vacant lots scattered throughout the city, many of them oddly shaped or difficult to access with construction machinery. But with a single operator contour crafting machine, builders could begin to take advantage of some of this unused space.
Dana Bean from Union Station Homeless Services agrees that innovative thinking is necessary if Los Angeles has any hope of addressing the homeless crisis.
"Los Angeles is in dire need of additional housing opportunities for our unhoused community members," she said. "We have seen some additional housing resources in the past months of the pandemic, including vacant hotels through project homekey and product roomkey, as well as palette shelters that are going up around the city that provide temperature controlled rooms with a door that locks. These interim housing solutions can provide a safe space for those in need of it."
Bean says that technologies like Khoshnevis' key utility is enabling housing first solutions oriented towards getting people off the streets.
"We're opening a tiny house village in Eagle Rock at the end of the year, and while we initially saw some community concern about the construction issue," she said. "But once people saw that the project would be taking people off the streets of their neighborhoods and giving them housing, they were incredibly grateful."
Ultimately, Khoshnevis says that he's interested in seeing the ways housing advocates put his contour crafting technology to use, adding that he believes this technology has the potential to change the face of the contemporary construction industry.
"Construction is the only domain of human endeavor that is still done manually," he said. "It is a very dangerous task, and many people are unable to participate in the industry due to physical limitations. 3D technology would allow more people to participate in the construction industry. One thing I can say for certain is that construction is not going to stay manual forever."
And with the potential of contour crafting technology, an automated solution to Los Angeles' housing construction crisis could be closer than we think.