Inside The Creator Economy's Middle Class
Kristin Snyder
Kristin Snyder is dot.LA's 2022/23 Editorial Fellow. She previously interned with Tiger Oak Media and led the arts section for UCLA's Daily Bruin.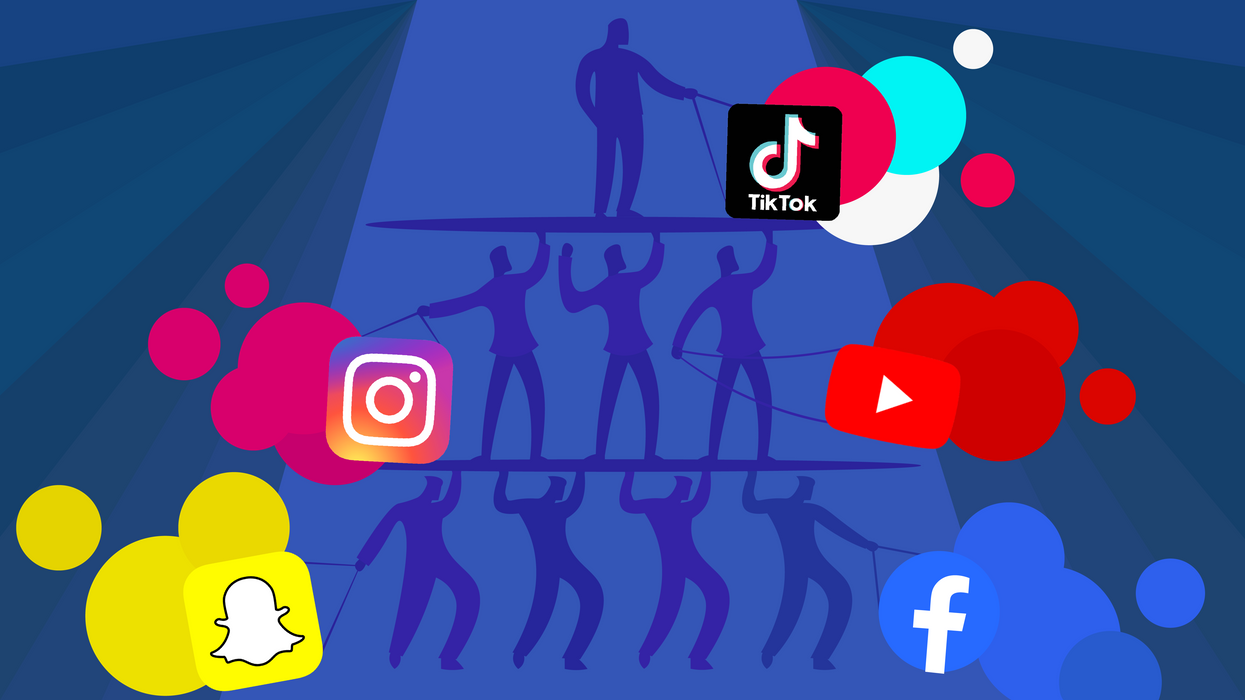 Evan Xie
In 2021, seven years after she first started making content, Allison Florea quit her corporate job. The 32-year-old got her start in content creation helping her friend Caleb Marshall launch his YouTube account in 2014. Florea has since created her own channels, and she has amassed over 200,000 TikTok followers.

Making a living off of YouTube was practically unheard of when Florea and her friends started out. Now, however, the creator economy, which is estimated to be worth $100 billion, consists of roughly 2 million professional content creators. Some, like Addison Rae or the D'Amelio sisters, have attained celebrity status. Others are content to make extra cash using social media as a side gig.
---
In between, however, are people like Florea whose substantial following has allowed them to make a dependable, middle class income from social media.
There is littleconsensus on what exactly constitutes the creator economy's middle class. Going by data from the Pew Research Center, anyone who makes between $47,189 and $141,568, falls into this category. In 2022 Linktree, a creator company, found that only 12% of full-time influencers make over $50,000. All of which is to say that the number of so-called middle-class influencers is only a fraction of the creator economy writ large.
That said, many still view content creation as a viable career path. One in four members of Gen Z want to be an influencer, and why wouldn't they? On the surface, it appears as if many influencers are living in luxury as they take free trips to exotic locations. In reality though, only a select few creators are able to live comfortably on their social media content, let alone reach the wealth of celebrity influencers.
For Florea, joining the ranks of the creator economy didn't happen overnight. But she says slowly cultivating her following better prepared her to weather the ever-changing internet trends compared to those trying to turn overnight vitality into a sustainable career. When Instagram first introduced videos, they were quick to adapt their long-form YouTube videos to the new format. Now on TikTok, they realized that personable but short clips perform best.
"In order to continue to grow, you have to just like be able to adapt, follow the trends and ride them out until a new trend comes," Florea says. "And then you shift again."
According to Florea, salary isn't necessarily related to follower count.
"Most influencers/creators are really hustling in so many forms," Florea says. "No one path is the same for creators so it's really hard to pinpoint salaries in correlation to follower counts."
Still, Florea is happy with where her following is at. "It's nice to see all the fun and cool things that people at that level get to do, but I think that with that you also see the toll it can take on mental health," Florea says.
Since becoming a full-time content creator in 2015, YouTuber Chris Han says the industry has matured enough to support more creators.
"I understand that building a community and producing high-quality content are more important than the numbers," Han says. "But audience size is still one of the key elements for securing brand deals or other paid opportunities."
And there is certainly plenty of money going around. According to influencer marketing company IZEA's 2022 report, an influencer with 50,000 to 199,999 followers earned an average of $3,396 dollars per post—a significant increase from $1,913 per post in 2020.
To that end, Ariel Lyndsey, an influencer who creates lifestyle content, went from charging $35 in 2018 for a selfie promoting a teeth whitening product on Instagram to charging thousands of dollars for a TikTok video.
Still, not every creator is convinced that the creator economy is enough to sustain a living. On top of being a student, Tatiana Mekikyan who makes lifestyle content and has 33,000 followers on TikTok says she isn't looking to be a full-time influencer post-graduation. Instead, for now, Mekikyan says sponsored posts offer her a financial cushion as she applies for traditional jobs. Though she adds, that might change if she reaches one million followers—a number she believes provides access to collaborations with large companies.
For her part, Florea knows that internet success can only go on for so long. She's set aside money in a high-yield savings account and often skips out on luxuries some of her creator friends partake in.
"For a mid-tier influencer, you're not at the level that you can blow all your money, and be okay, and pay your rent," Florea says. "You can understand, like, I get to do cool things, but I still need to be smart with my money."
Kristin Snyder
Kristin Snyder is dot.LA's 2022/23 Editorial Fellow. She previously interned with Tiger Oak Media and led the arts section for UCLA's Daily Bruin.
https://twitter.com/ksnyder_db