Meet the Creator Economy's Version of LinkedIn
Kristin Snyder
Kristin Snyder is dot.LA's 2022/23 Editorial Fellow. She previously interned with Tiger Oak Media and led the arts section for UCLA's Daily Bruin.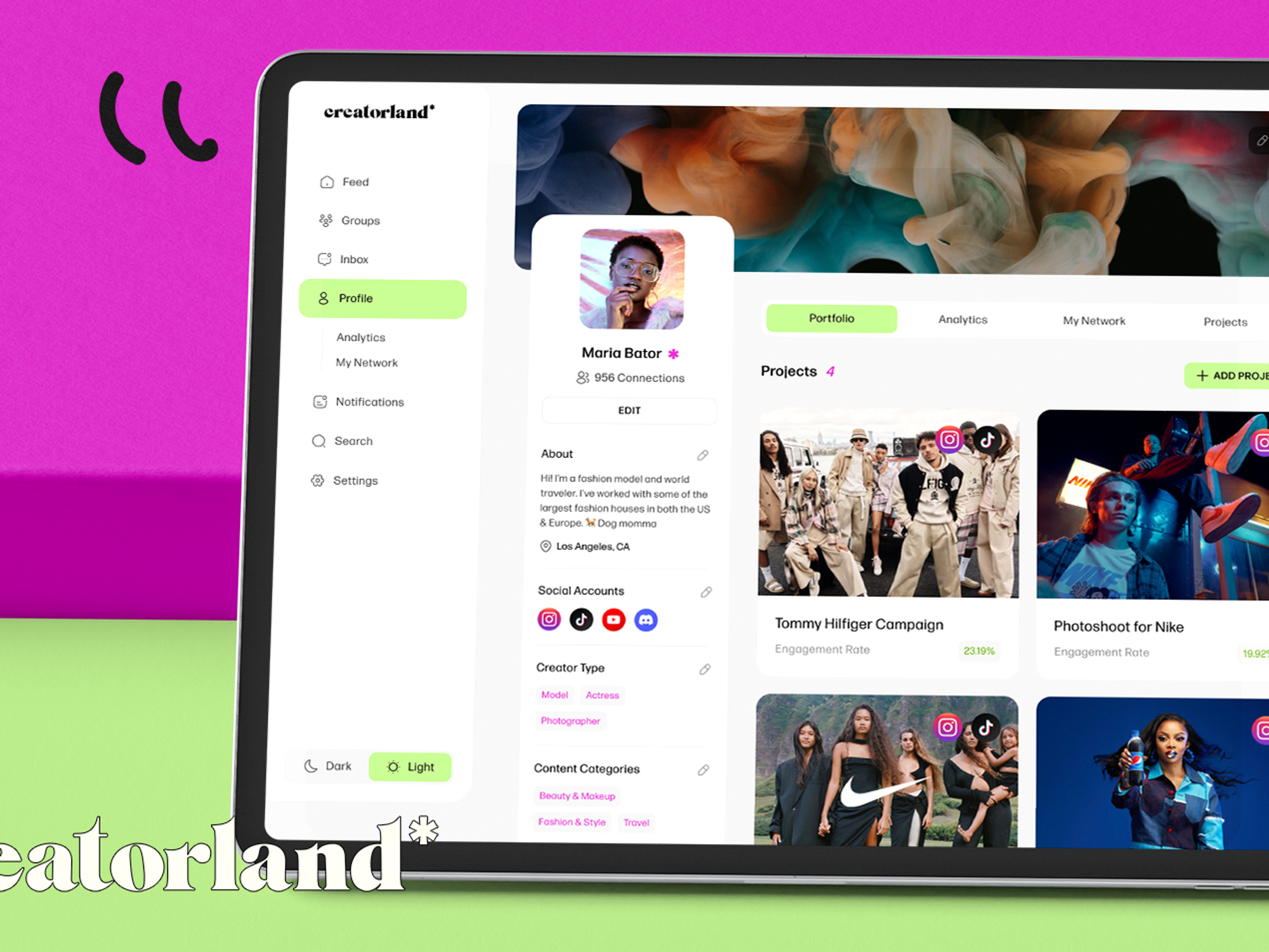 Creatorland
This is the web version of dot.LA's daily newsletter. Sign up to get the latest news on Southern California's tech, startup and venture capital scene.
LinkedIn hasn't caught on with Gen Z—in fact, 96% rarely use their existing account.
Considering 25% of young people want to be full-time content creators and most influencers aren't active on LinkedIn, traditional networking sites aren't likely to meet these needs.
Enter CreatorLand.
---
CEO and founder Brian Freeman launched the platform in December and plans to open in beta with 3,600 users next week. Currently, the platform is invite-only, though registered users can ask their friends and colleagues to join. In addition, the platform doesn't have follower count requirements, but Freeman says the creators first asked to join the platform have substantial followings. And any new people who join the app with under 100,000 TikTok followers, would be restricted from messaging the more established creators.
Though still a networking platform similar to LinkedIn, Freeman says CreatorLand is a site better suited to creators' needs. Featuring profiles where creators can showcase campaigns they've worked on, viewership numbers and performance analytics, CreatorLand hopes for people within the creator economy to have more streamlined communication. Businesses can also search for specific types of influencers, such as beauty creators who have worked on specific types of sponsored content.
According to Freeman, CreatorLand is a way for creators to network with each other and share information about how they have achieved their career goals. It also connects them with people on the business side of the industry.
For brands, influencer agencies and marketers, the platform offers insight into a creator's analytics, which can help them reach out to the most relevant people. It also offers a connection point beyond direct messaging and emails, as creators are often weary of scams or do not check their DMs. Through CreatorLand, both brands and creators can know that they're working with a trusted source, as profiles display projects they have created and people they have worked with.
CreatorLand will also launch a podcast series next week meant to target issues within the industry, such as negotiating contracts, finding managers and pricing content. In the future, Freeman says the platform will host longer, more in-depth masterclasses with top creators and managers. He hopes that providing more clarity into how to optimize content and navigate will help creators feel more confident as they forge long-term careers.
"There's a big feeling of loneliness for creators," Freeman says, "Burnout is really high, and that's because you don't know what works until you try it."
But more companies are working to professionalize the field and guide creators. From management companies like Whalar overseeing brand deals to F*** You Pay Me providing more insight into payments to Tongal connecting artists with media companies, a number of startups are forming a more robust infrastructure within the industry.
For Freeman, that means fostering a space that offers more parity between creators looking to work with brands and companies looking to tap into the influencer market. Adding that, he wants CreatorLand to be "a central community where it's not competitive and there's a lot of sharing around best practices so that people can elevate and speed up the outcomes they're trying to generate." - Kristin Snyder
Kristin Snyder
Kristin Snyder is dot.LA's 2022/23 Editorial Fellow. She previously interned with Tiger Oak Media and led the arts section for UCLA's Daily Bruin.
https://twitter.com/ksnyder_db