Welcome To the World Of Ambient  'Sludge' Content
Kristin Snyder
Kristin Snyder is dot.LA's 2022/23 Editorial Fellow. She previously interned with Tiger Oak Media and led the arts section for UCLA's Daily Bruin.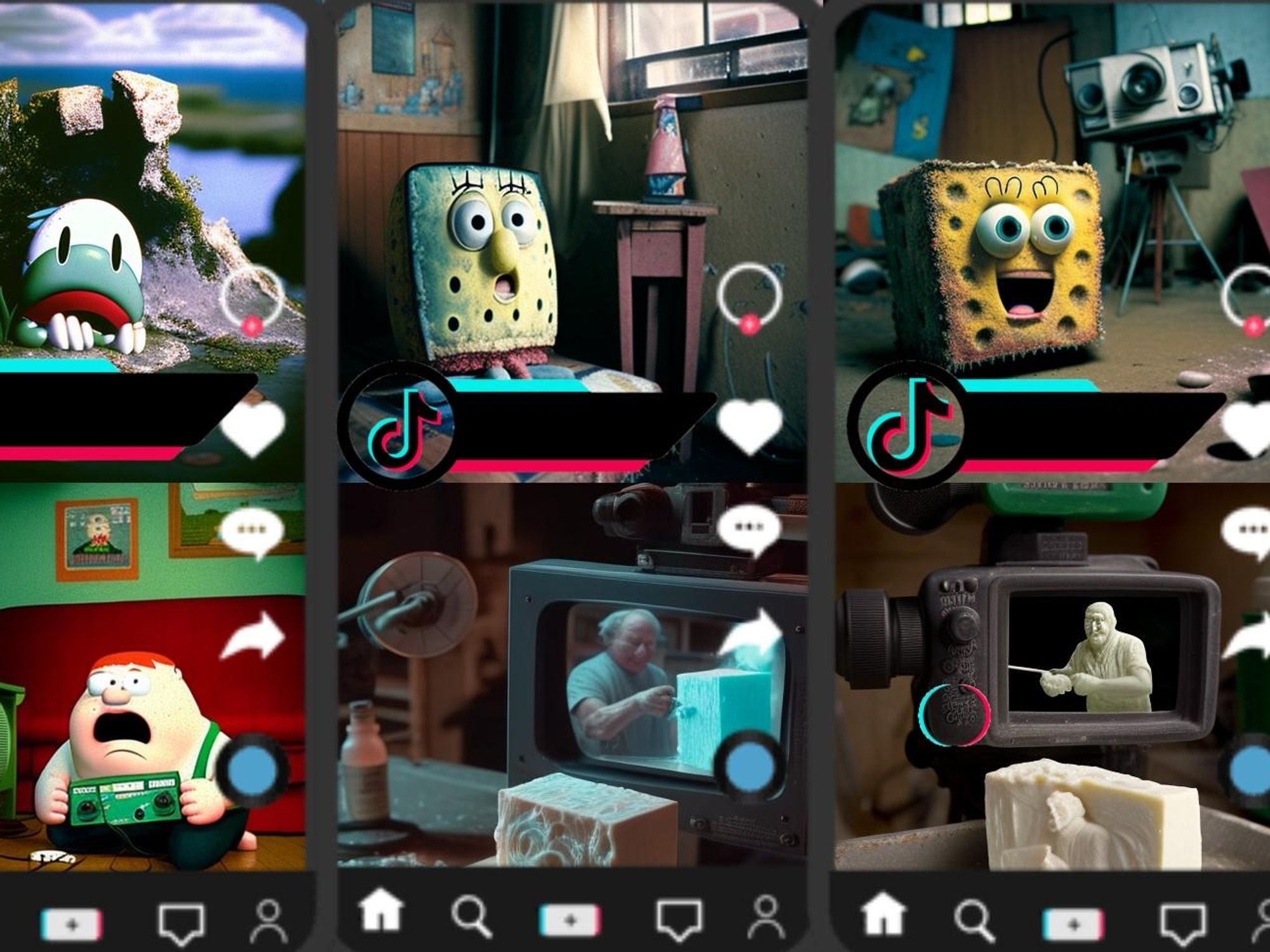 This is the web version of dot.LA's daily newsletter. Sign up to get the latest news on Southern California's tech, startup and venture capital scene.
Scrolling through my TikTok feed in the past month or so, my usual content has been disrupted by a new type of video. The structure is simple: a split screen clip from the American sitcom "Family Guy," paired with someone playing the game "Subway Surfers"—a mobile game where a person runs between moving trains and collects coins. Other variations include a scene from "Twin Peaks" coupled with a clip of a person shaving a bar of soap.
---
The combination of these unrelated videos playing at once is what's referred to as sludge content. And they're made for the purpose of getting longer views. If you get bored of watching the "Family Guy" clip, theoretically, you won't just scroll to the next video. Instead, you can simply direct your eyes to the clip of the person cutting shapes into Play-Doh. Think of it like two different TV channels playing side-by-side.
More importantly, people are making bank off of these videos: One creator told Bloomberg that he makes about $1,000 a month just from sludge. Which makes sense considering these videos are viewed for eight times longer than the average TikTok video.
If you've been paying attention, you know that for years TikTok creators have profited from "rage farming"—making content intended to provoke people. It was an easy way to boost one's viewership. For those whose only goal is going viral, it's an almost surefire way to get your video out there. And, more recently, videos that constitute 4% of the top-performing content can earn money from the ad-revenue sharing program. Examples range from people purposely eating a candy bar wrong to women promoting ultra-conservative gender roles to millennials making fun of Gen Z.
Basically, anything that might tempt someone to make a response video or leave a comment arguing against said "rage farming" video is considered audience growth. And since TikTok rewards videos with high engagement, like long viewing time and comments, by promoting them on the For You Page, "rage farming" meant more money per video.
But with so many young people expressing fatigue with the state of social media—at some point, you don't want to watch 30 people's disgruntled responses to the same "hot take"—the well of content creation was ripe for a change in direction. Enter sludge content.
Whether people are watching sludge videos ironically or using them as a genuine break between videos documenting the latest TikTok drama doesn't matter. These creators have managed to game the algorithm in the opposite direction from rage farmers. Instead of making the most mentally angering content go viral, they're profiting off of the most mentally dull content.
That said, this change in approach isn't far off from what's happening in the media ecosystem more generally. Last year, CNN's new CEO Chris Licht said the outlet should focus less on polarizing opinionated content and more on fact-based news, shifting away from the clickbait headlines meant to get a response from viewers. Even the popularity of so-called "comfort shows" like "Ted Lasso," "Schitt's Creek" and "The Great British Baking Show" points to people wanting a reprieve from the rage. Yes, gritty shows like "House of the Dragon" are still wildly successful. But feel-good, low-conflict plots have a steady fanbase.
On an internet that is often so loud and so horrible, it makes sense that people are seeking content that feels ambient. After years of alarm bells, who doesn't want a bit of white noise?

Kristin Snyder
Kristin Snyder is dot.LA's 2022/23 Editorial Fellow. She previously interned with Tiger Oak Media and led the arts section for UCLA's Daily Bruin.
https://twitter.com/ksnyder_db