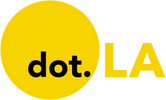 Get in the KNOW
on LA Startups & Tech
X
Samson Amore
Samson Amore is a reporter for dot.LA. He previously covered technology and entertainment for TheWrap and reported on the SoCal startup scene for the Los Angeles Business Journal. Samson is also a proud member of the Transgender Journalists Association. Send tips or pitches to samsonamore@dot.la and find him on Twitter at @Samsonamore. Pronouns: he/him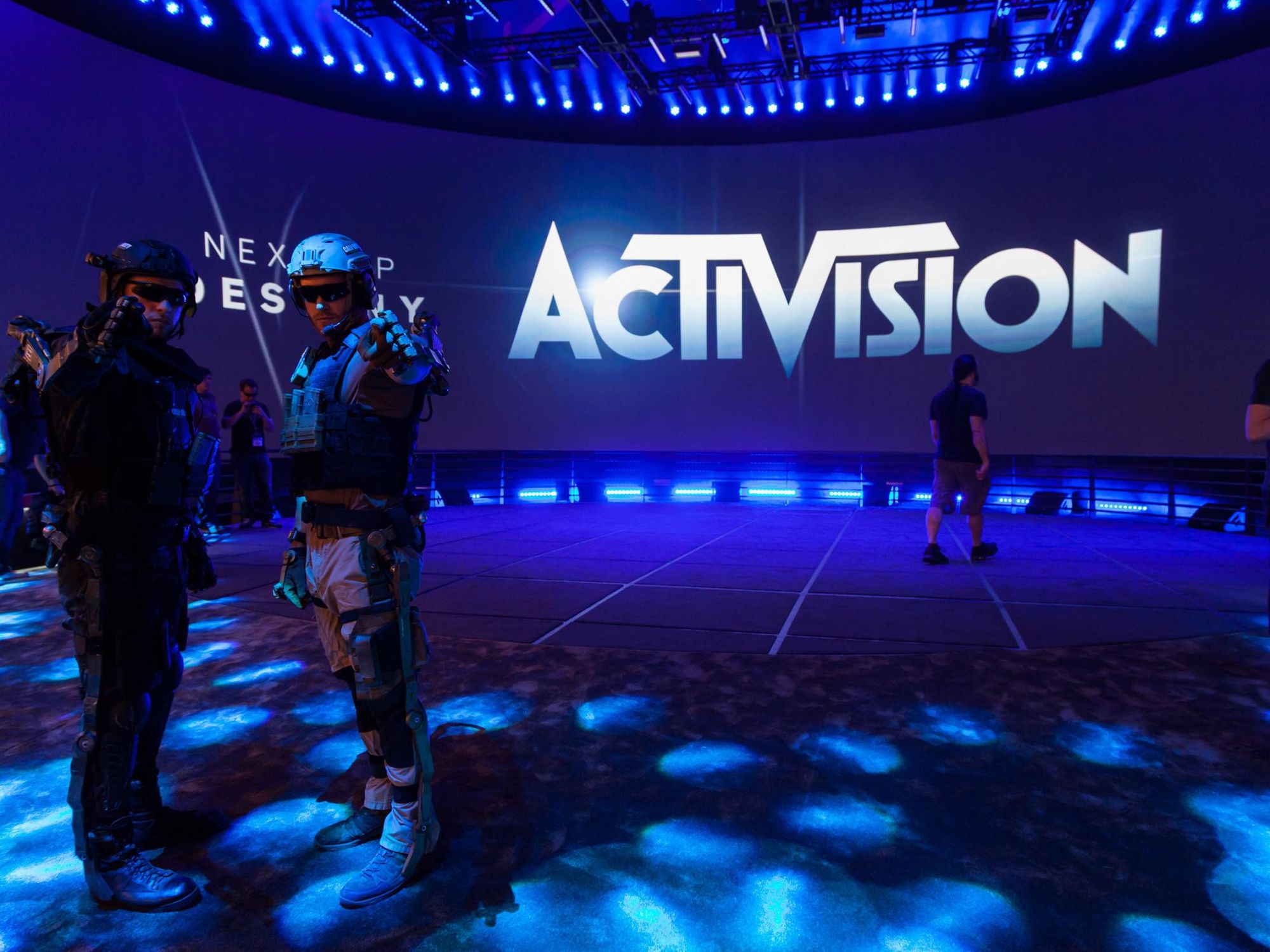 Shutterstock
Facing a series of walkouts and allegations of a "frat boy" culture, Activision Blizzard released a trove of data on gender representation in its workplace this week that showed just how homogenous the company is.
The report was released in a letter to employees and published Dec. 16. It was part of the video game publisher's attempts to rehabilitate its image following a lawsuit from California regulators alleging the company created a pervasive mysoginistic culture and a Securities and Exchange Commission probe. It's also facing intense backlash from current and former employees, who all allege Activision ran a workplace rife with sexual harassment and retaliated against victims for speaking out.
The report found that about a quarter of the total global workforce at Activision, Blizzard and King is female – a statistic it claimed was the same as other competitors in the gaming industry.
---
"While representation company-wide is similar to our peer gaming companies in the United States, this is wholly inadequate in my mind," Alegre wrote. "We will do better. We have a lot of work to do as we build an organization where diversity is as much a core value as innovation."
The company said 29% of its recent hires across divisions were women, but also noted 26% of the attrition that happened in 2021 was also female employees. Essentially, the publisher lost nearly as many women as it hired in the last year to resignations or retirement.
Women account for 26% of Activision, Blizzard and King's executive leadership and 26% of its entry-level positions, the company noted.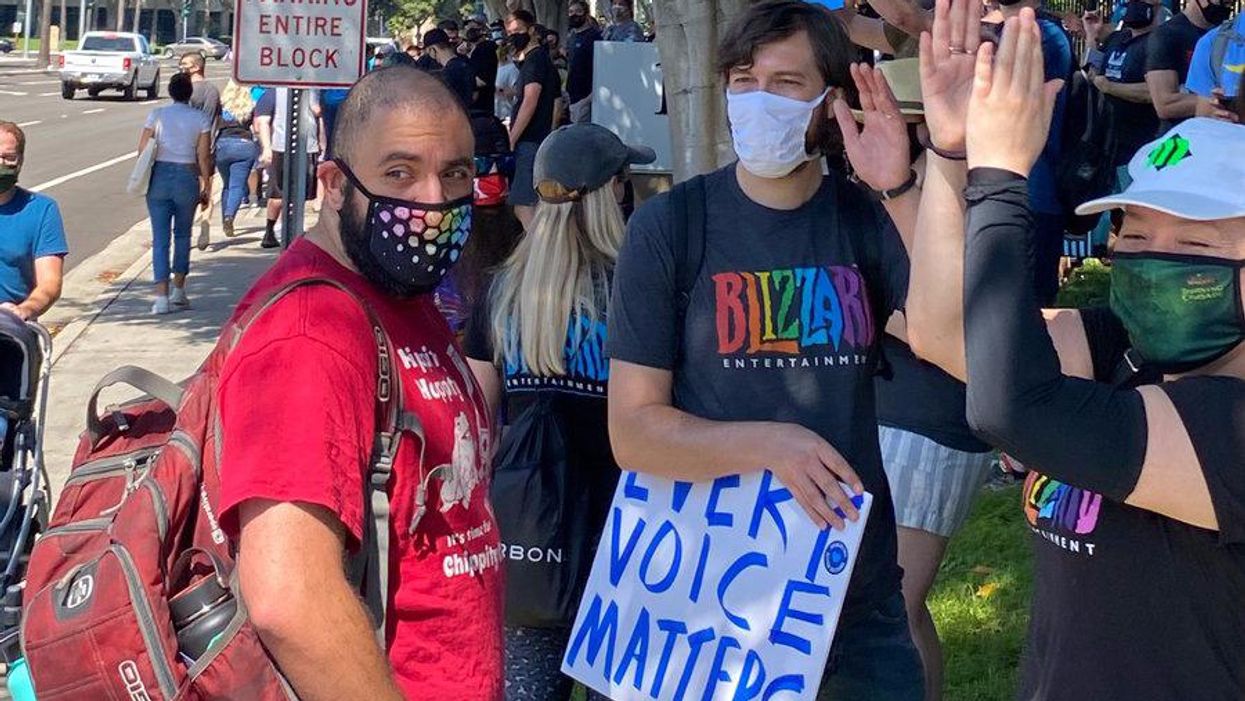 Sam Blake/ dot.LA
Activision also fell short of the average threshold for hiring ethnically diverse staff. Of its U.S. employees 36% identified as "a member of an underrepresented ethnic group," which Activision admitted was behind the average of its competitors, who report roughly 40%.
Underrepresented ethnic groups – non-white staff – make up 15% of Activision Blizzard's executive leadership.
In the letter, Activision chief operating officer Daniel Alegre said the company's goal is to double the representation of women and non-binary staff at Activision Blizzard in the next five years.
Alegre said he wants at least one-third of the company to consist of non-male staff. He also said Activision Blizzard will include yearly diversity goals with executive leadership performance goals and invest in professional development and manager mentorship programs that "foster a culture of inclusion" across the company and allow more diverse staff to ascend the corporate ladder.
This letter from Activision Blizzard is a stark contrast to one sent to employees last week in an attempt to discourage them from unionizing.
Workers at Activision's headquarters in Santa Monica were communicating with the media labor union the Communications Workers of America, which asked them to sign a union authorization card, one of the first steps towards a vote on joining a union.
The union discussions prompted chief administration officer (and former member of the Trump administration) Brian Bulatao to recognize the employees' right to have a union under the National Labor Relations Act, but strongly warned against it.
Bulatao said in a letter to the company's nearly 10,000 employees last week they should "consider the consequences" of signing into a union agreement with CWA. He added, "Achieving our workplace culture aspirations will best occur through active, transparent dialogue between leaders and employees that we can act upon quickly. That is the better path than simply signing an electronic form offered to you by [the] CWA or awaiting the outcome of a legally mandated and regulated bargaining process sometime in the future."
Risa Lieberwitz, a labor and employment law professor at Cornell University, told the Washington Post Bulatao's email "plays close to the line of illegality in the implication that Activision Blizzard's 'pledged' progress in workplace conditions are linked to the company being nonunion."
Employees and a group of activist investors continue to call for CEO Bobby Kotick's resignation, following revelations that he knew about alleged abuse within the company for several years but failed to act or inform the board. Activision Blizzard in September agreed to pay $18 million as part of a settlement with the U.S. Equal Employment Opportunity Commission.
Activision Blizzard has experienced at least three work stoppages in the last five months as employees walked out to protest the company's culture and handling of ongoing accusations.
Most recently, contractors at Raven Software – a subsidiary that does quality testing for some of Activision's most popular franchises including "Call of Duty" – walked off the job to protest contract cuts.
Activision employees including Jennifer Gonzalez, a former senior test analyst for Blizzard Entertainment and walkout organizer who recently quit, organized a GoFundMe page with the goal of creating a $1 million fund to support striking workers. The fund's description said, "Activision-Blizzard leaders have continually abused, union-busted, and remained apathetic to the wishes of workers." Over $330,000 has been raised so far.
Samson Amore
Samson Amore is a reporter for dot.LA. He previously covered technology and entertainment for TheWrap and reported on the SoCal startup scene for the Los Angeles Business Journal. Samson is also a proud member of the Transgender Journalists Association. Send tips or pitches to samsonamore@dot.la and find him on Twitter at @Samsonamore. Pronouns: he/him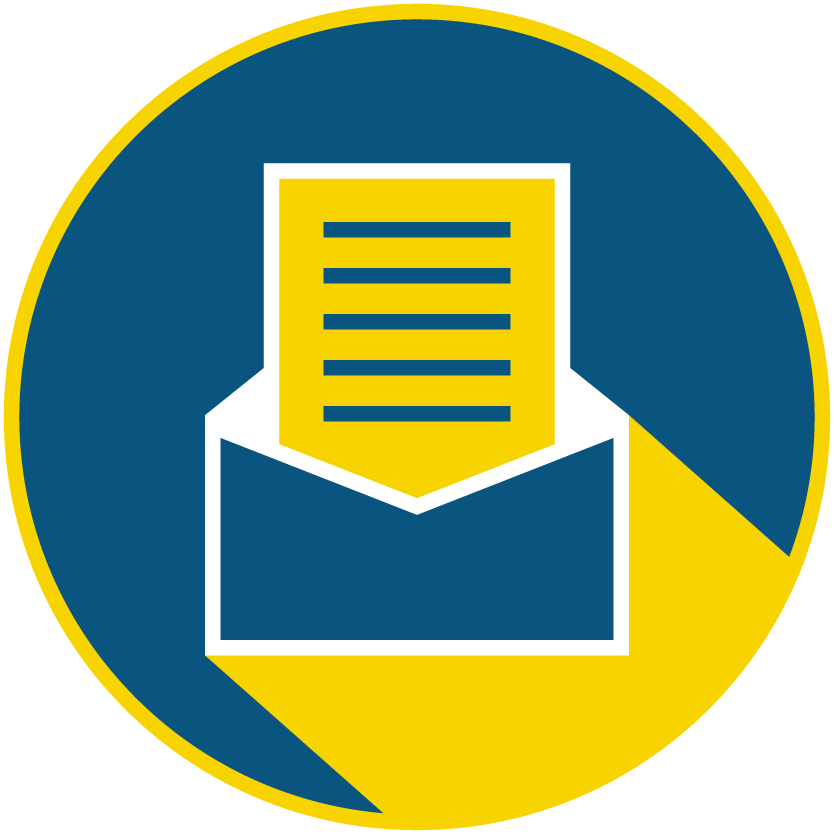 Subscribe to our newsletter to catch every headline.
Kristin Snyder
Kristin Snyder is an editorial intern for dot.la. She previously interned with Tiger Oak Media and led the arts section for UCLA's Daily Bruin.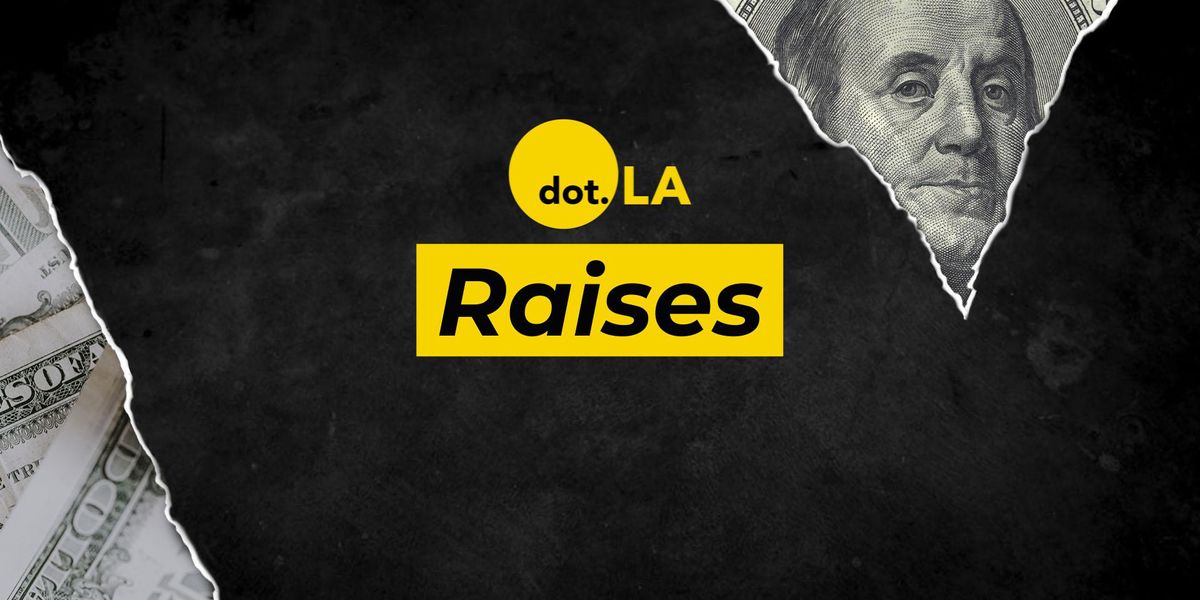 Image by Joshua Letona
This week in "Raises": A pair of Web3 platforms for gamers landed funding, as did a Manhattan Beach medical startup looking to bolster primary care via nurse practitioners. Meanwhile, a Santa Monica-based investment firm launched its seventh fund with more than $14 billion in dry powder.
Venture Capital
Improvado, a marketing data aggregation platform, raised $22 million in a Series A funding round led by Updata Partners.

Web3 gaming platform FreshCut raised $15 million in funding led by Galaxy Interactive, Animoca Brands and Republic Crypto.
Medical startup Greater Good Health raised $10 million in a funding round led by LRVHealth.
Joystick, a Web3 platform for gamers and creators, raised $8 million in seed funding.
Open source data protection company CipherMode Labs raised $6.7 million in seed funding led by Innovation Endeavors .
Mobile phone charging network ChargeFUZE raised $5 million in seed funding led by Beverly Pacific, TR Ventures, VA2, Jason Goldberg and Al Weiss.
Polygon, a startup aiming to better diagnose children with learning disabilities, raised $4.2 million in seed and pre-seed funding led by Spark Capital and Pear VC.
Pique, a virtual women's sexual health clinic, raised $4 million in a seed funding round led by Maveron.
Psudo, a sneaker startup that utilizes recycled water bottles and 3D sublimation printing to create its shoes, raised $3 million in a seed funding round led by SternAegis Ventures.

Funds
Santa Monica-based investment firm Clearlake Capital Group raised $14.1 billion for its seventh flagship fund.
Raises is dot.LA's weekly feature highlighting venture capital funding news across Southern California's tech and startup ecosystem. Please send fundraising news to Kristin Snyder (
kristinsnyder@dot.la
).
Kristin Snyder
Kristin Snyder is an editorial intern for dot.la. She previously interned with Tiger Oak Media and led the arts section for UCLA's Daily Bruin.
Kristin Snyder
Kristin Snyder is an editorial intern for dot.la. She previously interned with Tiger Oak Media and led the arts section for UCLA's Daily Bruin.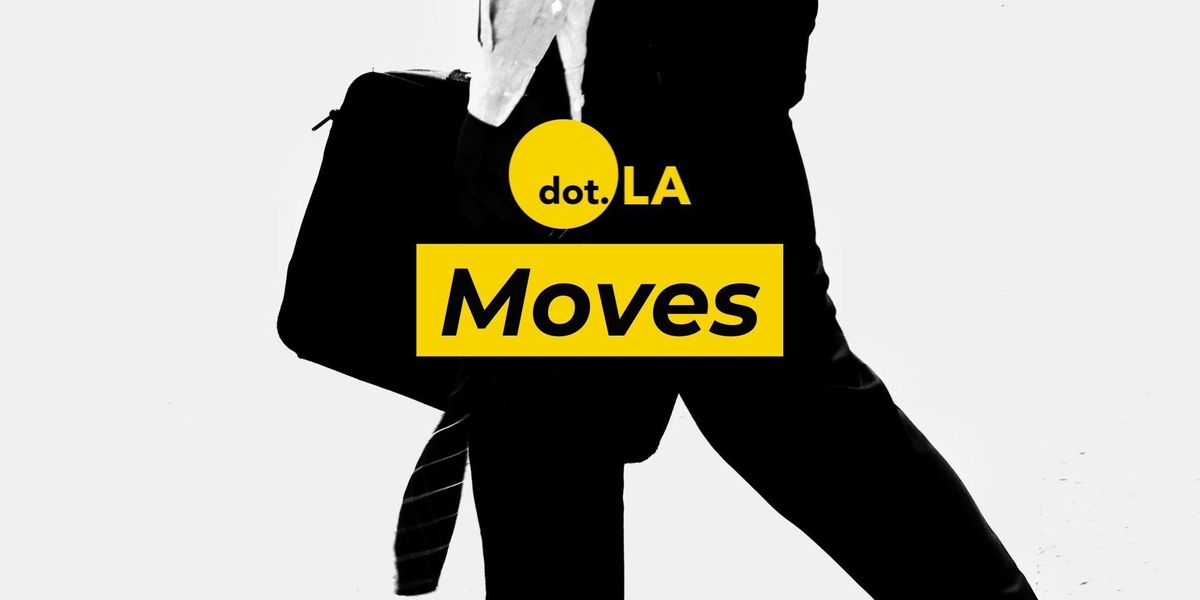 Photo by James Opas | Modified by Joshua Letona
"Moves", our roundup of job changes in L.A. tech, is presented by Interchange.LA, dot.LA's recruiting and career platform connecting Southern California's most exciting companies with top tech talent. Create a free Interchange.LA profile here—and if you're looking for ways to supercharge your recruiting efforts, find out more about Interchange.LA's white-glove recruiting service by emailing Sharmineh O'Farrill Lewis (sharmineh@dot.la). Please send job changes and personnel moves to moves@dot.la.
***
FaZe Clan brought on Zach Katz as the gaming and media company's new president and chief operating officer. Katz was previously the chief executive officer of the music tech investment fund Raised in Space Enterprises.
TikTok brand factory LINK Agency promoted Dustin Poteet to chief creative officer. Poteet was previously creative director at the firm.
Livestream shopping platform Talkshoplive hired Tradesy co-founder John Hall as its chief technology officer. Universal Music Group Nashville's former vice president of digital marketing, Tony Grotticelli, also joins the company as vice president of marketing.
Anjuli Millan will take over as head of original content at Snap after three years of overseeing production for the division.
Tech and media company Blavity hired Nikki Crump as general manager of agency. Crump joins the company from Burrell Communications Group.
O'Neil Digital Solutions, which provides customer communications and experience management for the health care industry, hired Eric Ramsey as national account sales executive. Ramsey joins from T/O Printing.

Investment firm Cresset Partners named Tammy Funasaki as managing director of business development. Funasaki previously served as head of investor relations for Breakwater Management.
From Your Site Articles
Related Articles Around the Web
Kristin Snyder
Kristin Snyder is an editorial intern for dot.la. She previously interned with Tiger Oak Media and led the arts section for UCLA's Daily Bruin.
Christian Hetrick
Christian Hetrick is dot.LA's Entertainment Tech Reporter. He was formerly a business reporter for the Philadelphia Inquirer and reported on New Jersey politics for the Observer and the Press of Atlantic City.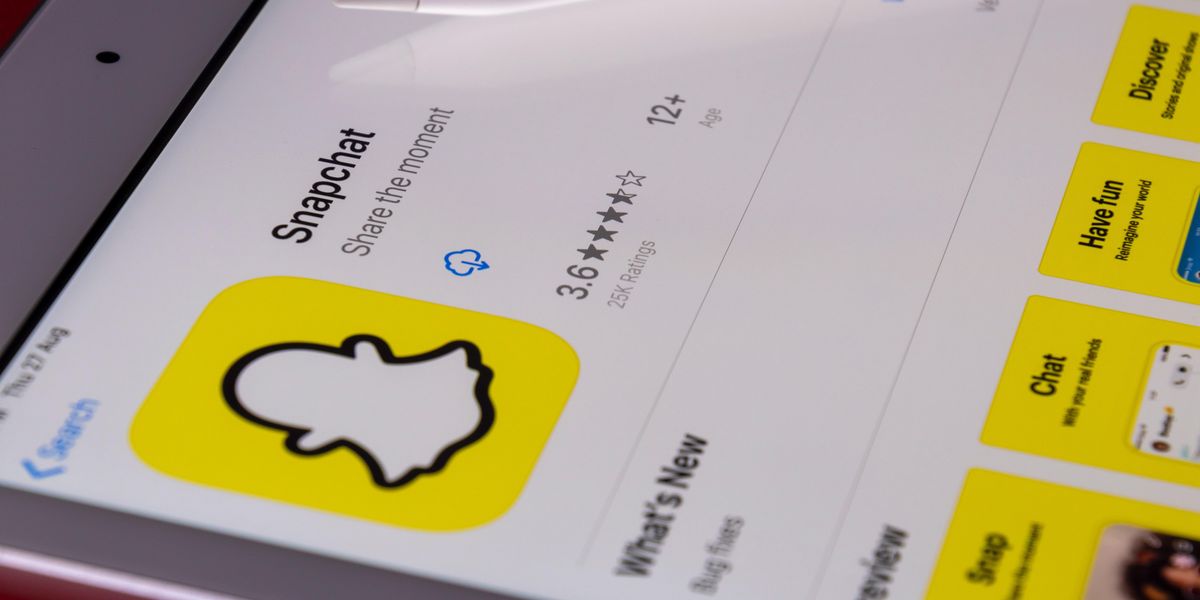 Snapchat is preparing to roll out enhanced parental controls that would allow parents to see who their teenagers are chatting with on the social media app, according to screenshots of the upcoming feature.
Snap's parental controls.
Courtesy of Watchful.
Snapchat is planning to introduce Family Center, which would allow parents to see who their children are friends with on the app and who they've messaged within the last seven days, according to screenshots provided by Watchful, a product intelligence company. Parents would also be able help their kids report abuse or harassment.
The parental controls are still subject to change before finally launching publicly, as the Family Center screenshots—which were first reported by TechCrunch—reflect features that are still under development.
Santa Monica-based Snap and other social media giants have faced mounting criticism for not doing more to protect their younger users—some of whom have been bullied, sold deadly drugs and sexually exploited on their platforms. State attorneys general have urged Snap and Culver City-based TikTok to strengthen their parental controls, with both companies' apps especially popular among teens.
A Snap spokesperson declined to comment on Friday. Previously, Snap representatives have told dot.LA that the company is developing tools that will provide parents with more insight into how their children are engaging on Snapchat and allow them to report troubling content.
Yet Snap's approach to parental controls could still give teens some privacy, as parents wouldn't be able to read the actual content of their kids' conversations, according to TechCrunch. (The Family Center screenshots seen by dot.LA do not detail whether parents can see those conversations).
In addition, teenage users would first have to accept an invitation from their parents to join the in-app Family Center before those parents can begin monitoring their social media activity, TechCrunch reported.

Christian Hetrick
Christian Hetrick is dot.LA's Entertainment Tech Reporter. He was formerly a business reporter for the Philadelphia Inquirer and reported on New Jersey politics for the Observer and the Press of Atlantic City.