courtesy of Xeal Energy
Xeal Energy, a high tech charging infrastructure company focused on apartment buildings and commercial real estate properties, secured $40 million dollars in Series B funding this week. Keyframe Capital led the round and ArcTern Ventures, Moderne Ventures, Ramez Naam, Nexus Labs, Wind Ventures and Alpaca VC also contributed.

For the last few years, Xeal has prided itself on going after customers that have typically been overlooked in the charging market. When dot.LA spoke with cofounder and CEO Alexander Isaacson, he'd just gotten back from a trip from Chicago where he'd been attending a senior living conference to see if there was a fit for chargers in retirement homes or assisted living communities. "It's cool to see other asset types—not just apartments and workplaces, but new types of buildings—starting to think about charging stations," said Isaacson.
The new money will go towards helping the company expand its charging network. In addition to providing the charger hardware itself, Xeal also provides software and analytics to help charger owners and users maximize their money. In the last year the company has grown its network of real estate partners from 12 to nearly 100 and expects to hit 10,000 chargers by the end of the year. This business model allows Xeal to make money by charging property owners for installation, plus a subscription model fee for access to the analytics. Property owners then make their investment back through the revenue generated via the charger, some of which is, again, shared with Xeal.
Xeal's rapid expansion in the last twelve months has also allowed the company to see up close, many of the common problems facing EV charging. Charger uptime and maintenance remains a daunting problem for the entire EV industry, but Xeal thinks it has a solution that will help its clients get closer to 100% charger uptime. The answer comes in the form of a software solution called "Apollo," which seeks to upend the traditional IT infrastructure underlying most charger networks and replace it with a decentralized system that borrows on the same principles underlying blockchain currencies.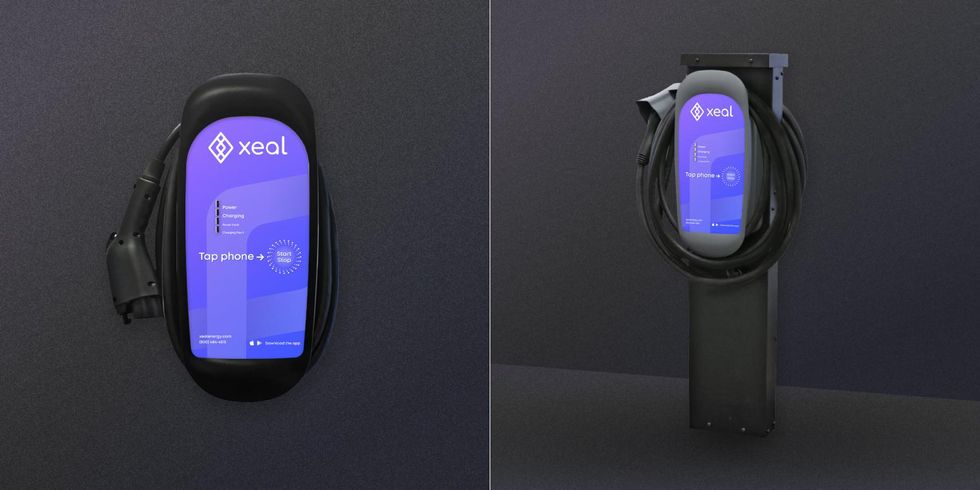 courtesy of Xeal Energy courtesy of Xeal Energy
Most charging stations are centralized, meaning that each charger connects to the internet before connecting to a central server at a distant location. Any operation requires that the link between charger and serve be active. That can mean that to charge your car in Los Angeles, the charger has to communicate with an Amazon Web Services cloud server all the way in Texas. Similar to Christmas lights, if there's any issue with that chain, charging won't work, and Isaacson said, "the whole system breaks." Xeal's Apollo software trades the centralized model for a "distributed ledger" that treats every single smartphone as a data center. Anytime anyone's phone accesses a Xeal charger, it creates a new snapshot of the entire network. Information on every charger's status, price, and operability is updated with each transaction. If a Xeal charger loses connectivity and therefore can't process payment for some reason, its neighbors are alerted to the issue and as a result send that data to a nearby smartphone. This updates the digital ledger and alerts Xeal to the nature of the problem.
"I'm not sure if you've ever taken a trip across the country to some of the public charging stations, but a big issue is that if they don't work, you have to call a person," said Isaacson. "They'll just tell you to move to the next [charging station]. They really have no idea of what the issue is."
Though the startup was born out of the Los Angeles Cleantech Incubator (LACI) and maintains its engineering lab in Venice, Xeal has recently moved its headquarters to New York City. While still small—they just hired their 30th employee this week—the new series B money gives the company flexibility and plenty of room for growth. In the Venice lab, engineers are working on ways to apply (and eventually sell) Xeal's Apollo protocol to other chargers, which would add yet another revenue stream for the company. Isaacson said he's in discussion with "a few major players" but declined to name names. In the meantime, the company plans to continue expanding its charging network to an even more diverse set of real estate classes and types of electric vehicles.