The maker of a bowling virtual reality game that takes the sport to the moon, ForeVR Games wants to turn real-life sports into virtual reality experiences.
And it just got a big boost.
The Los Angeles-based VR gaming startup announced Tuesday that it has raised an additional $7 million on top of their $1.5 million seed round, valuing the company at $8.5 million. The round was led by Bessemer Venture Partners with other investors including Galaxy Interactive, All Star Capital, Mark Pincus and Emmett Shear.
The company claims that they are the first company aiming to convert real games into VR experiences. It released their first and so far only game, ForeVR Bowl, this past May.
Available to play with Oculus Quest and Oculus Quest 2 headsets, ForeVR Bowl lets users play the classic game of bowling in unusual environments, from a disco club to the moon, with artists such as Third Eye Blind making appearances in the game's soundtrack. Players can also collect bowling balls in the game.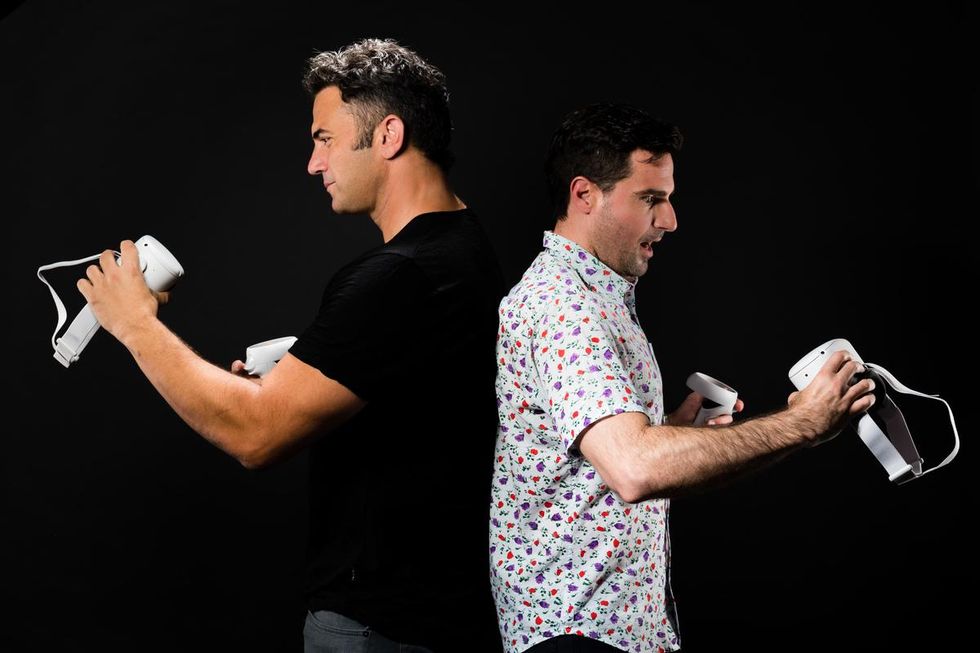 oreVR Games co-founders Marcus Segal (left) and Mike Pagano Doom.
Users can play with anybody around the world, and other players are displayed as avatars based on Facebook's Avatar 2.0 designs.

In addition to the fantasy features of the game, chief creative officer and co-founder Mike Pagano Doom explained the convenience of being able to bowl anywhere using VR: "Outside of the pandemic stopping real life sports together, some people just can't [play]. Whether they are physically not able to play or don't have anyone to go with, we offer them the chance to play."
Doom, along with CEO Marcus Segal, started ForeVR Games during the pandemic after years of experience in the gaming industry. According to Doom, ForeVR Bowl was developed in just 10 months.
"Starting [amidst] the pandemic gave us a [lot of time] to focus while being isolated," said Doom. "The [worldwide] lockdown brought us together as a production family, giving us clear purpose to deliver a game that connects our families together virtually while [physically] apart in these difficult times."
With the new raise, the company plans to expand to new platforms and hire new personnel while further developing ForeVR Bowl and creating new games. Though Doom did not reveal which real-life games will be released in VR form next, he did say there are two in development right now.
ForeVR covers an intersection of two rapidly growing industries; the VR market, which is expected to reach $84.09 billion in 2028, and the video game industry, which is on track to hit $200 million by 2023.