steve ballmer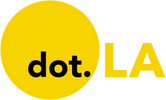 Get in the KNOW
on LA Startups & Tech
X
steve ballmer
Los Angeles Clippers chairman Steve Ballmer is paying $400 million in cash to buy the Forum arena from the Madison Square Garden Company, the LA Times reported Tuesday.
The deal allows Ballmer, the former Microsoft CEO who paid $2 billion to buy the Clippers in 2014, to move forward with plans to build a new arena for the NBA franchise.
Ballmer formed a new company with Clippers vice chairman Dennis Wong called CAPSS LLC to make the purchase, which ends a long legal battle with MSG. It will allow the Clippers to play in their own building, rather than sharing with the Los Angeles Lakers at the Staples Center. There are no plans to tear down the Forum, the LA Times reported.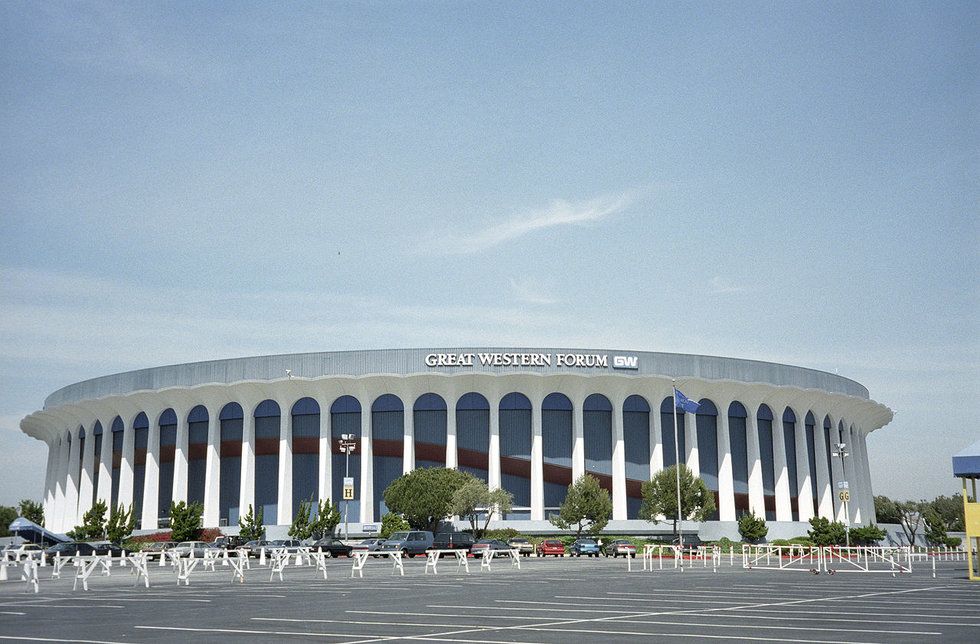 The Forum arena in Inglewood, California. Wikimedia Commons
"This is an unprecedented time, but we believe in our collective future," Ballmer said in a statement. "We are committed to our investment in the City of Inglewood, which will be good for the community, the Clippers, and our fans."

Ballmer is currently ranked No. 9 on Forbes' richest-person list with a net worth of $51.4 billion. He and his wife Connie recently donated $3 million for a COVID-19 Response Fund in Seattle, and also gave $1 million to LA organizations.
This post originally appeared on GeekWire.
Courtesy of Upfront
Mark Suster, managing partner of the granddaddy of L.A. venture capital firms and impresario of the annual Upfront Summit, could have chosen from any number of venues to host this year's version of the Coachella of venture capitalism. But why pick an ordinary conference center or hotel when you can rent out the entire Rose Bowl?
Save for the Westsiders grousing about having to trek to Pasadena, it seemed like a good enough idea until winds approaching 40 mph shook the tent Suster had erected to host two days of speakers. And the low wind-blown rumbling got so loud that those on stage, including an ordinarily boisterous Clippers owner Steve Ballmer, had to pause mid sentence and look up, as if to see if the structure was going to come crashing down.
At the end of the more exclusive first day, reserved for limited partners – whose money funds the whole business – and VC's, Suster stood on stage looking out across the tent and saw a crowd exhausted from a day of making deals, or trying to. Attempting to rouse his disciples to rally for a nighttime party at the top of the stadium, Suster demanded someone hand him a beer. When he opened a Stella on stage, it exploded and foamed onto the floor, as good a metaphor for the frothy state of venture capital as you can find.

"Everyone is building a decacorn or bigger!" proclaimed prominent Bay Area investor Jason Lemkin, referring to companies worth more than $10 billion dollars. "No one is talking about a unicorn anymore."
The conference featured Reese Witherspoon, Paris Hilton, Ice Cube, Tyra Banks, marching bands, dance performances, and a zip line whizzing VC's from one end of the field to the other. What does all that have to do with venture capital, which is usually much duller – looking at cap tables or raising money from an obscure pension fund to finance the next enterprise software breakout? Who knows. But Suster certainly knows how to put on a good show.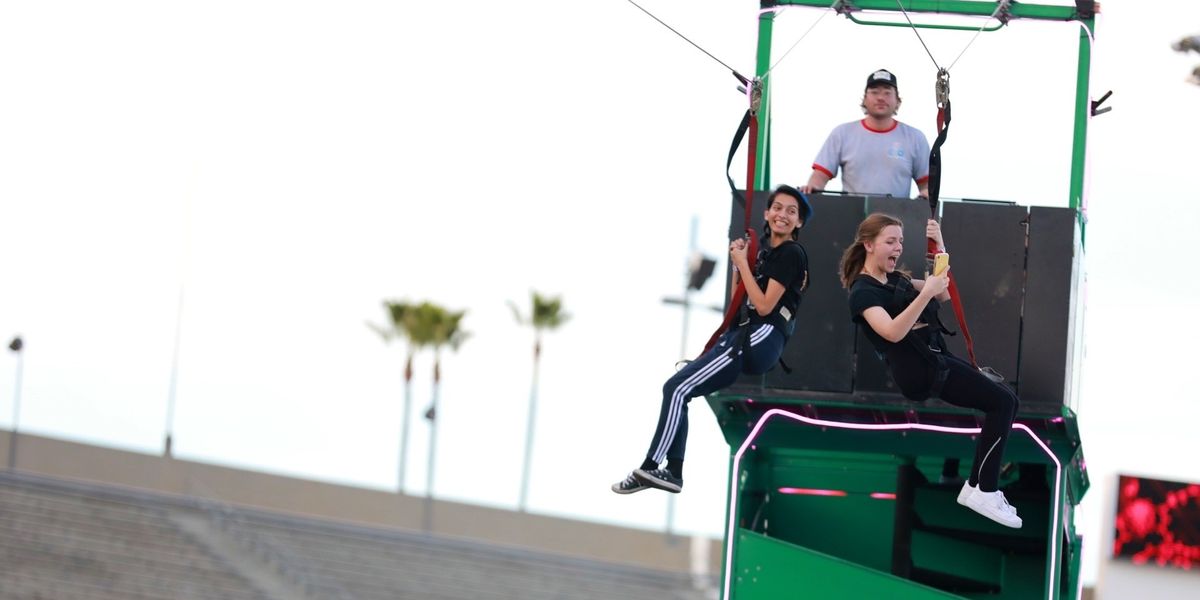 Unfortunately for those outside, it is impossible to buy your way in no matter how rich you are. You have to be invited to one of the three descending tiers: The aforementioned LP/VC day of about 400, the 600 founders who join on day two, and another couple hundred who get to come for the lavish outdoor party where as Axios' Dan Primack noted, the summit ended with a literal bang during an elaborate fireworks display. Afterward, one founder was seen passing out sinister looking bright blue vials of algae to attract investors for his young startup.

There was no dress code. But if there was one it would go like this: Most importantly, don't wear a tie or a suit. Dark jeans are good and make sure you have a gray or black Patagonia nano down jacket or vest to keep you warm when the Santa Ana's whip up. Wear cool sneakers, preferably Allbirds.
Food sustainability was a popular theme on panels but that can wait for another day. From early morning until late at night, a never-ending bounty of meals and snacks rolled out. Scones, quiches and croissants started the day, followed by snacks of mini donuts, trail mix and smoothies. Then there was lunch with nine different food trucks including In-N-Out Burger and Kogi. Just in case you were still hungry in the afternoon there were trays of candy, pretzels with three dipping sauces and more trays of freshly baked cookies.
Hopefully attendees worked up an appetite for dinner because Wolfgang Puck, one of the panelists, did the catering. And after that was a fourth dessert of the day.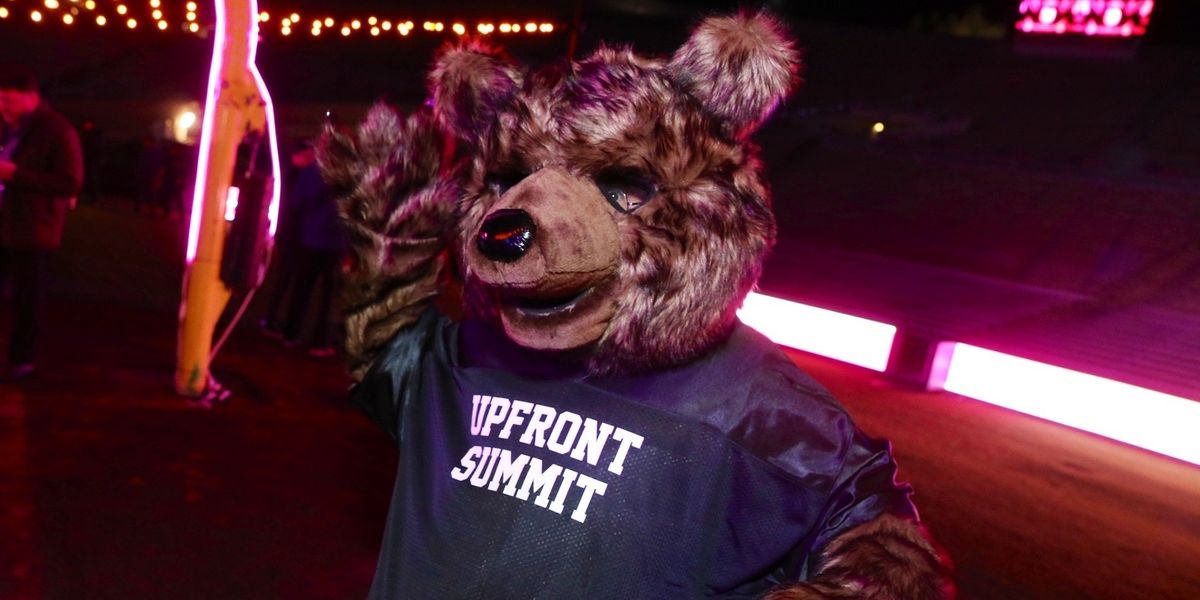 Given the venue, there was a strong football theme with mascots, Rose Parade floats, event staff wearing jerseys, and slickly produced Sunday Night Football style introductions for founders and VC's. It was a curious choice considering the audience.
"The dirty little secret is very few VC's like sports," said Jeff Jordan, managing partner at Andreessen Horowitz. "It's a bunch of nerds."
From Your Site Articles
Related Articles Around the Web
Aircam
In his first public remarks about the death of Kobe Bryant, Los Angeles Clippers owner Steve Ballmer called the NBA superstar's death "a tragedy of tragedies" at a gathering of venture capital investors in Pasadena.
"It's obviously a tragedy anytime someone dies that young let alone the number of people who passed away," Ballmer said, before adding that Clippers players have been personally affected.
Ballmer said he first got to know Bryant not through basketball but because of Bryant's interest in investing. He said he considers Bryant "one of the top players ever."
Ballmer, 63, bought the Clippers in 2014 after he stepped down from Microsoft, which he led as CEO from 2000-2014. With $60 billion in assets, Forbes ranks him as the 19th richest person in the world.
He was speaking on the first day of the Upfront Summit, an invitation-only gathering of venture capital investors that is being held at The Rose Bowl in Pasadena. The irony is that Microsoft is famous for building the software giant with very little VC money, part of the reason Ballmer and co-founder Bill Gates amassed among the richest fortunes on earth. Ballmer also doesn't invest in early stage companies or even individual equities, aside from his estimated $10 billion Microsoft stake.
"All we do is S&P [500] index funds," said Ballmer.
Steve Ballmer spoke on the first day of the Upfront Summit, an invitation-only gathering of venture capital investors that is being held at The Rose Bowl in Pasadena. Photos by AirCam
One time when Ballmer would appear to have been less conservative is when he paid $2 billion for the Clippers, a sum most people saw as outlandish since the previous highest amount paid for an NBA franchise was $550 million (for the Milwaukee Bucks in 2014.) Ballmer said Wednesday he had been trying to buy an NBA team for a long time and he would have increased his offer if necessary.

"I had a boundary about how high it was going to go," Ballmer said. "I told the lawyer [for the Clippers] what that boundary was. I said 'don't take advantage of me.' The truth is I probably would have gone higher."
Since then, sports valuations have ballooned as the NBA struck a new $24 billion TV rights deal and the Clippers doubled their own local cable deal. The $2 billion purchase price has been vindicated and now Ballmer is focused on constructing a new 18,500 seat arena for the Clippers in Inglewood scheduled to open in 2024.
Ballmer said arenas are expensive – this one, like others in L.A., is privately financed and not receiving public subsidies. As a result, on a strictly financial basis, building the new stadium does not make sense. But he thinks it is vital to move away from the shadow of the Lakers.
"I feel sorry for the Chargers," Ballmer said, alluding to the fact that the NFL team will be a tenant in the massive new stadium Rams owner Stan Kroenke is building in Inglewood. "Everyone calls it Rams stadium."
Owning the Clippers and running Microsoft are not as different as it would appear, according to Ballmer.
Just as Microsoft would update its Windows operating system twice a year, the Clippers "update" their roster every summer through the draft and free agency. He also compared the talent in both situations.
"Engineers are treated very, very well," Ballmer said. "Basketball players are also treated very, very well."
Ballmer said he thought software was a less competitive industry than the NBA.
"What tech business do you know where you can have 30 competitors a year?" he asked, referring to the number of NBA teams. He added that L.A. is especially tough, because of the affinity for the Lakers.
"It's weird to have two teams in a market," he said.
The Upfront Summit is expected to attract more than 1,200 attendees flocking to the Rose Bowl Jan. 29-30. The invite-only event brings together a diverse mix of entrepreneurs networking with venture players armed with billions of dollars in capital, and headlined by presentations from business leaders including Ballmer, Quibi Chief Executive Meg Whitman, Union Square Ventures' Fred Wilson, and Idealab founder Bill Gross.
Links to the conference agenda and the livestream can be found here.
Upfront Ventures holds a non-controlling, minority interest in dot.LA