Photo: VETS
In 2013, Navy Seal Marcus Capone medically retired after 13 years of service. Throughout his military career, Capone served on the Seals' elite counter-terrorism unit, Seal Team 6, and was deployed to Afghanistan shortly after 9/11.
After over a decade of warfare, Capone struggled to ease back into everyday life.
"I was terrified that I would lose Marcus to suicide and I was determined to find anything that could help him," says Amber Capone, Marcus Capone's wife and partner since the age of 17. "I at one point thought we had exhausted everything and had decided this was not a life that I could continue living… and then sitting with that realization, I remembered one friend who had done psychedelic therapy outside of the U.S."
At first, Marcus was skeptical. But after having spent nearly seven years taking various antidepressants, sleeping pills, and focus medications, Marcus was out of options.
"He had nothing to lose," Amber says. So they decided to check Marcus into a treatment center in Mexico for a "heroic dose" of Ibogaine, an anti-addiction compound found in a West African plant that indigenous peoples have used for years as a form of psychedelic therapy. Marcus followed his first Ibogaine treatment with DMT.
Commonly known as the "spirit molecule," DMT is considered one of the most powerful psychedelics in existence and researchers are just beginning to document its potential benefits in treating an array of mental health ailments including PTSD and addiction.
"I felt the weight of the world on my shoulders, was super anxious and I was really depressed," Marcus says. "I just came out of there feeling extremely light," as though he'd condensed "ten years of talk therapy" into a single week.
In 2019, two years after Marcus's initial brush with psychedelic therapy, he decided to form VETS (Veterans Exploring Treatment Solutions), a San Diego-based nonprofit that offers veterans grants to pursue psychedelic therapy outside the U.S. Amber serves as the nonprofit's executive director while Marcus is its chairman.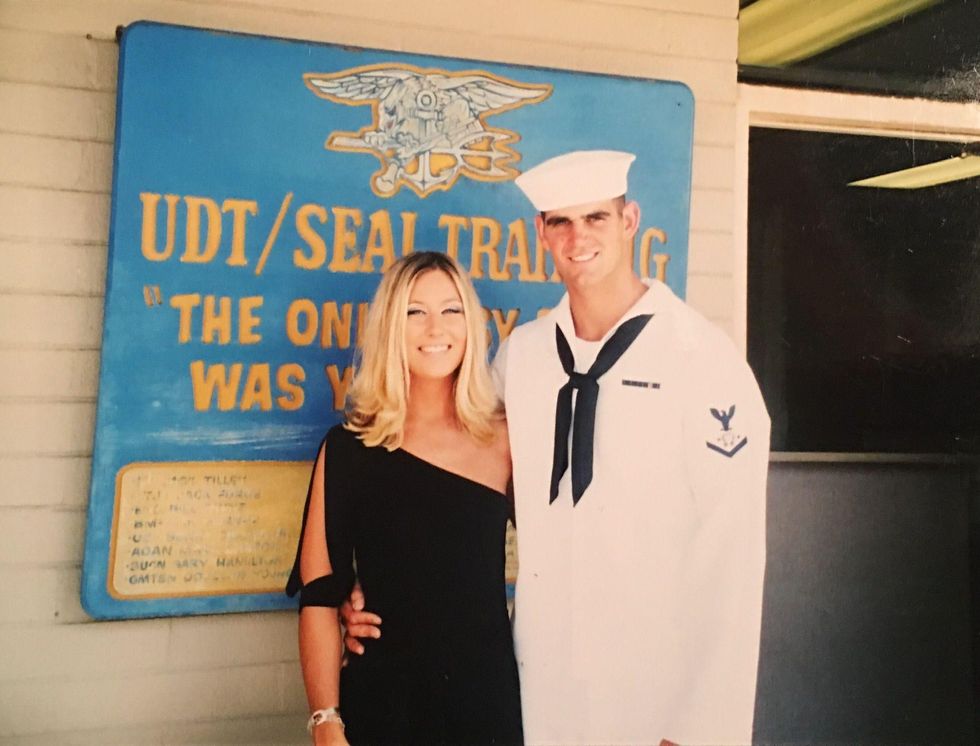 Marcus Capone and wife Amber after he completed BUD/S training. Photo: VETS
Currently, 17 veterans die by suicide every day, 57% more than civilians in the same age range, according to a study released by the VA in September. According to the department, over 1.7 million veterans were treated for mental health problems last year.
"While VA is conducting initial studies of the effectiveness of psychedelic drugs as a form of treatment for veterans with PTSD and other serious mental health issues, it's important to note that there is much more to learn at this time," a spokesperson for the VA tells dot.LA. "We do not endorse or encourage the use of any psychoactive substances as part of a self-treatment program."
VETS co-founder and Chairman Marcus Capone.
Photo: VETS
The agency also says that while it "must follow all federal laws regarding Schedule I drugs," and that "VA health care providers may not recommend them or assist veterans to obtain them, " veterans who choose to take or are taking illegal drugs, won't be denied their VA benefits.
Since its launch two years ago VETS has raised $7 million and helped over 700 veterans seek treatment in Mexico and Costa Rica.
"The Navy SEAL community, we do probably one of the best jobs in the world at taking care of each other," Marcus says. "We pick up the slack if we're not getting the support that we need. It's always been that way." Adding that our country has a bad track record of taking care of its veterans when they return home – "I went and did work with the Israeli SEALs and they said, 'you guys are like the world's premier fighting force [and] your country sucks at taking care of you when you come back."
There are some signs that these unconventional therapies could become more mainstream. In July Democratic Sen. Cory Booker and Republican Sen. Rand Paul introduced a bill that would grant terminally ill people access to therapies that are currently classified as schedule I drugs. Texas Republican Sen. Dan Crenshaw and New York Democrat Alexandria Ocasio-Cortez co-sponsored an amendment to the National Defense Authorization Act that instructed the Pentagon to conduct more research on psychedelics and passed in July. But currently the only psychedelic that can be legally prescribed in the U.S. is ketamine.
"This is an issue that seems to be very bipartisan, very purple, and [it's] very exciting," says Amber. "It's really encouraging to see our nation's leaders actually agree on something and not only just agree on it, but actually come out together in support of it."