psychedelic startups
By the time Nanea Reeves was 16, she had seen the disastrous effects of substance abuse on her mother and sister, and had spent time recovering at a psychiatric hospital where a therapist introduced her to meditation and breathing techniques that helped her cope with the chaos that surrounded her.

"It was a tool that really gave me space to insert pauses when I was having these big feelings, and start to train my brain on the decisions I was making at any given moment," she said.
Since then, both Reeves' mother and sister passed away from drug abuse. A new tragedy, the loss of her husband to cancer, spurred her next venture, aimed at spreading the coping techniques she'd been taught.
In 2018, she co-launched TRIPP, a virtual-reality meditation experience that mimics aspects of psychedelics to help people cope with chaos or destruction in their lives. The company announced on Friday it raised $11 million led by Mayfield and life science VC firm Vine Ventures, bringing its total funding to $15 million.
Its technology guides users through a breathing meditation that lasts anywhere from 10 to 30 minutes while their eyeline is littered with neon-colored shapes, pulsating flowers, blurred, slow-motion movements and other abstract, kaleidoscopic visualizations. The experience is meant to mimic what one might see while hallucinating on psychedelics without having to actually take psychedelics. Users can customize their own visuals through a program called TRIPP Composer.
The company did research on soundscapes and gameplay mechanics to bring users a sense of euphoria and calm throughout the meditation.

"What could you experience in VR that you can't in real life? A sense of feeling like you're floating in space, and moving through environments while you're sitting still in reality," Reeves said. "We wanted to trigger states of awe and wonder."
The psychedelic visual leans into what longtime Johns Hopkins psychedelics researcher Matthew Johnson called "the mystical experience" - the part of consuming psychedelics that isn't rooted in secular sciences, but rather in individual feelings.
TRIPP is one of many VR apps available on Playstation VR and Oculus (she was an early investor of Oculus herself) that facilitates meditation. Subscriptions go for $4.99 a month; the company has streamed more than 2 million wellness sessions to date.
But it's not the only one using gaming technology to trigger a biological response. Last year, Boston-based video game company Akili Interactive developed the first Food and Drug Administration-approved video game to treat ADHD, an executive function disorder, in children. Los Angeles' Cedars-Sinai Medical Center is using VR for physical therapy, since it has the ability to connect the brain with its ambulatory functions. L.A.-based AppliedVR recently teamed up with the Department of Veterans Affairs to combat chronic pain among veterans.
TRIPP, like Santa Monica-based Headspace, another wellness app, is also undergoing clinical trials to test its efficacy as a therapeutic device. And, as the larger industry of psychedelic therapies grows, TRIPP plans on leveraging its platform to integrate with therapy trips.
"We're not trying to replicate or simulate, but there are certain inherent properties that can trigger awe or self-connection. It's not aggressive or taking you over completely like a psychedelic," Reeves said.
From Your Site Articles
Related Articles Around the Web
Seven years ago, Mark Carnessale was diagnosed with oral cancer. He spent weeks in radiation therapy, losing his appetite and any semblance of a healthy sleep schedule. All night he would lay awake in his home in Burbank, gripped by fears about his own mortality.
Carnessale couldn't shake that anxiety, even after the cancer went into remission. He tried therapy and antidepressants, but neither did the trick; the fear of dying still clung to his brain.
He came across a Johns Hopkins study about magic mushrooms' ability to lower anxiety for cancer patients with a life-threatening diagnosis. It was a drug he had taken before — small doses in the 1970s that made him giggle. In 2014, at the age of 56, he was apprehensive to try it, but he was also desperate. So, he joined a group of seasoned and novice psilocybin users in Telluride, Colorado and, under the watchful eye of his wife, took around 5 grams of psilocybin, the naturally occurring substance found in mushrooms, provided by the group.
The results were better than he could have imagined.
He felt his ego melt away, along with it his anxieties. His wife told him she's never seen him happier.
"The psilocybin helped me more than anything," Carnessale said. "That has been the one saving grace for me."
Experiences like Carnessale's are becoming more common as medical professions slowly come around to psilocybin as a form of treatment for a host of mental issues. For the past seven decades, doctors have primarily relied on antidepressants — also known as Selective Serotonin Reuptake Inhibitors, or SSRIs — to treat depression. But it takes about six weeks before SSRIs will successfully increase serotonin levels in the brain (which is associated with well-being and happiness), and the pills can cause a slew of undesirable side effects including weight change and insomnia. (Carnessale tried SSRIs in the past but found they numbed his feelings.) Psilocybin, on the other hand, works within hours, and carries very few long-term side effects.
"SSRIs work for some people, but for a lot of people, it's just not a realistic option," said Wesley Ryan, an addiction psychiatrist in Marina Del Rey who has done research on pairing therapy with a variety of drugs, including psychedelics. "I suspect there's clear advantages to the use of psilocybin to treat depression."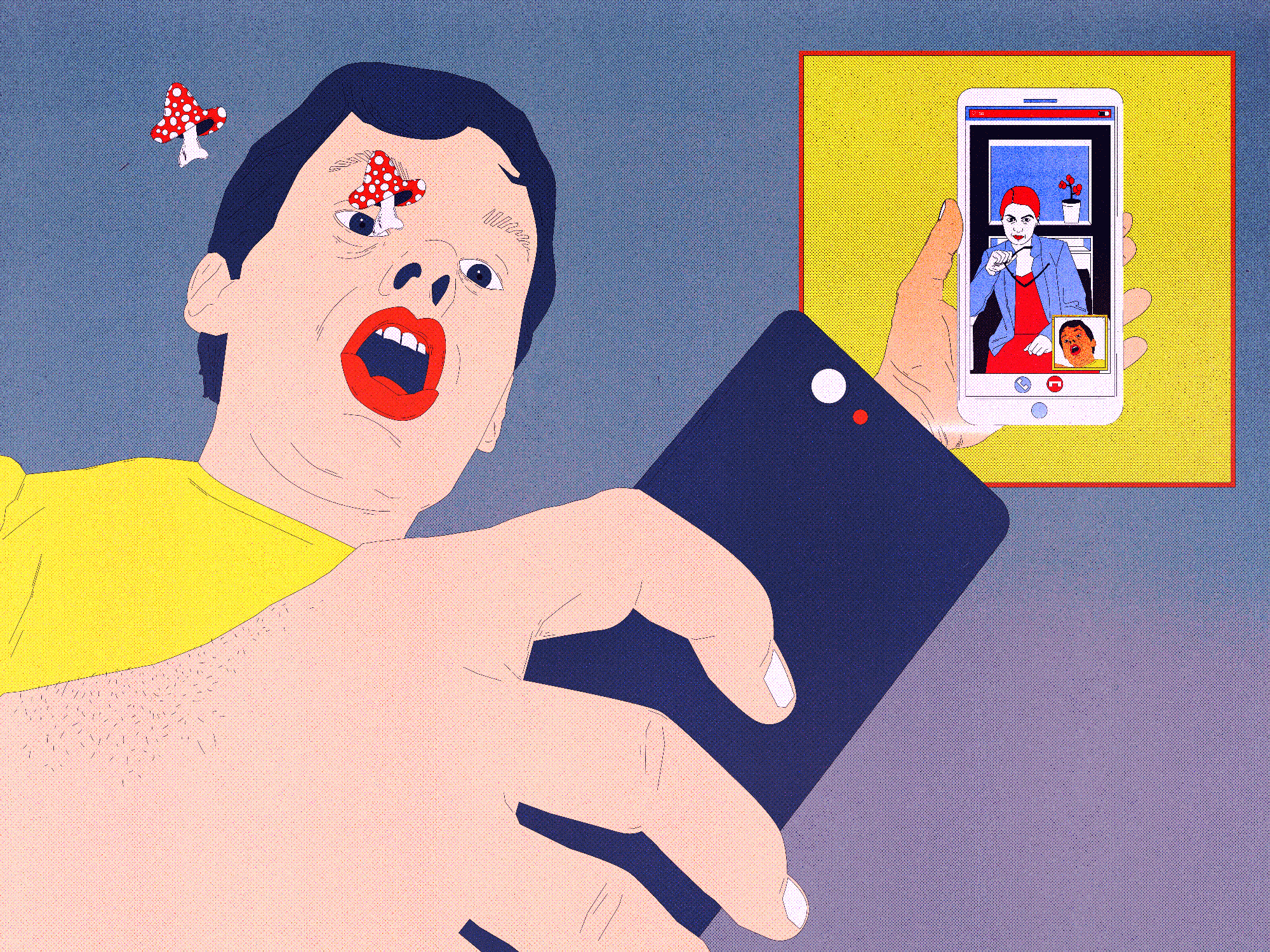 Lead art by Carolyn Figel.
Now, with the Food and Drug Administration granting psilocybin a "Breakthrough Therapy" designation (a label which fast-tracks the development and review process for drugs), and the California State Senate approving a bill this month to decriminalize a number of psychedelics, a handful of startups are popping up in Los Angeles to take advantage of potential new medicines that could revolutionize therapy for anyone dealing with depression or PTSD.

Wake Network, for example, is experimenting with psilocybin-based therapeutics, also known as psychedelic therapy. Prior to the pandemic, the three-year-old, Culver City-based startup hosted two psychedelic retreats in Jamaica for people clinically diagnosed with PTSD, depression or anxiety, where each participant took a dose of psilocybin and went through guided group therapy sessions. If and when legalized, Wake Network plans on conducting those sessions in the U.S. and Canada.
Another psilocybin startup, NANA, aims to guide people through psychedelic experiences with therapists trained to use psychedelics.
"Psychoactives are only 20% of the equation," said NANA founder Maria Florencia Bollini. "They have to be paired with counseling and lifestyle modifications."
But the brave new world of psychedelic therapeutics comes with some drawbacks. Ryan pointed out that people can experience deeply delusional or paranoid thoughts on psilocybin, which could put themselves and others at risk. In a 2016 study, 10.7% of participants who took psilocybin self-reported they put themselves or others in danger. In order to lessen that risk, psychedelic drugs will likely require a monitoring period at a doctor's office or a clinic for a few hours after they're ingested. These logistics, and whether or not insurance will pay for the drugs, may very well price out low-income patients — a big problem, given the link between poverty and PTSD.
"The most severe forms of mood disorders, such as chronic TRD [treatment-resistant depression], are associated with significant economic impact on the lives of affected people, increasing the likelihood that they would be covered by public insurance," said John Krystal, chair of Yale's psychiatry department.
Still, Krystal sees a real benefit to the treatment. "Psychedelics have been used to help people gain insight into their existential struggles, such as helping people to cope with the impending ends of their lives and their search for personal fulfillment," he said.
"My impression is the risk of bad outcomes with psychedelics versus methamphetamine, cocaine, heroin, opioids, is way, way less," added Ryan.
More and more lawmakers would agree.
"The War on Drugs has failed us, and criminalizing these substances doesn't make anyone safer," said California State Senator Scott Wiener, who authored the bill to decriminalize psychedelics. "It's time to move away from failed drug criminalization policies and toward a science- and health-based approach."
And given that the psychedelic drug market is projected to become a $6.85 billion industry by 2027, it seems many others share the sentiment as well.
Carnessale, meanwhile, continues to travel to Telluride every few years to take psilocybin as a way to cleanse his anxieties. "You really take stock of your life when you're on psilocybin," he said. "You feel good about it."
Maybe in the future he won't have to go all the way to Colorado to get high.
From Your Site Articles
Related Articles Around the Web
By Tania Tbul's own admission, she's not "a drug person." But the memories of the sexual and physical abuse she endured starting at 12 stayed with her through a marriage, the birth of four children, a divorce and a handful of suicide attempts along the way.
And so, at the age of 45, she walked into Ketamine Clinics Los Angeles in Culver City.
"I was actually pulled out of my body and I was hugging my 12-year-old self and forgiving myself... I was actually out of my body," Tbul said about the first treatment. "After the first treatment, I felt like that gaping wound was starting to heal up. It was like closing up and it wasn't sore anymore."
The growing body of evidence that ketamine — once known as club drug "special k" — can be used to treat mental health disorders along with its increasing acceptance has caused a spring of clinics in Los Angeles ready to cash in on psychedelic mental health treatments. Ketamine Clinics Los Angeles was the first to open its doors to L.A. in 2014, and now Toronto-based psychedelic company Field Trip is establishing a presence in the city, utilizing ketamine as a vehicle for therapy.
"Cognitive behavioral therapy works, it just tends to take a long time to break down the defenses, get past the ego and get to really what's happening," said Field Trip co-founder Ronan Levy. "Psychedelic therapy just accelerates the process of breaking down those walls so you can start to do the work and the processing."
History of Ketamine
Developed in the wake of the Vietnam War, ketamine replaced phencyclidine (better known as PCP) as an anesthetic before its antidepressant properties were well-studied.
This allowed physicians like anesthesiologist Steven Mandel, who co-founded Ketamine Clinics Los Angeles in 2014, to use it for off-label purposes to treat depression and other mental health disorders.
At the same time, people were using it to get high. The Drug Enforcement Agency lists it as a Schedule 3 drug, along with low doses of codeine and testosterone.
In 2019, the FDA approved a version of ketamine called esketamine for mental health treatment. The drug is an antidepressant nasal spray. The move was a landmark for psychiatrists who were operating with an arsenal of oral drugs that stemmed from the 1950s.
"For the last 30 years, we've basically been using old old drugs," said David Olson, a professor at University of California, Davis. "And ketamine was really the first new exciting drug that worked differently than a lot of these previous drugs and that really opened up a whole bunch of new horizons"
Mandel has a brisk clientele. His Westchester clinic has administered more than 12,500 treatments, which consist of six ketamine intravenous treatments over a two- to three-week period. HIs patients run the gamut, between ages 18 and 80. Most come in for anxiety, post traumatic stress disorder and depression. But the treatments are also used to battle issues stemming from postpartum depression and suicidal ideation.
"Ketamine works for disorders, PTSD, and especially for suicidality — works in hours to a few days," he said. "This is the quickest, the safest and the most effective of all the agents that address major depression, bipolar depression and suicidality."
But the treatment has critics. Some argue the FDA was too eager to embrace the esketamine antidepressant, saying there wasn't enough evidence in the trials that the drug was better than a placebo. And, of course ketamine still has addictive properties.
Blue Cross Blue Shield Massachusetts is the only insurance company that covers intravenous ketamine injections. Treatments can cost thousands of dollars. Other insurance providers normally don't cover the procedure because it is not FDA approved, making it accessible only to those who can afford it.
Tbul came across ketamine while researching alternative treatments to the cocktail of medications she was put on as a child. She listened to a podcast interview in which Lamar Odom talked about using ketamine to cope with his struggles with mental health. Her daughter pointed out its reputation as a club drug, but after taking it, Tbul vehemently disagreed.
"It's completely wrong. Completely wrong," Tbul said. "It's somebody who's suffering from something they cannot erase from their mind."
Tbul's first treatment at Ketamine Clinics Los Angeles, in which she said she was able to console her teenage self, allowed her to forgive herself for the emotions that had weighed her down for years.
"After the treatment, it's like an acceptance. I'm very at peace with my own body," Tbul said.
The experience is common. Often patients say the drug allows them to confront traumatic situations from a distance, and look at situations with more objectivity and empathy.
New Drug Horizons
There are more than two hundred ketamine clinics scattered across the U.S., but Santa Monica caught the eye of Field Trip, which opened a clinic in September with the goal of collecting data from ketamine-based therapy sessions and studying the effects of psychedelic drugs, while also developing and testing its own psilocybin-based treatments.
"Because we're going to have access to so much data about what makes a difference in these therapies, we can actually take that data and make sure that when we pair the therapy with our own products, we're going to get to the best outcomes," co-founder Levy said.
The Canadian company — created in 2019 by former cannabis startup founders — is best known for its research and development into psychedelic drugs. The company rolled out an app to enhance the psychedelic experience and went public in October on Canada's stock exchange.
The clinic is outfitted with mid-century furniture, fluffed-up cushions and shaggy rugs, almost like an Architectural Digest spread came to life. In-person ketamine injections and subsequent therapy sessions at its Santa Monica center offer depression, anxiety and PTSD-related treatments for upwards of $5,000.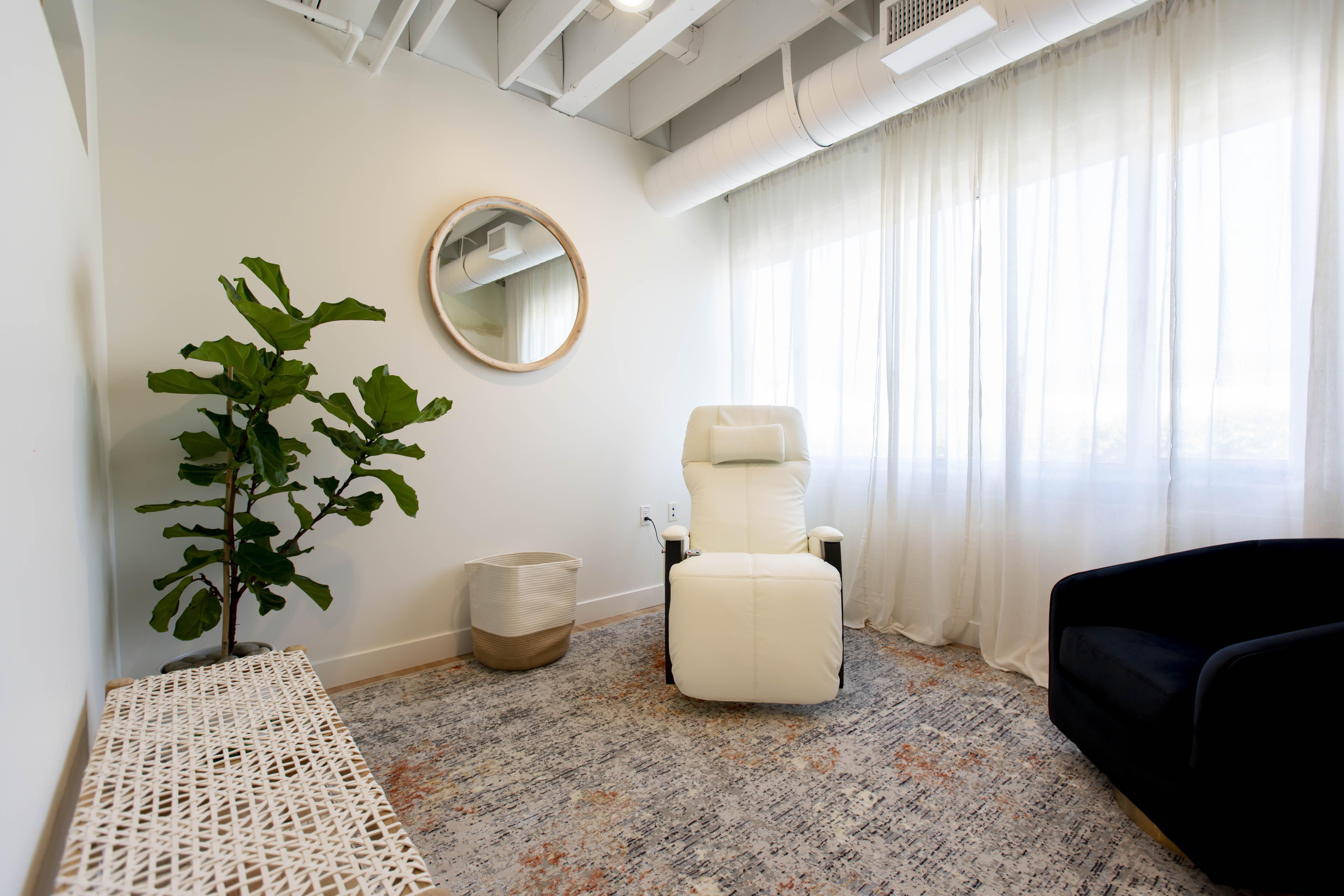 Ketamine Administration Room
It's a hefty price for depression treatment (insurance doesn't cover it — the ketamine injection at Field Trip is administered through the muscle, not the vein). The price covers six sessions, each involving a ketamine shot that lasts 45 minutes to an hour followed by traditional psychotherapy administered by trained therapists. The process, Levy said, is meant to make therapy sessions more productive and allow patients to get more out of each session.
"The psychiatrist's arsenal — what they use to treat these illnesses — a lot of these drugs were identified kind of by accident many, many years ago and haven't really identified anything new," Olson said.
The world looks much different now.
Alternative treatments to health problems are becoming increasingly popular, and legal bodies are working to invest in their research. Oregon became the first state to legalize psychedelic mushrooms to treat depression — though the rules and restrictions around it are still being hammered out — and the FDA is conducting clinical trials on the efficacy of psilocybin as a mental health treatment. Field Trip itself is researching and developing psilocybin-based treatments.
Meanwhile, innovation around ketamine has fallen by the wayside, in part due to the fact the patent expired in 2002. Any new drugs that could emerge from it, through financially-intensive research and development and clinical trials, would not be as profitable as new patented compounds.
"They're super, super expensive," Olson said. "Companies want to ensure they can recoup those costs associated with the development."
Even as ketamine clinics continue to pop up their development, experts said, is likely to be limited. But, the use of these once recreational drugs isn't likely to die down for people like Tbul who are willing to shell thousands of dollars every year for treatment.
"I wish it was more accessible to people who are really suffering," she said. "Because not everybody can afford how much it costs per treatment."
Lead art by Carolyn Figel.