fan controlled football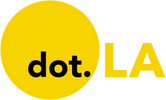 Get in the KNOW
on LA Startups & Tech
X
fan controlled football
Photo courtesy of SimWin
Los Angeles Lakers legend Earvin "Magic" Johnson has just bought two new sports franchises—in the metaverse.
Johnson is investing in Beverly Hills-based SimWin Sports, a digital sports league where virtual teams and athletes backed by non-fungible tokens (NFTs) compete in simulated games. In addition to taking an ownership stake in the startup, Johnson has acquired a yet-to-be named basketball team and football franchise called the Los Angeles Magic. Financial terms of the deal were not disclosed.
Founded in 2019, SimWin Sports is among a crop of startups merging fantasy sports with blockchain technology. The league's NFT teams are owned by well-known athletes and celebrities, from Hall of Fame NFL wide receiver Jerry Rice to former Backstreet Boys singer Nick Carter. SimWin fans, meanwhile, can buy, sell and trade NFTs representing fictional players who can be drafted by the league's team owners. Those NFT holders can potentially earn money, too, when team owners like Johnson pay their players salaries and performance bonuses.
"This multibillion-dollar business is about to take off and the SimWin model is an excellent way for sports fans to get involved in this groundbreaking opportunity," Johnson, who will also serve as an advisor to SimWin, said in a statement.
SimWin's virtual sports contests are largely games of chance. Team owners can pre-set their game strategies and rosters, while player NFT holders may "train" their players to improve their attributes—but player performance itself is simulated through what SimWin calls an "innovative AI performance model." The digital athletes, in turn, develop over the course of their careers and can go through hot and cold streaks, much like real athletes.
"From a fantasy perspective, for all those people who wanted to own a team—whoever wanted to be a player, manager or player agent—they'll have an opportunity to do that," Andre Johnson, SimWin's executive vice president of business development, told dot.LA. (Andre Johnson, a former gaming executive at Sherman Oaks-based Mythical Games and L.A.-based Virtual Reality Company, is Magic Johnson's son).
The company has sold "dozens" of teams so far, including some for a seven-figure price, Andre Johnson said, while NFTs for players are expected to run between $300 to $600 for fans to purchase. SimWin also plans to generate revenue through merchandise and TV distribution deals, and aims to integrate sports betting through licensing deals with third-party sportsbooks, he added.
The 22-person startup expects to launch its first virtual football season by late summer or early fall, according to Andre Johnson. SimWin has raised $13.25 million in funding to date, according to PitchBook Data, from investors including 1UP Ventures, Animoca Brands, Infinity Ventures Crypto, Bron Studios, Kingsway Capital and YOLO Investment. The firm's CEO is David Ortiz, a former senior producer on EA Sports' popular Madden football video game franchise who's also worked at the gaming studios of Sony and Microsoft.
Other companies are attempting NFT-based sports leagues of their own, including Hermosa Beach-based Fan Controlled Football, which lets crypto owners call the plays in real-life games. Andre Johnson called sports the "biggest form of entertainment," but noted that most American pro sports leagues only run for a few months each year. SimWin—which says it will run games 24 hours a day, every day—is betting that die-hard fans will engage all year long with its more than 5,000 contests annually.
"We want everything that you would see from a traditional sports franchise," Andre Johnson said. "All the ways you can generate money, all the things you can do, we're just doing it from a digital perspective."
Fan Controlled Football, a pro football league that lets spectators who own crypto call the plays in the game, has raised a $40 million Series A funding round as it looks to double its team count ahead of its upcoming second season.
Animoca Brands and Delphi Digital led the round, which included participation from investors Gemini Frontier Fund, 6th Man Ventures, Jump Crypto, Red Beard Ventures, Spartan Capital, NGC Ventures, executives at GoldenTree Asset Management and The Sandbox co-founder Sebastien Borget.
Additionally, Hermosa Beach-based FCF reported that all of the investors who backed its $11 million seed round in June 2020 joined the Series A, including Lightspeed Venture Partners, Talis Capital, Verizon Ventures, Correlation Ventures and Basecamp Fund.
Fan Controlled Football had raised $11.4 million in capital prior to the Series A, according to PitchBook data, which means the new funding would take its total amount raised to date to more than $50 million.
Representatives for FCF did not immediately return requests for comment.
FCF allows fans who hold NFTs to vote on the plays being called in real-time during games; the more engaged that a fan is, the more their voting power increases. The league's matches are played in Atlanta at a studio arena that is set up to livestream the action, with games streamed on NBC's Peacock app and NBCLX digital network, Twitch and DAZN.
The league debuted last February with four teams owned by celebrities and pro football players including former NFL star Marshawn Lynch, Los Angeles Chargers running back Austin Ekeler, Tampa Bay Buccaneers cornerback Richard Sherman, Minnesota Vikings running back Dalvin Cook and Migos rapper Quavo.
With the new funding, FCF said it is doubling the size of the league from four teams to eight, with two of the new teams owned by leaders of popular NFT communities Bored Ape Yacht Club and Gutter Cat Cang. Another team, Knights of Degen, is led by the likes of "Entourage" actor Jerry Ferrara and former NFL players (and twin brothers) Ronde and Tiki Barber, while Team 8OKI is led by DJ and crypto advocate Steve Aoki.
"The successful strides that FCF is making within web3 are exciting...it's a privilege to be involved," Aoki said in a statement, adding that he is "really looking forward to building out our NFT community of passionate fans that'll be calling all the shots for our team."
FCF's upcoming second season begins on April 16.
Fan Controlled Football does what it says: It lets those in the virtual bleachers have more control of the game.

Backed by high-profile investors including rapper Quavo of Migos and former boxer Mike Tyson, the latest esports league announced it will launch live-streamed games over a six-week on Twitch this February.
"Every sports fan ever has wanted a different call," said co-founder and CGO, Patrick Dees. "Everybody's screamed at their television, I don't know anybody who hasn't. So they get a chance to actually change that and be part of it. It really talks about how you would have called a better game and you get a choice and a chance to prove that out."
FCF announced their next season, along with a Series A raise for an undisclosed amount backed by Lightspeed Venture Partners and Verizon Ventures among others.Co-founder of sports website Bleacher Report Dave Finocchio joined Reddit co-founder Alexis Ohanian investing.
Quavo Joins Fan Controlled Football as New Team Owner | FCF www.youtube.com
FCF is the latest esports startup to sprout up as interactive video games and the pandemic remakes sports. The company pitches itself as a professional league. And Fan Controlled Football lets fans control the names, colors and logos of their teams.

Owners and managers that are "personalities in the sports world" will partner up to lead four teams. Fans can now register on their website to sign up alongside their favorite team owner to help build the group up through the pre-season.

"FCF is breaking new ground by giving fans the ability to literally be a part of the game, and we're thrilled to partner with the league for what will be a defining moment not just in football but for the sports industry at large," said Twitch SVP of Content Michael Aragon in the announcement.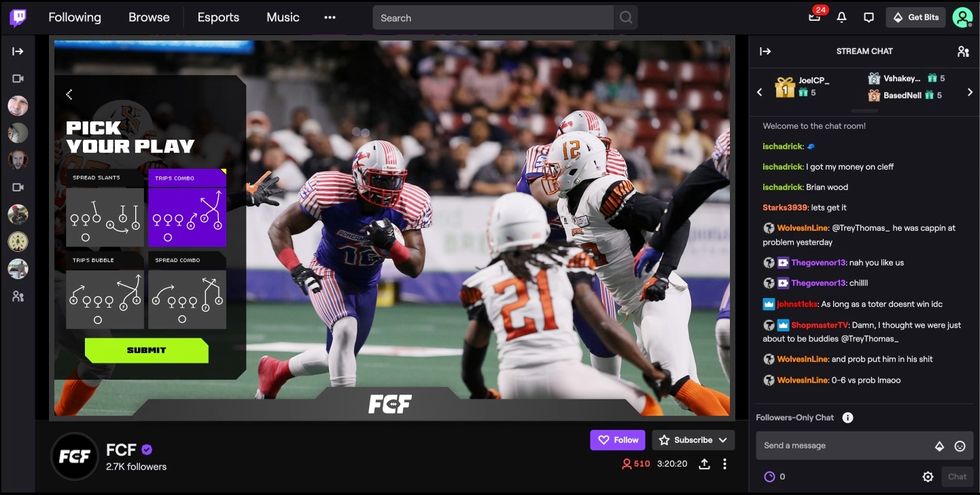 The idea has been sitting in the four founders' minds for a few years now, but has now attracted the attention of big names including ,NFL Super Bowl Champions Richard Sherman and Marshawn Lynch,, Greg Miller from Kinda Funny and content creators from Twitch's community, as well as Tyson and Quavo.

Twitch has already secured rights to livestream the first two seasons of Fan Controlled Football. The season will consist of one playoff week, four regular season weeks, and one championship week. Each game will be 60 minutes long.
From Your Site Articles
Related Articles Around the Web