Eric Zassenhaus, dot.LA
Here are the latest headlines regarding how the protests around the killing of George Floyd are impacting the Los Angeles startup and tech communities. Sign up for our newsletter and follow dot.LA on Twitter for the latest update.
Today:
TikTok addresses 'tough but fair questions' about treatment of black creators
L.A. VC's react
L.A.'s top health official: racism fuels health inequities
L.A.'s music industry will shut down for 'Black Out Tuesday'
Hollywood, streaming services nod to Black Lives Matter
Snap and Twitter reportedly used by ill-intentioned protesters to organize theft
Snap CEO talks reparations and heartbreak
Airmap's Santa Monica headquarters destroyed by looters
Santa Monica, Beverly Hills announce 1 pm curfews for business districts
TikTok addresses 'tough but fair questions' about opportunities for black creators on the platform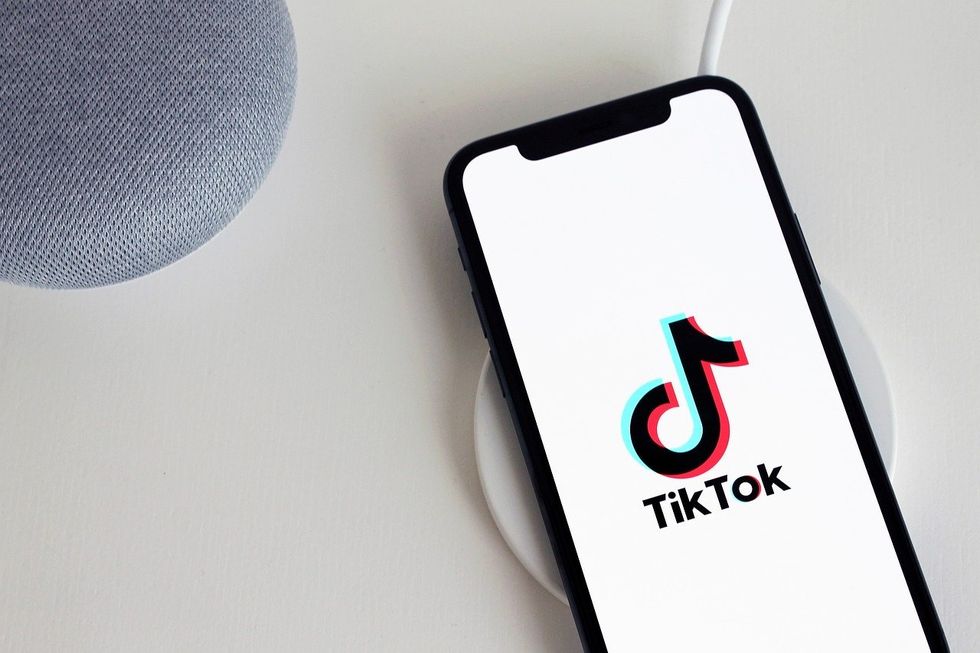 TikTok sent a message out to "our black community" on Monday addressing what the company called "tough but fair questions" about whether the platform allows all creators the opportunity to have their content viewed.

In a message to its black community, Vanessa Pappas, TikTok's U.S. general manager and Kudzi Chikumbu, director of creator community, said "we hear you and we care about your experienced on TikTok.
"We acknowledge and apologize to our Black creators and community who have felt unsafe, unsupported, or suppressed. We don't ever want anyone to feel that way."
The company, which is owned by ByteDance, a Beijing-based internet technology company, said that on May 19 black creators and their allies changed their profile pictures and connected on the platform to speak out against how they felt marginalized on TikTok. Then, last week, "a technical glitch made it temporarily appear as if posts uploaded using #BlackLivesMatter and #GeorgeFloyd would receive 0 views."
TikTok said that the company understands that many assumed the bug to be an intentional act to suppress the black community's experiences and invalidate their emotions. It's unclear why TikTok wrote about the glitch Monday, or if had intended to do so before recent demonstrations in the aftermath of George Floyd's death. A Minneapolis police officer pressed his knee into Floyd's neck while he pleaded for his mother and to breathe.
The company, which has its U.S. headquarters in Culver City, said it is donating $3 million in honor of black creators to nonprofits that help the black community, which has been disproportionately affected by the effects of the COVID-19 pandemic. TikTok also said it is committing $1 million to fighting racial injustice and inequality.
TikTok said it will standing in solidarity on Tuesday by participating in Blackout Tuesday, turning off all playlists and campaigns on its "Sounds" page to observe a moment of reflection and action. The company said it is also investing in technology. and better moderation strategies with a more user-friendly appeals process. It's also establishing a creator diversity council and developing a creator portal to expand communication and opportunities.
"We know we have work to do to regain and repair that trust," the post said.
-- Tami Abdollah
Los Angeles VC's react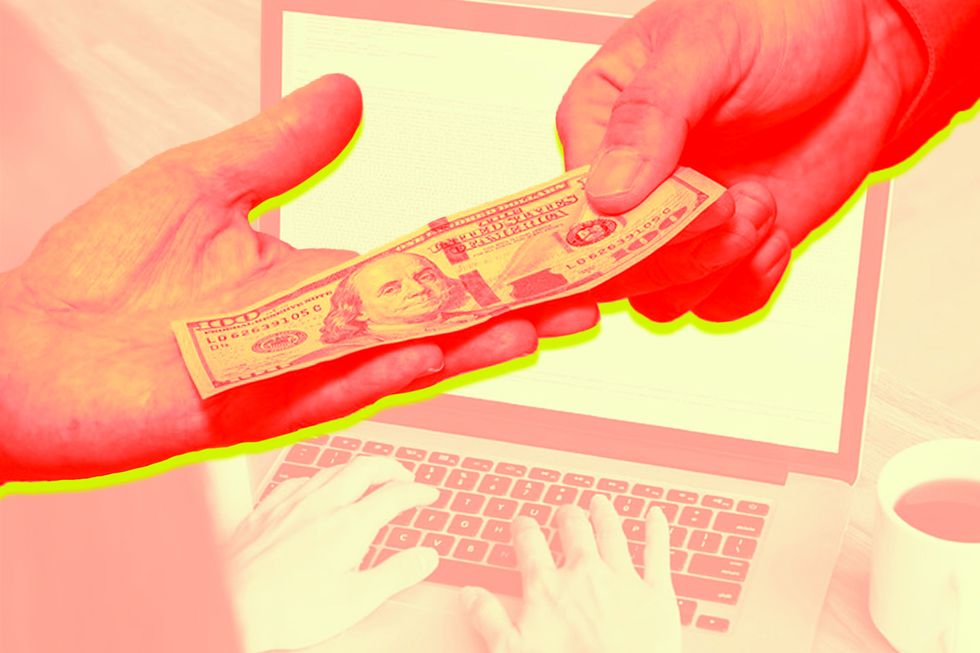 Art by Candace Navi
It has been notoriously difficult for people of color to break into the insular world of venture capital, where who you know and previous success are are highly prized. Just 2% of investment professionals are black, which in turn makes it hard for black founders to get funded. Here is a sampling of some of the reaction from the Los Angeles VC community, many of whom have offices in Santa Monica near protests and looting:
-Ben Bergman
LA County public health director calls police violence "a public health issue"
Los Angeles County top public health official Barbara Ferrer linked the unrest that has rocked the region to the deep health disparities that black Americans experience. Ferrer, who has been providing somber daily updates on coronavirus deaths and its spread, called police brutality a public health issue that must be addressed.

"It's important to comment on the connection between these two concerns the death of a black man at the hands of police and the experience of COVID-19 in L.A. County," she said in starting her briefing. "We know that black Americans fare worse than other groups on virtually every measure of health status. And it has become all too common to blame this on individual behaviors, when in fact the science is clear, the root cause of health inequities is racism and discrimination."
"Science also tells us that lifetime stress associated with experiences of daily acts of discrimination and oppression, play a major role," she said. "It starts at birth with higher rates of black infant mortality and shockingly higher rates of maternal mortality among black women and extends to adulthood, when we see black residents in L.A. County experiencing earlier onset of heart disease, hypertension and diabetes and earlier deaths."
"When I report each week that we have seen elevated numbers of black deaths in this county due to COVID-19, I am reporting on the consequences of these long standing inequities. And it's not just the direct victim of violence, the person who's beaten, or shot or asphyxiated who pays the price for brutality. It is an entire community that lives with the fear that the next time, it could be them or their son or daughter neighbor or friend. It is a consequence of that fear that we are seeing when we report instance after instance of inequality and health outcomes," she said.
"As the department responsible for public health in L.A. County and in acknowledgement of our national association, the American Public Health Association, declaring that addressing law enforcement violence is a public health issue, this rush to justice has to be part of our prescription, as well.
Los Angeles county and city declared a 6 p.m. curfew on Monday.
-Rachel Uranga
L.A.'s music industry will shut down for 'Black Out Tuesday'

Many organizations in the music industry are pledging to close on Tuesday as part of a 'Black Out Tuesday' campaign. Participants include the three major labels: Warner Music Group, Sony Music and Universal Music Group, along with many of their associated sub-labels.

The initiative started with a pop-up webpage calling for the music industry to shut down on Tuesday, published by Jamila Thomas, a marketing executive at Atlantic Records (owned by Warner Music Group), and Brianna Agyemang, an artist campaign manager at Platoon (owned by Apple).
"It is a day to take a beat for an honest, reflective and productive conversation about what actions we need to collectively take to support the black community," the post said. "The music industry is a multi-billion dollar industry. An industry that has profited predominantly from Black art. Our mission is to hold the industry at large, including major corporations + their partners who benefit from the efforts, struggles and successes of Black people accountable… This is not just a 24-hour initiative. We are and will be in this fight for the long haul. A plan of action will be announced."
The post includes a list of links for suggested actions to take on Tuesday.
#TheShowMustBePaused has traveled widely through the music industry's social media. Santa Monica-based Interscope (owned by Universal Music) pledged to delay releasing new music this week.
Other organizations have been posting messages of solidarity to their social media accounts including Sony Music, Columbia Records (owned by Sony), Universal Music, and Atlantic Records (owned by Warner).

Spotify and Apple Music have also issued brief statements on their social channels.
— Sam Blake
Hollywood, streaming services nod to Black Lives Matter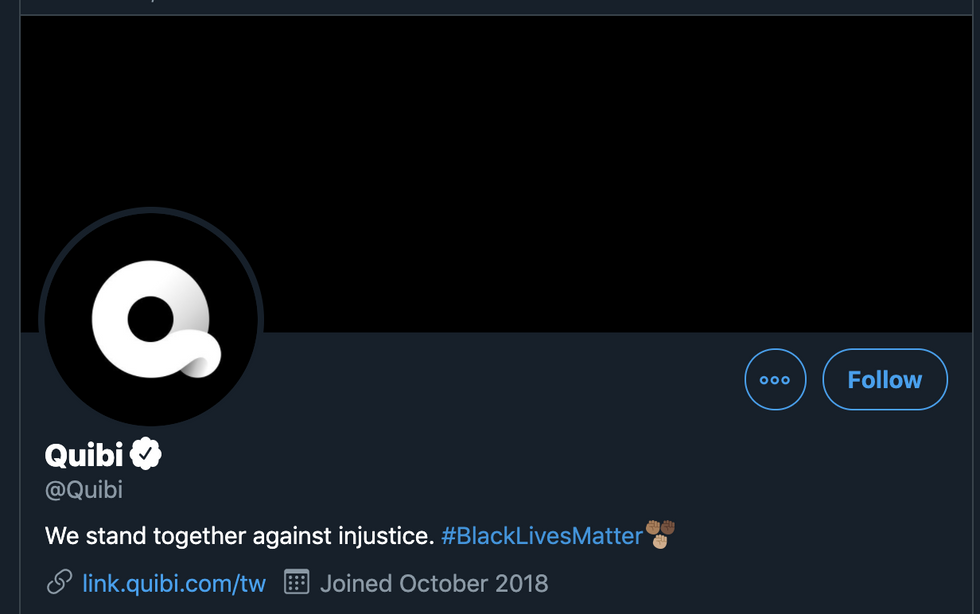 Over the weekend, several streaming companies took to social media to show support for the peaceful protests.

Some streaming platforms have changed their social media profile names and descriptions to express solidarity, including HBO Max and Quibi. Other organizations with similar messages on their social media pages include NBCUniversal, Disney, and Hulu.

On Sunday, various Hollywood union leaders weighed in as well.

SAG-AFTRA leaders Gabrielle Carteris and David P. White issued a statement. "The murder of George Floyd is deeply emblematic of a corrosive inequality and injustice at the heart of America," it began. "It's not enough to demand change. We must recognize that racism lives in our culture and only we can change that."
WGA West President David Goodman said: "As demonstrations continue today across America, our union stands with those who peacefully protest the racist, extrajudicial murders of George Floyd and other Black people...National outrage about bigotry, discrimination, and injustice is the only way we will ever see real change."
ViacomCBS announced on Monday that several of its networks, including Nickelodeon, BET and CBS Sports Network, would go dark for 8 minutes and 46 seconds in tribute to George Floyd and "other victims of racial violence."
— Sam Blake
L.A.'s gaming companies express support for BLM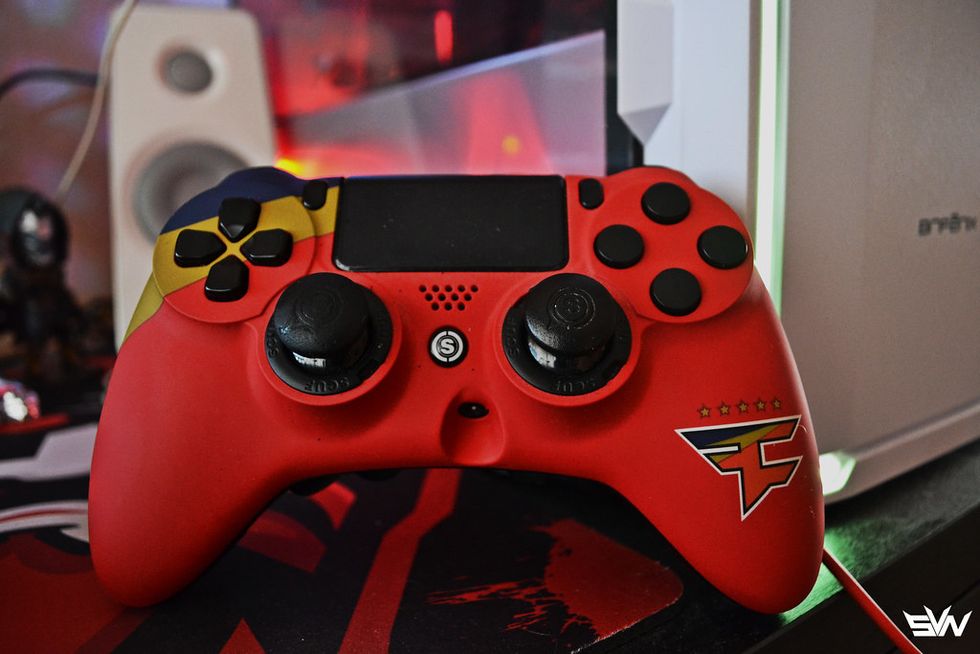 live.staticflickr.com
Several Los Angeles gaming companies have weighed in to express solidarity and sympathy with social activists.
Culver City-based Jam City, a mobile game developer founded in 2010, took to social media to stand with Black Lives Matter. Santa Monica's Activision Blizzard and West LA's Riot Games also posted on social media, as has startup Esports One.
Gaming and lifestyle company FaZe Clan, based in Hollywood, published an "honest message" to its fans:
FaZe Clan is donating all profits from a retail campaign to a Memorial Fund created in George Floyd's name.
— Sam Blake
Snap and Twitter reportedly used by ill-intentioned protesters to organize theft; Snap CEO talks reparations and heartbreak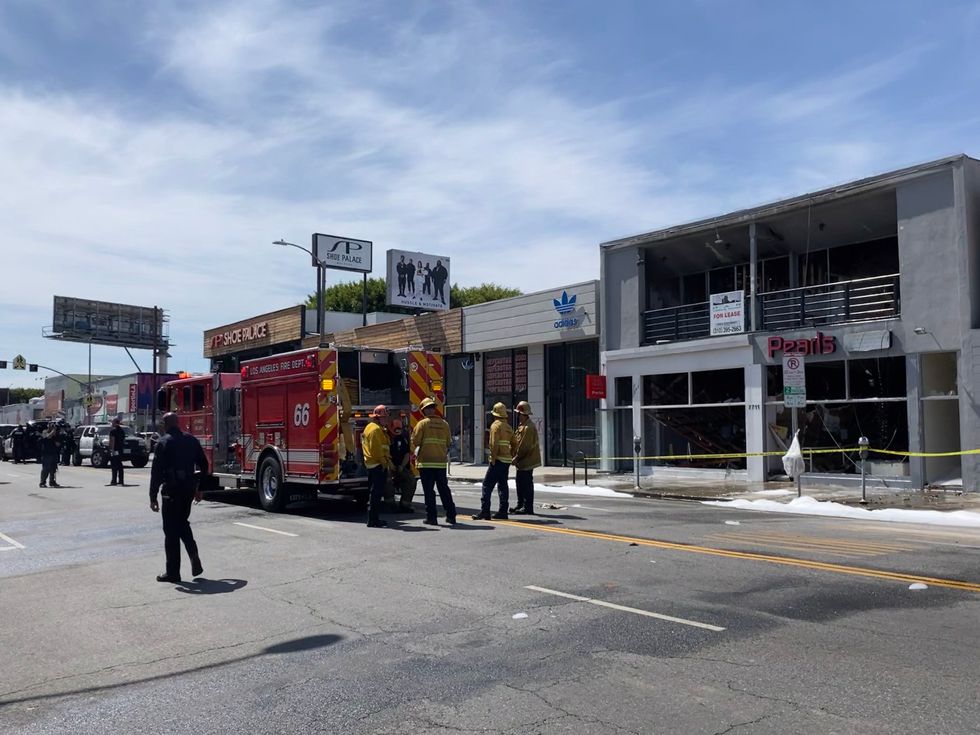 Photo by Tami Abdollah
Twitter has long been the social media platform of choice for people protesting an abuse of power -- during the Arab Spring uprisings it proved crucially useful as a way to get around and deal with internet blackouts.
So too has it been used this past week, by groups organizing mostly peaceful efforts to express their anger at George Floyd's death. But as Twitter has upped its efforts to counter violence on its platform, notably by placing a warning label on a tweet by President Trump for glorifying violence, those with less peaceful intentions have also taken their messages to Snapchat to urge their contacts and the broader public to engage in violence, theft and property damage.
A Snap spokesperson said the company's Community Guidelines "prohibit content that incites or glorifies violence, hate speech and discrimination of any kind. We have in-app reporting tools that Snapchatters can use to quickly report any content that may be in violation of our guidelines to our Trust and Safety team, who then reviews the reports and takes appropriate action."
On Sunday evening, Snap CEO Evan Spiegel sent a letter to staff in which he said "we simply cannot promote accounts in America that are linked to people who incite racial violence, whether they do so on or off our platform.
"Our Discover content platform is a curated platform, where we decide what we promote. We have spoken time and again about working hard to make a positive impact, and we will walk the talk with the content we promote on Snapchat. We may continue to allow divisive people to maintain an account on Snapchat, as long as the content that is published on Snapchat is consistent with our community guidelines, but we will not promote that account or content in any way."
The self-described camera company is currently protected from financial liability for such messages by Section 230 of the Communications Decency Act that that has been broadly interpreted by the courts over the years as shielding internet sites and apps from being financially liable for what user tweets, posts or generally publishes on their platforms.
Last week, Trump signed an executive order that may change all of that by enabling federal regulators to punish social media companies for how they moderate content on their sites. Lawmakers and internet freedom advocates called the action illegal and improper under the First Amendment.
Such a change could have far-reaching impacts on Santa Monica-based Snap and smaller companies with an online presence that lack the budgets to moderate every single message or post on their apps.
Spiegel said he is "heartbroken and enraged by the treatment of black people and people of color in America." He called for the establishment of a diverse, nonpartisan "Commission on Truth, Reconciliation, and Reparations" to investigate the criminal justice system and take action on reconciliation and reparations.
— Tami Abdollah
Airmap's Santa Monica headquarters destroyed by looters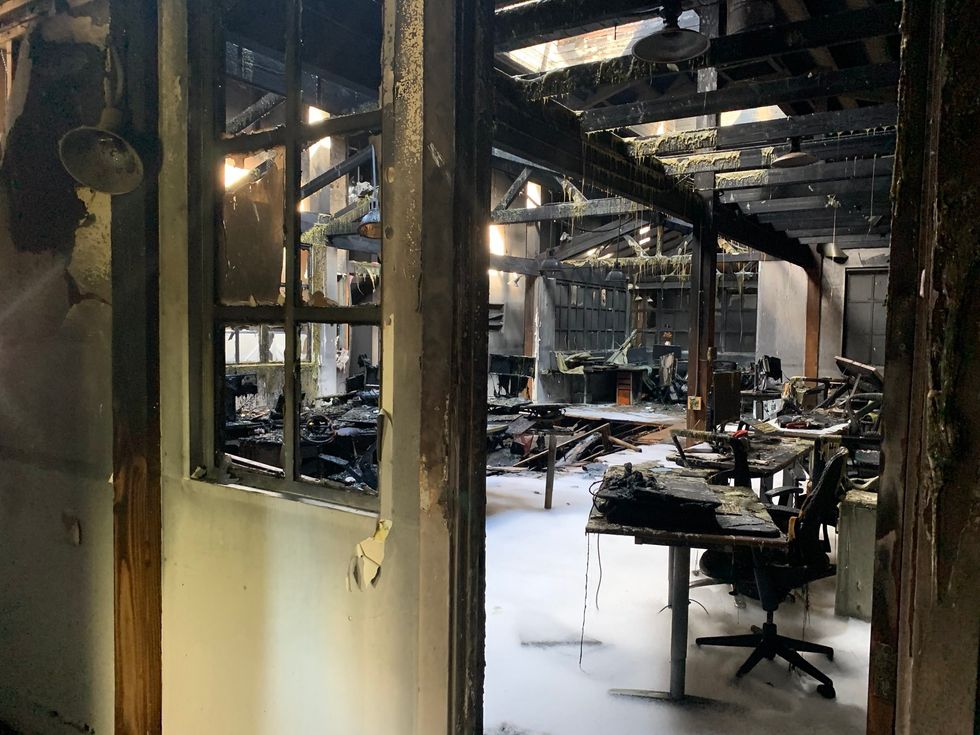 Greg McNeal/Twitter
Airmap's headquarters on Santa Monica boulevard near the Third Street Promenade was destroyed by looters Sunday night, according to co-founder Greg McNeal, who recounted the damage in a series of Twitter posts. The company, founded in 2015, is the world's leading airspace services platform for unmanned aircraft.
AirMap co-founder and chairman Ben Marcus added this on Twitter: "Last night, the AirMap office in Santa Monica was consumed by fire. Thankfully, nobody was hurt. What hurts is the unending racism & injustice in America. We all must work harder to make our union more perfect. We're all brothers and sisters. Let's treat each other with love, respect, & dignity, and create opportunity for all who choose to make a positive impact."

— Ben Bergman
Santa Monica, Beverly Hills announce 1 pm curfews for business districts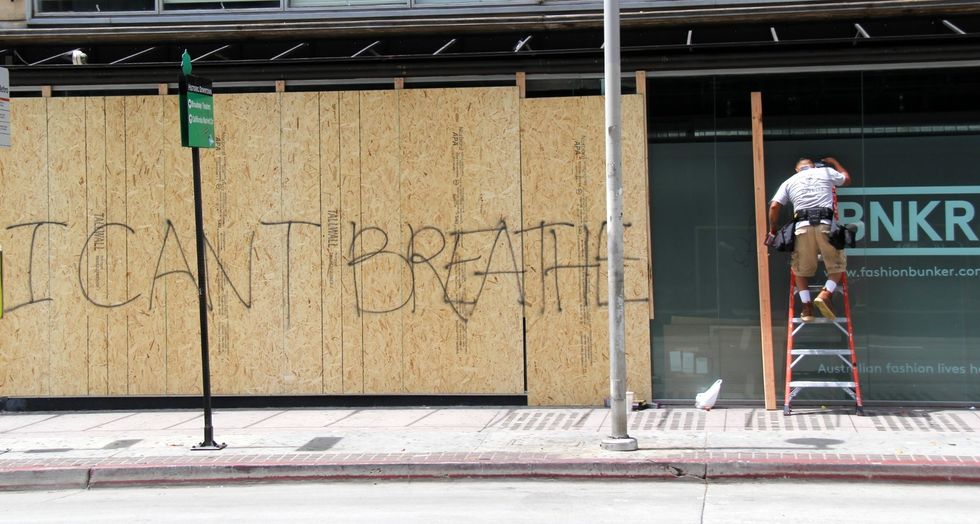 Santa Monica and Beverly Hills announced 1 p.m. curfews for their business districts on Monday, as shop owners and residents began sweeping the glass off the street and assessing the damage after a night of peaceful protests turned into fires, looting and vandalism over the death of George Floyd, who was killed by a police officer in Minneapolis. Citywide curfews will go into effect at 4 p.m. The chaos went to the heart of Silicon Beach, home to tech companies like Snap Inc and venture capitalists like Upfront Ventures, whose office overlooks the Pacific Ocean.
Long Beach issued a similar curfew.
"Sunday was one of the most distressing days in Santa Monica history," said Santa Monica Mayor Kevin McKeown in a statement. "We know better than to let the looters obscure the message of the protesters, who have indeed been heard."
Downtown L.A., Beverly Hills, Fairfax District and the Grove shopping center all got hit by looters over the weekend as police cars were set ablaze and the national guard was called in. News outlets reported that some chanted "eat the rich" as they marched along Rodeo Drive, one of the most expensive slices of commercial real estate in the region.
Floyd's death caused anguish in communities that have seen a number of black men die or be hurt by police officers who often suffer few consequences. Meanwhile, blacks and Latinos have higher arrest and incarceration rates. The deep disparity extends beyond the criminal justice system to education, housing and other areas.
And the frustration over it played out during the protests. Unlike the 1992 civil unrest after the release of Los Angeles police officers who beat Rodney King, demonstrations hit some of the wealthiest parts of the city. In 1992, looting and fires devastated South Central, further impoverishing an already economically disadvantaged area.
"Pretty wild to see the epicentre of this chaos at my office," Laurent Grill, an investor at Santa Monica based Luma Launch wrote on Twitter Sunday. "Quite a divide... on one side we had massive peaceful protests and 3 blocks away, people are looting & burning stores in my community. Makes me extremely sad."
— Rachel Uranga