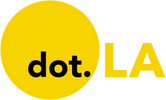 Get in the KNOW  
  on LA Startups & Tech  
X
Evan Xie
How To Adapt and Overcome To Reach Success With Your Startup
Spencer Rascoff
Spencer Rascoff serves as executive chairman of dot.LA. He is an entrepreneur and company leader who co-founded Zillow, Hotwire, dot.LA, Pacaso and Supernova, and who served as Zillow's CEO for a decade. During Spencer's time as CEO, Zillow won dozens of "best places to work" awards as it grew to over 4,500 employees, $3 billion in revenue, and $10 billion in market capitalization. Prior to Zillow, Spencer co-founded and was VP Corporate Development of Hotwire, which was sold to Expedia for $685 million in 2003. Through his startup studio and venture capital firm, 75 & Sunny, Spencer is an active angel investor in over 100 companies and is incubating several more.
and
Wil Chockley
WIl Chockley is a partner at 75 & Sunny, where he evaluates potential investment opportunities across sectors and works with founders to build their strategy and execute on their vision.
05:00 AM | May 19, 2023
What's the best way to land a plane on a short runway? Maintain control of your descent. The same logic holds for early- to mid-stage startups that are facing harsh financial conditions in 2023. Research from the end of last year found that 81% of early stage start-ups have less than 12 months of runway left. Yikes. Pair that with the current post-SVB venture investment freeze, and it paints a stark picture of what's ahead.
---
A huge number of companies are going to be scrambling to find the emergency exit this year, as macro conditions make growth more challenging, and a dearth of venture capital means you need to move more quickly than ever.
If you've been grinding on your startup for years and haven't found product/market fit, you have a critical decision to make now that capital is hard to come by.
You can keep doing what you've been doing, pivoting and hoping to find product/market fit. Eventually you'll need a new source of capital to keep the lights on or a strategic acquirer when you're at the end of your runway. You could also shut down the company and return cash to your shareholders. There is another option, though. You can flip your mindset and think like an investor to give yourself a more graceful landing.
Imagine, for example, a Series B stage startup with $20 million of cash, but burning $2 million a month. The company has 10 months of runway, is not likely to be able to raise a Series C, and does not yet have a path to profitability with its current business model. Instead of continuing with the current path and driving off the cliff when the 10 months are up, the company might consider cutting burn to almost zero, and sitting with its $20 million of cash.
In this hypothetical scenario, the startup could then try to find another company to merge with, providing its intellectual property, its user base, whatever team members remain, and most importantly its cash, as consideration (and leverage) in the merger. The $20 million of cash is something other companies want desperately in today's market. Rather than driving off a cliff into a complete winddown or a small acquihire, this company could end up owning 25% of some other company, providing a clear path forward and a real chance at redefined success.
If you find resonance in this cautionary tale, remember: there are a lot of great potential acquirers out there who have found product/market fit and are scaling rapidly, but still can't raise a venture round in today's economic climate. These companies are looking for cash wherever they can find it. Said another way, they might have product/market fit but not enough cash, and you have cash but no product/market fit. Seems like a decent marriage, right?
If you're a founder with cash on your balance sheet but no path forward, you have a unique opportunity to think of yourself as a venture capitalist and "invest" your company's cash and equity into a new business.
So how do you do this? The key is to move fast and preserve your cash.

Bring in the board. Have a frank discussion with your board and lead investors to decide if it's time to call it quits. Most investors have seen a number of companies wind down or go through M&A exits, so they can be a great sounding board as you chart a path forward. They can also be great leads for potential acquirers and facilitate introductions.
Slim down. In order to preserve your greatest asset—your cash—you unfortunately need to reduce burn everywhere you can including marketing, software spend, and headcount. Ideally, your ongoing costs should be minimal.
Make a list. Think of all the companies in your space who could see acquiring your company as a good strategic move. Who do you respect most in your industry? Are they in a position to grow, and could this move turbocharge that growth? Who might benefit from the expertise on your team?
Start the conversation. Once you've brainstormed, mine your contacts for warm intros and begin talking about your collective options. The M&A process can take a long time, so the sooner you get moving, the better.
Negotiate terms and make your decision. Once you nail down the options, it's up to you to decide whether or not a deal is the right move. Hopefully you can work with your acquirer and your investor base to find a good outcome for everyone involved.
If your startup is one of the many with cash in the bank but without a clear path to a next financing round, don't panic. Now could be the chance to reimagine your best case scenario—invest your cash to find a new home for your company.
Spencer Rascoff
Spencer Rascoff serves as executive chairman of dot.LA. He is an entrepreneur and company leader who co-founded Zillow, Hotwire, dot.LA, Pacaso and Supernova, and who served as Zillow's CEO for a decade. During Spencer's time as CEO, Zillow won dozens of "best places to work" awards as it grew to over 4,500 employees, $3 billion in revenue, and $10 billion in market capitalization. Prior to Zillow, Spencer co-founded and was VP Corporate Development of Hotwire, which was sold to Expedia for $685 million in 2003. Through his startup studio and venture capital firm, 75 & Sunny, Spencer is an active angel investor in over 100 companies and is incubating several more.
Wil Chockley
WIl Chockley is a partner at 75 & Sunny, where he evaluates potential investment opportunities across sectors and works with founders to build their strategy and execute on their vision.
https://twitter.com/spencerrascoff
https://www.linkedin.com/in/spencerrascoff/
admin@dot.la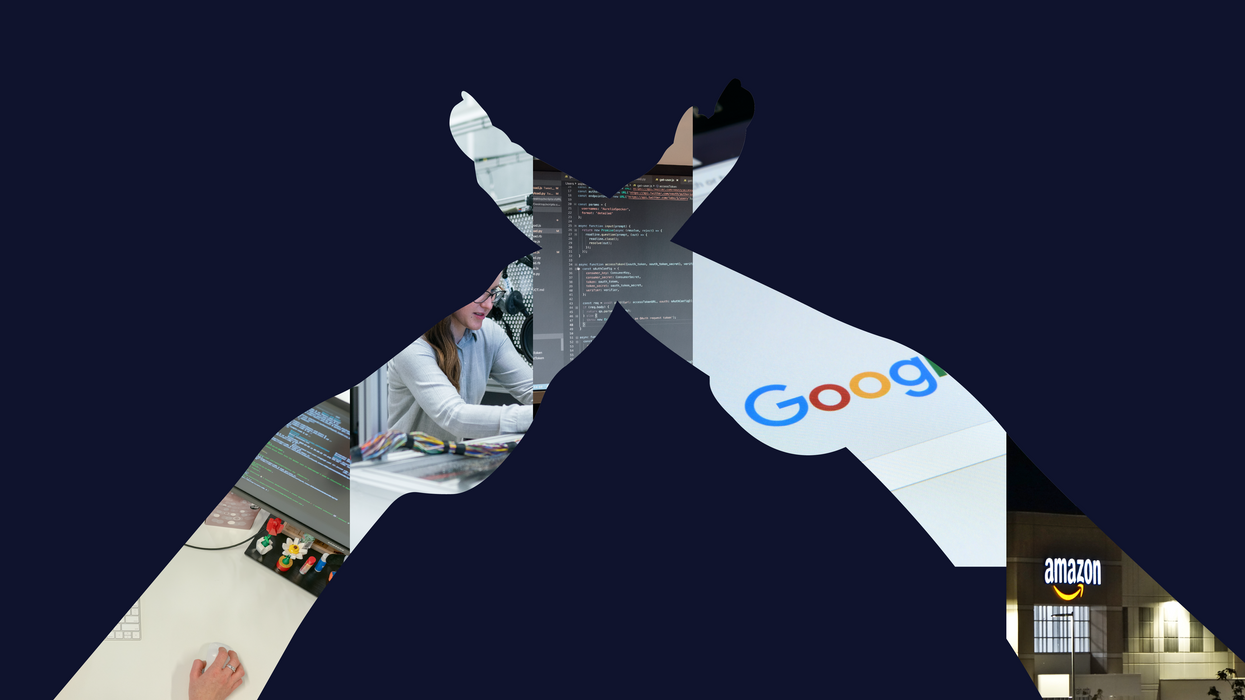 Evan Xie
A new report in Bloomberg suggests that younger workers and college graduates are moving away from tech as the preferred industry in which to embark on their careers. While big tech companies and startups once promised skilled young workers not just the opportunity to develop cutting-edge, exciting products, but also perks and – for the most talented and ambitious newcomers – a relatively reliable path to wealth. (Who could forget the tales of overnight Facebook millionaires that fueled the previous dot com explosion? There were even movies about it!)
But aside from the intensity and hype around employment-eradicating AI apps, the big tech story of 2023 has been downscaling, belt-tightening, and massive layoffs. So far this year, tech companies have laid off thousands of workers, while cutting back on compensation packages, fringe benefits, and some of the other amenities and perks that made these jobs so sought after in the first place.
According to data compiled by Bloomberg, tech has shed nearly 200,000 jobs just since October, more than twice the number of layoffs that have hit the financial sector. Additionally, data on industry pay from Levels.fyi suggests that overall compensation packages within the industry have dipped as much as 25% in the past year. The rate at which these layoffs are happening also doesn't seem to be slowing down very much, and may still even be increasing month-over-month.
Layoffs aren't just bad PR that make current employees nervous and potential new hires dubious. They also mean there are simply fewer hands on deck at these companies to collaborate on important jobs; major rounds of layoffs also mean more work for the employees who got to keep their gigs. Meta, Amazon, Alphabet, and Twitter have all massively reduced the size of their workforce, including teams that deal with important time-sensitive tasks, such as fact-checking or community moderation. Those jobs don't stop needing to be done because the people doing them got laid off; it's just now more work for fewer staffers.
Many tech companies also rely on the promise of lucrative stock options when recruiting top graduates with significantly in-demand skills. But with tech stocks slumping in 2022, and bouncing back this year mainly on the backs of the AI craze, embarking on a new career with a brand like Meta or Amazon suddenly seems less appealing than it did just a few years ago.
According to Insider, anecdotal evidence from job forums like Blind and other communities such as Reddit also indicate that the "rise-and-grand" hustle mindset so prevalent in the industry – which became synonymous with tech culture during the last startup wave – has led to widespread stress, discontent, and burnout among employees, many of whom are purposefully seeking jobs outside the industry now that the big paydays are also drying up. The Washington Post reported that disaffected Amazon employees in Seattle – fed up with layoffs, return-to-office mandates, and some of the company's other practices – are currently attempting to organize a mass walkout.
Within the tech industry, the massive hype around AI has been something of a reprieve from this torrent of bad news. But from the perspective of young people considering careers in tech, the industry's love affair with thinking machines may also be triggering some concerns about the future.
In late April, Dropbox announced it would lay off 500 employees – around 16% of its total workforce – and use the savings to build out an AI division instead. CEO Drew Houston explained that "I'm determined to ensure that Dropbox is at the forefront of the AI era." IBM CEO Arvind Krishna echoed a similar sentiment in May, suggesting that his company will pause hiring for roles that could potentially be replaced with AI in the near future. He suggested, over the next five years, IBM will likely replace 30% of its employees – around 7,800 people – with apps.
It shouldn't be that terribly surprising when young people develop cold feet about entering an industry that's already decided they're irrelevant, with CEOs simply biding their time before they can fire everyone working on the floors below them. But even beyond the personal stakes, it's also possible that young people are turning their backs on technology due to a reputational downgrade.
That said, some tech firms dominate both the top and bottom of Axios Harris' annual "brand reputation survey," which investigates how American adults feel about various companies. IN particuar, tech companies that produce tangible products or offer vital services continued to perform very well on the survey, with Samsung, Amazon, Apple, and Sony receiving positive appraisals from about 80% of surveyed adults. Conversely, social media and related internet companies – including Google, TikTok, Meta, and Twitter – found themselves near the bottom of the list, with reputation scores around the 60% line. That's around the same level as bankrupted crypto exchange FTX.
Anecdotally too, it appears that many recent grads who would otherwise be pursuing careers in tech are moving over to the banking industry instead. As one global talent partner told Bloomberg, while tech course-corrects by dropping tens of thousands of workers, "on Wall Street, you work really hard and you make a lot of money. That's the deal."
In light of this moment, JPMorgan Chase, in particular, has ratcheted up its recruiting. The company's workforce jumped 8% in the first quarter of 2023 vs. one year ago. All other factors aside, many of the top college grads are simply going to follow the money. Right now, that's clearly leading them to the financial sector.
Lon Harris
Lon Harris is a contributor to dot.LA. His work has also appeared on ScreenJunkies, RottenTomatoes and Inside Streaming.
08:00 AM | December 01, 2022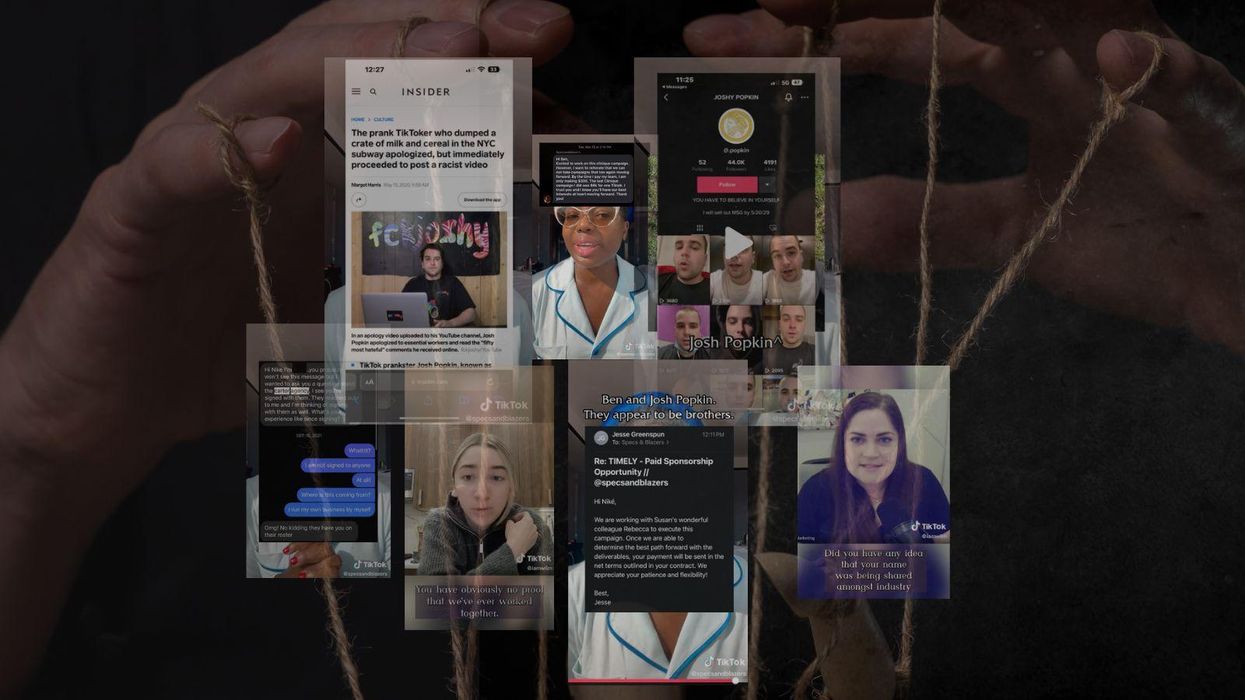 Andria Moore
Influencer Niké Ojekunle was surprised when a young content creator reached out to ask her about her experience working with The Carter Agency. The content creator had apparently seen Ojekunle's name on the agency's roster and wanted to know how helpful they'd been in helping her navigate brand deals.
The problem was, Ojekunle, who has nearly half a million followers on TikTok, had never heard of The Carter Agency, let alone worked with them. So she sent them an email inquiring about why the agency had listed her name as one of their influencers.
She received a response from a person by the name of Ben Popkin who claimed to be the CEO of The Carter Agency that lists Netflix, Amazon, Disney and Prada as just a few of their "strategic partners."
In the email, Popkin explained to Ojekunle that he had previously worked with her through a different PR agency and apologized for the mix-up. Then he pivoted to a new proposition: he could help her get two $5,000 brand partnership deals. Ojekunle agreed to the details of the agreement and completed two campaigns with Popkin as the middleman. A few weeks later, Popkin reached out again. This time it was with an offer from Clinique—a skincare brand Ojekunle had worked with in the past.
"In June, he wrote me and said Clinique offered me two campaigns for $1,900," Ojekunle says. "I've been with Clinique for six years. Clinique knows not to put anything in front of me for less than $6,000."
Not interested in lowering her standard rate for a product campaign, Ojekunle declined the deal and informed Popkin she no longer needed his assistance.
In subsequent months, however, Ojekunle noticed something was wrong: similar to the situation with Clinique, brands that had previously offered her campaigns worth thousands of dollars were offering her campaigns at significantly lower rates.
One of those brands was Naturiu, a skincare company run by Susan Yara, a friend of Ojekunle. When Ojekunle reached out to learn more about why the offer had been significantly lower than their past partnership deals, Yara informed Ojekunle, she too had never spoken to Popkin and was unaware any such offer had been issued.
The malpractice of influencer agencies has, of late, been well reported. In 2020, talent management firm Influences, came under fire over claims the company did not pay its clients. According to the New York Times, the firm owed dozens of creators thousands of dollars from brand deals. One of those influencers claimed the company withheld $23,683.82 from her. Influences' former owner is currently suing the New York Times over defamation.
In July, influencer Liv Reese called out Creative Culture Agency for not paying her after she made a video for one of the company's advertising campaigns. According to its private Instagram page, Creative Culture Agency is "no longer available."
And in 2020, 13 influencers paid talent management firm IQ Advantage a $299 deposit when they first signed with the company. But when IQ Advantage failed to secure them brand deals, the deposit was never returned and eight months later, once all the money had been collected, IQ Advantage conveniently shut down.
But Ojekunle's experience with The Carter Agency shows signs of a different offense. "He's [Popkin] telling the brand that he's representing me, then he's telling me he's representing the brands," Ojekunle says. "It's a very violating feeling and a very vulnerable feeling. You ask yourself, 'how was I so stupid' over and over."
According to OpenCorporates.com, The Carter Agency LLC is registered to a person by the name of Josh Popkin — a former social media star who faced public backlash in 2020 after pouring cereal in a New York City subway as part of a prank. Ojekunle suspects Popkin took on a fake name (Ben Popkin) when reaching out to her in order to distance himself from his controversial reputation. The Carter Agency has not responded to multiple requests for comment.
Like so many influencers who find themselves victims of unethical behavior, Ojekunle took her allegations straight to TikTok. In the first of five videos, the influencer claims that Popkin was not only pretending to be her manager, but had also been operating under a pseudonym.
@specsandblazers

Ben Carter = Ben Popkin = Josh Popkin. Carter Agency = Malibu Marketing Group = Jesse GreenSpun. A Complete Scam! #carteragency #benpopkin #joshpopkin #scammers
Jessy Grossman, co-founder of Women In Influencer Marketing, wasn't surprised when people shared Ojekunle's video in the company's private Facebook group. She says reports of the Carter Agency's misconduct had begun circling among the members as early as February—Ojekunle's video was further evidence.
Soon after, Grossman began connecting with other influencers who were impacted by the company. And in recent weeks, ever since Ojekunle posted her videos, many brand managers have reached out to Grossman with claims that, despite Carter's previous push to hire his influencers, he has since ceased all contact.
Grossman believes The Carter Agency is specifically targeting TikTokers not only because of the platform's success but also because many of them are teens.
"Some are young and think that having management is the path to 'making it,'" Grossman says. "You have to know the right questions to ask and industry standards, otherwise anyone can claim to be legitimate since there's no regulatory body."
Looking back on the low offers she had been accepting from brands, Ojekunle now believes Popkin was attempting to pocket the difference after sending only a portion of what the brands were really offering her.
"It was a predatory and well-calculated thing that he did," Ojekunle says.
In total, The Carter Agency's actions have affected more than 130 influencers, including those signed to Popkin's company and those who he falsely claimed to represent. Ojekunle also claims The Carter Agency has potentially jeopardized nearly $60,000 in brand deals by pretending to represent her. She's currently pursuing a civil lawsuit and has opened up a criminal investigation into the company.
"I have been doing this for 10 years, and I have built a name for myself," Ojekunle says. "I'm not scared of him."
Kristin Snyder
Kristin Snyder is dot.LA's 2022/23 Editorial Fellow. She previously interned with Tiger Oak Media and led the arts section for UCLA's Daily Bruin.
https://twitter.com/ksnyder_db