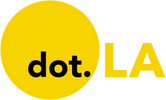 Get in the KNOW  
  on LA Startups & Tech  
X
Courtesy of Mercedes-Benz/Bosch
Mercedes-Benz Offers a Glimpse Into a Future Where Your Car Parks Itself
Samson Amore
Samson Amore is a reporter for dot.LA. He holds a degree in journalism from Emerson College and previously covered technology and entertainment for TheWrap and reported on the SoCal startup scene for the Los Angeles Business Journal. Send tips or pitches to samsonamore@dot.la and find him on Twitter @Samsonamore.
03:00 PM | March 20, 2022
Sign up for dot.LA's daily newsletterfor the latest news on Southern California's tech, startup and venture capital scene.
Angelenos famously hate parking, but soon their cars may be able to park themselves thanks to a collaboration between Mercedes-Benz and German engineering firm Bosch.
At a demonstration in Downtown Los Angeles on Wednesday, Mercedes and Bosch gave the first U.S. test run showcasing the fruits of their collaboration: an electric Mercedes-Benz 2022 EQS 580 luxury sedan capable of navigating itself into a parking spot.
---
Painted in bright teal stripes, the sedan first let its driver out at a designated spot. Then, a tap of a Mercedes-Benz phone app locked the vehicle and sent it, at a gradual pace, to the first available parking space. Later, a ping from the app woke up the car—which turned itself on, pulled out of the parking spot and slowly made its way to the driver's pickup point.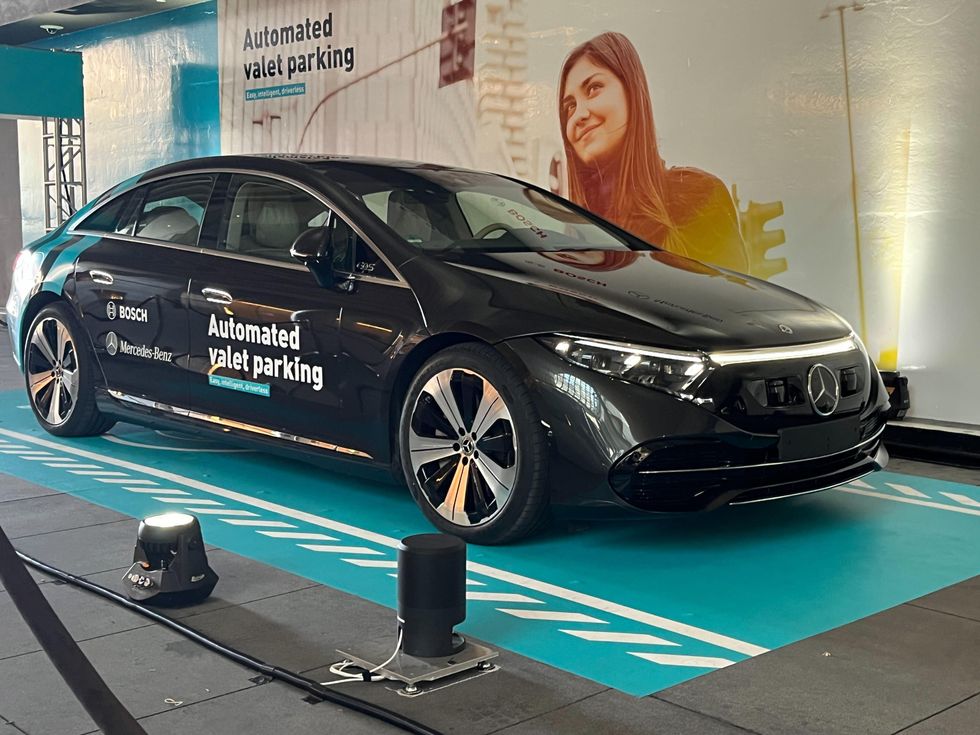 Painted in bright teal stripes, an electric Mercedes-Benz 2022 EQS 580 pulls into a parking spot with no driver.Courtesy of Mercedes-Benz/Bosch
A Bosch engineer stepped in front of the car several times as it was driving to demonstrate its safety features; if sensors detect a presence or any motion in front of the car, they'll tell it to stop a safe distance away. (For extra security, a person walked alongside the car with an emergency shut-off button.)
Kay Stepper, Bosch's senior vice president of automated driving for North America, noted that the self-parking technology relies on sensors and cameras built into its surrounding environment, which guide the car into its space. (The sensors are installed on the ground, while the cameras are mounted above.) He added that the technology could be applied to any type of car, so long as a manufacturer makes it compatible with its vehicle.
"The unique thing is really that we are not using any of the in-vehicle sensors—it's a purely infrastructure-based solution," Stepper told dot.LA.
The demo marked the first time that Mercedes and Bosch have tested the technology outside of Germany. In their home country, the driverless parking capability is already installed and ready to use at Stuttgart Airport pending final regulatory approval, according to Philipp Skogstad, Mercedes' president and CEO of North American research and development.

A handful of other auto industry names are also investing in automated valets, including the Volkswagen Group-owned CARIAD, which demonstrated its technology at an industry summit in Munich last. Yet another competitor is Maryland-based STEER. Other companies focused on autonomous technology from more of a road-driving perspective are Google's Waymo and, of course, Tesla.
Skogstad acknowledged the increasingly crowded playing field. "Automated driving is such a complex task requiring so many pieces to come together that nobody can do that alone," he said. "No matter how much money you have, you need partners."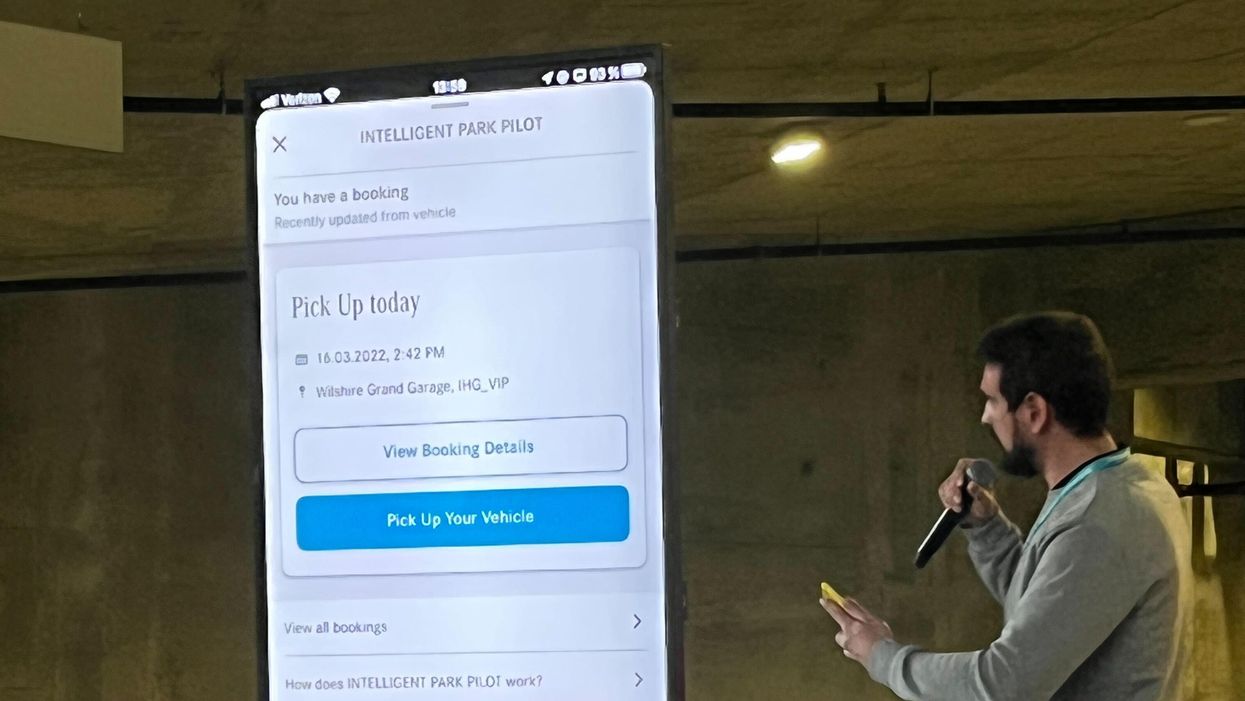 A Bosch engineer tests the self-parking car's pick-up options.Courtesy of Mercedes-Benz/Bosch
Stepper noted that Bosch is "intensely" focused on finding collaborators in the "smart infrastructure" space who can help it implement a driverless parking network. The next step, he added, is to convince local parking operators to invest in the technology. Without human error (consider that driver in your apartment building's garage who's always double-parked), he estimated that a fully-automated parking lot could fit up to 20% more cars.
And what about the valet workers—such as those on hand at the demo, who were kind enough to park cars for the event's attendees the old-fashioned way? A Bosch spokesperson noted that they wouldn't exactly be put out of business, as self-parking garages would still need humans to operate and maintain their technology and act as a safeguard.
Samson Amore
Samson Amore is a reporter for dot.LA. He holds a degree in journalism from Emerson College and previously covered technology and entertainment for TheWrap and reported on the SoCal startup scene for the Los Angeles Business Journal. Send tips or pitches to samsonamore@dot.la and find him on Twitter @Samsonamore.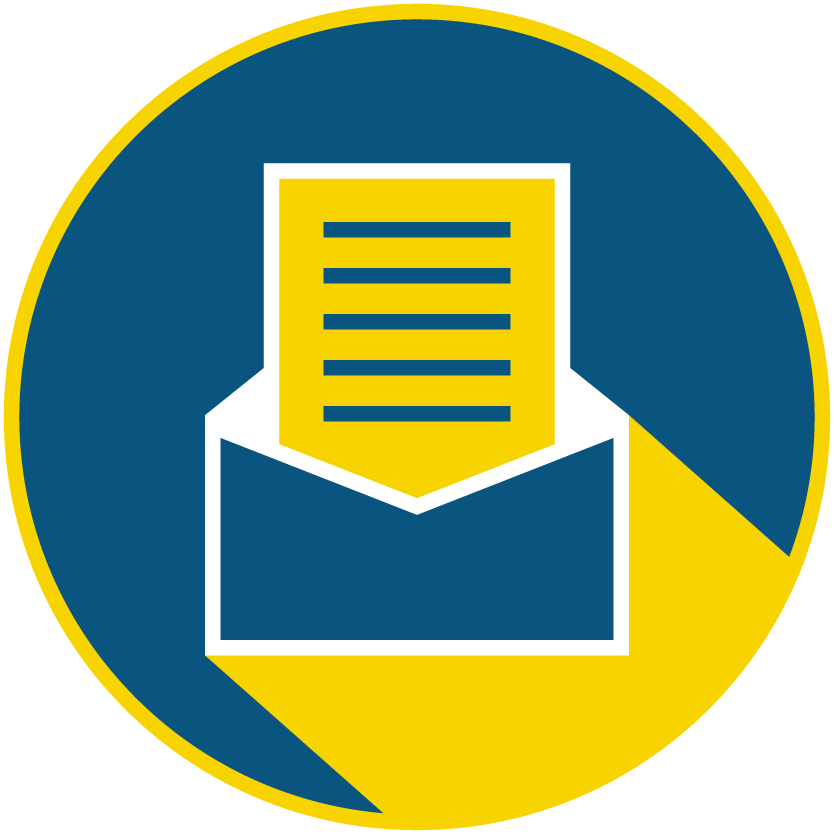 Subscribe to our newsletter to catch every headline.
01:11 PM | September 07, 2022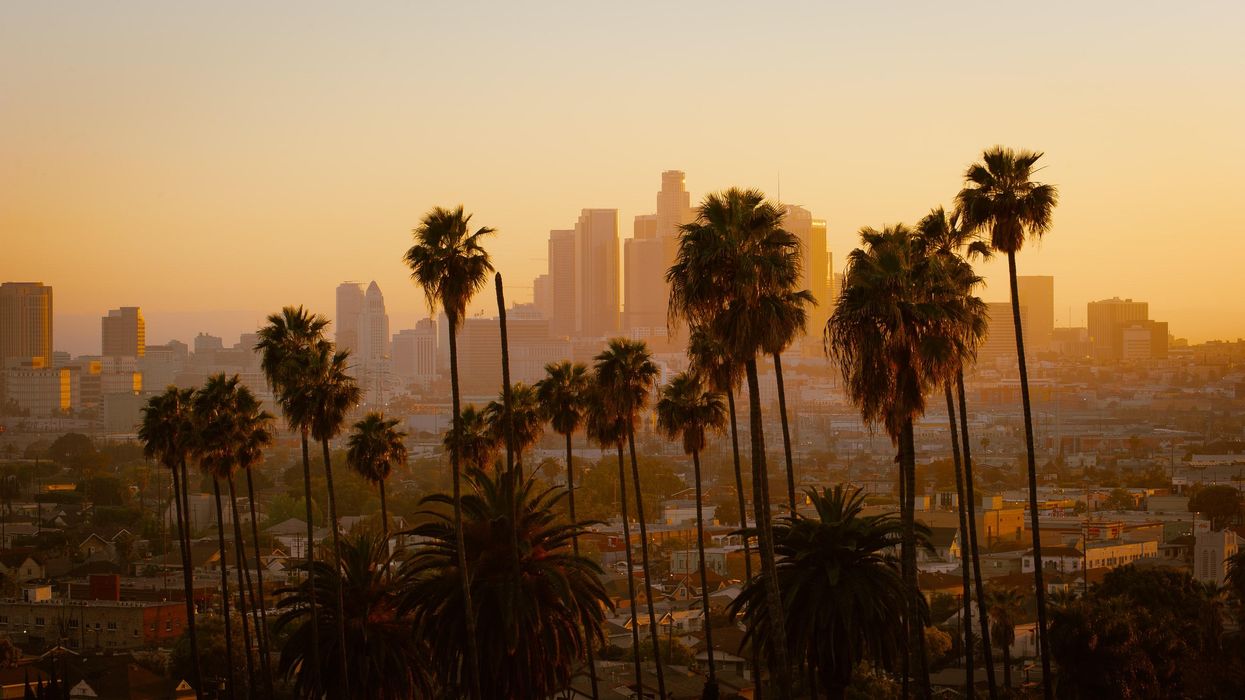 Yesterday afternoon millions Californians around the state received an emergency alert straight to their mobile phones asking them to conserve power as the electric grid teetered on edge of collapse. The move came as the state battles on through an historic heatwave that has laid bare the shortcoming of its infrastructure in the face of a new and hotter climate.

At around 5 p.m. yesterday, the Golden State grid saw a record-setting peak demand of 52,061 megawatts. At 5:17, grid operators triggered a level 3 energy emergency alert, which signals to utility providers to prepare for rotating blackouts.
"We were well into the reserve tank of the car," said CAISO president Elliot Mainzer in a press conference this morning. "We were down to the last gallon there and dipping into our operating reserves."
At 5:45 p.m., Governor Newsom authorized the use of the wireless emergency alert system, which sent the text urging Californians to conserve power. The impact was almost immediate.
"Within moments, we saw a significant amount of load reduction showing up to the tune of approximately 2000 megawatts," said Mainzer. "That significant response from California consumers to the wireless emergency alert allowed us to restore our operating reserves and took us back from the edge of broader disturbance. As a result, we stayed in the first phase of the EAA three, and did not have to trigger rotating outages last night."
Despite the CAISO's adamance that it never called for rotating outages, the Northern California Power Agency did in fact cut the power for residents. Mainzer insists that the blackouts were likely the result of confusion between the two agencies.
"I don't know, honestly, this morning, exactly what happened there," says Mainzer. "But we will be in touch and certainly really doubling down our communication with the utility to make sure that there is not a problem like that going forward."
CAISO said that, even though the state was scrounging for every single megawatt it could find, the 45 megawatts saved from the communication snafu would not have made the difference to keep the lights on statewide.
Mainzer says the flex power gleaned from residents scaling back on power consumption–which totaled over 2,000 megawatts–was the key in bringing the grid back from the brink. But the agency is also aware that over-using the messaging system will likely decrease its effectiveness, as Californians become desensitized to repeated warnings.
"I think we need to be very careful not to just think that we can depend on that sort of a tool," he said.
With temperature set to remain extremely high for at least several more days, CAISO is hoping that it won't need the text warning again tonight, although there will still be a flex alert for this evening and citizens are still being asked to set thermostats to 78 degrees Fahrenheit, turn off unnecessary lights, and refrain from using appliances between the hours of 4 p.m. and 9 p.m.
David Shultz
David Shultz reports on clean technology and electric vehicles, among other industries, for dot.LA. His writing has appeared in The Atlantic, Outside, Nautilus and many other publications.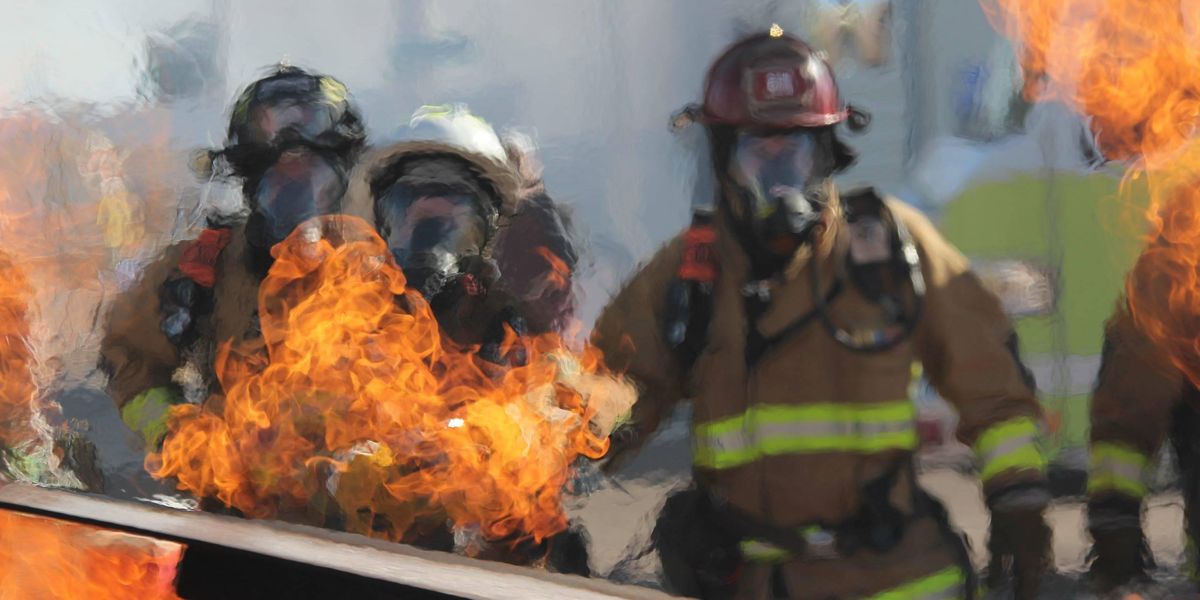 Google "Tesla battery fire" and you'll find no shortage of results. Just last month, USA Today reported that California firefighters had to use 4,500 gallons of water to douse one of the brand's EVs. And Tesla certainly isn't alone: recalls and fire safety problems have plagued brands like Lucid, Rivian, and Chevy. But what causes these incidents? And how do you weigh the risk against a traditional internal combustion engine?
Lithium-ion batteries, like the ones used in almost every EV on the roads today, are designed to store as much energy as possible in the smallest space possible. This creates a lot of heat when energy demand is high. This principle is obvious to anyone who has ever noticed their phone or laptop battery getting hot with extended use. And because lithium-ion batteries can only safely operate with a narrow range of temperatures, most modern electronics—and EVs certainly—have numerous safeguards in place to prevent batteries from getting too hot. Almost all modern smartphones, for instance, will simply shut down if they get too hot. Every EV on the road has complex cooling systems to manage the thermal strain on their batteries and multiple failsafes. When everything is working as intended, the battery should never get dangerously hot.
But crashes and malfunctions do happen. If a piece of road debris or a crash damages a battery, fire is certainly possible. A design flaw or manufacturing defect can also create a dangerous situation. The thing that makes lithium-ion battery fires so serious is that they create a feedback loop known as thermal runaway: Once the battery overheats the electrolytes in the cell catch on fire, which creates more heat, which ignites more electrolytes, etc., etc.
Traditional means of stopping the fire, like dousing it in water, are often insufficient to put out the flames because the battery packs are hard to reach and retain enough heat to reignite over and over again as soon as the water stops flowing. In 2019,Firefighters in the Netherlands were forced to submerge a BMW i8 in a tank of water for 24 hours due to a particularly persistent battery fire.
While lithium-ion battery fires are nasty and dangerous, calculating the risk they pose to drivers presents a somewhat different picture. A 2017 report [PDF] from the National Highway Traffic Safety Administration, concluded that
"…the propensity and severity of fires and explosions from the accidental ignition of flammable electrolytic solvents used in Li-ion battery systems are anticipated to be somewhat comparable to or perhaps slightly less than those for gasoline or diesel vehicular fuels. The overall consequences for Li-ion batteries are expected to be less because of the much smaller amounts of flammable solvent released and burning in a catastrophic failure situation."
TL;DR gasoline is also flammable and internal combustion engines still have batteries.
So, while it may be tempting to think that EVs pose an increased safety risk due to their lithium-ion batteries, the best data we have right now suggests that they're no more dangerous than gas cars. Furthermore, numerous new battery technologies could reduce the risk of fire substantially.
Solid state batteries, for example, are often touted as being ore stable and less likely to ignite, though some research suggests the question may be a bit more complex than that. Other companies, like Battery Streak, in Camarillo, CA, are adding exotic materials to more traditional lithium-ion battery formulations in an effort to improve the thermal characteristics and performance.
If any of these companies can find a way to reliably mass produce these batteries and get them into EVs, the cars of tomorrow may prove considerably safer than anything on the road today, at least in terms of fire risk.
David Shultz
David Shultz reports on clean technology and electric vehicles, among other industries, for dot.LA. His writing has appeared in The Atlantic, Outside, Nautilus and many other publications.