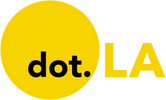 Get in the KNOW  
  on LA Startups & Tech  
X
Rachel Uranga
Rachel Uranga is dot.LA's Managing Editor, News. She is a former Mexico-based market correspondent at Reuters and has worked for several Southern California news outlets, including the Los Angeles Business Journal and the Los Angeles Daily News. She has covered everything from IPOs to immigration. Uranga is a graduate of the Columbia School of Journalism and California State University Northridge. A Los Angeles native, she lives with her husband, son and their felines.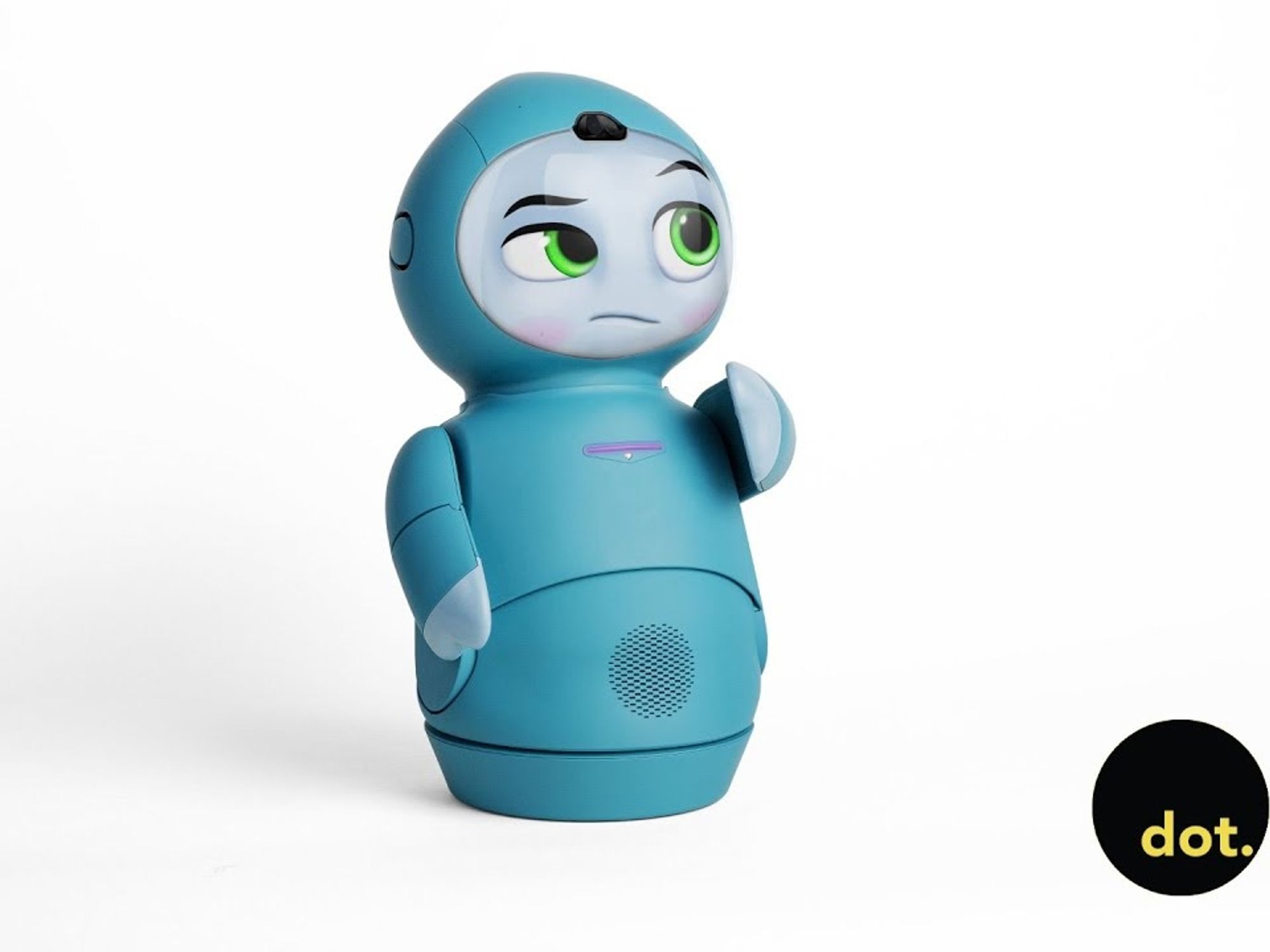 The creator of the emotive robot called "Moxie" sees a new wave of machines that recognize human emotions and will change how business is done.
"We are seeing a future that's a lot better than the dystopian future of robots taking over the world," Paolo Pirjanian, founder and chief executive officer at Embodied, Inc. told dot.LA in a virtual strategy session on May 5.
---
The session, featuring Pirjanian and Calibrate Ventures co-founder Jason Schoettler, featured discussion of Los Angeles' role in making the next wave of emotionally intelligent robots, the ethical dilemmas of having machine companions and how social robots will change people's lives.
Watch below, and sign up for our newsletter to be notified of new strategy sessions.
Strategy Session: The Rise of Roboticswww.youtube.com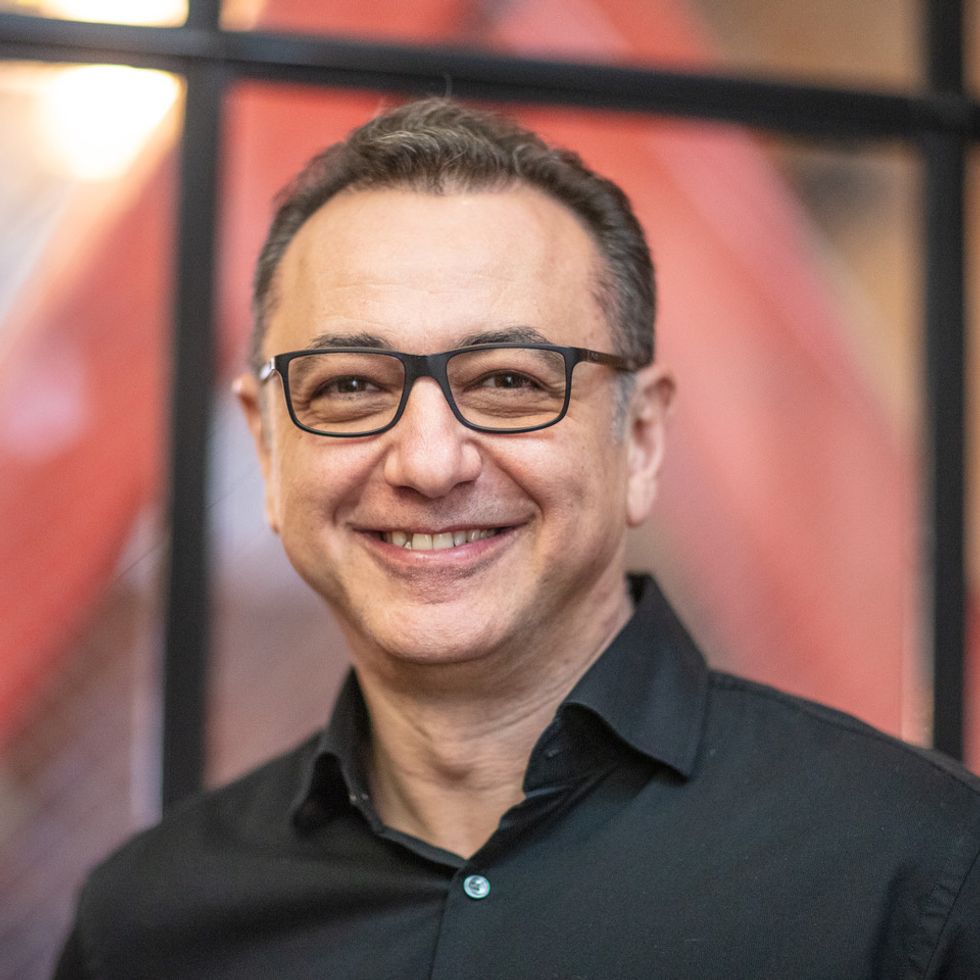 Dr. Paolo Pirjanian, Founder and Chief Executive Officer at Embodied, Inc.
Dr. Paolo Pirjanian oversees technology, research and advanced development. Prior to joining iRobot, he served as chief executive officer of Evolution Robotics, Inc. for seven years. Before that, Pirjanian was the company's chief technology officer. Earlier in his career, he worked as a lecturer in the computer science department at the University of Southern California and as a researcher at the NASA Jet Propulsion Laboratory where he received the Technical Leadership Award. Pirjanian is the former U.S. chairman of IEEE Robotics and received the IEEE Robotics and Automation Society Early Career Award in 2004. He holds a Ph.D. in robotics from Aalborg University.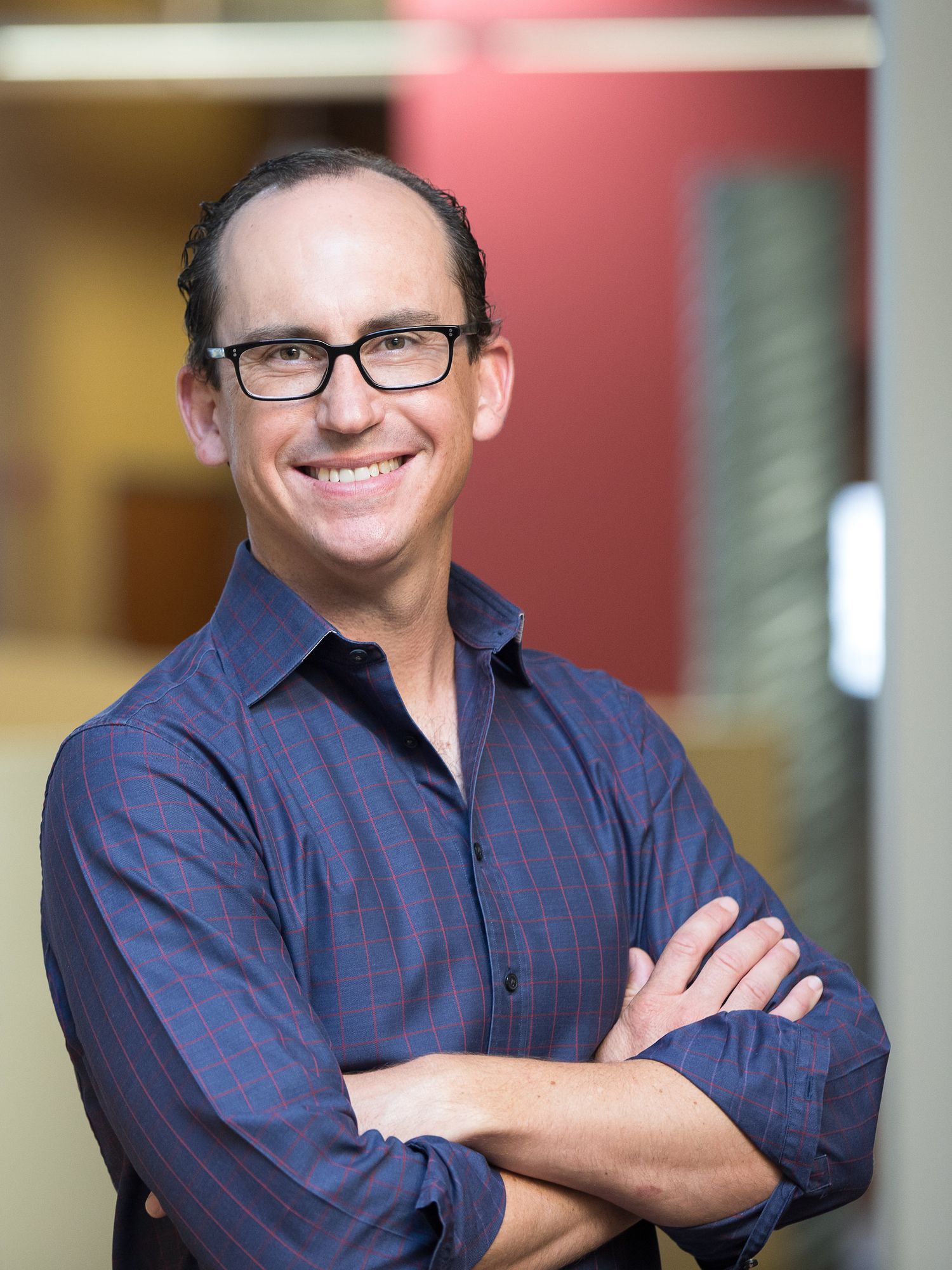 Jason Schoettler, Partner at Calibrate Ventures
Jason Schoettler, Partner at Calibrate Ventures 
Jason Schoettler is a partner at Calibrate Ventures, a venture capital firm he co-founded in 2017.
He leads investments for Calibrate Ventures across its areas of focus: advanced automation, B2B SaaS, and managed marketplaces, including its investments in Alpha, Built Robotics, Embodied, FarmWise, Pared and XStream Trucking.
Jason has a proven track-record of identifying disruptive businesses and facilitating their development while generating outsized returns. Before forming Calibrate, he served as a Managing Director for over a decade at Shea Ventures, where he was responsible for numerous investments with notable exits, including: Dollar Shave Club (acquired by Unilever), Evolution Robotics (acquired by iRobot), Osmo (acquired by Byju's), SI-BONE (SIBN), and VictorOps (acquired by Splunk).
Prior to Shea Ventures, Jason served in an operating role at Oak Grove Systems, an enterprise software spin-out from the Jet Propulsion Laboratory and Caltech, and as a management consultant at Ernst & Young.
Jason grew up in Central California and holds a BA from University of Notre Dame and MBA from Claremont Graduate University.
Rachel Uranga
Rachel Uranga is dot.LA's Managing Editor, News. She is a former Mexico-based market correspondent at Reuters and has worked for several Southern California news outlets, including the Los Angeles Business Journal and the Los Angeles Daily News. She has covered everything from IPOs to immigration. Uranga is a graduate of the Columbia School of Journalism and California State University Northridge. A Los Angeles native, she lives with her husband, son and their felines.
https://twitter.com/racheluranga
rachel@dot.la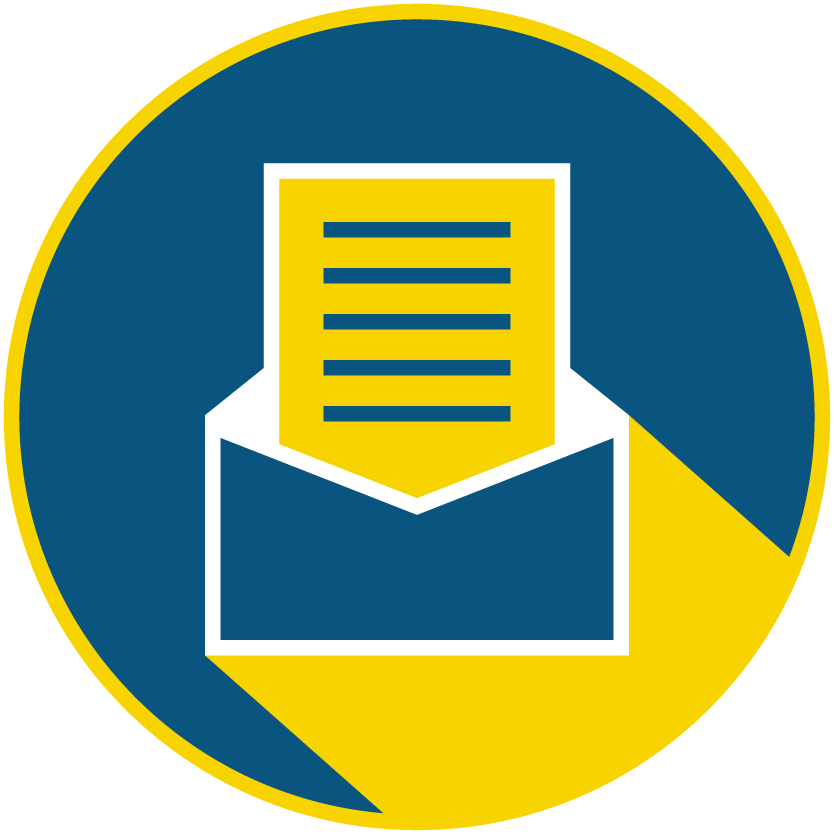 Subscribe to our newsletter to catch every headline.
Rachel Kisela
Rachel Kisela is a journalist and freelance video editor based in Los Angeles.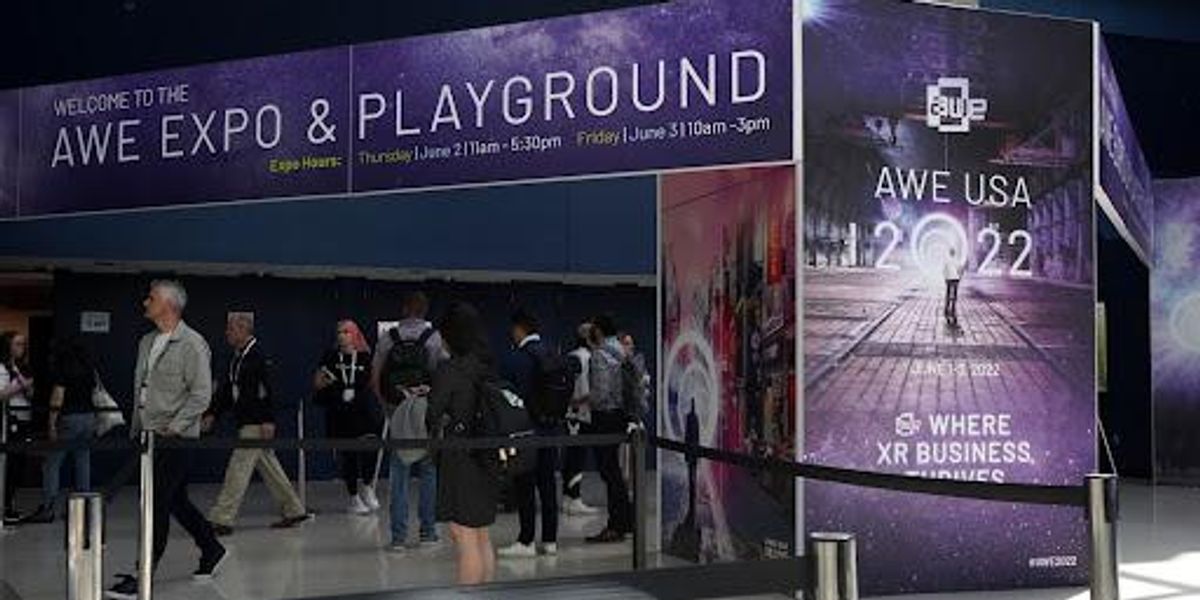 Photo by Mallika Singh
As the "metaverse" slowly transitions from a buzzword to reality, the Augmented World Expo—a gathering of augmented reality CEOs, engineers, creators, consumers and investors—showcased what the future of the industry might look like.

Since its first event in 2013, AWE has grown to over 250 augmented and virtual reality companies from around the globe. The 2022 conference, which ran from June 1-3 at the Santa Clara Convention Center in the Bay Area, was the biggest yet—and flush with new experimental formats and new technology.
One example of the conference's new approach: a three-act augmented reality play performed at the conference called "MetaTr@versal: A Day in the Life." Written by extended-reality (XR) technologist Sophia Moshasha, the play used VR screen mirroring to tell the story of an entrepreneur pitching new interoperability standards to investors.
"It was super ambitious, because we were using technologies from ARWall," said AWE Head of Operations Andrea Lowery. "I can't even characterize all the different audio visual inputs and time and energy and creativity and tech that went into this thing."
This year's AWE featured keynotes, breakout rooms and a tech playground that included interactive and immersive experiences. Here are the five standouts from the conference and the advancing technology.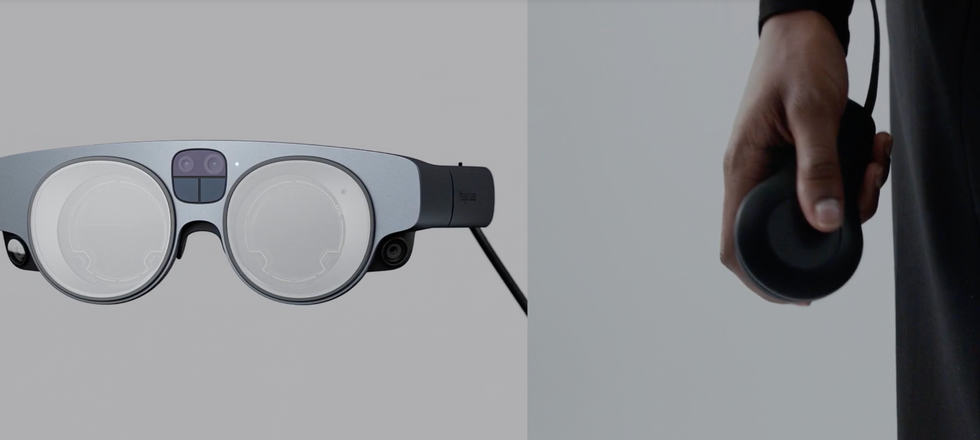 Magic Leap's New Headset
Lines began snaking around the corner of the Magic Leap booth before the exposition floor even officially opened, as crowds gathered to try the Florida-based company's new Magic Leap 2 augmented reality headset.
Participants were paired up and assigned to one of three demos. I was able to try the "wildfire" demo, where the glasses scanned a printed code on a circular tabletop and displayed a topographical map. The demonstrator toggled overlays off and on, showing the spread of weather and fire across the landscape. The company hopes their technology will be used in the future to train first responders, as well as workers in manufacturing, health and defense, among other industries.
The new headset aims to tackle some of the problems with the release of its first incarnation—including a narrow field of view and limited range of applications—by expanding the horizontal field of vision from 50 to 70 degrees and reaching out to more potential partners.
The most impressive part of the Magic Leap 2 was optical dimming, which shuts out nearly all light outside the augmented reality elements on the tabletop, drawing users' focus to the data and cutting down on glare in outdoor environments.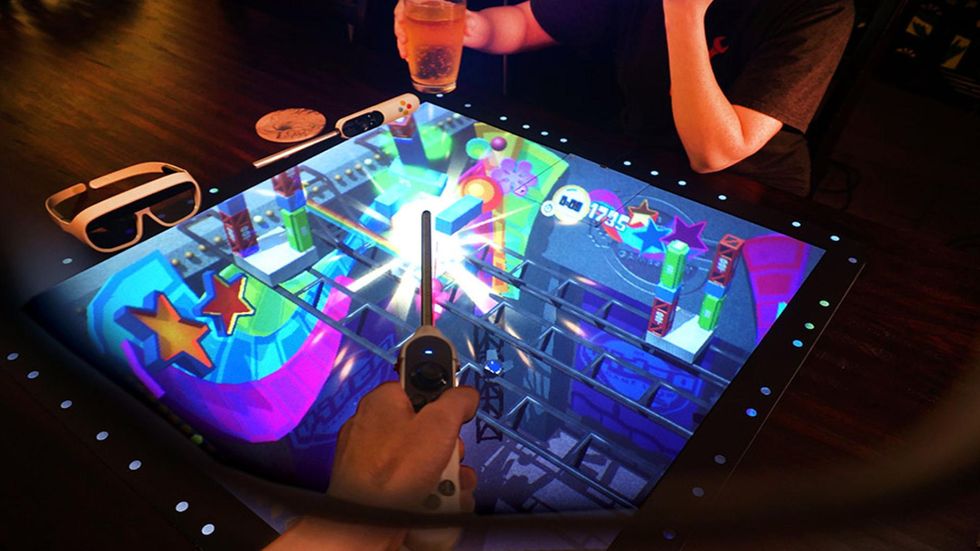 Tilt 5
Tilt Five: Immersive Table-Top Gaming
Tilt Five was another popular booth. The startup produces augmented and virtual reality gaming hardware, and has partnered with third party game developers to build software that integrates turns table-top games in AR experiences. The full system includes a game board, a light pair of AR glasses and a control wand.
The company raised over $1.7 million in fan funding on crowdfunding platform Kickstarter. It's been shipping out completed products to its backers since December and hopes to have them all sent out by the end of the summer. Now, it has set its sights on expanding its offerings.
"We actually just signed with Asmodee Digital, who makes games like Catan, Carcassonne and Gloomhaven," said Tilt Five Head of Communications Stephanie Greenall. "So we'll be taking a select number of their titles and putting them onto the board."
Since last year's AWE conference, Tilt Five has added mixed reality streaming, which allows fans to share their adventures on streaming and social platforms and the "XE Gameboard," a larger board that tilts up so you can see further into the game.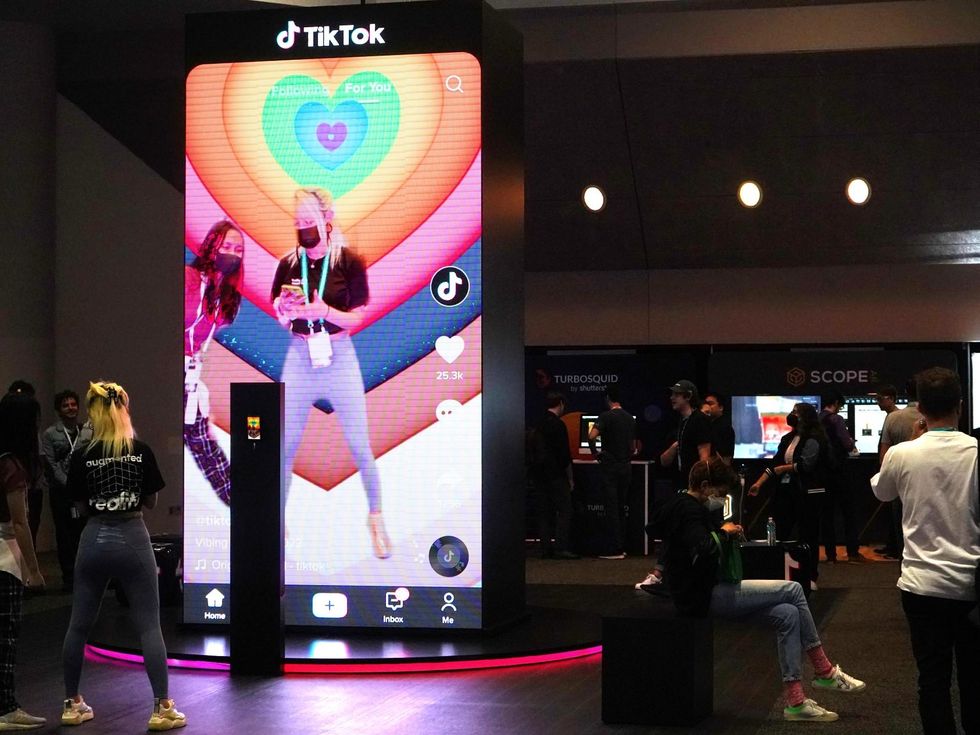 TikTok's booth showcasing its new AR features on June 3, 2022. Photo by Mallika Singh
TikTok Plays Catch Up in AR
About two months ago, TikTok launched Effect House, an AR development platform that plugs right into its mobile app. It's an attempt to catch up on creative studio applications like Meta's Spark AR Studio for Facebook and Instagram and Snapchat's Lens Studio.
Effect House is built on a visual scripting system and a range of popular templates that is meant to make it easier for everyday creators to create their own visuals, without needing to know much about writing code.
According to Garret Fuselier, AR creative engineering lead at TikTok, there are already around 1,000 creators on Effect House's Discord account, and videos using Effect House have already reached over 1 trillion views.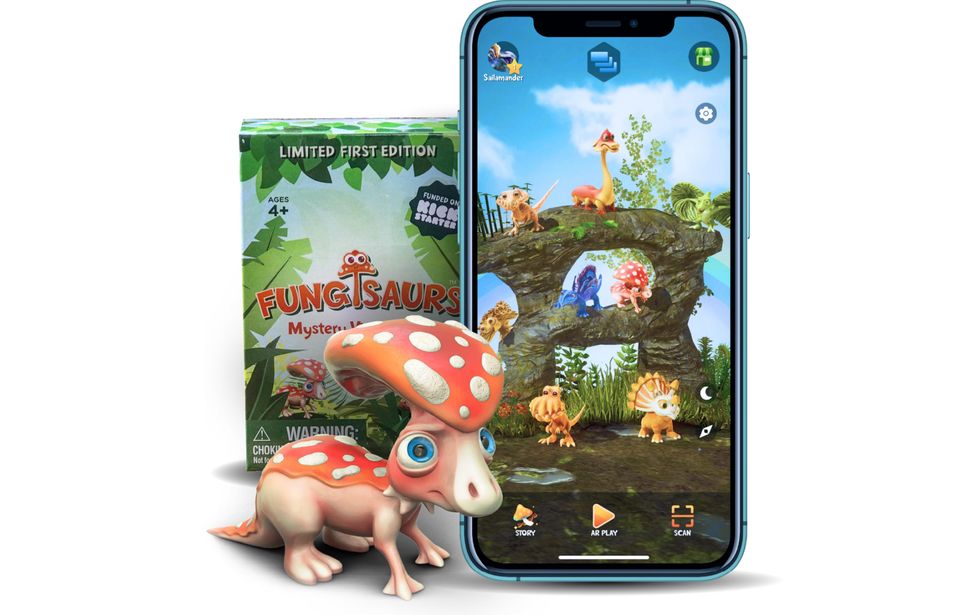 Fungisaurs
Fungisaurs: Augmenting Play with Figurines
L.A.-based artist and digital sculptor Aiman Akhtar's background in 3D modeling and animation at studios including Nickelodeon, Dreamworks and Blizzard prepared him to develop his own line of augmented reality kids' toys–in the form of small "dinosaur mushroom creatures."
Fungisaurs started as a collection of real-life plastic toys in 2017, funded partially on Kickstarter. Three years later, Akhtar partnered with augmented reality company Octagon Studio to build ARise, a camera app that brings the physical toys to life and supports interactive play.
Next up for the company is more app integration, card functionality and a second series of characters.
"If we have a card read as well as the object, then we can trigger animations, we can trigger background changes," Akhtar said. "So we can make narrative board games that can actually convey stories and have more interactivity between players."
Fungisaurs was one of the only companies at AWE with a product tailored towards kids.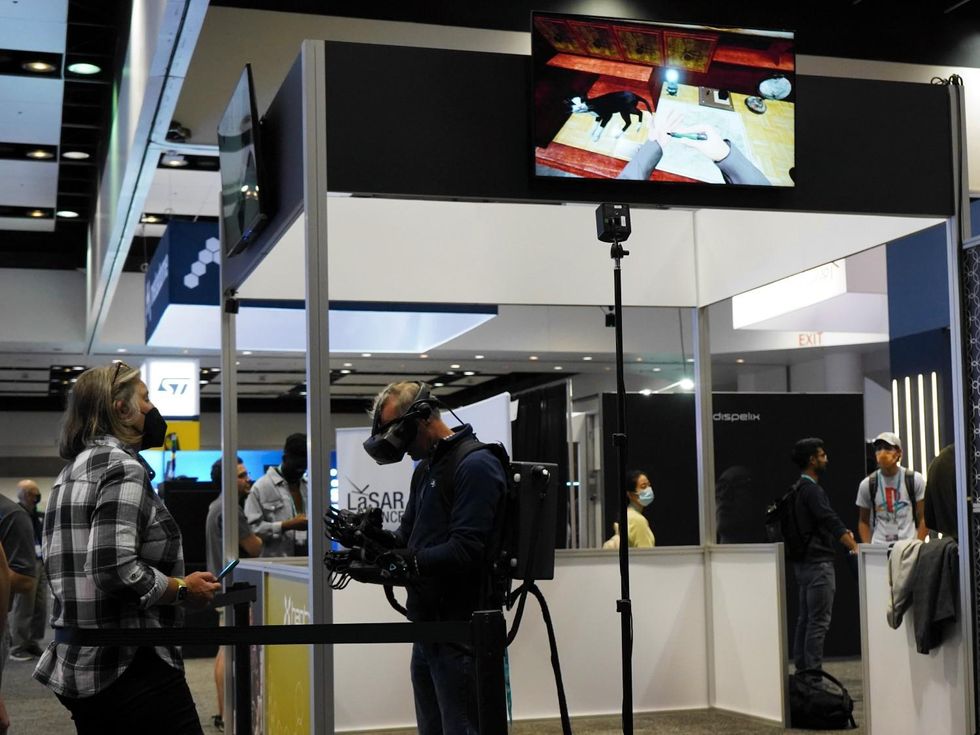 A conference attendee tries the HaptX DK2 Gloves on June 3, 2022. Photo by Mallika Singh
HaptX: Prototype the Training, Not the Product
HaptX, a leading producer in the haptic XR space, makes AR products for customers in training, manufacture, design and telerobotics. The company is based in Redmond, WA with offices in both San Luis Obisbo and San Francisco.

Its development kit, the DK2 Gloves, uses compressed air to simulate resistance by applying braking to the backs of the gloves, up to eight pounds of force per finger and up to 40 pounds per hand. The air contours the shape of the gloves to objects touched in virtual reality worlds.
Recently, HaptX worked with Nissan to mock up its Nissan Leaf electric vehicle virtually. Its system allows designers to touch and interact with the virtual car, obviating the need for wasteful and expensive automotive prototypes, which can cost up to $200,000 per model. HaptX's gloves, meanwhile, cost in the high five figures for enterprise customers.
HaptX had both a stationary and mobile demo station at AWE. The mobile device was set up in a backpack. One woman trying it out at the Expo said the backpack's weight was about the same as two MacBooks.
"This will get significantly smaller in the future," said Victor Oriaifo, an account executive at HaptX.
He said the company aims to shrink the portable device once it's manufacturing at scale.
***
Watch the main stage presentations on the AWE.Live mobile app ( iPhone/ Android), where the remainder of the sessions will appear by the end of next week. View this article in video form on our TikTok page!
From Your Site Articles
Related Articles Around the Web
Rachel Kisela
Rachel Kisela is a journalist and freelance video editor based in Los Angeles.
https://twitter.com/rachelkisela
Kristin Snyder
Kristin Snyder is an editorial intern for dot.la. She previously interned with Tiger Oak Media and led the arts section for UCLA's Daily Bruin.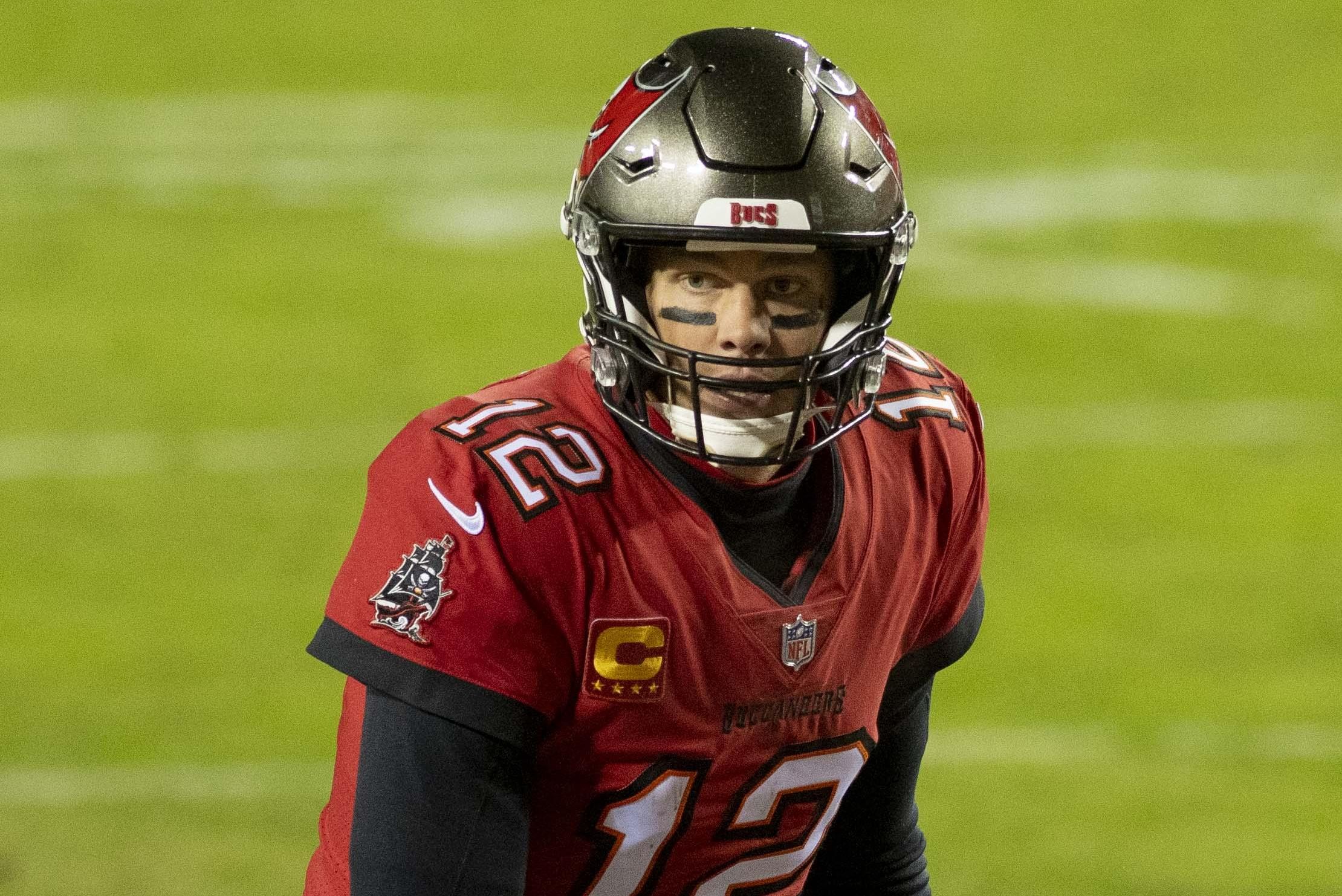 Religion of Sports, the sports media production company co-founded by NFL legends Tom Brady and Michael Strahan, wants to expand its realm of worship beyond athletics with $50 million in new funding.
The Santa Monica-based company announced the Series B on Monday, as well as plans to expand its content beyond sports and into the realms of entertainment, business and music. Shamrock Capital led the funding round and was joined by Elysian Park Ventures (the venture arm of the Los Angeles Dodgers' ownership group) and Cerro Capital.
Co-founded by Brady, Strahan and filmmaker and entrepreneur Gothan Chopra (the son of Deepak Chopra) in 2017, Religion of Sports sprouted from a documentary series of the same name. The company has subsequently produced a number of acclaimed sports documentaries and docuseries, including Emmy-nominated programs like "Man in the Arena: Tom Brady," a deep dive into the career of its co-founder, and "Simone vs. Herself," about Olympic gold medal-winning gymnast Simone Biles.
"Religion of Sports has grown at a pace we could have only dreamed about five years ago," Brady said in a statement. "We have some of the most talented people in the industry, who share the same passion for sports storytelling that has an impact on culture and audiences around the world."
Earlier this year, Brady retired from pro football to focus on business ventures like Religion in Sports and NFT company Autograph, before promptly reversing his decision and announcing he would play in the upcoming NFL season. In April, Autograph partnered with ESPN to sell NFTs based on Brady's "Man in the Arena" docuseries.
Religion of Sports has already bolstered its content offerings with a scripted media division and a content deal with Skydance Media. The new funding—which follows a $10 million Series A round raised in 2020—will support those endeavors as the company continues to expand beyond its traditional non-fiction offerings.
Sports content is playing an increasingly influential role in the contemporary media landscape, with numerous streamingplatforms expanding into live sports—one of the biggest ratings draws in a world where most consumers can watch scripted programming on demand at their own convenience.
From Your Site Articles
Related Articles Around the Web
Kristin Snyder
Kristin Snyder is an editorial intern for dot.la. She previously interned with Tiger Oak Media and led the arts section for UCLA's Daily Bruin.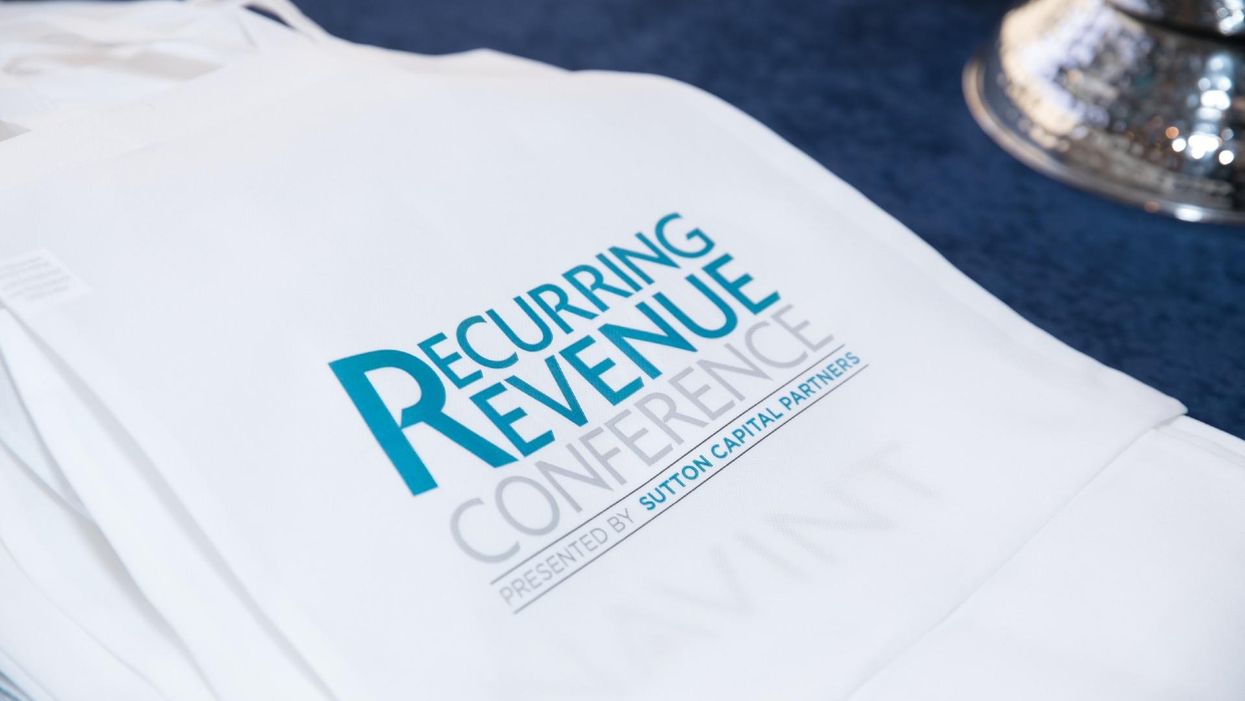 Image courtesy Sutton Capital
"Most people don't think of SaaS as sexy," said conference co-founder Nancy Hammerman. "Maybe it's crazy, but we thought otherwise." Along with Peter Cowen, Hammerman founded the technology investment banking firm Sutton Capital Partners, which specializes in selling and raising capital for founder-based fintech and SaaS (software-as-a-service) companies.
In 2015, they hosted the first annual Recurring Revenue Conference at the Luxe Summit Sunset Boulevard, which grew to over 700 attendees before the pandemic in 2020 halted live events.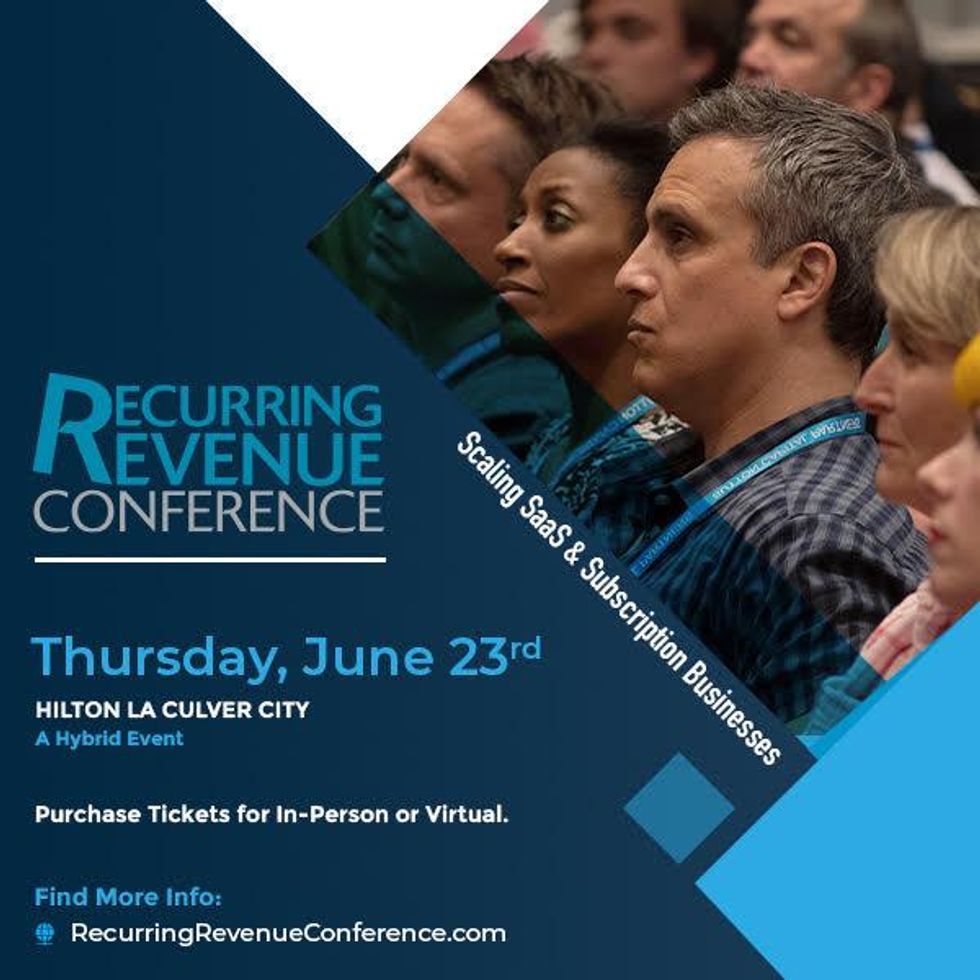 Photo via Sutton Capital Partners
Few other industries have weathered the storm of COVID-19 better than the tech industry, and within even that competitive space, SaaS companies saw a boom growth period as customers found themselves in need of accelerated technology to enhance remote working and distributed teams. It was rare to find a company that made it through the pandemic without SaaS digital collaboration platforms like Zoom, Gmail or Slack.
For a host of reasons, the Southern California tech community particularly benefited from the recent uptick in working from home. Aided by a large influx of new and larger VC funds, successes grew exponentially in sales, with several local startups reached IPOs or large equity rounds.
"It's really about the new strategies, tactics and increasing level of sophistication subscription companies need to survive," Cowen told dot.LA about the conference. "It's what makes this year truly exciting."
"The past couple of years have seen a marked increase in funding, bringing greater competition through virtually all sectors," he added, pointing to companies like ServiceTitan, Appetize, ZipRecruiter, ReCharge, Snap Raise! and Bambee as examples.
Not to be underestimated is the sheer scale of the number of smaller companies in SoCal that started or exploded in the past two years; it's now the nation's third-densest region for funded companies.
This year's hybrid attendance model will allow people from all over the country access to top thought-leaders in the subscription economy, providing networking opportunities that previously have only been available to locals. Since 2015, the conference has featured panels and keynotes from such luminaries as ZipRecruiter founder and CEO Ian Siegel, Snap's Justin Sternberg, Nextbite founder Alex Cantor, Blackline's Therese Tucker and "Predictable Revenue" author Aaron Ross.
The theme of this year's Conference is "Deep Customer Engagement." The morning's keynote speaker is Nick Mehta, founder of Gainsight, the leader in analyzing customer engagement and deploying strategies to improve engagement.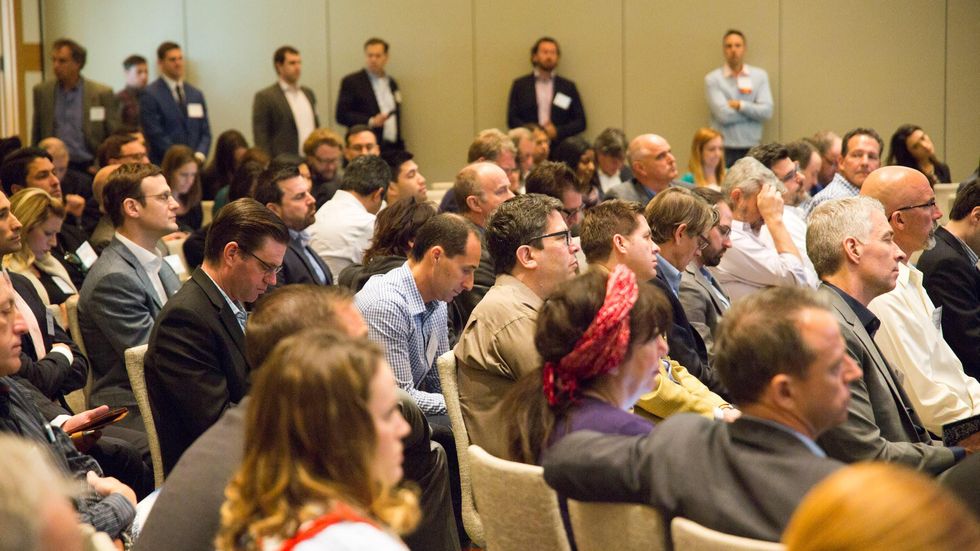 Attendees listen to SaaS experts at Recurring Revenue Conference. Photo via Sutton Capital Partners
The afternoon keynote from dot.LA's Spencer Rascoff will touch on SoCal's rapid rise to prominence.
"We are particularly excited to have Spencer, given his experience in co-founding Zillow, more recently Pacaso and his active seed investing. He is at the pulse of the market and can impart insights to entrepreneurs plus discuss the rapid changes in the marketplace" Cowen told dot.LA.
"Each year, we feature a special panel 'Recurring Revenue Rockstars: Hidden Gems that Might Surprise You,' featuring our region's next generation of breakout companies," Hammerman told dot.LA. "Over a dozen previous rockstars have received major funding or been sold."
"We pride ourselves on creating great and relevant content for the local tech community," she added. This year's panel includes one on analytics, one on fintech, another on winning the talent war and a VC panel called 'Meet the Money," featuring panelists like TX Zhou of Fika Ventures, Minnie Ingersoll of TenOneTen, and Alex Rubalcava of Stage Venture Partners.The event's full agenda can be found here.
The quality of the panels themselves aside, perhaps the most significant reason people attend the Recurring Revenue Conference remains the opportunity to network and reconnect with others in the community. After a two-year hiatus, the Sutton Capital Partners team are looking forward to seeing everyone back together again and connecting with many new innovators who are helping make SaaS one of the most exciting—and dare we say—sexy sectors of emerging technology.
Venue information:Hilton Los Angeles Culver City
For tickets and info: Recurring Revenue Conference
Enter Promo Code: DOTLA229 and save over $200 for Dot.La Readers (limited availability).